Last Updated on January 24, 2023
Email marketing is crucial to businesses with plans to grow and succeed. 80% of companies believe that email marketing is key to their customer acquisition and retention strategy. Not to mention, for every dollar you spend on email marketing, you get an ROI of $38!
There is no excuse not to do email marketing for your online business. However, neither reason nor statistics can compel some people to launch an email marketing campaign to help their brand.
It's unclear why they don't develop an email marketing plan yet, but a potential reason is that it brings additional work. Learning a platform so you can collect emails and submit drip campaigns, newsletter, and others to subscribers can be overwhelming to some. While using an email platform isn't really, some businesses are set with their ways. They function better when they stay within their comfort zones.
Despite their preferences, there is a way to introduce stubborn businesses to a Gmail marketing campaign without learning a new platform.
If you identify yourself as one of these businesses, then you may have used Gmail as your email client. If so, then you can start running your email marketing straight from your Gmail account. The only thing you need to do is install the software mentioned below:
Send newsletters using Flashissue
Many associate email marketing with complicated lead funnels and automated messages. These strategies, while effective, are perhaps reasons why some people stay away from this marketing approach. It's too cumbersome to set up and understand.
To simplify email marketing for beginners, you could send newsletters to your email list. What you do is compile content from your site or blog, whether these are announcements and blog posts, and send them to your subscribers.
A newsletter campaign is perfect for bloggers who churn out content and want to amplify their reach to your audience. For those who don't produce content, you can still create newsletters by handpicking the best content in your niche. Doing so establishes your knowledge about your industry and grow your influence with your subscribers.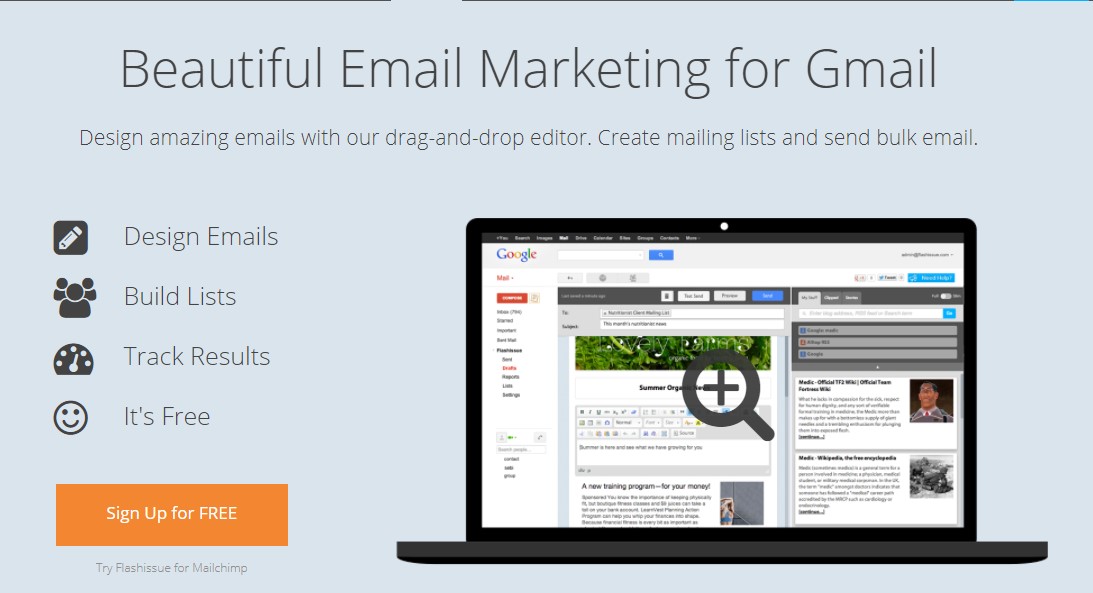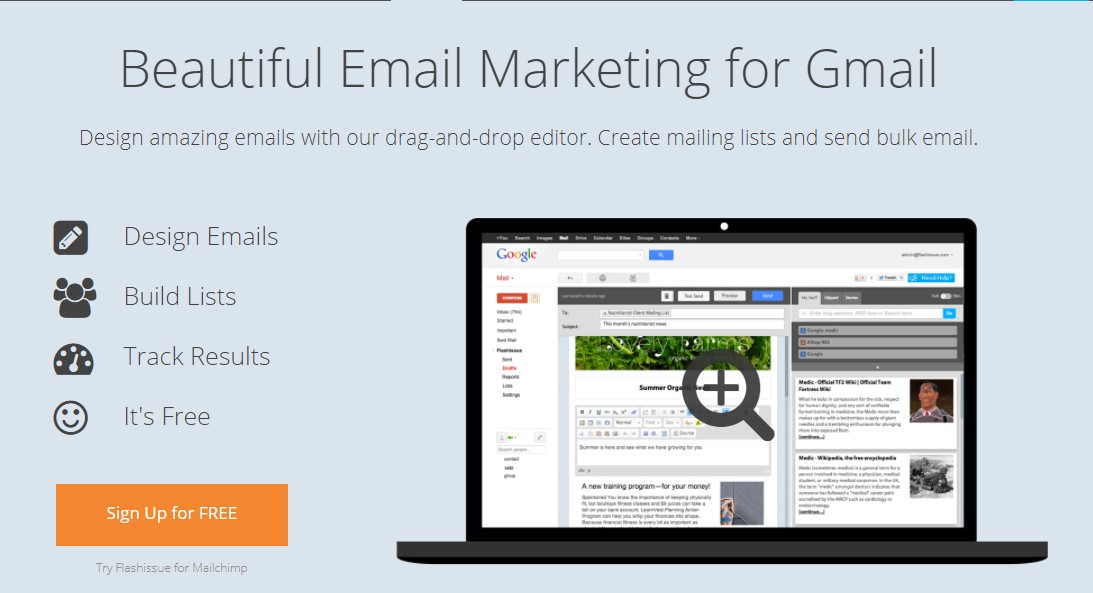 Flashissue is the only Gmail add-on you need to launch a newsletter campaign.
Before you send out emails, you need to build your list from your existing contacts. If you have people who inquired about your blog posts, you can compile them into a list and send them emails about blog updates.
If you're ready to take your email marketing to a whole new level, you can create a list of prospects so you can drop them a line about your business.
Designing your email and populating it with content is easy with its drag and drop builder. Customize your messages by adding text and images and moving them to their right places. When adding content, you can type the URL of the blog or post. Flashissue will take care of adding the post's featured image and summary.
If you want to track the progress of your email marketing campaign, visit your lists page. It will show you what your subscribers did upon receiving the email. You will see how many opened the mail, how many didn't, who unsubscribed, and others. From here, you get a better idea of the effect of your email campaign and make the necessary changes in the future.
Manage clients and customers using Streak
Part of email marketing is to nurture relationships with your existing customers. What makes this strategy special is it offers you the chance to personalize your messages to recipients. You can segment subscribers based on what they have in common and send messages that resonate with them.
While list segmentation is possible using Flashissue, you need another tool to help you keep track of your progress with subscribers and how far they are down your sales funnel.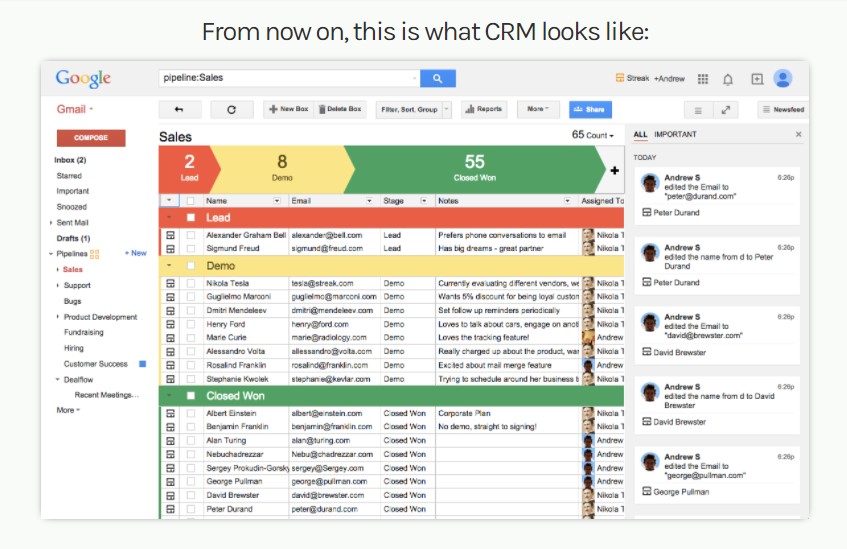 Streak is another Gmail add-on that serves as a CRM and email marketing tool. It's the next logical step after sending newsletters to your subscribers. Once you've elicited a response from them, you can tag them in your sales funnel. Streak helps you keep track of leads in your Gmail contact so you can take the necessary actions and convert them into sales.
Streak offers nifty features to help you stay on top of your email marketing. You can track who among your recipients have viewed your email in real-time. You can also schedule emails to be sent later as a followup to your previous message. Lastly, you can save email templates, so you don't have to type the same message to new subscribers.
Keep email list clean with ZeroBounce
Measuring the performance of your email marketing is of utmost importance. You need to analyze which among your campaigns made the most impressions to your subscribers and which ones didn't. With the data provided by the tools above, you can come up with a better way to get in touch with your subscribers and get them on board with your brand.
However, you also need to make sure that the addresses you're sending emails are valid and accurate. It is possible that some emails on your list have expired and are no longer working. If you don't make sure that the emails are accurate, you risk staining your email performance data. As a result, you can properly analyze your email marketing campaign.
Instead of manually sifting through the emails in your list which could take days and week to sort out, use Zero Bounce instead. This email validation platform helps you identify your bounce rate by removing erroneous emails from your list. It also helps detect toxic emails from domains known for spamming and abusing its users. Lastly, the tool validates relevant information about your subscribers such as gender, name, location, and more. This information will help you improve your list segmentation so you can send the best emails to them.
While ZeroBounce isn't a Gmail add-on, it is arguably the best way to clean up your email list without the hassle. You can validate the first 100 subscribers for free while your first 5,000 costs $10.
Conclusion
I'll be honest here – using an email marketing platform is a more robust and therefore a better solution to manage your campaigns. However, the tools mentioned above is a great way to introduce email marketing to people who are not very welcoming of new approaches to growing their business. All you need is a Gmail account, which most of you have, and you're good to go! There won't be any learning curves to worry about because the add-ons integrate with your Gmail interface.
Only when you've comfortably managed your email marketing on Gmail will you realize how much your business is missing out. Email marketing offers you so much opportunity to make the most of your business. Hopefully, this post shows you the door to launching email campaigns to your subscribers so you can open more doors for your business.