Last Updated on January 24, 2023
You can spy on any Android smartphone. On this page, we will teach you how to track somebody. You do not have to take any complicated actions or have specific knowledge.
With spyware for Android – Hoverwatch or other best spy applications, you will be able to spy on your spouse, employee, child, and anyone you want to track. We have collected various methods of surveillance, not just a method using spyware.
What information can be learned by spying on an Android cell phone?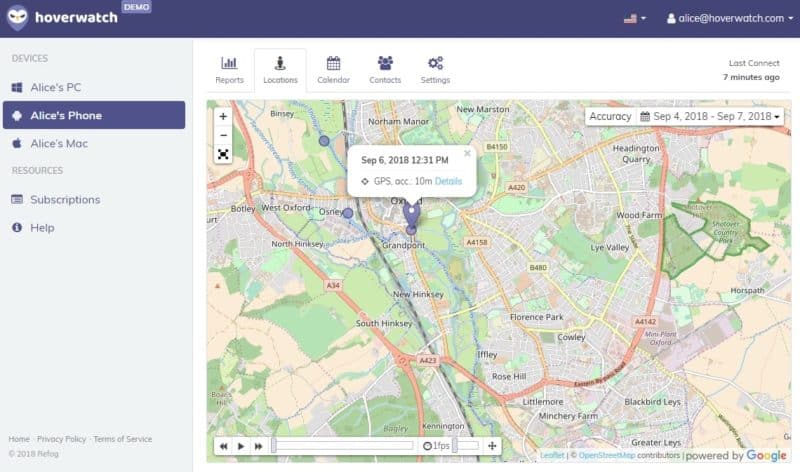 You can learn almost anything. The amount of information depends on the method you use for surveillance. The more professional tools you use, the more information you can get. You can:
Learn whom a person called and when;
Listen to conversation records and find their contents;
View the contact list and learn with whom the person spoke;
View text messages both in SMS and in text messengers such as Facebook Instant Messenger, WhatsApp, Viber, and others;
Monitor a person's activity on social networks and see even messages or private and hidden data;
Find the browser history and learn which websites have been visited;
Learn the exact location at a given moment and learn the history of movements;
Look at the to-do list and learn the target person's schedule;
Take a screenshot at any time;
Use the camera to capture a photo whenever you want;
And other information.
Such a colossal amount of information allows you to learn literally everything about the target person.
Though you do not have a phone in your hands, you can learn the same thing as the owner of the smartphone. Moreover, spying on an Android phone without touching it and without letting the target know is the best way, as you get raw and completely realistic information. This is because the target person acts the same way he or she always acts.
It sounds very tempting, does not it? However, to learn all this information, you must take some actions. Following you will find step-by-step guidance on how to spy on any Android smartphone.
Is it possible to spy on a cell phone without spy apps?
Yes, it is possible, but your opportunities will be severely limited. You can follow an Android cell phone thanks to several built-in functions:
The "Find your Phone" feature by Google;
Features built into Google Maps.
Google designed the Android operating system; this is why Google also developed all the built-in tracking features.
The first feature, Find Your Phone, allows you to find your device's current location. To use it, follow these steps:
Open the browser on your computer;
Choose the device you want to track;
Click on "Find your device";
Wait 5-10 minutes;
Get the results.
The service works only if the phone is switched on and connected to the Internet. This tool works well and can display the phone's actual location. The problem is that current location tracking is only a small part of what spyware applications can do. This is not the only problem, either; there are others:
To use the function to track another person, you must know the password to the person's Google account, which isn't always possible;
A person will receive an alert that you have learned his location;
An Internet connection is required. If you are spying on someone who doesn't want to be tracked, it isn't a good idea to rely on the Internet;
You will learn only the current location, and will not be able to track or follow movements.
If you want to view location history, here is another tool, built into Google Maps. If the target uses Maps, most likely he or she has also Timeline, also called Google Location History.
You can look at the official knowledgebase for how to work and view Timeline. This tool allows you to look only at the past; you will not be able to look at where the phone is right now. If you combine two Google tools with each other, you will get a great location tracker.
If your aim is only tracking location, you can use built-in features. Of course, this works only if you have a login and the password to the target's Google account. Due to the fact that it is much more difficult to get the password to the device than to get a device in hand for 5 minutes, and because spyware allows you to learn much more than built-in apps do, the method of spying with special spyware is best.
How to spy on any Android cell phone using spy applications
Spy applications are not listed in Google Play, as Google does not allow for the tracking of users. In the marketplace, you can find just cut versions, such as:
Location trackers;
Apps for children's safety;
Call recorders;
And other solutions.
All of them cannot be called spy apps. This is why, if you want to find real spyware to track someone's phone, you must search outside of Google Play. Just type the query "best spy applications for Android" into Google. You will find more than 10 different options!
Pay attention, as many scammers are on the spyware market. They will cheat you or steal your credit card details. Below is a list of tested solutions:
Hoverwatch;
Snoopza;
mSpy;
Truthspy;
Onespy
Of course, the spyware market is not limited to only these programs; this is simply the list of the best solutions for 2018 and 2019. You can find many more apps in Google.
To help you save time choosing programs, we tested most of them. We highly recommend Hoverwatch. This is modern spyware for tracking different activities. With this app, you will get tons of information that is easily manageable, as it is presented in the Control Panel.
How to choose the best spyware for Android smartphone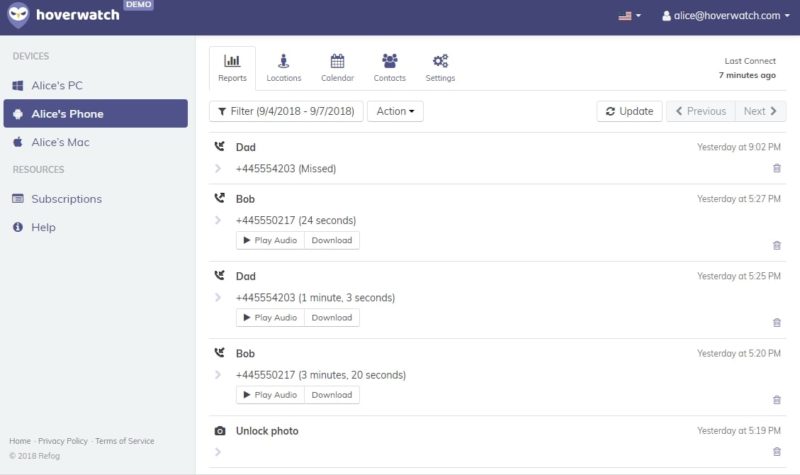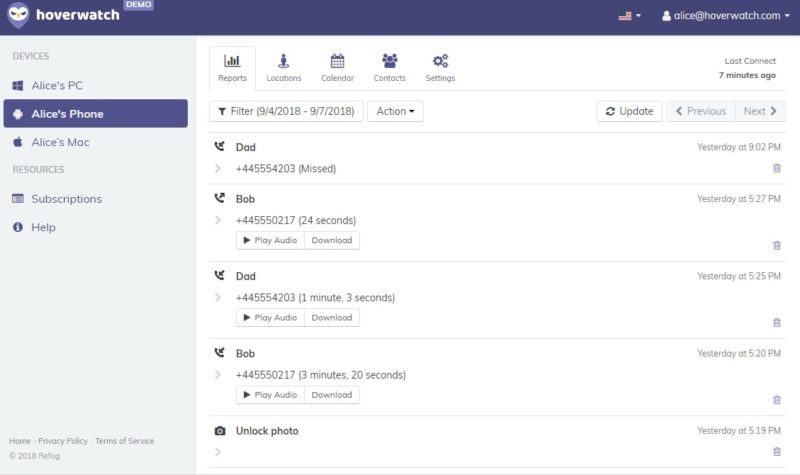 The first criterion by which people choose the best solution is that the product should be free. We agree that to download a spy app for free sounds better than paying for the software.
However, life is not a Hollywood movie, and in capitalism, every developer wants to make a profit. This is why most of the best spyware is a paid option; it is normal. You pay and in return receive a professional solution that works. There are several payment models:
"Free software" that is disguised as free, but then draws money from you;
Freemium – a model in which you get some features for free, but have to pay for the full version;
Paid apps – a clear and transparent model in which you know in advance that the software is not free and in which you know the price in advance.
The best spyware is not free, and is not on the freemium model. In the end, all free software is more expensive than paid options. This is in terms of not only money, but also your time and nerves. Many free products are incomplete and you do not get the proper service. Moreover, some free products are dangerous because they collect information about you and your device, and then give it to third parties.
Therefore, if you are looking for a best solution, look at paid products. We have identified several main criteria for selection:
How many functions are included in the product? (a universal solution works better)
Is there a hidden (stealth) mode to keep your activity a secret?
What is the feedback from real users?
How often is the software updated?
Is the control panel available?
How difficult is it to manage the app?
Is there a support service?
Answer these questions and you will find the best modern application for spying on Android smartphones. Reviews and references are not necessarily the best way to learn more, as competitors sometimes write fake reviews. Nevertheless, be sure to read references, as it may save you time and money.
Stealth mode should not only be advertised, but also work. Some developers write fake promises in advertisements to catch you. The most popular fake offers are:
Track someone without touching the phone;
Spy on a cell phone by phone number only.
If you are not a police officer or working in a mobile operator office, you cannot do this. Remember, access to the phone is always required for spy app installation and to create settings. While it is true that you can track someone without touching the phone, you cannot skip the very first step.
Pay attention to how often the application is updated. A solution that was once the best may become obsolete. This happens more often than you can imagine, which is why you should always check on when the last version was released and try to find only recent reviews.
For example, old spyware might not work with the latest Android versions; some of it does not even work with WhatsApp or Snapchat, which were released after the spyware was released.
It would be great if the app had a trial. You could download spyware, install it, and try it. This is the best way to find good software that fits you. Most of the popular applications have a trial period during which you can download and install the spy app for free.
Why Hoverwatch is the best spy app for Android phones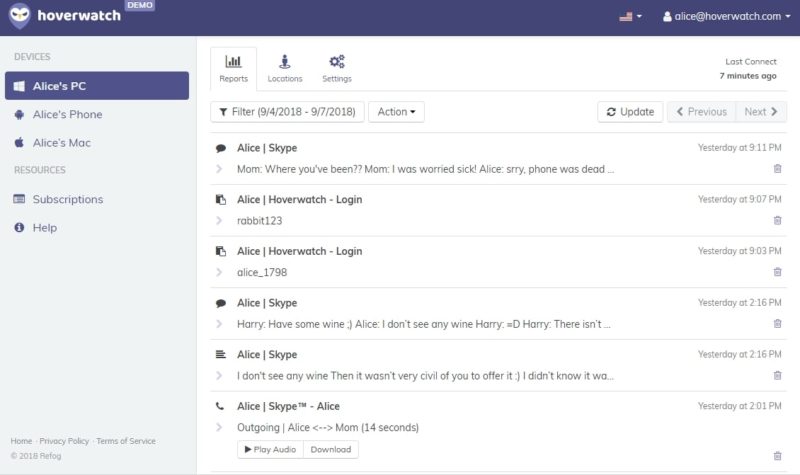 Before we start talking about the best spy app, please visit the official app site. Hoverwatch is a free cell phone spy that has gained the trust of users all over the world. It is widely known software that is used in the USA, France, India, Belgium, Turkey, Denmark, and many other countries around the world.
This application is universal, which means that you can get everything we described earlier in the article, namely:
Calls;
SMS;
WhatsApp, Viber, Snapchat, and other messengers chats;
Current location and location history;
Browser history;
Contacts;
And much more.
In addition, the application meets all the criteria for the title of "best spy app". You receive a product that:
Is regularly updated;
Is easy to use;
Has a support service;
Allows you to monitor the target device in hidden mode;
Has a Control Panel with a convenient interface for data processing.
Hoverwatch can be used for spying on different groups of people. Most frequently, people use the app to spy on a husband or wife, son or daughter, employees and anybody else.
You can find out more on the official site. The Hoverwatch app has a website in more than 10 languages, which is why it is a popular solution on non-English markets.
Hoverwatch is easy to use because it can be installed in a few minutes by anyone who does not know anything about the technology. All you have to do is:
Register on the official webpage;
Download the spy app (.apk file);
Install (open) the file on the target device.
This will take just a few minutes. As you see, to hack a smartphone, you do not need to take any complicated steps. Simply choose the right option for spying; the rest will be easy.
The best way to spy on Android smartphones
In this article, we looked at all the available methods – built-in, paid, and free. The best method is up to you. You can also combine the available options and, in the end, get the best result.
Do not be afraid of the surveillance process or of the word "hacking". All this is now so simple that you will definitely cope. The main thing is to choose modern and proven solutions. Then you really can spy on any Android smartphone, such as the Samsung S9, Huawei P20, LG G7, and other models.