Apple's iPhone is known to launch new phones in regular intervals, and their launches create quite a stir in the market. According to a survey conducted by SellCell, every time a new iPhone hits the market, a vast mass of Android users switches sides. Now, transferring media-related data like contacts and photos from your gallery between the same operating systems might be easy.  But to transfer WhatsApp from Android to iPhone is not easy at all if you don't know how to transfer WhatsApp data from Android to iPhone.
Like Facebook messenger, you just cannot sign into another device and hope for your chat history to show up. Since WhatsApp does not provide any official medium to switch your WhatsApp Android to iPhone, you require a particular medium or application to complete this process. Now, several websites on the internet will proffer you different means of performing this task. But choosing the best application can sometimes be a very time-consuming process. 
Hence, this article will give insights into which is the best way to transfer WhatsApp data from Android to iPhone. As well as the step-by-step guide for how to do it.
Part 1: Ways to Transfer WhatsApp from Android to iPhone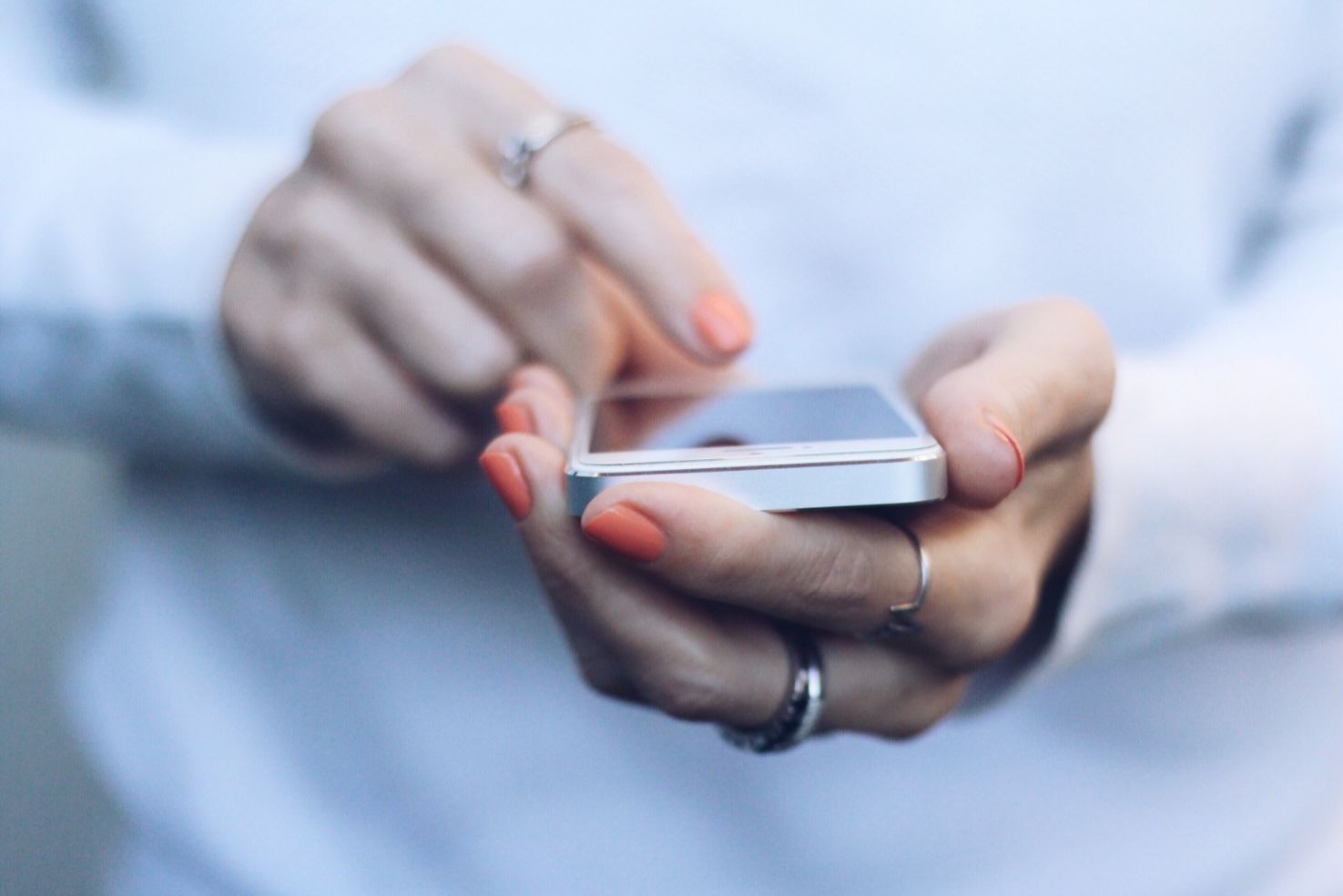 This next segment of this article is dedicated to different ways to transfer WhatsApp messages from Android to iPhone. Let's follow this part to learn more in this matter.
Methods 1: Transfer WhatsApp Chats from Android to iPhone Using Email
This method allows you to transfer your WhatsApp chats from Android to iPhone, but it has its limitations. It does not come with an option for sharing all the chats at once. You will be required to select one conversation at a time. Here is how to do it –
Step 1: Launch WhatsApp on your Android device and click on the Settings option on the top right of your screen. In the Settings, you are required to click on the Chats option.
Step 2: Once it opens, look at the bottom of your screen. You will find an option of Chat History. Click on that option.
Step 3: On the following screen, you will see four options. You are to choose the topmost option that reads, Export chat.
Step 4: Select the contact you want to transfer, and it will ask you if you want to import the media.
Step 5: Then select the option of email/Gmail, and send it to the requisite email address.
Step 6: Now, access the email address to which you sent the chat backup on your iPhone. You will be able to access the backed-up chats on your new device.
Method 2: Transfer WhatsApp Chats from Android to iPhone Using MobileTrans (the Mobile App)
MobileTrans – Phone Transfer is an application that makes your work hassle-free. It is designed to transfer WhatsApp data from Android to iPhone and vice versa directly without any use of a computer. So all you need to do is simply tap on a few easy options, and voila, your data is transferred. Moreover, you can also perform WhatsApp Transfer from iPhone to Android phone using this tool. Here is how you can move WhatsApp from Android to iPhone –
Step 1: Download the application from Google Play Store on your Android device and from App Store on your iPhone. Upon opening the app, you will be required to accept the privacy policy and terms and conditions. In the following step, you will be given the option to transfer the files between Android to iPhone or vice versa.
Step 2: Click on the Android to iPhone option, and you'll get a prompt to accept your latest backup with its exact time. If you think the backup is old, just tap Re-backup and create a new backup to proceed.
Step 3: You will be required to provide your phone number associated with the WhatsApp account and confirm with the code sent to your phone. Then wait a few seconds till MobileTrans prepares the WhatsApp data for transfer.
Step 4: After allowing your WhatsApp on the Android device to create a backup. Following which a prompt will be generated. You'll see that the app is asking you to connect your Android and iPhone device by using an USB-C to lightning cable or an OTG cable. Just connect both devices this way and proceed to the transfer option.
Step 5: Finally, tap on Start, and your transfer from Android to iPhone will begin.
Method 3: Transfer WhatsApp from Android to iPhone Using Move to iOS
This is an application developed by Apple Company to help you transfer files from Android to iPhones. So here are the steps to transfer WhatsApp from Android to iOS easily using Move to iOS –
Step 1: Download Move to iOS application on your Android phone. It is available on Google Play.
Step 2: Accept the terms and conditions, and it will direct you to a screen where you will be asked to "Enter One-Time Code".
Step 3: Now, you are required to set up your iPhone until you see the "Move from Android screen". Here, wait for the 6-digit code to appear.
Note: if you have already set up your device, you will be required to factory reset it.
Step 4: Enter the code visible on your iPhone screen.
Step 5: Select the files you want to transfer on your iPhone, and you are good to go.
Method 4: Transfer WhatsApp Data from Android to iPhone Using Local Backup
By using this method, you can create a local backup on your device and share it on any other device.
Note: this method only works for Android devices as it uses Google Drive backup. You cannot access this local chat back up on your iPhone device as iPhone uses iCloud backup.
Step 1: Open the WhatsApp application on your screen and access the Settings.
Step 2: In the settings, once again, open the Chats option.
Step 3: There, you will find the option of "Chat Backup".
Step 4: Click on that option, and you will be able to see the details regarding your last backup and the location and frequency of your backups.
Step 5: Now tap on the green button that reads "Backup", and it will start automatically. When done, the local backup will be available inside the WhatsApp folder in your file manager.
Step 6: Finally you can easily install WhatsApp on your new device by following the on screen process. And during the process, you'll be asked to restore the Chat Backup again.
Method 5: Transfer WhatsApp from Android to iPhone with a PC Program
Step 1: Download the MobileTrans (the desktop version) on your PC or Mac, and from the home page, select the WhatsApp transfer feature. Make sure that you have connected both your Android and iPhone device to the computer using USB cables.
Step 2: Now you will see WhatsApp features on a sidebar. Choose the Transfer WhatsApp Messages option from it.
Step 3: The application will then show you the two devices connected to your computer. Before getting started, check that the Source (Android) and Destination (iPhone) devices are in the proper placement. If the order is wrong, click on the "Flip" button.
Step 4: Click Start, and it will take the application almost no time to transfer the WhatsApp chats from Android to IOS device. Once the transfer is completed, your iPhone will detect the newly transferred data and will allow you to restore it.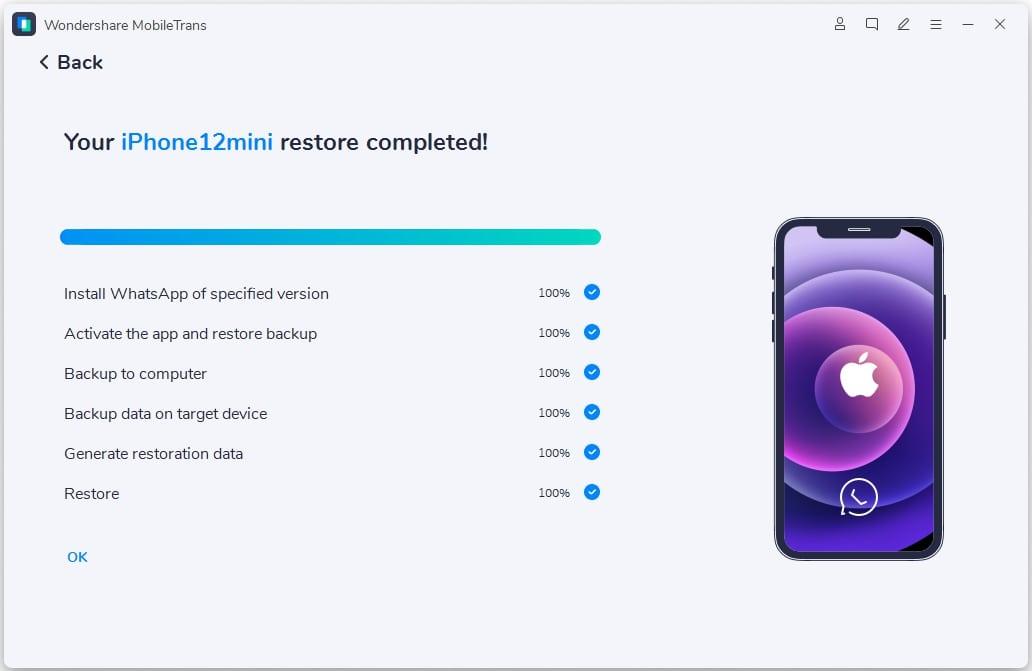 Part 2: Features about MobileTrans – WhatsApp Transfer
In the previous parts of this article, we saw how complicated transferring WhatsApp data from an Android device to an iPhone could be. If we were to tell you that there is a way in which you don't require to transfer your files through e-mail, factory reset your device or get tangled in the mess of USB cables. Would you believe it? 
Yes, MobileTrans is the simplest and most effective solution to your problem. It supports the direct transfer of your data from one device to another. MobileTrans from Wondershare is a quick and safe method of transferring data. This application does not hamper the original data, so you don't have to worry about losing your precious data in the process of moving it. Also, the application is compatible with over 6000 Android devices and supports all models of iPhones, iPads, and iPods.
Features:
It's the most secure and quickest solution to transfer, backup and restore data between phones.

You can easily transfer, backup and restore WhatsApp data between Android and iPhone devices.

Allows users to selectively transfer 18 types of data including messages, apps, songs, photos, videos etc. and more.

Various social media apps data can be transferred in a few clicks including WhatsApp, Line, Kik, WeChat etc.

Easily create a backup of your smartphone on your PC or Mac, including contacts, photos, and other types of data such as WhatsApp.
Conclusion:
WhatsApp data is one of those things we have learnt to treasure the most. Since it is a conglomeration of several mediums merged into one, you just cannot afford to lose your WhatsApp data in case you decide to change your phone.
Since there is no official mode of transfer provided by WhatsApp itself and other methods are not convenient enough, it will be safe to conclude that MobileTrans is the safest option to transfer WhatsApp from Android to iPhone. It is a reliable, superfast and direct method of transferring data straight from one device to another. So, what are you waiting for? Buy that latest Apple iPhone launched in the market, and MobileTrans will take care of the rest for you.