Last Updated on October 12, 2018
Your business may have begun in an era when computers were scarce and the web was virtually non-existent. Today, however, you can't imagine running a business without a website, irrespective of your industry or the size of your trade. The number of people using search engines is increasing every year.
In 2017, 46.8% of the global population had access to the internet. By 2021 this share is expected to reach 53.7%.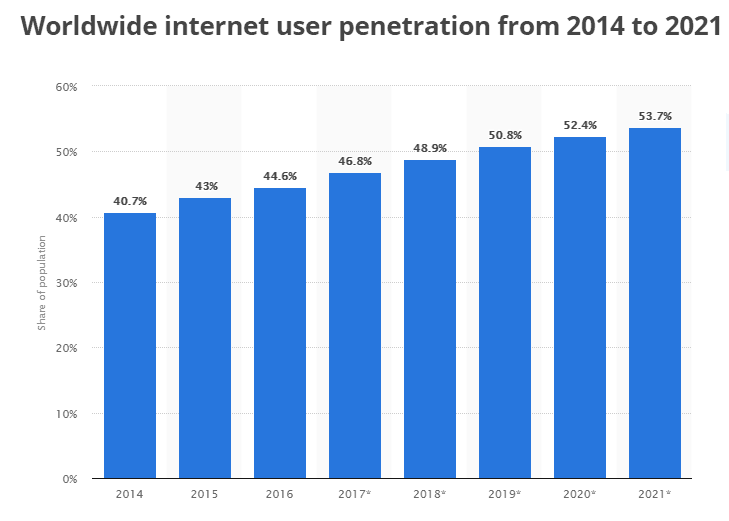 The only way to reach out to nearly half of your customers is to create a substantial online presence. It all begins with an elegant and a professional-looking website. Well-planned and optimized content is one of the primary aspects of such as a business website.
Unfortunately, for most businesses, structuring the website content often comes as an afterthought. Learning to structure your website content is just as critical as determining its design. After all, content plays a vital part in improving your site's user experience and SEO as well.
Here are six tips for structuring your website's content to turn it into a traffic magnet.
1. Decide Why You're Building Your Website
The first thing you need to know is why you are building the site. Your content layout will change according to your site's purpose. The goal of a website will vary depending on the target audience and the market niche. While some websites are intended for selling products, others tend to focus on providing practical advice.
Usually, your site will fall into one of the following three broad categories.
Selling Products or Services
As you can imagine, these are e-commerce sites. They may be involved in selling physical or digital products in a particular geographical location or all over the globe. They need to integrate the latest online tactics to entice consumers into making the purchase.
Generating Leads
These websites allow you to generate leads that you can later follow up on and convert into customers. These websites are used to position a brand or a company as a dependable, trustworthy and experienced service provider.
Providing Information
These websites showcase anything from entertaining information to practical advice for visitors. You can use these websites to provide information and articles on various topics or a single one. Typical examples of informative websites include personal and professional blogs and entertainment and news sites.
2. Start with a Sitemap
Once you have a fair idea of why you are developing your site, the next step is to create a sitemap. A sitemap will help you understand the overall site structure and content layout possibilities.
But, most importantly, it will allow you to create scalable content layout. Hence, you will be able to plan for the content that will be added to your site as your business grows in future.
You can create a sitemap on plain paper at first. It will allow you to define and organize every page of your website. For example, you can group similar type of content together, making it easier for your visitors to find it. You can also sort the content according to the informational hierarchy, starting from the broadest to the most defined content.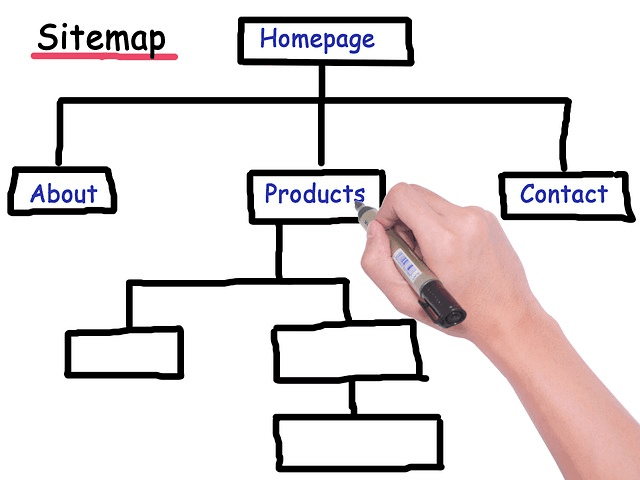 A typical sitemap consists of a homepage, primary, secondary, and tertiary navigation, call-to-action elements, downloadables or forms, and external links. When creating a sitemap, always think from your customer's point of view.
The best way is to make a short list of your customer personas. Create the content layout that leads to a frictionless browsing experience and provides you with enough engagement opportunities.
3. Keep It Simple
When it comes to content, readers usually don't like to keep clicking much. They may prefer to scroll up and down, but certainly not sideways. It is even better if the content can fit the screen. A single-column content layout is perhaps the best way to present lengthy information.
Despite their simplicity, these layouts can have a substantial impact on users. In fact, simplification can highlight the quintessential areas of your conversion elements. It can also work well with a responsive web design. This layout is especially important if your site indents to provide a lot of text content.
This is why most informative websites such as blogging and news sites use this type of layout. Tumblr, a popular micro-blogging site, is one of the best examples of how to create a simple and flat, but aesthetically pleasing content layout.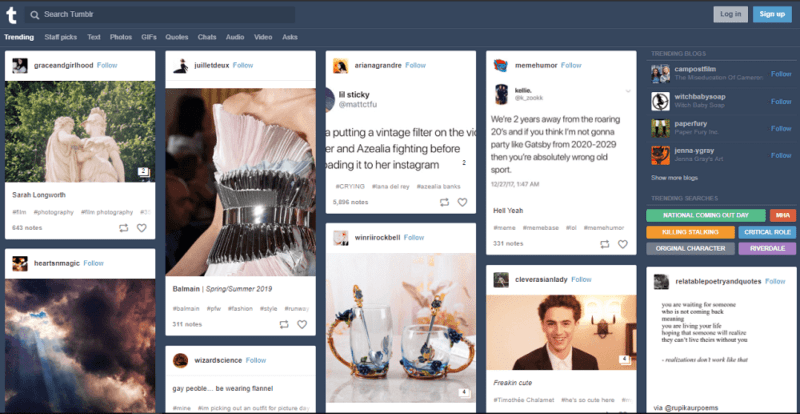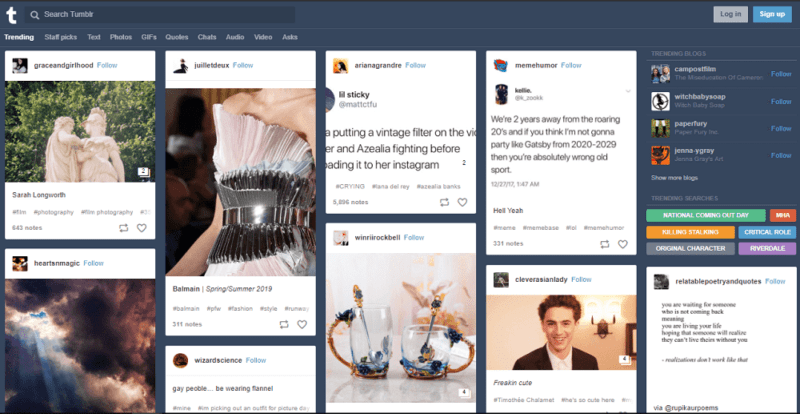 4. Create a Strong Headline
One of the common reasons why people move away from your home page is a weak headline. It is the first element of your content that people see as soon as they land on your website. It's only a matter of seconds before they decide to leave your site or go further in. So, you have to make it count.
Consider pointing out the elements that set your brand apart from the rest. You can also talk about the issues or problems your customers face, and how you can solve them better and faster than your competition. Try as many variations of the headline as possible to see which one makes the highest emotional impact.
As a rule of thumb, avoid using lengthy, complex, and fancy titles. They are usually filled with jargon, and are most likely to turn your prospects away. Instead, keep it simple and clear.
Avoid using filler words because too many words can be distracting. On the other hand, using too few words may fail to convey your brand message effectively. Use just enough words to convey your message head-on without leaving your audience wanting more.
Sometimes, adding a short subtitle under the headline can also help. For example, Mint uses just four words in its headline, while keeping the subtitle under 20 words. The result is a simple, catchy, and no-jargon headline that explicitly conveys what Mint offers, an application that improves your financial management.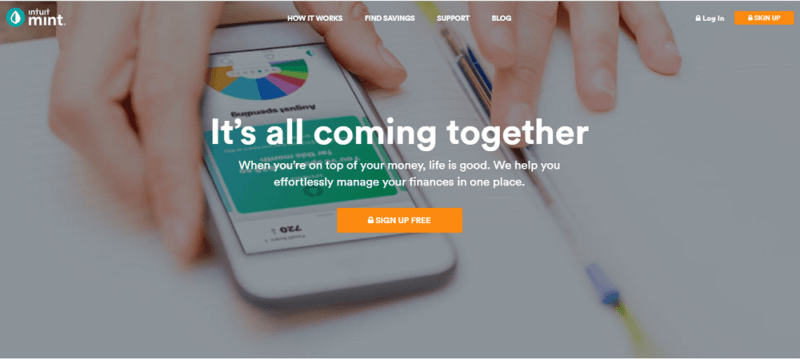 5. Create Compelling Calls-to-Action
Calls-to-action will encourage your users to take a specific action. It usually involves getting them to buy a product or register for your email list. However, with irrelevant or dull CTAs, this is a lot less likely to happen.
When it comes to CTAs, less is always more. You can't make them ridiculously short though, instead keep them concise. Use only a few but action-oriented words. Always use first-person when writing a CTA. Keep the message above the fold to make it easier for readers to find it.
You can use the white space around the CTA to make it stand out. Just make sure to use bold colors and higher contrast. Whether you are offering the CTA for free or it involves a price, let your viewers see the message bright and clear. Lastly, make sure to align your message with the page content, brand identity, and user's journey.
For example, Netflix, a well known online streaming service provider, leverages its brand identity to create a short and crisp CTA. Displayed on the homepage, their CTA is perhaps the best example of a minimalist content layout. As users already know what Netflix is, the brand focuses on highlighting the core features that make it stand apart.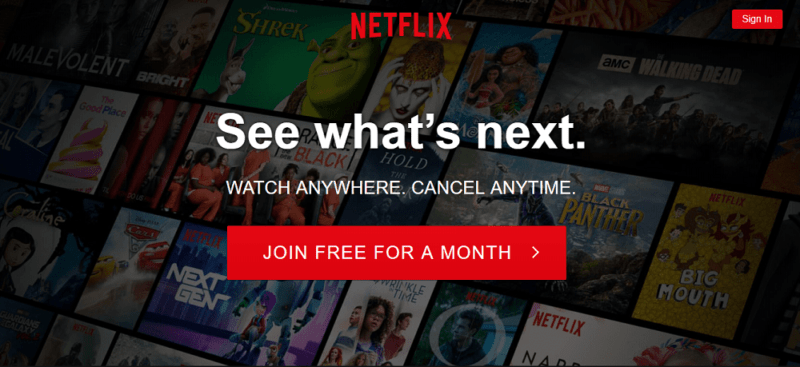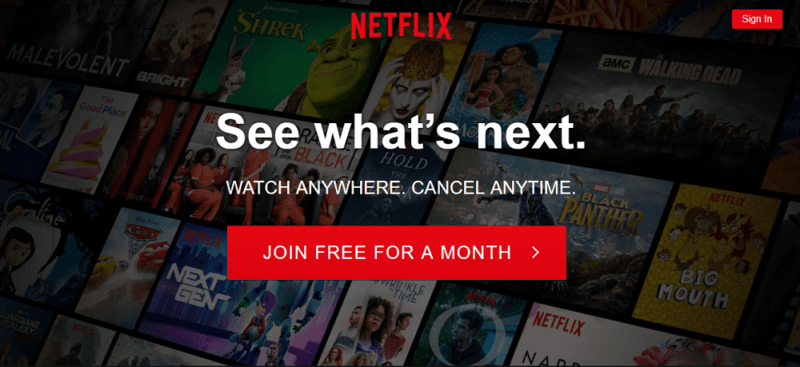 6. Communicative, but Short Web Forms
Web forms are an integral part of all websites. From signing up for an email list to checking out items for a shopping cart, website owners use them for a variety of reasons. However, long web forms asking for too much useless information often end up infuriating customers. Only short and communicative forms entice them to share their contact details.
Allow your customers to complete the required task by filling out minimal fields with absolute ease. You can use auto-fill wherever possible to speed up the process. In the post-GDPR world, most customers will not share more than the necessary information with you. So, add only the required fields to your form.
Keep the fields in a logical sequence. For example, an account opening form should always begin with personal details such as name or email address and ask for a password later.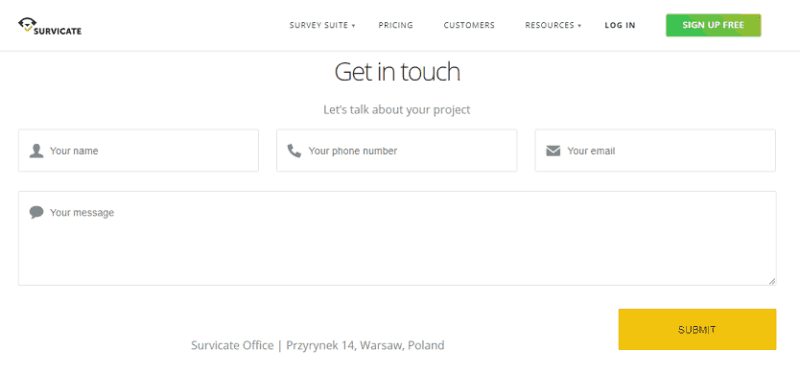 Survicate uses a simple contact form that's also communicative. The line "Let's talk about your project" adds a more personal and conversational touch. The large size and minimal number of fields make the process a lot less overwhelming.
If the form is long, you can break it down into multiple steps. For example, most e-commerce sites use multi-step check-out forms for the sake of convenience. If the form is short, display all elements in a single-column layout. It is much easier for readers to scroll up and down when filling out the form.
Wrapping Up
Content structure is an integral part of a successful web design. Better content layout can turn your website visitors into paying customers. However, the content will keep evolving as your business grows. That's why determining the content structure is an ongoing process.
Whether you are creating a new website or redesigning the old one, the above six tips will you take care of your content structure needs. What steps have you taken to improve your website's content structure?