Last Updated on January 24, 2023
Founded in August 2000, DeviantART entertains, inspires, and empowers the artist in all of us. If you are deeply involved in the design community, you probably already know of DeviantArt. Currently it has over 13 million registered members, that's an enormous amount of talent that you could be getting inspired from. Designers and artist alike need inspiration on a daily basis. With over 100,000 daily uploads you are guaranteed to get your creativity juices flowing. In this article we will properly instruct you how to take advantage of this powerful resource.
Getting Started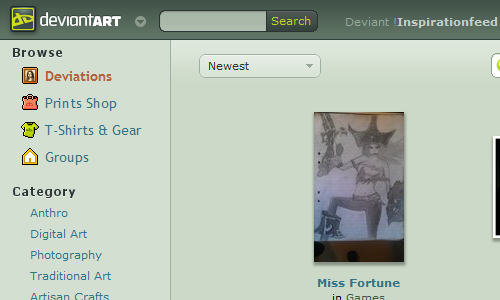 If you go to DeviantART to view content more than show it, or if you ever look at all, you will like the new channels. What are they? Channels are a way of customizing what was once the front page to display new additions or popular items from the sections that you browse most. For example, if you like surreal digital art you can change the settings to see that instead of the overall daily picks from other users. If you prefer literature you can add that.
There are several customizable slots that can be found on either the main page, or at the bottom of the page over the strip of thumbnails showing daily deviations. You will be able to see a blue button with "Channels" there.
Non-subscribers who have a free account are allowed four slots for this purpose. More are part of the benefits of becoming a paid member, which is only a few dollars a month with savings for larger purchases and so often worth the price. These slots will replace the main ones already there, which are
"Newest",
"Popular",
"Prints",
"Daily Deviations".
What makes this so useful is that you can get exactly what you want. Beyond being great for focusing your entertainment and saving time, it also provides a chance at gaining inspiration from what you see. I know that as a writer I often like to read the daily submissions of others in certain areas of the site similar to my own writing style. I also check out completely different genres in order to spark an idea for my own work. Feeding the mind can feed your creativity.
How to Modify a Channel
To modify a channels, first, you should select the sections you want to view. If you are not a subscriber you will want to be more careful in what you choose. You only have four slots that can be modified, and there are many categories available on DeviantART. It can be hard to choose the ones you want more over others.
Once you know what you want, click on the channel you want to modify. It will turn blue and a bubble will pop up that gives you an edit option. You can put in the section you want to watch and then hit 'OK' that is located in the bubble. Do not click the 'OK' in the bottom of the box, as this is a separate command.
Choosing a Channel Type
Now that you know how to edit a channel you should know the four different types you can create. There are:
"Deviant",
"Category",
"Search"
"Basic".
Basic is the automatic settings that are already there. In addition to those mentioned before, you also have deviantWATCH for those who have a paid membership. This works in a similar way to your messages section, showing you previews of all of your watch list.
DeviantART lets you put together a channel with certain people you are interested in. You put their name in the little 'Who' box, or you can select their name from your friends list if you have them. This will show you all of their latest work and activity. Category goes by specific sections and subsections all over the site. You can go by newest or most popular, and it will show everything in that genre.
Search allows you to create a channel based on keywords, so you will be building it based on topics rather than categories. This is great if you like art of any one specific thing and want to see more of it (like logos, templates, etc). It is as simple as that; four different ways that you can create the perfect channels to inspire you daily. It is easy, fast and very useful. So if you are a member of DeviantART get on board and start customizing the site to fit your style.
Did you enjoy this article? Got some more tips and tricks for us? Comment below and let us know! Please don't forget to subscribe to the RSS-feed and follow Inspirationfeed on Twitter+ Facebook ! If you enjoyed the following article we humbly ask you to comment, and help us spread the word!