Note-taking is an important part of any academic or professional organization. With effective note-taking, students and professionals ensure that they are bringing every little piece of information or data that is being taught, shared, or discussed. In a simpler sense, note-taking is a generic practice where students write down important details in a way that they can retain the information at later stages.
Most students use a linear method or the traditional way of note-taking. However, there are certain disadvantages of it which we will discuss in the later stages. But first, we should learn the advantages of going ahead with note-taking — a brilliant and innovative way of note-taking.
By using mind map software, like

EdrawMind

, students can easily find a way to brainstorm different ideas and share them with their peers and teacher. With a mind map, it becomes easier for the teachers to give them notes on the same.

The mind-mapping note-taking method establishes a more creative and productive way to increase students' cognitive abilities.

Mind mapping lets the students add different notes and find connections between them without worrying about the formatting or structuring of the notes.

With tools like EdrawMind, students can easily transform their mind maps into notes and vice-versa, allowing them to easily note down important points that can later be transformed into a creative-looking mind map.

Unlike traditional methods, mind maps are one of the easiest ways to take down important notes. All you require is access to the right mind-mapping software and the information you will need to add to the mind map.
Problem with Taking Notes Traditionally/Linear Ways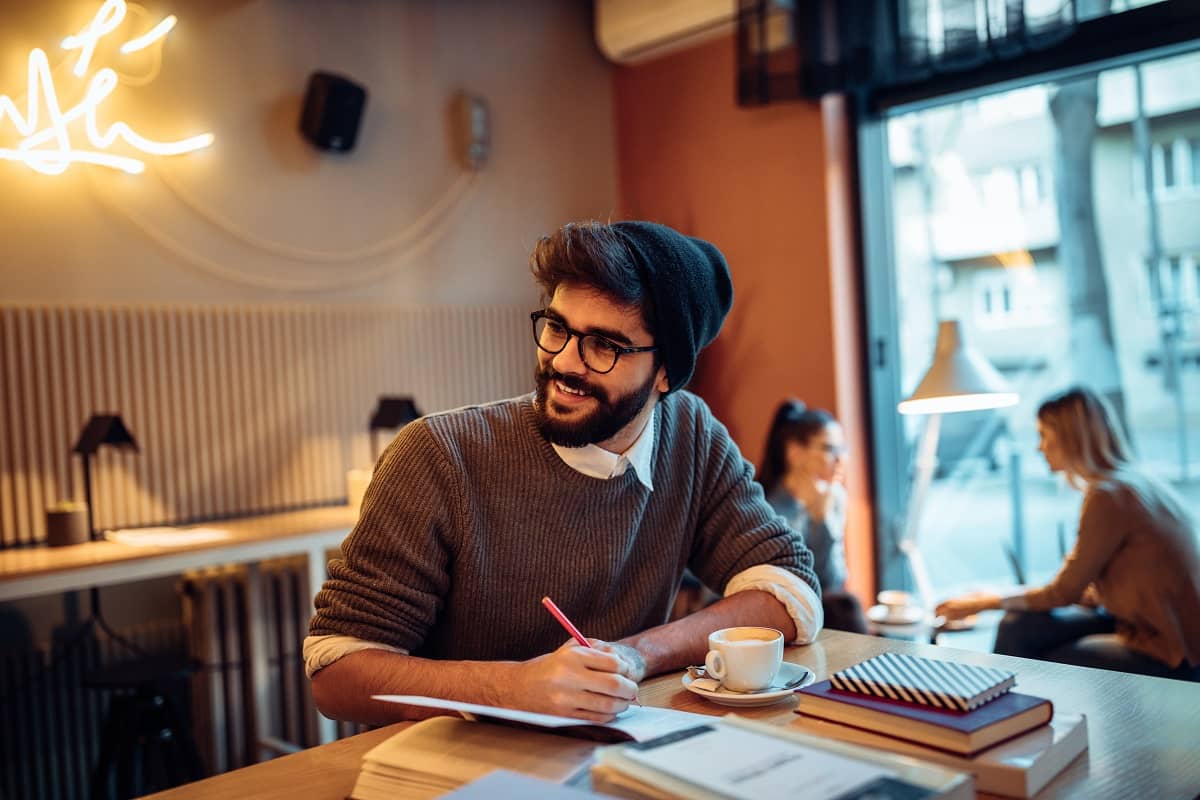 Several students or professionals still use a more linear or traditional way of taking notes over mind mapping. Even though there was a time when this was considered a good practice, aspects and parameters have massively changed over the last couple of years, and more and more students are moving ahead with mind mapping as a way to take notes.
Some of the limitations of the traditional way of note-taking are:
It becomes extremely difficult to edit the notes without rewriting the sentences altogether.

If one has taken down complex notes, reviewing the content without much editing becomes difficult, which consumes much time.

Taking notes through a traditional method requires more time than jotting down important points as students absorb them.
Similar to the traditional way, even the linear method of taking notes also comes with certain limitations, like:
With the linear note-taking method, it becomes problematic to go back and add content without rewriting the sentences.

It becomes tiresome to make connections between different subtopics.

They are not as creative or interesting as mind maps, which means that the students might have a hard time retaining the information.
How to Take Efficient Notes Using Mind Maps [Step-by-Step]
Now that you have understood the limitations of using traditional or linear ways of note-taking let us show you how to take efficient notes using mind maps.
But before we discuss the step-by-step method to take efficient notes using mind maps, let us first understand different note-taking methods. These note-taking methods come in handy when we start creating mind maps for the same using mind mapping software like EdrawMind.
The Outline Method: Helps in effectively organizing the notes

The Mapping Method: Useful when dealing with different topics

The Cornell Method: Enables more creative ways to think about any topic

The Boxing Method: Helps in reviewing complex notes when one does not have enough time.
Now that you have understood different note-taking methods, let us begin drawing a mind map for note-taking using mind mapping software.
Launch & Register:

The first step is to download this free mind mapping software on your computer, MacBook, or Linux machine. If you plan to collaborate with your virtual team to make any specific note, head to the online version. Once downloaded or logged in, you will find different mind-mapping layouts on the homepage. As per your note-taking requirements, you can choose between Fishbone layout, Timeline layout, Radial layouts, and more.
 After selecting, you can rename the Central Theme and update the Subtopics. With the 'Tab' key, you can add as many Subtopics as you would like.
Pre-Built Templates: If planning to access the pre-built themes, check out 'MindMap Gallery' and look for 'Note-taking.' In this online template gallery, you will find several note-taking mind map templates, like Note Taking Electricity Mind Map, Note Taking Mind Map for Students, How to Write Meeting Notes, Innovation Launchpad Notes, and more. Check the content of the pre-built templates and click on 'Duplicate' if you are planning to duplicate the template in its entirety.
Note-Taking From Scratch:

If you have the content ready, you can start making the note-taking mind map from scratch by clicking on '+' from the homepage. In this free mind mapping software, you will then see a blank canvas with the Main Theme in between and a couple of Subtopics. Start modifying them as per your content.
 Additionally, you can also view your notes as an Outliner View, making it a little feasible for you if you have a lot of content to jot down. You can add Floating Topics in your note-taking mind maps that can have their own Subtopics. You can further connect different subtopics with Relationship Connector.
Customize: Once you have added the content to your note-taking mind map, you can customize it as per your desire. From changing the theme to updating the layout, modifying the connectors, changing the colors & fonts of the Central Theme & Subtopics, to even changing the background, you can fully customize your note-taking mind map. By modifying the looks and structuring, you can build your note-taking mind map as per your liking, ensuring that you won't get bored when you sit down later to revise the notes.
Export & Share:

With this mind mapping software, you are not limited to exporting and sharing your notes to a finite number of formats. Once your note-taking mind map is completed, you can export it into multiple formats, like HTML, SVG, PNG, Docs, PPTX, JPEG, and more.
If you plan to distribute the notes or attach them to your files, you can take a printout per the screen resolution. Additionally, you can share the notes on social media platforms or embed the HTML code to attach it to your website.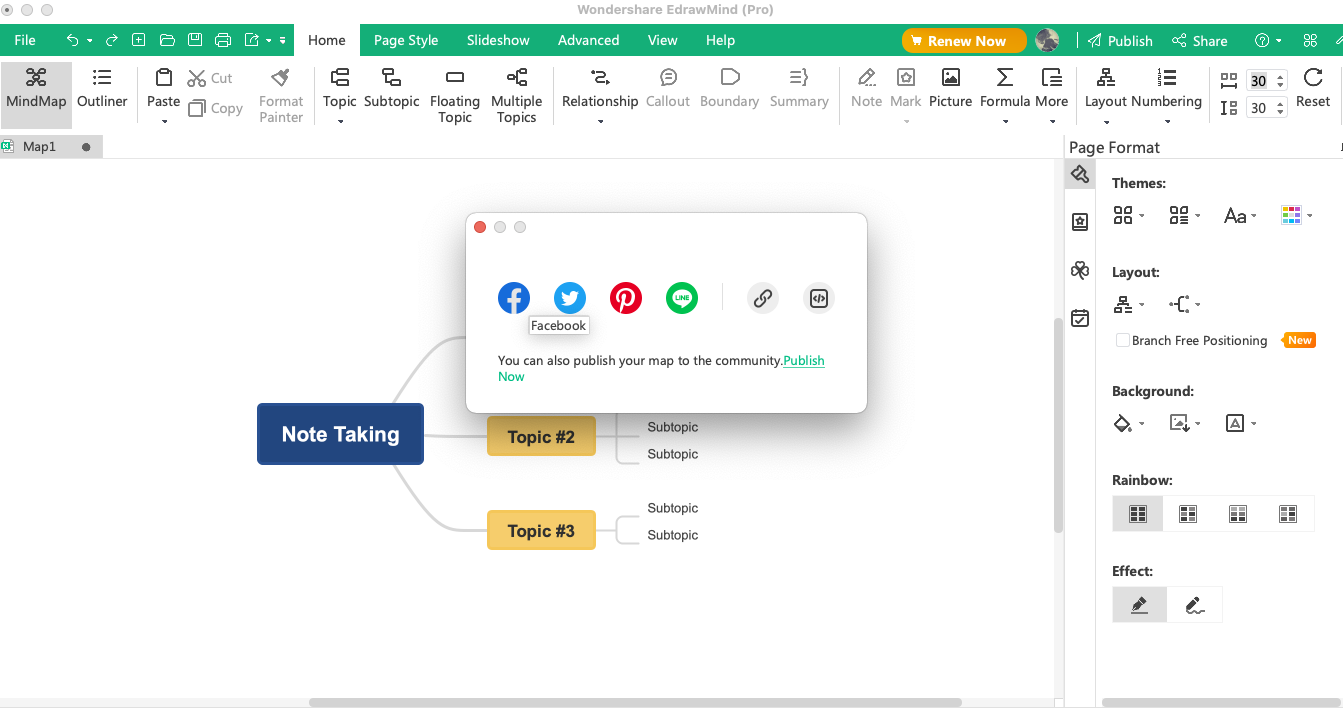 Final Thoughts
Some think that note-taking is an obsolete method, but most researchers have found that when we sit down and take proper notes, we gather enough information that would help us when we study. Note-taking is one of the oldest methods to jot down important points that can later be transformed into chapters or detailed topics. Additionally, the note-taking method is highly beneficial for those students who tend to have multiple revisions before the examination. With the help of tools like EdrawMind, one can easily make a note-taking mind map that improves the creativity and productivity of the student.
With the note-taking mind map, a student can easily connect the multiple subtopics and find the relationship between them. This free mind map software comes with free templates, layouts, online collaboration, personal cloud, and more. If you struggle with note-taking mind maps, check out the tool and share it with your peers.