Last Updated on January 20, 2022
Product descriptions are the heart of several online businesses. If you are selling something, you should never just copy and paste the manufacturer specs as they are usually too technical or unappealing. Your product description should, at least, achieve these goals below:
Give to your potential customer the perfect idea of your product despite the fact that they aren't able to touch it or to see it with their own eyes.
You also want that your product description is easy to crawl, so Google Search will consider it as valuable and put your website at the top of their search results.
That is to say that product descriptions are one of the decisive factors for your client buy (or not to buy) your product. It will make sure that your customer will find your online business when they enter the keywords related to your business, and it will also give them a first impression about what you are trying to sell.
Get to know your audience
For starters, you will need to know your target audience very well, so you can understand what they are looking for when they read a product description. There are a few things that you will need to take into consideration, such as their background, so you choose your vocabulary accordingly.
Always have in mind that you are writing to them and not to you. Consider how busy they might be while reading your product description and what matters to them in terms of information and details. This way you won't be spending your time on something that won't be accomplishing anything.
Understand the benefits of your product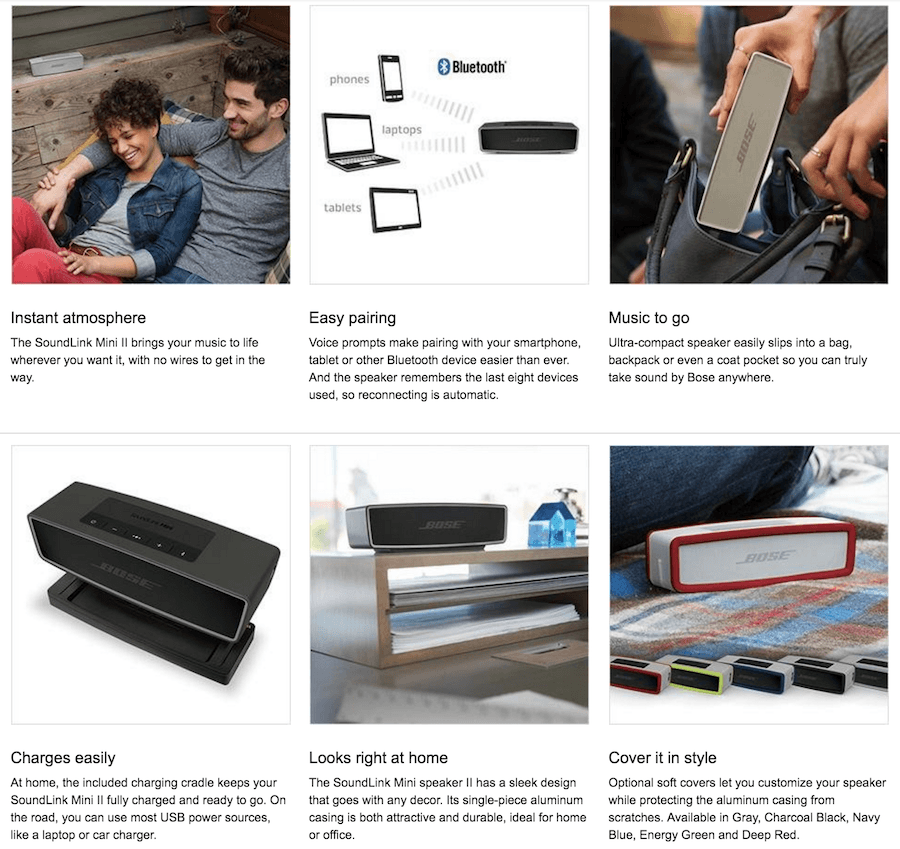 The second thing that you will need to know very well is your product. It might sound obvious, but there are a large number of salespeople that think that it is up to the manufacturer to know the product inside out. But the truth is that your customer will be calling you first if they have any doubts or problems.
And it is not only the specs that you should be aware of. It is more important to know all the benefits that your product offers than its size and weight (even though you should know it as well). But the point here is to remind you that what a client buy is an experience not just a material thing, so you should make those benefits evident in your description.
Add some emotion to it
A common mistake that many people make is thinking that a product description is a cold piece of marketing. That it just give you facts, information, and data so you can decide if you want to buy it or not. But, as it was mentioned before, your customers are looking for benefits which might be impossible to relate to reports and statistics.
They want something that will make them feel special and unique. They want a product that will save their time or make them more successful. So your writing should address these needs trough emotions as they are as particular as you can imagine. This way your product description will be more compelling and engaging, leading to more conversions as a consequence.
Make sure that every word counts
Another thing that you will want to do is to make sure that every word counts. Nobody has the time to read long descriptions if they are full of unnecessary information. Of course, you have to say all that you need to say, and probably there are regulations in your industry that tell you what you must add to the text. But you should always stick to the minimum required.
Most of the online visitors are looking for content that can be easily scanned. They don't have much time available so they want to make sure that they find all information that they need right there, but nothing more than that.
So when you finish writing your product description get back to it asking yourself if each word that you put there is relevant. If anyone stands out as just a filling, delete it without thinking twice.
Use social proof


Whenever you can, use social proof to make your product description more attractive. It means adding testimonial and reviews from happy clients, mentioning the large number of people who has already bought your product, or displaying reviews and star ratings along with your text.
It is proven that most of us will rather buy something that has been considered as valuable and approved by our peers compared to believing in what a salesperson is telling us about it. We think that all that you want is your profit and that you will lie to get it, while another customer has nothing to gain from their words – and this is a very reasonable way to think and see the scenario, unfortunately.
So you should always try and make sure that you will let your customers know what previous and recurrent clients think of your product. It will increase your credibility and help you to make more conversions.
Add keywords
Another thing that you shouldn't forget is to add the best keywords to your product description. Remember that before even looking at your product, your prospective customer needs to find it online. And to achieve it, you will have to ensure that it will rank well on Google Search in the first place by using your audience's favorite keywords in your product description.
That is to say that you should spend some time researching all the possible words and sentences that your audience use while searching for your product online and then trying to add them to your text. Still, they should be a natural part of the text, or they will just make your description confusing both to your client and Google Search.
To Sum Up
If you want that your product description leads to conversions, you will need to make it relevant, engaging, and compelling. To achieve it, it is important that you know your audience very well and that you make sure that each one of your words counts.
The benefits of your product should be easily found in your text, and it is always interesting that you use social proof to increase the credibility of your words when possible. Also, remember to add some emotion to your text, plus the best keywords, so your customers can find your website on Google Search.
If you do it all correctly, you can be sure that you have written an excellent product description that will increase your sales and the awareness about your brand. So start working on it now and see the results coming soon on your reports.