Last Updated on January 20, 2022
Ad copies are the group of words which creates the first impact on user's mind when they look at an ad. It can be also described as face of the product or services. There are various methods of making an Ad for a PPC campaign. When creating Ads, it is not only about your own understanding but making sure that you know what the user wants.
Creativity plays a crucial role in deciding upon how much engrossing the content in an Ad can be. Abiding by the rules is important as incorrect grammar in an Ad doesn't work.
How can you make effective Ad copies?
Here are the 9 tips which can be used for creating effective Ad copies:
1. Know the audience:
The audience to which the Ad is being targeted should be clear in your mind. It is better to be an audience and think in same manner. There are various sets of audience to which an Ad is shown. Young minds think differently compared to the older ones. They like more of a direct interaction and the Ad should have accurate information. The presentation is completely different for different set of audience.

For e.g. If you are selling a hair styling product which is for youngsters. You should target the audience in a more enthusiastic way as the young generation likes those type of Ads. This can be done by using an amazing quote in the headline like "Hair Styling Cream | Smooth and Long Lasting Blow Outs''.
2. Understand the objective:
All the Ads can't be run with a similar objective. There needs to be a certain plan and purpose for it. Some Ads are created in order to solve user's query. That Ad cannot be made similar to how a general Ad is created.

For e.g. If a user types a query- How to cure hair fall? There are various products which gets displayed that helps in hair growth. In that case, it's required to make the consumer aware of the reasons due to which hair fall happens. This will create a sense of need in user's mind to buy that hair gain product.
3. Combine features:
In Google Ads, there is a word limit for expressing about the product or services. So, you are having only a few words to convey to the user. If you want your Ad to work well, it is important that you should be precise and accurate in your description.
For e.g. There is an Ad of a refrigerator, there are numerous features in it. It is now upon you to determine which features are relevant and how it should be connected together. It might also depend on the location or type of audience you are targeting. Combination of words is an art and with practice it happens with ease.
4. Add call to action words:
The words included at last portion of the Ad should be catchy and informative. There are various call to action words which are relevant for an Ad. "Call now!", "Buy now!", "Book Now" and "Get now!" are some of the types which can be used as call to action. You can also add in your own unique call to action for creating interest among the viewers.
For e.g. If you are displaying an Ad which contains an offer for a short period of time. Use words which are pertinent to the Ad and landing page. "Buy Now'' if used should be talking about a tangible product as it creates a better impact on mind of the user.
5. Edit the excess:
Adding a lot of information in a single line can make the Ad complex. This could be a big mistake when it comes to Ad creation. Ads should always be short, crisp, simple and precise. It is better if the important information is shared at the start.
For e.g. If you are writing an Ad for a television, just avoid inserting its extra features. It may have excellent new speakers but writing about that is not necessary. Generally a customer buys a T.V. for good quality pictures. There will be less interest in speakers compared to the display features.
6. Create unique display URLs:
The display URL must be customized with the product or services feature. It should also be rich in keywords in order to get more relevance on the SERP. Users generally look at the display URL and get assured that they are being directed to the intended page.
For e.g.  If there is a product which has various model types. This can be the case in air conditioners. The model types can be attached to the URL, which will lead to less confusion and more clicks on it. Like www.xyz.com/max45. Here "max45" is the model no. which can be mentioned to act as a guide for the customer.
7. View competitor's Ads:
In the digital Ad world, there is excessive competition to be better from each other. Some Ads work better than others. It is important to take cues from it and make Ads which are effective. There are various third party tools which helps in viewing competitor's Ads. It also gives you a bit of sneak peek on what the customers actually like in an Ad.
For e.g. Competitor's Ad should be viewed on a regular basis for getting ahead of them. Outsourcing agencies use it quite a lot for creating Ads for their clients. PPC experts keep this as a top priority when they research before publishing any Ad.
8. Include Location:
If the Ad copies contain location in the sentence of the Ad. It will be easier for the user to recognize and will eventually increase the clicks. The locations can generally be added at the end of the sentence.
For e.g. An Advertisement is given "Exclusive sale in New York". Attaching the location New York makes the Ad relevant. Even if a person in California sees the Ad will not get confused and be assured that the sale is for New York residents only.
9. Include numbers in the headline:
Adding a number in the Ad with authoritative statistics always works well. It helps in catching the eye of the audience as numbers in between words always gets read first. The Ads will be stuck in the mind of the users.
For e.g. Ad which reads as sale or off only will not attract that much attention as an Ad that reads 65% off. So, even though people know that there is a discount. They would want to know the extent of the discount. Percentage matters more than the word sale.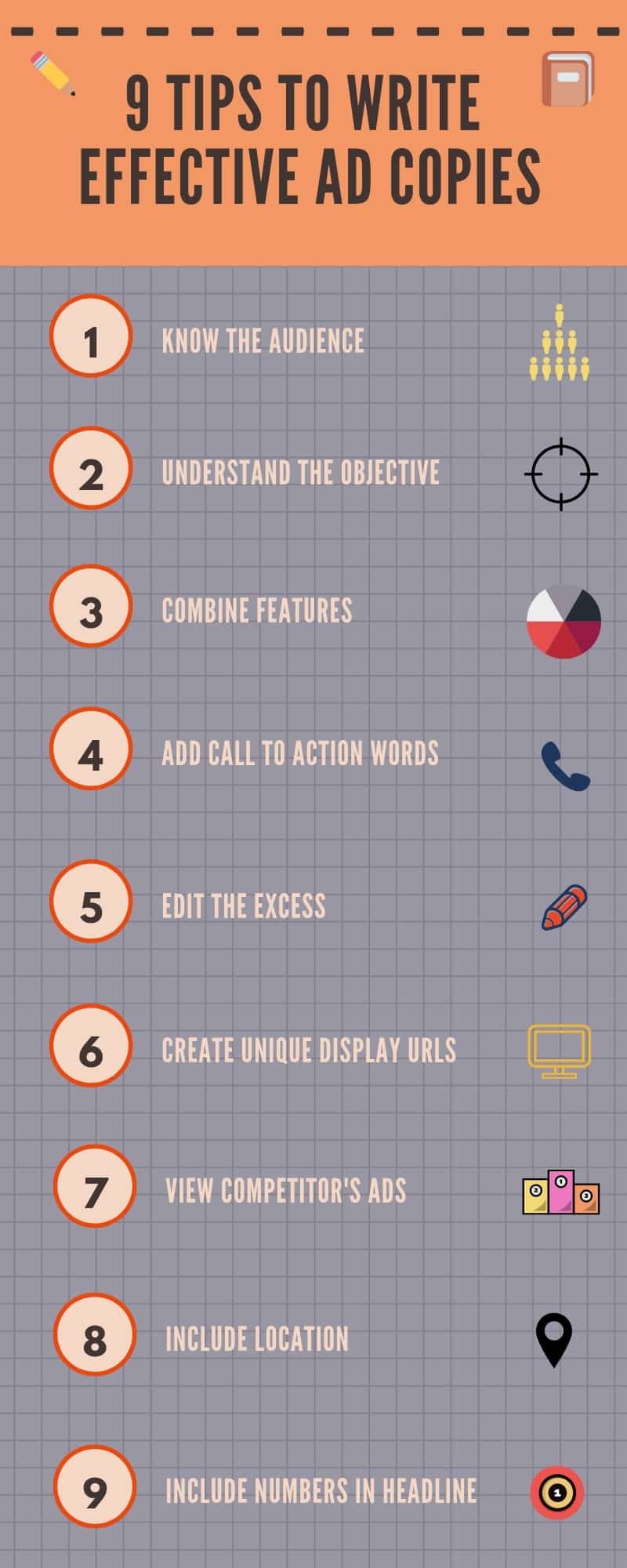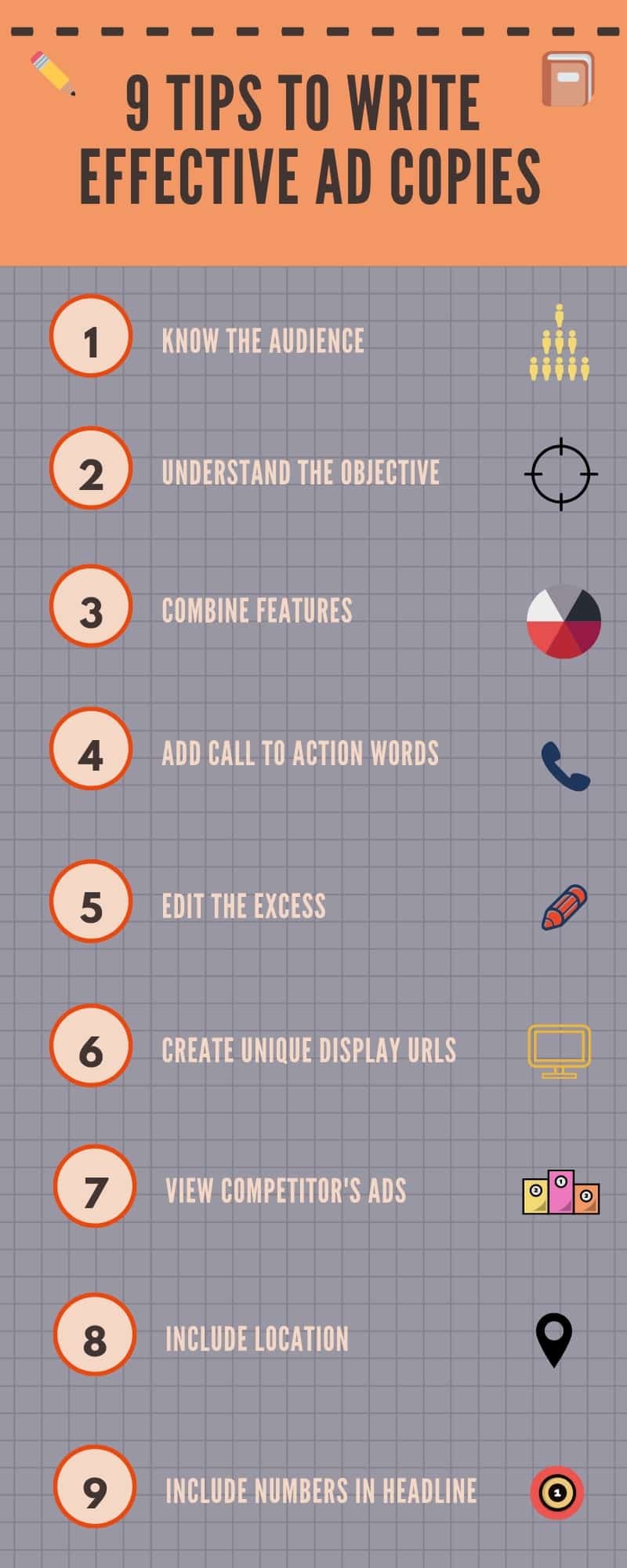 Conclusion:
Well, creativity has an infinite scope in Ad creation. You can be as creative as you want to in writing an Ad copy. Some of the tips have been discussed above. There are certain rules to follow on different platforms which is a must.
Word limit should be kept in check when it comes to posting Ads finally. The strategy to construct an Ad requires a lot of thinking and more than the vocabulary, assessing user's interest plays a key role. So, be confident and write with precision to achieve success in writing effective Ads.