Last Updated on March 8, 2022
Over the past few years, most brands have taken the online marketplace very seriously. Companies are seen to be taking a strategic decision to shift from the conventional website design to a trendy and user- friendly one. While their focus primarily revolves around generating huge traffic to their website; lead generation and conversion however, remains the ultimate goal.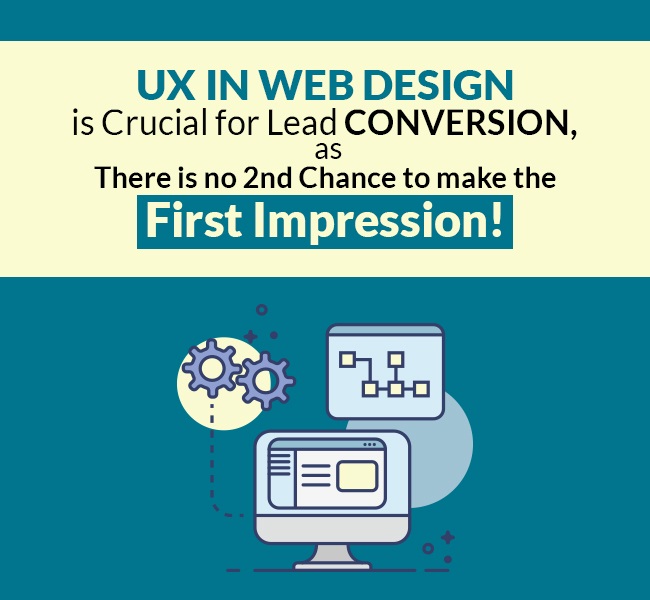 It is seen that most website owners tend to forget the importance of UX while designing their website, which also plays an important role in lead conversion. Here are a few questions you need to ask yourself to understand how your website scores in the perspective of User Experience:
Does your website take too long to load?
Are the visitors failing to find what they are looking for?
Is the content on your website irrelevant and out of context?
Is the bounce rate on your website high?
If the answer to the above questions is YES, your website is seriously struggling with the lack of a good UX design. But, why do you need a strong UX? Well, to understand this, let's dive deeper to know how a good UX can play an important role in lead conversion.
Mobile First approach provides a better visibility
As per a study by Smart Insights, the orders placed through smart phones and tablets has increased by up to 30% in 2016 as compared to 26% in 2015. Well, this basically means that your website design should have a mobile version with larger text, bigger images, tappable links, and so on. If a visitor to your website is able to easily find all the important information he/she is looking for, and navigate through your website with ease on mobile, chances of lead conversion is multiplied manifold.
First Impression is the Last Impression; Page Load Time Matters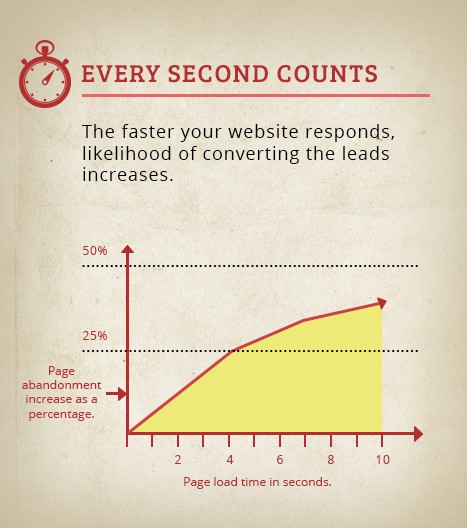 An average good page load time is around 2-3 seconds. If your page takes more time to load, remember that the drop-out rate is going to be higher and you may lose out on some genuine hot leads. Make sure you are following the best practices to optimize the page load time of your website. The faster your website responds, the likelihood of lead conversions increases.
Lesser the distraction, more the chance of conversion
Companies today try to capture leads aggressively as soon as the visitor lands on their website. In doing so, they try to add pop-ups, slide-ins, and so on. However, after a point, they prove to be the ultimate distraction for a visitor, forcing them to leave your website. So, it is advised to provide some breathing space to your webpage in order to deliver a great user experience to your web page visitor. Analyze what is important, and display only the relevant content to your audience for a better conversion rate.
Buyers look forward to personalized experience
Personal attention gives a feel good factor to every individual. According to Invespcro, 53% of online shoppers believe that the retailers who personalize their sites provide more valuable services. Well, providing a personalized experience for users is certainly a part of presenting an exemplary user experience.
Businesses may try to track the user behavior and consequently display related products; also allowing users to select their preference of notification on their website. Furthermore, businesses can also consider geo-targeting while providing a personalized experience to their users. In the example below, Zenni has personalized its website for users to upload their image and select a frame of its choice by trying out the eyeglass virtually on their own photo.
Right amount of visuals is the key
Videos and full width image on webpage is an essential tool for those looking to create a user-friendly website. While full width images on one hand attract users to stay back on the website, videos in website on the other hand, is a seamless way to make your audience understand what your brand is all about. Optimal use of visuals on your website is highly recommended so as to ensure that your website loads quickly.
Cross Browser compatibility is a must
While designing a website, designers sometimes advise users, giving a cue (by mentioning somewhere in the website) to use a particular browser for a better renderability. Well, this is nothing but setting a bad impression on users.
Cross browser compatibility is a straightforward feature for any website to implement, in order to provide a better user experience. Different visitors may use diverse browsers, and if your website doesn't render well across all browsers, you'll automatically have less visitors on your website – in the end affecting lead generation and conversions.
Prominent & Consistent navigation links reduces bounce rates
The lesser the bounce rate from your website, more is the scope for you to convert the leads. Incorrect, inconsistent, and less important navigation links on your website will lead to a higher dropout rate, as that leads to poor user experience.
So, make sure all the important links and content in your website is visible to the users. Remember, that your visitors have visited your page in search of some information. And, if they don't get the information they are looking for, they might just switch to your competitor's website for the same.
Contrasting CTA colors can do the trick for you
CTA plays an important role when it comes to capturing and converting leads. Hence, it is essential to create CTAs that stand out from the rest of the content on your website. For a better UX, go with contrasting colors. The brighter your CTA is, possibility of it getting clicked increases considerably.
Takeaways
Designing a website that renders well across all devices as well as multiple browsers can offer an amazing user experience to your visitors.
Provide personalized user experience to your website visitors in order to influence them to convert into leads.
Make sure your website load time is ideal, else the drop-out rate will be high.
Right information at the right time is essential, consider adding the important navigation links at the places where the visitor is expecting it to be.