Last Updated on January 20, 2022
Who Is Howard Stern?
Howard Allan Stern is an American radio and television presenter, author, and actor. As a radio personality, Howard is mostly remembered for his The Howard Stern Show. The show gained widespread popularity after its national syndication on terrestrial radio from 1986 to 2005.

In addition to The Howard Stern Show, Stern has also had a successful career broadcasting on Sirius XM Satellite Radio from 2006.
Quick Facts
| | |
| --- | --- |
| Full Name: | Howard Allan Stern |
| Popular Name: | Howard Stern |
| Gender: | Male |
| Birth Date: | January 12, 1954 |
| Age: | 67 years |
| Parents: | Ben Stern and Ray Stern |
| Siblings: | Ellen Stern |
| Birth Place: | Queens, New York City |
| Nationality: | American |
| Ethnicity: | Jewish |
| Education: | Washington-Rose Elementary School, Roosevelt Junior-Senior High School, South Side High School, and Boston University |
| Marital Status: | Married. Previously married to Alison Berns (from 1978 to 2001) |
| Sexual Orientation: | Straight |
| Wife/Spouse: | Beth Ostrosky |
| Children: | Emily Beth, Debra Jennifer, and Ashley Jade (all from his first marriage to Berns) |
| Dating: | N/A |
| Net Worth: | USD 650 million (as of August 1st, 2021) |
| Source of Wealth: | Radio and Television Hosting, Acting, Writing, Photography, and Other Ventures |
| Height: | 6′ 5″ (1.96 m) |
| Weight: | 85 kg; In pounds: 187 lbs. |
Early Life and Career Information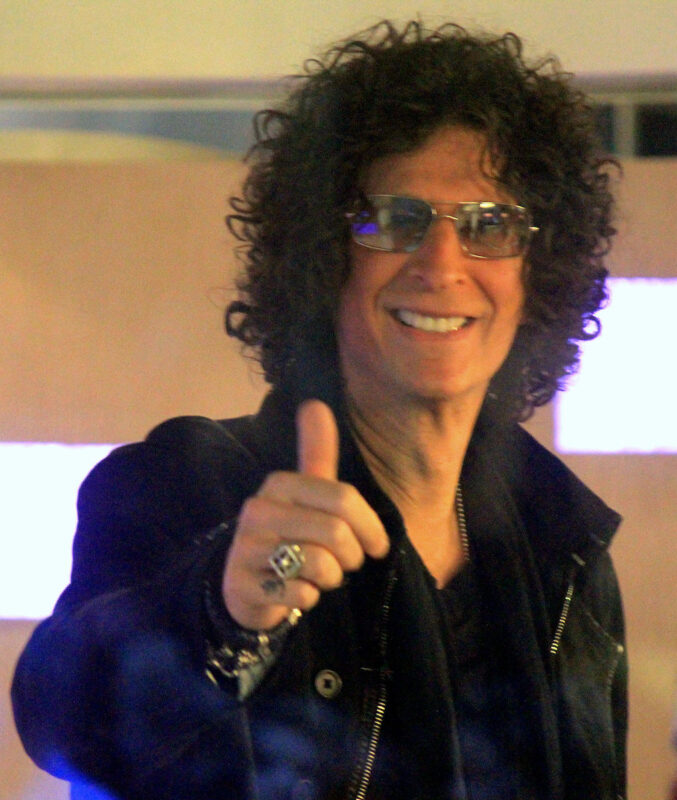 Howard Stern was born on January 12, 1954, in Queens, New York City, to Ben Stern and Ray Stern. Stern kicked off his professional career as a radio presenter in 1975. Between 1976 and 1982, he held several jobs as a radio presenter, including working the morning show at WRNW in Briarcliff Manor, New York and WCCC in Hartford, Connecticut. Around the same period, Stern worked at WWWW in Detroit, Michigan, as well as WWDC in Washington D.C.

From 1982 to 1985, Stern worked the afternoon shift at WNBC in New York City. His career in radio received a massive boost in 1986 when his show, The Howard Stern Show, went into national syndication, stretching across 60 markets and exposing Stern to more than 20 million listeners.

For the next couple of years, Stern dedicated his time to building his brand as one of the best radio personalities of the time. He also authored several books and accepted acting roles in between.

In 2004, Howard Stern left terrestrial radio and signed a deal with Sirius Satellite Radio. He still works at the subscription-based satellite radio service.
Howard Stern's Net Worth
As of August 1, 2021, Howard Stern had a net worth of $650 million. A huge chunk of his wealth comes from his decorated career as a radio and television personality, as well as talk show host.

While he has been in the industry from 1975, Stern struck gold in 2004 after landing a lucrative five-year deal with Sirius. The $500 million contract paid him a whopping $100 million every year. $80 million of his annual earnings was made in cash, whereas the other $20 million came in the form of stock. According to reports, Howard retained as much as $50 million for himself every year after meeting the costs of producing his shows and other associated expenditures.

In 2010, Howard Stern signed yet another 5-year $500 million deal, becoming one of the highest-paid radio personalities of all time. But he was just getting started. In 2015, the legendary radio presenter signed a new 12-year contract with Sirius.

According to the terms of his latest deal, Stern would earn an annual salary of $80 million. The $80 million includes his own salary, as well as salaries for his staff and the costs of producing his shows. By the time his latest deal comes to an end, Howard Stern would have pocketed at least $1 billion in gross salary alone during his time at Sirius. And besides smiling his way to the bank, Stern's contract with Sirius also grants him uncensored free speech and tons of other fringe benefits.

But has Howard Stern earned his lucrative deals with Sirius?

He sure has. Prior to joining Sirius, the company had approximately 60,000 subscribers, and was losing upwards of $226 million annually on revenues of $13 million. However, Stern turned things around. As of the time of writing, the combined SiriusXM service has more than 25 million active subscribers and generates over $1.8 billion annually on $7.2 billion revenues.

Outside of radio presenting, Howard Stern earns millions from other ventures, including investments in real estate. In 1998, Stern acquired a 4,000-square-foot apartment for $4.9 million. The apartment is located on the 54th floor of the Millennium Tower. He spent another $5.75 million to purchase the adjoining 1,011-square-foot unit.

Other real estate properties associated with Howard Stern include:

• Two apartments on the 53rd floor of the Millennium Tower, which he purchased in 2008 for $15.1 million,
• An empty lot in Southhampton, New York, which he acquired in 2005 at a cost of $20 million, and
• A 12-bedroom mansion in Palm Beach, Florida, which he bought in 2013 for $52 million
Howard Stern is also an accomplished author and actor. In 1993, he landed a deal with Simon & Schuster. According to the $1 million deal, Simon & Schuster would publish Stern's first book, Private Parts. The book was released on October 7, 1993 and became an instant commercial success, selling over one million copies in just two weeks.
The book also made it to the number one spot on The New York Times Best-Seller list and featured on the list for 20 weeks. And just three years following its publication, Private Parts was adapted into a film which starred Stern himself.
The film sold more than $40 million in movie tickets alone. Following the success of his first book, Stern Howard signed another $3 million advance for his second book titled Miss America. The book was published in 1995 through Regan Books.

In addition to starring in Private Parts, Howard Stern has featured in numerous other films and television series. In 2011, he became a judge on NBC's America's Got Talent, replacing Piers Morgan. He reportedly earned $15 million per year from the show.

As a photographer, Howard Stern is associated with a company known as Conlon Road Photography.
Life Lessons from Howard Stern
1. Be authentic

After graduating from Boston University, Howard Stern landed his first professional gig as a radio presenter. However, he turned it down as he believed he wasn't good enough. Year later, Stern decided to broadcast his insecurities on air, a decision that has helped him to overcome them.

2. It's not always about the money

Howard Stern's very decision to decline his first radio broadcaster job shows that it's not always about the money. Sometimes, you've got to take stock of your fears and insecurities, especially when these could affect your brand adversely.

3. Have some time for family

Stern spent the better part of his 80's and 90's focusing on his career at the expense of his family, and he has since regretted it. That might be one of the reasons his first marriage didn't work out.
Famous Quotes by Howard Stern
"Here's what happens when you die–you sit in a box and get eaten by worms. I guarantee you that when you die, nothing cool happens."
"I believe in censorship when it benefits me."
"Late night television is ready for someone like me… standards have gone to an all-time low."
"Relationships are based on trust until you meet someone new."
"There are things that I won't do on the radio. I mean, the next logical question is, what won't you do. I say, well, you know, you've got to find out when you're on the air."
Final Word
Howard Stern's career began more than four decades ago. Through years of resilience and perseverance, Stern has become one of the most successful radio personalities on the planet. And he has an impressive net worth to show for it.