Last Updated on May 3, 2019
If you are a self-employed professional or a small business owner working in the heating, ventilation, and cooling construction (HVAC) industry, you will know the importance of your business to homeowners across the country in the hottest states across America. With stifling temperatures and high humidity, the summer months can be unbearable for young families and even businesses in commercial properties without adequate cooling systems.
At the other end of the spectrum, in the depths of winter, homeowners and businesses depend on reliable heating systems that maintain comfortable living and working environments. As a hard-working HVAC contractor, you will have undoubtedly worked hard to forge a rock-solid reputation for your technical expertise and specification of high-quality systems.
Unfortunately, it's not always possible to depend on your technical skills, no matter how impressive they are. Accidents can and will happen. Whether it's linked to system failures or adverse weather conditions, as an HVAC contractor you cannot afford not to guard against the plethora of risk factors involved in your industry.
Is it a legal requirement for HVAC contractors to have a license?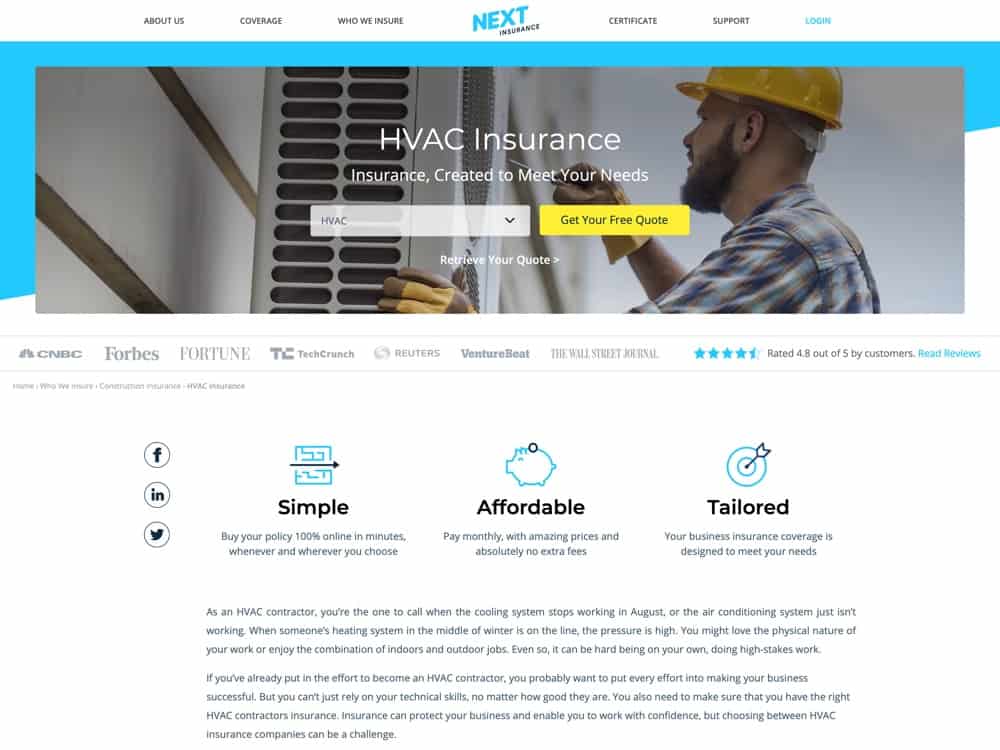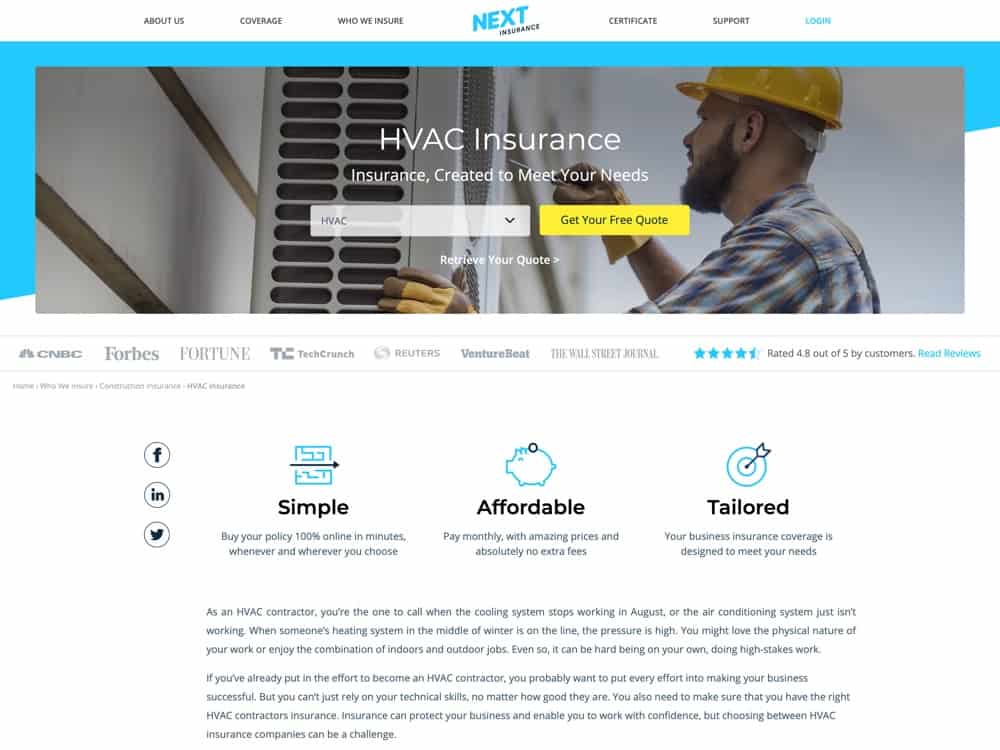 It may be a legal requirement in your state to have valid insurance to operate as a licensed HVAC contractor. Those that choose to buy HVAC insurance online do so because they want to offer peace of mind to their customers that their property and your work will be suitably covered in the event of third-party injuries, property damage or personal injury.

As a minimum, all HVAC contractors require general liability insurance cover which can protect their livelihood or business from another company or person's legal claims for damages related to injury, medical costs or property damage.
Guard against avoidable yet unforeseen accidents
The reason why many HVAC contractors opt to go one further and arrange bespoke HVAC insurance is that it typically offers professional liability cover, as well as general liability cover. This means that HVAC contractors can go into every project they secure with confidence knowing that, if they make an unforeseen error, their insurance will protect them from bearing the full cost of defending a negligence claim made by a client.
For example, if you install an HVAC system into a client's household but the system does not work properly and ends up creating a build-up of moisture and mold on the walls, an HVAC insurance policy will cover the cost of urgent repairs and protect your business from hefty bills.
Peace of mind is the order of the day
With such comprehensive general and professional liability protection, HVAC insurance gives HVAC contractors across the U.S. the safety blanket they need to plough on and focus all their efforts into every job they do, attempting to land those once-in-a-lifetime contracts and take their business and its reputation to the next level.
Whether you are an HVAC contractor that specializes in repairs or end-to-end system installations, the HVAC industry is one that is fraught with risk factors. A tailored HVAC insurance plan gives contractors the freedom and flexibility to work whichever way they want.