Last Updated on January 24, 2023
Who Is Ice-T?
Tracy Lauren Marrow, or Ice-T as he's more professionally known, is an American rapper, singer, songwriter, actor, filmmaker, author, and entrepreneur.

Lauren started as an underground rapper in the early 80s, before signing to Sire Records in 1987 and releasing his debut album titled 'Rhyme Pays.' Rhyme Pays became the second album in hip hop history to feature an explicit content sticker, after Slick Rick's album 'La Di Da Di.' Lauren continued to gain widespread recognition from the late-80s through the early-90s. Some of his earlier achievements include founding the record label 'Rhyme $yndicate Records' and the heavy metal band 'Body Count.'

As an actor, Lauren made his cinematic debut by accepting the role of a rap talker in the 1984 film Breakin', as well as its sequels Breakin' 2: Electric Boogaloo (1985) and Rappin' (1985). He eventually landed his debut starring role playing police detective Scotty Appleton in the 1991 film New Jack City. Since 2000, Lauren has been best known for his role in the television series Law & Order: Special Victims Unit, in which he has starred for over two decades and appeared in more than 400 episodes.
Quick Facts
| | |
| --- | --- |
| Full Name: | Tracy Lauren Marrow |
| Popular Name: | Ice-T |
| Gender: | Male |
| Birth Date: | February 16, 1958 |
| Age: | 64 years |
| Parents: | Solomon Marrow and Alice Marrow |
| Siblings: | Unknown |
| Birth Place: | Newark, New Jersey |
| Nationality: | American |
| Ethnicity: | African-American and Native American |
| Education: | Palms Junior High and Crenshaw High School |
| Marital Status: | Married  |
| Sexual Orientation: | Straight |
| Wife/Spouse: | Nicole "Coco Marie" Austin |
| Children: | LeTesha Marrow (with his high school girlfriend Adrienne), Tracy Marrow, Jr. (with his second girlfriend Darlene Ortiz), and Chanel Marrow (from his current marriage to Coco Marie) |
| Dating: | N/A |
| Net Worth: | USD 60 million  |
| Source of Wealth: | Rapping, Singing, Songwriting, Acting, Film Production and Directing, Screenwriting, Writing, and Other Ventures |
| Height: | 5′ 11″ (1.8 m) |
| Weight: | 90 kg; In pounds: 200 lbs. |
Early Life and Career Information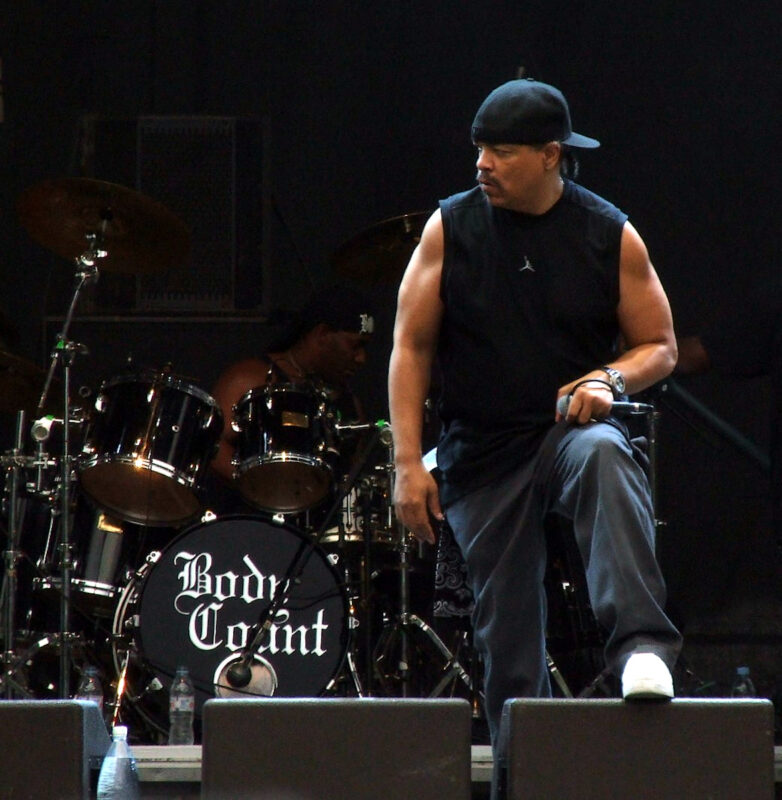 Tracy Lauren Marrow was born on February 16, 1958, in Newark, New Jersey, to Solomon Marrow and Alice Marrow. While in high school, Lauren Marrow took an interest in the novels of Iceberg Slim. He would memorize and recite the excerpts to his friends, earning him the name Ice-T.

In October 1977, Marrow enlisted in the US Army. After receiving his basic training, he was assigned to the 25th Infantry Division. However, he was discharged from the army in December 1979, after serving only two years.

During his short-lived spell in the army, Lauren Marrow developed an interest in hip-hop music. When he was eventually discharged from the army, he adopted the name Ice-T and began disk jockeying at local parties and concerts. Around the same time, Marrow engaged in a series of robberies which culminated in the arrest and incarceration of most of his closest associates. He would later turn over a new leaf after surviving a grisly car crash.

Tracy Lauren released his first single titled 'Cold Wind Madness' in 1983.However, he struggled to get the song played by mainstream radio stations due to its explicit lyrics. Nonetheless, 'Cold Wind Madness' was a major underground success.

In 1984, Lauren released the politically-themed single 'Killers.' The song was also generally well received and Ice-T was now considered one of the most promising underground rappers.

Ice-T continued releasing music independently until he landed a record deal with Sire Records in 1987. The same year, he released his debut album Rhyme Pays. The following year, he followed up with his second album, Power, and then the third album in 1989 titled The Iceberg/Freedom of Speech…Just Watch What You Say.

All Lauren's first three albums were certified gold by the Recording Industry Association of America® (RIAA). However, it was his fourth album, O.G. Original Gangster (1991), which became his most iconic projects to date. Many pundits believe that O.G. Original Gangster is the founding album of gangsta rap. Ice-T would later follow up with four more independent albums, namely Home Invasion (1993), Ice-T VI: Return of the Real (1996), The Seventh Deadly Sin (1999), and Gangsta Rap (2006).

While releasing his fourth album, Ice-T also introduced the metal band Body Count. Body Count released its self-titled debut album in 1992 before following up with their second album titled Born Dead in 1994. The band released five more studio albums, including Violent Demise: The Last Days (1997), Murder 4 Hire (2006), Manslaughter (2014), Bloodlust (2017), and Carnivore (2020).

Besides his independent albums and albums released with Body Count, Ice-T has also released a couple of collaborative albums over the years, including:

• Breaking and Entering (with The Radio Crew in 1983)
• Rhyme Syndicate Comin' Through (with Rhyme $yndicate in 1988)
• Pimp to Eat (with Analog Brothers in 2000)
• Repossession (with SMG in 2004)
• Urban Legends (with Black Ice in 2008)
• The Foundation Album (Legends Recording Group) (with various artists in 2019)

In addition to music, Tracy Lauren has also pursued a successful acting career. He made his film debut in the 1984 film Breakin' and went on to appear in the film's two sequels the following year. His debut starring role came in the 1991 movie New Jack City. Lauren has since appeared in numerous other acclaimed movies, including Surviving the Game (1994), Stealth Fighter (1999), The Alternate (2000), Once Upon a Time in Brooklyn (2013), etc.

On television, Tracy Lauren first appeared in a 1983 episode of the series Fame called 'Break Dance.' He continued appearing on television shows over the next couple of years. In 2000, Lauren landed his biggest television role ever, playing Detective/Sergeant Odafin "Fin" Tutuola in Law & Order: Special Victims Unit. He still stars in the series to date.
Ice-T's Net Worth
With such a decorated music and acting career, it's only natural to imagine that Ice-T swims in millions. As of 2023, the 'Cop Killer' hitmaker had a net worth of $60 million.

Ice-T has earned a huge portion of his wealth from album and record sales, as well as acting. In the film and television industries, Lauren earns from various roles, including acting, voice acting, production, directing, and screenwriting. He reportedly earns $250,000 per episode of Law & Order: SVU, which works out to approximately $6 million per season. And that's exclusive of syndication royalties.

Other major income-generating ventures by Tracy Lauren include writing and video game appearances. Lauren has since authored four notable books, including:

• The Ice Opinion: Who Gives a Fuck?, (with Heidi Siegmund in 1994)
• Ice: A Memoir of Gangster Life and Redemption – from South Central to Hollywood (2011)
• Kings of Vice (2011)
• Mirror Image (2013)

In video games, he has lent his voice to numerous games, including 2002's 'UFC: Tapout' and 2011's 'Gears of War 3.'
Lessons from Ice-T
1. Your past doesn't define you

Tracy Lauren's early life is seared with scars of crime, including violent robberies and illegal drug dealing. However, Lauren will be remembered for his incredible rapping and acting talents.

2. Learn from your mistakes

Lauren decided to take music seriously when he survived a grisly road accident that saw him hospitalized as a John Doe since he couldn't carry his official identification documents. Considering that many of his criminal associates were already behind bars, Marrow reckoned this was the right time to turn over a new page.

3. Have a finger in every pie

Tracy Lauren is a rapper, songwriter, actor, film producer, and so many other things. It appears he appreciates the fact that financial success doesn't come from pursuing a single income stream.
Famous Quotes by Ice-T
"I don't watch daytime television, I have a job, I work and, you know, I think daytime television is really for women."
"I'm pretty open book, I'm also the kind of person that will say, 'That's none of your business,' too."
"I'm very much against the anonymity of bloggers and social media. I just hate it and I think it's really cowardly."
"Passion makes the world go round. Love just makes it a safer place."
"The truth is, everybody I've ever met who's successful is a workaholic."
Wrap Up
Tracy Lauren Marrow is an accomplished singer and actor who has been around since 1982. Marrow has consistently released tracks as well as appeared in films and television shows throughout the years. His net worth stands at $60 million as of 2023.