Last Updated on January 20, 2022
Blog navigation and structure are vital when you want your blog users to hurriedly find what they are looking for after entering your WordPress blog. Undoubtedly, content is an important part of the blog, but the overall look and functions are also very important in order to get more visitors and to increase conversion rates.
According to most expert bloggers and webmasters, easy and simple navigation is one of the most important things to focus when creating a blog. It's essential either to provide your customers with more details regarding your products, or if you simply want to share useful and informative content with your target audience. Believe me, if you have quality content but the blog is difficult to use, then users will be unfulfilled and will surely go elsewhere to find the stuff they are looking for.
In simple words, good and simple navigation is a key element to provide your blog users with a better user experience. It draws their attention to the content or pages that you want them to visit. If your blog structure and navigation will be clear and easy, then users will be more likely to stick around longer to read more content and to view your services or products.
Thankfully, Posts Table Pro is a superb and easy to implement navigation solution for a WordPress blog. It gives you blog a clear visual hierarchy as well as to make it more organized for visitors. There will be no need to hire a professional web developer or UX expert for your blog if you are using this WordPress plugin, as it creates a classy & easy to navigate WordPress blog post index page for your personal or business blog.
Benefits & Features of Posts Table Pro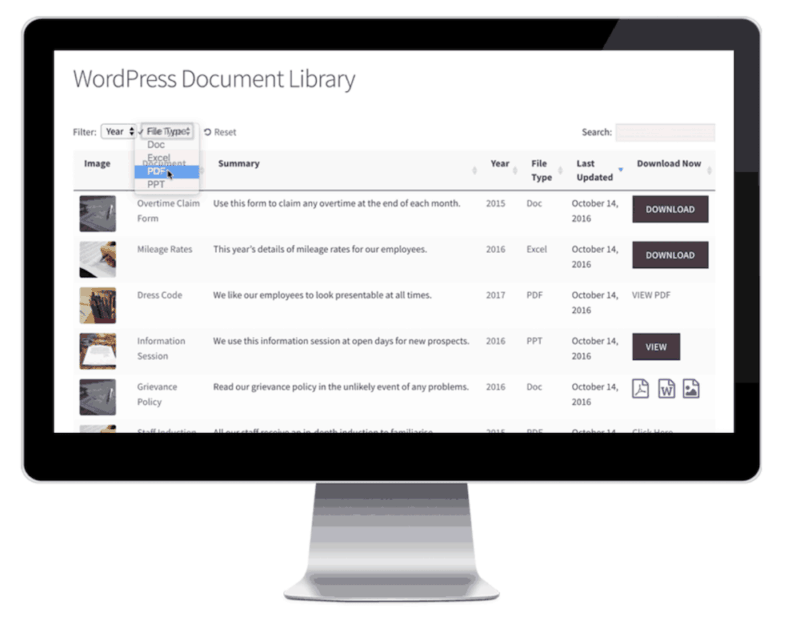 There are plenty of WordPress plugins on the web that can be used for better site navigation, but Posts Table Pro is totally unique and highly advantageous from its competitors. This is because it automatically lists all the pages/posts on your WordPress site/blog in an alphabetical or date-based table of contents or index. This makes make its navigation better than before. Most plugins don't actually list all the pages of your blog or website but this plugin does it for you.
Here is how Posts Table Pro will make your WordPress blog or site organized and easy to navigate for users:
Posts Table Pro is a dynamic WordPress table plugin that can be installed on any WordPress blog or website to improve its navigation and overall structure. It enables you to list any type of information you want to show on your blog or website just like blog posts, articles, newsletter archives or resources in a clean and classy table layout. It lists WordPress blog posts, pages or any custom post type.
The plugin allows you to choose your favorite columns, add extra controls such as content search box and dropdown filters to help users navigate your website or blog efficiently without facing troubles. This is a huge improvement on your WordPress blog layout and navigation.
It enables you to show all the blog posts on your WordPress website contents with additional details such as page/post title, featured image, name of the author, post publish date, categories and tags, etc.to give your blog an appealing appearance and easy to navigate structure. You can even add embedded audio or video players for a multimedia blog.
There are multiple sort options in this plugin including alphabetical or date based sorting. These help your users to search the desired content accordingly without spending efforts and energy.
This WordPress sortable table plugin is designed to conveniently work with other popular plugins such as WooCommerce and WPML. It also works well with any WordPress theme or template without creating problems.
Wrapping up
Most WordPress themes and templates come with a fairly clear navigational structure for pages, but your blog can quickly become a mess as you publish more and more posts. The Posts Table Pro can help you make sure that your blog or site is well-organized and easy to use for users, even if you have hundreds or thousands of posts.
This dynamic table plugin is not only useful to create a WordPress blog post index page for better site/blog navigation, but it also enables you to list and sort the other media on your site such as downloadable documents, files, events, products and more. It's ideal for any type of content from your WordPress website that you want to list in an interactive table layout.