Last Updated on January 24, 2023
Today, having a website for your small or medium business is as common as getting coffee-to-go in the morning. In fact, your local coffee shop probably has one. Going digital has given businesses of all sizes the opportunity to reach more people, and even go global.
But a fancy website doesn't always mean lots of paying customers.
Admit it: you're tired of folks just browsing your products for hours without buying anything. You want them to notice that special promo banner that's been sitting on your homepage for days. You want them to join your email list. You want them to go and check that summer sale collection or read your latest blog post.
Exit-intent popup prevents website abandonment
Getting potential customers to take action on your website isn't easy. But with the right tools, it can be.
One of these tools is called Getsitecontrol. It's an intuitive website popup builder that will help you increase conversion rate. In this article, we'll show you how it works.
But first, let's talk about popups for a minute.
Why Every Website Needs to Use Popups
If you look up 'popups' on any search engine, odds are, you might get offers to block them instead. But don't be fooled.
According to Brian Dean, a digital marketing expert, popups are extremely effective – for email list building in particular. On average, their conversion rate is around 3%. But some of the best-performing popups can easily double or even triple that number! In other words, people tend to take action when they see a popup on a website.
Of course, the type of popups you decide to use and when you decide to display them to your visitors are important factors, too. For instance, whether you want to get more blog followers or make more sales in your WordPress store, popups are a great tool to achieve both goals. But you'll need to use different approaches to design those popups.
In general, popups are a great way to draw the attention of those who may be preoccupied. If you've ever dozed off a page because it's full of text, only to be brought back to reality by a popup that offers a free e-book or a guide, then you know what we're talking about.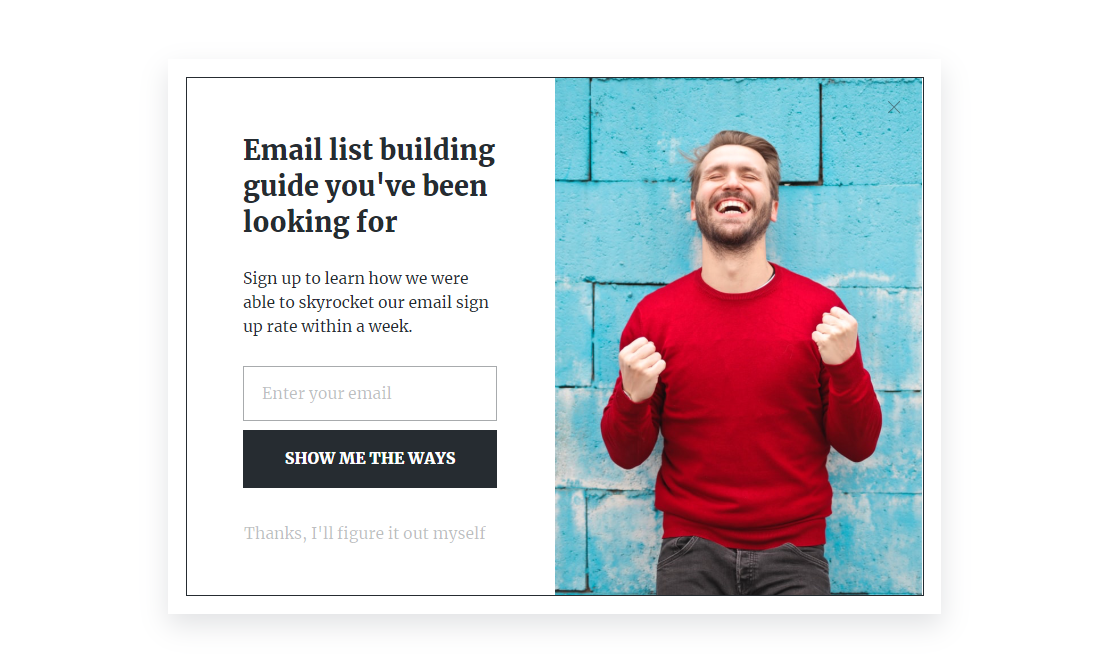 Email subscription popup with a lead magnet
It's also one of the fastest ways to turn eyeballs into leads. If someone isn't ready to make a purchase during the first visit, that doesn't mean they won't convert later when the product they were eyeballing is on sale. To make this happen, all you need is to convince them to sign up, so you could notify them about special offers via email.
Bottom line? Popups work if they add value to your website visitors instead of getting in the way. To ensure a great experience, you should be able to set popup display triggers precisely and only target the audience that is likely to respond to your call to action.
And no app does this better than Getsitecontrol.
What is Getsitecontrol?
Getsitecontrol is an easy-to-use popup builder that requires zero technical or coding skills. Since 2014, it's been helping small and medium businesses optimize conversions using smart email subscription forms, surveys, call-to-action popups, and sticky bars.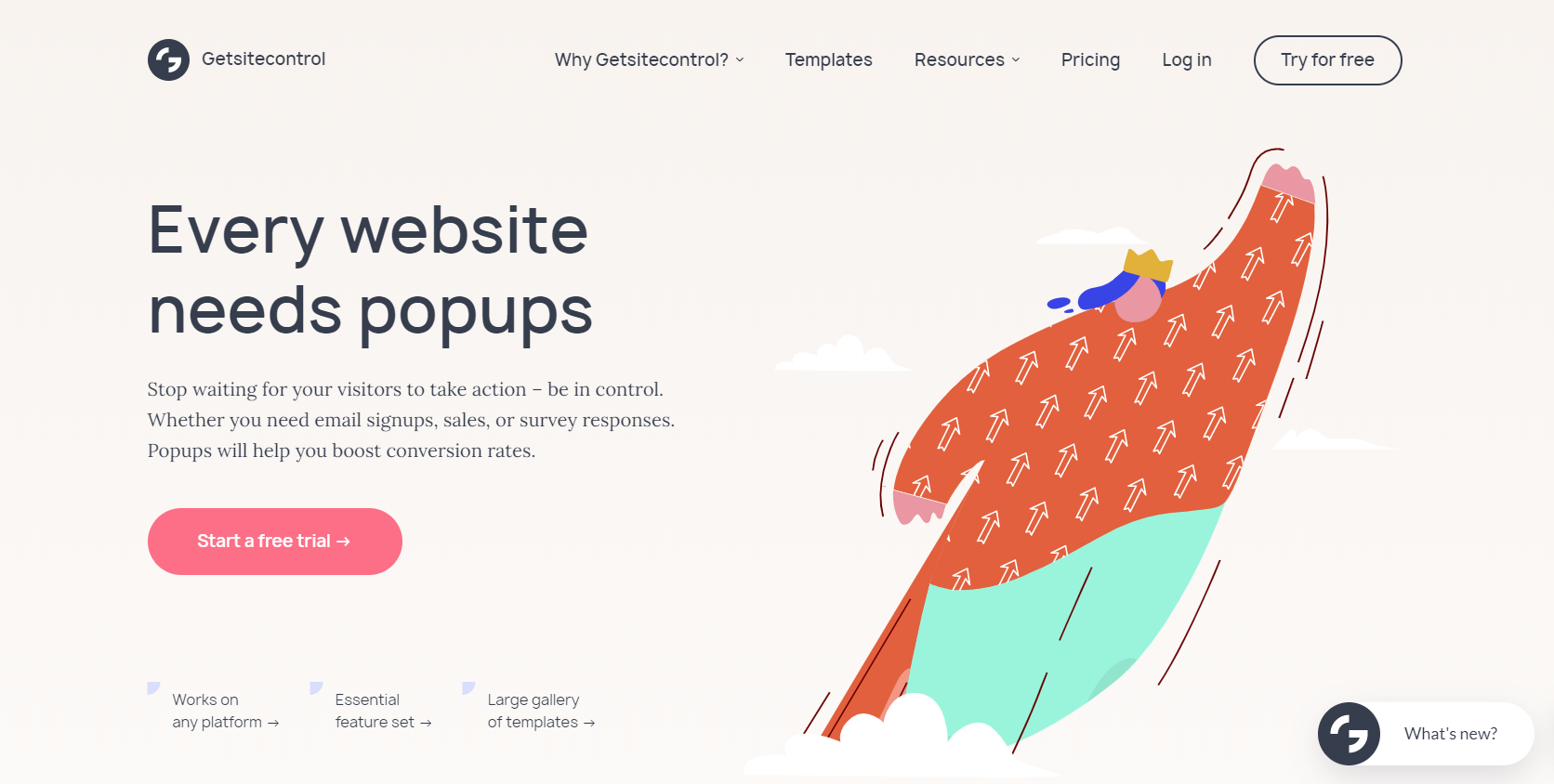 Getsitecontrol is a no-code popup and website form builder
This software makes it effortless to create website forms and popups (also called widgets) that will boost visitor engagement. Whether you want them to subscribe to your newsletter, participate in a survey, take advantage of coupons, this app has the solutions to all that and more.
Want to take Getsitecontrol for a spin? If your website is powered by WordPress, here is how to do it:
Create a Getsitecontrol account using your email and a good password.
Sign in to your WordPress admin dashboard and add a new plugin.
Find Getsitecontrol in the WordPress plugin directory and click Install.
Sign in directly from your website's dashboard using the same email and password you used for signing up.
Finish the setup by activating the connected website in your Getsitecontrol dashboard.
This way, you'll sync your website with your Getsitecontrol account. The entire process will take you just a few minutes, and once ready, you'll be able to add popups to your website.
Once you're done with the setup, you can check the template gallery to pick pre-designed popups for your website.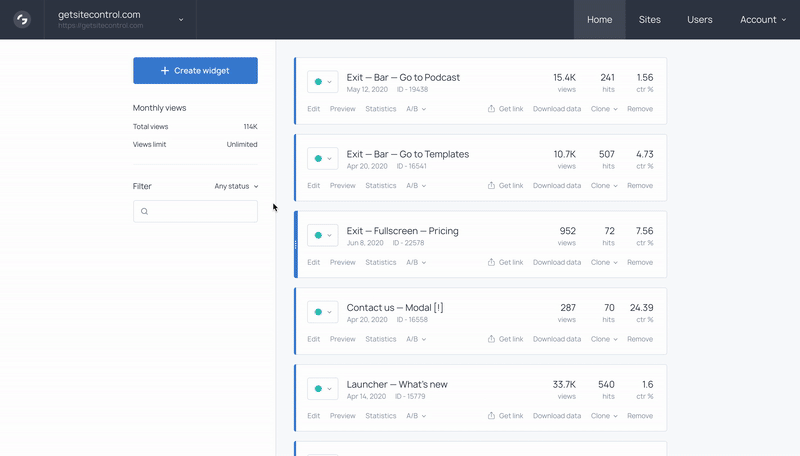 Getsitecontrol popup template gallery
That's the easiest and the fastest way to proceed. However, if you want to design your own popup from scratch, you can do that, too.
Note, if you're using any other website platform, the installation process is very similar. The only difference is that instead of installing the plugin, you'll need to copy and paste a small code snippet to the code of your website right before the closing </body> tag.
How Getsitecontrol works
If you can build your own website, you'll be able to create your own popups, too. Getsitecontrol is so user-friendly, they've basically done most of the heavy lifting for you!
After you've synced your website and your Getsitecontrol account, you'll be redirected to their intuitive dashboard where you get free reign on how you want your popups to appear.
When you hit the "Create widget" button, you're prompted to select the task you want the popup to fulfill and pick a layout template.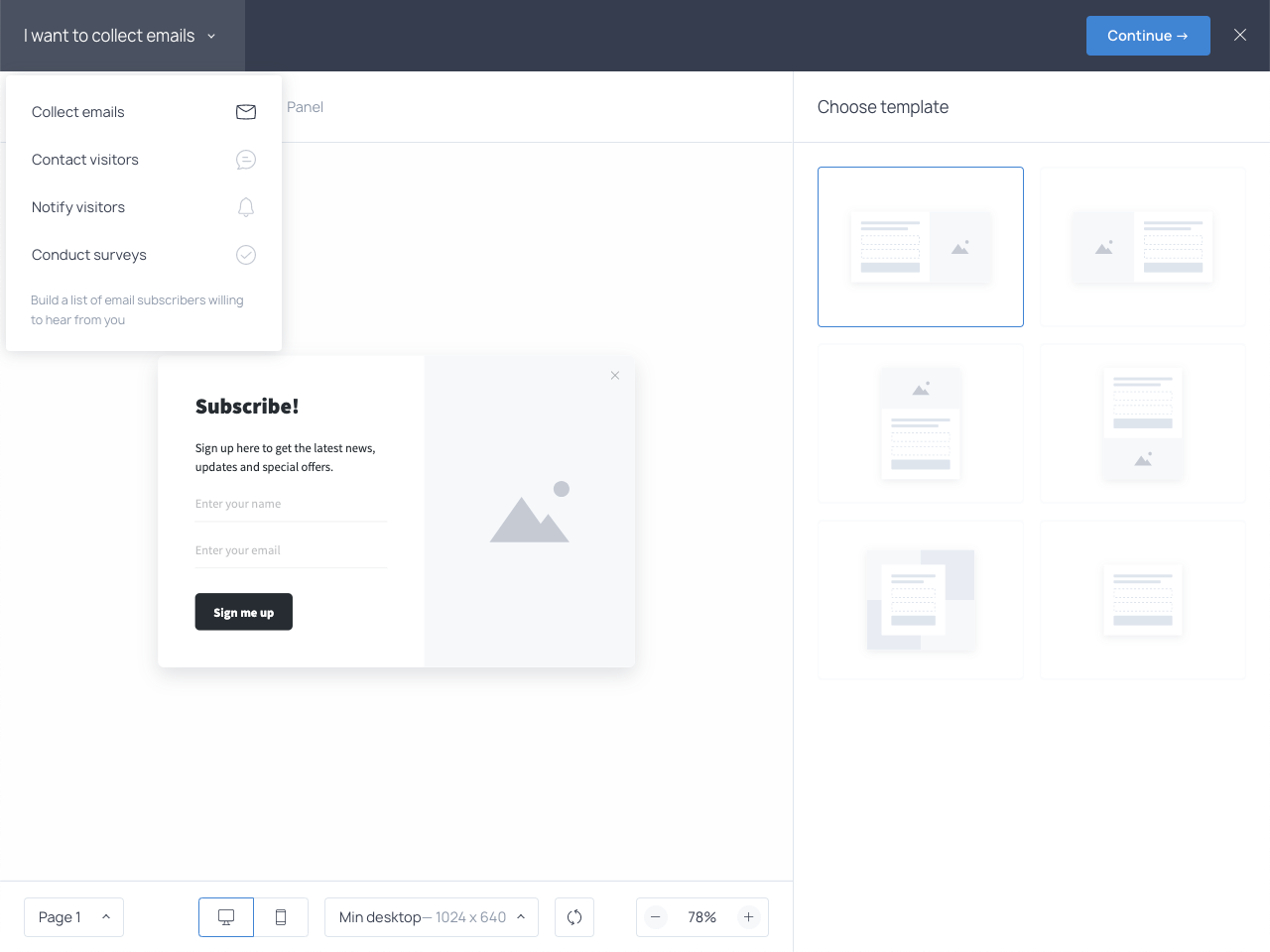 How to create an email subscription popup in Getsitecontrol
Then, you'll find yourself in a wizard-based dashboard that allows you to modify fields, buttons, copy, and the appearance of your popup.
Getsitecontrol provides you with all the essential tools to create a widget that would look organic on your website. Apart from being able to change the colors, the font, and the style, you can access the CSS editor and fine-tune every element more precisely to your taste. Plus, there is a large built-in collection of high-quality images from Unsplash you can add to your popup to drive visitors' attention.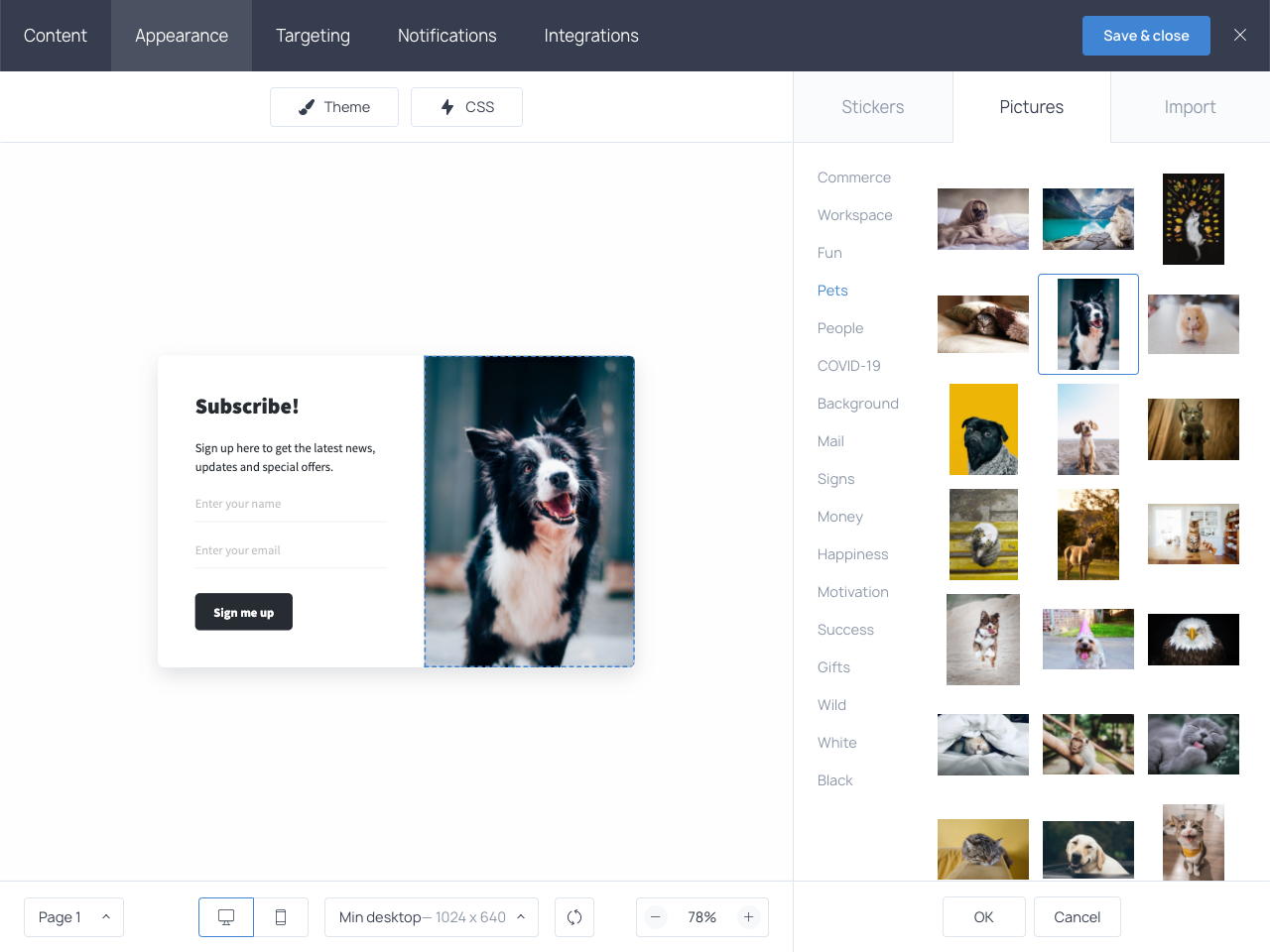 Getsitecontrol popup builder dashboard
Once you're done with the design, you can set up the conditions that will trigger the popup to display. The first set of conditions include visitor's behavior on your website:
The amount of time spent on a website
The percentage of page content scrolled
Whether a visitor is heading to the exit button
Whether a visitor clicks a link or an image
The second layer of conditions is your audience's characteristics. For example, you can display popups to the selected segment of visitors based on their location, language, device, referral source, and other parameters.
All these settings are located on the Targeting tab, and you can use them to choose both – when to start and when to stop displaying a widget.
Getsitecontrol audience targeting settings
Finally, just save and activate the widget on your website – it will instantly go live.
The Getsitecontrol admin dashboard will then show you how many views and hits every popup gets. You can also clone and A/B test any widget to find out if a different button color, copy, or an image would deliver better results.
All in all, creating a popup will not take you much time. And after you activate it, you'll be able to see real-live statistics reports in your dashboard.
How Affordable is Getsitecontrol?
The Getsitecontrol pricing options have been created with SMBs in mind. Before you make the decision, you get a FREE 7-day full-featured trial period that gives you access to all the tools available. No credit card or commitment is required to start the trial.
After a week, you can choose their Small, Medium, or Large subscription plans. The subscription plans are based on the number of monthly popup views. Obviously, it will depend on your website traffic. For example: if you expect 10,000 popup views per month or less, you may want to start with the Small subscription plan for only $7 a month. Don't worry, you can easily change plans once your site traffic goes up!
Wrapping up
Website popups might have had a bad rap in the past, but apps like Getsitecontrol are on a mission to fix that. With the right approach, you can use popups to capture your visitors' emails, get feedback, and encourage them to check a particular page. If you own an eCommerce store, you can use Getsitecontrol to create sticky bars with a free shipping notification or announce product updates.
If you were skeptical before, don't be. These aren't your popup ads from the beginning of the 2000s. This is a tested and proven tool to help your online business thrive.