Last Updated on January 24, 2023
The word influencer has been in the business domain for a while now. This is those persons who are renowned through social media and can make an effect in decisions that their followers make. This influencer social media power has made them be a bridge of organizations brand.
They link up your business brands with their followers who happen to be customers or prospective customers. It is an effective business plan which sees business achieve their business goals in a stiffly competitive market.
So, how can you message Influencers?
Easiest Way to Message Influencers: InflueNex
Effective communication means good business collaboration. You must have learned how to message influencer using email to pass information.
The following are InflueNex key features:
Keywords search and match
Multi-dimensional filters
Manage influencer groups
Contact influencers in batch
Using an email to communicate with influencers is strenuous and time-consuming. But InflueNex makes everything easier. It's a one-stop-shop influencer marketing platform, connecting you to ideal influencers for your business and helps you message them on the go.
How To Use InflueNex
InflueNex has a simple and straightforward user manual as seen here:
Step 1. Go to InflueNex website, create account, and then log in.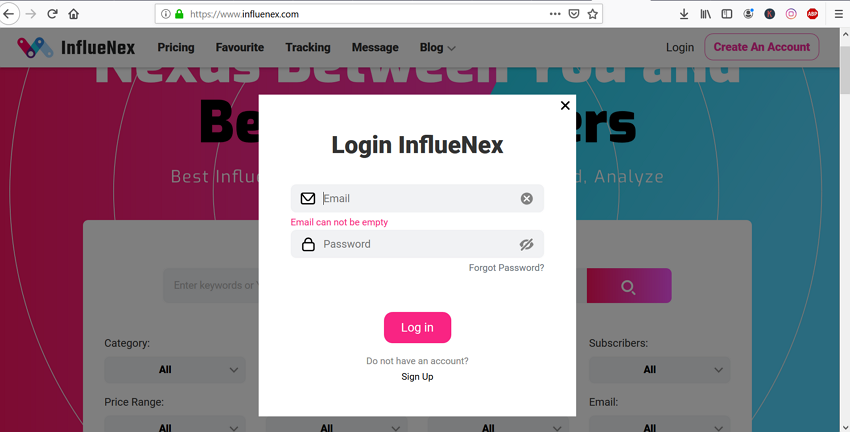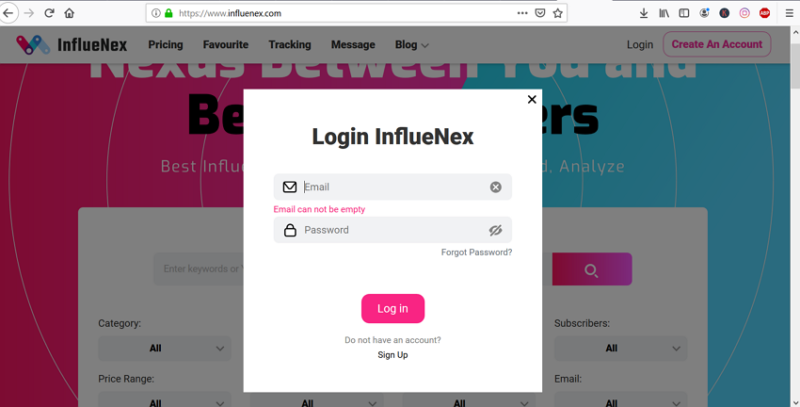 Step 2.  Next, you enter the keywords for the kind of the influencer you are looking for and suggestions would then appear or the exact match.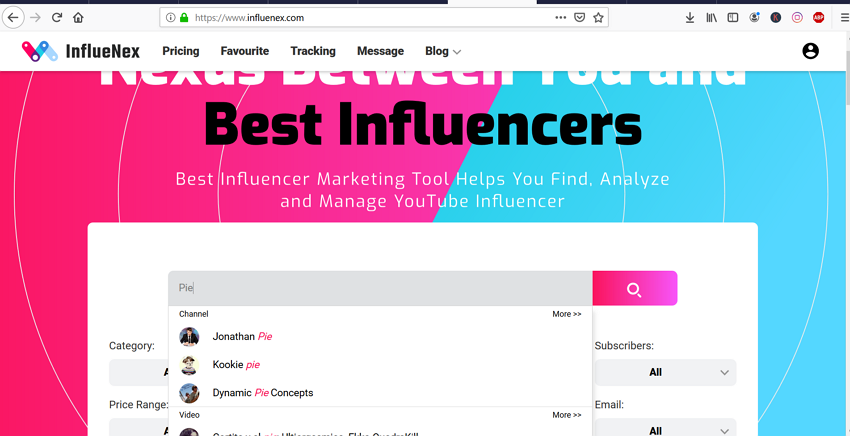 Step 3.  If you do not know the name of the influencer and you want to discover more influencers, then you have to use the filters. Filter influencers according to country, category, language, price range, contact, views and subscribers. From there, you can then search for influencers.
Step 4. Next, several influencer results will be displayed on the screen by the program. Navigate over all these results. Also, the suite provides a complete influencer profile analytics. Just click on their tabs and check them out.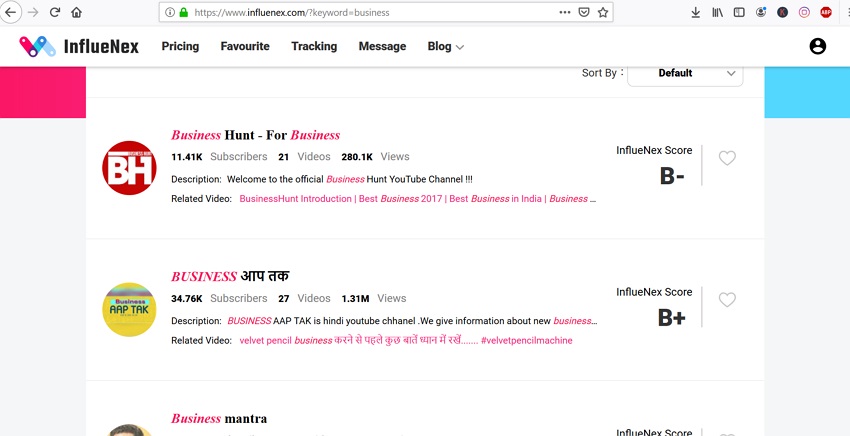 Step 5. After you have keenly gone through all the influencer profile analytics, you can proceed and connect with to-be influencer. As you access the influencer profile, you will be able to see the "Send Invitation" button. Tap on it to message influencers.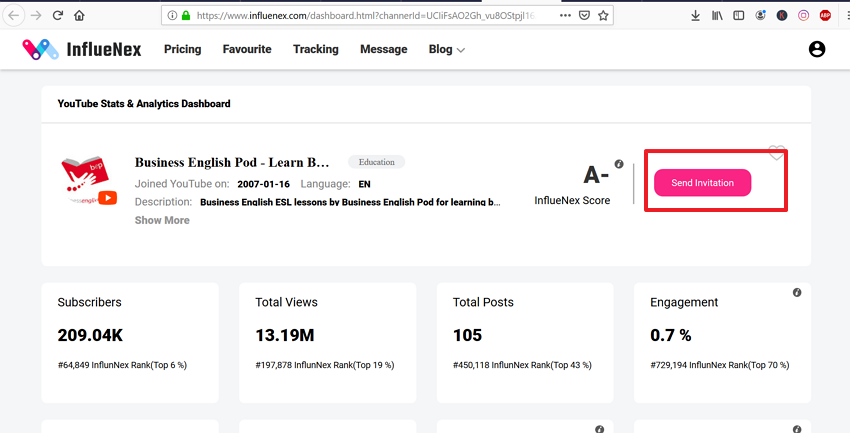 Step 6. As you click on the send invite, you will be directed to Patent section. You will mention the product you wish to endorse, URL and product information, name of the business, email subject, and detailed written information. Make sure the information you have provided is correct and then click "Send."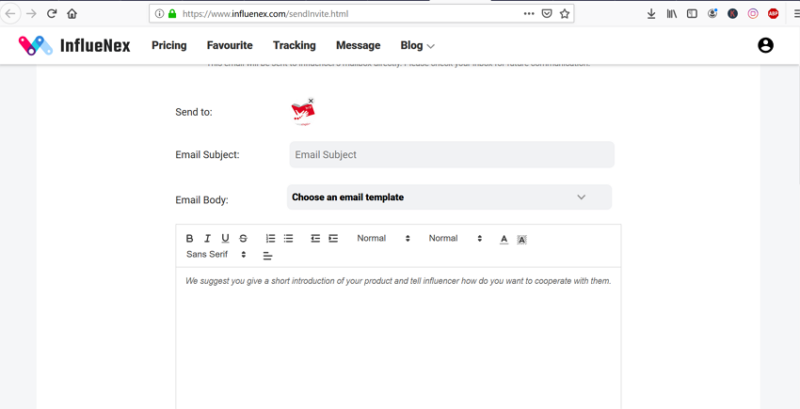 How to Write a Good Collaboration Email
Regardless of the size of your business or industry, you are in, adopting collaboration is a powerful marketing strategy. Nonetheless, finding the brand-influencer you want to work with can be very challenging.
Especially it is not a piece of cake to encourage big companies to collaborate with small businesses because they have different goals, budgets, and opinions.
In spite of that, a well-crafted collaboration email can play a vital role and make it easy to motivate a company to accept your idea. Limit talking more about yourself. Focus on the future of your brand and the brand you want to collaborate with.
The following are more tips and tricks you should utilize when writing a good collaboration email:
1. Complete Contact Information
As you send a collaboration email, you should expect a reply from the recipient. Although by doing so the recipient automatically receives your email address, it looks cool and profession if you create a section in your email to provide complete contact information.
They can include email address, business address, phone number, etc.
2. Captivating Subject Line
Writing a collaboration email has no much difference as writing blog content. You need to have a killer headline to grab the attention of your readers.
The subject line is the first thing the target company will see and it matters a lot. The decision they make could lie in your subject. If it happens to be cold and boring, your collaboration email might be instantly deleted cutting short your chances for possible collaboration.
3. Plan Your Idea
Before drafting your message, insightfully think of a big idea that will surely work effectively for your collaboration email. Do not just write anything.
Writing the message is a crucial process, therefore, plan your idea. Depict a focused and driven perspective that smart marketing requires. Try to organize the marketing sequence in a way that your prospective client will not get an impression that you are merely selling.
4. A Well Curated Message
This is the crucial part where you express your motive and purpose. You need to have in the back of your mind that there is a target result, hence you need to employ a technique that will bring you big chances.
Therefore, keep the message short and but rich in content. This is what the prospective collaborators are looking to.
5. Give an Excellent Promotional Suggestion
Present an excellent promotional suggestion that will encourage a brand influencer to your favor.
You can proceed and make it more effective by showing samples of the similar you do and/or providing links to other sponsored content. Also, remember to keep it short.
Conclusion
Influencer marketing is a great marketing plan if approached with an informed mind and rightly managed. That is not an easy task. However, using InflueNex will make all the operation simple and objective.