Last Updated on January 24, 2023
A logo is a very significant part of a business. It acts as the face of your brand and will be the first thing that your customers, competitors and pretty much everyone will notice.
It's important to have a fantastic logo that actually reflects your work, inspirations and most importantly, your creative side. The logo should feel true to your brand. Something that reflects your brand story, your missions, your goals.
Well, Logo designing is a very complicated process that involves multiple steps. Coming up with the ideas and concepts for the logo design itself is one of the main hurdles.
You can't expect great logo ideas to crawl into your mind instantly. A little jumpstart is always needed. We have listed some beautiful ideas that can inspire you and help you create a fantastic logo design here.
Create a custom logo with Turbologo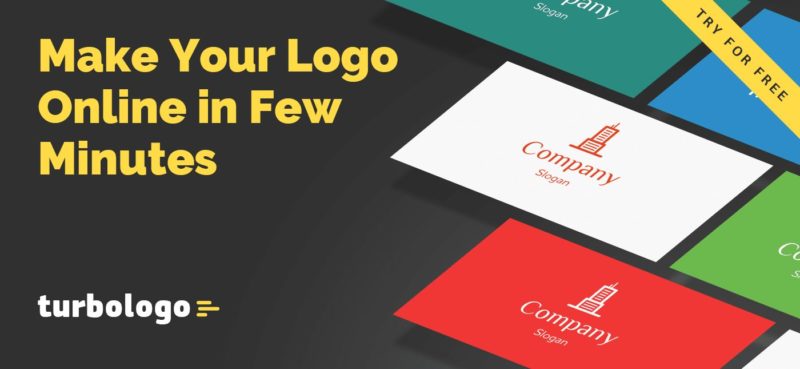 Turbologo is one of the top websites for creating custom logos. It's very easy to use and intuitive unlike most of the online logo making software that requires a lot of hard work.
You don't really have to create the logo by yourself from scratch, you just have to follow a few simple steps, no need to pick up and choose the theme, color combinations, fonts, symbols, etc.
It will ask you to enter the name of the company and the desired parameters for the logo. It will start showing 100s of logo designs instantly with different font styles, images, color combinations, and themes.
You can download your favorite logo design from the website just by paying a very modest price. It also provides various downloading options to the users for their convenience. The logo can be downloaded in black, white, colorful or transparent backgrounds depending upon the need.
You can also order a business package from this website to get beautifully designed business cards, envelopes, and letterheads at a very reasonable rate and that too in just 24 hours.
Another amazing service that makes Turbologo the most convenient logo designing site is its online support working seven days a week. So, if any issue arises or you've any queries you can always hit them up and receive a reply within minutes.
Turn your reality into a logo
As we've already said, the logo reflects YOU, your brand, and your brand story. Try revolving around that only. Where did you get the idea of starting this brand? Something must have inspired you, use that inspiration to design a logo.
Every business, every brand has a story, you can use flashes of that story to make a symbol in your logo. Words that inspired you, that made you stand, can work as your tagline.
Try picturing your reality, the reality of your business in a small box, in the form of a logo. You'll get something amazing, creative and well, something that reflects your reality.
Search for inspiration online
Whenever you feel that your idea tank is running dry, you can always surf through the internet to get inspired!
There are a lot of websites that are purely developed to provide you with inspirations. These websites showcase the work of different logo designers to help you open your mind and create something unique.
You just have to scroll and scroll until you find something that takes all your attention. If you're looking to create a logo but aren't sure what style you want, these sites are what you need.
You'll find hundreds of logo designs in a variety of styles. From minimal flat designs to 3D optical illusions to choose from. There are few sites that also allow the designer to explain the process involved with the design of the logo which just adds to your convenience.
You can also upload your own ideas on these websites to help people like you who are looking for inspiration.
Generate a professional logo out of your sketch
Do you love sketching? Well, you can use that talent of yours to develop and generate incredible logos.
Thanks to our growing technology, you can easily digitize your drawings. You just have to follow a few simple steps.
If your sketch is in pencil, trace it over with a black ball pen. It brightens your sketch and gives it a fine formation to avoid complications during designing.
The second step in this process uses a 'scanner' that transfers our sketch from paper to the screen. Make sure the scanner is set up correctly and the resolution is at least 600 dpi.
Now, the third and last step is to create the logo in the digital realm by using Photoshop. Add layers, set the contrast, exposure and everything else that is important to bring your sketch to life.
Compare different themes
If nothing is working for you and you're all out of inspiration, you can take ideas from various logo making websites. The internet is filled with these kinds of websites where you can actually test your own ideas.
Select any one of such websites, pick a theme, color combination, design and see what results you get. If you like any design, save it. Keep experimenting with different themes and styles without wasting a lot of time.
This whole test and experiment process will open up your mind and you'll be able to develop your dream logo.
One more important tip other than all this is 'NOTE DOWN'. Write down each and every idea you come up with. Don't keep the idea trapped inside your mind. Don't think that your idea is not good, always take opinions on the same from other people.
If you'll take help from these ideas and follow the logo designing process properly, your creativity will flourish and you'll be able to generate really effective and awesome logo designs.
If you have any queries related to logo designing and its process, you can drop a message in the comment box and we'll get back to you.