Last Updated on March 8, 2022
Instagram of 2021 is not Instagram of 2016 – in the recent 5 years, the functions and usage of this platform have been developed into an online marketplace. Applying just a solo app is not enough anymore – you need extra helper tools if you aim to capitalize.
In this listicle, I've collected the top 3 tools that are tried and tested, and that will simplify your digital strategy next year. Let's dive right in.
Don't miss these helper tools for Instagram
#1 The Ingramer Direct module

Do you need to communicate with hundreds of clients and operate orders? Or maybe people want to collaborate and ask you similar questions in DMs?
Then, you need to try an advanced desktop messenger powered with CRM features that can really help you to organize your DM folder. If you google Instagram DM online, and choose between options, stick to this one.
Features of the Ingramer Direct:
One place for chats from multiple accounts. Ingramer lets users switch up to 10 profiles and have all conversations in one dashboard. It's a find if you separate a personal and a business account or if you manage more than one page. Use in-built filters to choose the inbox or make them of different colors.
Synchronize your contact book and DM. As I mentioned, this tool is also a CRM where you can leave info about interlocutors. For example, you can type an address and use the search bar to find them by address. Other employees will also see these details.
Search by notes and labels. Use in-built notes to describe orders/ clients' details. Also, you can mark users with customizable labels of various colors. Lates, you can easily find the group you need among multiple chats.
Advanced automated DM. This tool offers a bunch of auto-replies and a section for bulk mail outs. You can set up customizable replies that will be sent after trigger words or even reactions, like story mentions. It's possible to arrange replies for various label groups.
Prefabricated answers. You can save replies for common questions and assign shortcuts to paste them quickly.
Note: You can choose in the setting the language of replies and save versions in many languages. Thus, the system will detect it by a user's profile and select a response.
All in all, this DM chat for Instagram messaging is one of the most fully-fledged and functional. If your income depends on fast and full replies to DMs, keep an eye on this tool.
#2 Instagram video downloader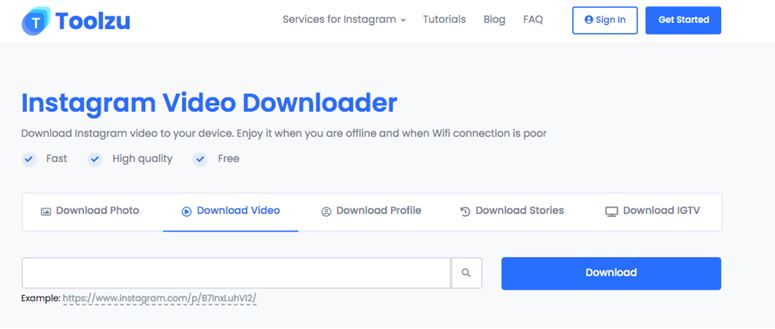 In 2020 it has become popular to reuse content instead of posting original photos. Businesses and bloggers post on their pages someone's media and give credit to the author. Do you think they screenshot and screen record? No, in this case, the quality will be lower.
If you need to download Instagram video from feed, stories, IGTV, pay attention to this tool by Toolzu. The service is free and doesn't require registration.
Later, you can see your favorite clips offline, remaster them or publish them across other networks or on your website. Keep in mind that UGC, like video testimonials, is going to be at the top in 2021.
#3 Wedding hashtag generator
The last unusual tool in my list is a special hashtag service – wedding hashtag generator by Bigbangram. When the big day is coming in our time, you not only need to look good, you need a personal hashtag.
But it's a time-sink to create a tag on your own, checking if it hasn't been taken before, right? That's where a generator for wedding tags will help you.
Here are the perks:
The smart tool will suggest many creative options based on your first and second names and the big date.
You will get an album in your profile with all the images with a hashtag after a ceremony. Conveniently, you won't need to look for posts across all the guests' Instagrams – the media library of your wedding will be in one place. New posts will be amassed even 7 days after.
You can download and share the content later. You will have 90 days to save the Instagram album by your hashtag. Also, it's possible to share this archive with your family and guests.
Lastly
All the mentioned above services do not contain just these tools. They are a multi-purpose set of instruments for marketers, entrepreneurs, bloggers – you will find all the services on the websites. Don't miss a chance to enhance and improve your content and promotion strategies right away.