Last Updated on December 11, 2019
There's something to be said about taking an active hand in decorating your interior decor with quilted drapery fabric. For as nice as painting your walls might be, there's just something special about looking at the walls that surround you and knowing that you're responsible for their appearance.
What's more, quilted drapery fabric offers a wide variety of different options for customization. That's something you won't likely get with wall paint.
Of course, there's quite a bit more to the crafty side of quilting than just wall art. From bedding options to serving trays to bespoke rugs and so much more, let's take a look at four choices of home décor crafts you can make with quality quilt drapery fabric.
Family History Tapestry-Style
Wall hangings made from elegant fabrics have long been a way to add some eye-catching personality to a space. Tapestries, in particular, can be a great way to imbue a room with a sense of personality and even history. The Bayeux Tapestry in England is undoubtedly the most iconic historical account of the story of the Norman Conquest.
While you may not have any nation-defining battles in your past, you do have a family history – so why not quilt and display it proudly on the wall? Quilts have for centuries been a way to do family albums in fabric form. Quilting family members' names and some personalized designs or scenes from your past can be a creative way to supplement family photos.
Another approach would be to source inspiration from designer drapery fabrics available at local or online quilting stores. If you do decide to purchase these, look for recognized and recommended sources in the quilting community, such as US-based quilting supplier Hancock's of Paducah we just linked to.
Sourcing your material from a quality supplier will enable you to have fabric both sturdy and vibrant enough to serve as the base material atop which you can quilt those names and moments of family history.
Rugs and Accent Pieces
One of the nice things about drapery fabrics is they tend to be a bit more on the durable side. This makes them ideal for being transformed into rugs. What's more, you can also cut them up and quilt them into some lovely accent pieces as well.
Search out tables and drawers which look a little barren, add these quilted drapery fabrics, and presto – instant panache.
Pillowcases and Blankets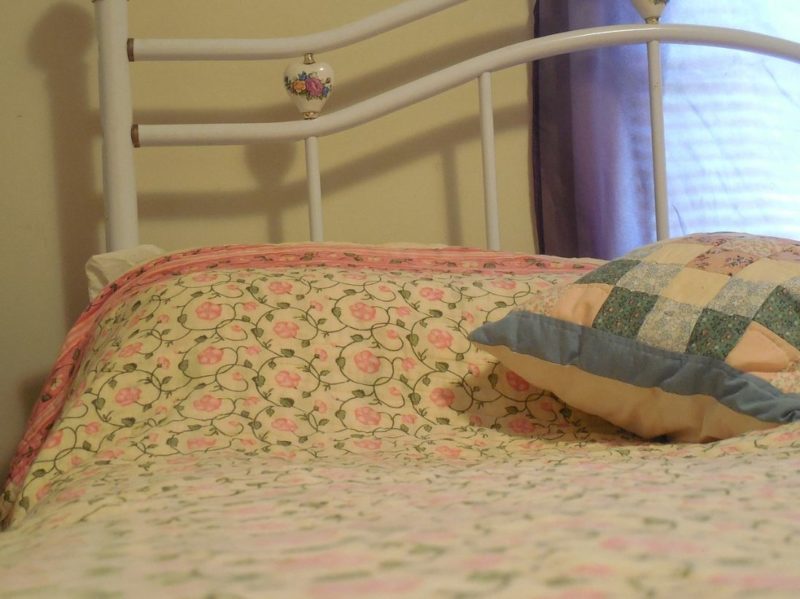 Perhaps no room in your home is more naturally receptive to this kind of quilted innovation than your bedroom. After all, quilts are, in their most basic state, blankets. What's more, the material from which drapery fabric is typically made tends to be thicker than other fabrics.
As a result, it traps heat better, which is certainly desirable if you are looking to make quilted blankets for your bedspread.
The same holds true of pillowcases. They tend to complement blankets as part of a comprehensive bedspread, so if you make one from old drapery fabric, you have all the more incentive and impetus to use leftover material from the same drapery to make the other. In addition to the pillowcases, if you're looking to go super creative with your pillow shapes, don't miss our 35 funky & fancy pillow designs.
Serving Tray Fabric
Now that we've mounted some family history on the wall and tucked ourselves in for bed, let's move to the kitchen and see what we can do with our drapery fabric there. While there's a natural inclination to take our drapery fabric and use it to create some placemats, tablecloths, table runners, or similar dining table accouterments, we can get a bit more creative still.
Serving trays ornamented with fabric can give any dining room an instant jolt of intrigue. It's not every day that you see serving trays and bowls ornamented with fabric, and certainly not outside a café or restaurant setting. Even so, all it takes is the right kind of straw serving tray or bowl, some drapery fabric, sewing tools, and a little creativity and patience.
For quilt lovers with a craftier side, these quilted crafts can add color and personality into any home.