Last Updated on June 8, 2021
You may have always wanted to design your own home, splash some colors on the walls, and add some good-looking paintings, the lanterns that you saw while you were out shopping. But then, there are way too many things to fit into one home of ours.
To solve this clutter is where the interior design schools come in handy. Some of the best schools have brought their programs online to make them available to a larger audience. These schools offer synchronous and asynchronous classes held on various online platforms. This allows you to take as many courses as you may like, choosing from the vast knowledge bank every school has to offer.
An educational center from Paris offers courses in Interior design and landscape design. You have the choice to opt for free or paid courses depending on the level of expertise you would like to gain in the field of interior design. One of the best schools to look into is HDI that brings world-class knowledge from the lecturers, who are practicing interior designers across the globe. This professional online course prepares you for taking on live projects, interact with clients confidently, and execute projects with utmost care and precision.
The courses help in enhancing the skills of the students through software such as AutoCAD, 3DS Max, Sketchup, etc. The free course and paid course are both real-time online courses. The free course allows you to opt for an exam to receive a certificate, the paid course runs for 2 semesters.
Interior Design Institute
Interior design institute in association with Le Mark School of Art is hosting interior design courses for the Indian market. The course is provided online to study at your own pace, at the end of it you will receive an International certificate and Australian Accredited Diploma. Moving towards the nature and elements of nature, this course is designed to encourage students to incorporate nature into their design and also to hone their natural flair for design.
They are encouraged to translate their ideas into reality with the help of various modules and assignments. The Diploma courses can be completed with a maximum timeline of 18 months, with any start date as per your convenience.
National design academy offers a diploma in interior design with its online and in-studio courses. They are flexible and time-bound courses that offer a variety to the students to choose from according to their needs. The flexible program is a 9-12 months course with assignments assisting the coursework assessed by personal tutors. You may also opt for a fast track course offered online that can be completed within 12 weeks viz zoom.
This course consists of 10 units with 2.5 hours of live lecture divided between 2 days a week. The other fast track course is offered an in-studio for 12 weeks with a hybrid of studio classes and home study. The school also offers funding to its students that show creativity and the qualification is fully accredited.
Sydney Design School
Yet another industry-focused course that is offered as career courses and short courses. They are offered online like all other courses listed here that are taught by industry experts. The practicing designers bring to you knowledge that is cutting edge. The specialty of this course is that you need not have had any background in interior design but only require your passion to learn and create something new on a blank canvas.
The online course duration varies between 1-2 years depending on the pace at which you can complete the course. You will be exploring various aspects of color theory, material palette, lighting, and space planning. You will tackle the design of a complete home raising your confidence level to interact with your clients and grow your profession.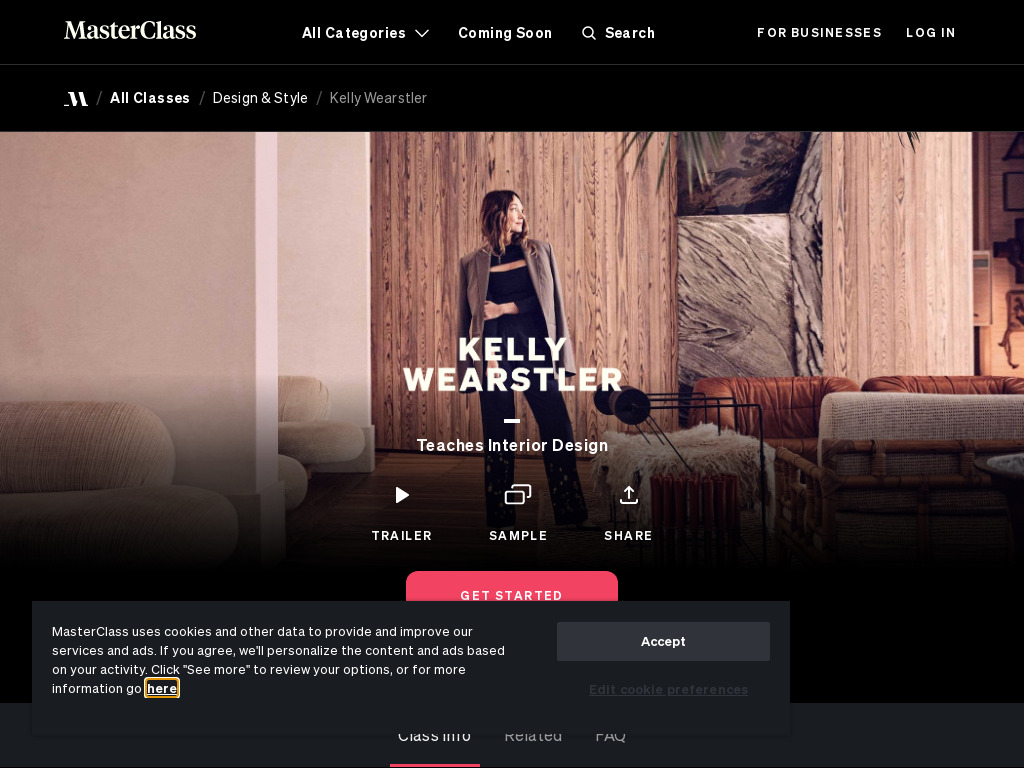 Kelly Wearstler, an international Lifestyle brand and a global Interior designer is ready to share her knowledge on interior design that changed the outlook of modern designs. She is an award-winning designer who will discuss how to design spaces with appropriate colors, materials, and textures. The advantage of this course if starts with a sample project and discusses the colors, materiality, experimenting with colors, patterns – movement and scale, lighting, furnishing, and experimenting with art inside a space.
The course also highlights life as a designer and what to expect upon stepping foot into the industry. Easy access is available to the study material in the form of a pdf for future reference. Solve the mystery of design with the excellent tutors and design a space that is calm and nurturing and helps you grow mentally.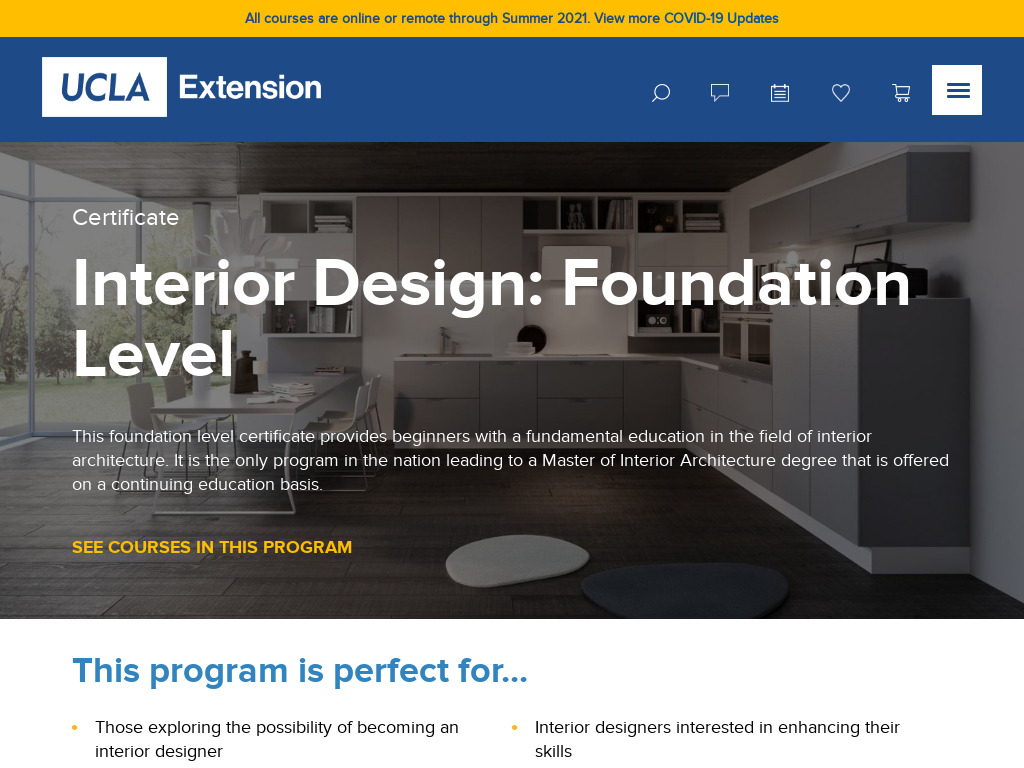 This foundation-level course offered by UCLA is one of the top courses chosen by students as you will be receiving a degree from one of the best schools in the United States. The courses are offered in fall, winter, spring, and summer through remote instructions. It talks about the design of interiors for commercial and residential spaces by learning the history and principal of design.
As few as 11 weeks to earn a degree in interior design, this course is most distinguished amongst the practicing professional who wants to have an edge over their design. It invites guest lecturers from LA and other places to talk about architecture and interiors. Enroll soon by June 21st, 2021 to being your classes.