Planning a trip or vacation can be a painstaking process. That's especially true if you're doing the entire planning singlehandedly. You've got to contend with the rigors of preparing your travel essentials, choosing a compatible travel companion, and selecting the destinations you'd wish to explore.
And just when you think you've got it all figured out, you suddenly realize that you've not booked your flights and lodge facilities yet the trip is only a couple of days away. That's when the services of a professional travel agent can come in quite handy.
Now, Agoda has become a household name in the travel & tourism industry. The company promises its customers amazing travel experiences by helping them find the best bargains on plane tickets and accommodation facilities.
But if you've never tried Agoda services before, you're bound to ask whether the company is legit or not. Read on as we unravel everything there is to know about this travel agent.
What Is Agoda?
Agoda.com, commonly known as Agoda, is a Singaporean online travel agency and search aggregator for hotels and vacation rentals, as well as flights and airport transfers. The website was founded in 2005 by Michael Kenny and Robert Rosenstein. It's based in Singapore and owned by Agoda Company Pte. Ltd.
Although headquartered in Singapore, Agoda's services are available worldwide. As of June 2021, the travel agent had listed over 2.5 million properties globally.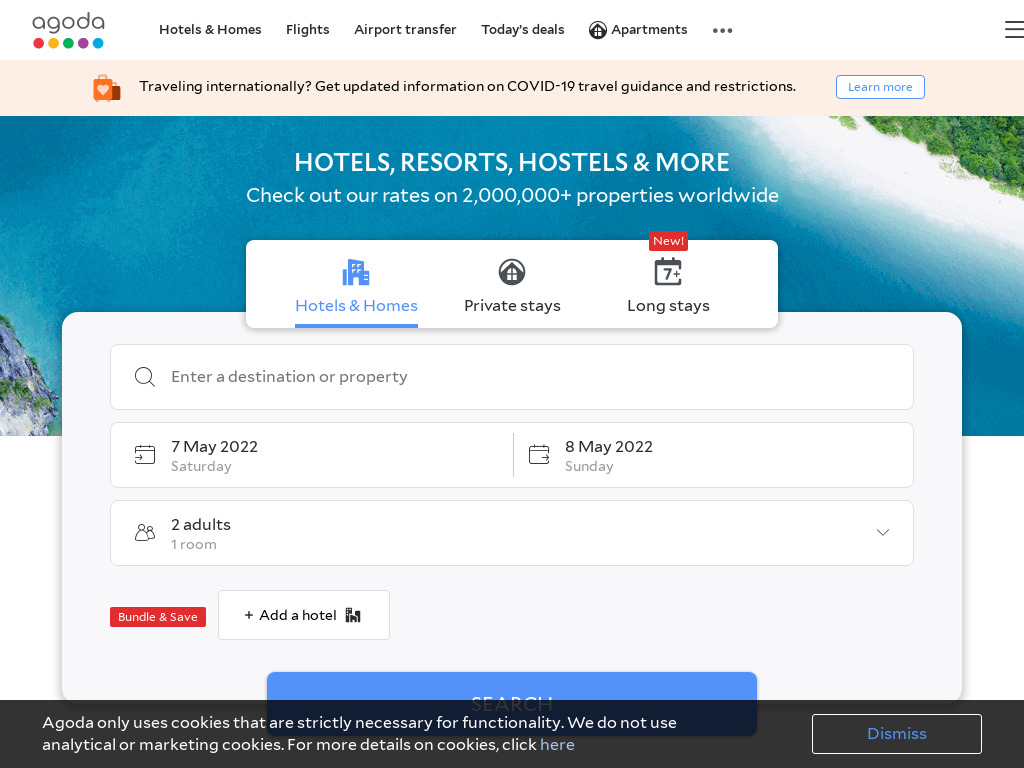 Company Summary
Name: Agoda
Industry: Travel & Tourism
Year Founded: 2005
Founders: Michael Kenny and Robert Rosenstein
Countries of Origin: Singapore
Headquarters: Singapore
Availability: Worldwide
Current Status: Active
Official Website Link: https://www.agoda.com/
A Brief History of Agoda
Agoda traces its history to 2005. The company was founded by school friends Robert Rosenstein and Michael Kenny.
In 2007, Booking Holidays (formerly The Priceline Group) acquired Agoda. Agoda's fortunes changed dramatically following this grand acquisition.
In July 2011, Agoda launched its Android and iOS aps for mobile devices. This initiative further enhanced access to the company's services. It wasn't long before Agoda racked up thousands of users, many of whom posted positive feedback.
How Big Is Agoda?
Agoda is one of Asia's biggest online travel agencies and one of the world's largest search aggregator apps.
As of June 2021, the company had listed over 2.5 million properties worldwide. That includes private holiday home rentals.
How Does Agoda Work?
Agoda operates mainly via the affiliate marketing business model.
As an affiliate marketer, Agoda partners with hundreds of renowned hotels. Through these partnerships, the company grants its users unhindered access to tons of hotel booking services. It then earns commissions from successful bookings via its platform.
Agoda makes it easy to browse a wide collection of hotels and lodge facilities spread across the world. Users can then compare prices across the available facilities and secure a booking in a matter of seconds.
Although Agoda seems to cater more to the needs of travelers, property owners also benefit by listing their rental facilities on the platform. And besides hotel bookings, Agoda also provides flight bookings and airport transfers.
All bookings are made through Agoda's official website or mobile app. The app is available in over 35 languages. And as already indicated, it's compatible with both Android and iOS devices.
Agoda also has a VIP service known as Agoda VIP. This service allows participating property owners to provide exclusive discounts to Agoda's VIP-status customers. To qualify for this exclusive club, you must have made at least 5 uncanceled bookings on Agoda within the past 24 months.
Last but not least, Agoda offers the "Book Without a Credit Card" feature for hotels in the Philippines and Indonesia.
Is Agoda Available In My Location?
Agoda is available worldwide. You can access the company's over 2.5 million properties wherever you are.
Do I Need An Account To Book A Property On Agoda?
Yes, you need an account to book a hotel or even a plane ticket on Agoda.
Follow the below procedure to sign up for an Agoda account;
i. Head to Agoda's official website.
ii. Click "CREATE ACCOUNT."
You can sign up using either your email address or phone number.
To register using your email address;
a) Enter your first name, last name, and email address in the provided fields, then create and confirm your password.
b) Complete the capture challenge.
c) Click "SIGN UP."
You'll receive a confirmation email within 10 seconds.
At this point, you can perform the following functions;
• Link your email with your Facebook account.
• Add and confirm your payment method.
• Opt in to Agoda's email subscription.
To register using your phone number;
a) Enter your country to display the country code.
b) Enter your mobile number.
c) Create a password.
d) Complete the capture challenge.
e) Click "Send OTP."
How Do I List A Property On Agoda?
i. Sign in to Agoda using your account credentials.
ii. Upload your property details, including its pictures as well as a description of its location, size, etc.
iii. Set your prices and available dates.
iv. Submit your listing for review.
How Do I Search For A Property On Agoda?
i. Head to Agoda's homepage and sign in.
ii. Enter your travel destination in the yellow box.
iii. Choose the check-in date.
iv. Choose the number of nights you expect to stay at the facility.
v. Choose the check-out date.
vi. Click on the blue "Check rates!" button.
Agoda will display all the available hotels based on your search criteria, along with the rates and guest reviews for each hotel.
vii. Click on the name of your preferred hotel.
The next page will display the types and number of rooms available at the hotel.
viii. Choose your preferred room type and number, then click on "Book it."
On the next page, you'll need to enter your information. That includes your first name, last name, email address, phone number, and country.
The page also displays the total price for your selected room, exclusive of service charge and hotel tax. Besides, there's an option for sending the hotel any special requests by clicking on the button marked "Special Requests (Optional)."
NB: Ensure you check the below box if booking for someone else. In that case, you'll need to enter the guest's first name, last name, and the origin country of their passport.
ix. Click "Continue" to proceed to the payment page.
x. Select your payment method between credit card and PayPal.
If paying by card, enter the card number and cardholder name, as well as the card's expiry date and CVC code.
It's also on this page where you'll see the final price you'll pay for the hotel, inclusive of service charge and hotel tax.
xi. If all looks good, click on "Pay & Book Now!"
A check-in voucher will be sent to your email, which you can use to check in to the room you've booked.
How Do I Book Flights On Agoda?
i. Head to Agoda's homepage and sign in.
ii. Click on "Flights" from the menu located at the tip of the screen.
iii. Enter your departure location, travel destination, travel dates, number of travelers, and the service class.
iv. Click "SEARCH."
v. Agoda will pull up tons of airline companies based on your search criteria.
vi. Click "View Deal" to book. You'll be transferred to a different website where you can complete your flight booking.
NOTE: Besides hotel and flight bookings, Agoda also offers car rental bookings. The process generally unfolds in the same way.
Also, as with most third-party travel agencies, Agoda lets you cancel your bookings. However, any applicable cancelation fees or refunds are at the discretion of the hotel, airline, or car rental company you booked with.
Is Agoda Legit?
Agoda is a legitimate company that facilitates hotel and flight bookings, as well as car rental hires.
The company has come under criticism in the past for charging a customer for a non-existent hotel and registering illegal properties, among other accusations. However, it emerged that all these were cases of sheer misunderstandings.
So, if you've been thinking of booking your next lodge facility, air ticket, or rental car using Agoda's website, we honestly cannot find a reason to convince you otherwise.