Last Updated on January 25, 2022
There are many reasons why you would want to download YouTube videos. Some do it to continue watching their favorite clips offline. While other folks need it for their DIY projects. As videos have become much sought after today, a lot of people want to know that they can always watch them whenever and wherever they want to.
Although there are plenty of video downloader tools today, they're not created equal. Most have restrictions due to copyright content. Some on the other hand, are too slow or offer low quality results. When it comes to a Chrome YouTube downloader, you'll want something fast, convenient, and removes the guesswork in converting, transferring, and saving clips.
Introducing iTube Studio, an all-in-one software to help you download all your favorite videos from 10,000 different sources.
What is iTube Studio?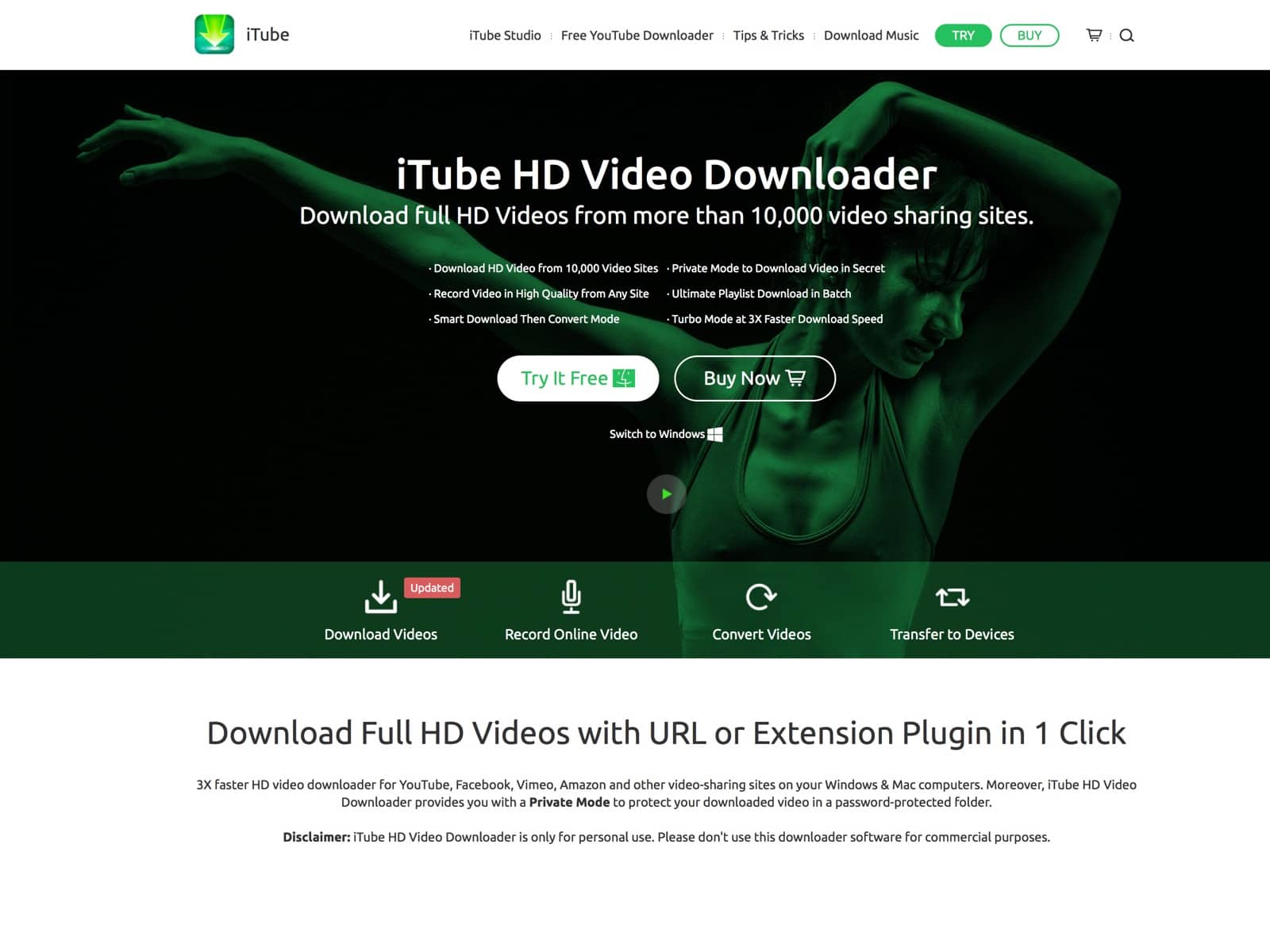 A video downloader Chrome, iTube Studio is a revolutionary software that helps you download videos from sites like YouTube, Instagram, Facebook, Vimeo, and more.
Of course, there are similar tools available today, such as YTD Video Downloader, Free YouTube Downloader, and Kastor All Video Downloader. However, they usually have limited capabilities, or can make your device more prone to viruses because their setup isn't protected. Also, these tools often only download videos from select sites like YouTube.
iTube Studio is your best bet because of its easy and secure setup for Chrome and other browsers (Firefox, Internet Explorer, Safari, and more). As mentioned before, this software also allows you to download clips from 10,000 different sources, including Facebook, Vimeo, Instagram, Twitch, as well as record from sites like BBC, Hulu, and Yahoo.
The best part? iTube Studio lets you download or convert multiple videos at once. This batch multi-tasking is ideal for those who are pressed for time or are looking to save precious hours. In YouTube for example, you can download a YouTube Playlist using one URL, or grab different video URLs.
Then just let the tool do its magic. You can set up your device to go on sleep or shut down once the videos have finished downloading.
How To Use iTube
Getting all the videos you want using iTube Studio is as easy as one-two-three.
First, go to the official iTube Studio web page to install the downloader. This works for Windows or iOS users. Simply follow the installation steps to finish the setup. There will also be a guide so you can install an extension for your browser. The software will launch automatically, leading you to the iTube Studio window where you can start downloading, converting, or transferring videos immediately.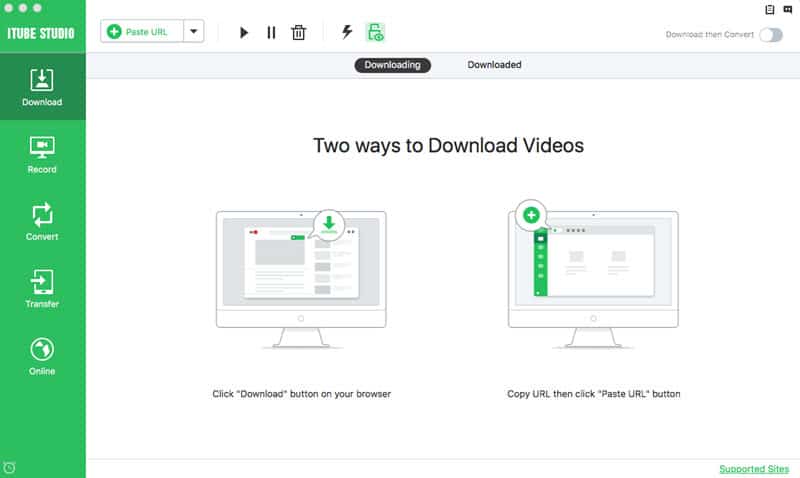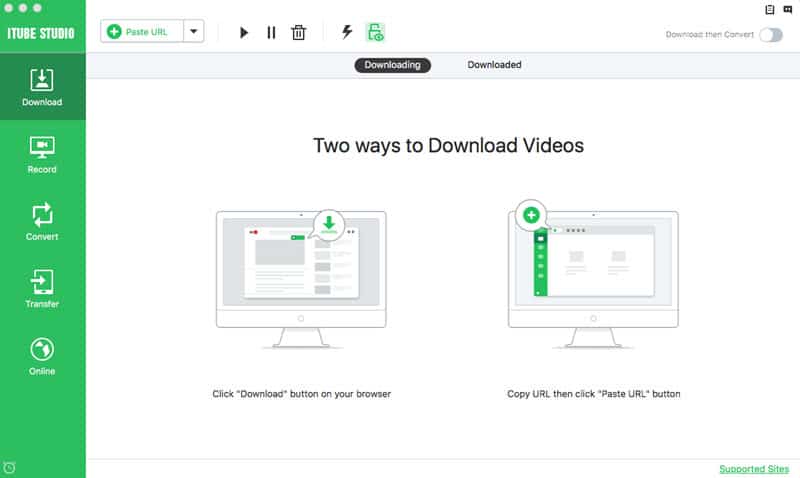 Second, choose how you want to download your videos. If you have already installed the extension, you will see a 'Download' button on the right-hand side underneath the video on YouTube. Once you start playing the video though, this button will appear on the upper left-hand side. Simply select the format you want and begin downloading.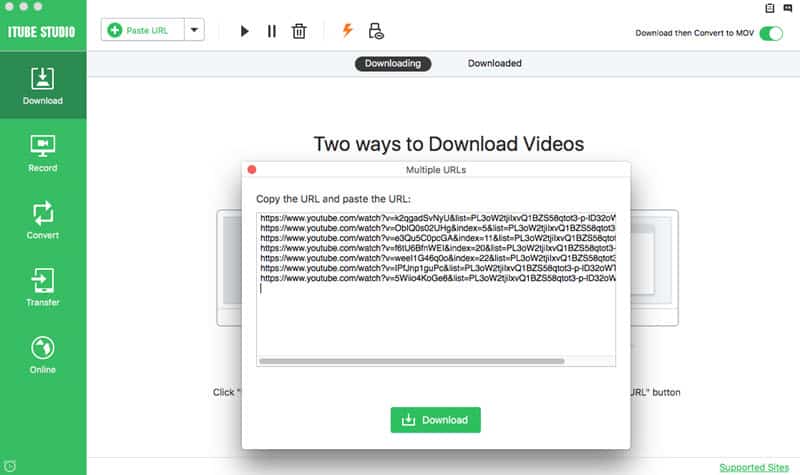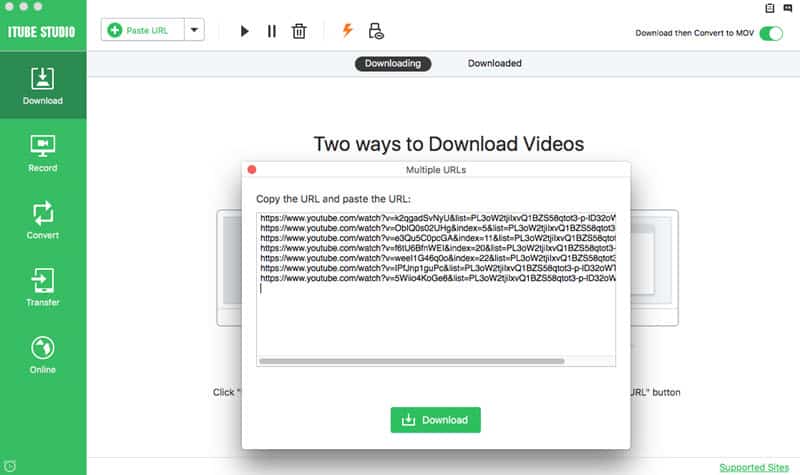 Another option is dragging or copying the URL on the iTube Studio window. If it's an entire playlist, simply drag or copy and paste the URL into the dock and the software will do the rest. You will also see a 'Download All' button from YouTube. Click Download or pick only the videos you want.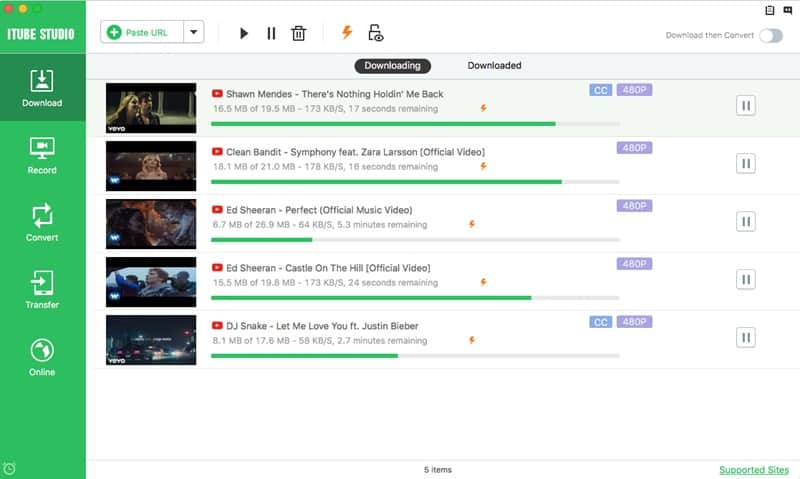 Lastly, wait for your videos to finish downloading. And that's it! It's quick, easy, and hassle-free.
More to Love about iTube Studio
With iTube Studio, you don't need to be well-versed in movie formats or technological jargon. Aside from letting you download videos in HD, it also lets you instantly play them thanks to their built-in media player. For those who want the mp3 version, this software can also download audio only formats in the best quality possible.
Transferring files in any format is also a breeze. Whether you need clips converted and transferred to your phone, tablet, or even game consoles, this tool has got your back. Simply use the 'Download and Convert' feature to instantly convert them to more than 150 video and audio formats. This includes MOV, MP4, WMV, AVI, MPEG-1, MPEG-2, 3GP, MKV, MP3, M4A, WAV, and MKA to name just a few.
Aside from downloading, you can also use iTube Studio to record videos from sites that normally do not allow direct downloads, such as Hulu or BBC. Got a memorable Skype or Facetime moment? Don't lose these valuable instances. Record them using this all-in-one software that's convenient and offers the best features.
It's not easy to find a reliable YouTube downloader for Chrome and other browsers. Many of the tools you will find will have some sort of issue, such as low quality download or an unsecure setup. But with iTube Studio, you know you've found the one and only video downloader software you will ever need.
Whether you're just after clips you can watch offline, or you want to record from a streaming site so you can enjoy the video with your friends, this all-in-one tool has got you covered. As it's also user-friendly, no need to have previous know-how of video formats. With just one click, you can have more of what makes you happy.