Last Updated on March 8, 2022
Who Is Jack Dorsey?
Jack Patrick Dorsey is an American technology entrepreneur, investor, and philanthropist. Dorsey is best known for being one of the founders of the social networking platform Twitter, which he also serves as the current CEO.

Besides Twitter, Dorsey is also the founder and CEO of the mobile financial payments company, Square.
Quick Facts
| | |
| --- | --- |
| Full Name: | Jack Patrick Dorsey |
| Popular Name: | Jack Dorsey |
| Gender: | Male |
| Birth Date: | November 19, 1976 |
| Age: | 45 years |
| Parents: | Tim Dorsey and Marcia Smith Dorsey |
| Siblings: | None |
| Birth Place: | St. Louis, Missouri |
| Nationality: | American |
| Ethnicity: | English, Irish, and Italian |
| Education: | Catholic Bishop DuBourg High School, Missouri University of Science and Technology, and New York University |
| Marital Status: | Single |
| Sexual Orientation: | Straight |
| Wife/Spouse: | N/A |
| Children: | None |
| Dating: | N/A |
| Net Worth: | USD 10 billion (as of August 1, 2021) |
| Source of Wealth: | Web Development, Software Development, and Entrepreneurial Ventures |
| Height: | 5′ 11″ (1.8 m) |
| Weight: | 75 kg; In pounds: 165 lbs. |
Early Life and Career Information
Jack Dorsey was born on November 19, 1976, in St. Louis, Missouri, to Tim Dorsey and Marcia Smith Dorsey. His father worked for a spectrometers development company, whereas his mother was a homemaker.

Before developing an interest in the world of technological innovation, Jack Dorsey occasionally worked as a fashion model. At the age of 14, he was fascinated with dispatch routing. He went on to create powerful open-source software in the area of dispatch logistics, some of which are still used today by numerous taxicab companies.

After graduating from Catholic Bishop DuBourg High School, Jack Dorsey proceeded to the Missouri University of Science and Technology, where he studied for just over two years before transferring to New York University. It's while studying at NYU that Dorsey conceived the idea of Twitter. However, he dropped out of the university in 1999 and decided to venture fully into the world of technological innovation.

After leaving NYU, Jack Dorsey moved to California, where he maintained his job as a dispatching programmer. In 2000, he established his own company in Oakland that offered web-based dispatch services.

Taking inspiration from his online dispatch services, Dorsey came up with the idea of web-based real-time SMS services. He teamed up with fellow inventor and future investor, Biz Stone, to create Twitter as an online real-time SMS service. Fortunately, the idea was well-received, particularly among clients of companies that were particularly interested in text messaging, such as Odeo.

But while the idea of Twitter was generally well-received, there were also critics ready to poke holes in it. According to such critics, Twitter was merely a tool for idle and self-centered individuals looking to broadcast their life's frustrations to the universe. Besides fierce criticism, Twitter also experienced frequent downtimes.

However, the startup's fortunes changed for the better when celebrities began using the service. And when the then U.S Presidential candidates John McCain and Barack Obama used the platform as a tool for updating their supporters, the company became a household name. Today, Twitter is the fourth-most popular social networking platform globally after Facebook, YouTube, and Instagram.

In addition to Twitter, Jack Dorsey is also associated with Square, Inc. Plus, he is a current board member of Berggruen Institute's Governance Center and a former board member of The Walt Disney Company.
Jack Dorsey's Net Worth
As of August 1, 2021, Jack Dorsey had a net worth of $10 billion. For comparison's sake, the following is the net worth of CEOs of other popular social media companies:

• Mark Zuckerberg, the Facebook CEO, has a net worth of $107 billion
• Evan Spiegel, the Snapchat CEO, has a net worth of $9 billion
• Kevin Systrom, the Instagram CEO, has a net worth of $2 billion
• Susan Wojcicki, the YouTube CEO, has a net worth of $500 million
• Kevin Mayer, the outgoing TikTok CEO, has a net worth of $15 million

While Dorsey is best known for co-founding Twitter, a huge chunk of his wealth actually comes from Square Inc.

According to a September 2012 evaluation by Business Insider, Square was worth $3.2 billion. On October 14, 2015, the company filed for an Initial Public Offering (IPO) to be listed on the New York Stock Exchange (NYSE). Around that time, Dorsey owned 24.4% of the company. In 2019, Square Inc. generated an annual revenue of $4.7 billion, and Dorsey still owns a 24.4% stake in the company.

When it comes to Twitter, Dorsey's shares have been staggering around 2% for some time now. But considering that Twitter's 2019 annual revenue was a jaw-dropping $3.46 billion, Dorsey's shares in the company translate to hundreds of millions in annual income.

Apart from Twitter and Square Inc., Jack Dorsey also earns from other ventures, including for his role as a board member of the Berggruen Institute's Governance Center. The software architect was also a board member of The Walt Disney Company, as well as a judge for the NYC BigApps competition by Bloomberg in 2011. However much he made out of these ventures, it surely contributed to his overall net worth.
Lessons from Jack Dorsey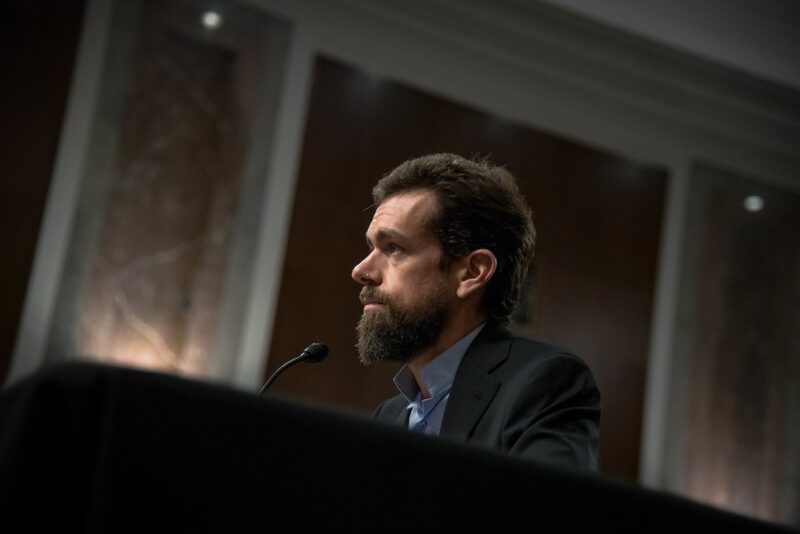 1. Be passionate about your job

Jack Dorsey developed a passion for software development in his preteen years. And his entire life has pretty much revolved around this niche.

2. Give generously

Not only has Dorsey earned millions, he is also a generous giver. In February 2017, he and Twitter's Executive Chairman Omid Kordestani donated $530,000 towards the American Civil Liberties Union (ACLU). More recently, he has donated to COVID-19 relief programs.

3. There's time for everything

Although he is wealthy, handsome, and eligible, Jack Dorsey hasn't been keen on walking down the aisle. He believes in marriage alright, only that he thinks now is not the right time to settle down.
Famous Quotes by Jack Dorsey
"Expect the unexpected. And whenever possible, be the unexpected."
"It's really complex to make something simple."
"Make every detail perfect and limit the number of details to perfect."
"You can worry about the competition, or you can focus on what's ahead of you and drive fast."
"You don't have to start from scratch to do something interesting."
Conclusion
Jack Dorsey's success story is proof that when you believe in an idea, you should do your best to make it a reality. He conceived the idea of Twitter at a time when not many companies were keen on investing in web-based real-time SMS services. However, Dorsey believed that something great would come out of Twitter someday and worked towards growing the company. Well, as they say, the rest is history.