Last Updated on January 25, 2022
Who Is Jeff Dunham?
Jeffrey Douglas Dunham is an American ventriloquist, stand-up comedian, actor, filmmaker, television producer, author, and musician.

Dunham has appeared in tons of television shows over the years, mostly as a comedian. Examples include Late Show with David Letterman, The Tonight Show, Comedy Central Presents, and Sonny With a Chance. He also has six stand-up specials running on Comedy Central. They include Arguing with Myself, Jeff Dunham's Very Special Christmas Special, Minding the Monsters, Spark of Insanity, Controlled Chaos, and All Over the Map. Plus, he's noted for starring on Comedy Central's The Jeff Dunham Show in 2009.

Dunham's comedy cuts across numerous genres, including ventriloquism, black comedy, observational comedy, and prop comedy. He's credited for helping to revive the art of ventriloquism.

Besides comedy, Jeff Dunham has also involved himself in other entertainment-related endeavors, including acting, screenwriting, and film and television producing. He's also a renowned author.
Quick Facts
| | |
| --- | --- |
| Full Name: | Jeffrey Douglas Dunham |
| Popular Name: | Jeff Dunham |
| Gender: | Male |
| Birth Date: | April 18, 1962 |
| Age: | 59 years |
| Parents: | Howard Dunham and Joyce Dunham (adoptive parents) |
| Siblings: | None |
| Birth Place: | Dallas, Texas |
| Nationality: | American |
| Ethnicity: | Caucasian |
| Education: | Richardson High School and Baylor University |
| Marital Status: | Married to nutritionist and personal trainer Texan Audrey Murdick (since 2012); previously married to Paige Brown (from 1994 until their divorce in 2008) |
| Sexual Orientation: | Straight |
| Wife/Spouse: | Texan Audrey Murdick |
| Children: | Bree Brown (adopted from Paige Brown's previous relationship), Ashlyn Dunham and Kenna Dunham (from his marriage to Paige Brown), and James Jeffrey Dunham and Jack Steven Dunham (from his marriage to Texan Audrey Murdick) |
| Dating: | N/A |
| Net Worth: | USD 150 million (as of May 1, 2021) |
| Source of Wealth: | Ventriloquism, Comedy, Acting, Screenwriting, Film & Producing, Writing, Singing, Endorsement Deals, and Other Ventures |
| Height: | 6′ 0″ (1.83 m) |
| Weight: | 68 kg; In pounds: 145 lbs. |
Early Life
Jeff Dunham was born on April 18, 1962, in Dallas, Texas, to Howard Dunham and Joyce Dunham.

Howard Dunham, a real estate appraiser, and his homemaker wife Joyce Dunham adopted Jeff when he was three months old.

Jeff was subsequently raised as an only child in an affluent Dallas neighborhood.
Ventriloquism, Comedy, and Television Career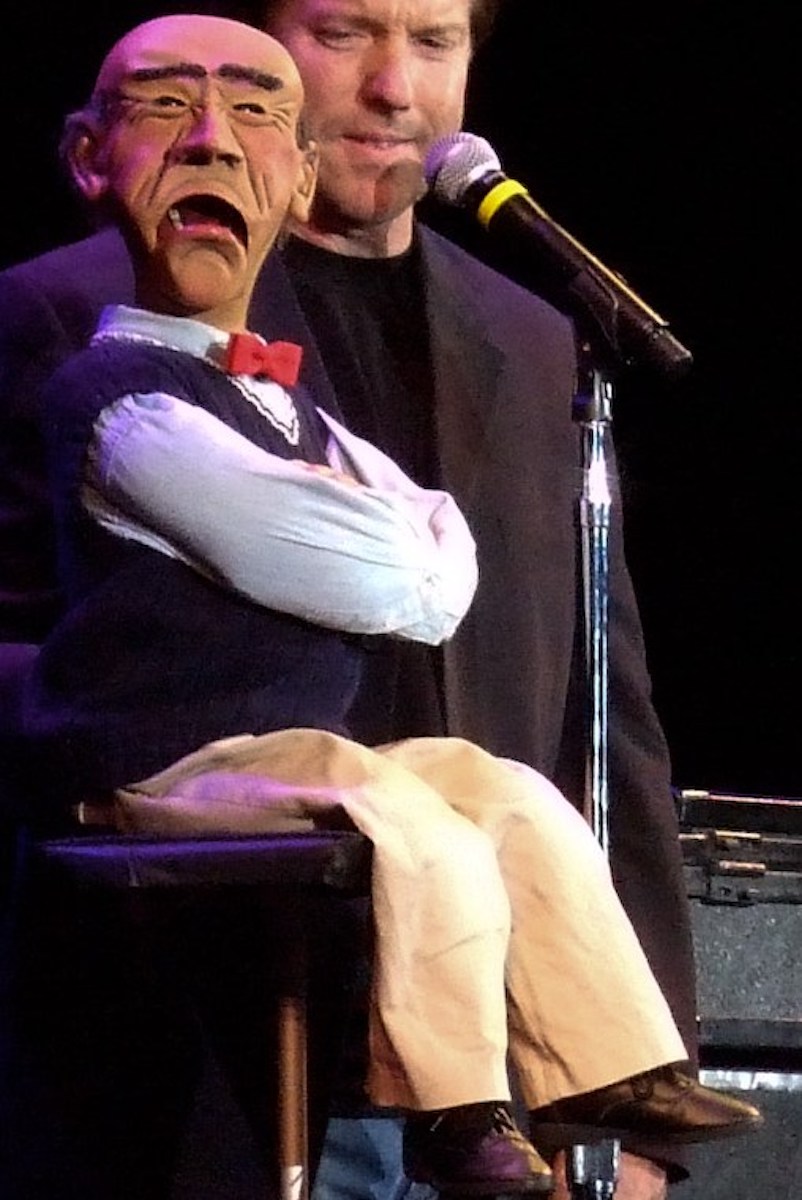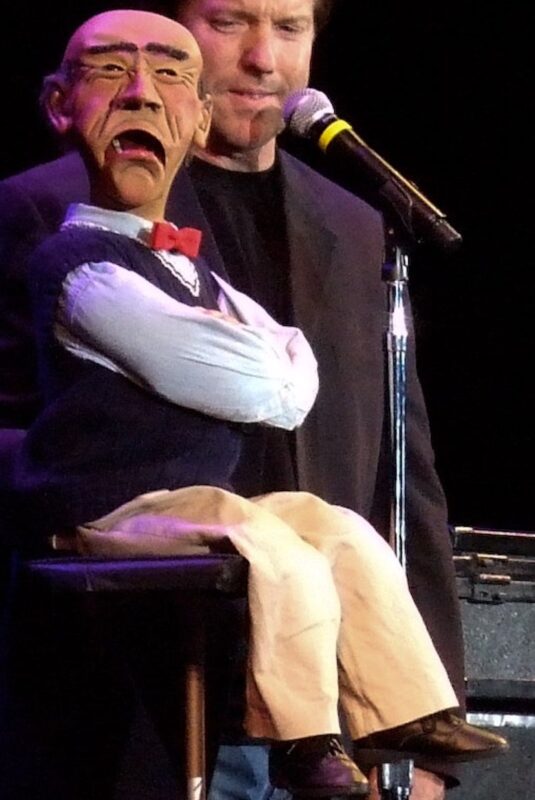 Jeff Dunham began his ventriloquism career in 1970 when he was only eight years old. By fourth grade, Dunham already knew that he was destined for a career in ventriloquism. He spent several hours a day studying the routines of renowned ventriloquist Edgar Bergen and putting the learned skills into practice in front of a camera. His greatest resources at the time included a Mortimer Snerd dummy that his parents had given him for Christmas, a how-to book on ventriloquism he checked out from a local library, and the how-to record guide 'Jimmy Nelson's Instant Ventriloquism.'

When he was in sixth grade, Jeff Dunham started attending and competing in the Vent Haven ConVENTion, an annual international convention of ventriloquists held in Fort Mitchell, Kentucky. He has been a regular attendee of the Vent Haven ConVENTion since then, although no longer as a competitor.

During his middle school years, Jeff Dunham was already considered a promising ventriloquist. He performed in numerous audiences at school and church, as well as for banquets that were graced by local celebrities. In 1976, Dunham made his television debut when Dallas reporter Bill O'Reilly interviewed him for a local news story. He continued performing through his college years, traveling to numerous venues and doing up to 100 shows per year. By his junior year in college, Dunham was already making $70,000 a year.

In 1985, Dunham joined the Broadway show, Sugar Babies, where he starred alongside Mickey Rooney and Ann Miller. He continued honing his ventriloquist career after graduating from college, amid discouragement from fellow comedians and event emcees who thought that ventriloquism had no place in the comedy world.

In 1988, Jeff Dunham moved from Texas to Los Angeles, California, to pursue his ventriloquism career in earnest. On April 6, 1990, Dunham began appearing on The Tonight Show Starring Johnny Carson. He appeared in the show a total of four times. Dunham went on to appear in a number of television shows around the same period, including in 2002 episodes of the television series 'Any Day Now' and 'She Spies.'

On July 18, 2003, Jeff Dunham made his first solo appearance on Comedy Central in the show Comedy Central Presents. Despite the success of his special, Comedy Central refused to grant him more airtime. Dunham then embarked on a campaign to finance his own comedy DVD, titled Jeff Dunham: Arguing with Myself. The campaign was a remarkable success, forcing Comedy Central to air the DVD in late 2006. Dunham later performed more specials with the network, including Jeff Dunham: Spark of Insanity, Jeff Dunham's Very Special Christmas Special, Minding the Monsters, Controlled Chaos, and All Over the Map.

Jeff Dunham has since appeared plenty of other films and television shows, including:

• One on One (2003, television series)
• Delta Farce (2007, film)
• History of the Joke (2008, television documentary)
• 30 Rock (2009, television series)
• The Jeff Dunham Show (2009, television series)
• The Nut Job and its 2017 sequel, The Nut Job 2: Nutty by Nature (film, as a voice actor)
• Hell's Kitchen (2016, television series)
• Smurfs: The Lost Village (2017, film)
• Scooby-Doo and Guess Who? (2020, television series)
• Last Man Standing (2021, television series)
Writing Career
Jeff Dunham co-authored the book Dear Walter, with Walter Cummings. Published in 2003, the book is a collection of questions relating to Dunham's fictional curmudgeon during live performances.

In 2010, Dunham authored his second book, an autobiography titled 'All By My Selves: Walter, Peanut, Achmed and Me.'
Music Career
On November 4, 2008, Jeff Dunham released his debut album, titled Don't Come Home for Christmas.

The album contains original Christmas songs and a parody of "Jingle Bells" by Achmed, titled "Jingle Bombs."
Jeff Dunham's Net Worth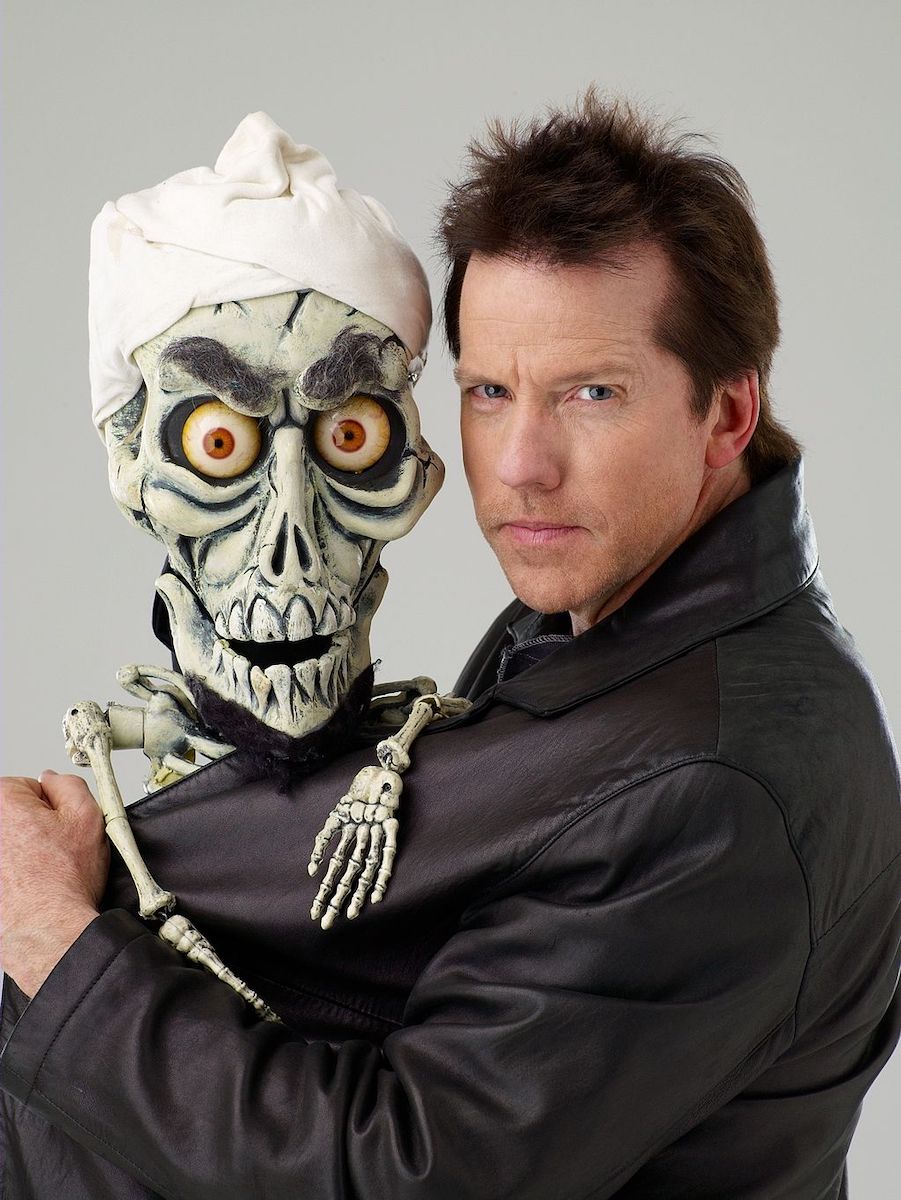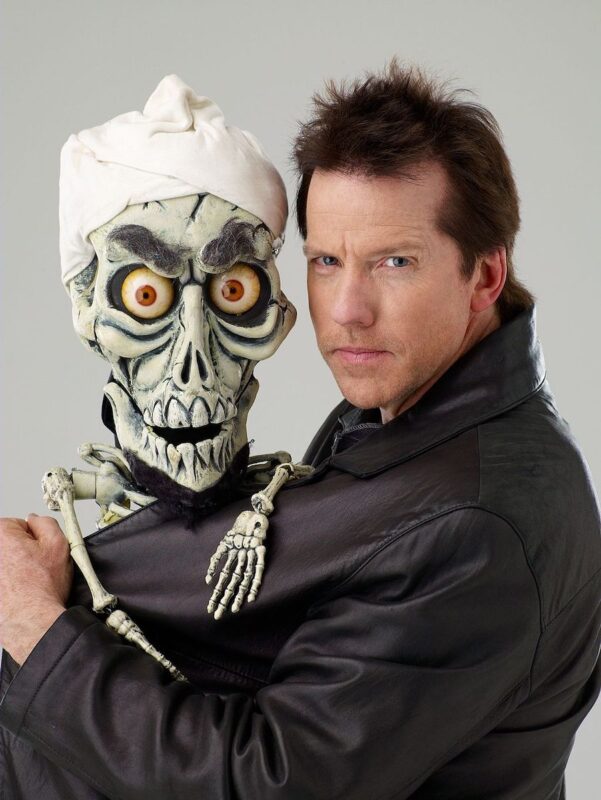 Jeff Dunham has enjoyed a career in comedy and acting spanning close to five decades. Dunham has consistently been ranked among the highest-paid comedians in the world, with an annual salary ranging from $15 million to $30 million. He earned $30 million in 2009, $20 million in 2011, $22 million in 2012, $19 million in 2013, and more recently, $17 million in 2018.

As of May 1, 2021, Dunham had a net worth of $150 million. Needless to mention, comedy and acting account for the majority of Dunham's earnings. As of November 2009, he had sold more than four million DVDs and merchandise worth $7 million, as well as over 350 million hits on YouTube. Dunham's DVD, A Very Special Christmas Special, became the most-watched telecast in the history of Comedy Central. The DVD sold over 400,000 copies during its first two weeks of release.

Besides acting and comedy, Jeff Dunham also earns from other ventures, including screenwriting, film and television producing, writing, and singing. Dunham also earns from endorsement deals. He has appeared in television commercials for numerous brands over the years, including Datsun and Hertz.
Lessons from Jeff Dunham
1. You're never too young to discover your potential

Jeff Dunham took an interest in ventriloquism at a fairly young age. By the time he was in fourth grade, he already knew he wanted to pursue a full-time career in ventriloquism.

2. Goals can be reached

After graduating from high school, Dunham gave himself a career goal of appearing on The Tonight Show Starring Johnny Carson within the next ten years. About eight years later, his dreams ultimately came true.

3. Pay no attention to your detractors

Jeff Dunham was frequently dismissed by fellow comedians and event organizers who thought that he would never get anywhere with his ventriloquist ambitions. During one event at a Catch a Rising Star comedy club in New York City, the emcee deliberately refused to recognize him, forcing Dunham to leave the club. But Jeff kept his ventriloquist dreams alive despite the obstacles.
Famous Quotes by Jeff Dunham
"A comedian needs to have his own filters, needs to know his audience, how far he can push things."
"I think all the garbage in the world is thanks to a very small handful of idiots."
"I've always said that instead of watching a guy juggle seven things amazingly I would rather see a really bad juggler who's really funny."
"I've skewered whites, blacks, Hispanics, Christians, Jews, Muslims, gays, straights, rednecks, addicts, the elderly, and my wife. As a standup comic, it is my job to make sure the majority of people laugh, and I believe that comedy is the last true form of free speech."
"The only way a ventriloquist speaks differently is that he forgoes using his or her lips, and learns to reproduce sounds using the tongue, upper palate, and teeth only. Those 'difficult' letters are B, F, M, P, V, W, and Y."
Conclusion
Jeff Dunham is a comedian and actor who has been around since the 70s. Dunham is credited for revolutionizing the art of ventriloquism even during a time when ventriloquists were generally looked down upon. He has amassed a net worth of $150 million as of May 1, 2021.