Last Updated on January 11, 2022
Who Is Jeffree Star?
Jeffrey Lynn Steininger Jr., popularly known as Jeffree Star, is an American beauty guru, model, fashion designer, singer-songwriter, DJ, actor, YouTuber, and entrepreneur.

As a businessman, Jeffree Star is best known as the founder and owner of the cosmetic giant, Jeffree Star Costmetics.

Star, who is also openly gay, is currently the highest-paid YouTube personality in the world.
Quick Facts
| | |
| --- | --- |
| Full Name: | Jeffrey Lynn Steininger Jr. |
| Popular Name: | Jeffree Star |
| Gender: | Male |
| Birth Date: | November 15, 1985 |
| Age: | 36 years |
| Parents: | Jeffrey Lynn Steininger Sr. and Marra Shubyann Lindstrom Steininger |
| Siblings: | None |
| Birth Place: | Los Angeles County, California |
| Nationality: | American |
| Ethnicity: | White |
| Education: | Pacifica High School |
| Marital Status: | Single, but previously in a relationship with Nathan Schwandt |
| Sexual Orientation: | Gay |
| Wife/Spouse: | N/A |
| Children: | None |
| Dating: | N/A |
| Net Worth: | USD 250 million (as of August 1, 2021) |
| Source of Wealth: | Modeling, Fashion Design, Singing, Songwriting, DeeJaying, Acting, YouTubing, and Other Ventures |
| Height: | 6′ 1″ (1.85 m) |
| Weight: | 71 kg; In pounds: 157 lbs. |
Early Life and Career Information
Jeffree Star was born on November 15, 1985, in Los Angeles County, California, to Jeffrey Lynn Steininger Sr. and Marra Shubyann Lindstrom Steininger. Star's father committed suicide when he was only six years old and he was mostly raised by his mother who was a model.

Jeffree took an interest in modeling from a tender age. He would frequently experiment with his mother's make-up and when he was in junior school, he convinced his mom to let him wear some of her make-up to school.

After graduating from high school, Jeffree Star moved to Los Angeles, where he accepted several modeling and music jobs to make ends meet. During the weekends, he would attend Hollywood clubs masquerading as a professional make-up artist. Apparently, his antics paid off, as he was often hired to do make-up for renowned celebrities at their homes while also working side jobs in weddings and fashion shoots.

Over time, Jeffree Star became popular on the social media platform, MySpace. He leveraged his huge social media following to promote his fashion design, modeling, and music talents.

Star would regularly post make-up tips and songs to his MySpace page, and became one of the most popular celebrities on the platform. His photos could generate up to 50,000 comments. By 2006, he was the most connected profile personality on MySpace, and was also considered one of the most popular independent artists on the platform.

Around the same time, Jeffree Star became friends with Peaches' drummer, Samantha Maloney who challenged him to become a full-time musician. He heeded Maloney's advice and officially kicked off his music career, focusing on electronica and pop.

In 2009, Star released his debut and only studio album, titled Beauty Killer. The album was a success, peaking at the #7 spot on the US Billboard Top Electronic Albums chart. One of the most popular songs off the album includes Lollipop Luxury (ft. Nicki Minaj).

In 2010, Jeffrey Star signed with Akon's Konvict Muzik with intentions of releasing her second album. However, he left Konvict Muzik, decrying a lack of chemistry between him and Akon. Star has since followed up his debut album with 4 extended plays as well as 5 music videos.

In 2014, Jeffree Star founded his most profitable cosmetic venture ever, the e-commerce brand Jeffree Star Cosmetics. He promoted the brand through videos published on his YouTube channel, eventually becoming one of the most popular YouTube stars. As of October 2020, his YouTube channel had garnered 17.4 million subscribers as well as 2.4 billion views.

Jeffree Star has also pursued an acting and DJ career. As an actor, he has mostly appeared in docu-series, including appearing on 5 episodes of The Secret World of Jeffree Star (2018) and 9 episodes of The Beautiful World of Jeffree Star (2019).
Jeffree Star's Net Worth
As of August 1, 2021, Jeffrey Star had a net worth of $250 million. Much of his wealth comes from his decorated career as a make-up artist, fashion designer, and YouTube personality.

In a 2018 interview with fellow YouTuber Shane Dawson, Star claimed to be earning upwards of $100 million annually from his Jeffree Star Cosmetics brand alone. Although these claims cannot be independently verified, they're largely believable, considering Jeffrey's lavish lifestyle as portrayed in the interview and lots of his very own YouTube videos.

It's also worth noting that the cosmetics brand has since released a diverse collection of products, including velour liquid lipsticks, eyeshadow palettes, lip scrubs, as well as clothing and accessories. Plus, Star owns all the shipping and fulfillment centers that are used by Jeffree Star Cosmetics and various other dropshipping companies.

Besides Jeffree Star Cosmetics, YouTube is another major income-earner for Jeffrey Star. According to a 2018 report by Forbes, Star earned $18 million in YouTube revenue alone.

Other notable entrepreneurial ventures by Jeffrey Star include investments in the cannabis and real estate industries.
Lessons from Jeffree Star
1. Giving up is not an option

At the end of his music career, Jeffree Star was essentially bankrupt. However, he never gave up on his ambitions of becoming a model and make-up guru. Instead, he salvaged the little savings he was left with to found Jeffree Star Cosmetics.

2. Have a finger in every pie

Achieving meaningful wealth depends on how many income-generating endeavors you involve yourself in. Star appears to understand this crucial success lesson, which is why he diligently pursues numerous economic ventures.

3. Never stay where you don't find fulfillment

After signing with Akon's Konvict Muzik record label, Jeffrey Star felt as though there was a personality clash between him and Akon. That's how he left the label.
Famous Quotes by Jeffree Star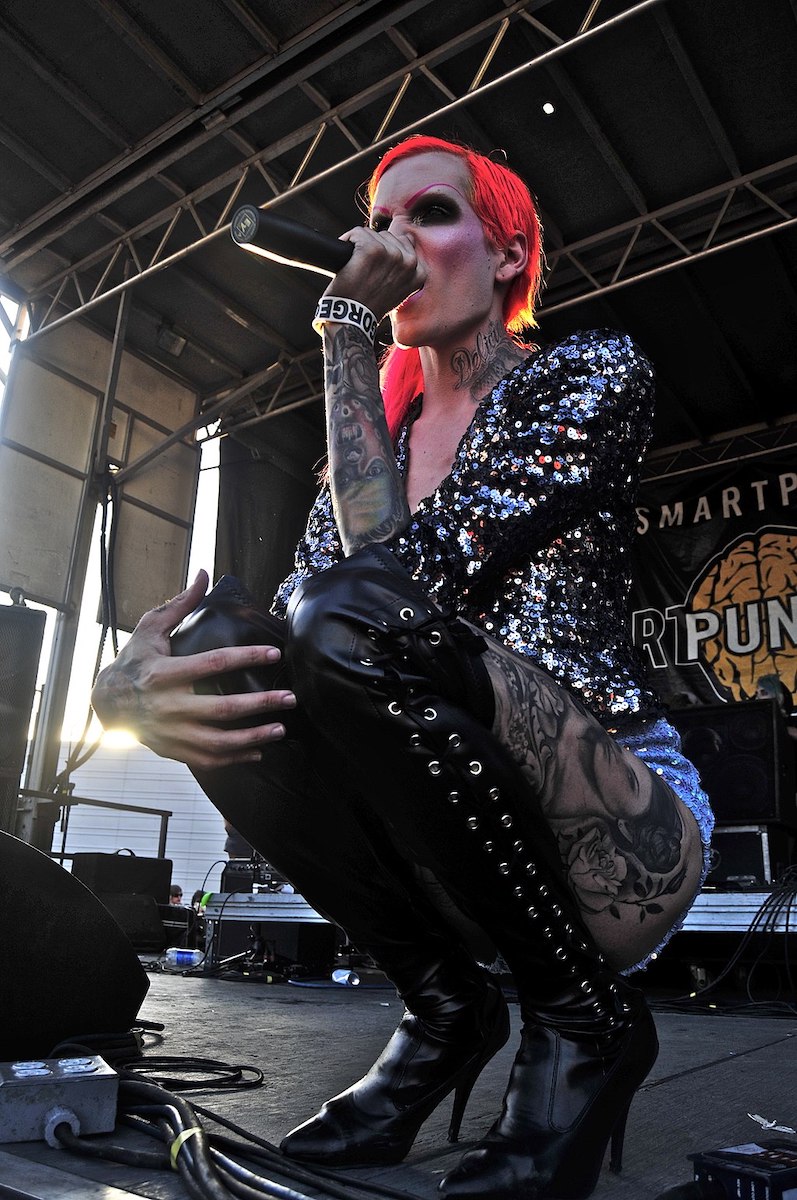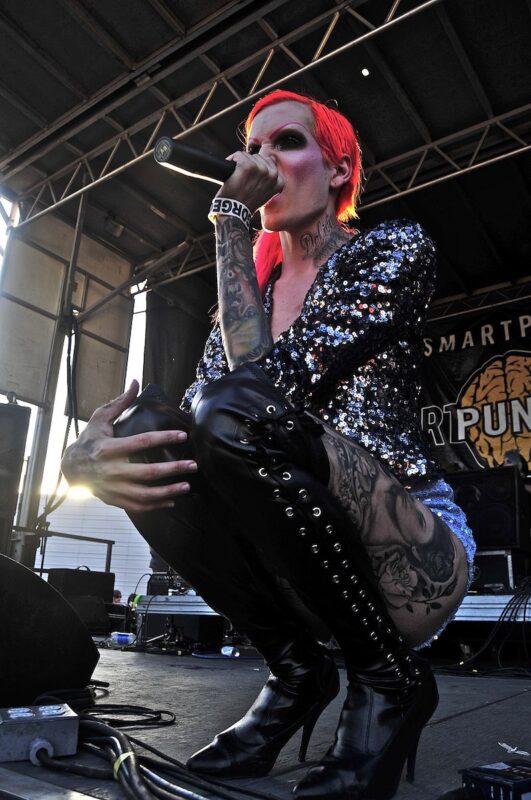 "Be yourself, you'll be a lot happier."
"Haters are just confused admirers because they can't figure out the reason why everyone loves you."
"My whole life is a contradiction on purpose – to make you think. I think people have forgotten how to have their own opinions. They're always waiting for someone to tell them what to do and what to wear – it's so boring."
"Remember that true beauty comes from within – from within bottles, jars, compacts, and lipstick tubes."
"You wanna know who your true friends are? Screw up and see who's still there."
Conclusion
Jeffree Star is one of the few multi-talented artists out there. He is a model, make-up artist, YouTuber, singer, fashion designer, and entrepreneur…all rolled into one. And these are not mere titles. They're major income streams for the beauty guru, which explains his $250 million net worth.