Who Is Jenna Marbles?
Jenna Nicole Mourey, popularly known as Jenna Marbles, is an American YouTube personality, vlogger, actress, film producer, and comedian. Marbles became a YouTube personality in 2010 after launching her first YouTube channel. She has been an active vlogger since then.

As of September 2019, Marbles' YouTube channel had racked up approximately 3.3 billion views and 20 million subscribers. And as of November 2020, the channel was ranked 177th most subscribed-to YouTube channel.

The sensational YouTuber has achieved numerous awards and recognitions throughout her career. She bagged the Viral Superstar Award at the Young Hollywood Awards in 2014. In 2017, she won a Streamy Award in the category of YouTube Ensemble. Marbles also holds the title for being the first social media personality to have a wax figure displayed at New York City's Madame Tussauds Museum.

On June 26, 2020, Marbles boyfriend Julien Solomita confirmed through Twitter that Jenna would be taking a hiatus from her YouTube channel. It also emerged that the couple was putting their joint podcast and Twitch streams on an indefinite hiatus.
Quick Facts
| | |
| --- | --- |
| Full Name: | Jenna Nicole Mourey |
| Popular Name: | Jenna Marbles |
| Gender: | Female |
| Birth Date: | September 15, 1986 |
| Age: | 36 years |
| Parents: | Tom Mourey and Deborah Mourey |
| Siblings: | Devon Mourey |
| Birth Place: | Rochester, New York |
| Nationality: | American |
| Ethnicity: | White, French, Italian, German, and Irish |
| Education: | Brighton High School, Suffolk University, and Boston University |
| Marital Status: | N/A |
| Sexual Orientation: | Straight |
| Wife/Spouse: | N/A |
| Children: | None |
| Dating: | Julien Solomita |
| Net Worth: | USD 8 million  |
| Source of Wealth: | YouTubing, Vlogging, Acting, Film Production, Comedy, and Other Gigs |
| Height: | 5′ 5″ (1.65 m) |
| Weight: | 55 kg; In pounds: 121 lbs. |
Early Life and Career Information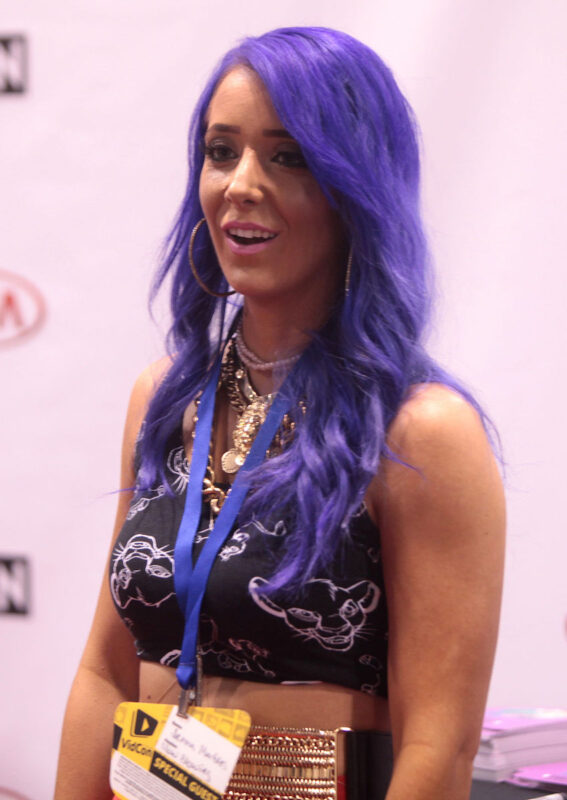 Jenna Marbles was born on September 15, 1986, in Rochester, New York, to Tom Mourey and Deborah Mourey. Her father is a Chemistry scientist, whereas her mother is sort of her manager and personal assistant.

After graduating from Brighton High School in 2004, Jenna Marbles moved to Boston and enrolled at Suffolk University, where he earned a Bachelor of Science degree in psychology. She also has a master's degree in sport psychology and counseling from Boston University.

Upon graduating from the university, Marbles accepted several odd jobs to make ends meet, including working as a bartender, go-go-dancer, and receptions. In 2010, she kicked off her YouTube career by uploading a series of videos to her newly-launched YouTube channel. Her first video titled, Charles Franklin Marbles is a Sad Sad Man, had garnered over 2.1 million views as of March 2020.

The same year she launched her YouTube career, Jenna Marbles also worked for Barstool Sports, contributing to the company's female-oriented branch known as StoolLala. She left the company a year later and decided to focus her full attention on vlogging.

Besides her success as a YouTuber and vlogger, Jenna Marbles is also a renowned actor, film producer, and comedian.
Jenna Marbles Net Worth
As of 2023, Jenna Marbles had a net worth of $8 million. YouTube earnings account for a significant portion of her net worth.

One of Jenna's most successful YouTube videos is titled 'How To Trick People Into Thinking You're Good Looking'. The video managed to rack up 5.3 million views during its first week alone, and has since been viewed more than 67.3 million times.

'How To Avoid Talking To People You Don't Want To Talk To' was also a remarkable success. The video was viewed 36.2 million times as of March 2018. It also featured in the New York Times as well as ABC News in August 2011.

Other popular YouTube videos by Jenna Marbles include:

• Drunk Makeup Tutorial (2012)
• How To Get Ready For A Date (2012)
• What Girls Do In The Car (2012)
• White Girls At The Club (2012)
• Things Girls Lie About (2013)
• How Girls Get Dressed (2014)

In addition to YouTube earnings, Jenna Marbles also makes money out of her movie and television gigs.

As an actress, she's mostly remembered for her role as Eve in an episode of Epic Rap Battles of History known as 'Adam vs. Eve'. Her other notable big screen gigs include appearing on an episode of the MTV show, Ridiculousness, as well as playing herself in the film Smoosh: The Movie (2015). And as a film producer, Marbles has worked on high-profile movies, including the 2016 thriller Maximum Ride.

Other income-generating ventures by Marbles include launching a dog toys brand known as Kermie Worm & Mr. Marbles, as well as creating a line of items emblazoned with some of her memorable quotes.
Lessons from Jenna Marbles
1. Start somewhere

Jenna Marbles' vlogging and acting career did not take off immediately she graduated from university. While working to nurture her career, she had to contend with several odd jobs in order to make ends meet.

2. Build a powerful brand that you can capitalize on

Marbles is known among her fans for her short and punchy quotes, including "What are this?" and "Team legs! She has since monetized her quotes by creating items with those quotes emblazoned on them.

3. Leave your mark

Jenna has not only won numerous awards for her work as a vlogger and actress. She is also immortalized as a wax figure at the Madame Tussauds Museum in New York City, the first social media personality ever to achieve that feat.
Famous Quotes by Jenna Marbles
"Don't ever, ever, ever give up, because you're here for a reason, even if it's just to laugh at cats on the internet."
"If you were born really ugly like me, have no fear. There's steps you can take to be good-looking. Kind of."
"In order to find out who you are, you will, at some point, have to feel really isolated, left out, different."
"Sometimes I like to think it would be nice if you just had a character and your personal life as your personal life. My life is definitely out there, you know?"
"When I'm feeling sad, or lonely, and I don't know what I'm doing and I don't know where I'm going, I imagine the Cool Awesome Future Version of Myself just telling my present self, 'It's okay'. You just gotta grab that giraffe by the ears and ride it on out."
Conclusion
Jenna Marbles has pursued an illustrious, decade-long career as a YouTuber, actress, and comedian. Although she has recently taken a hiatus from her YouTube channel, she might just reemerge with more scintillating videos to keep her fans engaged and informed.