Last Updated on January 20, 2022
Who Is Jerry Jones?
Jerral Wayne Jones, popularly known as Jerry Jones, is an American businessman who is the current owner of the National Football League (NFL)'s club Dallas Cowboys. Jones has been the owner of the Cowboys since 1989, after splashing $140 million to purchase the club from H.R. "Bum" Bright.

Besides owning Dallas Cowboys, Jerry Jones also served as an executive vice-president of Modern Security Life of Springfield. He is also associated with Jones Oil and Land Lease, a company that prospects for natural oil and gas in Arkansas.
Quick Facts
| | |
| --- | --- |
| Full Name: | Jerral Wayne Jones |
| Popular Name: | Jerry Jones |
| Gender: | Male |
| Birth Date: | October 13, 1942 |
| Age: | 79 years |
| Parents: | J.W. "Pat" Jones and Arminta Pearl Clark Jones |
| Siblings: | Jacquelyn Jones |
| Birth Place: | Los Angeles, California |
| Nationality: | American |
| Ethnicity: | White |
| Education: | North Little Rock High School and University of Arkansas |
| Marital Status: | Married |
| Sexual Orientation: | Straight |
| Wife/Spouse: | Eugenia "Gene" Jones |
| Children: | Stephen Junes, Charlotte Jones, and Jerry, Jr. |
| Dating: | N/A |
| Net Worth: | USD 8.5 billion (as of July 1, 2021) |
| Source of Wealth: | Entrepreneurial Ventures and Endorsement Deals |
| Height: | 6′ 3″ (1.91 m) |
| Weight: | 82 kg; In pounds: 182 lbs. |
Early Life and Career Information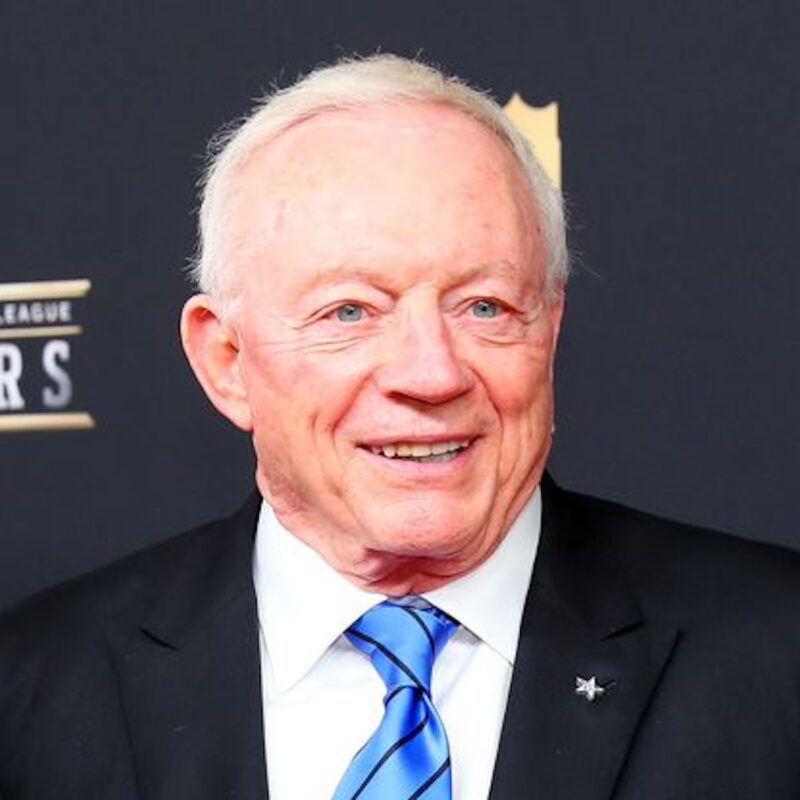 Jerry Jones was born on October 13, 1942, in Los Angeles, California, to J.W. "Pat" Jones and Arminta Pearl Clark Jones. Jones attended North Little Rock High School, where he played American football as a running back.

After graduating from high school in 1960, Jones' parents relocated to Springfield, Missouri, where J.W Jones was working as president and chairman of Modern Security Life Insurance Co. Jones attended the University of Arkansas and continued working on his football talents. He is remembered for having co-captained the 1964 Arkansas Razorbacks football team.

After graduating from the University of Arkansas in 1965, Jerry Jones borrowed $1 million from Jimmy Hoffa's Teamsters union to establish a chain of Shakey's Pizza Parlor restaurants in Missouri. Unfortunately, the venture collapsed.

Following the collapse of his restaurant startup, Jerry Jones accepted his first official job as an executive vice president of Modern Security Life Insurance Co. While working at the company, Jones had a couple of other failed startups, including an attempt to purchase NFL's San Diego Chargers. His first successful business venture was the establishment of Jones Oil and Land Lease, which prospects for natural gas and oil.

On February 25, 1989, Jerry Jones paid $140 million (today's equivalent of $292.5 million) to acquire the Dallas Cowboys from H.R "Bum" Bright. Over the next couple of years, Jones embarked on a series of ambitious campaigns to improve the club's rankings and fortunes. Most notably, he fired the Cowboys longtime coach, Tom Landry, and replaced him with Jimmy Johnson, one of his teammates at Arkansas. His efforts eventually paid off, as the Dallas Cowboys is currently valued at $5 billion.

Jones has since won numerous awards with the Cowboys, including:

• 3 Super Bowls (Super Bowl XXVII, Super Bowl XXVIII, and Super Bowl XXX),
• The 1993 Outstanding Team ESPY award, and
• The 2014 Executive of the Year award

In addition to the Dallas Cowboys and Jones Oil and Land Lease, Legends Hospitality is another successful venture by Jerry Jones. Legends Hospitality, which is a food, merchandise, and stadium operations corporation, was founded in 2008 as a joint partnership between Jones and Yankee Global Enterprises.

Besides his outstanding business acumen, Jerry Jones has also managed to keep the spotlight on himself, thanks to his controversial and polarizing public life.

For starters, many Cowboys fans haven't forgiven Jones for firing some of the club's longtime personnel who were especially loved by the fans, such as head coach Tom Landry. Jones has also been criticized for butting into matters that are beneath his position as the Cowboys owner, ostensibly to steal the spotlight from the team's players. Suffice to mention that his unnecessary outbursts have also cost him hundreds of dollars in fines.
Jerry Jones' Net Worth
Considering the monumental success that the Dallas Cowboys has achieved with Jerry Jones as the owner, it's intuitive to imagine that Jones swims in billions. And he surely does.

As of July 1, 2021, Jerry Jones had a net worth of $8.5 billion, the majority of which comes from his ownership stake in the Dallas Cowboys. The Cowboys is currently valued at $5 billion.

Besides his stake in the Dallas Cowboys, Jerry Jones' Jones Oil and Land Lease, as well as his stint as the vice president of Modern Security Life Insurance Co., have also contributed immensely to his overall net worth. Jones has also entered into lucrative deals with various globally-renowned brands, including Pepsi.

Real estate is another major income-earner for Jerry Jones. Jones and his wife own a humongous $20 million property located in the Highland Park area of Dallas. He also heads the real estate investment and development company, Blue Star Land. In 2018, Blue Star Land acquired a 200-acre property for $38 million, in a bid to develop the property into a mega-development known as Star Business Park.
In 2019, the company added 60 acres to the project. Blue Star Land aims at creating a 400,000-square-foot merchandising sales and distribution center for the Dallas Cowboys at the Star Business Park.

Needless to mention, Jerry Jones' net worth could have been higher by several hundreds of thousands, were it not for his costly public outbursts. On September 14, 2008, Jones was fined $25,000 by the NFL for his public criticism of referee Ed Hochuli during a match between the San Diego Chargers and the Denver Broncos. In 2009, he was yet again fined $100,000 for violating a suppression order on labor issues.
Lessons by Jerry Jones
1. Never let failure put you down

Many of Jerry Jones' initial business ventures all came a cropper. But that did not stop him from exploring other options.

2. It's not always about the paychecks

Success in any career doesn't entirely come down to how hefty your paychecks are, but how passionate you are about what you do. Jones once said, 'This is about heart, about character.'

3. Take calculated risks

Jones purchased the Dallas Cowboys at a time when the club was struggling financially. For some reason, he was convinced that the purchase was worthwhile. And as it turned out, he was right.
Famous Quotes by Jerry Jones
"I didn't think that we would be entertaining the kinds of propositions that we got from the players. I'm not happy with it at all. As you well know, I don't think anyone particularly cares how happy I am."
"I think you have risks in every player that you sign. I wouldn't call this a high-risk move. Not at all."
"Look, many of us here are regular marines… I will die as a marine because that is my dream."
"We can both disappoint each other in this agreement. But this is no free lunch to the Dallas Cowboys. We made a commitment to him. That means something."
"We're not going to force people not to come here. They're going to come here whether we like it or not. They're going to have an impact on our infrastructure whether we like it or not. We have no way of closing our borders."
Conclusion
Jerry Jones acquired the Dallas Cowboys when the club was swirling and twirling in economic freefall. But thanks to his remarkable business acuity, Jones was able to turn the Cowboys' fortunes around. His efforts have also translated into an $8.5 billion net worth.