Last Updated on May 6, 2019
Co-founder of one of the most wildly successful bands of the 60's, John Lennon lived a life full of music and magic. As an English singer, songwriter, musician, and activist, he had one of the strongest influences on pop music culture of today.
But with fame, comes intrigue and a little bit of madness. Read more about John Lennon and how he came to rise to the top of the music industry.
John Lennon: Early Years and the Birth of the Beatles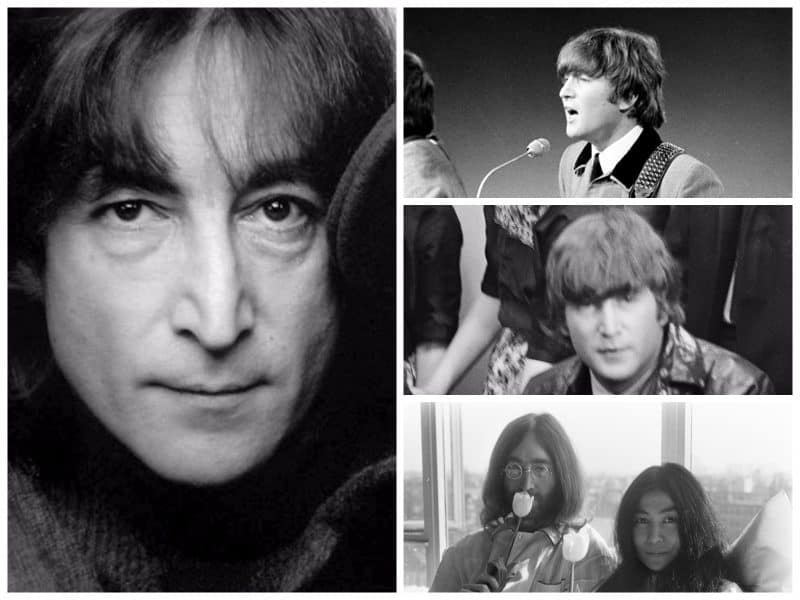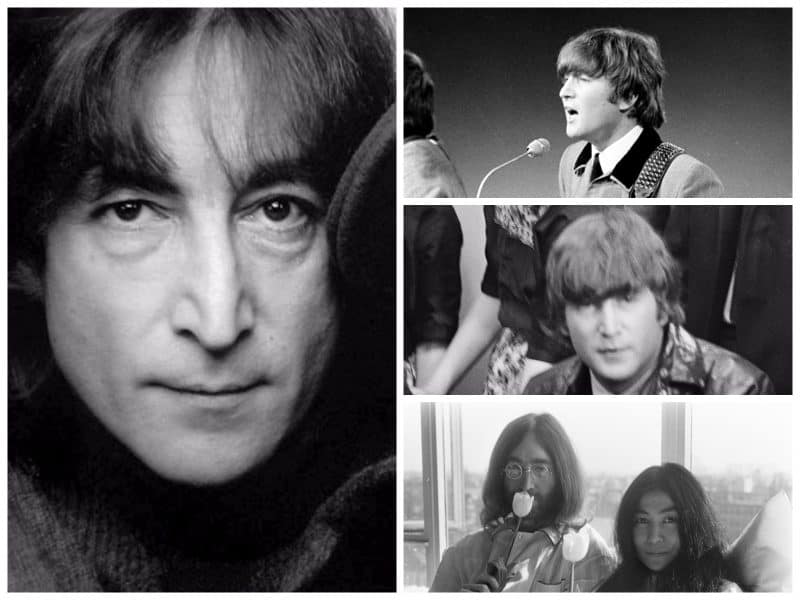 Born as John Winston Lennon on October 9, 1940, in Liverpool, Merseyside, England, to parents Julia and Alfred Lennon, the future Beatles co-founder was named after his paternal grandfather, John "Jack" Lennon, and Prime Minister Winston Churchill.
When his parents separated, Lennon lived with his aunt Mimi (Mary Elizabeth Smith), Julia's sister. During his mother's visits, she played Elvis records and taught him how to play the banjo. She also bought him his first guitar. Unfortunately, his mother died when she was struck by a car after one of her visits.
John Lennon, although a lively and good-humored student, was never good in school. But he did exhibit some talent and interest in drawing. However, he was still thrown out of college before his final years for being such a troublemaker.
When he was but 15, Lennon formed the "Quarrymen", a skiffle group named after Quarry Bank High School, where he used to attend as a student in Liverpool. It wouldn't be until he met Paul McCartney that the beginnings of the iconic "Beatles" would begin to be written.
Pretty soon, George Harrison (lead guitarist) and Stuart Sutcliffe (bassist) would join in, formally completing the Beatles in 1960. Pete Best (drummer) would later be added when the group met him during their long performance in Hamburg.
Afterwards, Sutcliffe was replaced by McCartney when he decided to stay in Germany. Ringo Starr would take over as their drummer, completing the Beatles most people know to this day. Some of the Beatles mega hits included their first single, "Love Me Do", the follow-up single written by John Lennon "Please Please Me", and "Penny Lane/Strawberry Fields Forever".
In 1969, Lennon decided to leave the Beatles, but didn't publicise it due to some renegotiations with the group's recording contract. Sadly, this was also the time when a rift formed between him and McCartney. This would be patched up in succeeding years, though both men never worked together again.
John Lennon: The Legacy
A man of music and mystery, John Lennon has left a deep impact on pop culture in general. To this day, his death on December 8, 1980 is still mourned not only by fans of his work, but by music lovers all over the world. His song-writing partnership with McCartney is said to be one of the most influential and successful of the 20th century.
Lennon had 25 number one singles on the U.S. Hot 100 chart; his best-selling solo album "Double Fantasy" won the 1981 Grammy Award for Album of the Year; and he was inducted into the Songwriters Hall of Fame in 1987.
However you remember him, here are some of the best John Lennon quotes for inspiration.
Inspirational John Lennon Quotes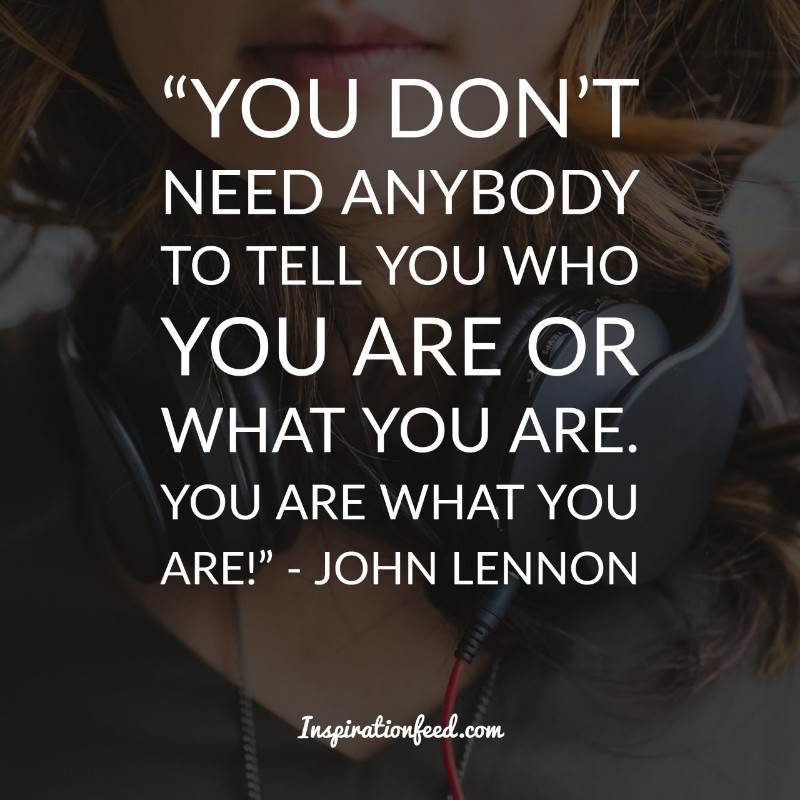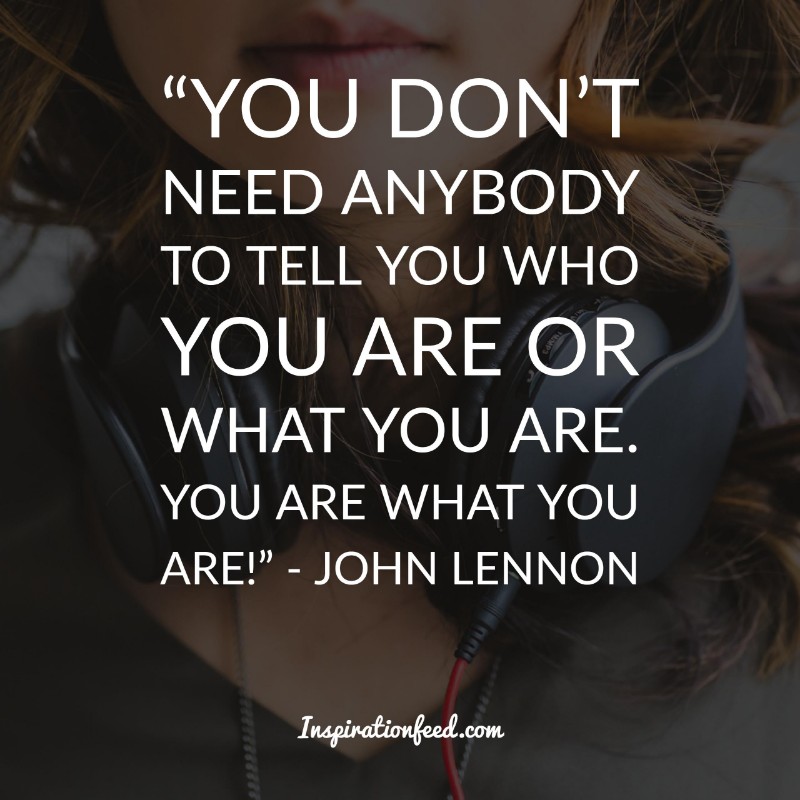 "You don't need anybody to tell you who you are or what you are. You are what you are!" – John Lennon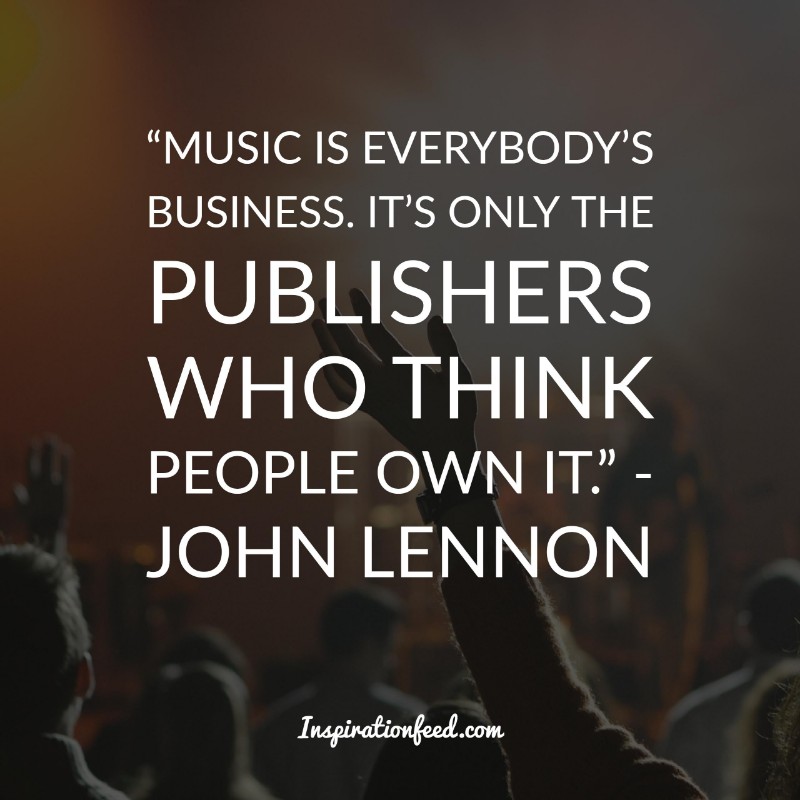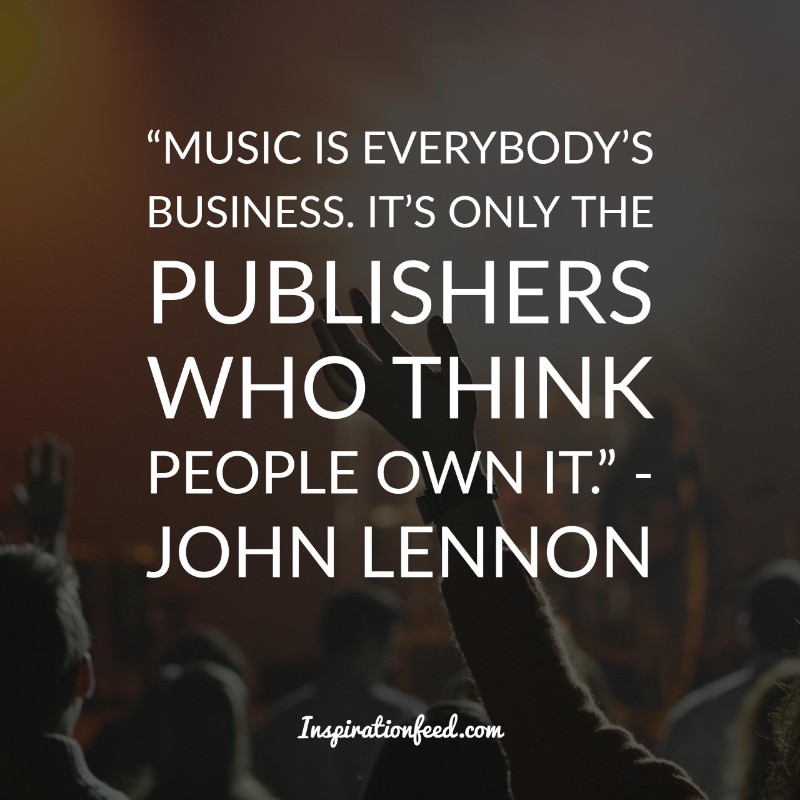 "Music is everybody's business. It's only the publishers who think people own it." – John Lennon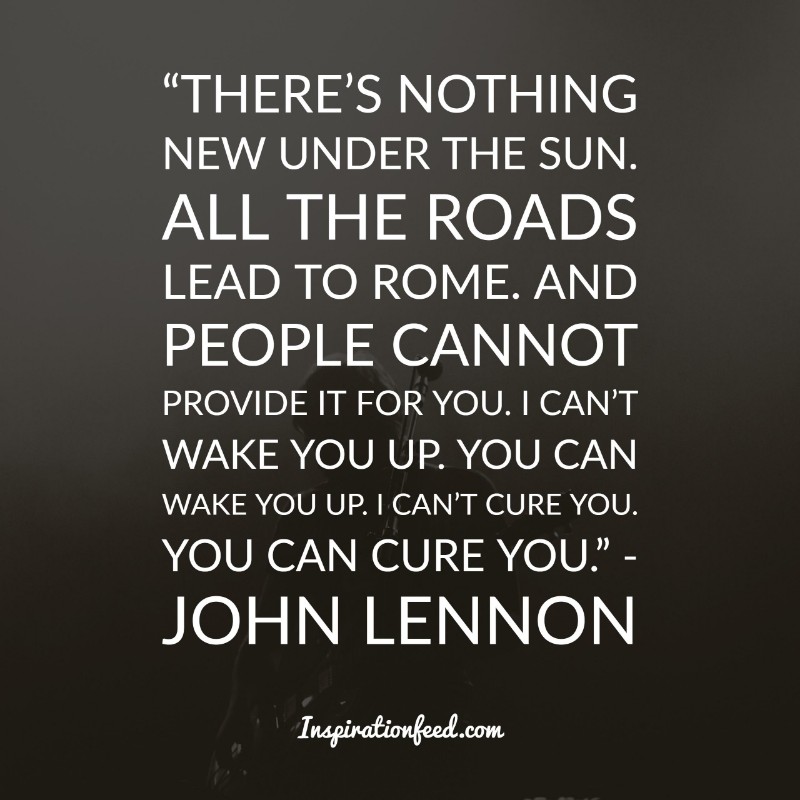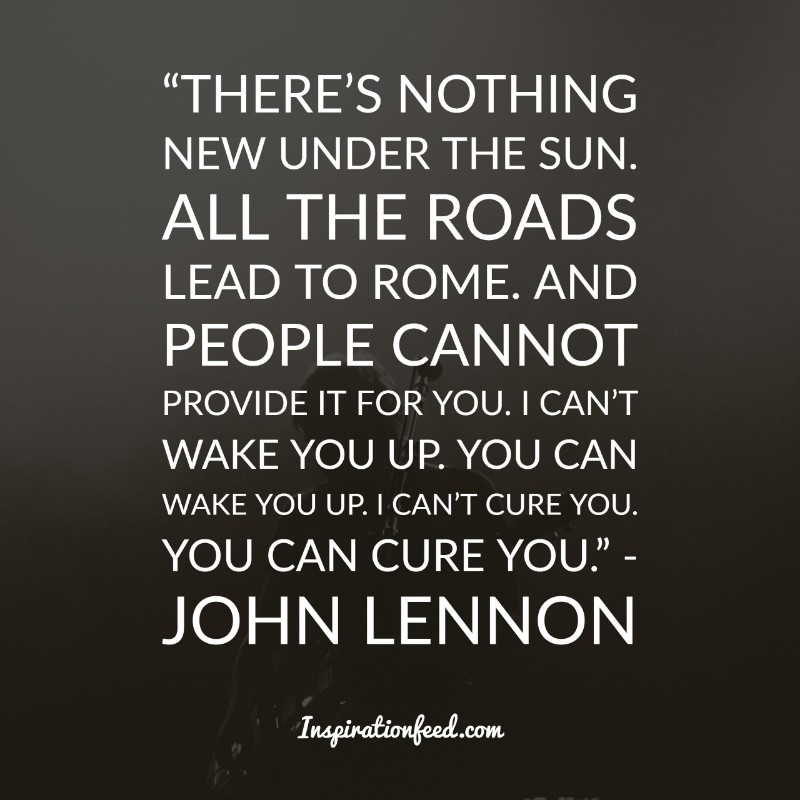 "There's nothing new under the sun. All the roads lead to Rome. And people cannot provide it for you. I can't wake you up. You can wake you up. I can't cure you. You can cure you." – John Lennon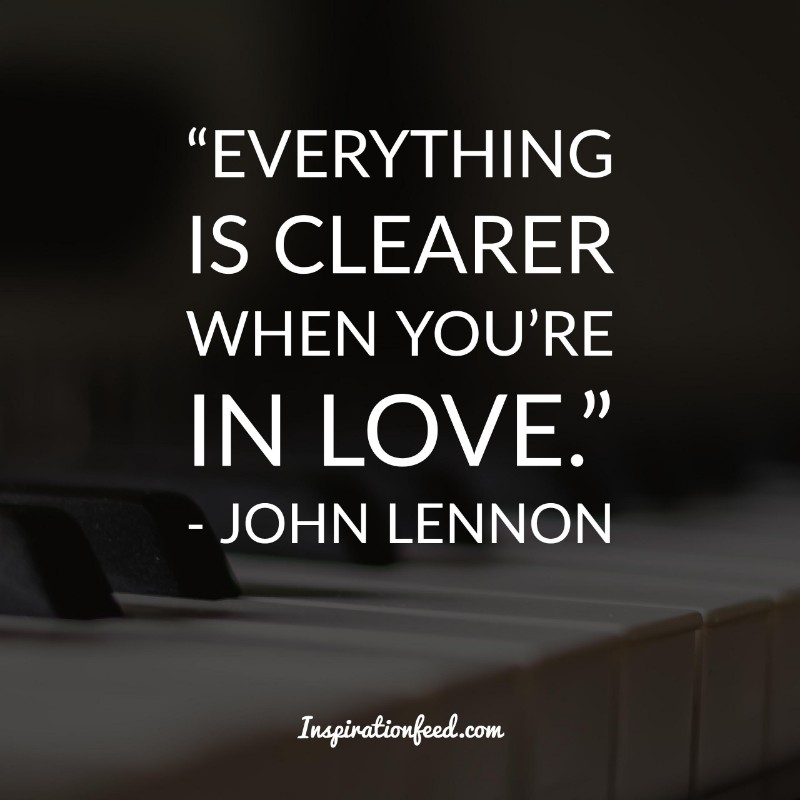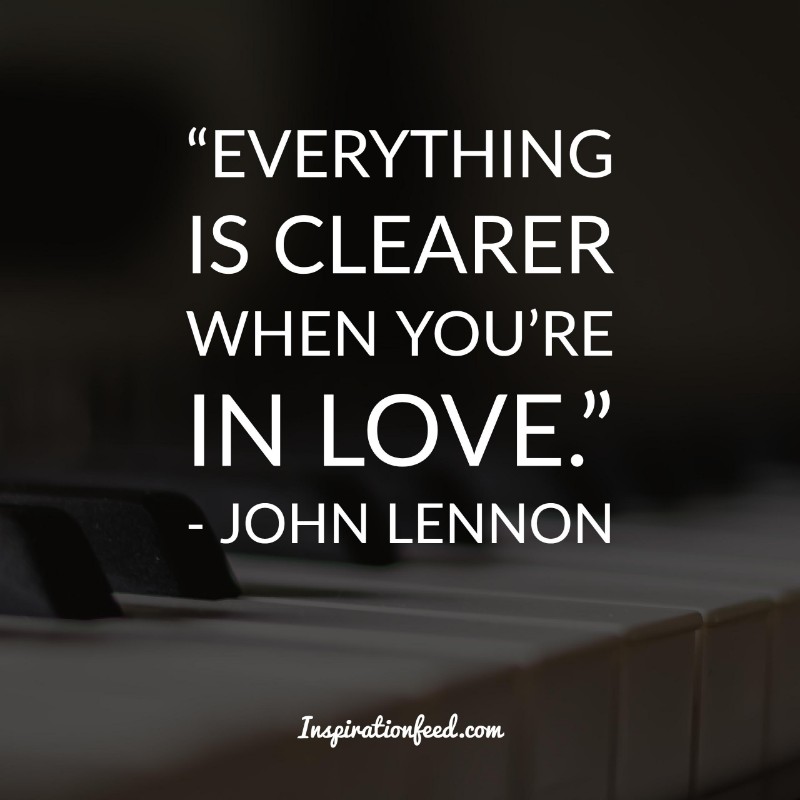 "Everything is clearer when you're in love." – John Lennon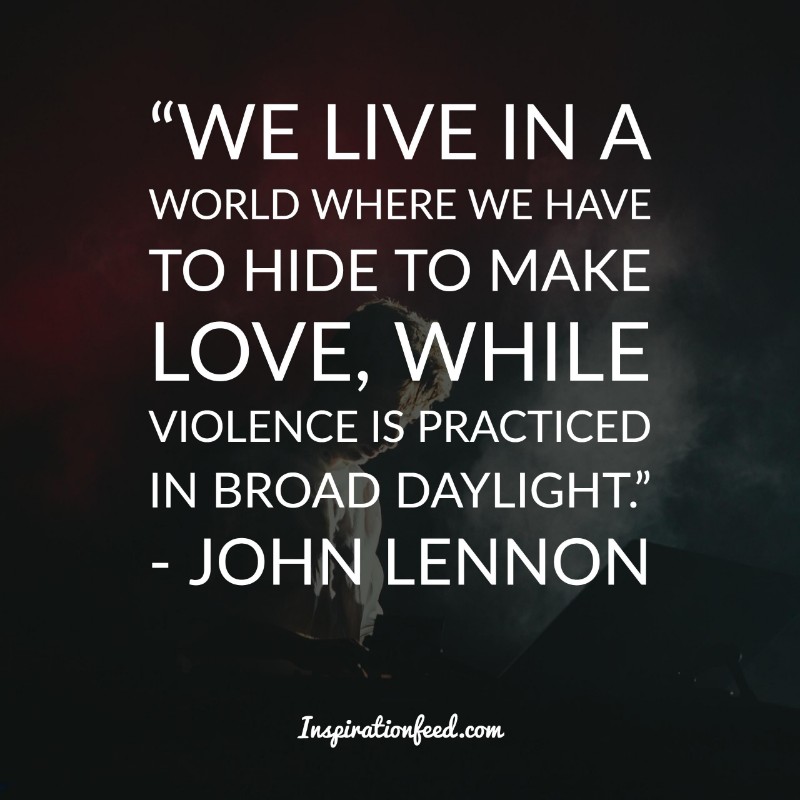 "We live in a world where we have to hide to make love, while violence is practiced in broad daylight." – John Lennon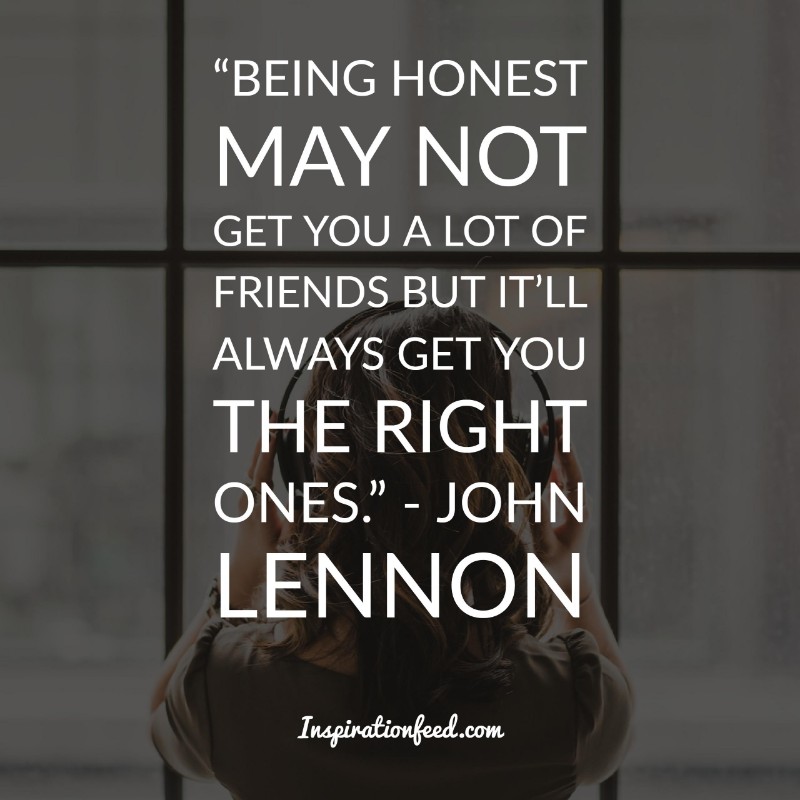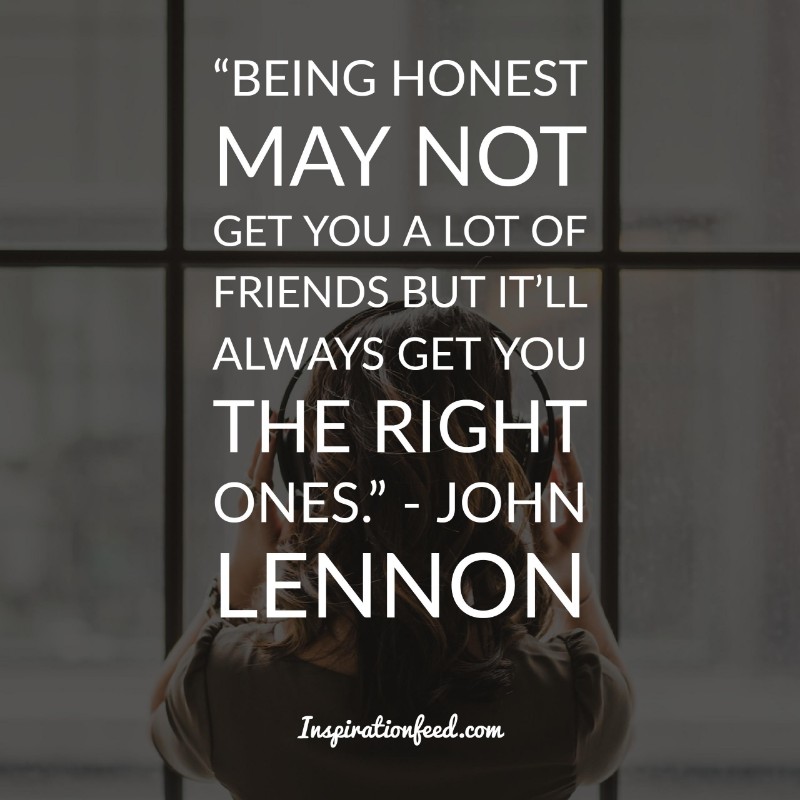 "Being honest may not get you a lot of friends but it'll always get you the right ones." – John Lennon
"There are no problems, only solutions." – John Lennon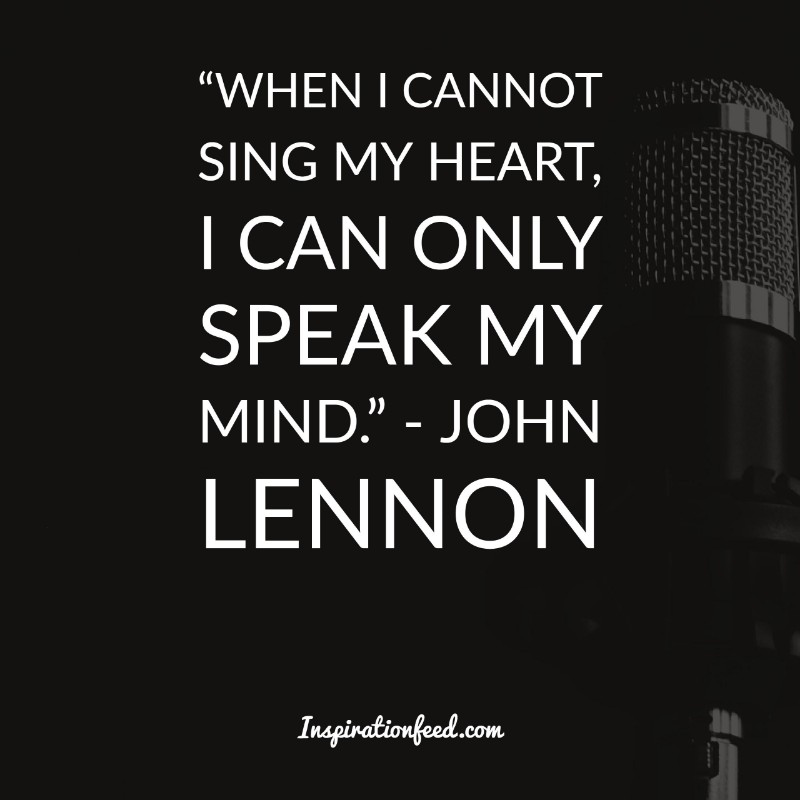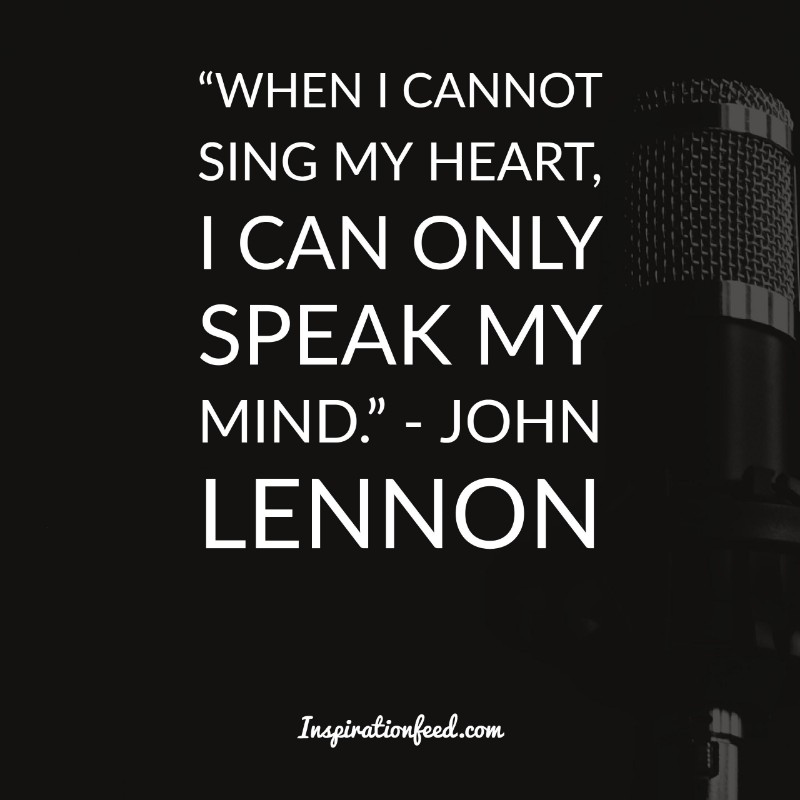 "When I cannot sing my heart, I can only speak my mind." – John Lennon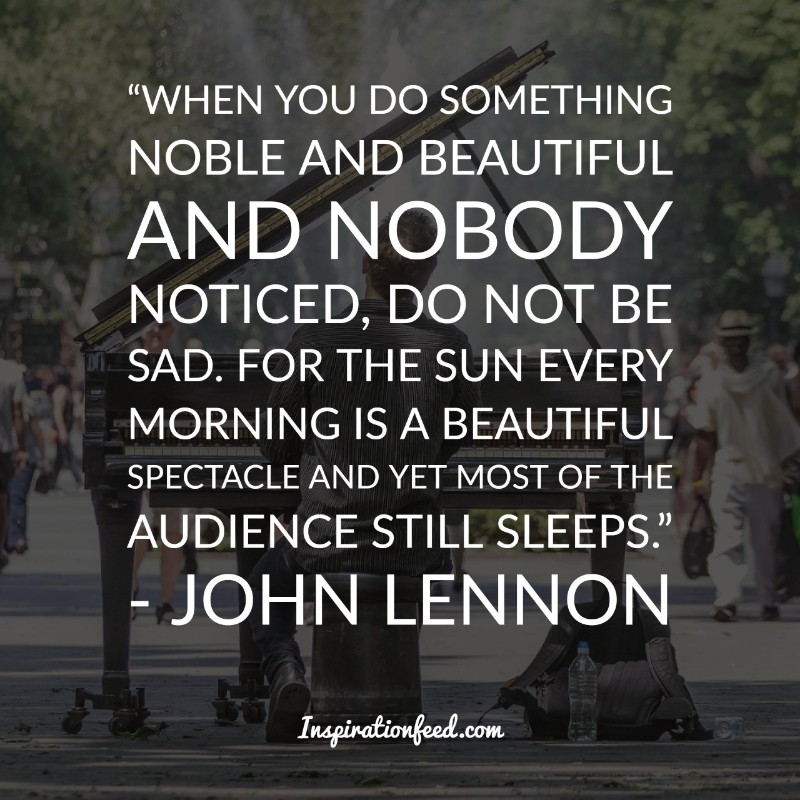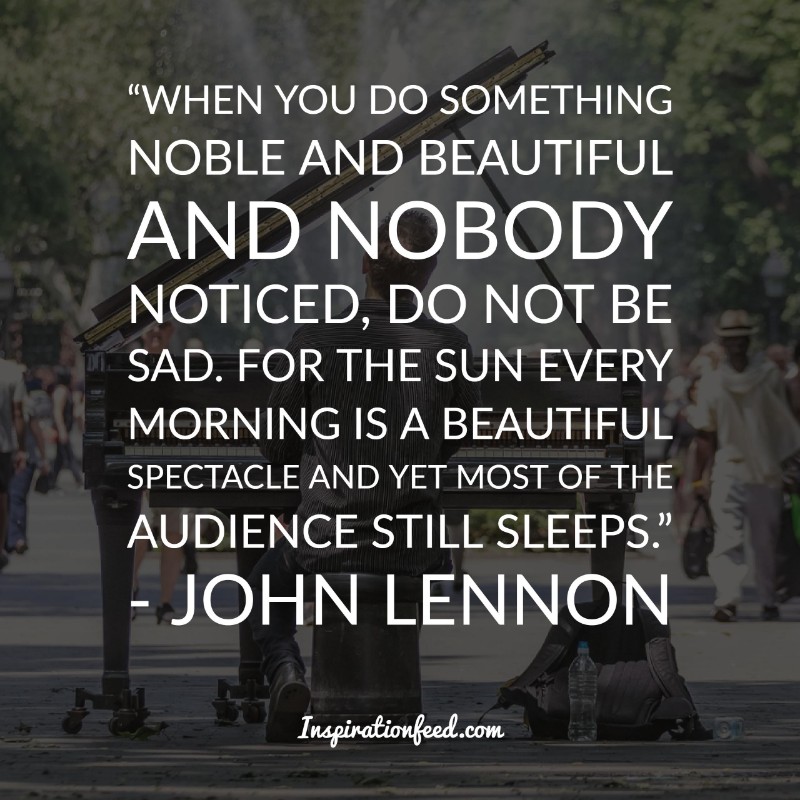 "When you do something noble and beautiful and nobody noticed, do not be sad. For the sun every morning is a beautiful spectacle and yet most of the audience still sleeps." – John Lennon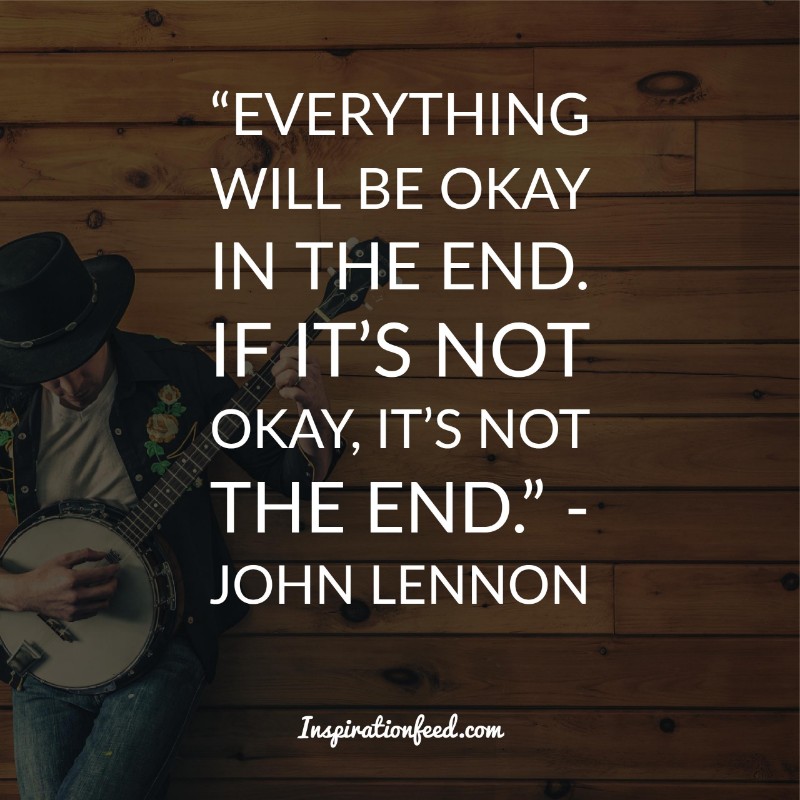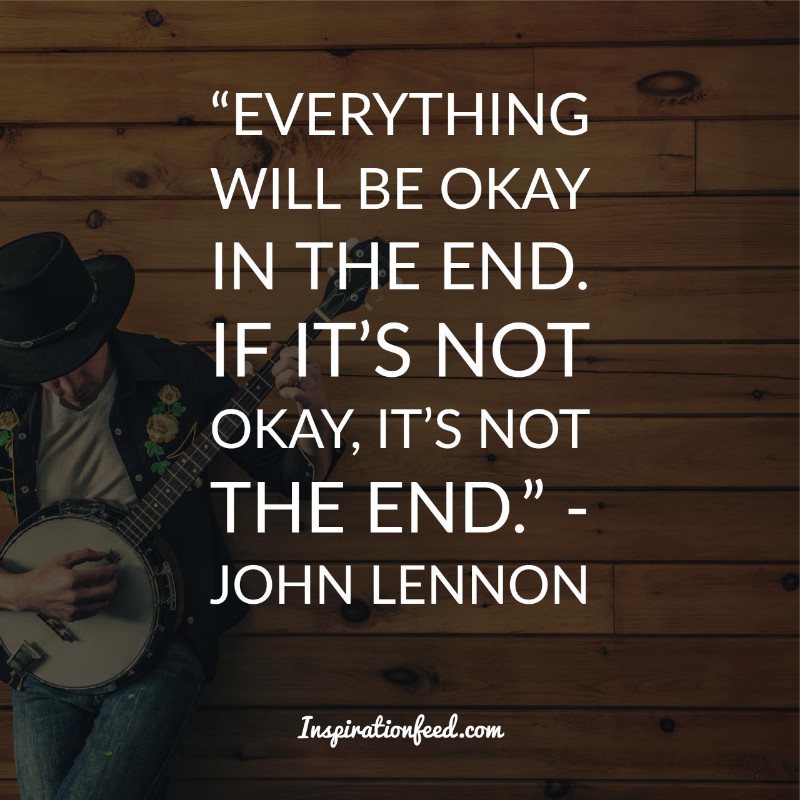 "Everything will be okay in the end. If it's not okay, it's not the end." – John Lennon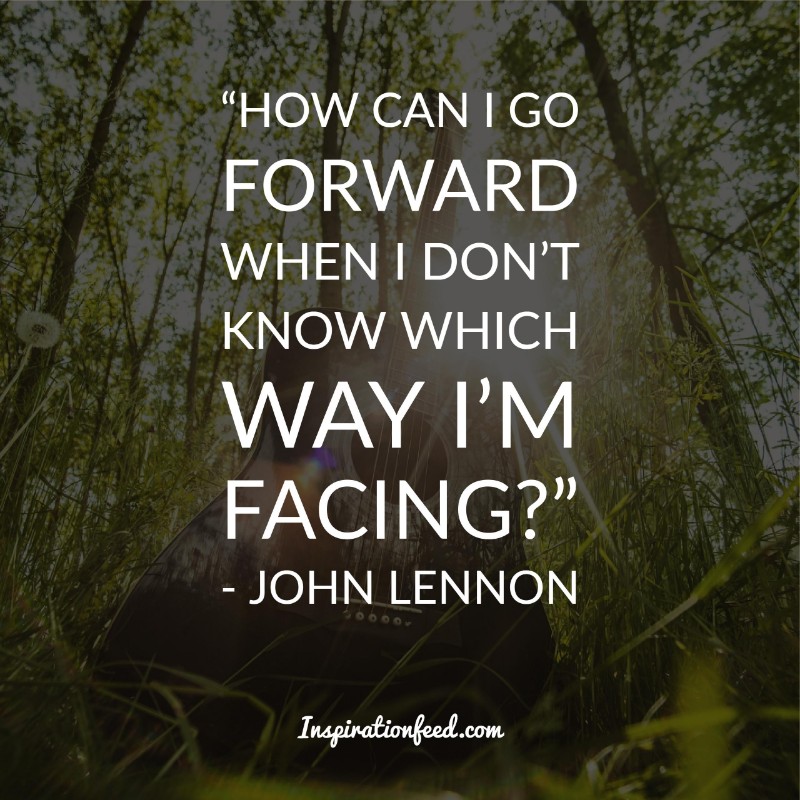 "How can I go forward when I don't know which way I'm facing?" – John Lennon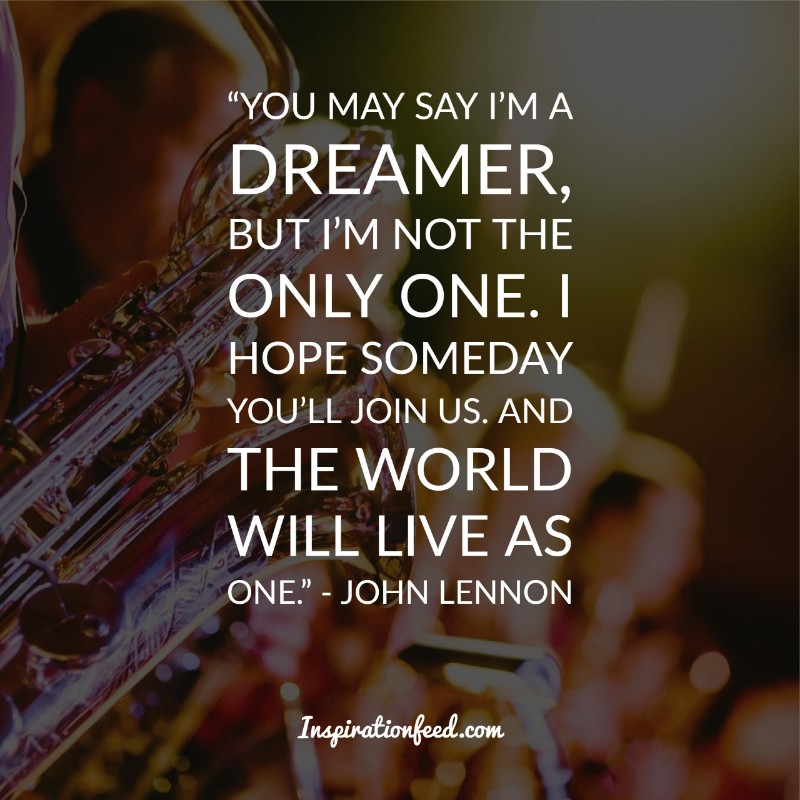 "You may say I'm a dreamer, but I'm not the only one. I hope someday you'll join us. And the world will live as one." – John Lennon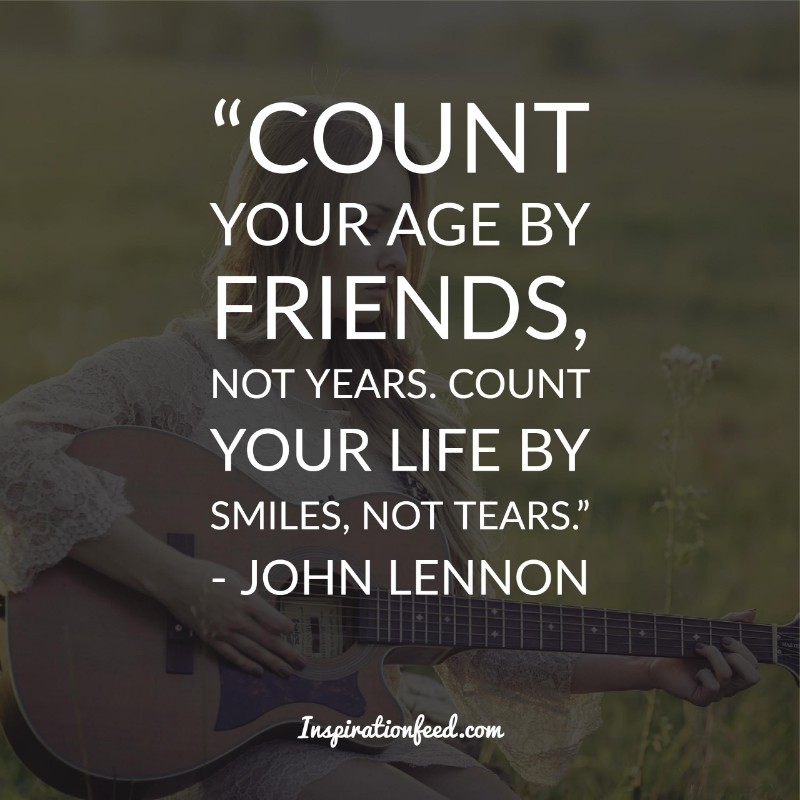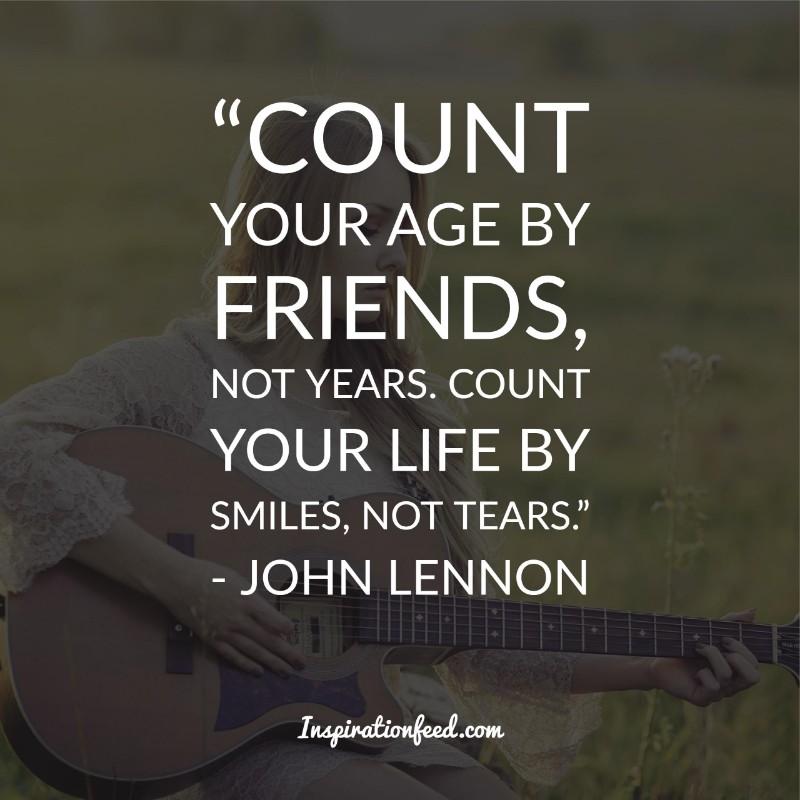 "Count your age by friends, not years. Count your life by smiles, not tears." – John Lennon
"Who's to say that dreams and nightmares aren't as real as the here and now?" – John Lennon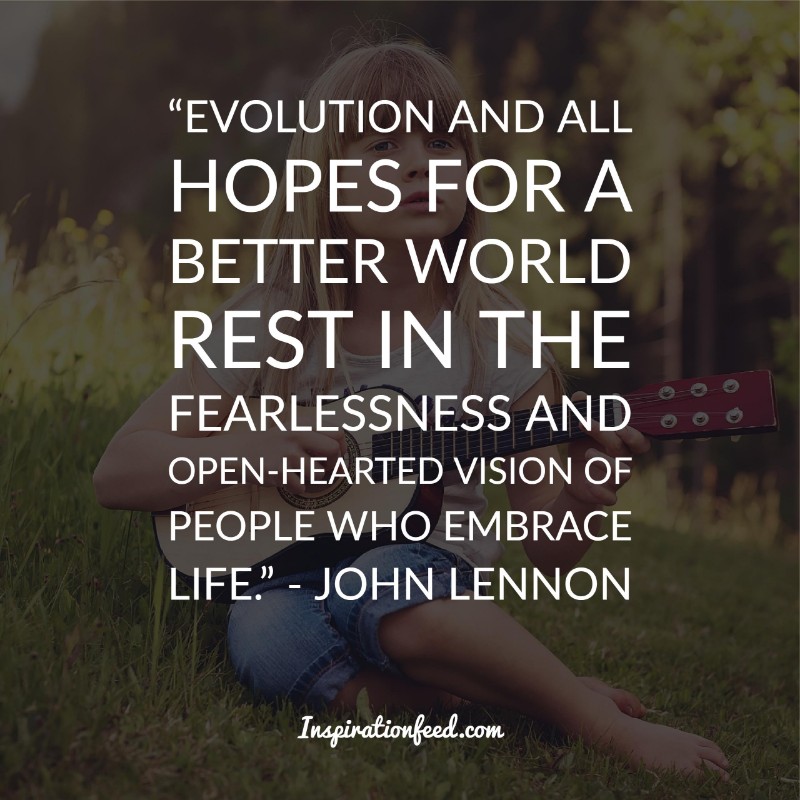 "Evolution and all hopes for a better world rest in the fearlessness and open-hearted vision of people who embrace life." – John Lennon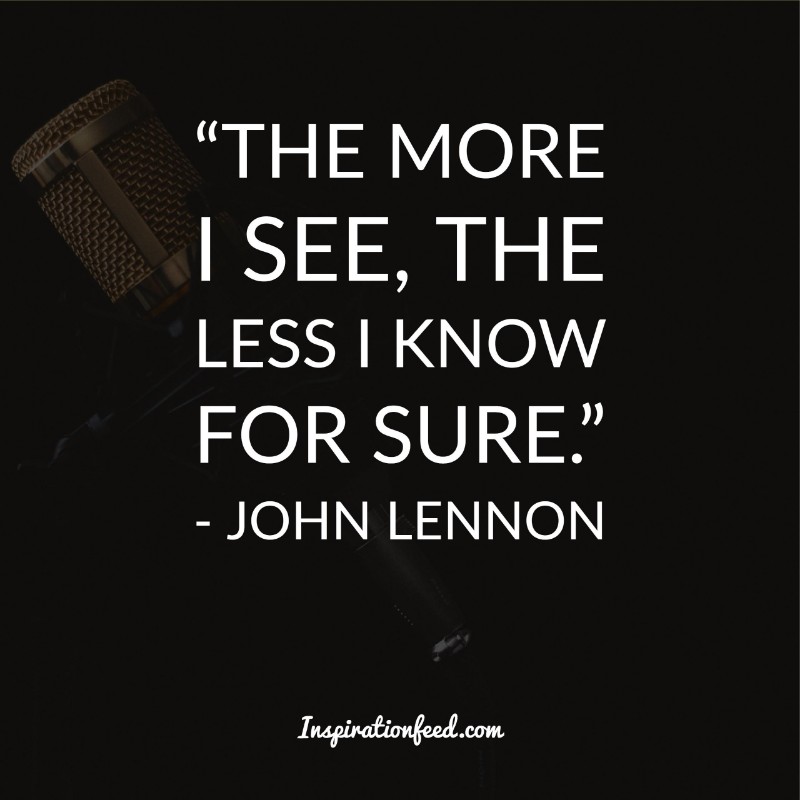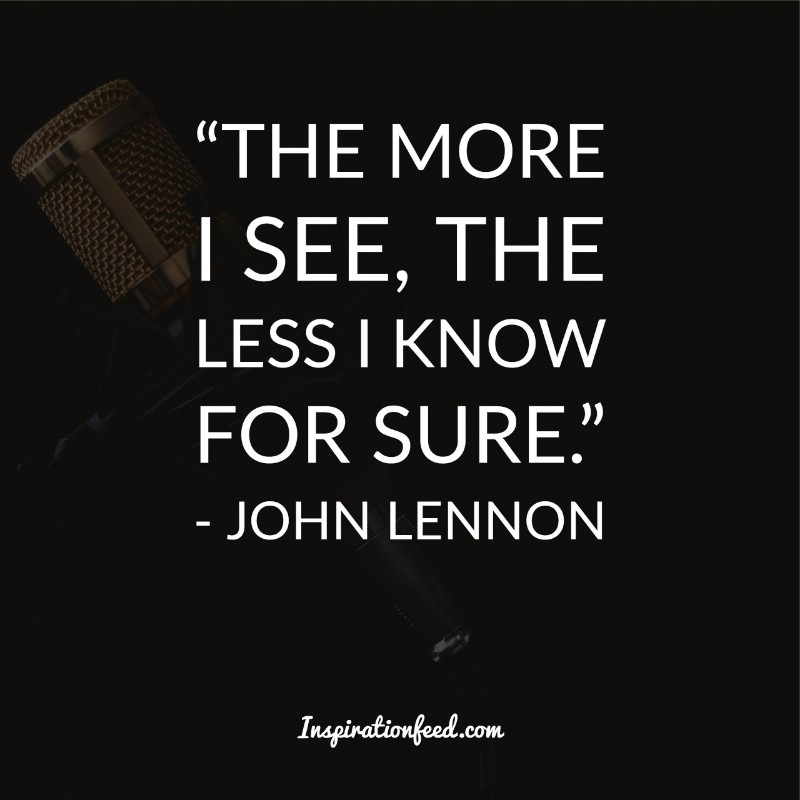 "The more I see, the less I know for sure." – John Lennon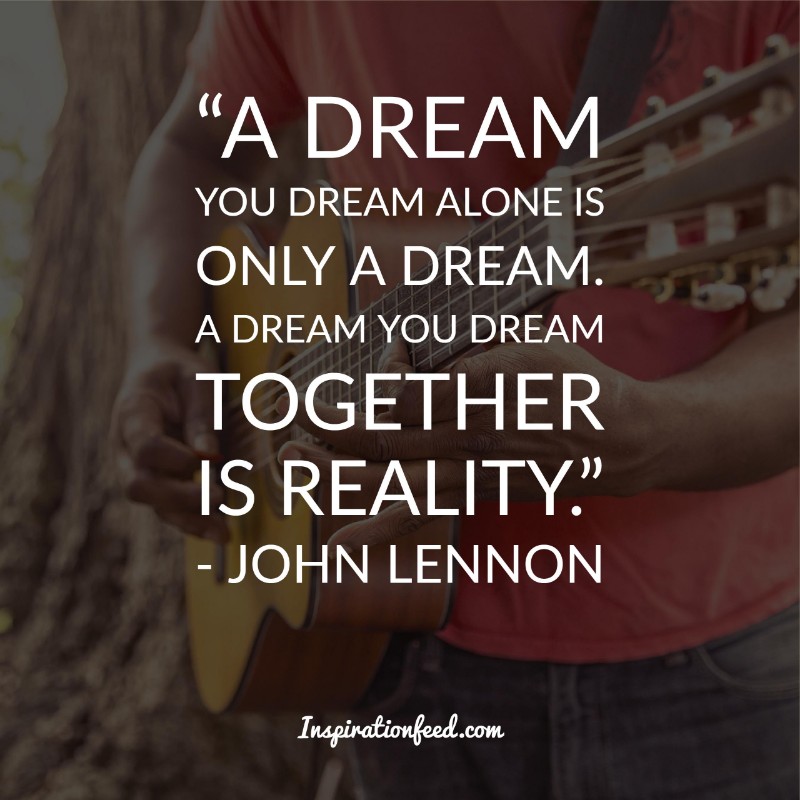 "A dream you dream alone is only a dream. A dream you dream together is reality." – John Lennon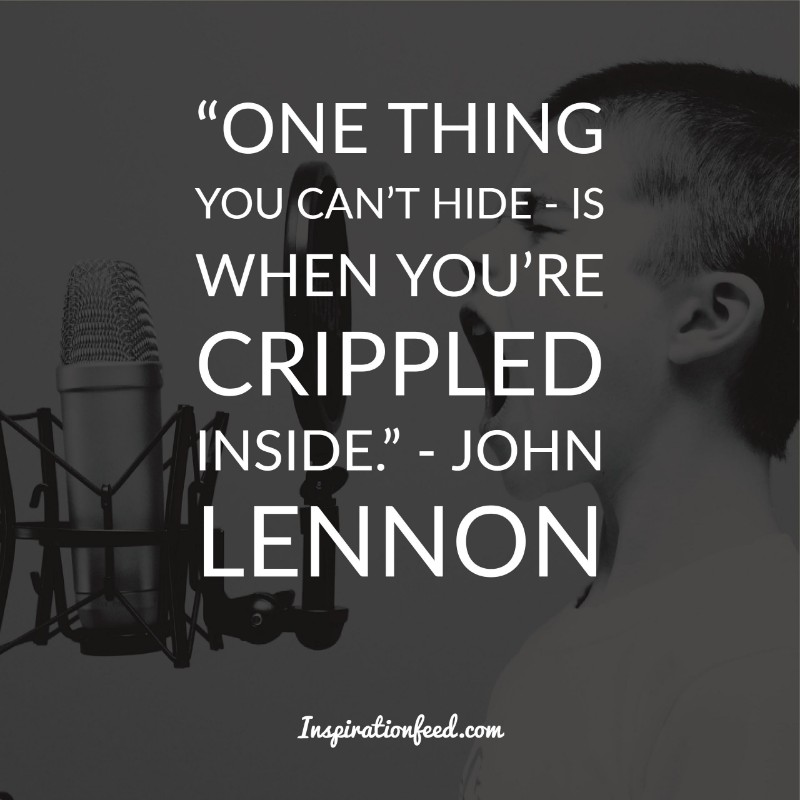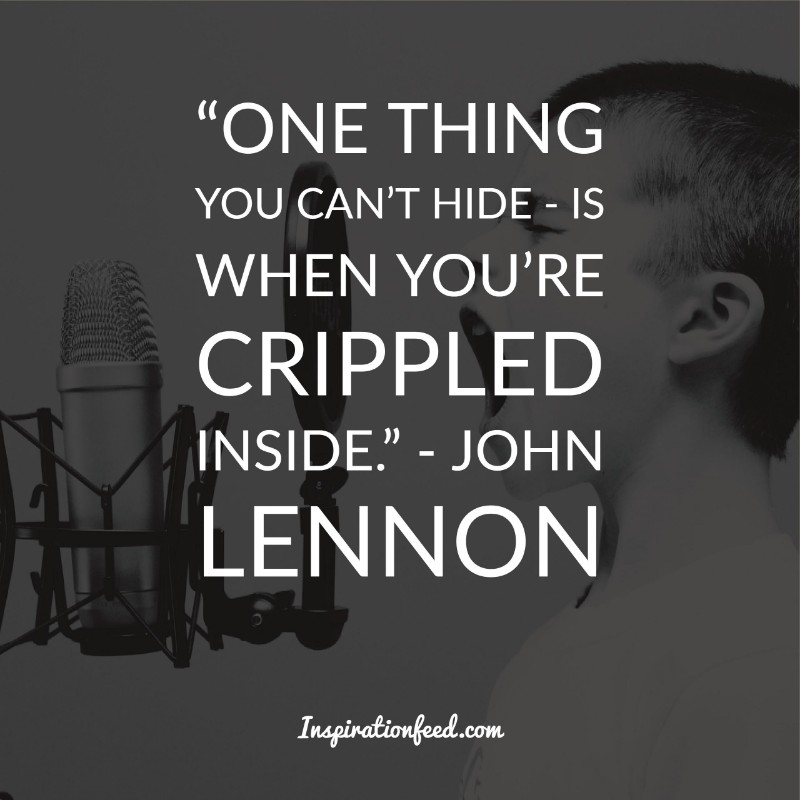 "One thing you can't hide – is when you're crippled inside." – John Lennon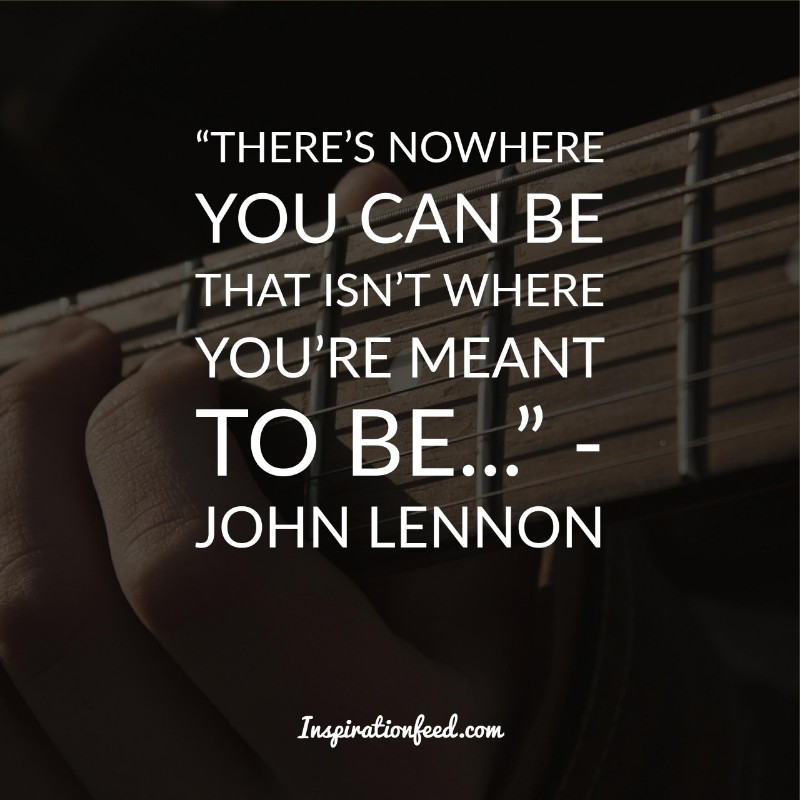 "There's nowhere you can be that isn't where you're meant to be…" – John Lennon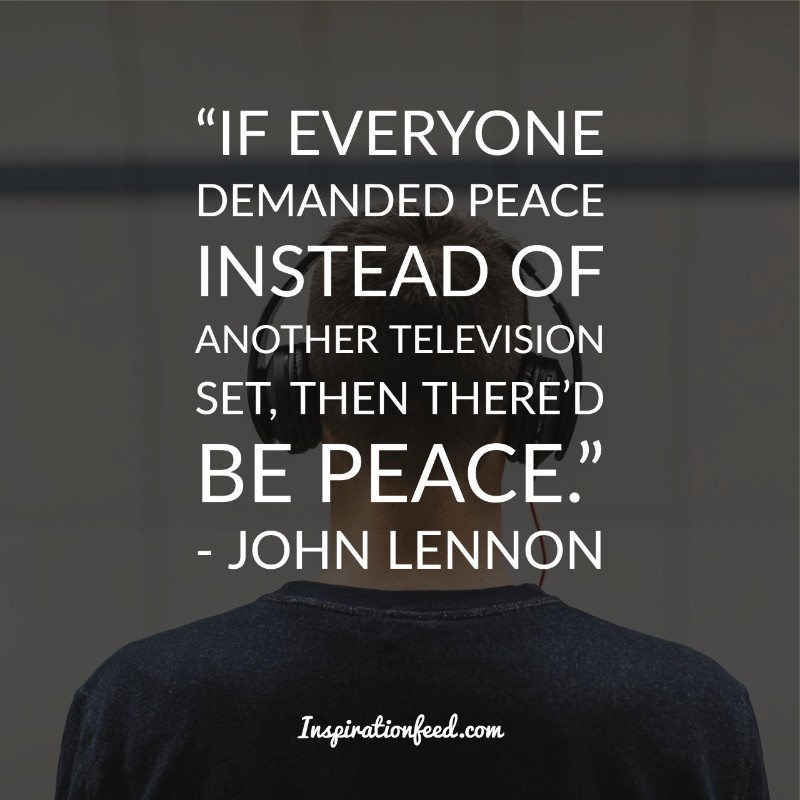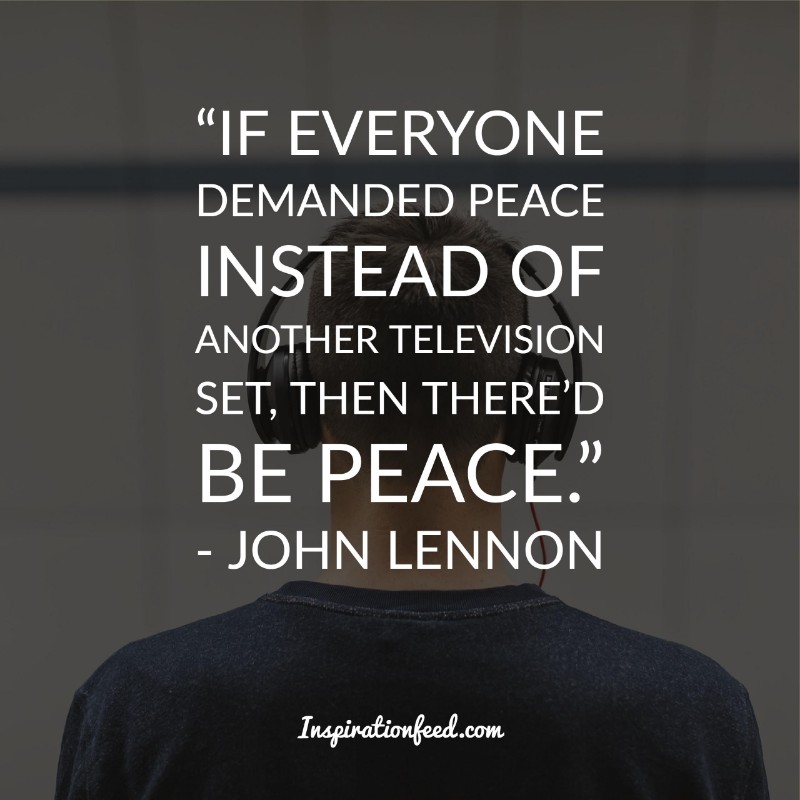 "If everyone demanded peace instead of another television set, then there'd be peace." – John Lennon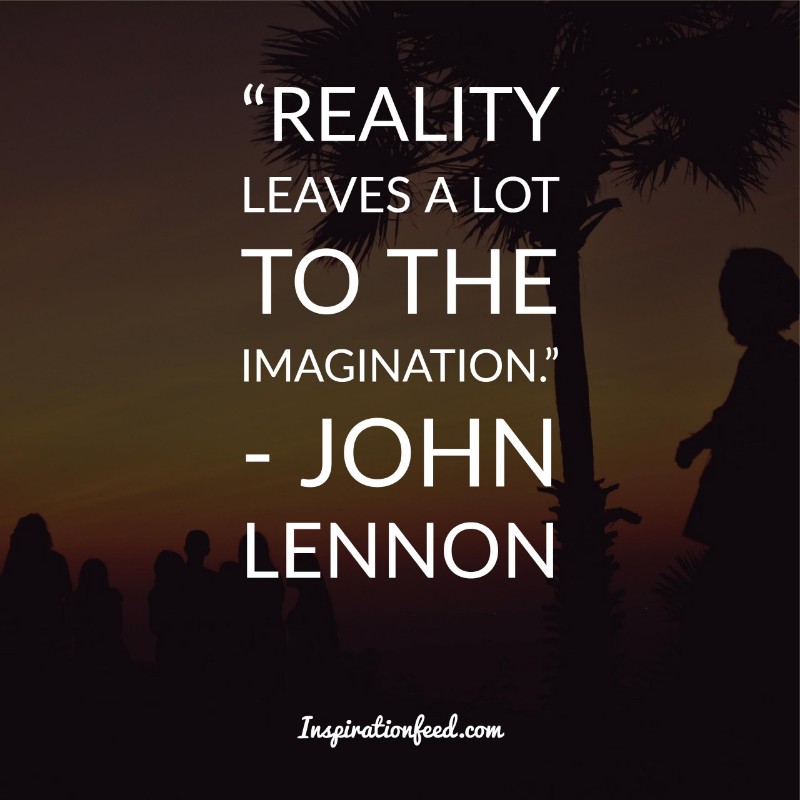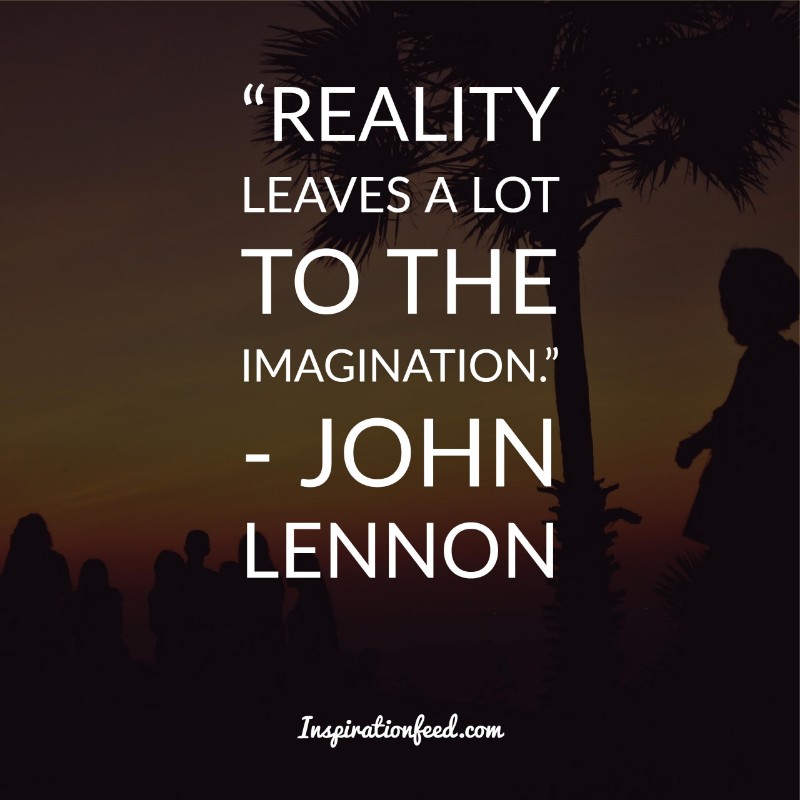 "Reality leaves a lot to the imagination." – John Lennon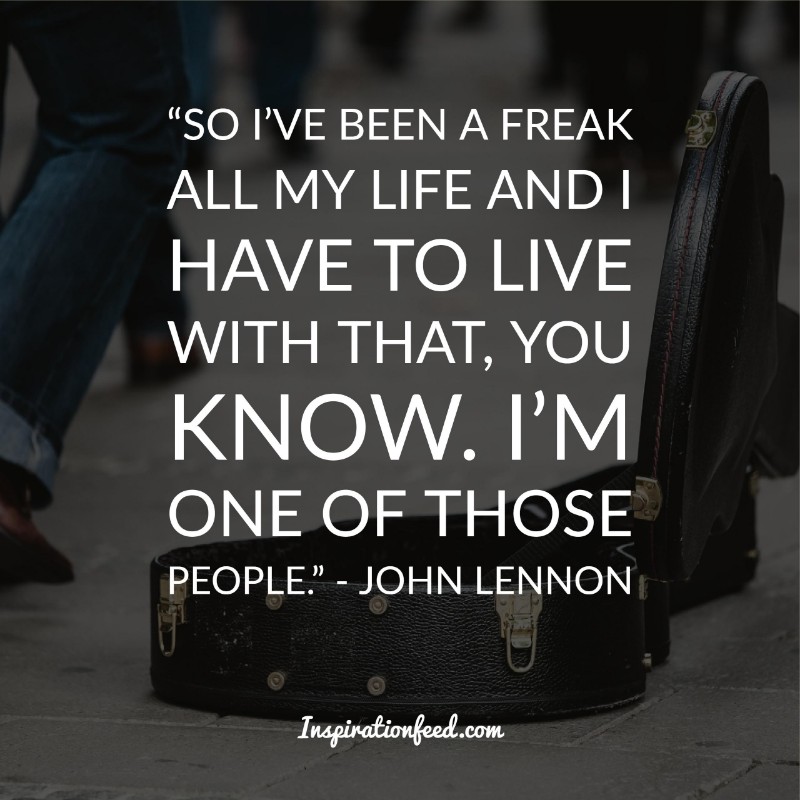 "So I've been a freak all my life and I have to live with that, you know. I'm one of those people." – John Lennon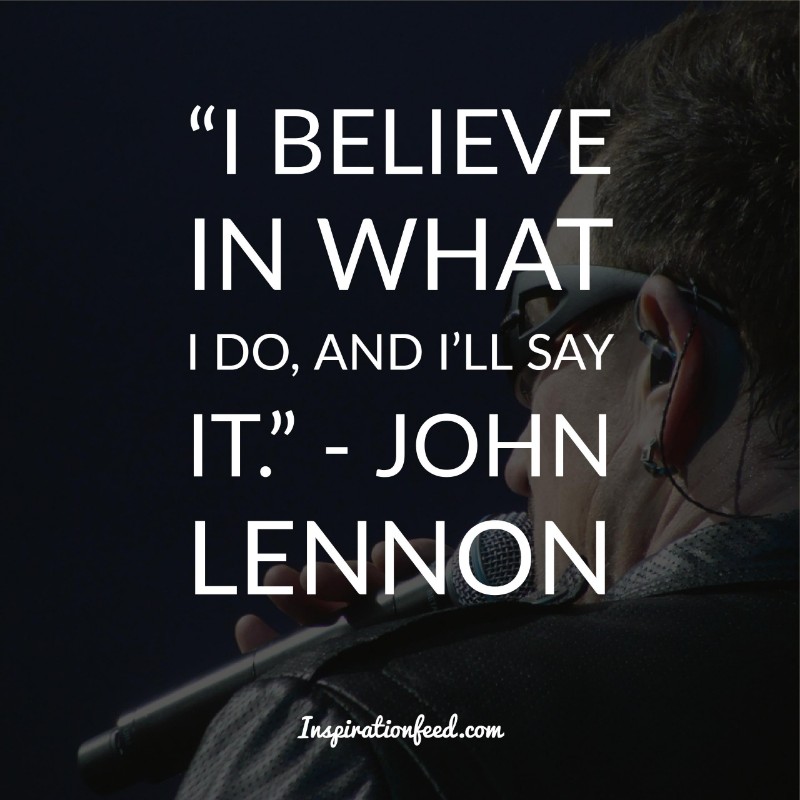 "I believe in what I do, and I'll say it." – John Lennon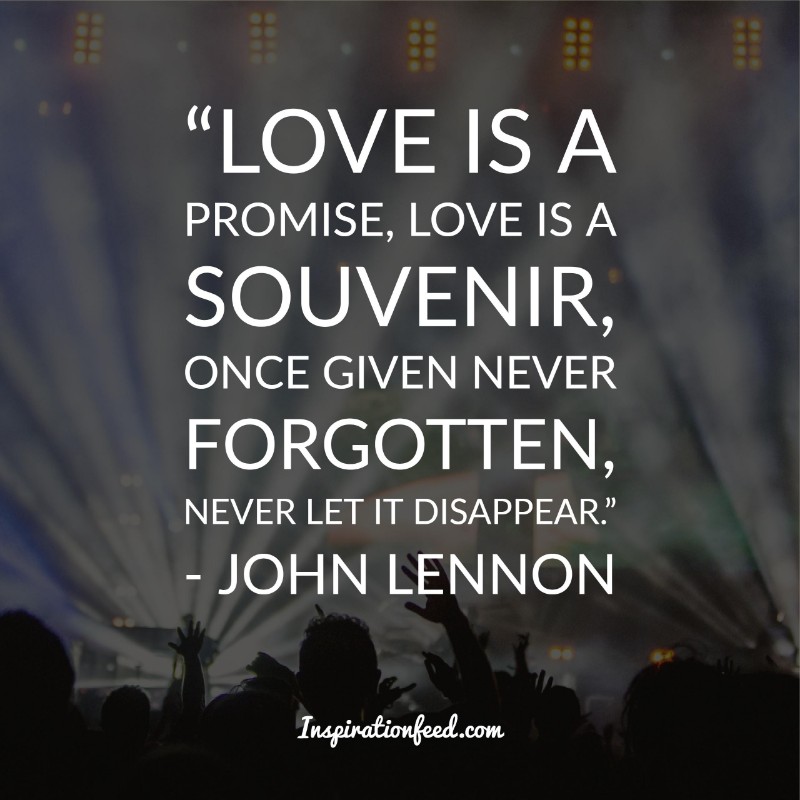 "Love is a promise, love is a souvenir, once given never forgotten, never let it disappear." – John Lennon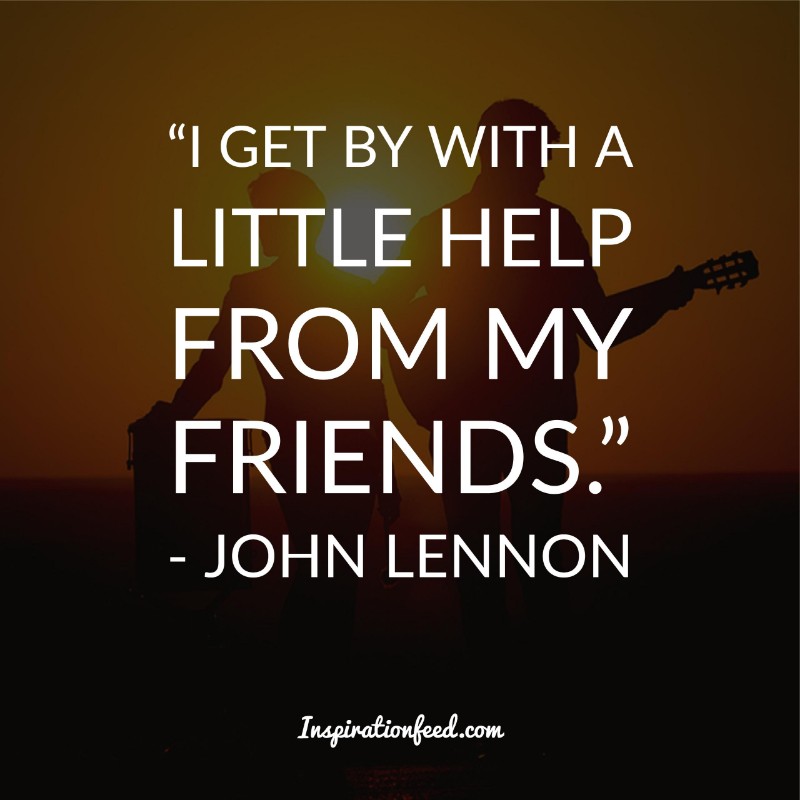 "I get by with a little help from my friends." – John Lennon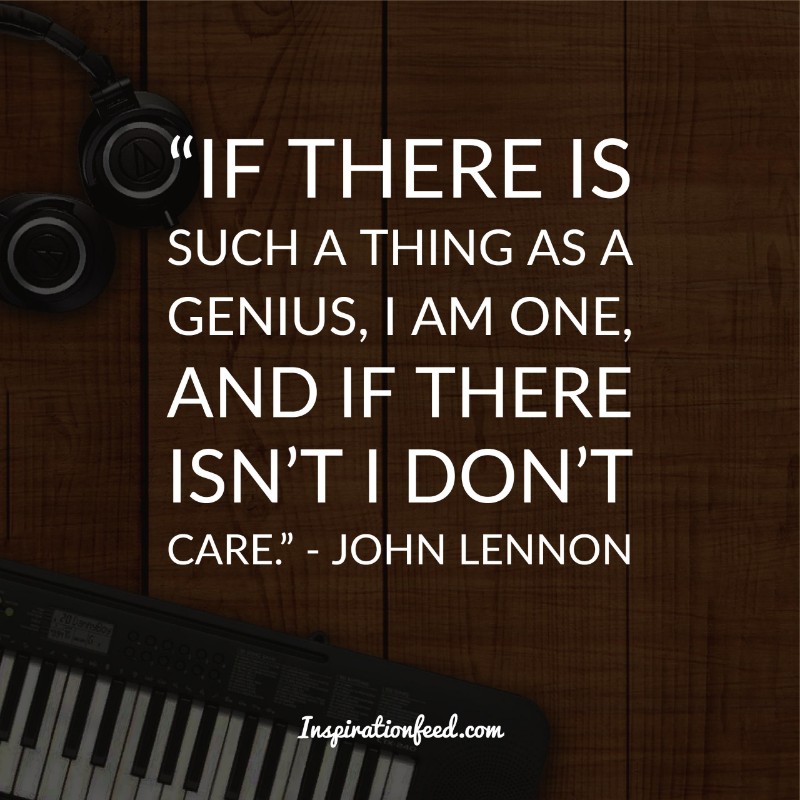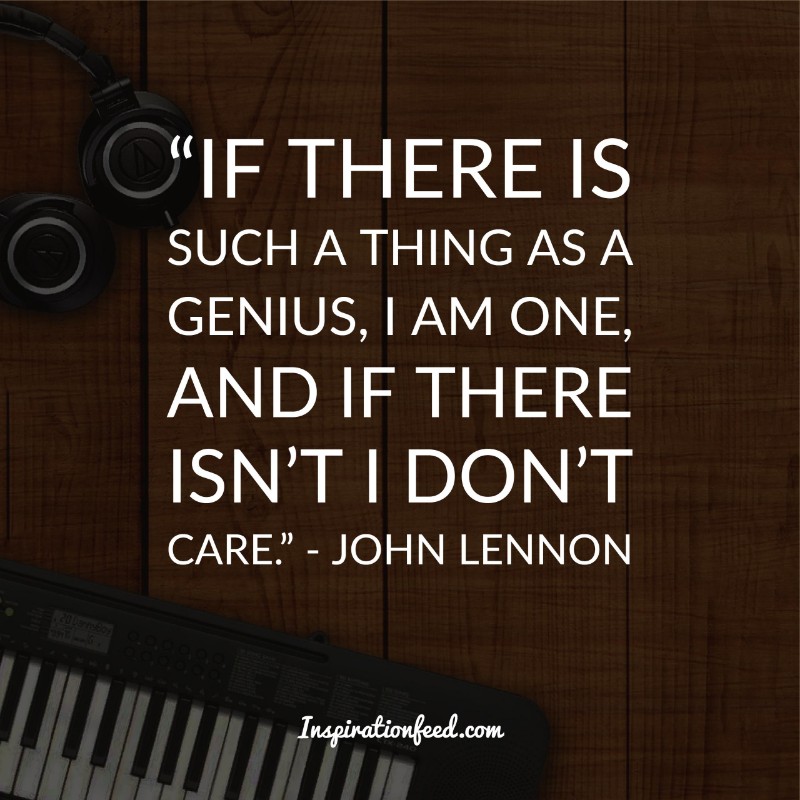 "If there is such a thing as a genius, I am one, and if there isn't I don't care." – John Lennon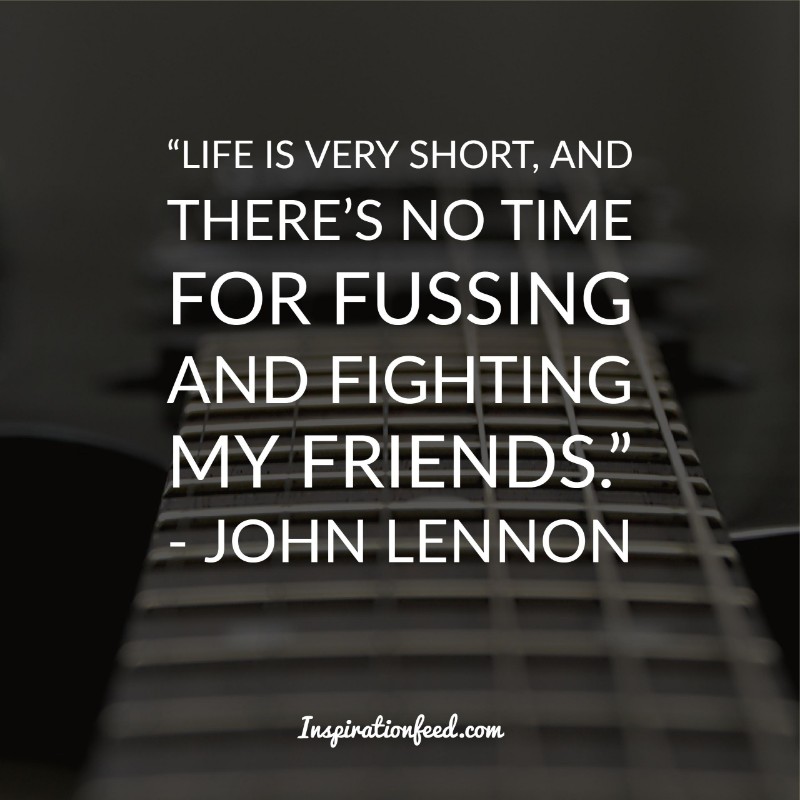 "Life is very short, and there's no time for fussing and fighting my friends." – John Lennon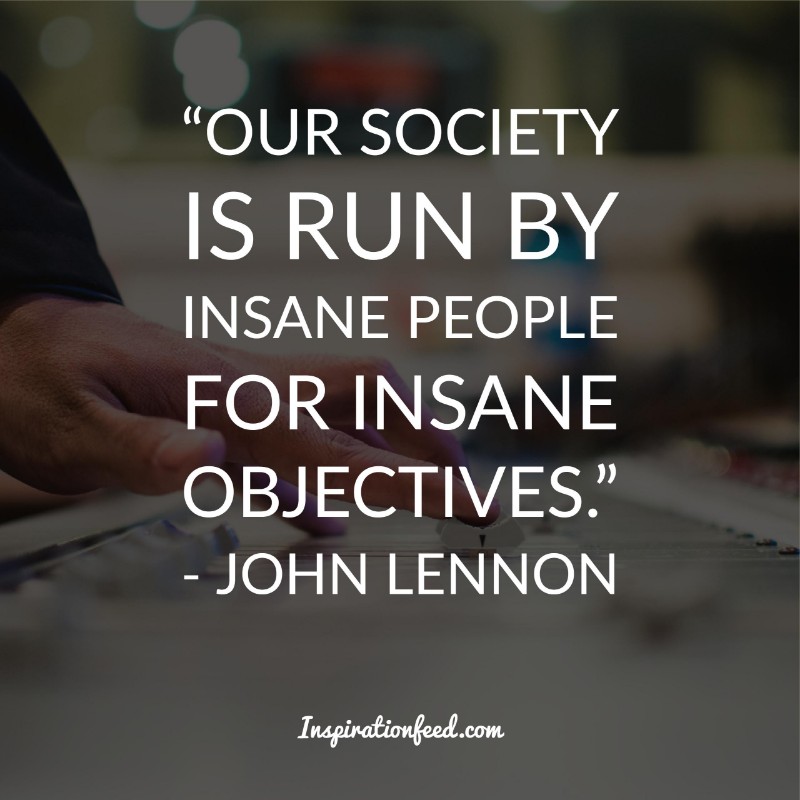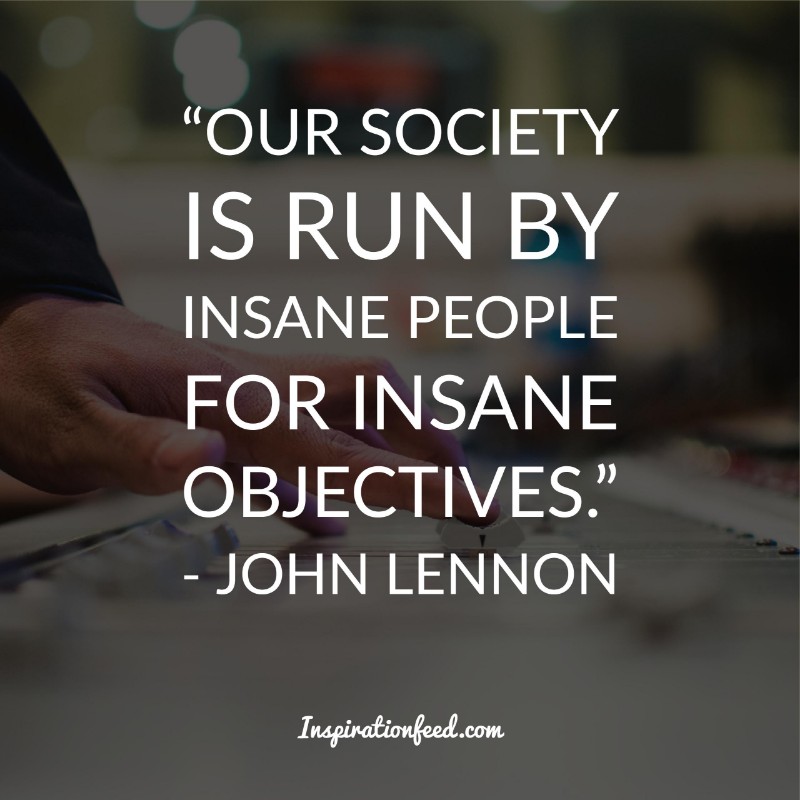 "Our society is run by insane people for insane objectives." – John Lennon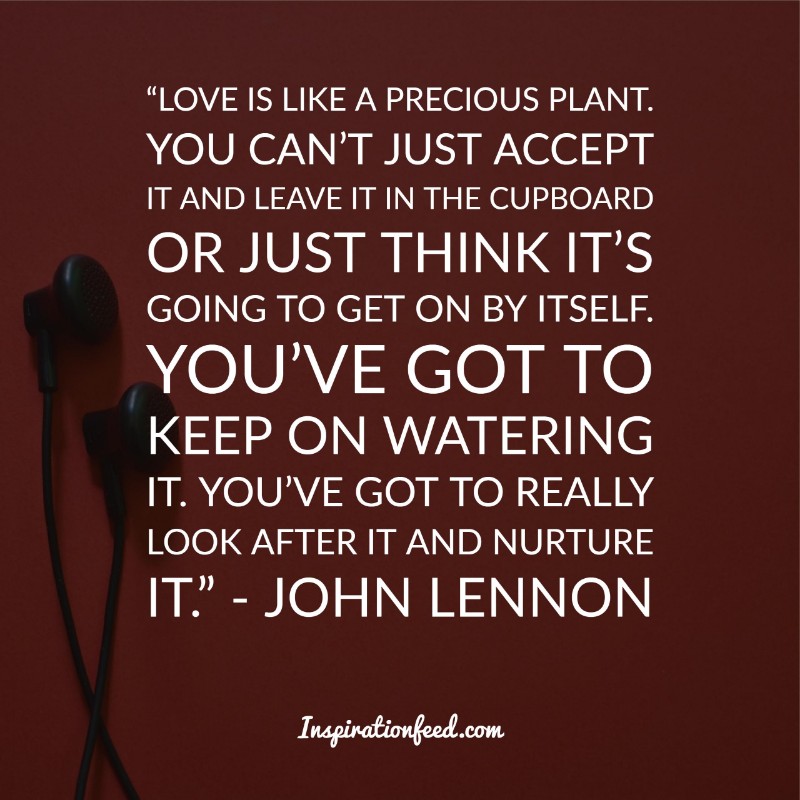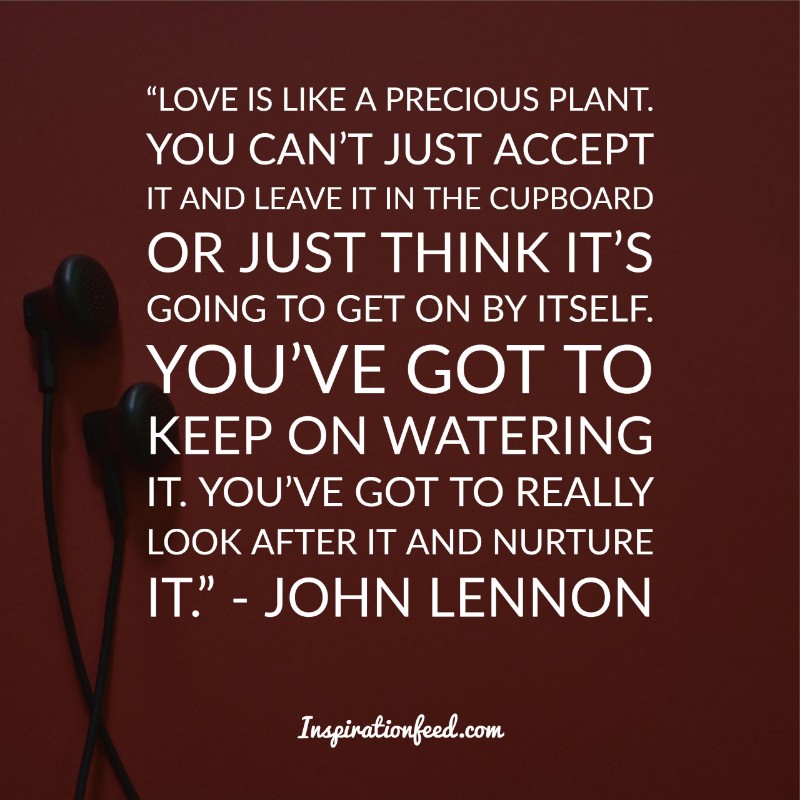 "Love is like a precious plant. You can't just accept it and leave it in the cupboard or just think it's going to get on by itself. You've got to keep on watering it. You've got to really look after it and nurture it." – John Lennon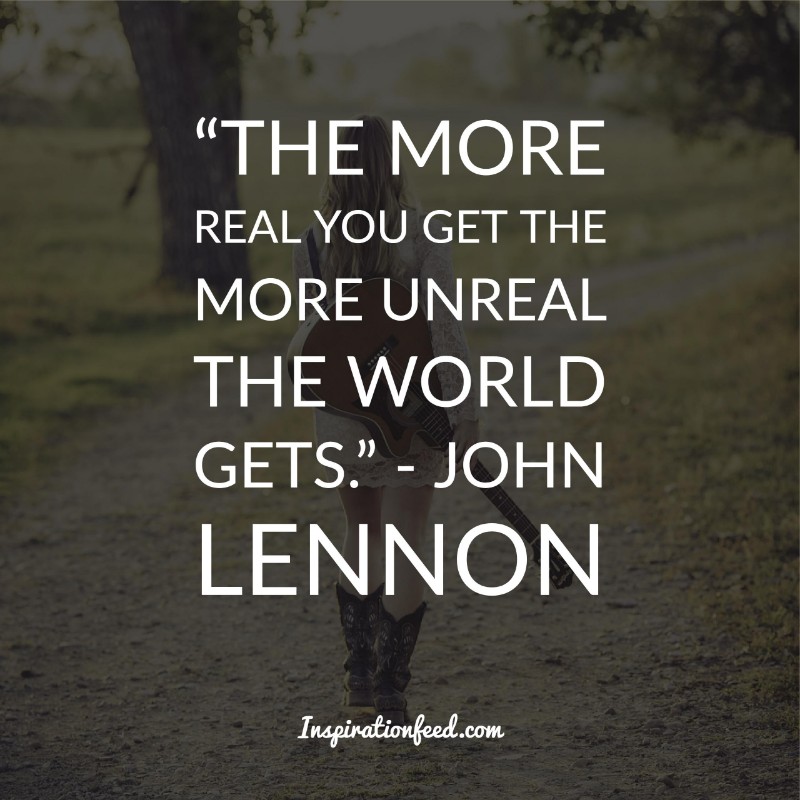 "The more real you get the more unreal the world gets." – John Lennon