Last Updated on January 24, 2023
Nature is like no other. People may build skyscrapers inspired by giant rock formations, and plant gardens in small patches in the city, but nothing comes close to nature. This is why people in the city would often go on vacations in places where the air is fresh and the sun shines.
Can you imagine a world where industrialization doesn't have its limits? Won't it be cold, gray, and Spartan? Trees would be cut down to make parking spaces. Oceans would be reclaimed to build factories. Flora and fauna would only be seen on paintings and exhibits.
This is why conservationists are a rare breed. They keep serious efforts to keep the world alive and to preserve nature for generations. One remarkable man who has compelled America into preserving its natural wonders is John Muir.
John Muir's natural curiosity and fondness for the natural environment has moved so many to see the world in a new light. The petals of a flower are no longer just dainty things that add color to the world, but it's a home of its own to shield itself from the storm. With John Muir's rather unique way of seeing things, he gained the title of Patron Saint of the American Wilderness.
The Life of John Muir


John Muir was born in Dunbar, a coastal town in Southeast Scotland. His parents were religious people, and his father was a very strict disciplinarian.
At age 11, the Muirs left for America and settled in Wisconsin. Their father started farming and putting his sons to work. During brief periods of respite from work, John and his younger brother would roam the countryside.
John's brilliant young mind allowed him to create his own version of an alarm clock. At age 22, he would bring his invention at a state fair where he won awards.
That same year, he enrolled at the University of Wisconsin where he took his first botany class. This would be the start of his lifelong affair with nature. During his three years in college, he developed a strong interest in the sciences.
When his brother left for Canada to avoid the war in 1986, John Muir followed. He explored the regions around the Georgian Bay, Niagara Escarpment, and the Bighead River.
When he returned to America, he worked for a wagon wheel factory in Indianapolis. He proved to be very valuable with his knack for inventing things and improving processes. His job led to an accident, however, which left him temporarily blind for a month.
After regaining his sight, John Muir saw his life in a new light. He packed up and set forth to explore the West. He also visited Cuba and Panama.
His nomadic and free-spirited lifestyle left him overwhelmed with the beauty of mountains, cliffs, rivers, waterfalls, and the variety of wildlife. Despite moments of doubt and anguish, he did what he loved best: to experience nature and become its steward.
At the urging of his friends, he returned to Oakland where he met Louisa Strentzel, the woman he would marry. John worked with and for Louisa's father who was a physician.
John farmed at the family's orchard, but Louisa could not ignore his restless spirit. She would urge him to follow his wanderlust. John traveled to the places he loved most and even reached Africa, Australia, Asia, Europe, and South America.
He would always come back to Yosemite, his first love, sometimes bringing his daughters along with him.
Pneumonia struck John after visiting his daughter in 1914. At age 76, John died at the California Hospital in Los Angeles.
Contributions and Legacy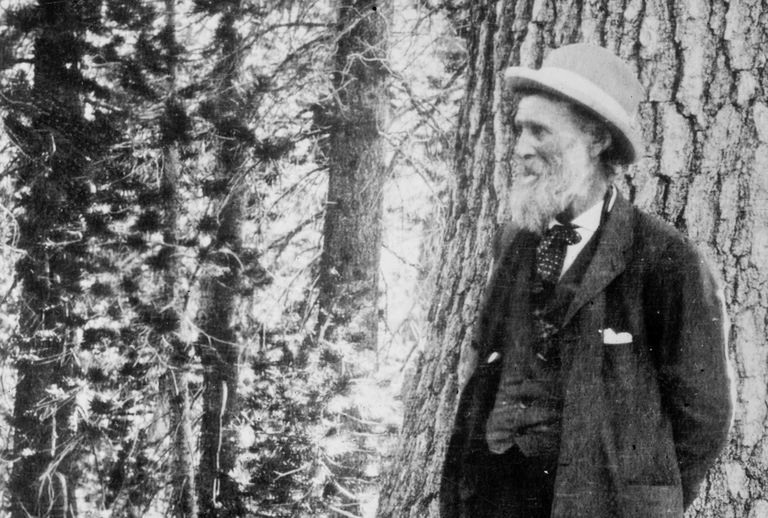 John Muir's influence and passionate arguments on preserving nature and national parks moved notable people and politicians into action, including presidents Theodore Roosevelt and William Howard Taft. Yosemite Valley became a national park, mainly due to Muir's articles.
The Sierra Club, an organization he founded in 1982, continues to fight for the environment and wildlife. He would be pleased to know that the Sierra Club has branched all throughout America and has also raised awareness on societal issues as well.
John Muir, an immigrant, felt for the Native Americans. Despite bad experiences with them, such as having his belongings stolen, he learned to understand the plight of the Native Americans.
Muir knew the discrimination they suffered—how the natives lost their lands, and how their homes and nature were desecrated. Sharing a common belief, that nature is the creation and manifestation of God, he earned an honorary place among the native Stickeen tribe.
Over the course of his life, Muir penned 300 articles and 12 books on nature and its theological importance. Let your love for nature be strengthened by these quotes from John Muir himself.
John Muir Quotes
"Who wouldn't be a mountaineer? Up here, all the world's prizes like nothing." – John Muir
"Oh, these vast, calm, measureless mountain days, days in whose light everything seems equally divine, opening a thousand windows to show us God." – John Muir
"One day's exposure to mountains is better than a cartload of books." – John Muir
"The mountains are fountains of men, as well as of rivers, of glaciers, of fertile soil. The great poets, philosophers, prophets, able men whose thoughts and deeds have moved the world, have come down from the mountains – mountain dwellers who have grown strong there with the forest trees in Nature's workshops." – John Muir
"Everybody needs beauty, as well as bread, places to play in and pray in, where nature may heal and give strength to body and soul." – John Muir
"When one tugs at a single thing in nature, he finds it attached to the rest of the world." – John Muir
"Nature is ever at work; building and pulling down, creating and destroying, keeping everything whirling and flowing, allowing no rest, but in rhythmical motion, chasing everything in endless song out of one beautiful form into another." – John Muir
"Yosemite Park is a place of rest… None can escape its charms. Its natural beauty cleans and warms like a fire, and you will be willing to stay forever in one place like a tree." – John Muir
"There is not a fragment in all nature, for every relative fragment of one thing is a full harmonious unit in itself." – John Muir
"In every walk with Nature, one receives far more than he seeks." – John Muir
"The rivers flow not past, but through us, thrilling, tingling, vibrating every fiber and cell of the substance of our bodies, making them glide and sing." – John Muir
"One touch of nature makes the whole world kin." – John Muir
"I never saw a discontented tree." – John Muir
"The morning stars still sing together, and the world, not yet half made, becomes more beautiful every day." – John Muir
"Earth has no sorrow that earth cannot heal." – John Muir
"This grand show is eternal. It is always sunrise somewhere; the dew is never dried all at once; a shower is forever falling; vapor is ever rising. Eternal sunrise, eternal dawn and gloaming, on sea and continents and islands, each in its turn, as the round earth rolls." – John Muir
"The clearest way into the universe is through a forest wilderness." – John Muir
"Keep close to Nature's heart… and break clear away, once in a while, and climb a mountain or spend a week in the woods. Wash your spirit clean." – John Muir
"None of Nature's landscapes are ugly, so long as they are wild." – John Muir
"Only by going alone in silence, without baggage, can one truly get into the heart of the wilderness. All other travel is mere dust and hotels and baggage and chatter." – John Muir
"To the lover of wilderness, Alaska is one of the most wonderful countries in the world." – John Muir
"We all travel the Milky Way together, trees and men." – John Muir
"One should go to the woods for safety, if for nothing else." – John Muir
"Walk away quietly in any direction and taste the freedom of the mountaineer." – John Muir
"There is a love of wild nature in everybody, an ancient mother-love showing itself, whether recognized or not, and however covered by cares and duties" – John Muir
"Sleep in forgetfulness of all ill. Of all the upness accessible to mortals, there is no upness comparable to the mountains." – John Muir
"The mountains are calling and I must go." – John Muir
"We are now in the mountains and they are in us, kindling enthusiasm, making every nerve quiver, filling every pore and cell of us." – John Muir
"Then, after a long fireside rest and a glance at my notebook, I cut a few leafy branches for a bed, and fell into the clear, death-like sleep of the tired mountaineer." – John Muir
"In our best times everything turns into religion, all the world seems a church and the mountains altars." – John Muir
"Thousands of tired, nerve-shaken, over-civilized people are beginning to find out that going to the mountains is going home; that wildness is a necessity; and that mountain parks and reservations are useful, not only as fountains of timber and irrigating rivers, but as fountains of life." – John Muir
"The battle for conservation must go on endlessly. It is part of the universal warfare between right and wrong." – John Muir
"The sun shines not on us but in us." – John Muir
"Any fool can destroy trees. They cannot run away." – John Muir
"The deeper the solitude, the less the sense of loneliness, and the nearer our friends." – John Muir
"Nothing truly wild is unclean." – John Muir
"Most people are on the world, not in it." – John Muir
"The world is big and I want to have a good look at it before it gets dark." – John Muir
"When we try to pick out anything by itself, we find it hitched to everything else in the Universe." – John Muir
"I only went out for a walk and finally concluded to stay out till sundown, for going out, I found, was really going in." – John Muir
"Most people who travel look only at what they are directed to look at. Great is the power of the guidebook maker, however ignorant." – John Muir
"…every sight and sound inspiring, leading one far out of himself, yet feeding and building up his individuality." – John Muir
"…feeling sure that I would learn something and at the same time get rid of a severe bronchial cough that followed an attack of the grippe and had troubled me for three months. I intended to camp on the glacier every night, and did so, and my throat grew better every day until it was well, for no lowland microbe could stand such a trip." – John Muir
"…full of God's thoughts, a place of peace and safety amid the most exalted grandeur and enthusiastic action, a new song, a place of beginnings abounding in first lessons of life, mountain building, eternal, invincible, unbreakable order; with sermons in stone, storms, trees, flowers, and animals brimful with humanity." – John Muir
"…therefore all childish fear must be put away." – John Muir
"…their eager, childlike attention was refreshing to see as compared with the decent, deathlike apathy of weary civilized people, in whom natural curiosity has been quenched in toil and care and poor, shallow comfort." – John Muir
"A few minutes ago every tree was excited, bowing to the roaring storm, waving, swirling, tossing their branches in glorious enthusiasm like worship. But though to the outer ear these trees are now silent, their songs never cease." – John Muir
"All the world was before me and every day was a holiday, so it did not seem important to which one of the world's wildernesses I first should wander." – John Muir
"An eagle soaring above a sheer cliff, where I suppose its nest is, makes another striking show of life, and helps to bring to mind the other people of the so-called solitude—deer in the forest caring for their young; the strong, well-clad, well-fed bears; the lively throng of squirrels; the blessed birds, great and small, stirring and sweetening the groves; and the clouds of happy insects filling the sky with joyous hum as part and parcel of the down-pouring sunshine." – John Muir
"An hour was allowed at noon for dinner and more chores. We stayed in the field until dark, then supper, and still more chores, family worship, and to bed; making all together a hard, sweaty day of about 16 or 17 hours. Think of that, ye blessed 8-hour-day laborers!" – John Muir
"And into the forest I go, to lose my mind and find my soul" – John Muir
"And into the woods I go, to lose my mind and find my soul." – John Muir
"Another glorious day, the air as delicious to the lungs as nectar to the tongue." – John Muir
"Another glorious Sierra day in which one seems to be dissolved and absorbed and sent pulsing onward we know not where. Life seems neither long nor short, and we take no more heed to save time or make haste than do the trees and stars. This is true freedom, a good practical sort of immortality." – John Muir
"Any glimpse into the life of an animal quickens our own and makes it so much the larger and better in every way." – John Muir
"Anyhow we never know where we must go, nor what guides we are to get—people,storms, guardian angels, or sheep…." – John Muir
"As for the Mormons one meets, however their doctrines be regarded, they will be found as rich in human kindness as any people in all our broad land, while the dark memories that cloud their earlier history will vanish from the mind as completely as when we bathe in the fountain azure of the Sierra." – John Muir
"As if nothing that does not obviously make for the benefit of man had any right to exist; as if our ways were God's ways" – John Muir
"As long as I live, I'll hear waterfalls and birds and winds sing. I'll interpret the rocks, learn the language of flood, storm, and the avalanche. I'll acquaint myself with the glaciers and wild gardens, and get as near the heart of the world as I can" – John Muir
"As we sat by the camp-fire the brightness of the sky brought on a long talk with the Indians about the stars; and their eager childlike attention was refreshing to see as compared with the decent, deathlike apathy of weary civilized people, in whom natural curiosity has been quenched in toil and care and poor, shallow comfort." – John Muir
"At the touch of this divine light, the mountains seemed to kindle to a rapt, religious consciousness, and stood hushed like devout worshippers waiting to be blessed." – John Muir
"Beauty beyond thought everywhere, beneath, above, made and being made forever." – John Muir
"But I had been so lectured by my father above all things to avoid praise that I was afraid to read those kind newspaper notices, and never clipped out or preserved any of them, just glanced at them and turned away my eyes from beholding vanity." – John Muir
"But it is in the darkest nights, when storms are blowing and the agitated waves are phosphorescent, that the most impressive displays are made." – John Muir
"But no punishment, however sure and severe, was of any avail against the attraction of the fields and woods. It had other uses, developing memory, etc., but in keeping us at home it was of no use at all." – John Muir
"But the darkest scriptures of the mountains are illumined with bright passages of love that never fail to make themselves felt when one is alone. I" – John Muir
"But think of the hearts of these whales, beating warm against the sea, day and night, through dark and light, on and on for centuries; how the red blood must rush and gurgle in and out, bucketfuls, barrelfuls at a beat!" – John Muir
"But we are governed more than we know, and most when we are wildest." – John Muir
"…I think the very loveliest of all the lily family,- a spotless soul, plant saint, that every one must love and so be made better. It puts the wildest mountaineer on his good behavior. With this plant the whole world would seem rich though non other existed." – John Muir
"Climb the mountains and get their good tidings. Nature's peace will flow into you as sunshine flows into trees. The winds will blow their own freshness into you, and the storms their energy, while cares will drop away from you like the leaves of Autumn." – John Muir
"Come to the woods, for here is rest, …climb the mountains and get their good tidings. Nature's peace will flow into you as sunshine flows into trees." – John Muir
"Down through the middle of the Valley flows the crystal Merced, River of Mercy, peacefully quiet, reflecting lilies and trees and the onlooking rocks; things frail and fleeting and types of endurance meeting here and blending in countless forms, as if into this one mountain mansion Nature had gathered her choicest treasures, to draw her lovers into close and confiding communion with her." – John Muir
"Even the sick should try these so-called dangerous passes, because for every unfortunate they kill, they cure a thousand." – John Muir
"Every hidden cell is throbbing with music and life, every fiber thrilling like harp strings." – John Muir
"Every morning, arising from the death of sleep, the happy plants and all our fellow animal creatures great and small, and even the rocks, seemed to be shouting, "Awake, awake, rejoice, rejoice, come love us and join in our song. Come! Come!" – John Muir
"Everybody needs beauty as well as bread, places to play in and pray in, where Nature may heal and cheer and give strength to body and soul alike." – John Muir
"Everything in Nature called destruction must be creation-a change from beauty to beauty." – John Muir
"Few places in this world are more dangerous than home. Fear not, therefore, to try the mountain passes. They will kill care, save you from deadly apathy, set you free, and call forth every faculty into vigorous, enthusiastic action." – John Muir
"Fortunately wrong cannot last. Soon or late it must fall back home to Hades, while some compensating good must surely follow." – John Muir
"Go quietly, alone; no harm will befall you." – John Muir
"Go where we will, all the world over, we seem to have been there before." – John Muir
"God has cared for these trees, saved them from drought, disease, avalanches, and a thousand tempests and floods. But he cannot save them from fool" – John Muir
"Going to the mountains is going home." – John Muir
"Going to the woods is going home." – John Muir
"Handle a book as a bee does a flower, extract its sweetness but do not damage it." – John Muir
"Having escaped restraint, they were, like some people we know of, afraid of their freedom, did not know what to do with it, and seemed glad to get back into the old familiar bondage." – John Muir
"He had gone to the higher Sierras… [about Ralph Waldo Emerson's death]" – John Muir
"He was one of the most sincere tree-lovers I ever knew. About twenty years before his death he made choice of a plot in the Yosemite cemetery on the north side of the Valley, not far from the Yosemite Fall, and selecting a dozen or so of seedling sequoias in the Mariposa grove he brought them to the Valley and planted them around the spot he had chosen for his last rest. The ground there is gravelly and dry; by careful watering he finally nursed most of the seedlings into good, thrifty trees, and doubtless they will long shade the grave of their blessed lover and friend." – John Muir
"Here are the roots of all the life of the valleys, and here more simply than elsewhere is the eternal flux of nature manifested." – John Muir
"Here I could stay tethered forever with just bread and water, nor would I be lonely; loved friends and neighbors, as love for everything increased, would seem all the nearer however many the miles and mountains between us." – John Muir
"Hidden in the glorious wildness like unmined gold." – John Muir
"How glorious a greeting the sun gives the mountains!" – John Muir
"How narrow we selfish conceited creatures are in our sympathies! How blind to the rights of all the rest of creation!" – John Muir
"I am learning to live close to the lives of my friends without ever seeing them. No miles of any measurement can separate your soul from mine." – John Muir
"I am losing precious days. I am degenerating into a machine for making money. I am learning nothing in this trivial world of men. I must break away and get out into the mountains to learn the news" – John Muir
"I care to live only to entice people to look at Nature's loveliness." – John Muir
"I cut off some of their flat, spicy plumes for a bed, gathered a store of wood, and made a cordial fire, and was at home in this vast unhandselled Yosemite." – John Muir
"I don't like either the word [hike] or the thing. People ought to saunter in the mountains – not 'hike!' Do you know the origin of that word saunter? It's a beautiful word. Away back in the middle ages people used to go on pilgrimages to the Holy Land, and when people in the villages through which they passed asked where they were going they would reply, 'A la sainte terre', 'To the Holy Land.' And so they became known as sainte-terre-ers or saunterers. Now these mountains are our Holy Land, and we ought to saunter through them reverently, not 'hike' through them." – John Muir
"I have never yet happened upon a trace of evidence that seemed to show that any one animal was ever made for another as much as it was made for itself." – John Muir
"I never saw a discontented tree. They grip the ground as though they liked it, and though fast rooted they travel about as far as we do. They go wandering forth in all directions with every wind, going and coming like ourselves, traveling with us around the sun two million miles a day, and through space heaven knows how fast and far!" – John Muir