Last Updated on January 12, 2022
Who Is Jon Stewart?
Jon Stewart, born Jonathan Stuart Leibowitz, is an American comedian, actor, film producer, screenwriter, television talk show host, television producer, commentator, critic, and writer.

Stewart is best known for hosting The Daily Show, a satirical news program that aired on Comedy Central from 1999 to 2015.
Quick Facts
| | |
| --- | --- |
| Full Name: | Jon Stewart (born Jonathan Stuart Leibowitz) |
| Popular Name: | Jon Stewart |
| Gender: | Male |
| Birth Date: | November 28, 1962 |
| Age: | 59 years |
| Parents: | Donald Leibowitz and Marian Laskin |
| Siblings: | Lawrence "Larry" Leibowitz, Mathew "Matt" Leibowitz, and Dan Leibowitz |
| Birth Place: | New York City, New York |
| Nationality: | American |
| Ethnicity: | Jewish |
| Education: | Lawrence High School and College of William & Mary |
| Marital Status: | Married  |
| Sexual Orientation: | Straight |
| Wife/Spouse: | Tracey Lynn McShan |
| Children: | Nathan Thomas Stewart and Maggie Rose Stewart |
| Dating: | N/A |
| Net Worth: | USD 120 million (as of March 1, 2021) |
| Source of Wealth: | Comedy, Acting, Film Production, Screenwriting, Television Show Hosting, Television Production, Writing, and Other Ventures |
| Height: | 5′ 7″ (1.69 m) |
| Weight: | 76 kg; In pounds: 167.5 lbs. |
Early Life and Career Information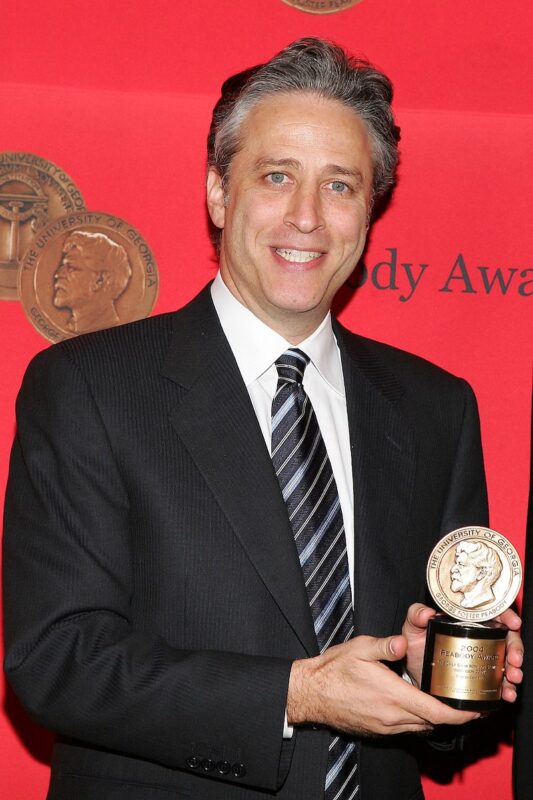 Jonathan Stuart Leibowitz was born on November 28, 1962, in New York City, New York, to Donald Leibowitz and Marian Laskin. His father worked at the New Jersey Department of the Treasury as an energy coordinator, whereas his mother was a teacher who later became an educational consultant.

Stewart's parents divorced when Jonathan was 11 years old. After the divorce, Stewart barely reconnected with his father and they reportedly had a strained relationship. Due to the complicated relationship between the two, Stewart dropped his surname and started using his middle name. He eventually changed his middle name from Stuart to Stewart in 2001.

Jon Stewart attended Lawrence High School and later proceeded to The College of William & Mary, where he initially pursued a course in Chemistry before changing to psychology. After graduating from college in 1984, Jon Stewart held various jobs, including working at the New Jersey Department of Human Services as a contingency planner as well as a contract administrator at the City University of New York. He also had a short stint as a puppeteer for children living with disabilities, a soccer coach for Virginia's Gloucester High School, a busboy, caterer, Woolworth's shelf stocker, and bartender.

In 1986, Jon Stewart returned to New York City in a bid to launch his comedy career. He made his stand-up debut at The Bitter End club before becoming a regular performer at the Comedy Cellar.

In 1989, Stewart landed his first television job after he became a writer for Caroline's Comedy Hour. The following year, he co-hosted Comedy Central's 'Short Attention Span Theater,' along with Patty Rosborough.

Stewart continued accepting television gigs with a view to growing his personal brand. In 1992, he hosted MTV's 'You Wrote It.' Stewart would later describe his appearance on 'Late Night with David Letterman' on March 6, 1992 as his career-defining moment.

Having established himself as a strong brand in the comedy industry, Jon Stewart eventually started hosting his own talk show in 1993, titled 'The Jon Stewart Show.' The show was generally well-received and went on to become MTV's second-highest rated show. However, the show's ratings began to drop in the subsequent years, leading to its cancellation in June 1995.

After 'The Jon Stewart Show' was cancelled, Stewart was signed by David Letterman to the Worldwide Pants production company. Stewart became a regular guest host on 'The Late Late Show with Tom Snyder.'

In 1999, Craig Kilborn left 'The Daily Show' to replace Tom Snyder as the 'The Late Late Show' host. Stewart immediately took over as 'The Daily Show' host. In 2013, Jon Stewart took a brief hiatus from hosting 'The Daily Show,' during which he directed the film Rosewater. Jon Stewart eventually left 'The Daily Show' on August 6, 2015, after airing a total of 2,579 episodes. He was succeeded by South African comedian Trevor Noah.

In addition to his career in comedy and television show hosting, Jon Stewart has also pursued a successful career in the film industry as an actor as well as film producer and director. Some of the films he has appeared in include Wishful Thinking (1997), Half Baked (1998), The Faculty (1998), Big Daddy (1999), Death to Smoochy (2002), and Doogal (2006, as a voice actor). As a producer, Stewart has produced several television shows through his own production company Busboy Productions, including a spin-off of 'The Daily Show' known as 'The Colbert Report.'

Stewart is also a renowned author and publisher. As an author, he's best known for publishing Naked Pictures of Famous People in 1998 as well as contributing to America (The Book): A Citizen's Guide to Democracy Inaction in 2004.
Jon Stewart's Net Worth
Jon Stewart's long career in the entertainment industry reflects favorably on his bank accounts. As of March 1, 2021, Stewart had a net worth of $120 million.

He owes a significant portion of his wealth to his salary from The Daily Show. During his first year hosting the show, Stewart earned $1.5 million. By 2008, his salary had skyrocketed to a whopping $14 million per year. In 2010, Stewart signed a new deal that saw him earn $25 million annually.

In addition to his entertainment-related earnings, Jon Stewart is also an astute realtor and has invested in a couple of real estate properties over the years. In March 2005, Stewart paid $5.8 million for a 6000-square-foot apartment located in Tribeca, New York City. He sold the property in 2014 for $17.5 million, earning a profit of more than $11 million.

Other real estate properties associated with Stewart include:

• A riverfront mansion located in Red Bank, New Jersey, acquired in 2010 for $3.8 million and an additional $3.2 million property next door acquired the following year
• A 12-acre farm in Middletown, New Jersey, acquired in 2013
• A 45-acre farm in Colts Neck, New Jersey
Lessons from Jon Stewart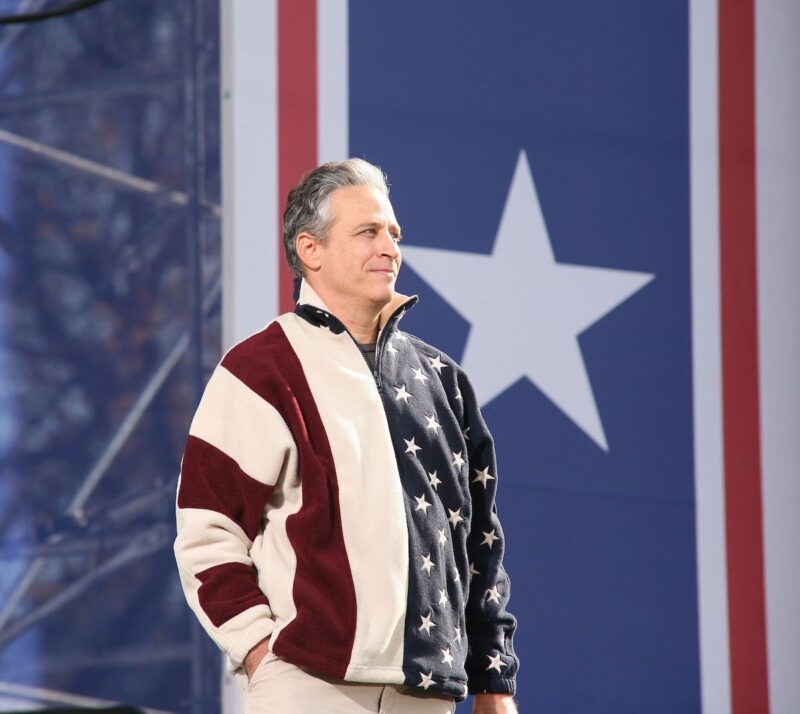 1. Start small

Jon Stewart held numerous odd jobs prior to becoming a stand-up sensation, including working as a caterer, busboy, and bartender.

2. Don't forget your roots

In the mid-1990s, Stewart founded his own production company known as Busboy Productions. Apparently, he named the company in tribute to his previous job as a busboy.

3. Believe in yourself

Although his stand-up career didn't take off immediately, Stewart never lost hope in himself. He accepted numerous gigs before getting his career-changing moment in the late-90s.
Famous Quotes by Jon Stewart
"If it turns out that President Barack Obama can make a deal with the most intransigent, hard-line, unreasonable, totalitarian mullahs in the world but not with Republicans? Maybe he's not the problem."
"Insomnia is my greatest inspiration."
"I've been to Canada, and I've always gotten the impression that I could take the country over in about two days."
"People always say, when did you realize you were funny? And I think it's not that you realize you were funny. It's that you're brain works in a certain way. And I don't think that that's – I think in some respects it's uncontrollable, and you can either accept it and deal with it and hone it or you can try to fight it. And I was too weak to fight it."
"Typically, when you're with your friends, the premises are coming up left and right. But when you're on stage, you must create the premise. So you have to create the premise, paint the picture and then deliver the punch line."
Conclusion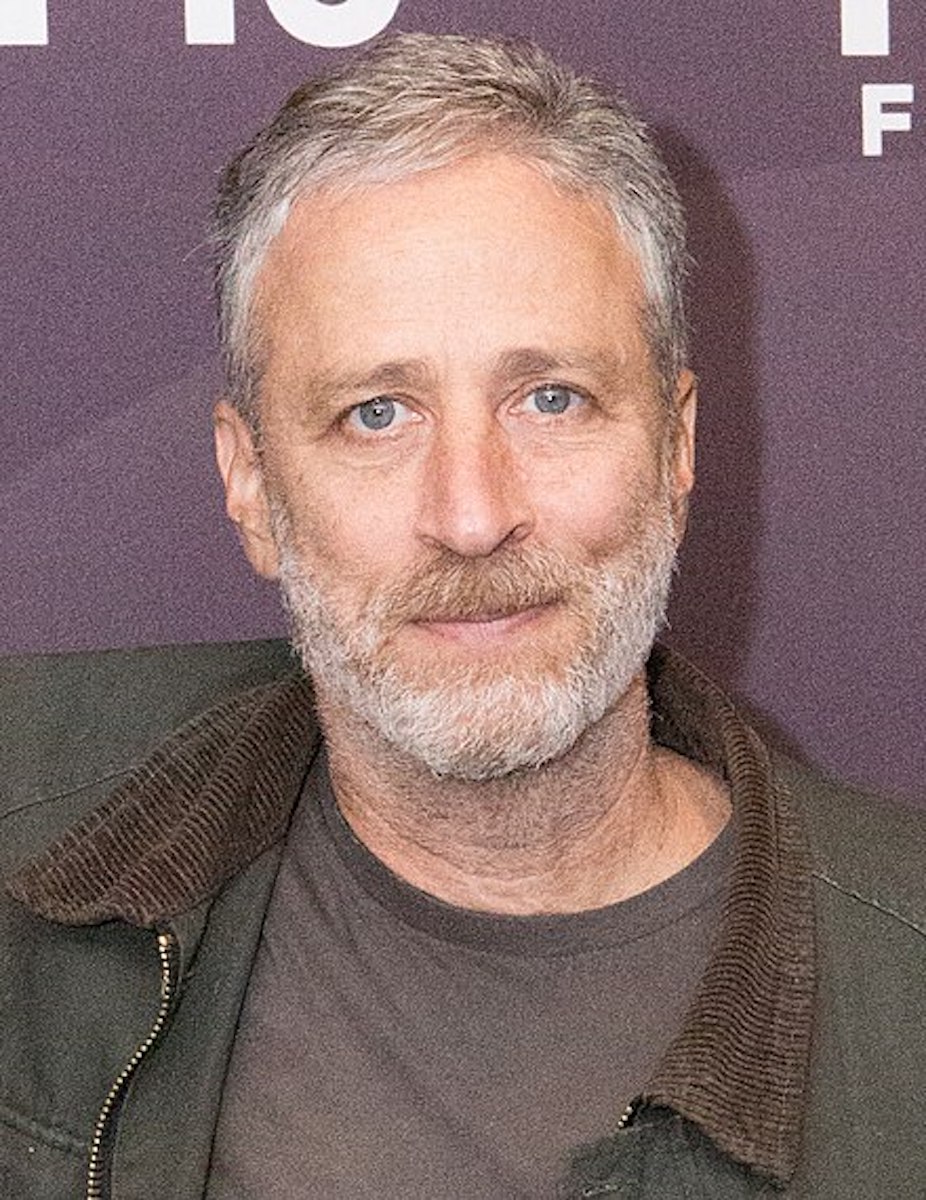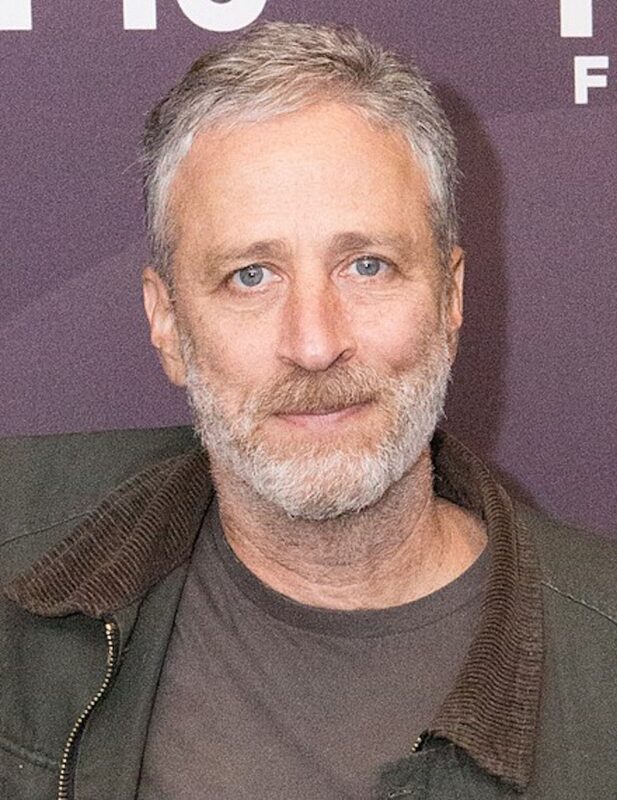 Jon Stewart is a legendary comedian, actor, filmmaker, and television show host who has been in the industry since 1987. Besides earning a name as one of the most gifted comedians on the planet, Stewart has also amassed an impressive net worth of $120 million.