Last Updated on January 12, 2022
Who Is Katy Perry?
Katheryn Elizabeth Hudson, professionally known as Katy Perry, is an American singer, songwriter, and television personality. As a music artist, Perry has had nine of her singles debut at the number one spot on the U.S Billboard Hot 100.

Katy Perry's exceptional music talent hasn't gone unnoticed, as she has since received numerous awards including:

• 1 Brit Award,
• 1 Juno Award,
• 4 Guinness World Records,
• 5 American Music Awards, and
• 5 Billboard Music Awards
Quick Facts
| | |
| --- | --- |
| Full Name: | Katheryn Elizabeth Hudson |
| Popular Name: | Katy Perry |
| Gender: | Female |
| Birth Date: | October 25, 1984 |
| Age: | 37 years |
| Parents: | Maurice Keith Hudson and Mary Christine |
| Siblings: | Angela Perry and David Perry |
| Birth Place: | Santa Barbara, California |
| Nationality: | American |
| Ethnicity: | German, English, Portuguese, Scottish, Irish, Scots-Irish/Northern Irish, French, Welsh, and Manx/Isle of Man |
| Education: | Dos Pueblos High School and Music Academy of the West |
| Marital Status: | Divorced. Previously married to Russell Brand (2010 – 2012)   |
| Sexual Orientation: | Straight |
| Wife/Spouse: | N/A |
| Children: | None |
| Dating: | Orlando Bloom |
| Net Worth: | 330 million (as of August 1st, 2021) |
| Source of Wealth: | Singing, Songwriting, Television Judge, Acting and Voice Acting, Business, Endorsement Deals, and Other Endeavors |
| Height: | 5′ 9″ (1.76 m) |
| Weight: | 60 kg; In pounds: 130 lbs. |
Early Life and Career Information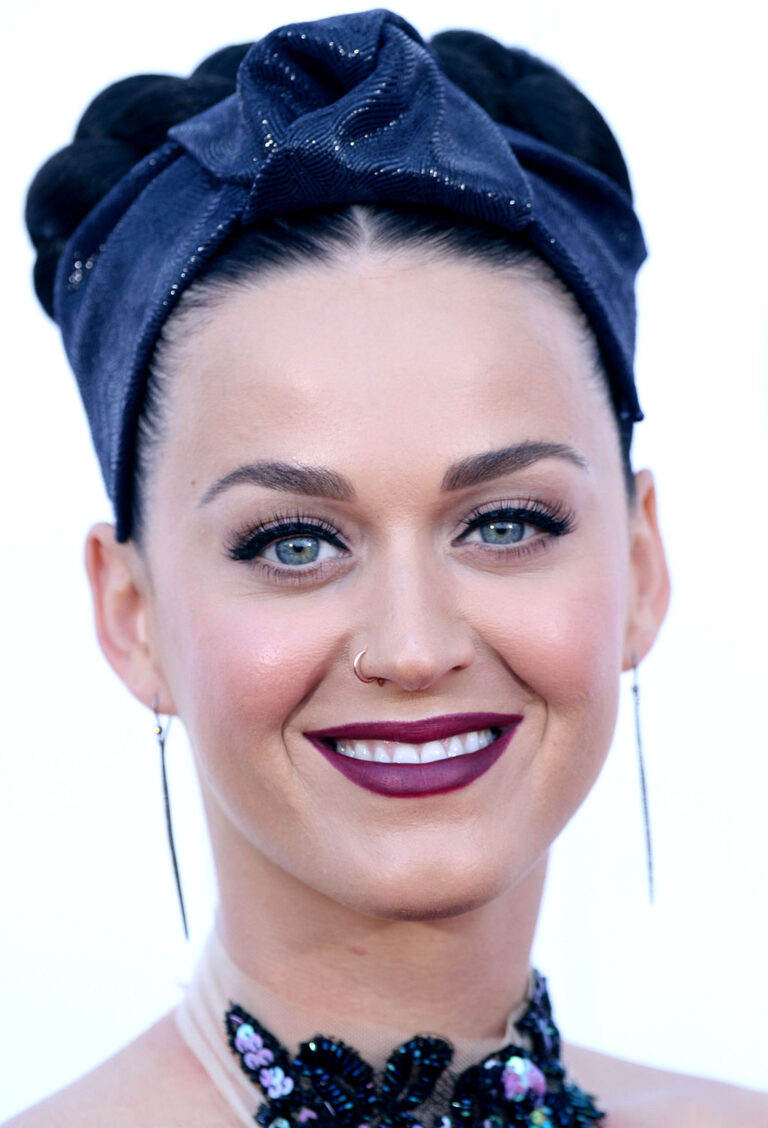 Katy Perry was born on October 25, 1984, in Santa Barbara, California, to Maurice Keith Hudson and Mary Christine. After completing her General Educational Development (GED) requirements aged 15 years, Perry left school so that she could pursue her music career.

Katy Perry formally kicked off her music career as a gospel artist. She met and began working with renowned rock artists, Jennifer Knapp and Steven Thomas. Thereafter, she signed with Red Hill Records, through which she released her debut studio album in 2001 titled Katy Hudson. Though the album was generally critically acclaimed, it sold a paltry 200 copies.

After her commercially unsuccessful debut studio album, Perry decided to venture into secular music. She received wider prominence in 2008 after releasing her second album, a pop rock masterpiece titled One of the Boys. Perry has never looked back since then. She has since released five other albums namely; Teenage Dream (2010), The Complete Confection (2012), Prism (2013), Witness (2017), and Smile (2020).

Katy Perry also dabbles in acting. In film, she's mostly remembered for her 2012 autobiographical documentary, Katy Perry: Part of Me. She also lent her voice to the 2011 film, The Smurfs, as well as its 2013 sequel. In 2018, Katy Perry landed a role as a judge on American Idol.
Katy Perry's Net Worth
As of August 1, 2021, Katy Perry had a net worth of $330 million. Katy has earned much of her fortune from her long and successful career as a singer, songwriter, and television personality. In addition to her music and television endeavors, Perry also earns some decent cash from acting, voice acting, endorsement deals, and several entrepreneurial ventures.

Katy Perry has been ranked by numerous publications among the world's highest-paid entertainers. From 2009 to 2015, Perry earned between $30 and $50 million every year from album sales, touring, merchandise sales, and endorsement deals.
But 2014/2015 is probably her most financially successful year so far, as the singer-songwriter earned $135 million pre-tax. Even if you deduct her tax remissions for the year as well as agents, lawyers, and personal lifestyle expenses, whatever remains is still high enough for any entertainer to make in a single year.

Between June 2018 and June 2019, Katy Perry earned $60 million. More recently, she made $40 million between June 2019 and June 2020. $25 million of her 2019/2020 earnings came from her stellar performance as a host of American Idol.
1. Katy Perry's Music Earnings
Katy Perry is one of the best-selling music artists in the world. As of the time of writing, she had sold more than 18 million albums as well as over 125 million singles worldwide. Also, she has since gone on four tours. Her debut tour, Hello Katy Tour, generated $1,510,000 in ticket sales.

Katy's second tour, California Dreams Tour, brought in $59,500,000 in ticket sales. Finally, her third and fourth tours, Prismatic World Tour and Witness: The Tour, generated $204,300,000 and $76,900,000 in ticket sales, respectively.
2. Katy Perry's American Idol Earnings
Katy Perry signed on to become a judge on American Idol on March 2018. She earned $15 million on the first season of the reality TV show. The following year, her salary was revised upwards to $25 million.
3. Katy Perry's Real Estate
Katy Perry has flipped quite a few real estate properties over the years. In 2014, she entered a deal with the Los Angeles Catholic Archdiocese to acquire an 8.5-acre property at a cost of $14.5 million. According to the terms of the contract, Katy Perry would pay $10 million in cash. The remaining $4.5 million would be paid in the form of alternative properties for the three nuns that were residing at the property then.

However, several months later, the nuns signed a separate deal to sell the property to a businesswoman known as Dana Hollister. The matter resulted in a protracted legal battle, leading to the death of one of the nuns in court. Fortunately, the matter was ruled in Perry's favor, with Dana Hollister ordered to pay up to $6.5 million in damages.

While Perry's options to purchase the property expired in August 2019, the Archdiocese is yet to be sold. In fact, reports indicate that she might still acquire the property as soon as she secures alternative replacement homes for the nuns.

In addition to the controversial Los Angeles Archdiocese, Katy Perry has also purchased several other prestigious properties around the US.

In 2017, she acquired a mansion in Beverly Hills, California, at a cost of $19 million. A year later, Perry spent $7.5 million on another home in Beverly Hills. The home is currently occupied by her family members. In 2019, Perry sold two adjacent homes in Runyon Canyon, Los Angeles, at a total cost of $12.3 million.
4. Other Ventures
Katy Perry also has interests in the fragrance business. She has released multiple fragrances, including Purr in 2010, Meow! in 2011, Killer Queen (2013), and Mad Potion (2015).

She's also reported to have invested in Popchips before becoming the company's brand ambassador in 2012. In December 2015, Perry launched her own mobile app game known as Katy Perry Pop.
Life Lessons from Katy Perry
1. Follow your dreams

Katy Perry successfully completed her GED requirements during her freshman year in high school. However, she chose not to continue with her education in favor of pursuing a career in music.

2. Fight for what you believe in

Perry is an outspoken advocate for LGBT rights and has actively contributed towards campaigns to prevent homophobic attacks.

3. Give back

Katy Perry has supported numerous charitable programs throughout her career. She focuses more on organizations that seek to improve the welfare of children, as well as those that aid in the fight against chronic diseases like HIV/AIDS and cancer.
Famous Quotes by Katy Perry
"I fall in love every time. And I don't really fall in love a lot, but when I do, I fall hard."
"I have always been the kid who's asked 'Why?' In my faith, you're just supposed to have faith. But I was always like 'why?"
"I know that I have sex appeal in my deck of cards. But I like to get people thinking. That's what the stories in my music do."
"I've lived such a great, fantastic life already, but there's still so much more."
"My personality is up and down, sassy and cheeky."
Conclusion
Katy Perry adds to the long list of celebrities who lend credence to the saying that 'giving up isn't an option.' Her music career didn't take off immediately and her debut studio album was an epic failure. However, the artist reinvented herself and bounced back to the stage like she never left.