Last Updated on January 24, 2023
Keanu Reeves is described by many as a transcendent actor, whose audience appeal has remained despite the evolution of his movie roles since he first rose to fame through the "Bill and Ted" franchise in the late 1980s.
In fact, Reeves' career is on an upswing this 2019, with the third installment of John Wick, a cameo appearance in the Netflix original Always Be My Maybe, and voicing of action figure Duke Caboom in Toy Story 4 under his belt. Industry insiders and supporters dub his acting revival as "the Keanaissance" or "Keanussiance." 
Early Life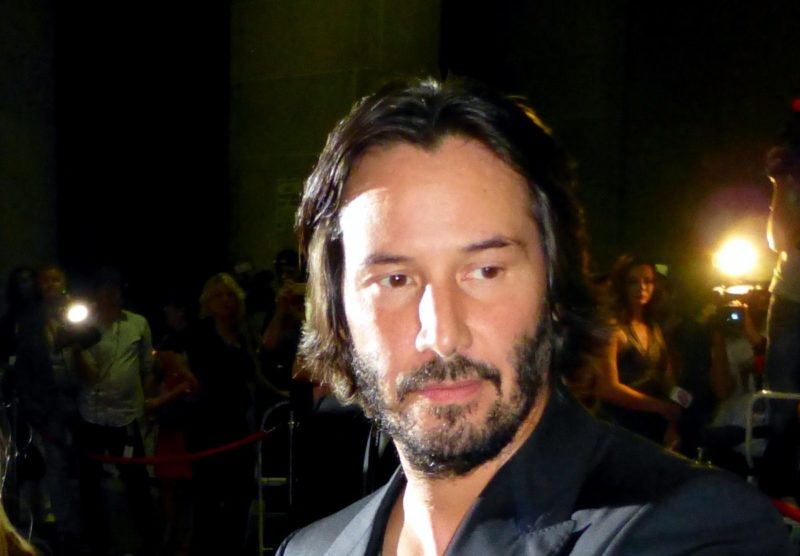 Keanu Charles Reeves was born in Lebanon on September 2, 1964. His English mother, Patricia Taylor, was in Beirut working as a costume designer when she met his American father, Samuel Nowlin Reeves, Jr. The actor's name is Hawaiian, meaning "cool breeze over the mountain."  
His parents divorced when he was just three years old. After his mother met and married her second husband, Aaron Paul, the family migrated to Toronto, Canada where Keanu spent most of his younger years.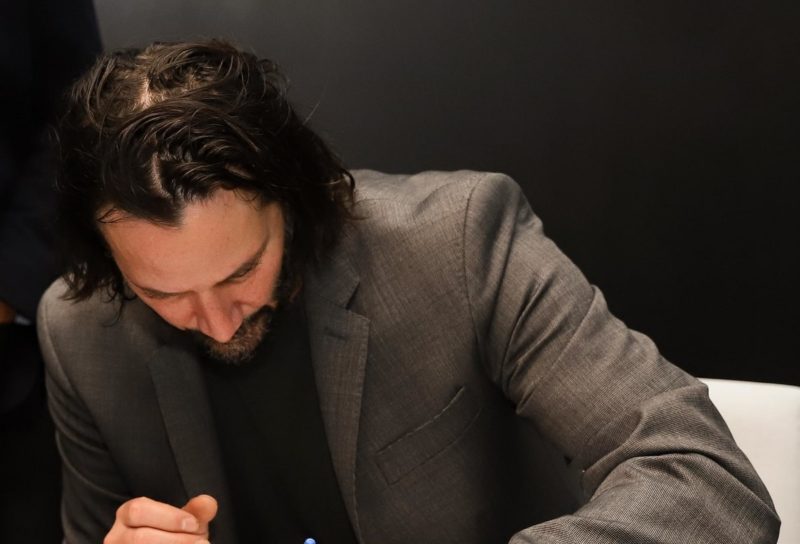 Reeves went to four different high schools and got expelled from the Etobicoke School of the Arts for being too "rambunctious." He may not have excelled in academics, but he was certainly athletic during his teens. While studying De La Salle College in Ontario, Reeves played ice hockey and was even nicknamed "The Wall" for his goalkeeping skills. He would later show his hockey skills in Youngblood (1986) where he was cast with Rob Lowe.
Reeves dreamt of playing for the Canadian national ice hockey team but his love for acting was stronger. He started his hand at acting as early as age nine when he appeared in the musical comedy play Damn Yankees. But his exposure to the film industry first came through his stepfather, in whose films he worked as a production assistant at age 15. 
Besides acting, Reeves also became a teen TV reporter and got cast in a Coca-Cola commercial.
The Budding Action Star
Reeves had his first big movie break as Theodore "Ted" Logan in Bill & Ted's Excellent Adventure (1989) and its sequel, Bill & Ted's Bogus Journey (1991) where Alex Winter was his co-star.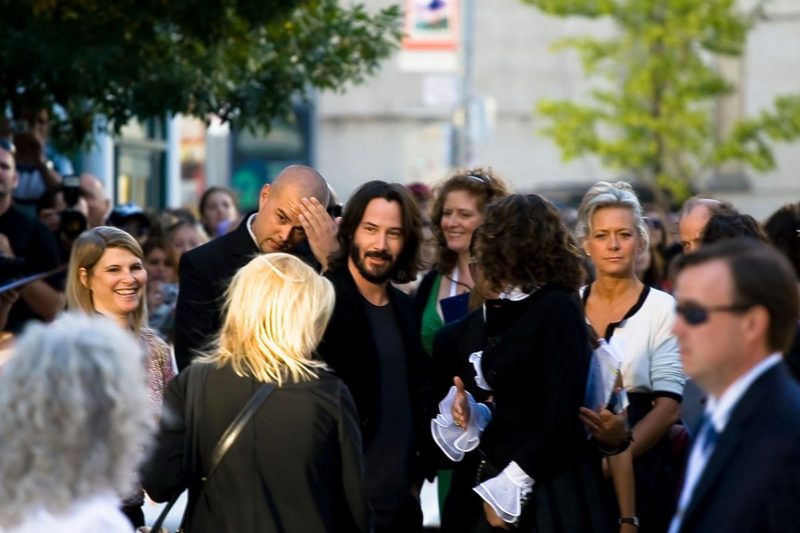 He then went on to shed his teen image through the action film Point Break. He also starred in Bram Stoker's Dracula (1992) by director Francis Ford Coppola, and drama film Little Buddha (1993).
The actor's popularity shot up when he played the main character of LAPD SWAT officer Jack Traven in Speed (1994). As Speed was successful, Keanu was called on to do a sequel but he refused. This made 20th Century Fox to blacklist him on all other films of the studio.
It also didn't help when his succeeding appearances in the romantic A Walk in the Clouds (1995), sci-fi action movie Johnny Mnemonic, (1995) and action-thriller Chain Reaction (1996) failed at the box office. His career only recovered when he starred in the horror-drama The Devil's Advocate (1997).  
Neo Rises
Reeves shot to stardom when he played the lead character, programmer-hacker Thomas Anders, a.k.a. Neo, in The Matrix trilogy. Because Neo embodied every geek's ultimate fantasy, Keanu Reeves drew a cult following that he even had a fan-created Twitter account aptly named 'Keanu Doing Things' and a subreddit called 'Keanu Being Awesome.'
Keanu's Personal Tragedies
While Keanu cemented his place in Hollywood, his personal life took a downward spiral. It started with his then girlfriend, Jennifer Syme, giving birth to a stillborn baby.
This loss had a major impact on their relationship and they soon broke up. Then in 2001, Syme died in a car accident which affected Keanu deeply.   
Sad Keanu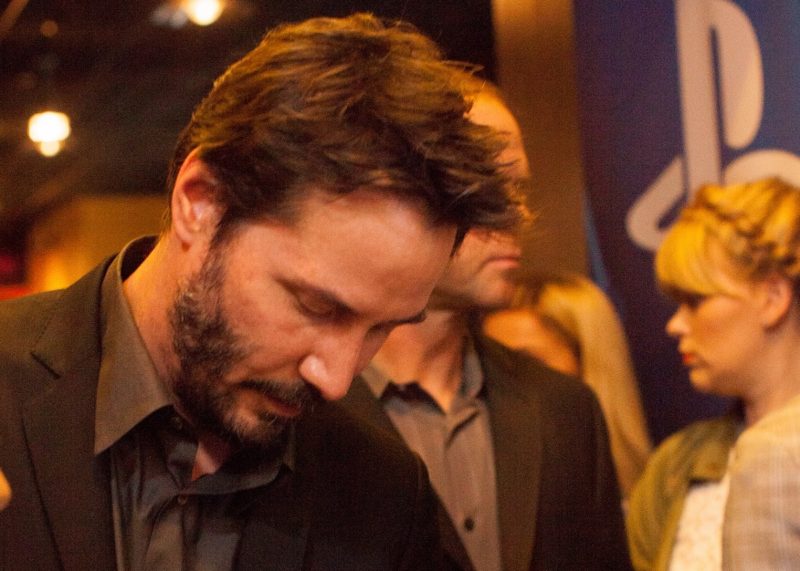 While the internet continued on fawning about Keanu and his awesomeness, in 2010, a paparazzi in New York took photos of Keanu sitting glumly on a park bench and eating a sandwich. It quickly went viral when a Reddit user created a meme about Keanu's sad snapshots. After this, countless "Sad Keanu" memes started to spread. 
Keanu, being awesome, took all of this in stride. A year later, he even released the adult picture book Ode to Happiness, a combination of humor and wisdom seemingly poking fun at the pitiable events of his life. 
Resilient Man's Wisdom
Throughout his career and life, Keanu Reeves has experienced career setbacks and personal tragedies. Despite these misfortunes, his optimistic take on life and his philosophical wit truly makes him a rarity in the Hollywood celebrity scene. 
Here are some gems of wisdom from the actor:
Keanu Reeves Quotes
"When the people you love are gone, you're alone." – Keanu Reeves
"When I don't feel free and can't do what I want I just react. I go against it." – Keanu Reeves
"It's the journey of self, I guess. You start with this kind of loner, outside guy, which a lot of people can relate to, and he goes out into the world." – Keanu Reeves
"The truth is often terrifying, which I think is one of the motifs of Larry and Andrew's cinema. The cost of knowledge is an important theme. In the second and third films, they explore the consequences of Neo's choice to know the truth. It's a beautiful, beautiful story." – Keanu Reeves
"It's always wonderful to get to know women, with the mystery and the joy and the depth. If you can make a woman laugh, you're seeing the most beautiful thing on God's Earth." – Keanu Reeves
"Fame is drag. The paparazzi culture is more pervasive than it used to be. On the positive side, it's nice not to have to worry about bills." – Keanu Reeves
"So many people have that relationship. The companionship. The connection. To our – to other beings, our pets. I hate to call them pets. But you know, to other creatures that we share our lives with." – Keanu Reeves
"Art is about trying to find the good in people and making the world a more compassionate place." – Keanu Reeves
"The simple act of paying attention can take you a long way." – Keanu Reeves
"It's fun to be hopelessly in love. It's dangerous, but it's fun." – Keanu Reeves
"You have to change your life if you're not happy, and wake up if things aren't going the way you want." – Keanu Reeves
"Sometimes when you make a film you can go away for three months and then come back and live your life. But this struck a much deeper chord. I don't have the ability yet to speak about it in an objective." – Keanu Reeves
"I loved the material when I first read it, and the experience of making the film (The Matrix) was a great one. So when we came around to complete the trilogy, I just signed on board without even reading the scripts because the experience of the first film was so good." – Keanu Reeves
"Grief changes shape, but it never ends." – Keanu Reeves
"I've been really fortunate to be able to do different kinds of films in different scales, different genres, different kinds of roles, and that is important to me." – Keanu Reeves
"I believe in love at first sight. You want that connection, and then you want some problems." – Keanu Reeves
"Violence is sometimes a very practical solution but I don't think it is the ultimate solution. Owning a gun is not OK for me. But I could argue both sides. Why shouldn't people own them? I'm not fundamentally against citizens having access to a weapon but I think it has complications. It's probably not the wisest idea. Obviously, it has consequences. Personally, I do not own a weapon." – Keanu Reeves
"Money doesn't mean anything to me. I've made a lot of money, but I want to enjoy lie and not stress myself building my bank account. I give lots away and live simply, mostly out of a suitcase in hotels. We all know that good health is much more important." – Keanu Reeves
"You need to be happy to live, I don't." – Keanu Reeves
"Sometimes simple things are the most difficult things to achieve." – Keanu Reeves
"The recognition of the law of cause and effect, also known as karma, is a fundamental key to understand how you've created your world, with actions of your body, speech, and mind. When you truly understand karma, then you realize you are responsible for everything in your life. It is incredibly empowering to know that your future is in your hands." – Keanu Reeves
"Multi-culture is the real culture of the world – the pure race doesn't exist." – Keanu Reeves
"Mortality is very different when you're 20 to when you're 50."
Keanu Reeves
"Luxury is the opportunity to experience quality, be it a place, a person or an object." – Keanu Reeves
"Positive energy brings good feelings, and dark energy often means harm. But the destruction in dark energy is also a subtle aspect of construction, like how even forest fires have their benefits. Sometimes enemies are our best teachers, people can learn from their mistakes, destruction sometimes means rebirth." – Keanu Reeves
"I guess living without love, without experiencing it or being able to give it is pretty strong punishment." – Keanu Reeves
"Nothing ever truly dies. The universe wastes nothing, everything is simply transformed." – Keanu Reeves
"Sometimes I go out and hear people talk about irrelevant things and then I tell myself this is why I don't go out." – Keanu Reeves
"Every struggle in your life has shaped you into the person you are today. Be thankful for the hard times, they can only make you stronger." – Keanu Reeves
"There's a lot of great writing, and characters, and stories being told in television nowadays. And much more than there used to be. The opportunities to tell stories, because of the opportunities to show content. And so it's drawing actors from cinema, movie actors, actors to where there's a lot of opportunities to where you can tell stories." – Keanu Reeves
"The inspiration really comes first from the character and the story. That vision of what the story is, and what the character is, the world that they inhabit and what the story wants to tell. That's really what inspires me." – Keanu Reeves
"Tattoos are interesting, but at the same time they are also a mask – you are exhibiting your past life on your body." – Keanu Reeves
"Life is good when you have a good sandwich." – Keanu Reeves
"Our dreams can teach us, instruct us, confuse us, sometimes I think they look to be considered. And in terms of like, they are an opportunity and I think they most certainly could be utilized to focus, to try and achieve – whether it's looking for someone, or influencing us, or inspiring us." – Keanu Reeves
"Money buys you the freedom to live your life the way you want." – Keanu Reeves
"If you have been brutally broken but still have the courage to be gentle to other living beings, then you're a badass with a heart of an angel." – Keanu Reeves
"Money doesn't mean anything to me. I've made a lot of money, but I want to enjoy life and not stress myself building my bank account. I give lots away and live simply, mostly out of a suitcase in hotels. We all know that good health is much more important." – Keanu Reeves
"Sometimes we get so caught up in our daily lives that we forget to take the time out to enjoy the beauty in life." – Keanu Reeves
"When I don't feel free and can't do what I want, I just react. I go against it." – Keanu Reeves
"When you truly understand karma then you realize you are responsible for everything in your life. It is incredibly empowering to know that your future is in your hands." – Keanu Reeves
"Even in the face of tragedy, a stellar person can thrive. No matter what's going on in your life, you can overcome it! Life is worth living." – Keanu Reeves
"Falling in love and having a relationship are two different things." – Keanu Reeves
"Multi-culture is the real culture of the world — a pure race doesn't exist." – Keanu Reeves
"A good date is when you are intoxicated with each other's company and everything becomes good in the world." – Keanu Reeves
"Sometimes we get so caught up in our daily lives that we forget to take the time out to enjoy the beauty in life. It's like we're zombies. Look up and take your headphones out. Say "Hi" to someone you see and maybe give a hug to someone who looks like they're hurting." – Keanu Reeves
"The whole aspect of cinema and film festivals should be a moment to come together and celebrate art and humanity. It would be a shame if there was such a divide." – Keanu Reeves
"I try not to think about my life. I have no life. I need therapy." – Keanu Reeves
"I've been pleased to work with so many wonderful stars through the years. This has been an amazing journey. I hope it continues." – Keanu Reeves
"On a good night, I get underwear, bras, and hotel-room keys thrown onstage… You start to think that you're Tom Jones." – Keanu Reeves
"I'm a meathead. I can't help it, man. You've got smart people and you've got dumb people. I just happen to be dumb." – Keanu Reeves
"And I had a great time making Reloaded and Revolutions. It's great that people are coming out to see the films and I hope they enjoy them." – Keanu Reeves
"Basically it starts with four months of training, just basic stretching, kicking and punching. Then you come to the choreography and getting ready to put the dance together." – Keanu Reeves
"Because we're actors we can pretend and fake it, but I'd rather the intimate investment was authentic." – Keanu Reeves
"Here comes 40. I'm feeling my age and I've ordered the Ferrari. I'm going to get the whole mid-life crisis package." – Keanu Reeves
"I just felt that if I went into Speed 2, I just…wouldn't have come up out of the water." – Keanu Reeves
"I loved the material when I first read it, and the experience of making the film was a great one. So when we came around to complete the trilogy, I just signed on board without even reading the scripts because the experience of the first film was so good." – Keanu Reeves
"I mean, if you didn't get it or if you didn't feel like you enjoyed it, sometimes that experience can change." – Keanu Reeves
"I'm Mickey Mouse. They don't know who's inside the suit." – Keanu Reeves
"I'm sorry my existence is not very noble or sublime." – Keanu Reeves
"I've been really fortunate to be able to do different kinds of films in different scales, different genres, different kinds of roles, and that is important to me." – Keanu Reeves
"Kissing someone is pretty intimate, actually very intimate, and your heart always kind of skips a beat before you do that." – Keanu Reeves
"You want to play another kind of character in another genre, and it's been something I've been trying to do if I can in the career so far, and it's something I hope to continue because it's interesting to me and you get to do different things as an actor." – Keanu Reeves
"I got smelled…we had a lovely conversation, and I was in." – Keanu Reeves
"I had the classic 40 meltdown. I did. It's embarrassing. It was pretty funny. But then I recovered. To me, it was like a second adolescence. Hormonally, my body was changing, my mind was changing, and so my relationship to myself and the world around me came to this assault of finiteness." – Keanu Reeves
"I am not handsome or sexy. Of course, it's not like I am hopeless." – Keanu Reeves
"It's always wonderful to get to know women, with the mystery and the joy and the depth. If you can make a woman laugh, you're seeing the most beautiful thing on God's Earth." – Keanu Reeves
"I don't know the law, the kind of law of quantity and quality, but I think the opportunity of people being able to express themselves and to have the means of production is a great thing. It's also changing how we're telling stories." – Keanu Reeves
"I think the form, the Hollywood movie, I think the quality is obviously always going to be there and I think that the question of taste, there's always a question of taste." – Keanu Reeves
"How do I confront aging? With a wonder and a terror. Yeah, I'll say that. Wonder and terror." – Keanu Reeves
"Oftentimes, when we think of 3D, we think of things coming out of the screen, but actually, you've got this zero, this negative space, what they call the negative space, which is the scene, what's being filmed in the positive space of the audience. As you can have things come out, you can have all of this depth." – Keanu Reeves
"I used to have nightmares that they would put 'He played Ted' on my tombstone." – Keanu Reeves
"How do people relate to movies now, when they're on portable devices or streaming them? It's not as much about going to the movies. That experience has changed." – Keanu Reeves
"I do think there must be some kind of interaction between your living life and the life that goes on from here." – Keanu Reeves
"But I did 'Bill & Ted's Excellent Adventure.' They made a cereal out of it, so once you've had a cereal, it doesn't get much more surreal than that. Surreal cereal." – Keanu Reeves
"It's easy to become very self-critical when you're an actor. Then you get critiqued by the critics. Whether you agree with them or not, people are passing judgment on you." – Keanu Reeves
"Artists are losing the choice to use film. People have a love for it – the grain, how it feels, the texture." – Keanu Reeves
"I have definitely been curious and involved in the process; even as a young actor. I was always looking at where the camera was, what story it was telling. And as my experience grew, I wanted to know even more."- Keanu Reeves
"But, you know, it's still a drag to get your picture taken when you're eating a sandwich. It's a downer." – Keanu Reeves
"Eventually, it came to this place like, 'I'd like to direct, but I need to find the story to tell.' 'Man of Tai Chi' became the story to tell." – Keanu Reeves
"When we talk about how movies used to be made, it was over 100 years of film, literal, physical film, with emulsion, that we would expose to light and we would get pictures." – Keanu Reeves