Last Updated on October 9, 2018
Kids today play in more dangerous playgrounds. Instead of metal swings or slides, they're now hanging around SnapChat and Twitter. In lieu of the jungle gym, they're having more fun watching videos on YouTube. And that's just the beginning.
Children have various online activities to keep them busy – from mobile games to social media dares, as well as meeting all kinds of people on niche forums. With so much going on, it can be overwhelming for parents to know everything that's happening most of the time.
Keeping children safe today presents its own set of challenges. How do you know what they're watching online? Are they really doing their homework, or are they chatting on Facebook? Are they in school, or are they cutting class? Is their sleepover in a safe neighbourhood?
It's normal for parents to worry. But in this day and age of advancing technology, it's not exactly a great idea to ban gadgets entirely. To your little ones, it would feel like forbidding them access to electricity or indoor plumbing.
So what do you do to ensure appropriate activity online, while still giving kids the freedom over their devices? Mobile phone monitoring app Spyzie has the answer.
What is Spyzie?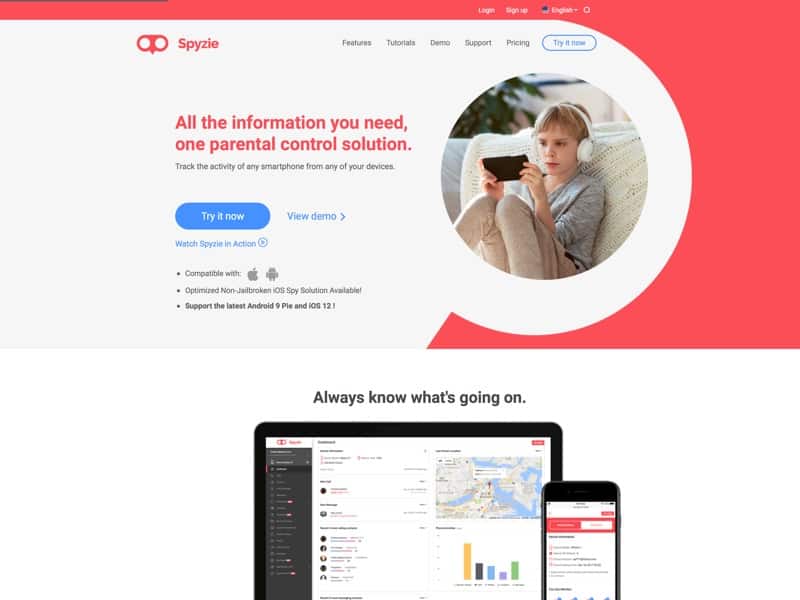 Spyzie is one of the most trustworthy mobile phone tracking solutions on the market today. Not only do they have a comprehensive set of features (access to location, contacts, messages, screenshots, and more!), the app works on 'stealth mode', so your target device won't even know it's there. Plus, it works on Android and iOS phones – with no need to jailbreak or root the device.
Unlike other monitoring apps, Spyzie is an all-in-one parental control software that can help you know what's going on in the digital lives of your little ones. Once installed and synced properly, you won't need anything else. You'll rest easy knowing your kids aren't talking to shady personalities, or that you're always informed if they're on their way home or not.
While some wireless providers offer similar services (e.g. family monitoring), they don't give the same level of monitoring solutions. Instead of spending an extra $10 or $20 on top of your phone bill, simply install Spyzie to get it all in one go. Not only will you see results in real-time, you also get access to deleted content, like messages and videos. How cool is that?
How to Use Spyzie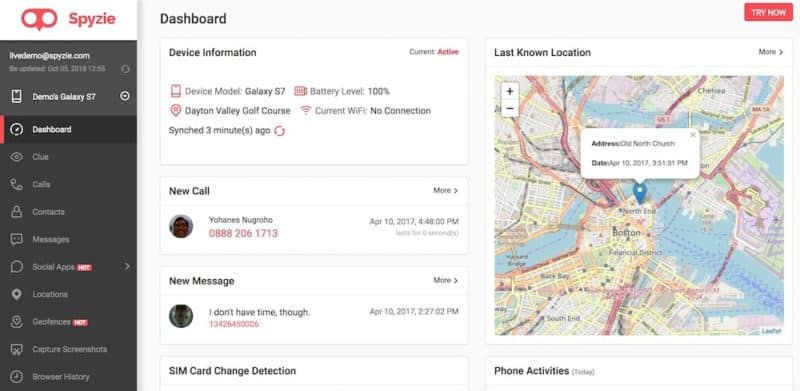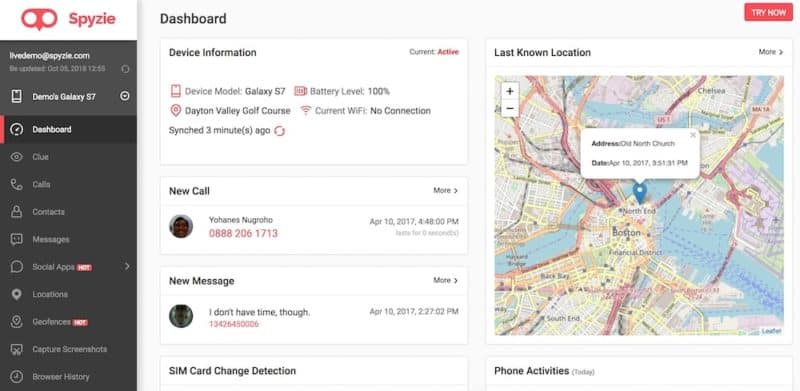 Using Spyzie is as easy as one-two-three. After signing up and choosing your payment plan, you just need to complete four simple steps and you're good to go.
As mentioned earlier, there's no need to jailbreak or root the phone. As long as you have the iCloud credentials of the target device (for iPhone users), you should be able to install the app with no problems.
If you're still not sure about compatibility, check their Compatibility page for more information. Android users have little to worry about too, as Spyzie works well with brands from Samsung, HTC, to LG and even Sony.
Once you've logged into your account, enter your kid's name (or the name of the owner of your target device), their age, and their mobile device type (Android or iOS). Click 'Next' and you'll be asked to download the Spyzie app on the target device. Please note that this can't be done remotely! Type spyzie.net/app.html on a browser to download the service and install it.
Following installation, you should see the Spyzie app icon on the target phone. But don't panic! After you finish the entire set-up process, the icon will disappear.
Open the app to read the Agreement and click 'Agree'. Then, log in using the same details you used from the Spyzie website. Once inside the app, go to the Accessibility tab to activate the 'System Update Service'.
After turning it on, you should get a pop-up about auto authorization on monitoring features. Simply click 'OK' and it will bring you to the final page. Make sure to hit 'Start Monitoring'. Once done, you should see a notification telling you that it's okay to delete the Spyzie app icon.
Go back to the Spyzie website and you'll see a bunch of screenshots when the app was being activated on the target device. This means it's working as intended! All you need to do now is finish the setup.
The third step would be to activate the monitoring program from your account. So just hit 'Complete' on this page. The final step is finishing the installation, so click on 'Start Monitoring'. You'll be taken immediately to the Dashboard where you'll see all kinds of options, depending on your chosen payment plan.
Instantly, you'll get a glimpse of the device information, like the model, battery level, and if GPS has been enabled. Don't be afraid to explore this app's many useful features! Check recent calls, see screenshots, or confirm locations. With Spyzie, you can have your own eye in the sky to help keep your kids safe from online threats.
Who is Spyzie for?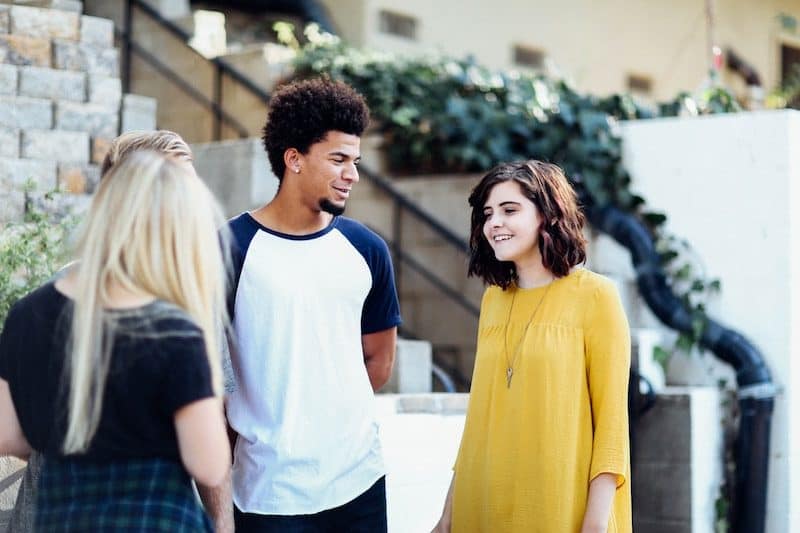 While Spyzie has been designed to specifically help parents monitor children, its application is only as limited to your needs.
Business owners for instance, can use it to track employee activity. This is especially useful for start-ups that use marketing strategies that rely on messaging platforms. Simply get into an agreement with your team, install the app, and you can track productivity right on your Spyzie dashboard.
For just $29.99 a month (Premium edition), you can check apps, videos, browser histories, contacts, calendar activities, and call logs. It's perfect for anyone with an open mind on how to check daily output: from busy marketers, event organizers, to inventory managers.
For parents with teens or those away on college, Spyzie can help you relax with its GPS, Geofencing, and WiFi Logger features. Know where your loved ones are at all times, especially when they visit unknown locations. During bad weather, you can rest easy as Geofencing will give you alerts, letting you know if your teen is on her way home.
Make sure you get the Ultimate edition if you want access to these trusted features. For just $39.99, you can also monitor SIM card exchanges, documents, emails, and voice memos.
Keep your kids safe today!
Today's playgrounds play host to more silent issues, such as cyber bullying, phishing scams, malware, cyber predators, and more. These aren't your typical school problems that can be easily seen with the naked eye. In most cases, there are no scars, wounds, or telltale signs. Often, parents find out too late that something has gone terribly wrong.
Don't wait until things are irreparable to take action. Whether you're a busy parent who needs to juggle between career and family life, or a proud homemaker who just wants peace of mind, Spyzie can help. Install it once and get a buddy to aid you in keeping your kids safe. It's like having a pair of extra watchful eyes.
Let Spyzie be your assistant in staying connected and aware of what goes on in your children's online playground. Know what they're doing, where they are, help set healthy boundaries, and more. At the end of the day, it's up to YOU to teach them the ins and outs of this exciting new world.