Who Is Kenny Chesney?
Kenneth Arnold Chesney, better known as Kenny Chesney, is an American country music singer, songwriter, instrumentalist, and record producer.

Chesney is considered one of the most accomplished country music singers in the world, with over 20 albums to his name. More than 40 of his singles have debuted at top ten on several country music charts around the world, including on the US Billboard Hot Country Songs and the Country Airplay Charts. 32 of those songs have actually reached number one on various charts.

Kenny Chesney is also considered one of the most successful crossover country musicians. That's because many of his top-charting songs have also appeared within the top 40 on the Billboard Hot 100.

In addition to his decorated music career, Chesney has also dabbled in the film industry. He's most noted for producing and co-directing a film for the ESPN network known as The Boys of Fall.
Quick Facts
| | |
| --- | --- |
| Full Name: | Kenneth Arnold Chesney |
| Popular Name: | Kenny Chesney |
| Gender: | Male |
| Birth Date: | March 26, 1968 |
| Age: | 54 years |
| Parents: | David Chesney and Karen Chandler |
| Siblings: | Jennifer Chandler |
| Birth Place: | Knoxville, Tennessee |
| Nationality: | American |
| Ethnicity: | Mixed (English and Irish) |
| Education: | Gibbs High School and East Tennessee State University |
| Marital Status: | Divorced; was married to actress Renée Zellweger (from May to September 2005) |
| Sexual Orientation: | Straight |
| Wife/Spouse: | N/A |
| Children: | None |
| Dating: | N/A |
| Net Worth: | USD 190 million |
| Source of Wealth: | Album & Record Sales, Songwriting, Record Producing, and Other Ventures |
| Height: | 5′ 7″ (1.7 m) |
| Weight: | 70 kg; In pounds: 154 lbs. |
Early Life and Career Information
Kenny Chesney was born on March 26, 1968, in Knoxville, Tennessee, to David Chesney and Karen Chandler. His father was an elementary school teacher, whereas his mother was a hairstylist. Chesney attended Gibbs High School and later East Tennessee State University, from where he graduated with a degree in advertising in 1990.

Kenny Chesney recorded a self-released demo album in 1989, while still attending college. The album sold 1,000 copies from performances at local clubs. Chesney used the proceeds from his demo album to acquire a new guitar.

After graduating from college, Chesney moved to Nashville and performed at numerous local clubs, including The Turf and The Bluebird Café. In 1992, the head of writer relations at Broadcast Music Incorporated (BMI) recommended Kenny Chesney to Opryland Music Group. Chesney auditioned for the company and won a songwriter's contract. The following year, Chesney appeared at a songwriter's showcase in a move that earned him a contract with Capricorn Records.

In 1994, Chesney released his debut album with Capricorn Records, titled In My Wildest Dreams. The album sold about 10,000 copies within a few months. Later in the year, Capricorn Records closed their Nashville country music division and moved to Atlanta. Chesney subsequently signed to BNA Records and released his second album in 1995, titled All I Need to Know. He then followed up with two more studio albums over the next two years, namely Me and You (1996) and I Will Stand (1997).

In 1999, Kenney Chesney released his fifth album, Everywhere We Go. Chesney went on to release 14 more studio albums, namely:

• No Shoes, No Shirt, No Problems (2002)
• All I Want for Christmas Is a Real Good Tan (2003)
• When the Sun Goes Down (2004)
• Be as You Are (Songs from an Old Blue Chair) (2005)
• The Road and the Radio (2002)
• Just Who I Am: Poets & Pirates (2007)
• Lucky Old Sun (2008)
• Hemingway's Whiskey (2010)
• Welcome to the Fishbowl (2012)
• Life on a Rock (2013)
• The Big Revival (2014)
• Cosmic Hallelujah (2016)
• Songs for the Saints (2018)
• Here and Now (2020)

Kenny Chesney has also released three compilation albums over the years. They include Greatest Hits (2000), Super Hits (2008), and Greatest Hits II (2009). Chesney also has two albums to his name, including Live: Live Those Songs Again released in 2006 Live in No Shoes Nation and released in 2017.

Awards and Accolades

Kenny Chesney has received tons of awards during his career, including 6 Academy of Country Music Awards, and 9 Country Music Association Awards.
Kenny Chesney's Net Worth
As of 2023, Kenny Chesney had a net worth of $190 million. He has earned his millions from various music endeavors, including singing, songwriting, playing the guitar, and record producing.

Chesney's music-related earnings also comes from touring. The country legend went on his first music tour, titled Greatest Hits Tour, in 2001. He then followed up with the No Shoes, No Shirt, No Problems Tour (2002), Margaritas N' Senoritas Tour (2003), Guitars, Tiki Bars and a Whole Lotta Love Tour (2004), and Somewhere in the Sun Tour (2005). Chesney has since gone on 12 more headlining tours, including:

• The Road and The Radio Tour (2006)
• Flip-Flop Summer Tour (2007)
• The Poets and Pirates Tour (2008)
• Sun City Carnival Tour (2009)
• 2010 With a Two Tour (2010)
• Goin' Coastal Tour (2011)
• No Shoes Nation Tour (2013)
• The Big Revival Tour (2015)
• Spread the Love Tour (2016)
• Trip Around the Sun Tour (2018)
• Songs for the Saints Tour (2019)
• Chillaxification Tour (2020)

In addition to his headlining tours, Kenny Chesney also embarked on one co-headlining tour in 2012, namely Brothers of the Sun Tour (with Tim McGraw).
Lessons from Kenny Chesney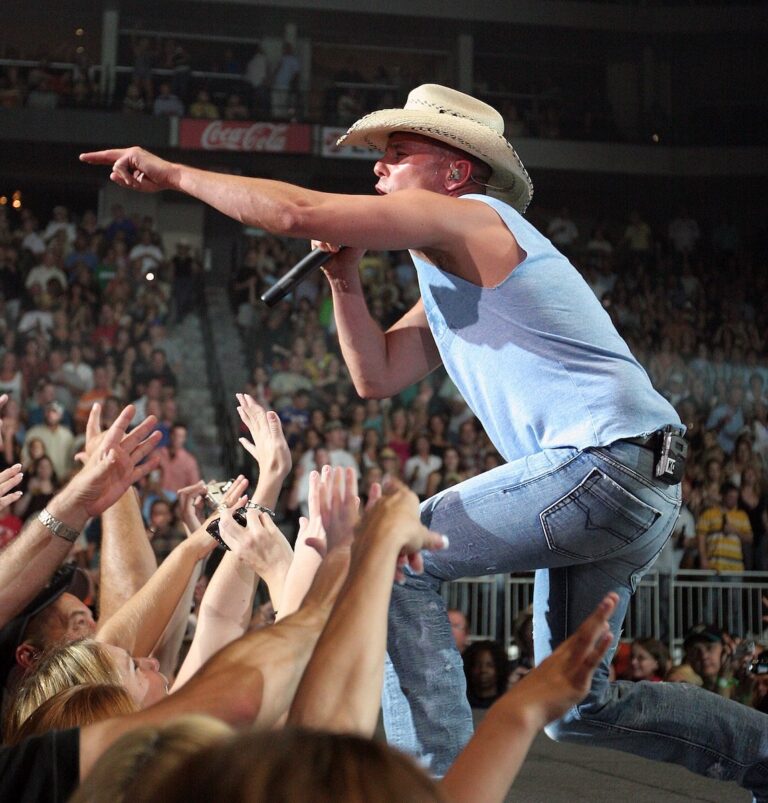 1. When an opportunity presents itself, give a good account of yourself

Kenny Chesney's early break came after BMI head of writer relations Clay Bradley recommended him to Opryland Music Group. Chesney used the opportunity to showcase his musical talents and subsequently earned a songwriter's contract.

2. Align yourself to what your audience loves

After releasing his first four albums, Chesney realized that his fans were gradually losing interest in neotraditional country sound and gravitating towards Country pop, Trop rock, and Gulf and Western sound. He decided to align his next album, Everywhere We Go, to his audience's interests. The move paid off, as 'Everywhere We Go' became Chesney's first album to be certified platinum.

3. You can achieve more when you work with like-minded partners

Kenny Chesney appreciates the importance of forging meaningful partnerships. Chesney has collaborated with numerous artists over the years, including Jimmy Buffett, Tim McGraw, Wendell Mobley, to mention but a few.
Famous Quotes by Kenny Chesney
"I had a notepad and I wrote down 30 things to make myself better just off the top of my head, and the next day I started to do that."
"I have 120 employees on the road every day, and about 30 other employees off the road."
"I'll admit, I'm a workaholic."
"People who can't kiss had everything given to them."
"Social topics may hit too close to home for people, but then again, if you pull a heartstring, then that's what country music is. It's not just songs about getting drunk and leaving your girl."
Wrap Up
Kenny Chesney is an American country musician, songwriter, and record producer who has a net worth of $190 million. Chesney's career spans more than three decades and he's regarded as one of the most talented country musicians of his generation.