Last Updated on March 8, 2022
One of a handful of successful recording artists who also managed to cross over to film and television, Kid Cudi has been a staple of the hip-hop scene since his debut album Man on the Moon: The End of Day was released in 2009. Cudi's rise to fame from his humble beginnings in Cleveland, Ohio is impressive, and his life story engrossing.
Early years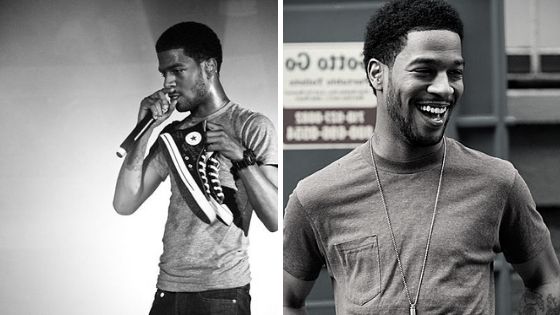 Kid Cudi was born Scott Ramon Seguro Mescudi in Ohio in 1984. If the name sounds Hispanic, it's because Kid's father was half-Mexican and half-Native American. His mother was an elementary school music teacher who raised her four children on her own after their father died when Kid was 11.
The death of Cudi's father from cancer was particularly traumatic for the young boy, who was the youngest of the family. In an interview, his mother said that all four children "went through [their dad's] sickness with him." The loss was painful to young Kid, but it pushed him to creativity. Elsie supported her youngest in his arts, whether it was singing, rapping, or drawing.
Kid found it hard to thrive in a traditional school, and when he was in high school he was expelled for threatening to punch his principal. He would later earn his GED, and went to the University of Toledo to study film. However, he felt that even college did not suit him and dropped out a year later. He attempted to join the US Navy to be like his father, who was a World War II veteran, but he was ineligible due to his juvenile record.
Pursuing a music career in NYC
Cudi moved to New York in 2004, hoping to make it big in the music industry. He lived with his uncle and got a job at a clothing store. While working there, he met Kanye West. The story goes that he forgot to remove the anti-theft device from a jacket that Kanye bought, so Cudi had to chase him down after he left the store.
Kanye would later become Cudi's mentor in 2008, after Cudi released his first mixtape, A Kid Named Cudi. It was a free download, and contained Cudi's first commercial hit "Day 'n' Nite." Kanye heard the album and signed Cudi to GOOD Music that year.
Cudi had a major role in Kanye's album 808s & Heartbreak, writing and providing vocals for a few songs. Under Kanye's mentorship and label, Cudi released his first album Man on the Moon: The End of Day. The album sold more than 100,000 copies in the first week, largely due to the huge success of its lead single "Day 'n' Nite." It debuted at number four on the Billboard charts, and today the song has sold more than 2 million digital singles.
Later albums and acting career
A year later, he dropped his sophomore album, Man on the Moon Vol. 2: The Legend of Mr. Rager. It sold 169,000 copies in the first week, debuting at number three.
Cudi collaborated with record producer and mixing engineer Dot Da Genius to form the alternative rock duo WZRD in 2010. They released their self-titled debut album in 2012, with Cudi describing it as a purely rock album without rap.
He had a much harder time writing for WZRD than he did his previous albums. He attributed his writer's block to his sobriety; before this, Cudi admitted to being stoned "99% of the time." He stopped smoking marijuana in 2011 after his daughter was born.
His third solo album, Indicud, was released in 2013. Later that year, Cudi left GOOD Music to focus on his own label, Wicked Awesome Records. He released three more albums afterwards: Satellite Flight: The Journey to Mother Moon, Speedin' Bullet 2 Heaven, and Passion, Pain & Demon Slayin'.
In 2010, Cudi also ventured into acting. His first TV appearance was on the drama One Tree Hill as himself, where he sang one of his songs. He starred in the HBO comedy series How to Make it in America from 2010-2011, and guest-starred on Brooklyn Nine-Nine in 2013. His feature film debut was as Benny/Maverick in 2014's Need for Speed, which was followed by roles in Two Night Stand, Entourage, and a host of other films.
Legacy and advocacies
Cudi is a mental health advocate, having once gotten addicted to anti-depressants prescribed to him. He became a Mental Health Ambassador for the Didi Hirsch Mental Health Services, and was honored for his advocacy work at the Erasing the Stigma Leadership Awards in 2014.
Kid Cudi's success story is truly inspiring, and a perfect example of how hard work, grit, talent, and a bit of good fortune can make your dreams come true.
Cudi went through the conventional route toward Hollywood success—moving away from home with big dreams and little money, doing odd jobs at restaurants and clothing shops, living a hand-to-mouth existence, working on demo tapes—and emerged successful. No doubt we will see and hear more of this artist and his many talents on the radio, TV, movies, and the Internet.
Here are some inspirational quotes from Kid Cudi:
Kid Cudi Quotes
"I'm trying to change the world." – Kid Cudi
"I've always been ahead of the curve when it came to trying new stuff in the underground scene." – Kid Cudi
"Yeah, but if you're not doing what everyone else is doing then you're going to be misunderstood. People are going to wonder why you're trying to be different; it's just a natural instinct." – Kid Cudi
"I'm well known because I do music at a professional level, and a certain magnitude." – Kid Cudi
"The goal is timeless. Chase the moment and you lose."  – Kid Cudi
"When life seems hopeless, rearrange things for a dose of dopeness." – Kid Cudi
"You sometimes think you want to disappear, but all you really want is to be found." – Kid Cudi
"Control your own life. Don't give a shit about what other people talk about fam. Haters will shake my hand but I keep the sanitizer on deck." – Kid Cudi
"If I fall if I die know I lived it to the fullest, if I fall if I die know I lived and missed some bullets." – Kid Cudi
"Not many people are true, fake as the lies they tell" – Kid Cudi
"Don't let the sadness from the past and fear of the future ruin the happiness of the present." – Kid Cudi
"People say that bad memories cause the most pain, but it's actually the good ones that drive you insane." – Kid Cudi
"Have you ever noticed the saddest person has the most beautiful smile." – Kid Cudi
"At the end of the day, you can't regret it if you were trying. At the end of the day I'm walking with a heart of a lion." – Kid Cudi
"I have to be ahead of myself so I don't just fit into the realm of everybody who sounds like me." – Kid Cudi
"I'm a wizard and I know it." – Kid Cudi
"My mind runs I can never catch it even if I got a head start." – Kid Cudi
"I'm trapped in my mind and I know it's crazy/Hey, it's not that bad at all" – Kid Cudi
"Sometimes you have to forgive and forget. Forgive them for hurting you and forget they exist." – Kid Cudi
"I hope they understand that I really understand that they don't understand." – Kid Cudi
"I just wanna learn and I wanna grow. I wanna consume as much information as possible. I wanna be great." – Kid Cudi
"I know it's easy to imagine, but it's easier to just do, see, if you can't do what you imagine, then what is imagination to you?" –Kid Cudi
"In music, you collaborate with people. It's supposed to be a mutually beneficial thing." – Kid Cudi
"Striving for greatness and wanting to be the best at what you do are essential components to mastering your craft." – Kid Cudi
"My life is like a speeding bullet that just hasn't hit the target yet." – Kid Cudi
"Wake up, life does get tough. No need to stress, holds you back too much." – Kid Cudi
"Always say how you feel because you never know if you'll get the chance again." – Kid Cudi
"Living life is a choice. Making a difference in someone else's isn't." – Kid Cudi
"I'm an emotional creature. I make music to express that." – Kid Cudi
"I just wanna go on more adventures. Be around good energy. Connect with people. Learn new things. Grow." – Kid Cudi
"I'm on the pursuit of happiness and I know, everything that shines ain't always gonna be gold. But I'll be fine once I get it, I'll be good." – Kid Cudi
"Might take a while but eventually you'll find the 'good' in 'goodbye." – Kid Cudi
"You can't judge my choices without understanding my reasons." – Kid Cudi
"If you wanna help, inspire, uplift, don't point the blame and talk down." – Kid Cudi
"My life, my choices, my mistakes, my lessons, not your business." – Kid Cudi
"It's natural for people to point fingers. That's my whole reason for trying to switch things up; don't judge a book by its cover." – Kid Cudi
"Some people just don't want to see change, but thankfully there are a lot of people more optimistic for something new in music, even with the bigger picture like with Obama getting elected." – Kid Cudi
"If another girl steals your man, there's no better revenge than letting her keep him. Real men can't be stolen." – Kid Cudi
"It's true that pain makes people change." – Kid Cudi
"Once I accomplish one thing and I'm satisfied, I try something else. I may be 50 and doing something totally outside of music and acting. Maybe I'll become a kindergarten teacher." – Kid Cudi
"There was a moment in time where I was really focused on the Navy and I followed through with it – I passed the test. I was happy with myself because I was accomplishing something and I was really working towards a goal. That was the first true thing I invested my energy in."- Kid Cudi
"Learn from this, there's a light at the end of the tunnel. Hell does have an exit, and I found it. For those who are still looking for a way out, I left the door open and I'll be waiting for whoever wants to grow with me." – Kid Cudi
"They say we don't know what we've got until it's gone, but what about, we don't know what we've been missing until it arrives." – Kid Cudi
"Running from your problems is a race you'll never win." – Kid Cudi
"Don't hold strong opinions about things you don't truly understand." – Kid Cudi
"Never regret something, because at one point everything you did was exactly what you wanted to do. And sometimes that's the hardest thing to realize." – Kid Cudi
"When you try to convince yourself that something doesn't bother you, it usually bothers you more." – Kid Cudi
"In the end, they'll judge me anyway, so whatever." – Kid Cudi
"I'm confident in my art." – Kid Cudi
"The three things a guy should want to change about his girl is her last name, address and her viewpoint on men." – Kid Cudi