Who Is KSI?
Olajide Olayinka Williams "JJ" Olatunji, popularly known as KSI, is an English YouTuber, internet personality, boxer, musician, actor, and author, who is part of a British YouTube gang known as 'The Sidemen'.

KSI launched his YouTube career in 2009 and went on to build a massive following on the platform, mostly posting gaming commentary videos about the FIFA video game series. Over the next couple of years, KSI diversified his YouTube channel to include comedy-style videos, entertainment videos, music videos, and vlogs. As of the time of writing, KSI has two major YouTube channels, namely KSI (https://www.youtube.com/channel/UCVtFOytbRpEvzLjvqGG5gxQ) and JJ Olatunji (https://www.youtube.com/channel/UCGmnsW623G1r-Chmo5RB4Yw). The two channels have jointly garnered over 34 million subscribers and 7.9 billion views.

KSI made his acting debut in 2016 by featuring in the British comedy film Laid in America. In 2018, the sensational vlogger released a documentary film as part of the build-up to his first amateur boxing match against fellow British YouTuber Joe Weller.

In music, KSI is best known for his debut album Dissimulation, which was released in 2020. The album debuted at #2 on the UK Albums Chart. He has since had ten and five of his singles feature on the top 40 and top 10 on the UK Singles Chart, respectively.
Quick Facts
| | |
| --- | --- |
| Full Name: | Olajide Olayinka Williams "JJ" Olatunji |
| Popular Name: | KSI |
| Gender: | Male |
| Birth Date: | June 19, 1993 |
| Age: | 30 years |
| Parents: | Olajide Ademola Olatunji, Sr. and Olayinka Atinuke Olatunji |
| Siblings: | Deji Olatunji |
| Birth Place: | Watford, Hertfordshire, England |
| Nationality: | English |
| Ethnicity: | Mixed |
| Education: | Berkhamsted Boys School |
| Marital Status: | Single |
| Sexual Orientation: | Straight |
| Wife/Spouse: | N/A |
| Children: | None |
| Dating: | N/A |
| Net Worth: | USD 20 million  |
| Source of Wealth: | Vlogging, Social Media, Boxing, Singing, Acting, Writing, Merchandise Sales, and Other Ventures |
| Height: | 6′ 0″ (1.83 m) |
| Weight: | 85 kg; In pounds: 187 lbs. |
Early Life and Career Information
Olajide Olayinka Williams Olatunji was born on June 19, 1993, in Watford, Hertfordshire, England, to Olajide Ademola Olatunji, Sr. and Olayinka Atinuke Olatunji. His father hails from Ibadan, Nigeria, whereas his mother is from Islington, London.

Olajide attended Berkhamsted School in Berkhamsted, where he met fellow vlogger and Sidemen member Simon Minter.

KSI registered his first YouTube account in 2008, under the name 'JideJunior.' However, his popularity on the platform is mostly attributed to his current YouTube channel, which he registered on July 24, 2009 under the name KSIOlajideBT.

To grow his presence on YouTube, KSI began by uploading gaming commentary videos about the FIFA video game series to his KSIOlajideBT channel. He later diversified to other genres, including entertainment videos, music videos, vlogs, etc.

KSI's following on YouTube rose astronomically, forcing him to drop out of sixth form college so that he could focus on his vlogging career. He is currently considered one of the most influential YouTubers on the planet.

On October 19, 2013, KSI became a member of the British YouTube gang, Sidemen. The group produces a range of YouTube videos, including video game commentaries, sketches, and challenges, in addition to selling their exclusive merchandise.

KSI's YouTube career has been marked by high-level controversies. The vlogger is famously known for his rivalry with fellow YouTubers Joe Weller and Logan Paul.

In early 2018, KSI and Weller announced their intentions of hosting an amateur boxing match on February 3, 2018, ostensibly to settle their feud. KSI won the fight a minute and a half into the third round by technical knockout, earning himself the YouTube Boxing Championship Belt.

About four weeks following his match with Joe Weller, it was announced that KSI would fight Logan Paul in what would later be described 'the most publicized white-collar amateur boxing fight in history.' The fight sold out 21,000 tickets for Manchester Arena, generating an estimated $3.5 million revenue. It was watched by more than 2.25 million viewers live, 1.05 million of which watched via pay-per-view whereas the remaining 1.2 million streamed the match illegally on sites like Twitch.
The match eventually ended in a majority draw. A rematch was held on November 9, 2019, and KSI emerged the winner through a split decision after six 3-minute rounds.

In addition to vlogging and boxing, KSI has also pursued a successful music career. He released his debut single titled 'Lamborghini' (featuring P Money) on March 23, 2015. The song debuted at #30 on the UK Singles Chart. KSI released more tracks over the next couple of years, including 'Goes Off' (featuring Mista Silva) on April 29, 2016, 'Friends with Benefits' (featuring MNDM) on July 29, 2016, and 'Uncontrollabe' (featuring Big Zuu) on February 2, 2018.

KSI has since released four extended play (EP) albums as well as one collaborative album and one studio album. His studio album, titled Dissimulation, was released on May 22, 2020, whereas his collaborative album was released in 2019 in collaboration with Randolph.

As a writer, KSI has authored two books, including:

• KSI: I Am a Bellend (published on September 24, 2015) and
• I Am a Tool: How to Be a YouTube Kingpin and Dominate the Internet (published on September 29, 2015)
KSI's Net Worth
As of 2023, KSI had a net worth of $20 million. According to conservative estimates, the YouTuber earns north of $15 million annually from his various endeavors.

Interestingly, only about $3 million of that comes from monetized YouTube videos. The rest comes from advertising, sponsorship, and merchandise sales. For instance, the vlogger reportedly earned a cool $11 million from his boxing match with Logan Paul.

The following is a rundown of KSI's annual earnings over the years:

• 2014 – He earned $1.12 million
• 2015 – He earned $4.45 million
• 2016 – He earned $4.45 million
• 2017 – He earned $4.45 million
• 2018 – He earned $4.91 million
• 2019 – He earned $6.2 million
• 2020 – He earned $15 million

Music is also another major income earner for KSI. There may be no official figures on how much he has made from his albums and singles. However, it's safe to assume that KSI makes millions from his musical endeavors, considering that many of his songs have performed exceptionally well on the charts. Not to mention, KSI has embarked on two successful tours – Jump Around Tour (2016) The New Age Tour (2019).

Other ways KSI earns his millions include acting and writing.
Lessons from KSI
1. Partner with others

KSI has consistently entered into collaborations throughout his vlogging and music career. On YouTube, he's best known for being a long-time member of The Sidemen.

2. Use your privilege to uplift the less fortunate

Although he's less known for his philanthropic deeds, KSI is actually one of the most generous vloggers. He has donated more than $600,000 towards various charitable causes since 2015.

3. It's okay to apologize for your mistakes

In 2012 and 2013, KSI was widely criticized for his continued use of the 'rape-face' joke. He was also alleged to have sexually harassed a female staff at a Eurogamer event held in 2012. KSI would later issue a public apology for both incidences.
Famous Quotes by KSI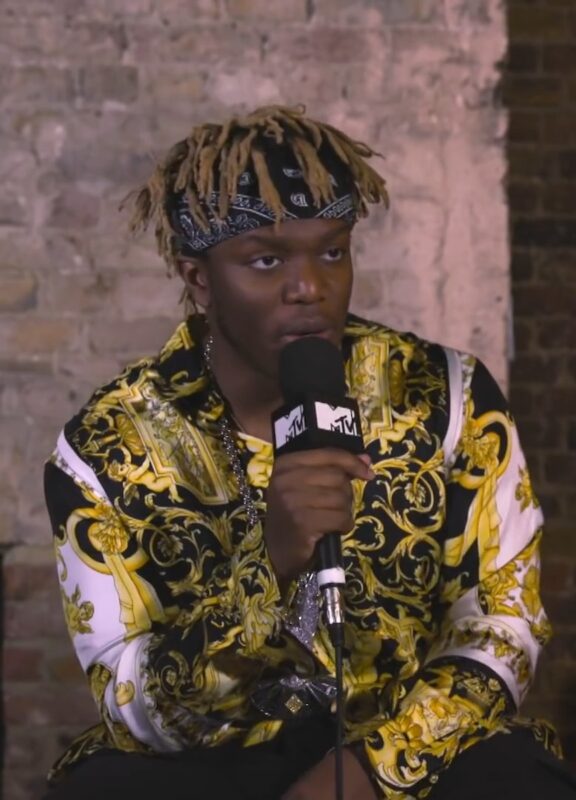 "A lot of people think being at the top means you have to be the best at a certain game. You don't. It's more about personality."
"A lot of people think YouTube is quite easy, when it just isn't. I've been doing YouTube for six years now, and I'd say the hardest years were definitely the first three or four. You have to constantly put out content that is good just to make people come back to your channel, and I work every single day just to try and expand my brand."
"I am trying to make sure that I don't spend on ridiculous things, so that after all this YouTube thing goes, I'm not left there, like, 'Uh oh, I have nothing."
"I'm now a brand. Like, KSI is a brand. It's crazy that it all came from me sitting in my bedroom just making a few FIFA videos."
"School taught me how to do a 9-5 job rather than be a person who wants to start a business."
Conclusion
KSI may have risen to fame through vlogging. However, the Sidemen member has also launched a successful music career. Plus, he is a promising actor and author. Thanks to his various endeavors, KSI currently boasts a $20 million net worth.