Last Updated on March 3, 2023
Laura Anne Ingraham is an American conservative television host and political commentator. Ingraham is best known for being the current presenter of 'The Ingraham Angle' on Fox News Channel. She has hosted the show since October 2017.
Besides television hosting, Laura Ingraham has also worked as a radio presenter. She's most noted for being the former host of the nationally syndicated radio program 'The Laura Ingraham Show.'
Ingraham is also a bestselling author. She has contributed to a number of hardcover publications in addition to being the current editor-in-chief of the LifeZette website.
Quick Facts
| | |
| --- | --- |
| Full Name: | Laura Anne Ingraham |
| Popular Name: | Laura Ingraham |
| Gender: | Female |
| Birth Date: | June 19, 1963 |
| Age: | 59 years |
| Parents: | James Frederick Ingraham III and Anne Caroline Kozak |
| Siblings: | Curtis Ingraham |
| Birth Place: | Glastonbury, Connecticut, United States |
| Nationality: | American |
| Ethnicity: | Mixed (Polish, Irish, and English) |
| Education: | Glastonbury High School, Dartmouth College, and the University of Virginia School of Law |
| Marital Status: | Unmarried but has dated fellow conservatives George Conway and Dinesh D'Souza |
| Sexual Orientation: | Straight |
| Wife/Spouse: | N/A |
| Children: | 3 adopted children – Maria Caroline Ingraham, Nikolai Peter Ingraham, and Michael Dmitri Ingraham |
| Dating: | N/A |
| Net Worth: | USD 40 million |
| Source of Wealth: | Television Hosting, Radio Hosting, Writing, and Other Ventures |
| Height: | 5′ 5″ (1.65 m) |
| Weight: | 55 kg; In pounds: 121 lbs. |
Early Life and Career Information
Early Life
Laura Anne Ingraham was born on June 19, 1963, in Glastonbury, Connecticut, United States, to James Frederick Ingraham III and Anne Caroline Kozak.
Ingraham attended Glastonbury High School and graduated in 1981. She then enrolled for a Bachelor of Arts degree program at Dartmouth College, graduating from the institution in 1985. She later graduated with a Juris Doctor from the University Of Virginia School Of Law in 1991.
Career Information
Laura Ingraham's first professional assignment was as a speechwriter for the Reagan administration in the late '80s. During this period, she also served as an editor of a conservative student publication known as 'The Prospect.'
After graduating from law school, Laura Ingraham worked as a legal clerk in the United States Court of Appeals. She rose through the ranks to become the clerk of the U.S. Supreme Court, working under Justice Clarence Thomas.
Ingraham capitalized on her experience working in the US corridors of justice to formally launch her legal career. Her first assignment as an attorney was for a New York City-based international law firm.
In 1996, after building her reputation as a conservative for years, Laura Ingraham eventually landed her debut television hosting job at MSNBC. She worked for the news outlet for a few years before becoming the host of CBS' television program 'Watch It!'
In 2001, Ingraham began hosting her own radio show titled 'The Laura Ingraham Show.' Thanks to her superb presenting skills, The Laura Ingraham Show' became one of America's most popular radio talk show by listenership. Ingraham remained the show's presenter until 2018.
In 2008, Ingraham joined Fox as the host for the channel's 'This Just In' program. In 2017, she was promoted to a higher hosting role when she began presenting 'The Ingraham Angle.' The Ingraham Angle is currently ranked as the third-highest cable news program on television and the first in terms of specific slot.
Other Ventures
Laura Ingraham is an editor of LifeZette, a conservative website that she co-founded in 2015 with American businessman Peter Anthony.
She has reportedly also contributed to a number of hardcover publications.
Laura Ingraham's Net Worth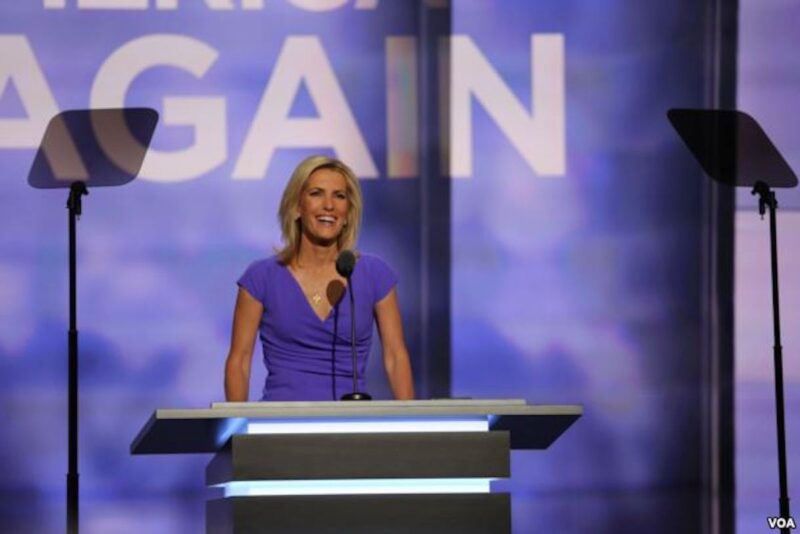 As at 2023, Laura Ingraham had a net worth of $40 million. Much of her wealth comes from her various television presenting assignments over the years. Ingraham earns $15 million in annual salary for her hosting roles in Fox News. That's enough to make her one of the channel's highest-earning hosts.
Laura Ingraham's income also comes from several engagements outside television. For instance, she's the editor-in-chief of LifeZette. She continues to earn for her editorial roles on the website even after selling her majority stake in 2018 to Canadian billionaire investor Daryl Katz for an undisclosed amount.
Lessons from Laura Ingraham
1. Use every opportunity to prove your worth
Laura Ingraham began her career at the very bottom of the ladder. However, she didn't hesitate to showcase her abilities in every assignment she was given. That explains why she's been able to rise through the ranks pretty fast in nearly all the organizations she has worked for.
2. Seek out opportunities in organizations that align with your ideals
Ingraham worked for several media outlets throughout the '90s and early '2000s. But considering her conservative views, she reckoned that she had better chances of growing her career if she joined an organization that supported her ideals. That's how she eventually found her permanent home at Fox News Channel.
3. Stand firm in your ideals
Laura Ingraham has been a subject of controversy for years, mainly due to her conservative stance. She has been criticized by many individuals for her homophobic views, including by her own brother Curtis Ingraham who is gay. She has also attracted criticism for her outspoken views in favor of controlled immigration. But despite her ever-growing number of critics, Ingraham has stood firm in her conservative approach to critical issues affecting Americans.
Famous Quotes by Laura Ingraham
A movement election is a different type of election. It's an election where the people start moving into a direction because they think the country is failing or going down the tubes or the establishment has failed them.
Being a happy warrior, you also have a lot of fun in what you do because you believe in what you're doing.
The more vile the thing that's said about me, the less it affects me. It doesn't bother me at all.
There's a rule of thumb in politics. If you're at a point where you're complaining about the other guy being mean and unfair and uncivil, that's probably a sign that you're losing.
When did atheists become so evangelical? I mean, if you don't believe something to be true, wouldn't you just ignore it? That's certainly what I do. Whether it's leprechauns or a congressional debt reduction plan – if I'm convinced it's fiction, I simply put it out of my mind. Not the atheists. They are obsessed with faith and religious practice. Their identities and their works are one big reaction to that which they hate. No longer content to simply dismiss God and those who follow in Him, the New Atheists have created a cult of unbelief.
Wrap Up
Laura Ingraham's conservative views have earned her allies and critics in equal measure. Ingraham has also earned a fortune amidst all the controversy, as is evidenced by her $40 million net worth.