Last Updated on March 8, 2022
The discovery of Lauryn Hill is one of music's greatest breakthroughs. Her solo record, The Miseducation of Lauryn Hill, is the first hip-hop album to win Album of the Year at the Grammys. This happened in 1999. The Library of Congress deems the album as an invaluable piece of American history, describing its music as the merging of soul, rhythm and blues, rap, and reggae.
Early Life
Lauryn Hill wanted to be part of the entertainment industry when she heard the likes of Aretha Franklin, Gladys Knight, and Curtis Field in the basement of her home in New Jersey. When she went to Columbia High School, she established the school's gospel choir while she practiced playing the violin and piano.
At age 13, she was one of the contestants of Showtime at the Apollo, a music television show that is famous for their singing contest, the Amateur Night competition.
Hill's father, Mal, was a professional wedding singer before working as a computer analyst. Her mother Valerie was a teacher who loves listening to classical music. Together with her older brother Malaney, they grew up in a family that supported their passion for art and music.
At 17, Hill tried her hand at acting. She got a part in Sister Act 2: Back in the Habit starring Whoopi Goldberg. Despite the small role, she earned a great deal of attention, which in turn gave her the character Kira in the soap opera entitled As the World Turns.
The Weight of Success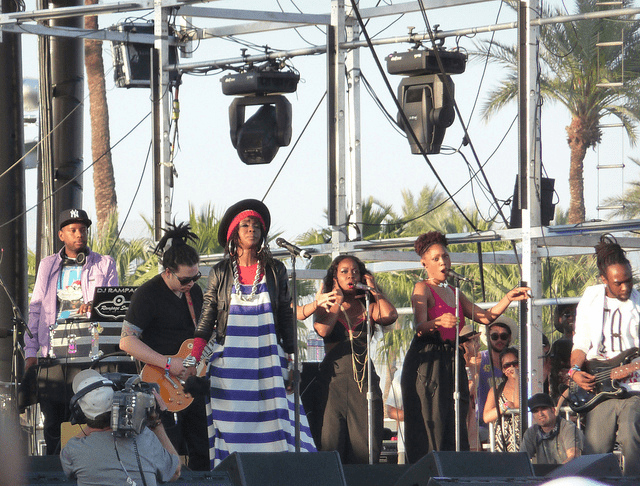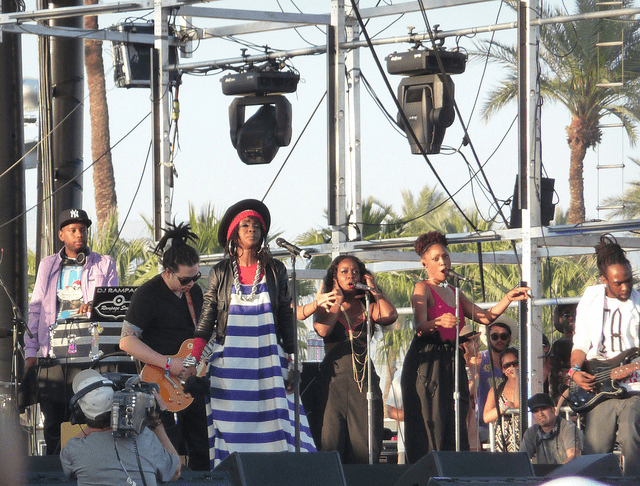 When Hill met Pras Michel in high school, they decided to create a band that fuses rap music with jazz. Pras' cousin Wyclef Jean heard about the idea and collaborated by adding the soul of R&B music to the group. They named their band the Tranzlator Crew. After sending multiple demo recordings to major record companies, Ruffhouse records cofounder Chris Schwartz finally caught the genius behind their music and signed them.
In 1994, Tranzlator Crew was renamed The Fugees, a derivative of the word refugee, and released their debut album called Blunted on Reality. Many artists and producers criticized the album as something that did not fit with the times. Reviewers observed that the music was raucous, disconnecting the trio's talents.
In spite of the flopped debut, The Fugees released the finest lyrical hip-hop album called The Score. The album produced a fresh lyrical style combining a perfect hybrid of pop, rap, and R&B. Lauren's version of the song "Killing Me Softly" added to the album's massive hit and won the Grammy for Best R&B Performance by a Duo.
The band cemented their name in music history as the highest selling rap group of all time after their album sold 17 million copies and stayed No.1 in the Billboard hit charts for four weeks.
Despite having been accepted to several colleges including Yale and Columbia, Hill put off going to college to concentrate on her music. She founded the Refugee Project, an outreach program dedicated to providing skill workshops, college application assistance, and mentoring programs to young people in minority communities and in places like Haiti, Kenya, and Uganda.
The Fugees disbanded because of Hill and Wyclef Jean's tumultuous relationship. It was rumored that there was animosity and bitterness within the trio when it was only Hill who got so much attention.
In the summer of 1996, Hill met Rohan Marley, son of the late reggae giant Bob Marley. While pregnant with Rohan's son, she recorded her first solo album The Miseducation of Lauryn Hill,which won five major categories – Best R&B Album, Best R&B Song, Best New Artist, Female R&B Vocal Performance, and Album of the Year – in the February 1999 Grammy Awards.
The album sold 420,000 copies in its first week and set the record for the most awards ever won by a female artist in a predominantly male-centered genre. Notable Jamaican-born American journalist Christopher John Farley described Hill's album as "unabashedly personal, unrelentingly confrontational, and uncommonly inventive".
At the height of her success, Hill retreated from public life to put her family first. She also refused interviews and appearances because of her increasing dissatisfaction of the music business. After 4 years of hiatus, she released an intimate performance on MTV Unplugged featuring her commanding vocals and lyrics through emotional acoustic music.
One of Hill's major career setbacks happened in May 2013 when she was sentenced to three months in prison for tax evasion. Apparently, she failed to pay federal taxes on $1.8 million in earnings.
After Hill got out of prison, she devoted her time to her four children, Zion, Selah, Joshua, and John. She still writes her music and performs at her own pace. Earlier this year, Hill became a grandmother after her first child Zion welcomed a baby boy, Zephaniah, into the family.
Lauryn Hill Quotes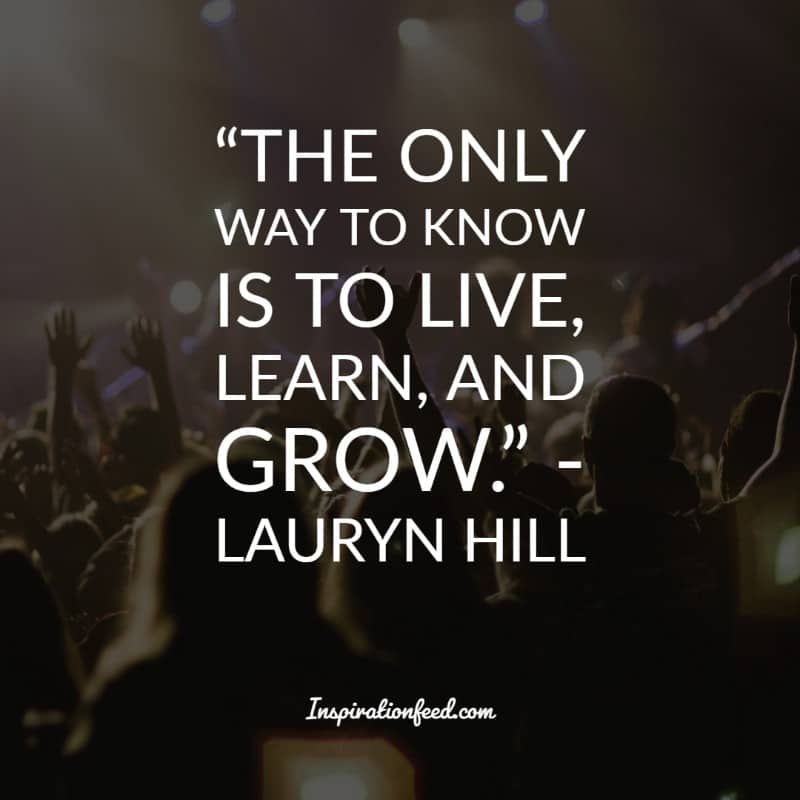 "The only way to know is to live, learn, and grow." – Lauryn Hill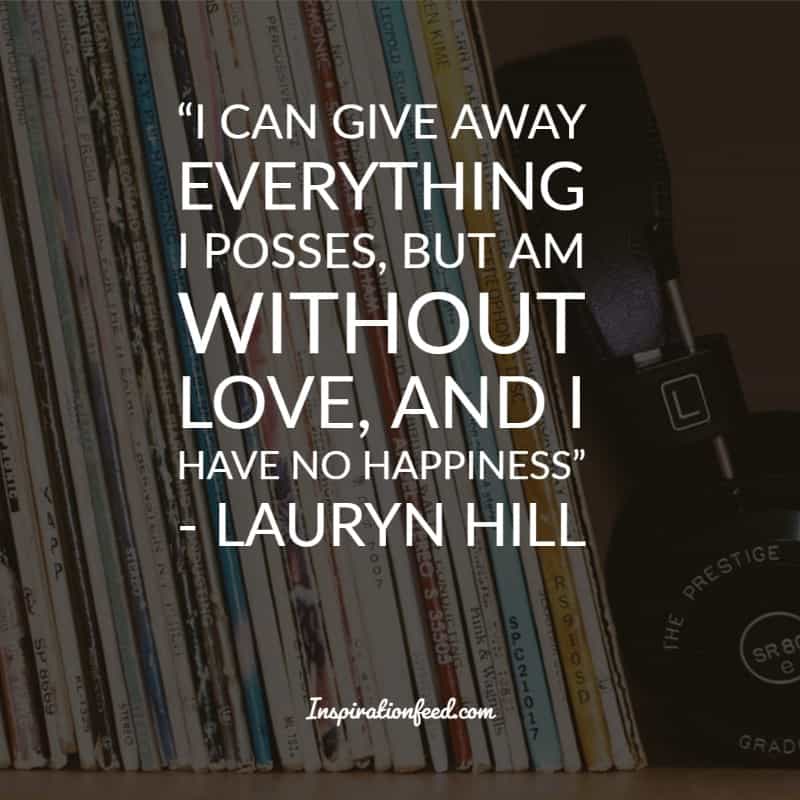 "I can give away everything I posses, but am without love, and I have no happiness." – Lauryn Hill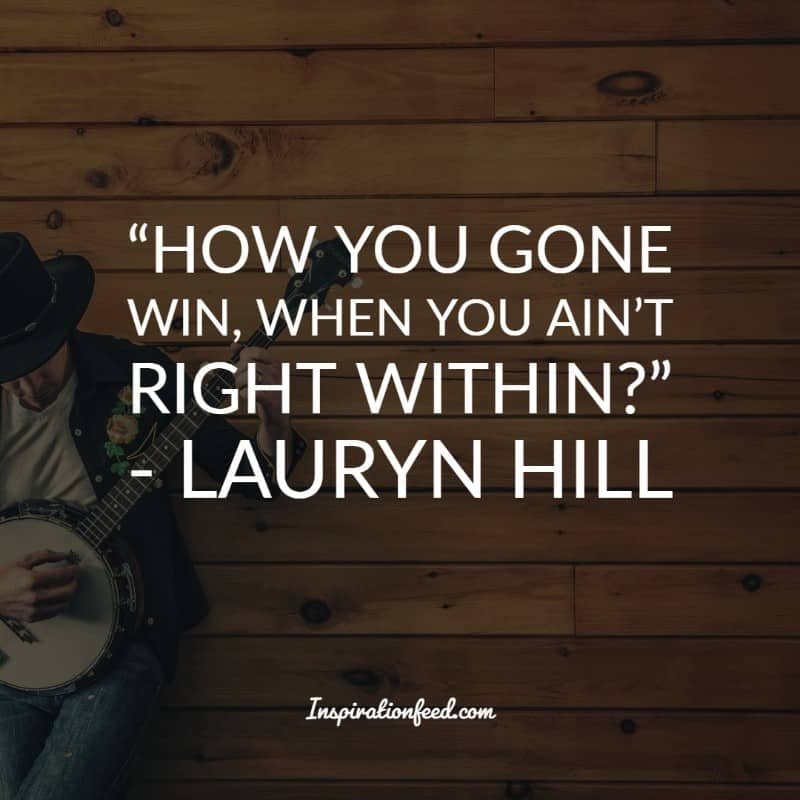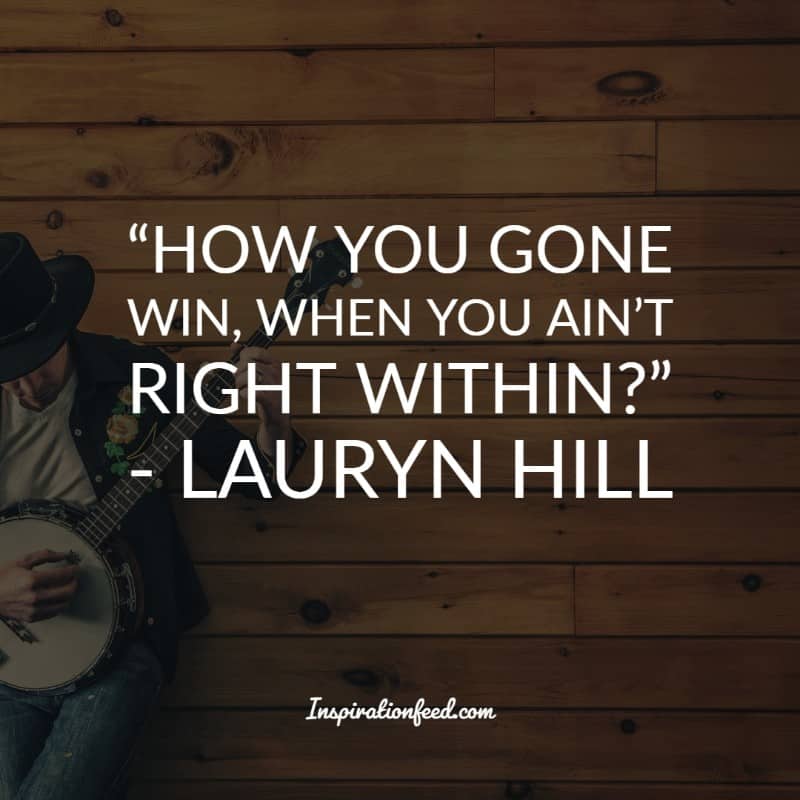 "How you gone win, when you ain't right within?" – Lauryn Hill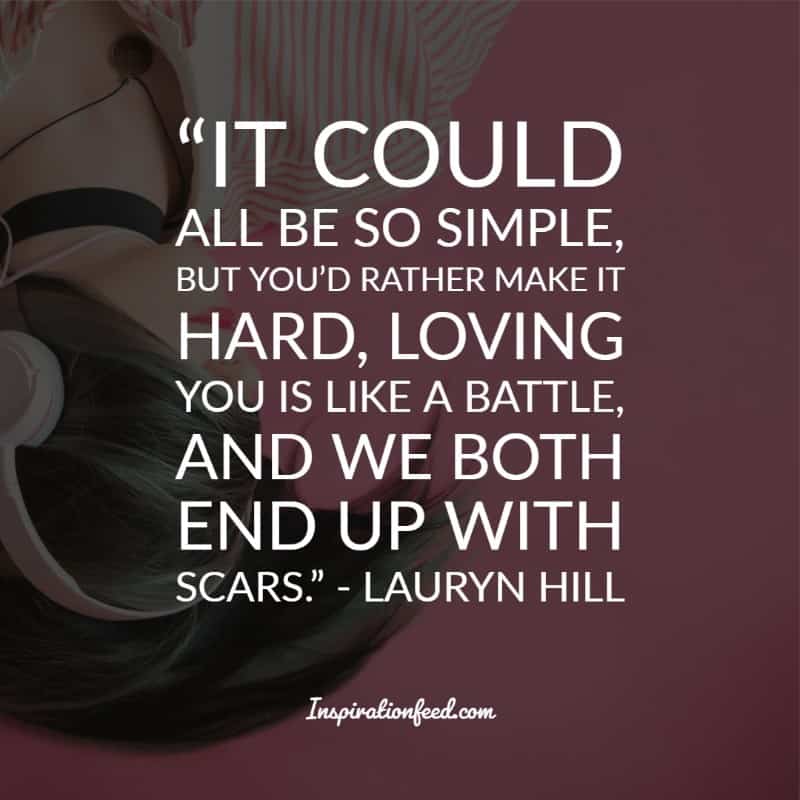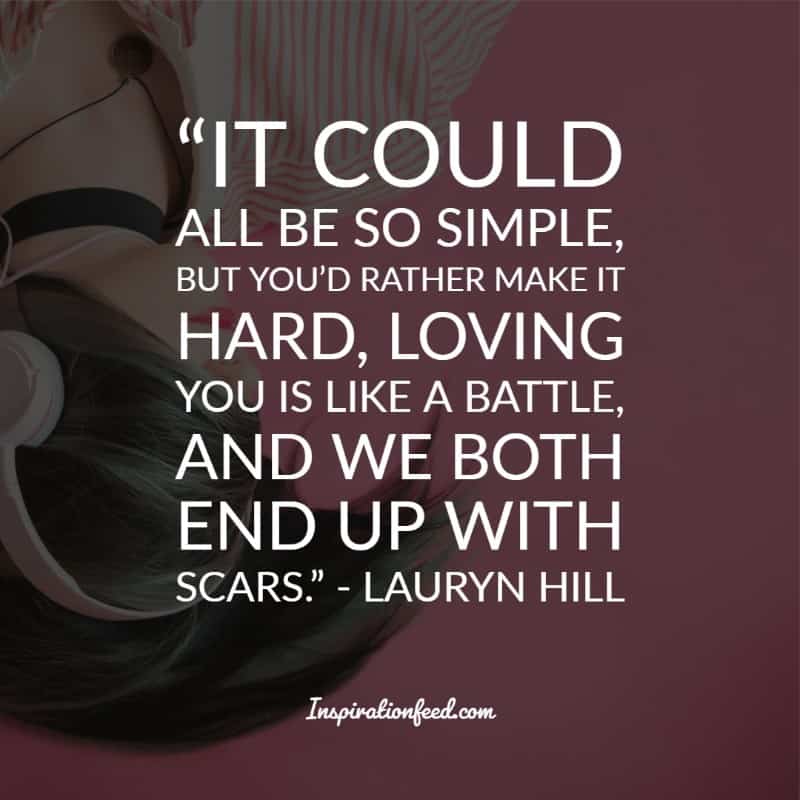 "It could all be so simple, but you'd rather make it hard, loving you is like a battle, and we both end up with scars." – Lauryn Hill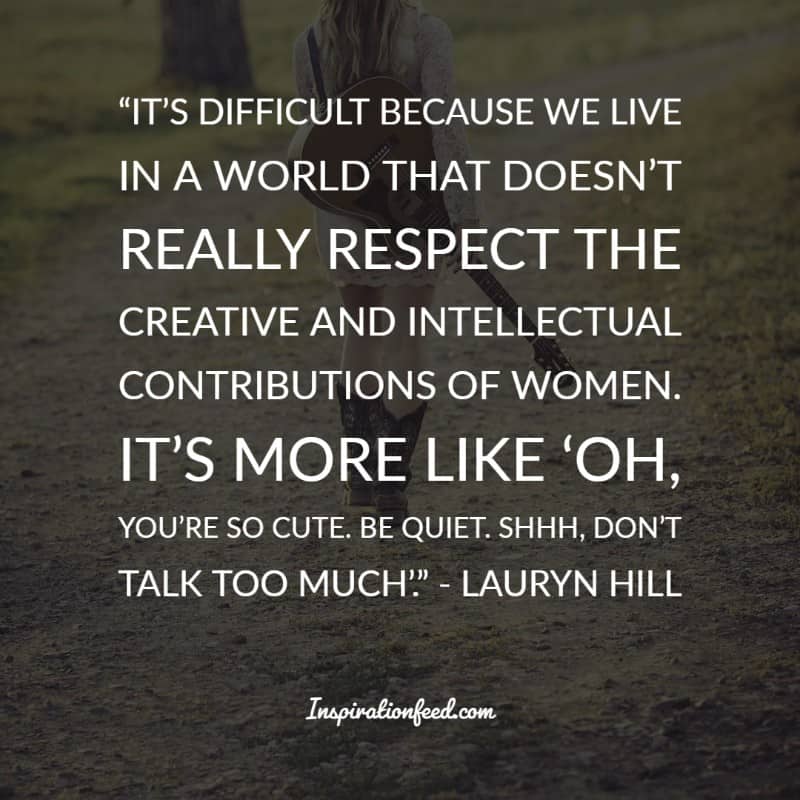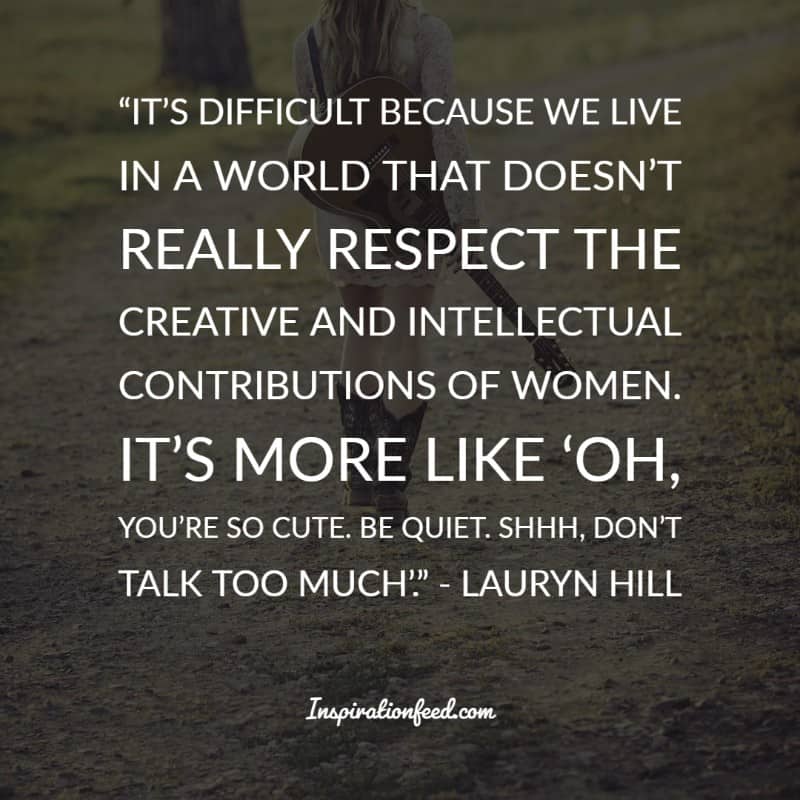 "It's difficult because we live in a world that doesn't really respect the creative and intellectual contributions of women. It's more like 'Oh, you're so cute. Be quiet. Shhh, don't talk too much'." – Lauryn Hill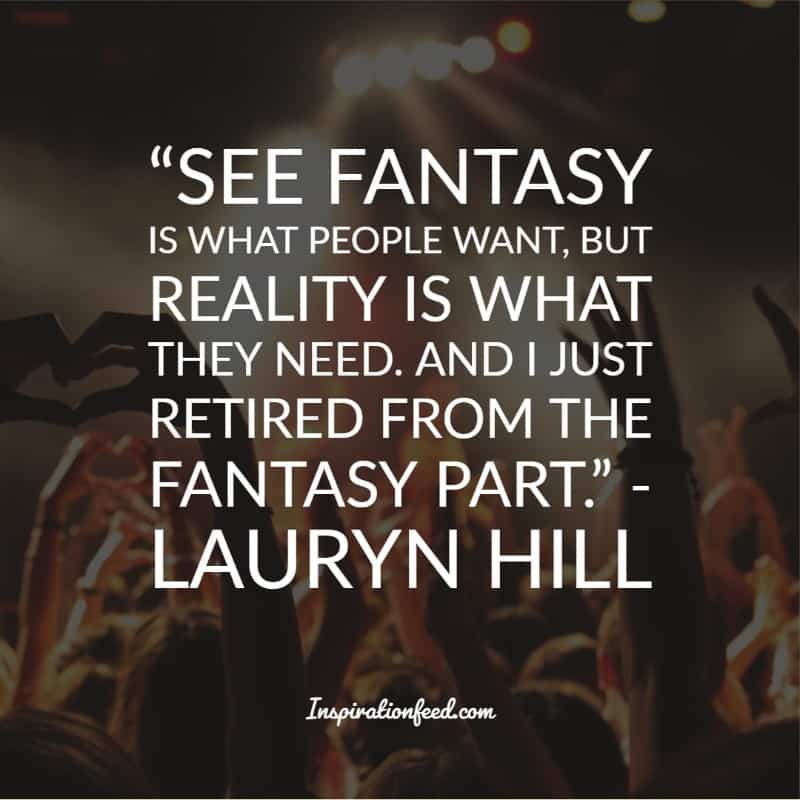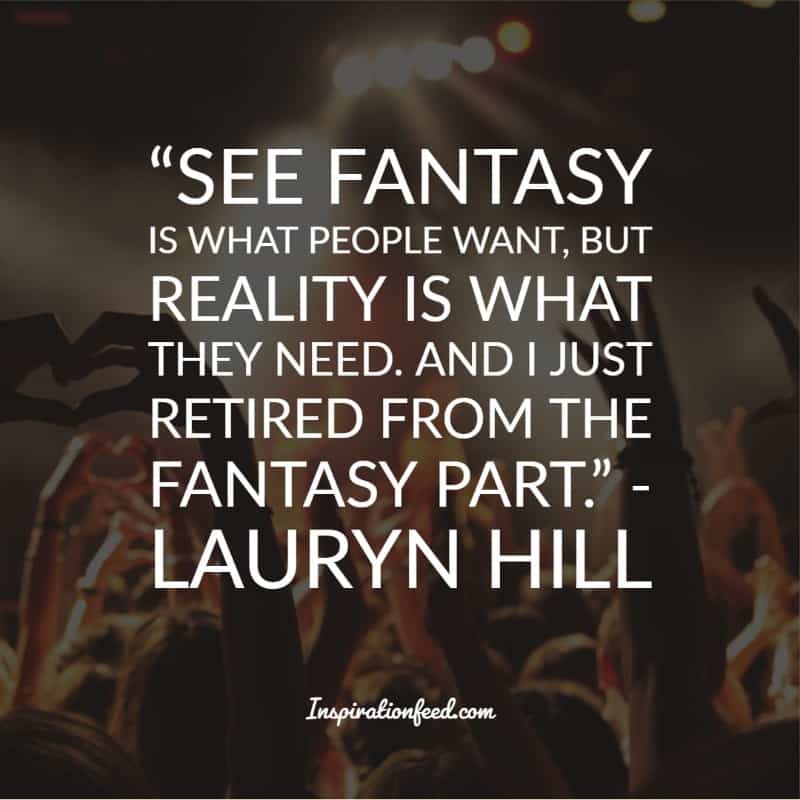 "See fantasy is what people want, but reality is what they need. And I just retired from the fantasy part." – Lauryn Hill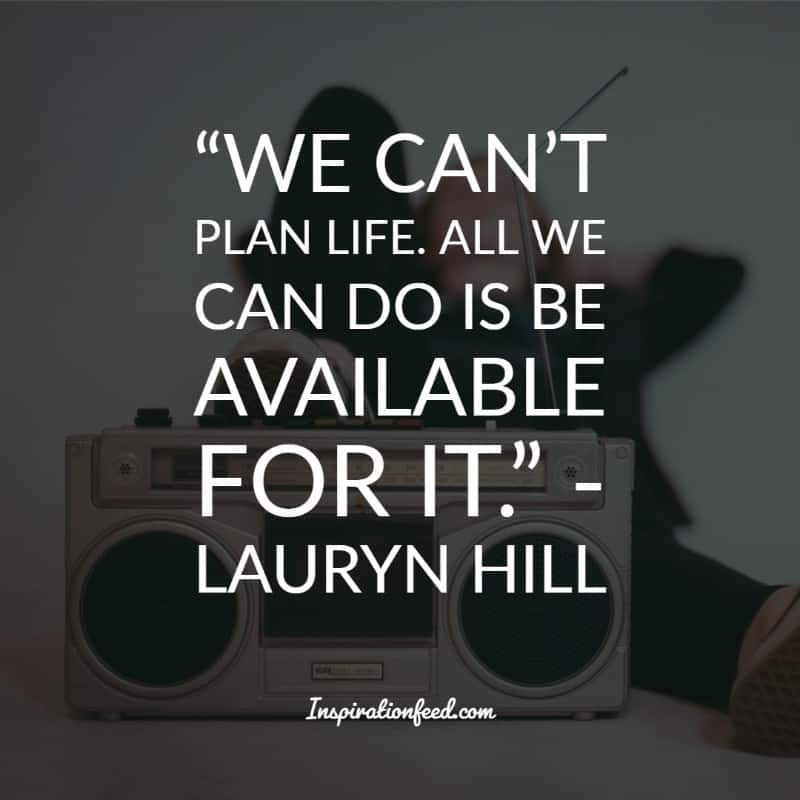 "We can't plan life. All we can do is be available for it." – Lauryn Hill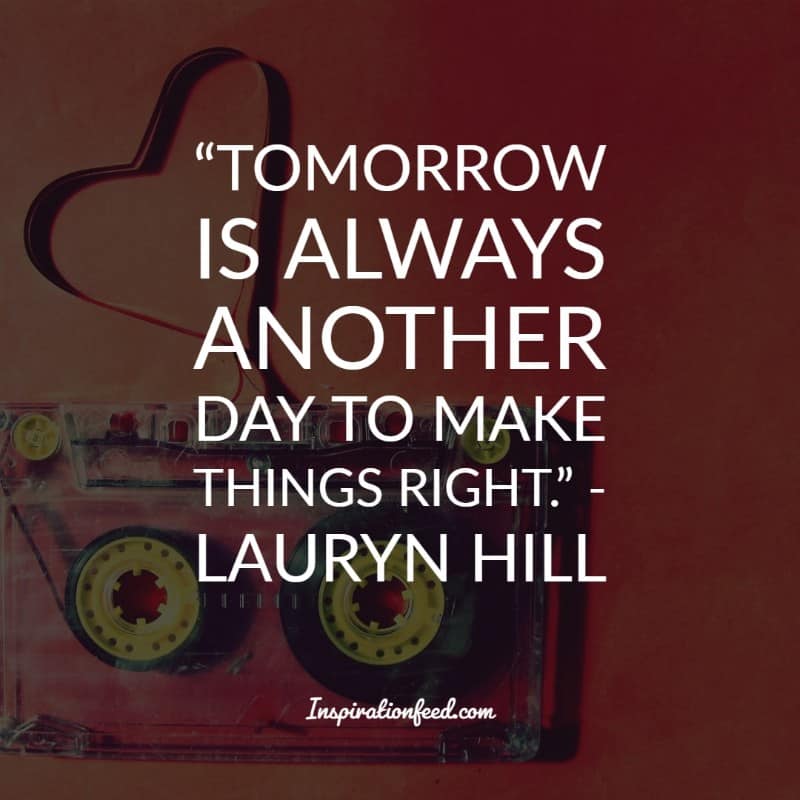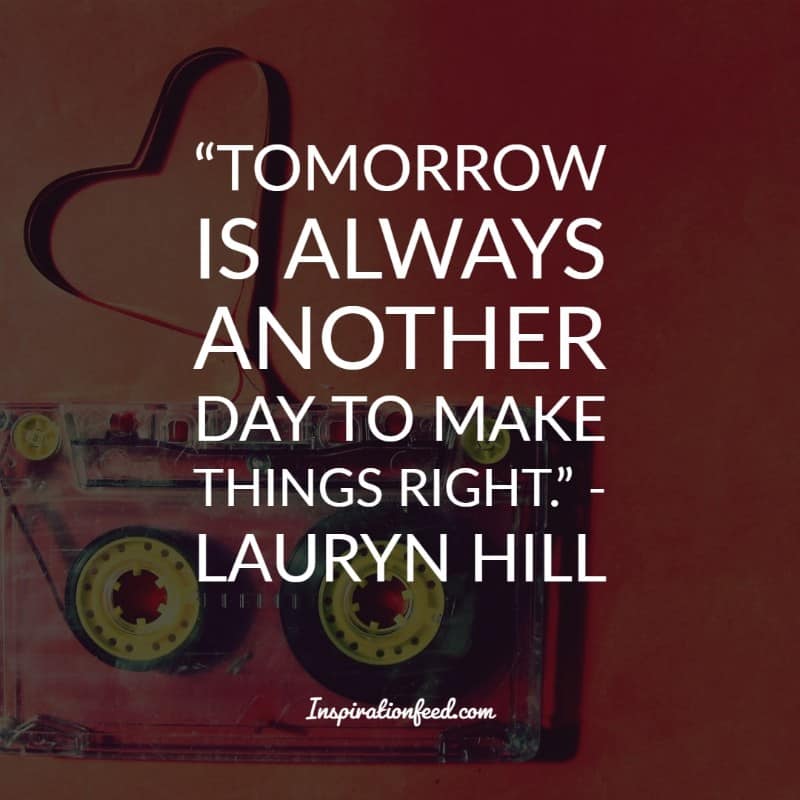 "Tomorrow is always another day to make things right." – Lauryn Hill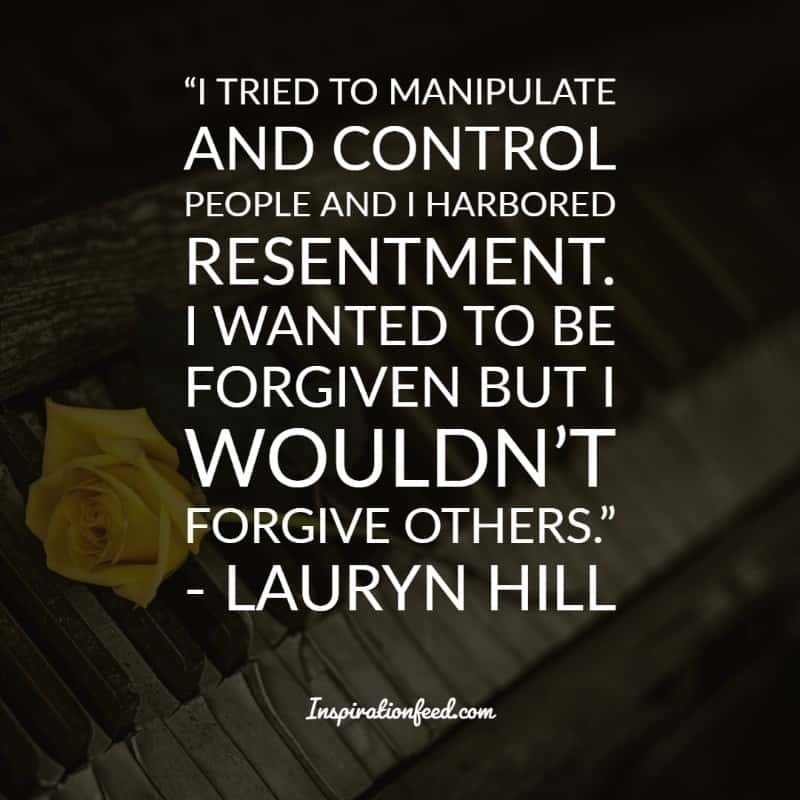 "I tried to manipulate and control people and I harbored resentment. I wanted to be forgiven but I wouldn't forgive others." – Lauryn Hill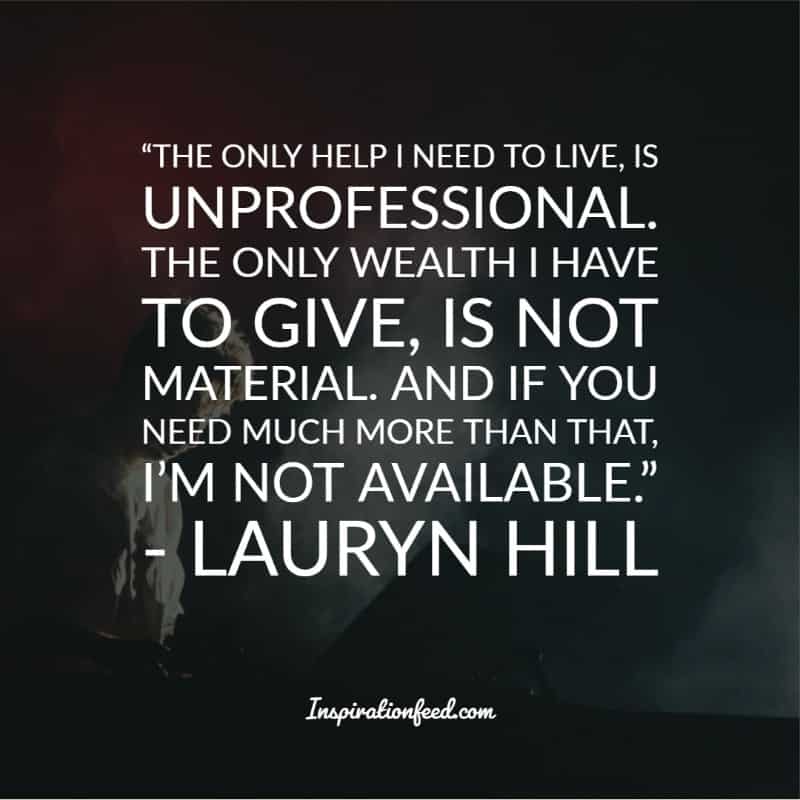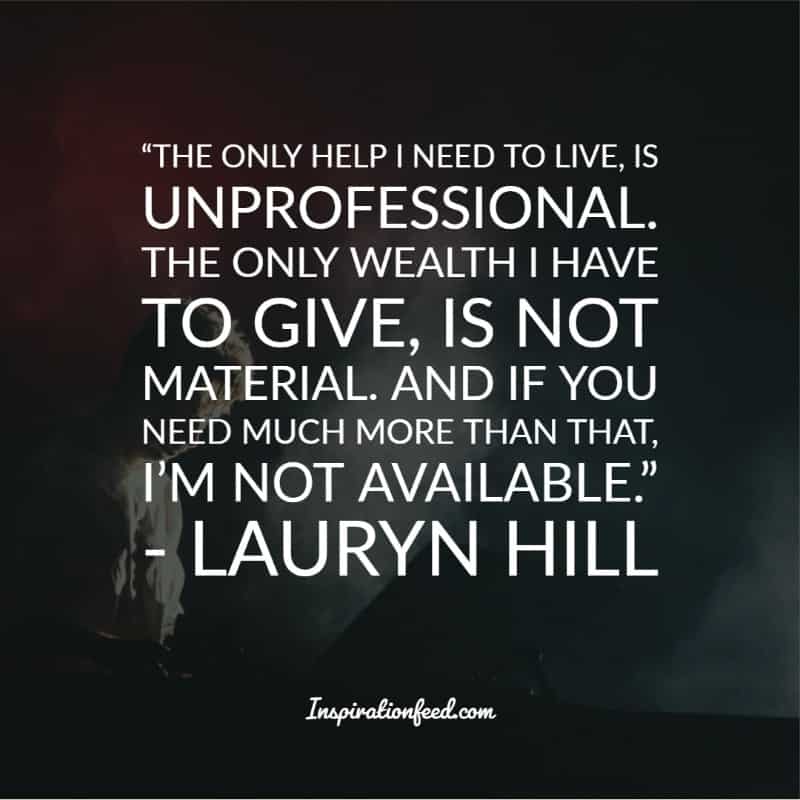 "The only help I need to live, is unprofessional. The only wealth I have to give, is not material. And if you need much more than that, I'm not available." – Lauryn Hill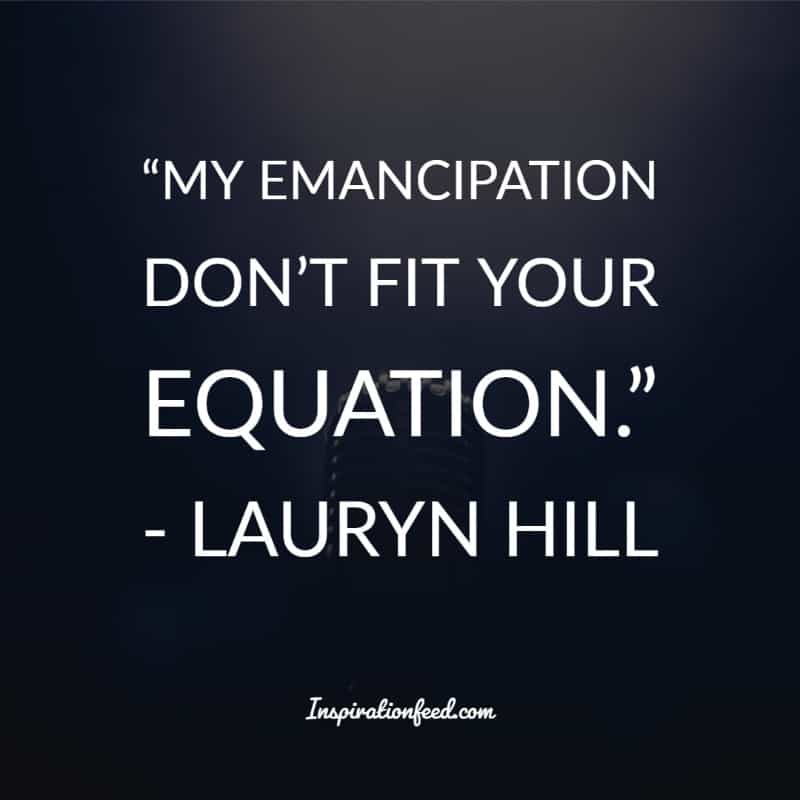 "My emancipation don't fit your equation." – Lauryn Hill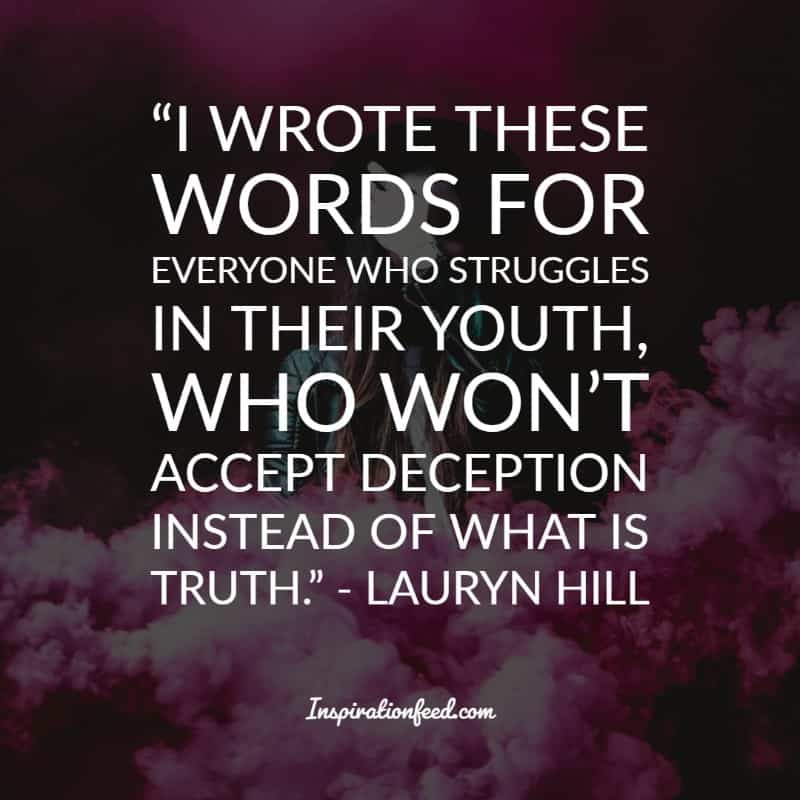 "I wrote these words for everyone who struggles in their youth, who won't accept deception instead of what is truth." – Lauryn Hill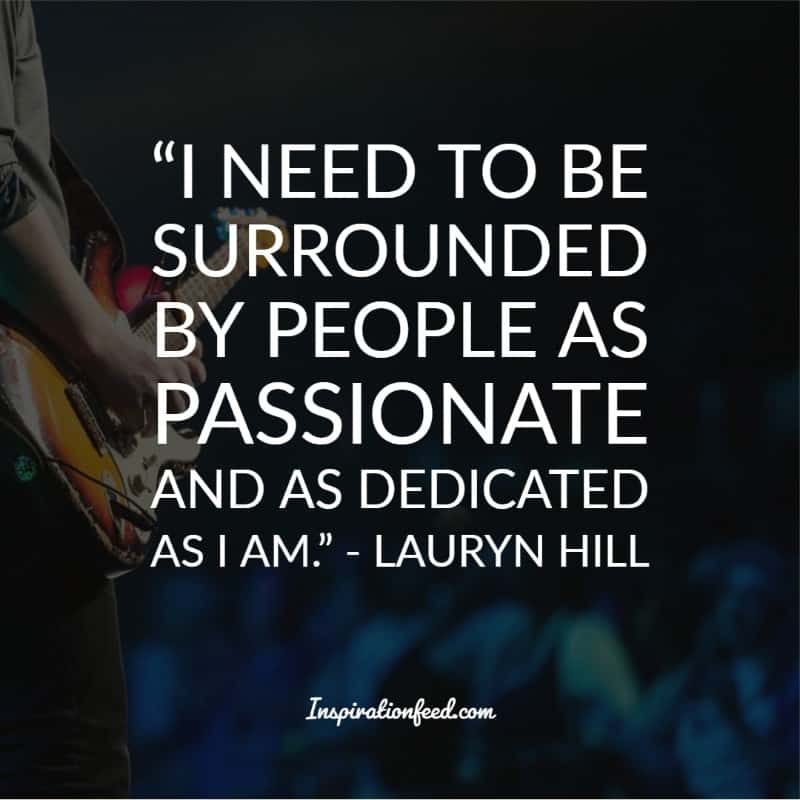 "I need to be surrounded by people as passionate and as dedicated as I am." – Lauryn Hill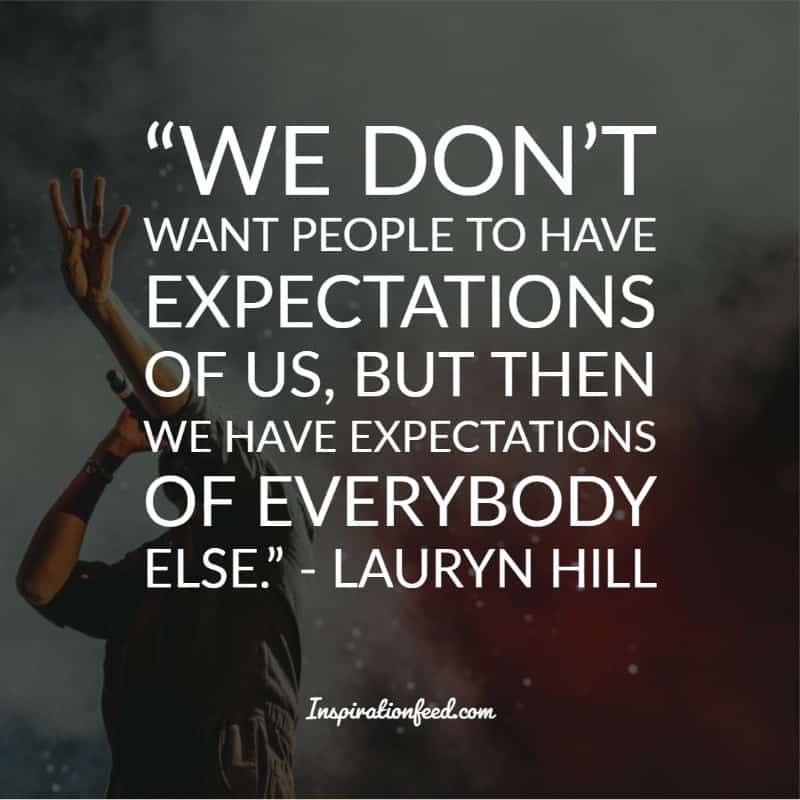 "We don't want people to have expectations of us, but then we have expectations of everybody else." – Lauryn Hill
"Wisdom is better than silver and gold. I was hopeless, now I'm on hope road." – Lauryn Hill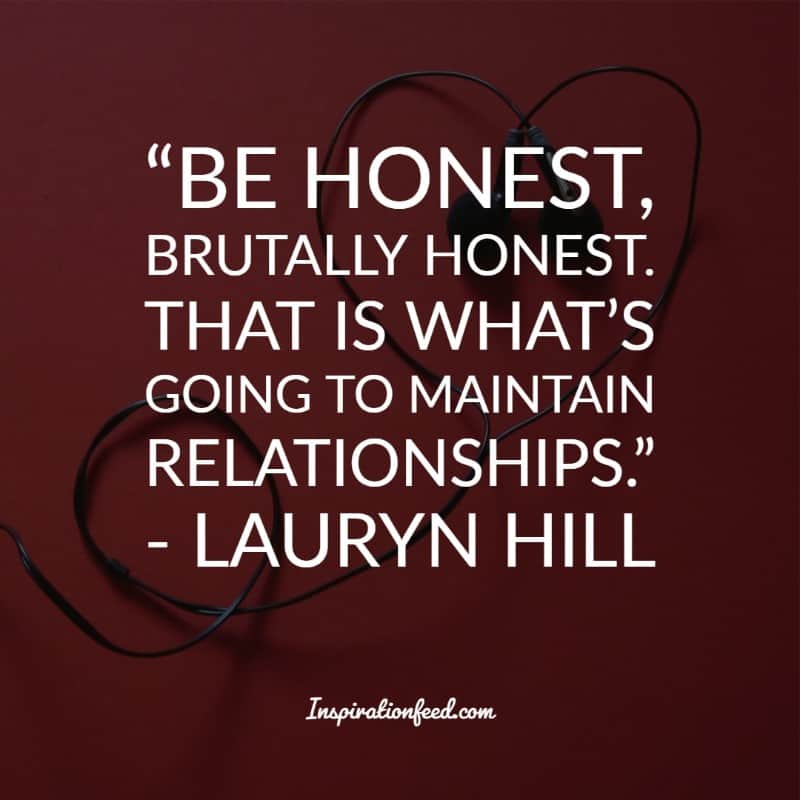 "Be honest, brutally honest. That is what's going to maintain relationships." – Lauryn Hill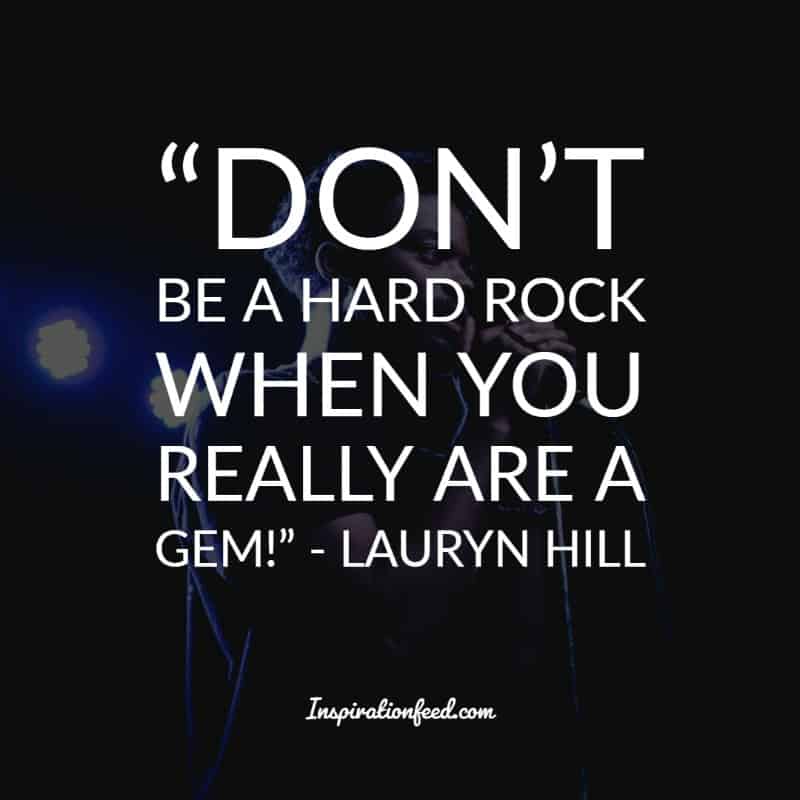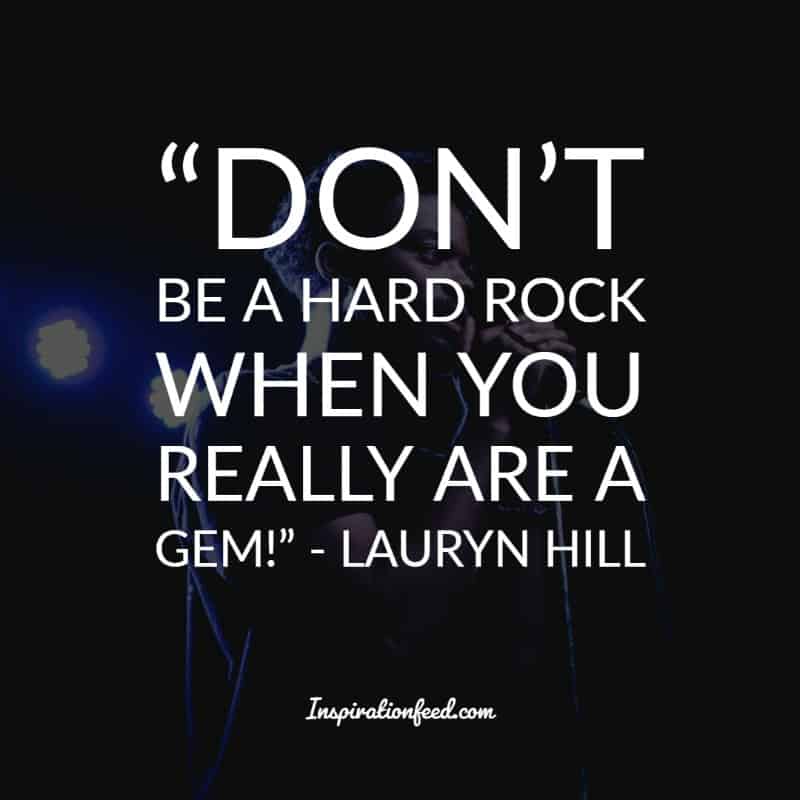 "Don't be a hard rock when you really are a gem!" – Lauryn Hill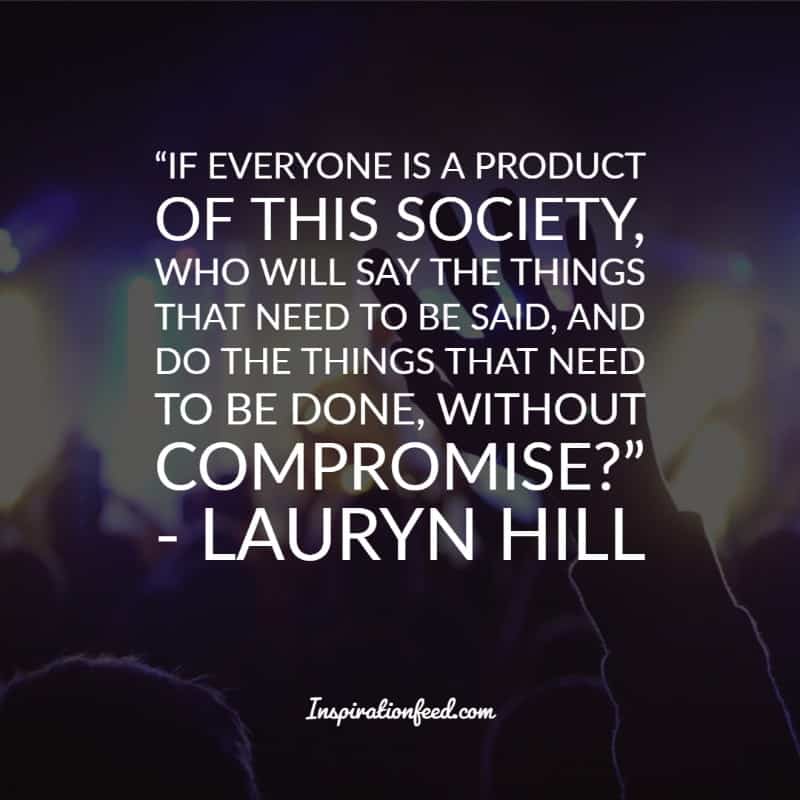 "If everyone is a product of this society, who will say the things that need to be said, and do the things that need to be done, without compromise?" – Lauryn Hill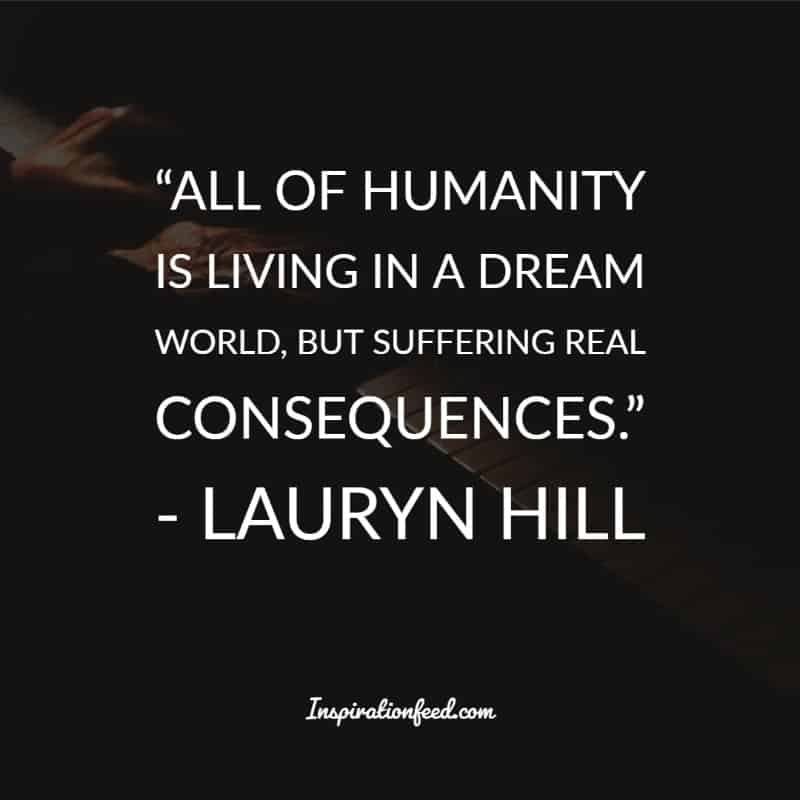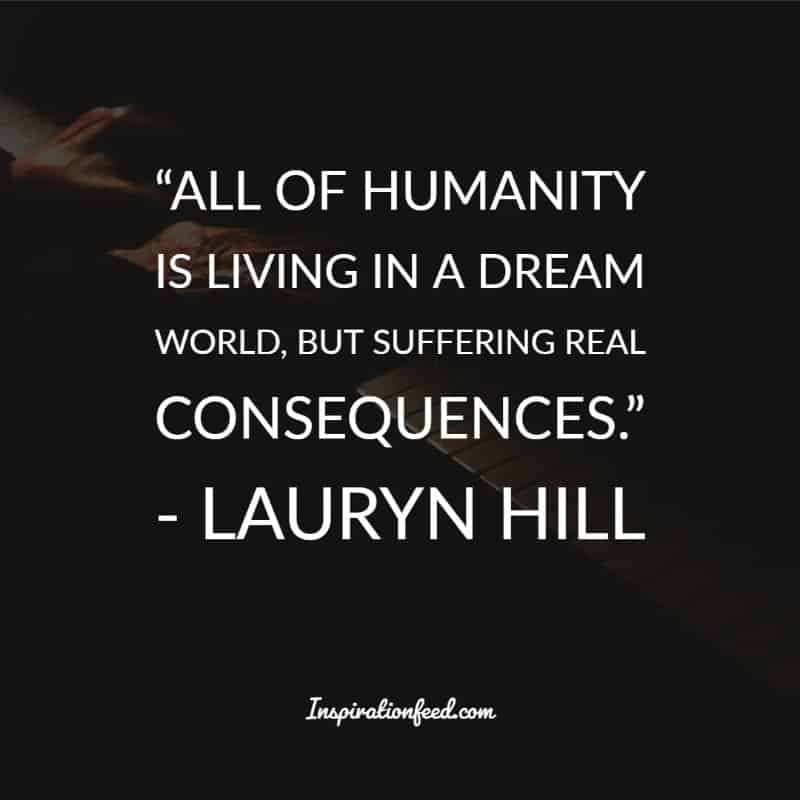 "All of humanity is living in a dream world, but suffering real consequences." – Lauryn Hill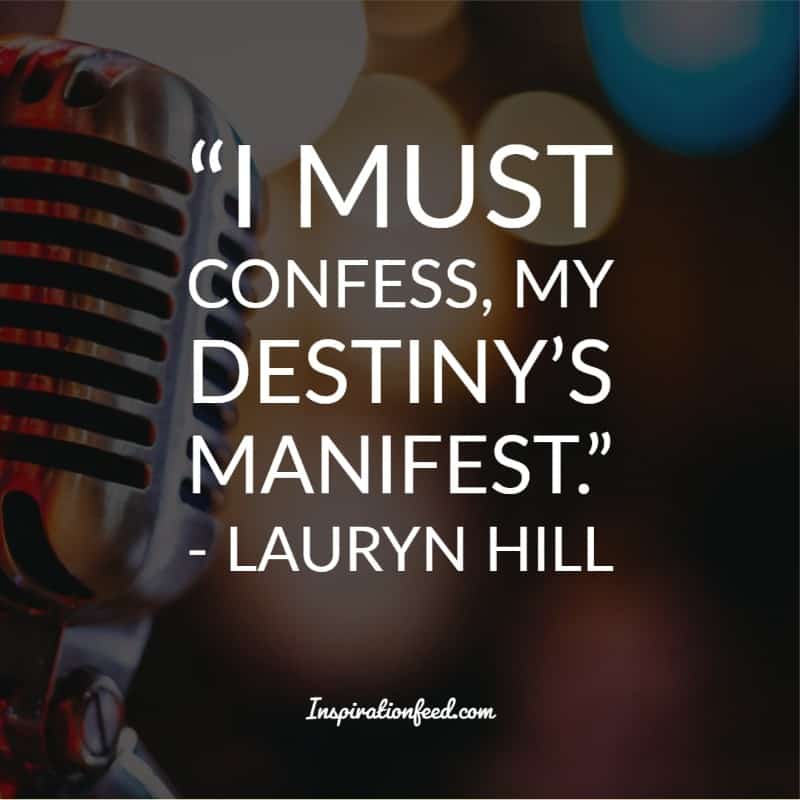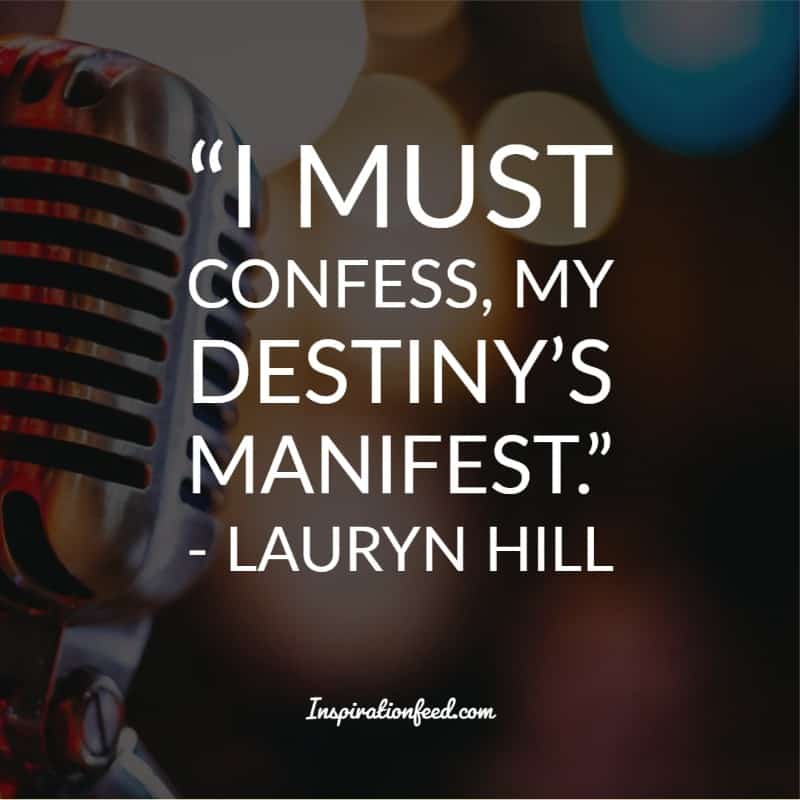 "I must confess, my destiny's manifest." – Lauryn Hill