Last Updated on March 6, 2023
When it comes to learning a new language, you no longer need to physically visit a classroom. If you have a pretty decent Internet connection then it's fully possible teach yourself a new language from the comfort of your home. In this article we will take a look at six powerful resources you can use to learn a new language.
Before you scroll down, I would like to quickly address a few common myths I constantly hear from people when it comes to learning a new language.
If you think that learning another language confuses the mind, you're wrong.
If you think that bilingual people tend to have smaller vocabularies, you're wrong.
If you think learning two languages could be problematic, you're wrong.
If you heard that learning two languages causes schizophrenia or dual personality, you're wrong.
In the past, some studies did seem to back up most of the ideas mentioned above. But these studies have been overshadowed by a wave of new research showing the incredible benefits of being bilingual.
So why should you even consider learning a new language? Well, there are practical and aspiration reasons for learning a new language. Let's go over them:
Brain growth. Your language centres in the brain actually grow as a result of you

learning a new language

.
Improved listening skills. Being bilingual can improve your overall listening skills. How? The brain has to work harder to distinguish different types of sounds.
Increased attention: Bilinguals tend to have stronger control over their attention. They can also limit distractions  and zone in on what is important.
Boost your memory. According to

this study

, babies brought up in a bilingual environment have stronger working memories than those brought up with only one language.
Culture. If you're interested in a specific culture, knowing their language will make it easier for you to understand their literature, poetry, films, tv programs, music, etc.
See the world differently. Learning a new language can literally change the way you see the world.
Travel. If you plan to travel to a specific country soon, knowing their language will make your life a whole lot easier. Plus, people will respect you more for taking the time to learn their language.
Studying abroad. If you plan to study abroad, you'll need to at least learn the basics of the local language. If you don't, your time there won't be as beautiful as you might have hoped.
Challenging yourself. Get out of your comfort zone. Challenge yourself to learn a new language.
Job Opportunity. Knowing another language makes you stand out. If your company requires you to travel or relocate frequently, then you have a leg up. If your company plans to downsize, you have a leg up. If your company plans to expand to new market, you're a valuable asset to them. Firing you over somebody else would be stupid.
Learning a new language, if nothing else on that list exited you, gives you bragging rights that you wouldn't have otherwise. Now I'm not here to be a sleazy salesman. I want to be completely honest with you, learning a foreign language takes time and dedication.
It will be hard and frustrating. At times you'll want to punch the computer screen. But if you're a go-getter, you'll overcome this challenge without a problem.
Duolingo is 100% free to use. There aren't any gimmicks, fees, or ads to annoy you. Now, that might sound like a scam to some. How do they make money? Who pays to keep the servers running?
I'm glad you asked. Check out this video to see how Duolingo works.
Their website is primarily aimed towards people who use desktops and laptops, but they also have iOS and Android apps. Currently Duolingo offers Spanish, French, Italian, German, and Portuguese. But I'm sure they have plans to expand in the future.
Here is an interesting fact to note about Duolingo: An independent study found that it trumps university level language learning. So basically you're saving thousands of dollars.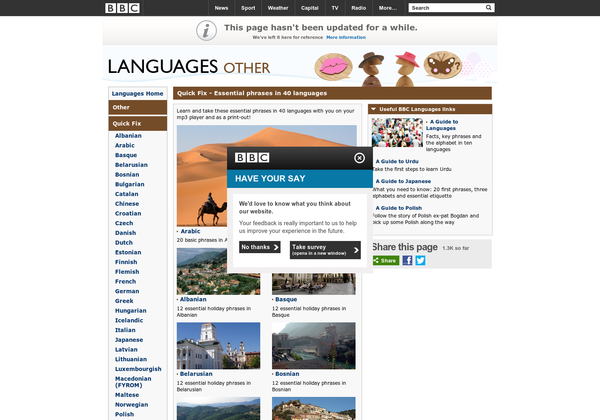 So maybe you're not ready to dig deep into any one language, or you just need to know a few things before you leave for your trip. That's where BBC comes in handy in your learning adventure.
They provide a website which allows you to learn forty different phrases in several different languages. This incredible resource is completely free, no sign up required, how great is that?
While you think you're ready to learn a new language for a trip abroad, have you considered how your children will feel about going somewhere new?
If you're looking for a great way for your kids to learn how to speak a new language, look no further than Hello World. They offer eighteen different languages for children to learn by playing educational games.
The subscription is only sixty dollars for six months, and gives them a fun way to learn a new language. Hello World offers matching games, dialogs and conceptual learning for children of all ages.
Busuu is another powerful resource to learn a new language. Their award-winning courses are designed by qualified language experts. Just like Livemocha, they offer a free core service with premium options.
They also offer bundled courses specifically for businesses and universities. Overall they're right up there with the big boys, Livemocha and Duolingo, offering 12 languages.
The name speaks for itself. Learn a Language has one goal, and it's to help you learn how to fluently speak a new language in the shortest amount of time possible.
They wish for everyone to know how to speak and read the language of their choosing for free. They teach you the basics, and offer courses in verbs while giving you everything that you would need to learn how to work with grammar.
Learn a Language offers courses for Russian, Chinese, German, Japanese, French, Italian, Spanish, and English.
Honorable Mentions
Some of these are free, while other require you to pay an upfront price or subscription. Nonetheless, they may be something you're looking for.
HelloTalk – Learn a language by chatting with native speakers around the world. For free!
LinguaLift – Learn Japanese, Russian and Hebrew with our courses and dedicated team of teachers.
Mindsnacks – Learning Japanese can be intimidating, but this app makes it easy with 8 addictive games designed to build essential reading, writing & conversation skills.
Babbel – Lessons crafted by language experts, and voiced by native speakers, will get you ready for real-life situations.
Memrise – Let real native speakers teach you their language from the streets of their home town.