Photoshop is one of, probably the, most power graphic design application around. With endless features and functions, Photoshop is hard to master. If you're new to Photoshop, all of the features and buttons can be very intimidating. If you're moderately skilled with Photoshop, there's likely still a lot for you to learn.
To help beginners and intermediate users, we decided to collect some of the best resources around to help you get started on your learning journey.
With thousands Photoshop blogs out there, we decided to scout for the ones that pump out great content on a regular basis. Below you'll find a list of websites you should check out first. If you feel like we've missed worthy websites, feel free to mention them in the comment section below.
PSD Stack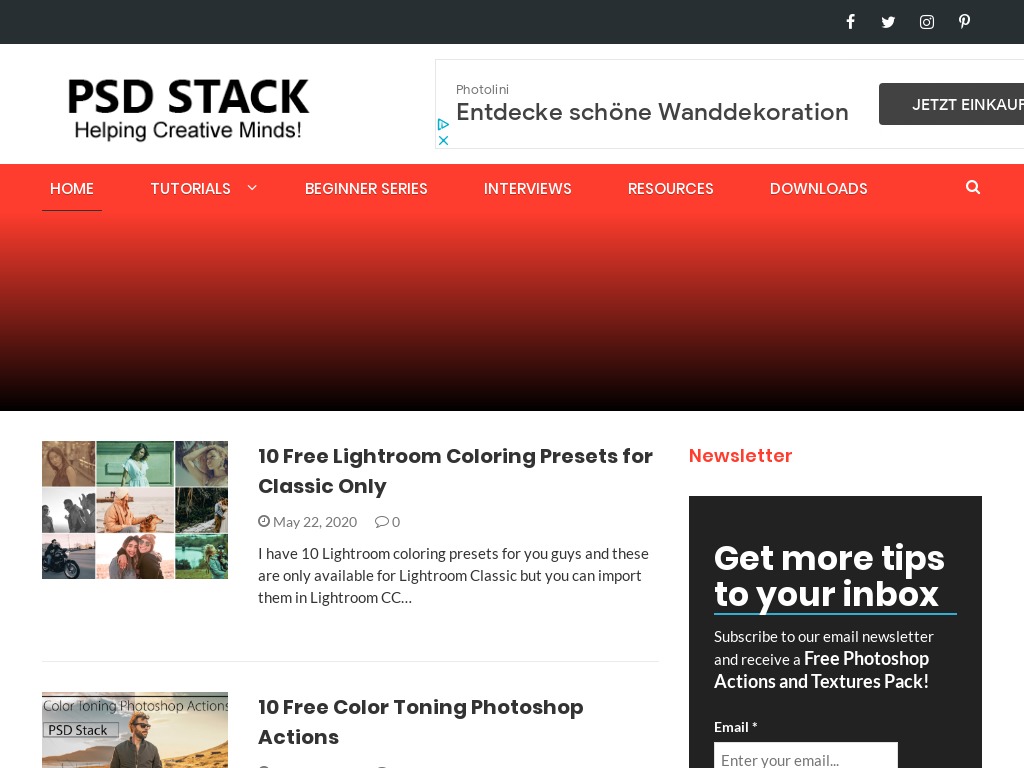 PSD Stack delivers quality Photoshop tutorials and they have over 100 Photoshop tutorials covering a range of topics from basic to advanced. All the tutorials are carefully crafted showing you how to run Photoshop step by step. Apart from tutorials they have downloads section where you can find actions and lightroom presets to edit your photos in no time.
Website: PSD Stack
Photoshop Etiquette
This is an awesome resource for web designers.It provides guidelines for files, layers, images, type, effects, and best practices for web designers.
To give you an idea, here are some tips that this guide presents; exporting images to the smallest size to obtain the optimal amount of quality, not resizing layers or using the transform features on them, and structuring layers in logical folders.
Website: Photoshopetiquette.com
Method & Craft
Method & Craft provides a variety of articles, videos, notes, and interviews. Each medium is used for different purposes. For example, articles are related to workflow and process, and videos show designers working.
The site has a really clean design, separating the different categories onto separate pages, and information is presented in a grid. A significant amount of the material on the website is relevant to Photoshop, so if you use this site, you will learn a lot of tips, tricks, and secrets that professional designers use.
Website: Methodandcraft.com
Photoshop Lady
Despite the name of this website, it's not only intended for women. Photoshop lady has a diverse selection of Photoshop tutorials.
Information is separated into 8 different categories: 3D effect, abstract effect, articles, drawing effect, photo effect, text effect, texture & patterns, and UI design.
Some of these tutorials will teach users really specific effects, such as how to draw a powerful girl warrior, while others are more general. Overall the website provides an incredible amount of tutorials which will improve your Photoshop skills.
Website: Photoshoplady.com
Psdtuts+
The objective of Psdtuts+ is to give users access to the best Photoshop tutorials around. One nice thing about Psdtuts+ is that their tutorials are deeply explained so that even beginners could easily understand them.
However, even though the content may be approachable, this doesn't mean that the techniques learned in the tutorials aren't advanced. Users can look through numerous tutorials, articles, tips, sessions, resources, and videos. You can also sign up to Tuts+ premium, which will give you access to Envato's huge library of educational content.
Website: Psd.tutsplus.com
Advanced Photoshop
Advanced Photoshop markets itself towards professionals who want to master Photoshop. As such, it focuses on Photoshop trends and popular techniques.
To give you an idea, here are just a few of the topics covered; new media, graphics, typography, photomanipulation, digital painting, and photo editing. There's even a feature on the website called "face-off," which lets users vote for the best of two images created in Photoshop.
You can view image galleries of other users on the site, which could serve as a source of inspiration. Advanced Photoshop is a great resource for Photoshop pros. There are plenty of features on the site to keep even the most advanced user satisfied.
Website: Advancedphotoshop.co.uk
Presets Heaven
If you're a Photoshop Lightroom user, you might find Presets Haven useful. Lightroom is a useful Photoshop feature that allows users to edit digital photography easily.
Presets Heaven offers a wide range of Lightroom presets to make your job much easier. They're one of the largest Lightroom preset resources online.
The website also provides news, plugins, and various tutorials. The tutorials offer useful tips for working in Lightroom, such as how to speed up Lightroom, filter photos, time-saving tips, using graduated filters, exporting image, and much more.
Website: Presetsheaven.com
Photoshop Tutorials
Photoshop Tutorials offers exactly what the name implies – Photoshop tutorials. The tutorials are exceptionally clear, showing the end product and many screenshots along the way to help the user obtain the intended results.
Tutorials are offered on a wide variety of subjects, such as basics, drawing, layouts, photo manipulation, photo effects, photo retouching, and special effects. There is also a section on the website for creative inspiration.
Website: Photoshoptutorials.ws
Lynda – Photoshop Tutorials
Video is exceptionally helpful if you're trying to recreate an effect in Photoshop. There are a bunch of Photoshop tutorials on YouTube, but many of them are unclear. The Photoshop tutorials section on Lynda is a great choice for Photoshop users looking for clear, descriptive, and professional video tutorials.
Furthermore, all of these videos are taught by Photoshop experts. They know what they're talking about. I personally used Lynda in the past and can't really find anything to nag about. They offer amazing tutorials at affordable prices.
Website: Lynda.com