Last Updated on March 8, 2022
Arguably the most scrutinized player in NBA history, Cleveland Cavaliers star LeBron James is an accomplished basketball player. Since his entrance into the prestigious league, LeBron has been under the spotlight. Despite spending over a decade of his career being compared to other basketball legends, James has mainly lived up to the sky-high expectations of his fans and detractors.
LeBron James was born on December 30, 1984, in Akron, Ohio. He gained countrywide interest when he emerged as the top basketball player in high school across 50 states. With his distinctive height (6'8″), athleticism, and innate talent, he has become one of the leading NBA players, particularly for the Cleveland Cavaliers.
A Basketball Star in the Making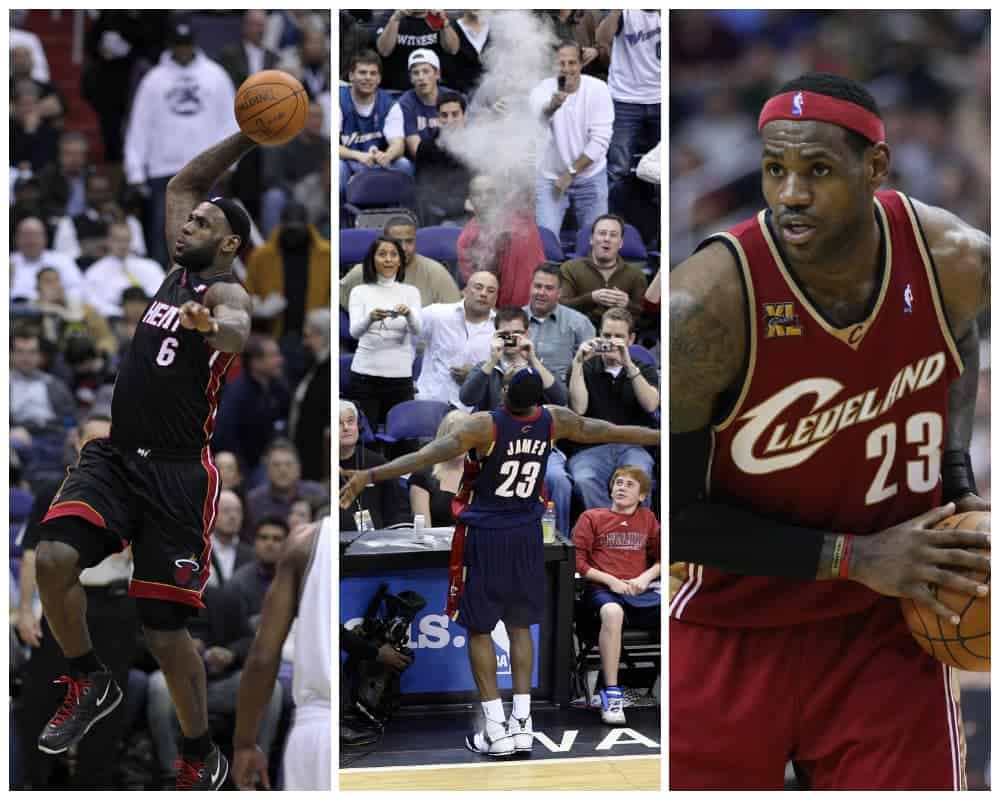 LeBron James has shown natural talent and remarkable skills for basketball at an early age. In 1999, St. Vincent-St. Mary High School gained a star when he became one of the school's varsity players. On his freshmen year, James was already recognized for his basketball skills.
With an average score of 18 points per game, James helped the school team clinch the title as Division III state champions. During the championship game, he scored a massive 25 points. Soon after, his undeniable skills in basketball attracted amateur and professional basketball coaches and franchises.
In that same period, he began to receive awards and honors for his outstanding performances. In his sophomore year, James became the USA Today All-USA First Team recipient. It was the first time that a second-year high school student was picked for the said award. Also, his school team won its second state title.
As a junior, James received two prestigious awards: High School Boys Basketball Player of the Year by PARADE magazine and Gatorade Player of the Year. It was also at that time when he solidified his status as a strong team player and constant scorer. For quite a while, he had considered finishing his education to go pro.
Eventually, James decided to attend his last year in high school. As a senior student, he had a massive year as a player. His average score per game was 31.6 points. He, once again, helped his school team win their third Division III state title. During that year, the team also topped the national ranking award.
When he graduated high school, James had emerged as one of basketball's most promising players.
Starting Point with the Cleveland Cavaliers
In 2003, with his imposing high school basketball record, no one was surprised when LeBron James became the number one pick in the NBA Draft. It was the Cavaliers franchise of Cleveland, Ohio that secured James's position as a power forward.
Soon after, James had proven to be an invaluable addition to the franchise. During that period, James also became an endorser for several popular brands. On his first year as an NBA player, he signed a $90-million endorsement deal with Nike.
During the 2003-2004 seasons, James received the NBA Rookie of the Year Award. It was the first time a Cavalier player won the said award. At 20 years of age, he was the youngest player to receive the prestigious honor. At that point, his average score per game was 20 points. Only two other rookies were able to accomplish that difficult feat – Oscar Robertson and Michael Jordan.
In 2004, James became a member of the US Olympic basketball team. They competed in Athens, Greece, and won bronze medals.
With his talent and skills, James skyrocketed to NBA royalty. In 2005, he again made NBA history when he scored over 50 points in a single game. He became the youngest player to do just that. During that season, he was also selected as a member of the NBA All-Star Game. He would soon become a repeat member for the next several years.
In the post-season matchup in 2006, James's average score was 26.6 points. Alas, it wasn't sufficient to deliver a victory for the people of Ohio. But even so, James continued to receive various recognitions for his performances. In fact, in 2006, he was named the MVP during the NBA All-Star Game. During that time, James renegotiated his contract with the Cavaliers.
During the 2007-2008 seasons, the Ohio-born player continued to be a star player for the Cavaliers. The franchise improved its ranking in the Eastern Conference. They even reached the semifinals. For his individual overall performance, James obtained the highest average during a regular season in the NBA.
Personal Life
On September 14, 2013, LeBron James married his long-time girlfriend, Savannah Brinson. Together, they have three children: two sons, LeBron Jr. and Bryce Maximus, and a daughter, Zhuri James.
In 2004, James and his mother, Gloria, launched the LeBron James Family Foundation. The organization helps single-parent families in need. The foundation also focuses on children. As one of its numerous programs, the LFJJ builds playgrounds in poor neighborhoods.
Learn more about this NBA star with 40 of his best quotes.
LeBron James Quotes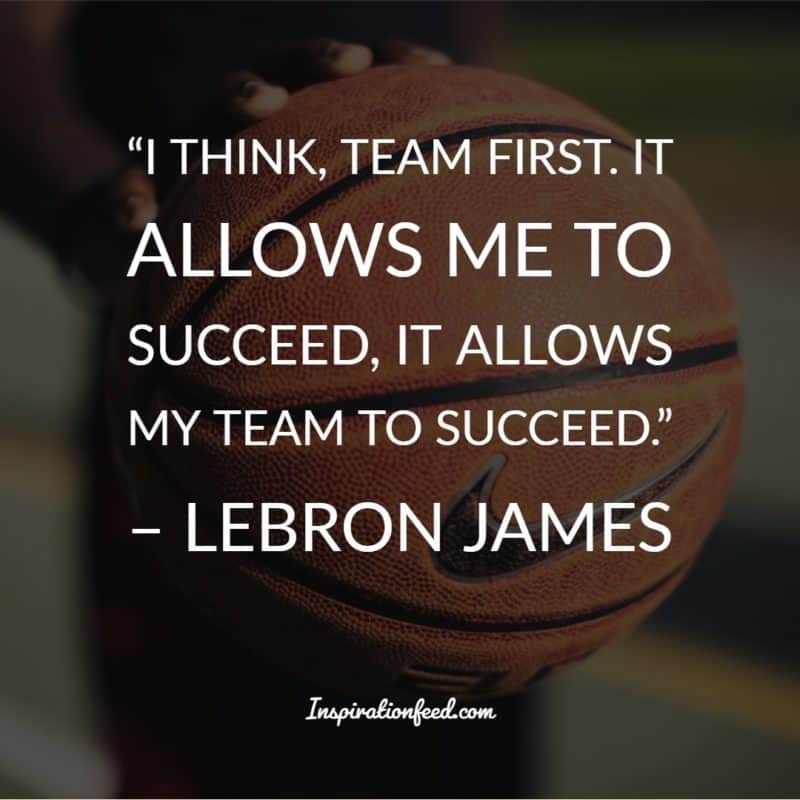 "I think, team first. It allows me to succeed, it allows my team to succeed." – LeBron James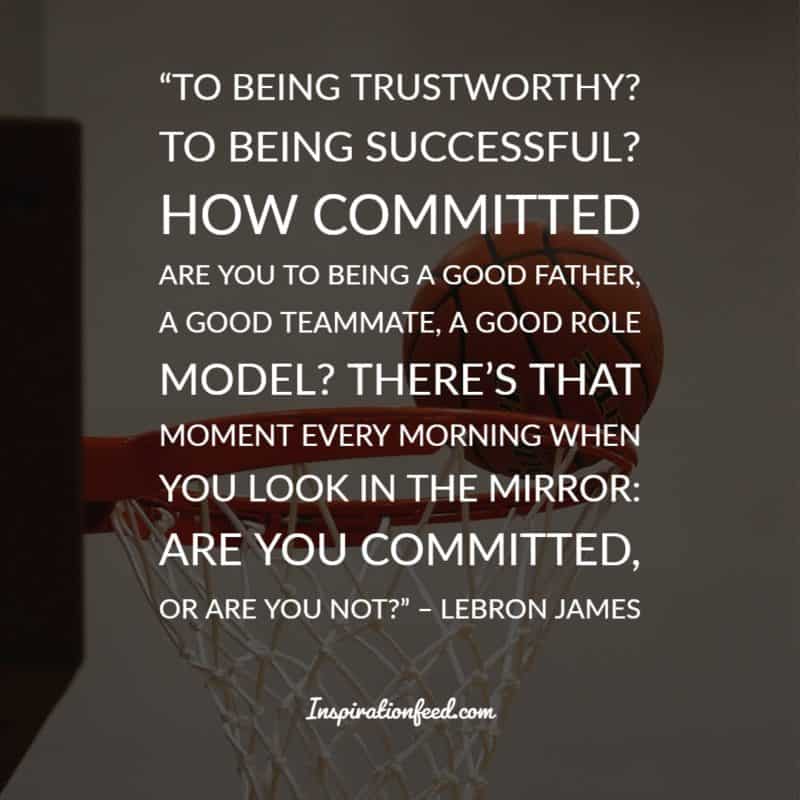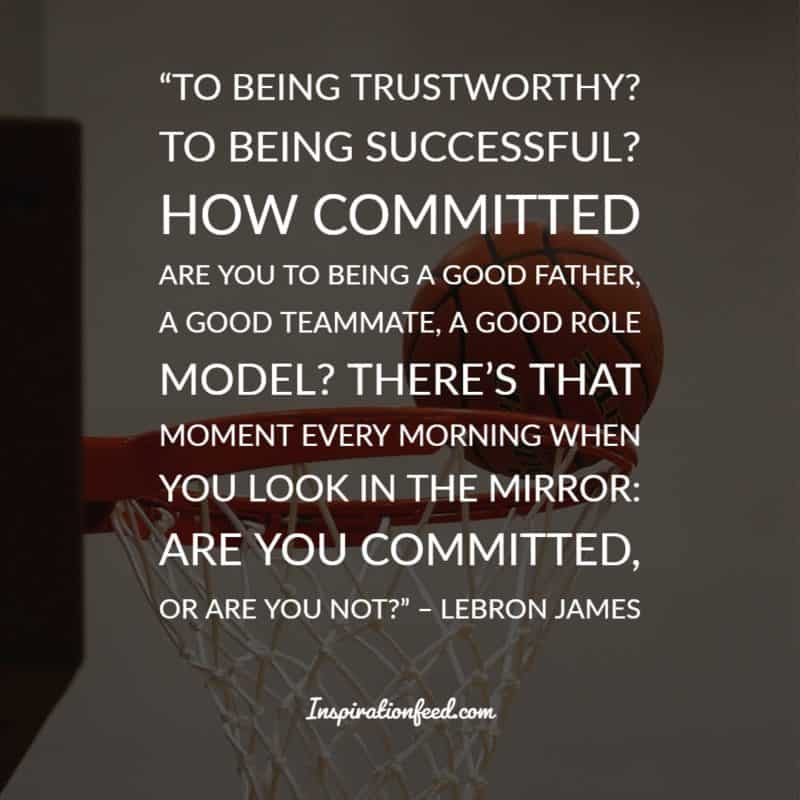 "To being trustworthy? To being successful? How committed are you to being a good father, a good teammate, a good role model? There's that moment every morning when you look in the mirror: Are you committed, or are you not?" – LeBron James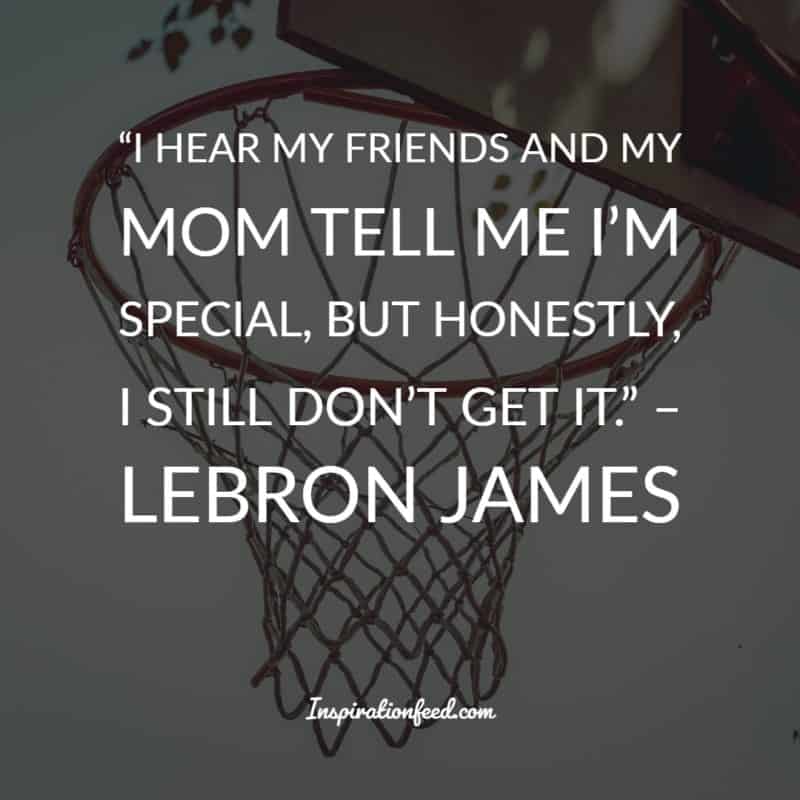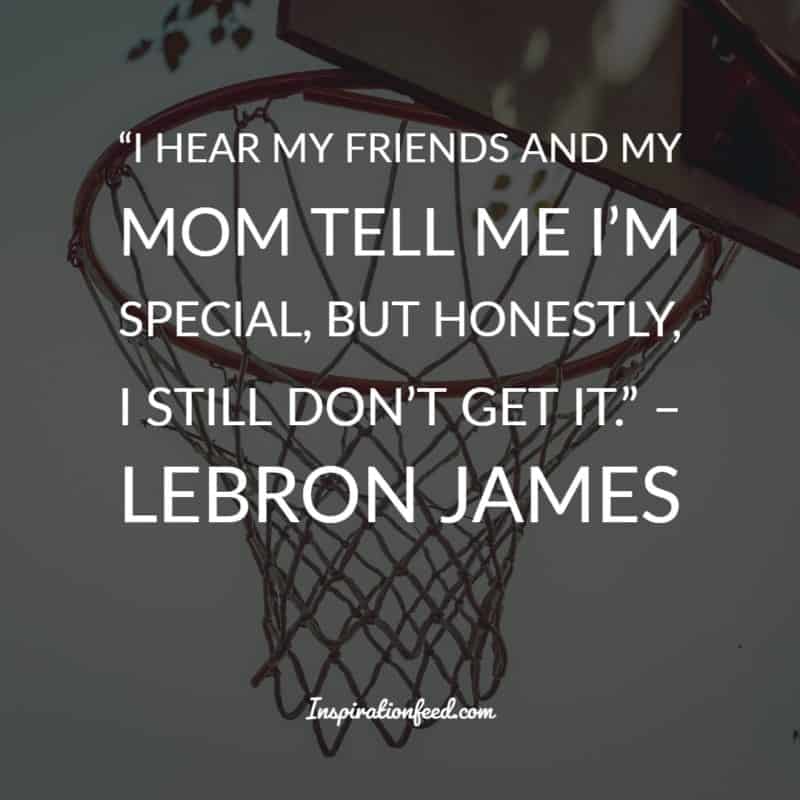 "I hear my friends and my mom tell me I'm special, but honestly, I still don't get it." – LeBron James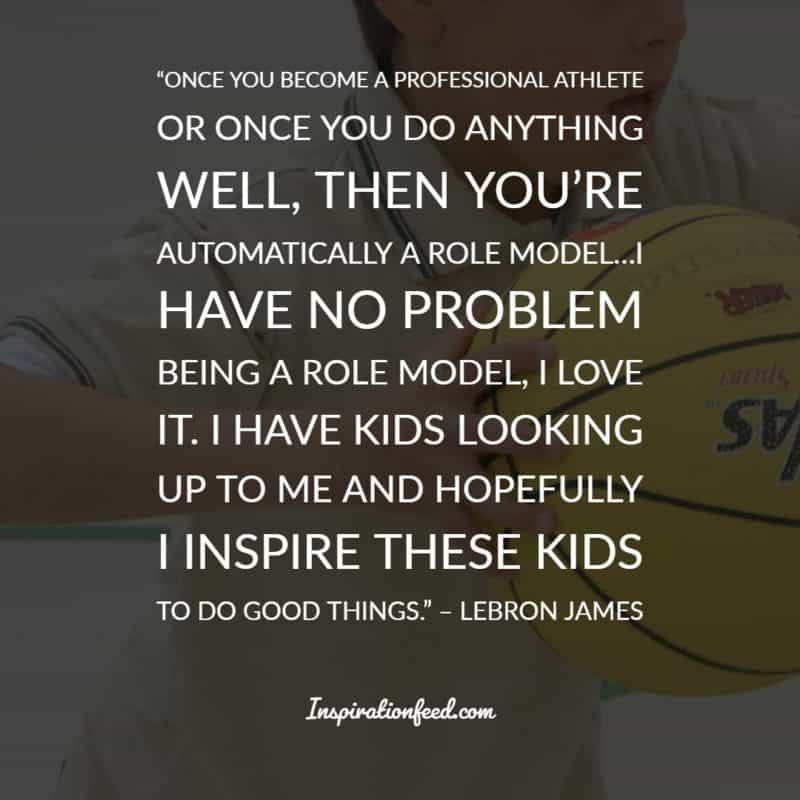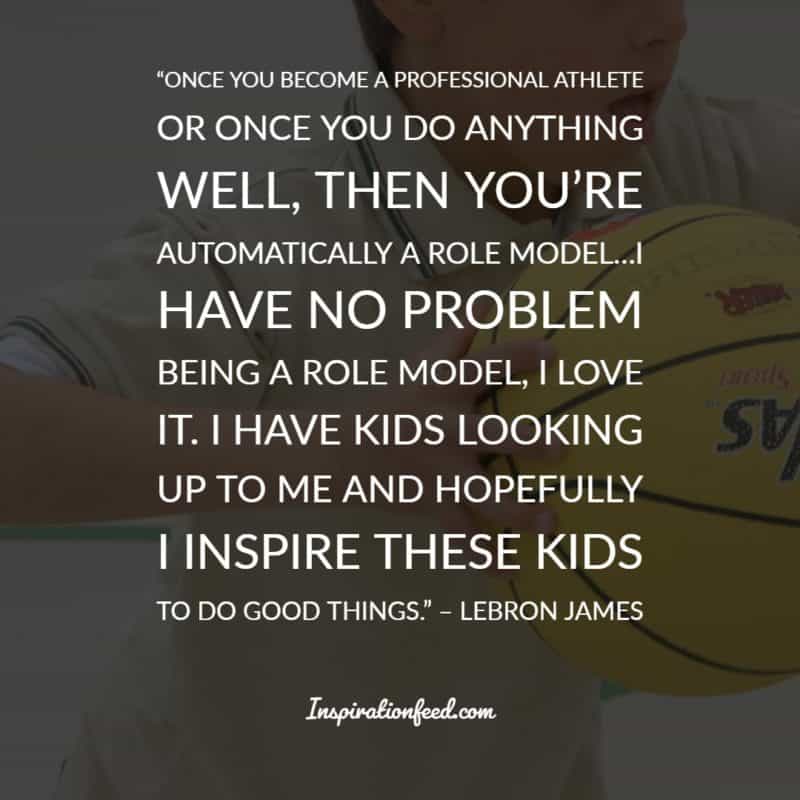 "Once you become a professional athlete or once you do anything well, then you're automatically a role model…I have no problem being a role model, I love it. I have kids looking up to me and hopefully I inspire these kids to do good things." – LeBron James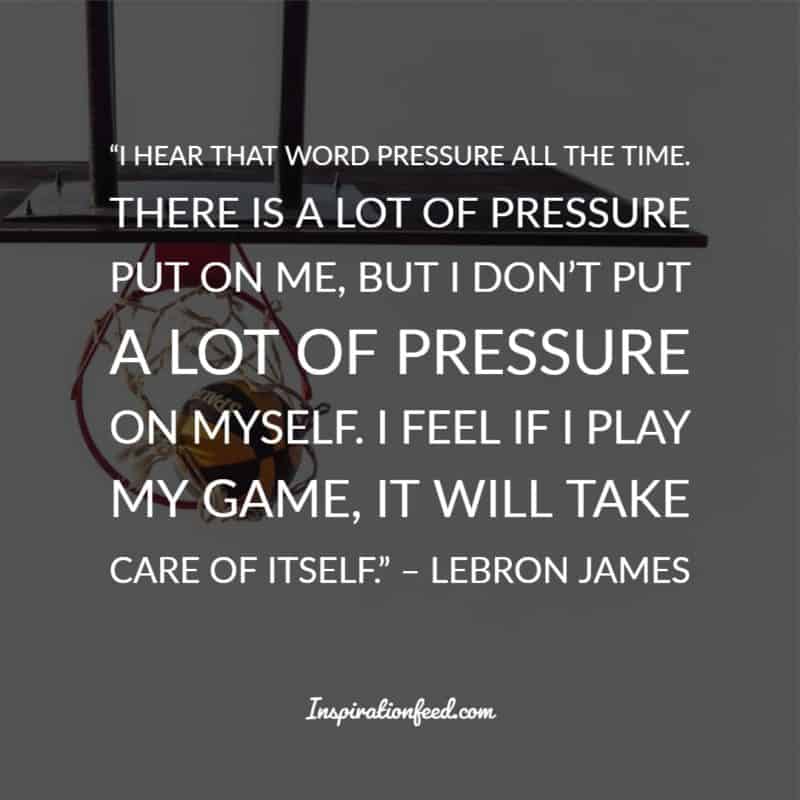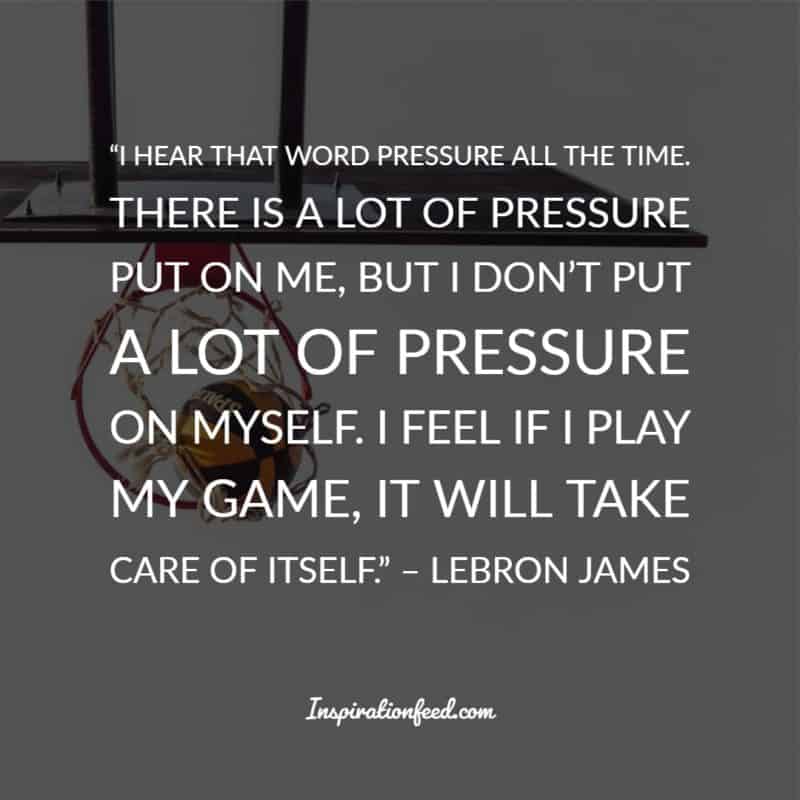 "I hear that word pressure all the time. There is a lot of pressure put on me, but I don't put a lot of pressure on myself. I feel if I play my game, it will take care of itself." – LeBron James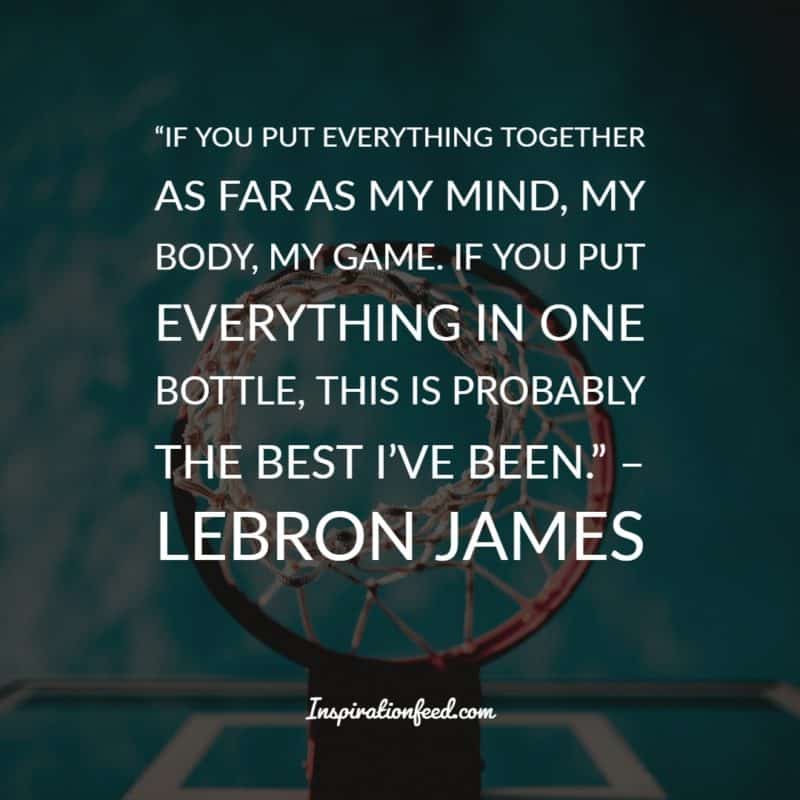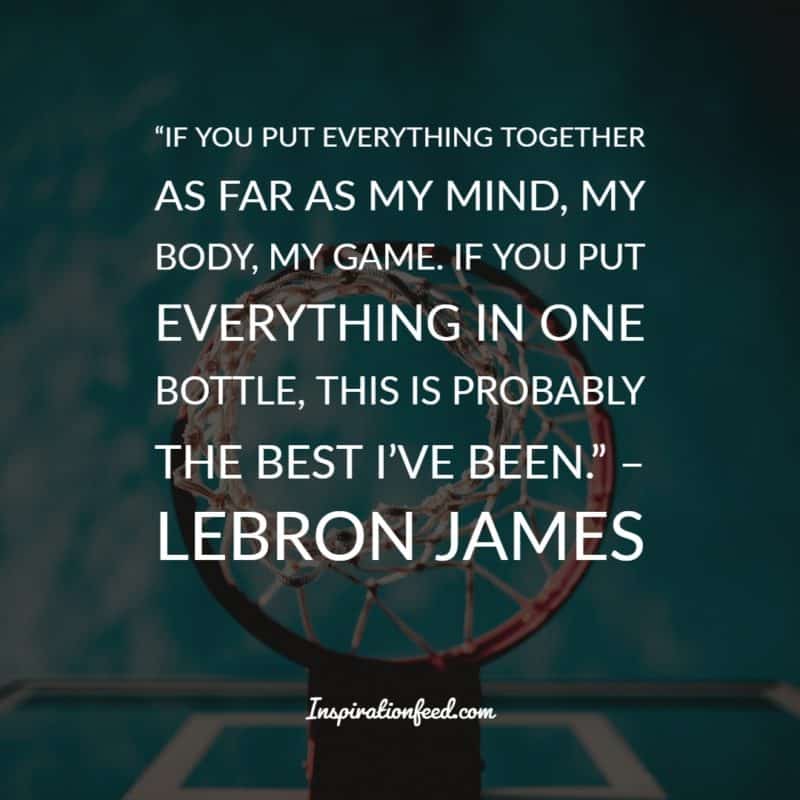 "If you put everything together as far as my mind, my body, my game. If you put everything in one bottle, this is probably the best I've been." – LeBron James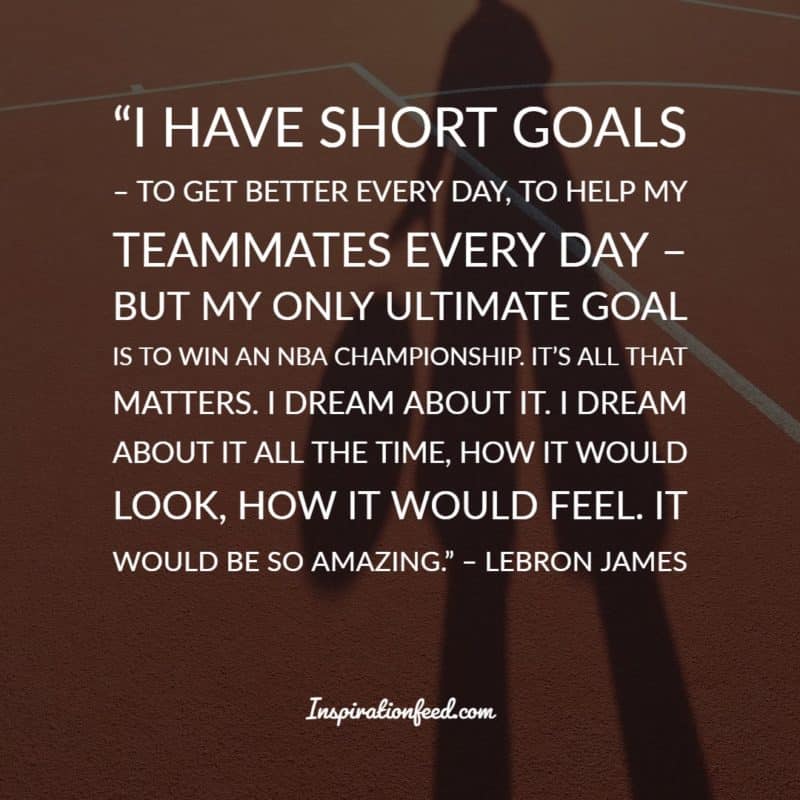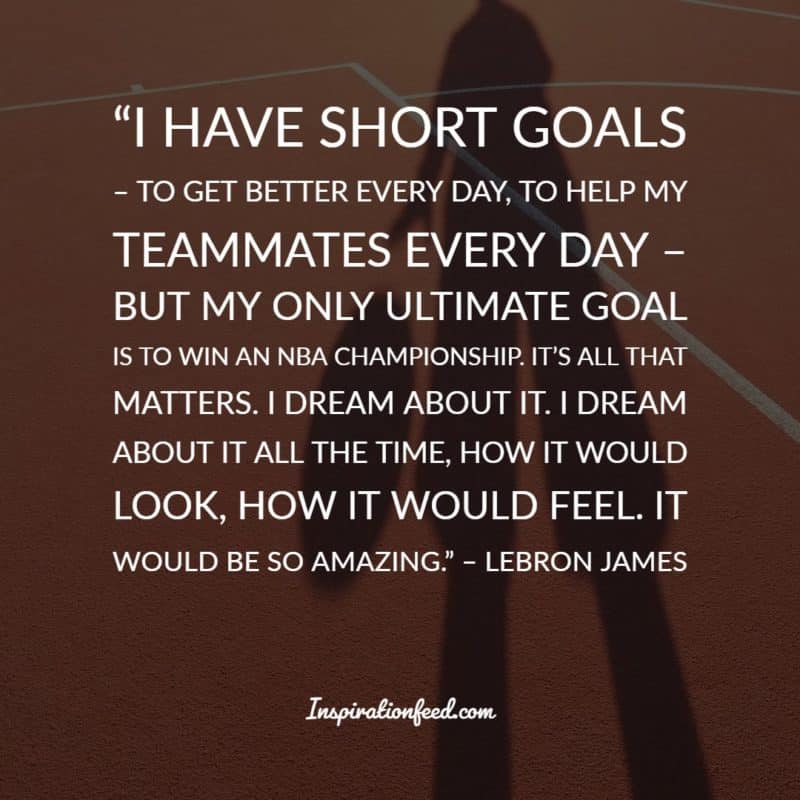 "I have short goals – to get better every day, to help my teammates every day – but my only ultimate goal is to win an NBA championship. It's all that matters. I dream about it. I dream about it all the time, how it would look, how it would feel. It would be so amazing." – Lebron James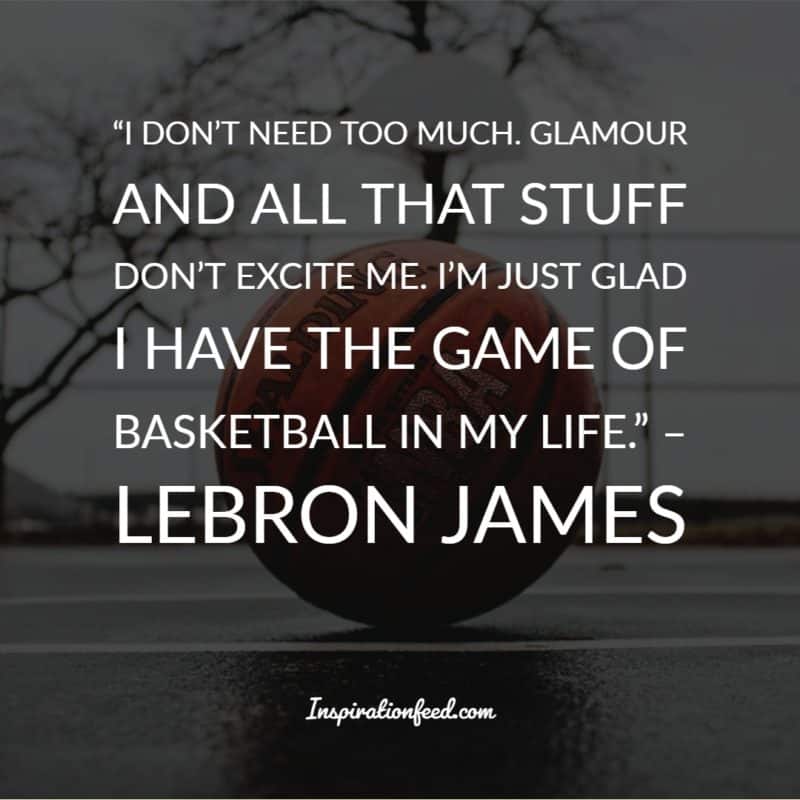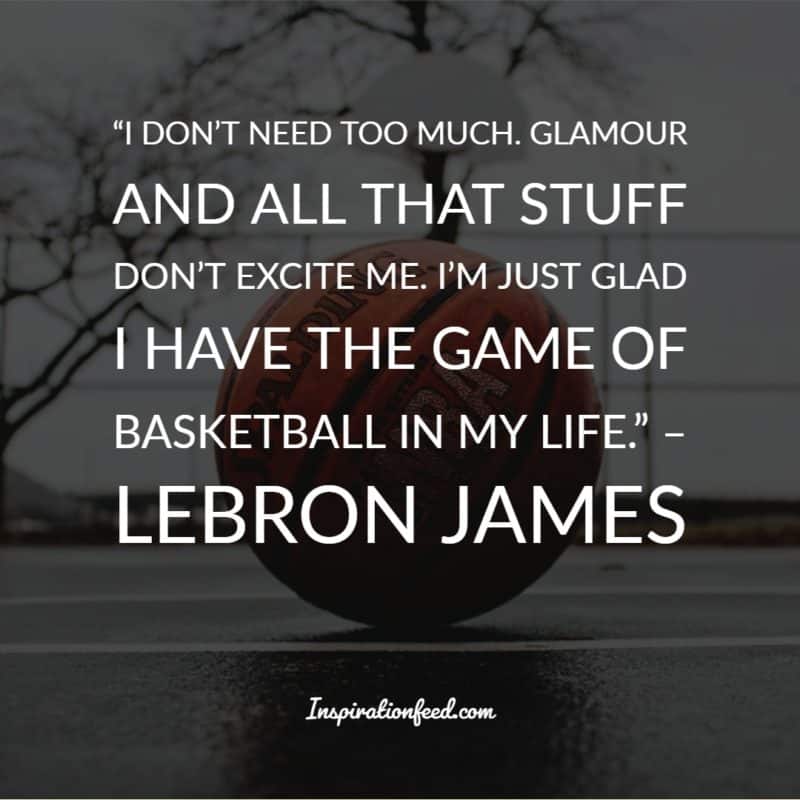 "I don't need too much. Glamour and all that stuff don't excite me. I'm just glad I have the game of basketball in my life." – LeBron James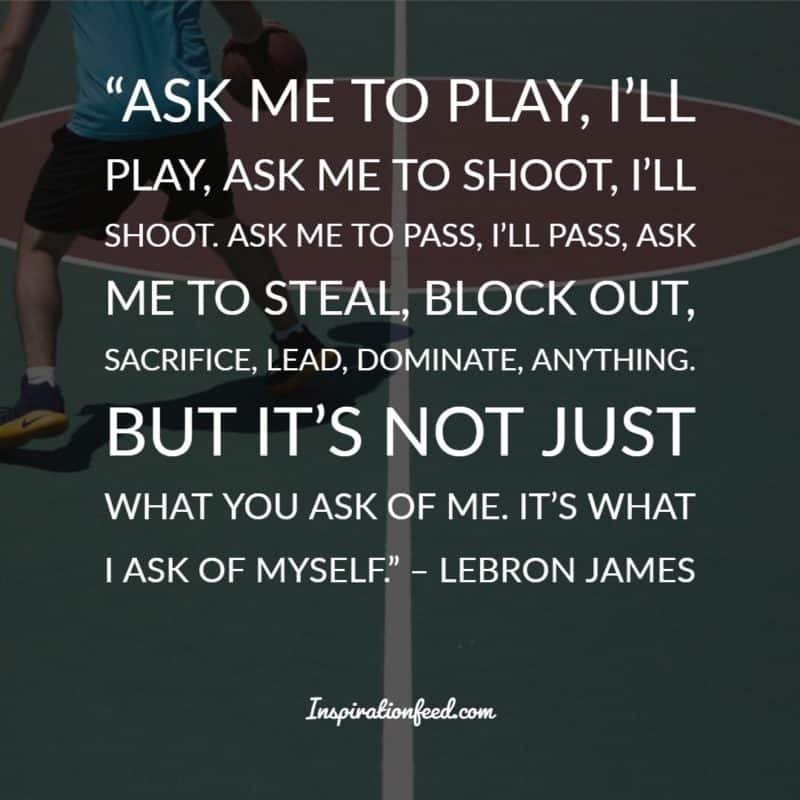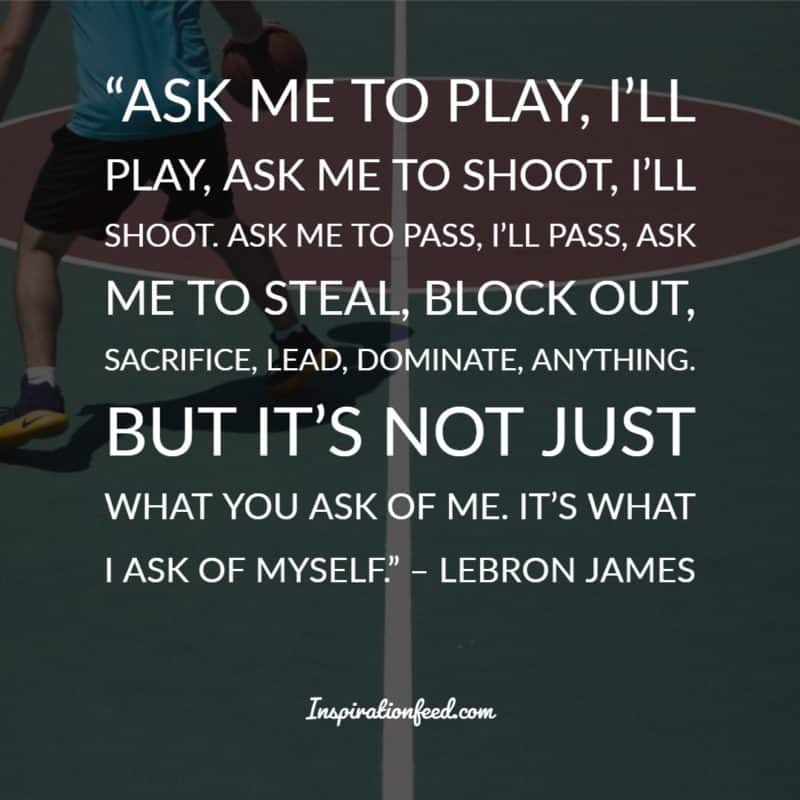 "Ask me to play, I'll play, ask me to shoot, I'll shoot. Ask me to pass, I'll pass, Ask me to steal, block out, sacrifice, lead, dominate, anything. But it's not just what you ask of me. It's what I ask of myself." – LeBron James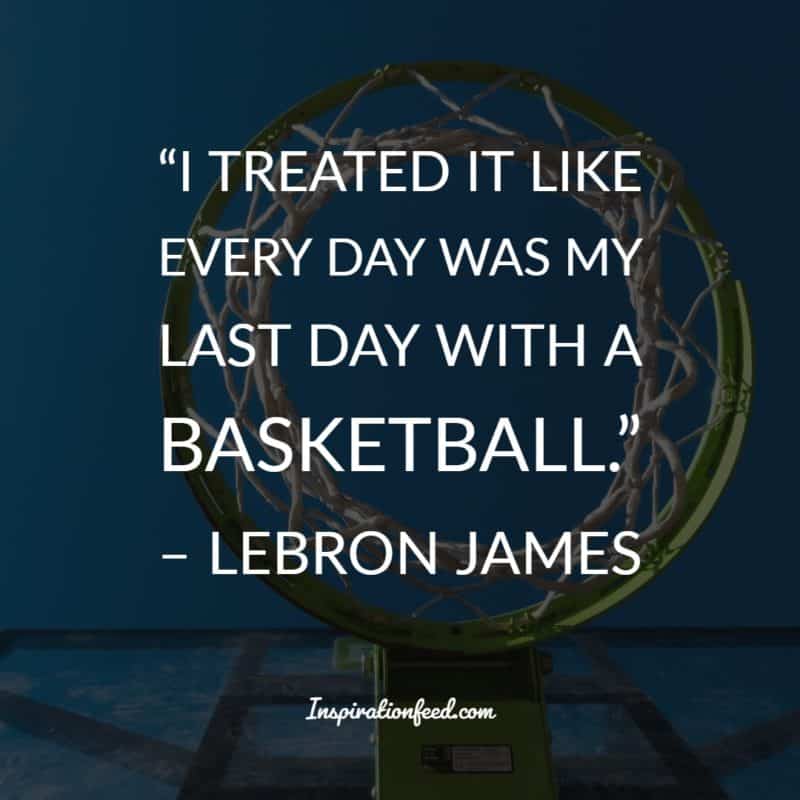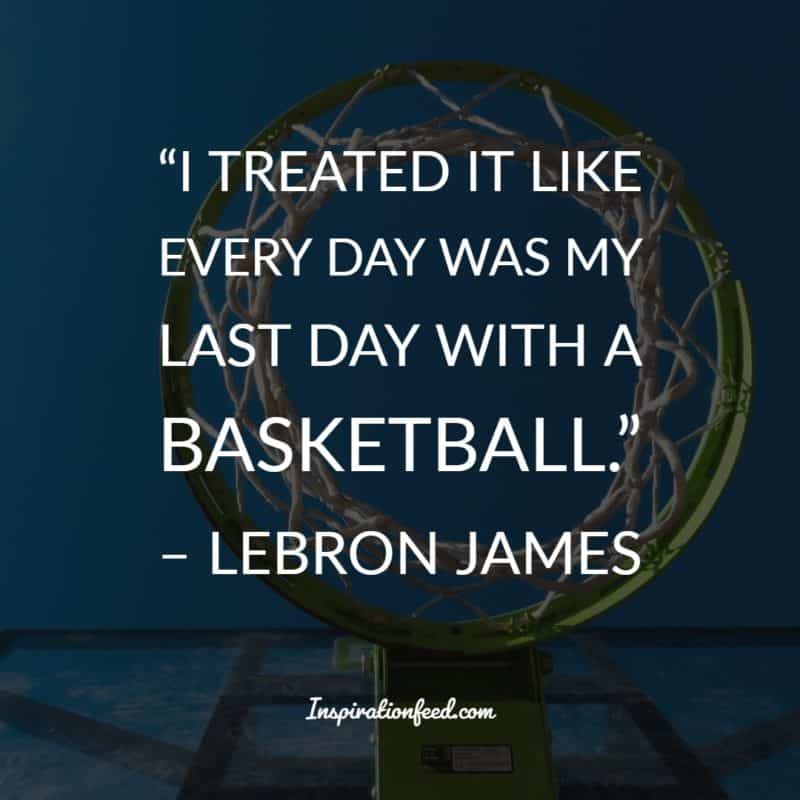 "I treated it like every day was my last day with a basketball." – LeBron James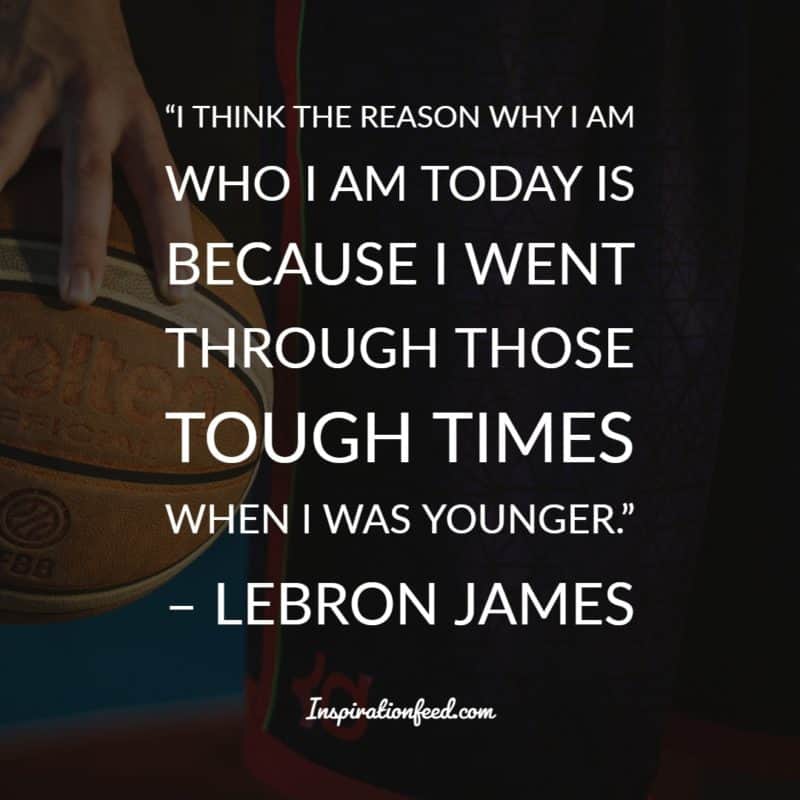 "I think the reason why I am who I am today is because I went through those tough times when I was younger." – LeBron James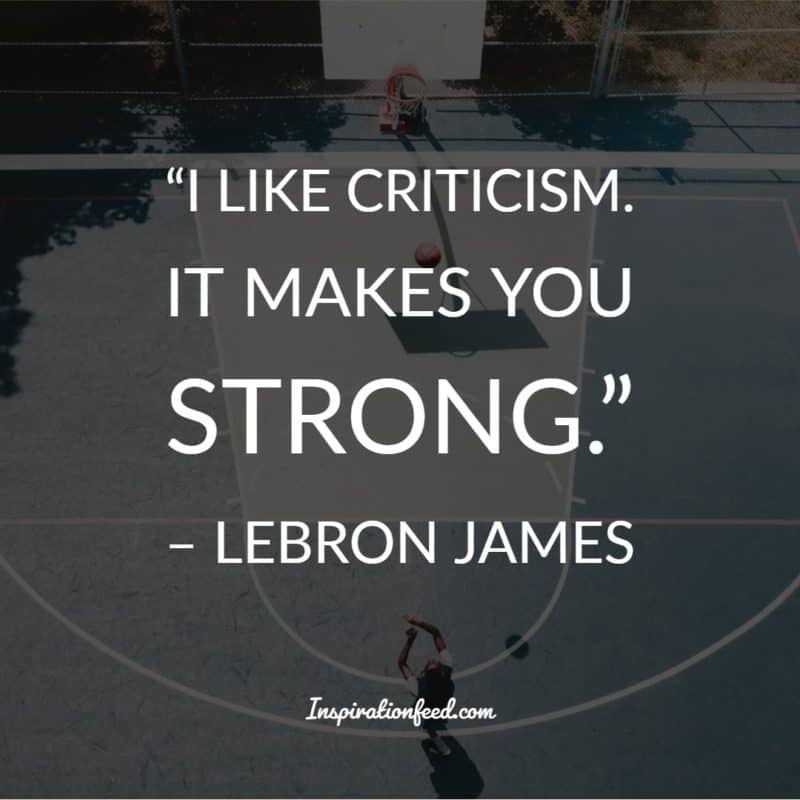 "I like criticism. It makes you strong." – LeBron James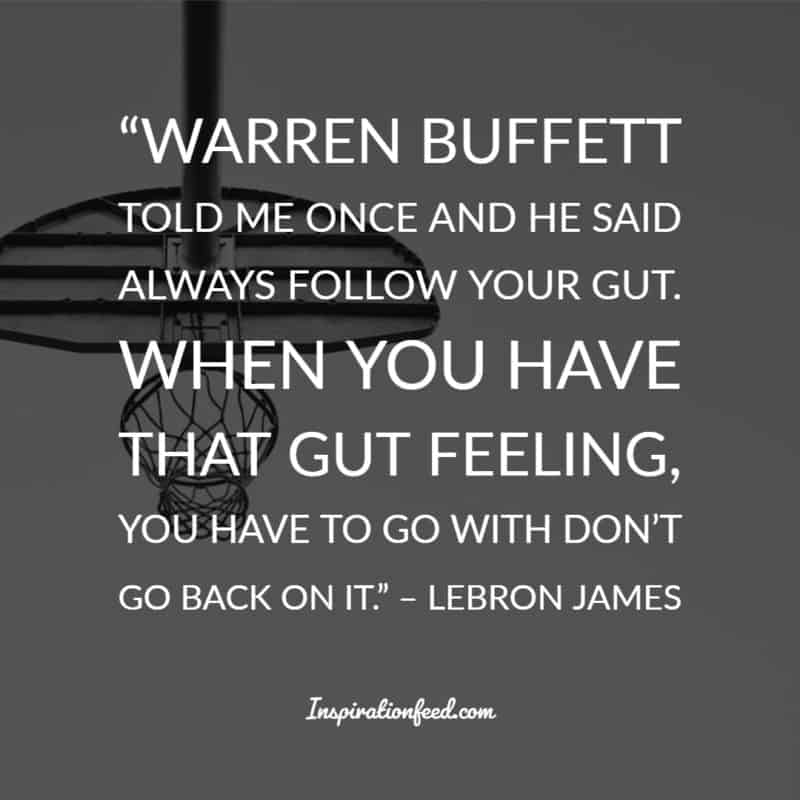 "Warren Buffett told me once and he said always follow your gut. When you have that gut feeling, you have to go with don't go back on it." – LeBron James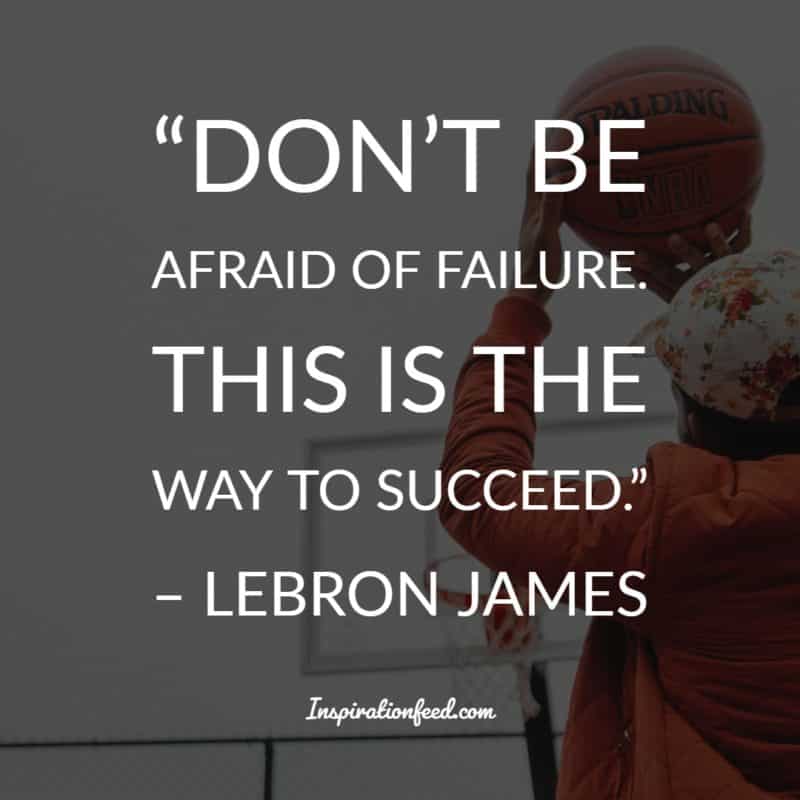 "Don't be afraid of failure. This is the way to succeed." – LeBron James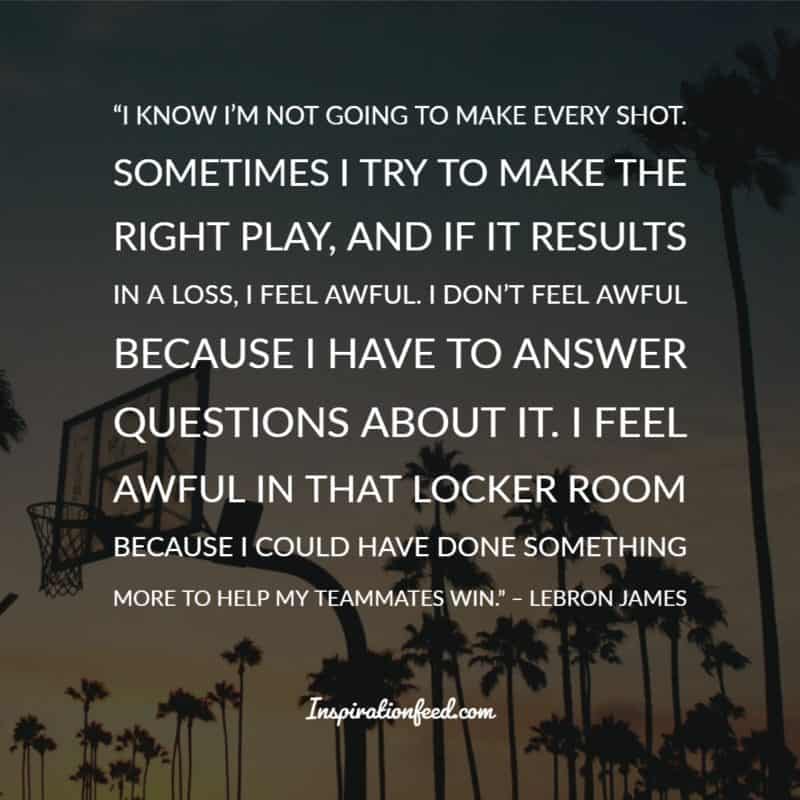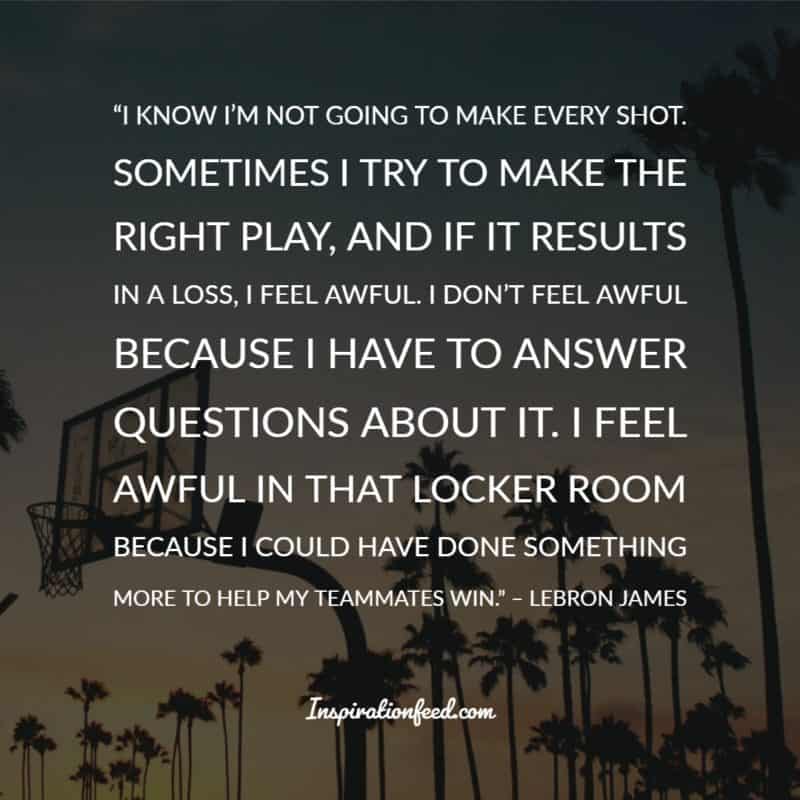 "I know I'm not going to make every shot. Sometimes I try to make the right play, and if it results in a loss, I feel awful. I don't feel awful because I have to answer questions about it. I feel awful in that locker room because I could have done something more to help my teammates win." – LeBron James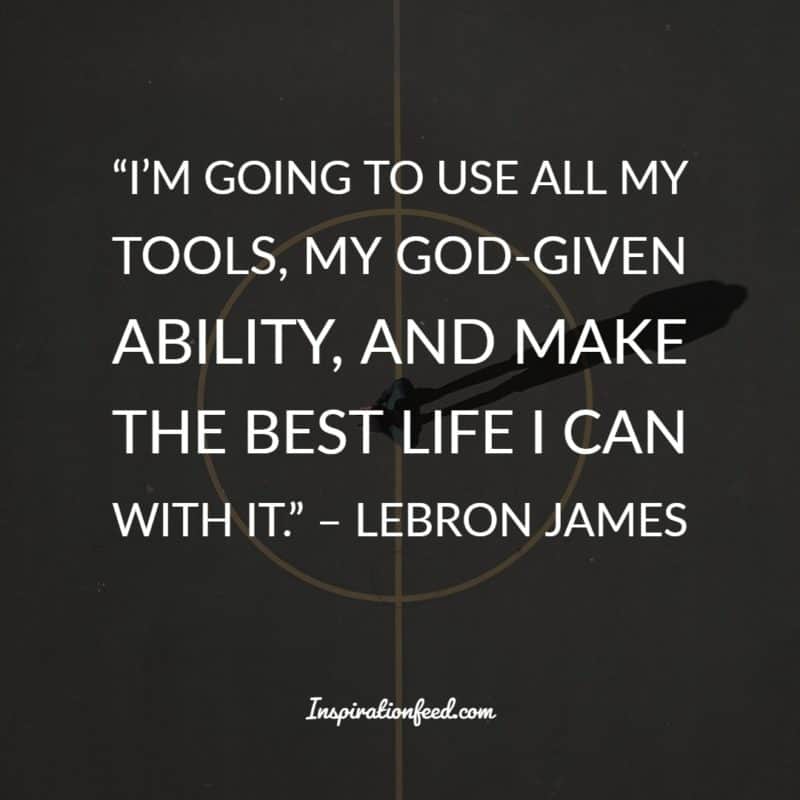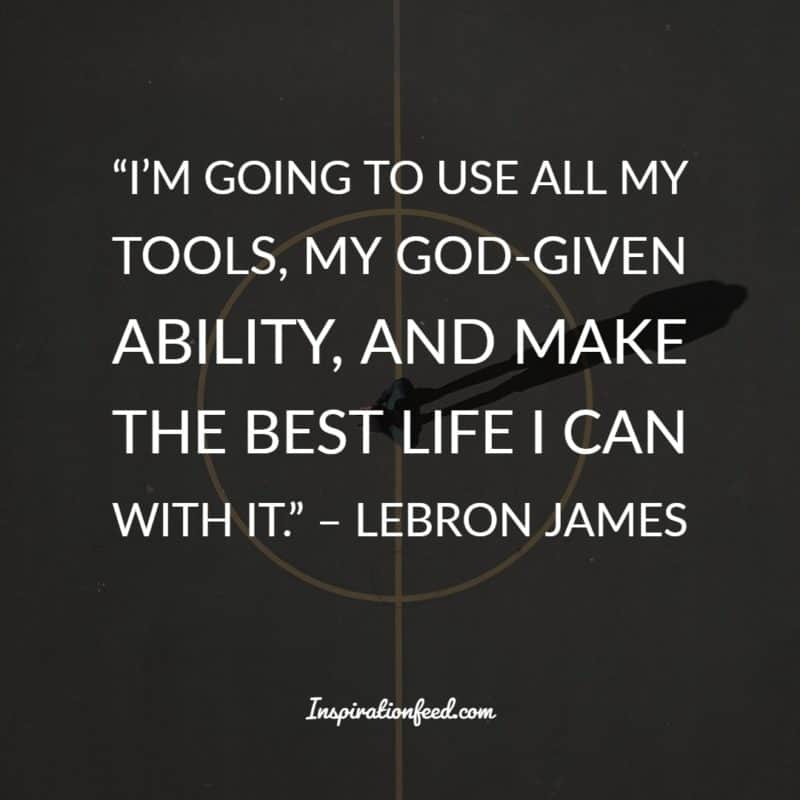 "I'm going to use all my tools, my God-given ability, and make the best life I can with it." – LeBron James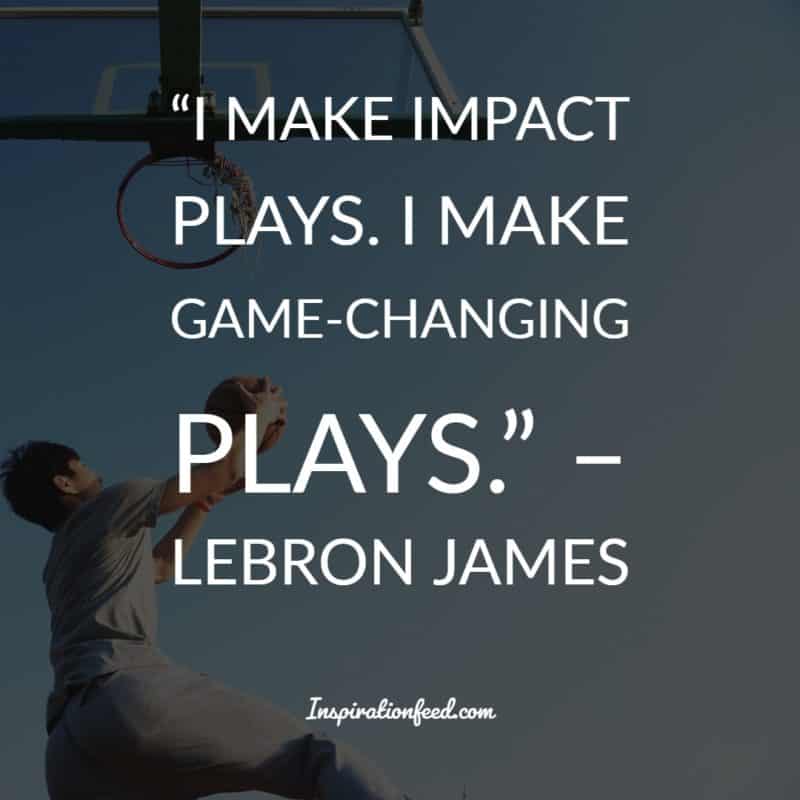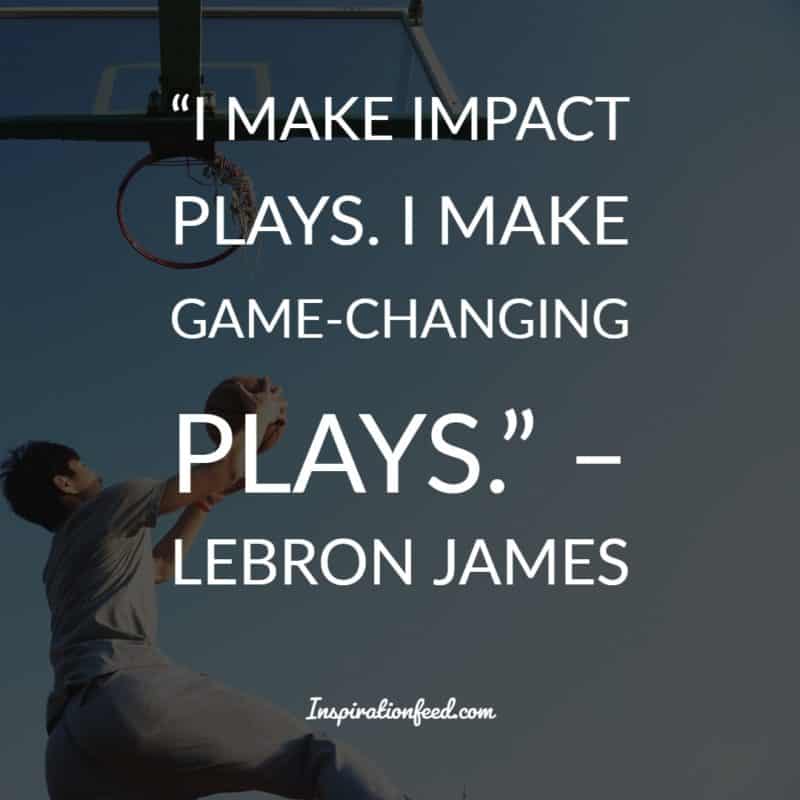 "I make impact plays. I make game-changing plays." – LeBron James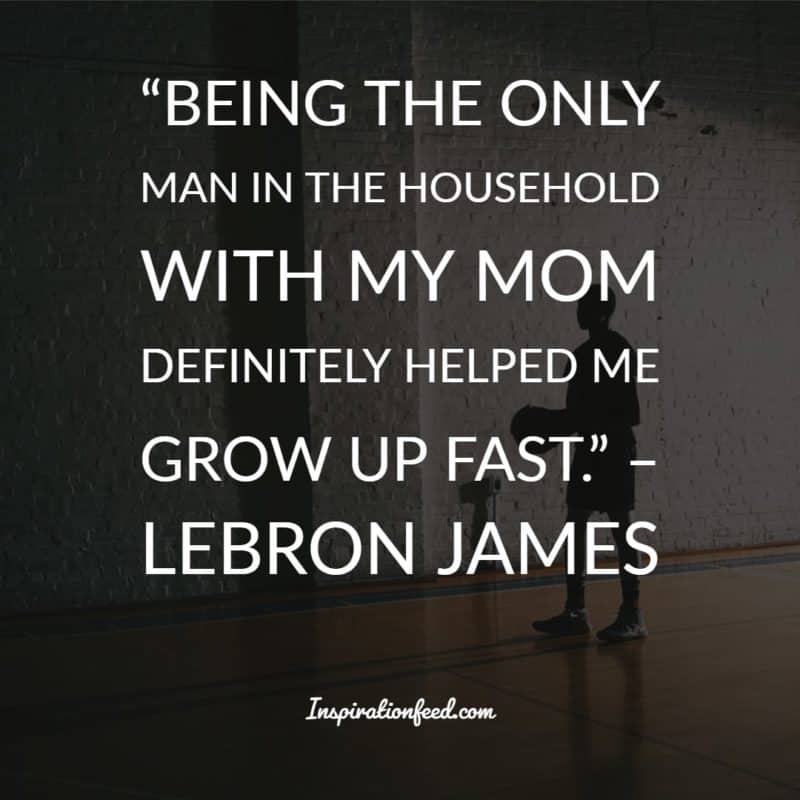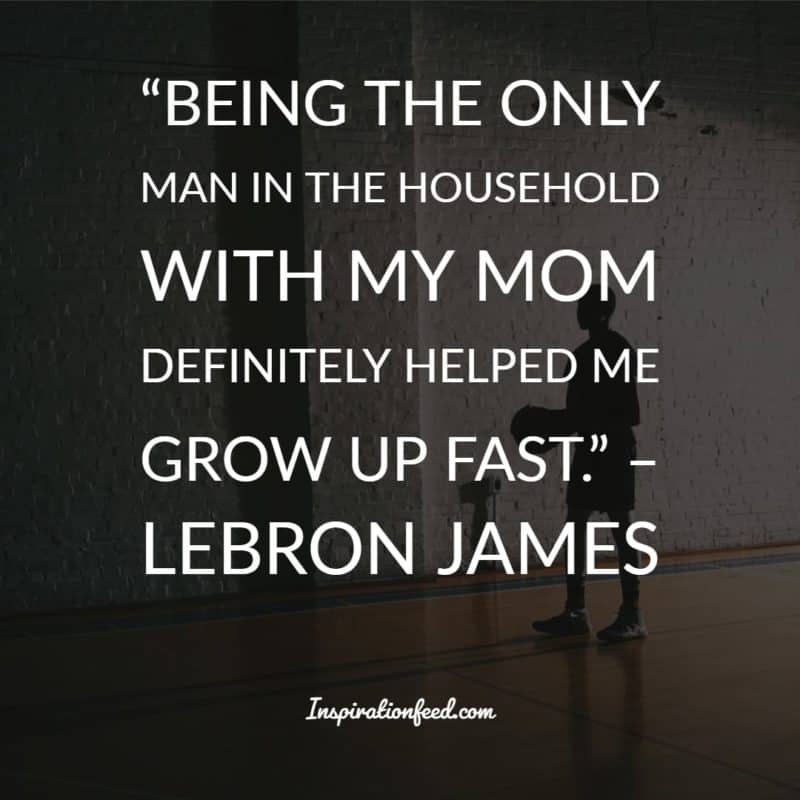 "Being the only man in the household with my mom definitely helped me grow up fast." – LeBron James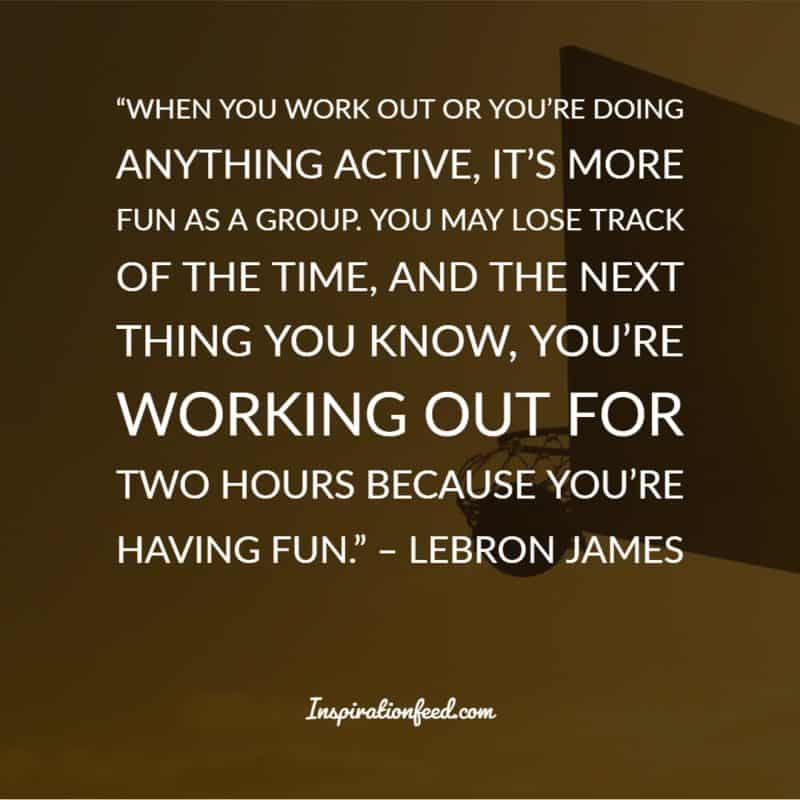 "When you work out or you're doing anything active, it's more fun as a group. You may lose track of the time, and the next thing you know, you're working out for two hours because you're having fun." – LeBron James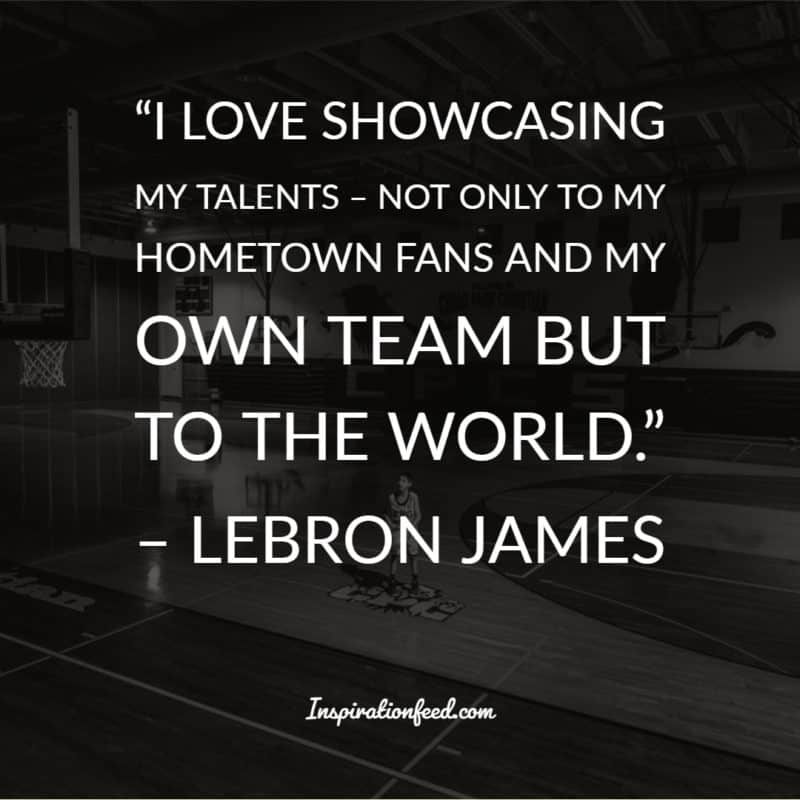 "I love showcasing my talents – not only to my hometown fans and my own team but to the world." – LeBron James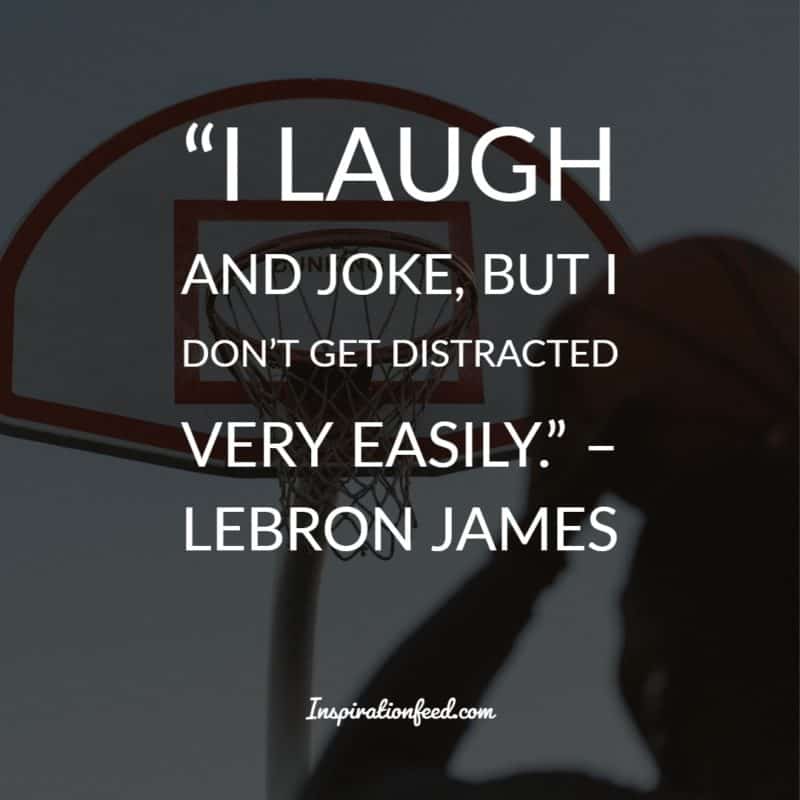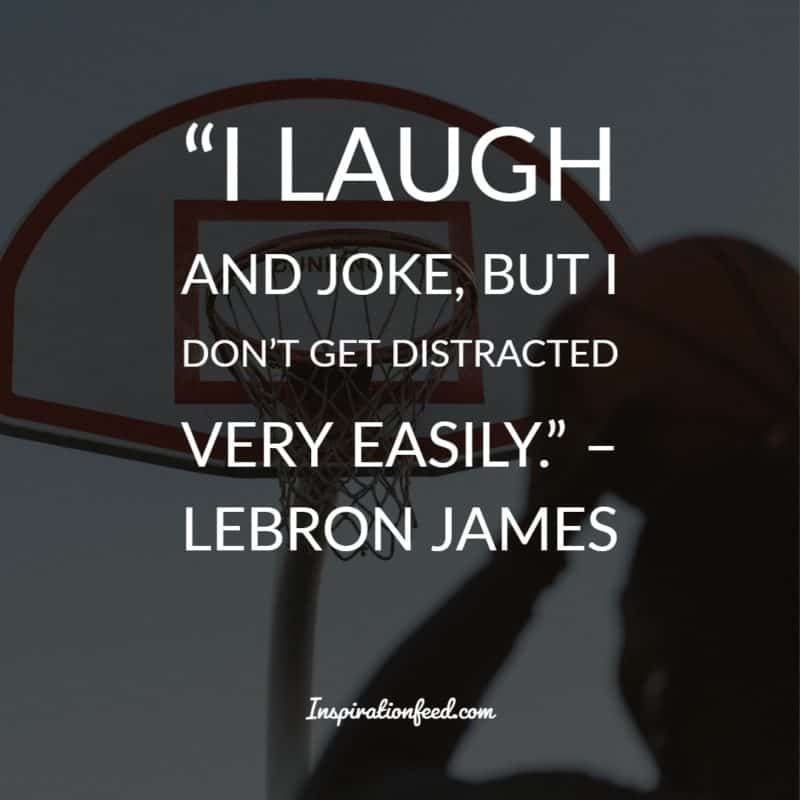 "I laugh and joke, but I don't get distracted very easily." – LeBron James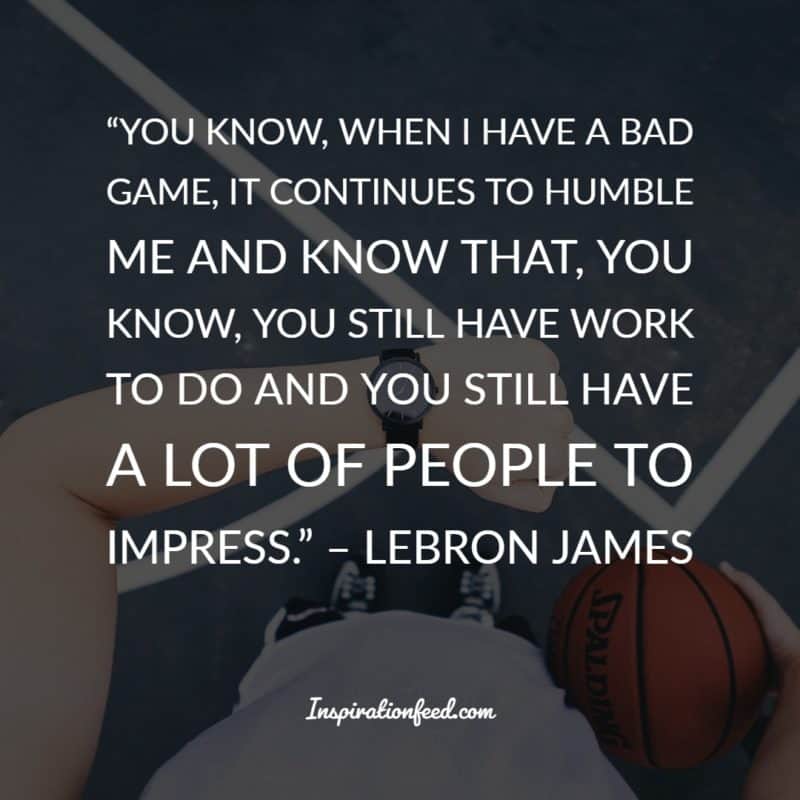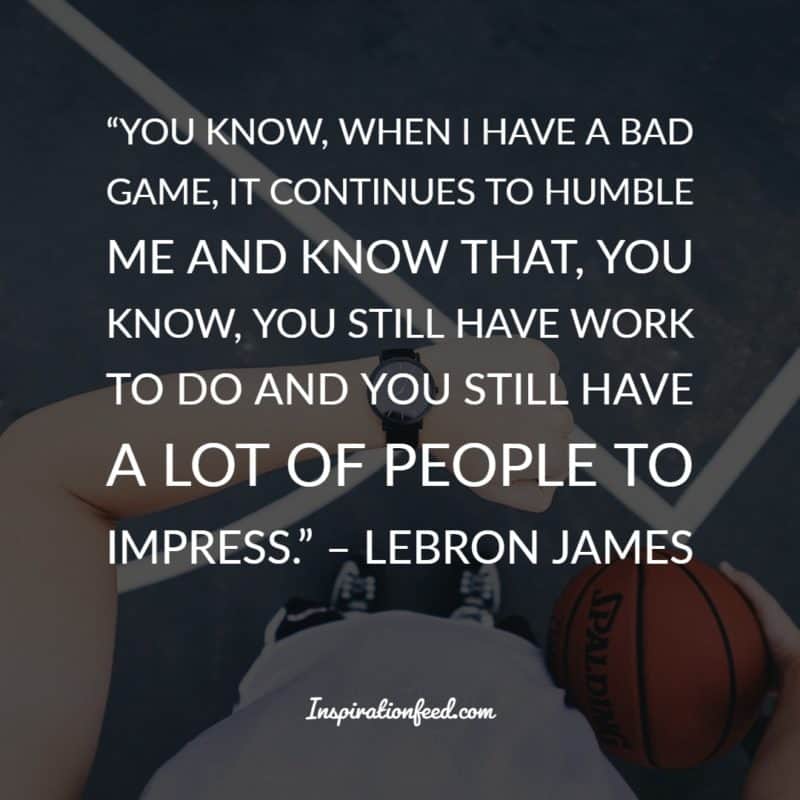 "You know, when I have a bad game, it continues to humble me and know that, you know, you still have work to do and you still have a lot of people to impress."  – LeBron James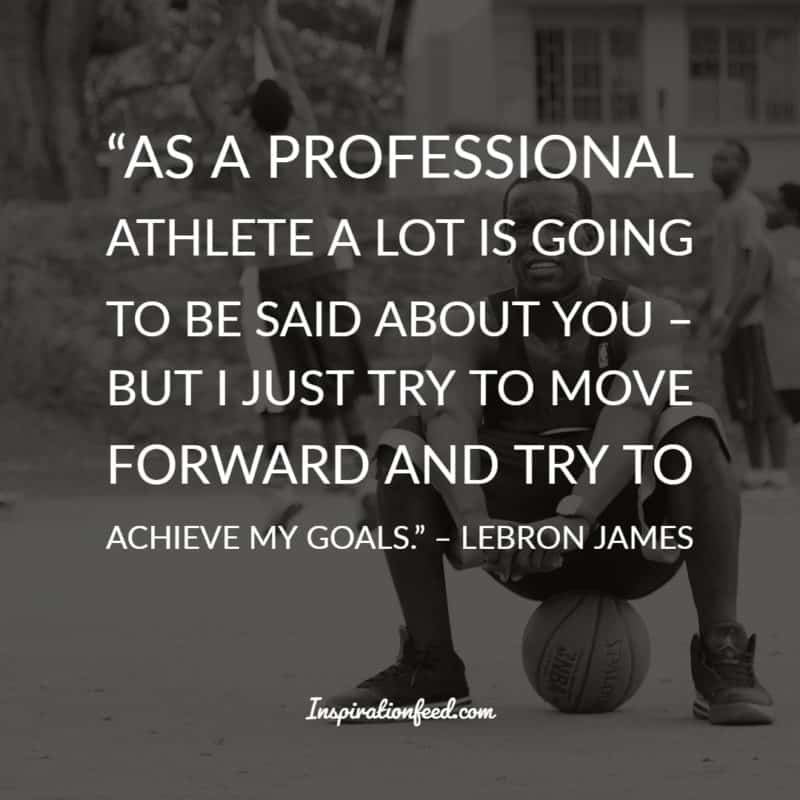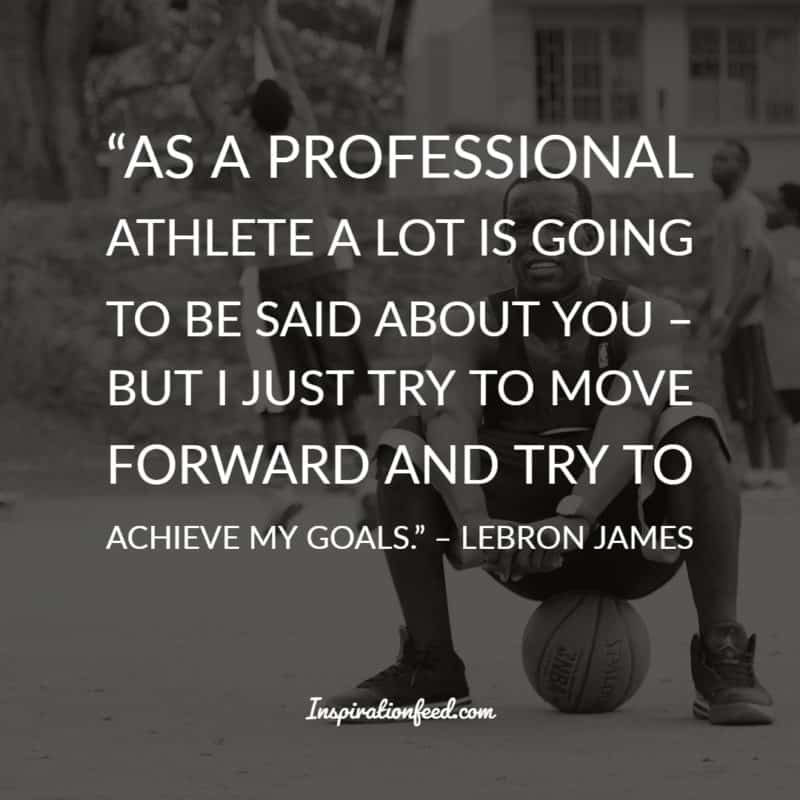 "As a professional athlete a lot is going to be said about you – but I just try to move forward and try to achieve my goals." – LeBron James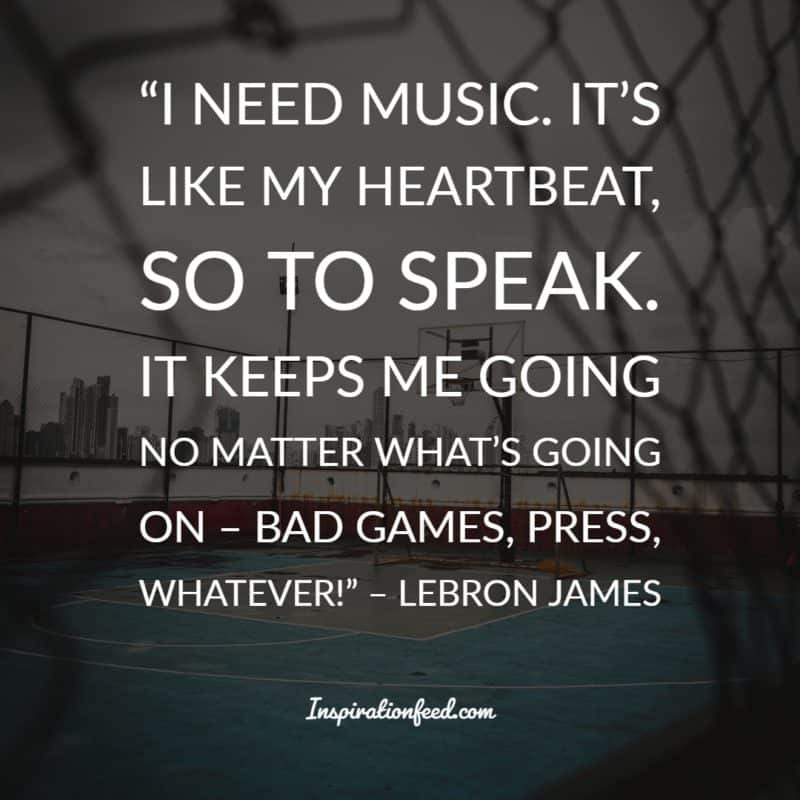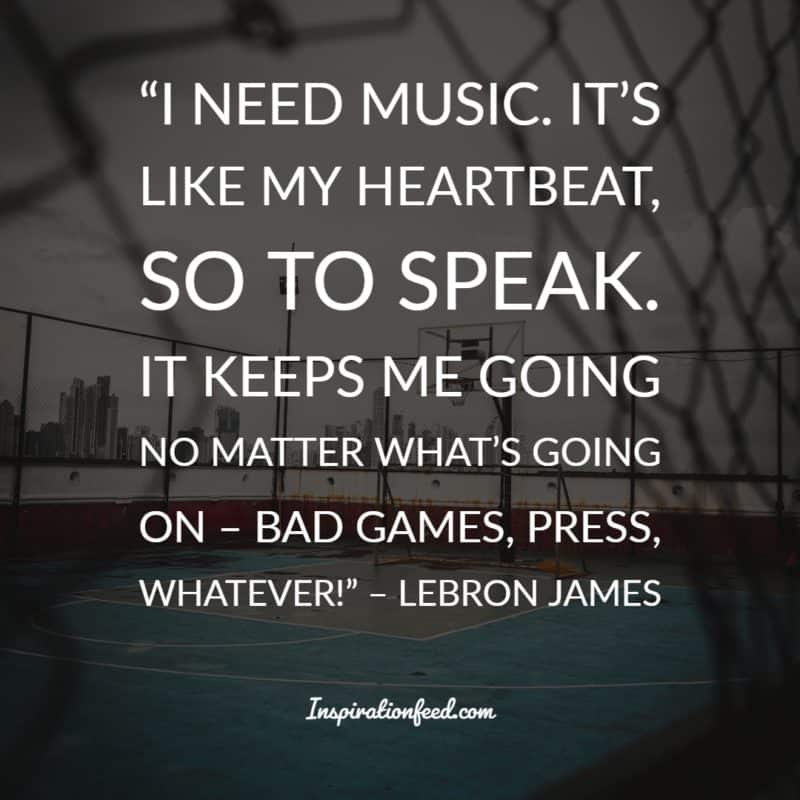 "I need music. It's like my heartbeat, so to speak. It keeps me going no matter what's going on – bad games, press, whatever!" – LeBron James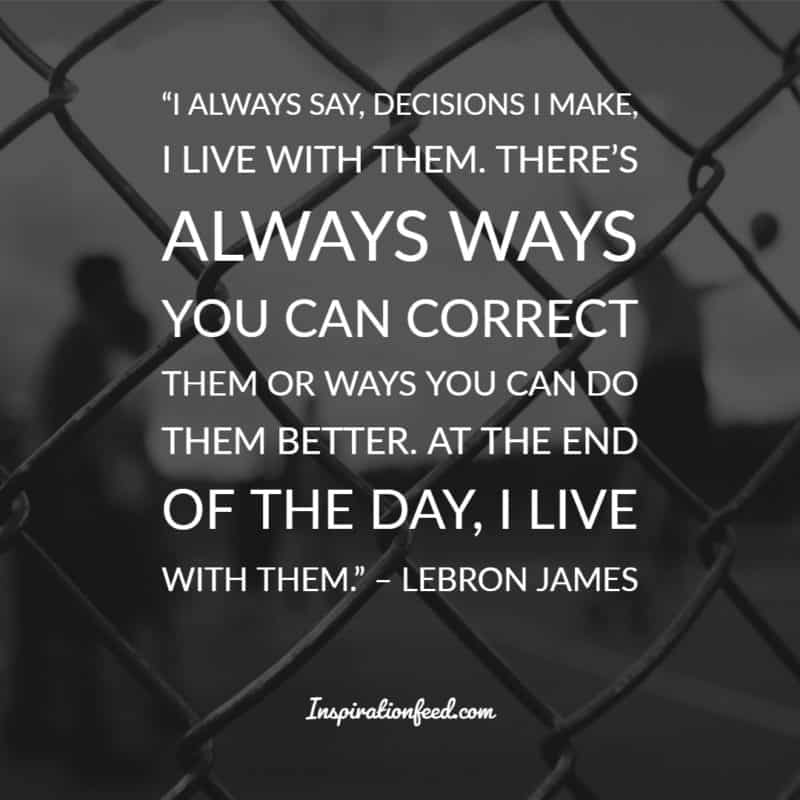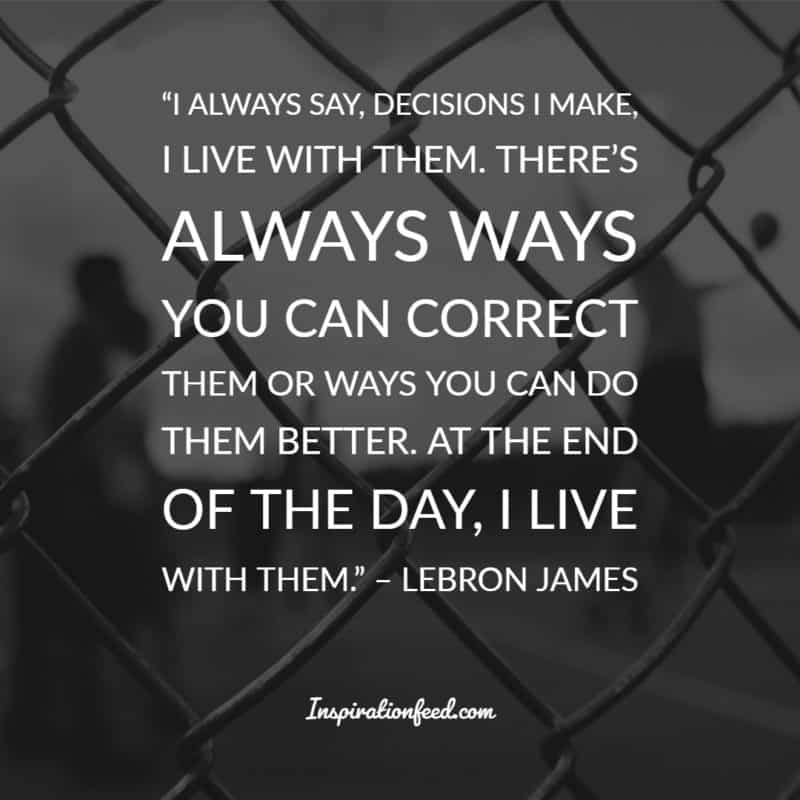 "I always say, decisions I make, I live with them. There's always ways you can correct them or ways you can do them better. At the end of the day, I live with them." – LeBron James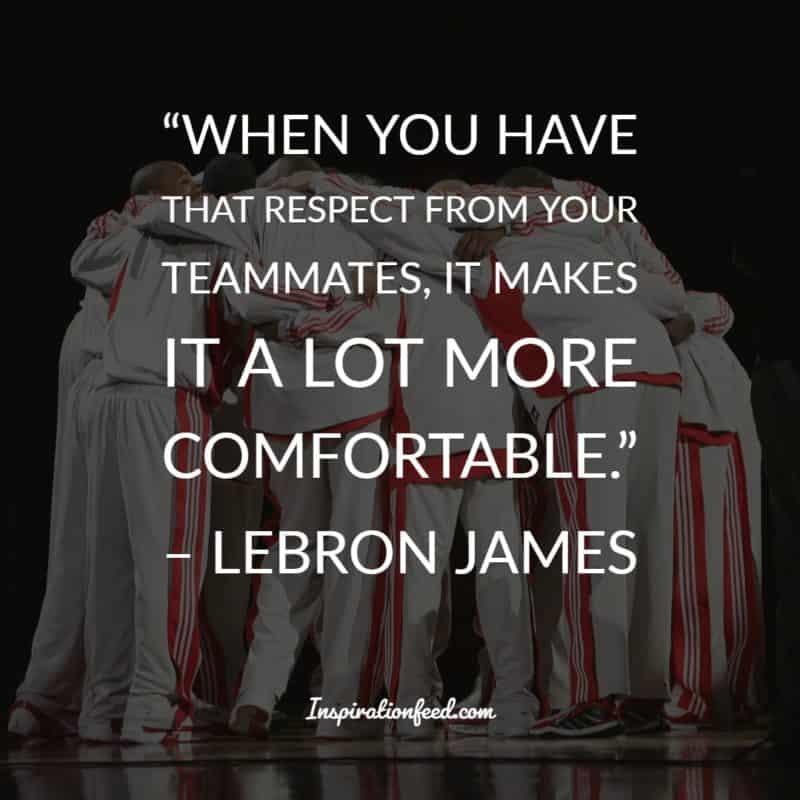 "When you have that respect from your teammates, it makes it a lot more comfortable." – LeBron James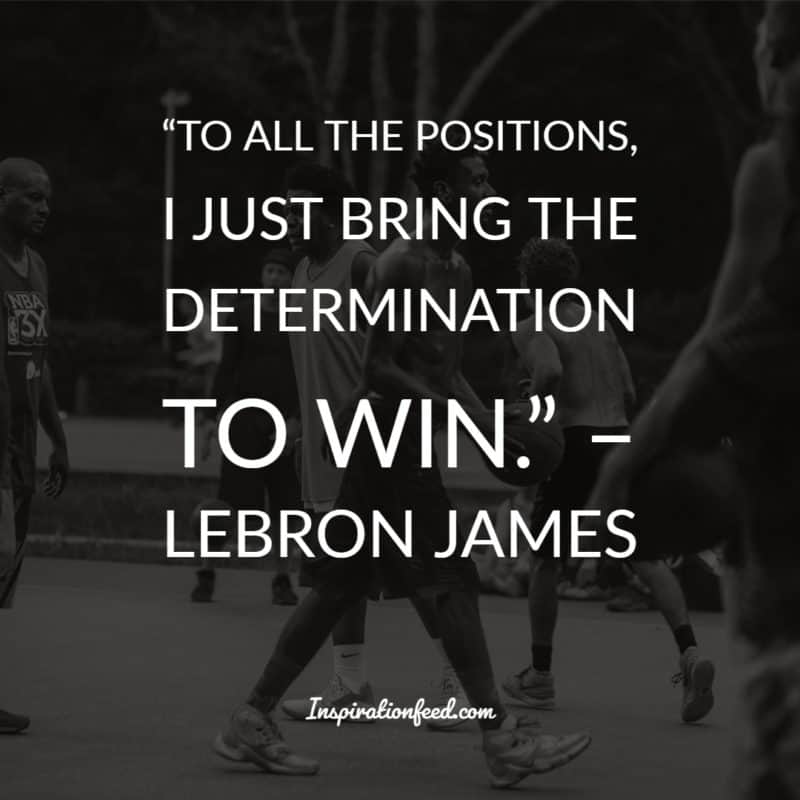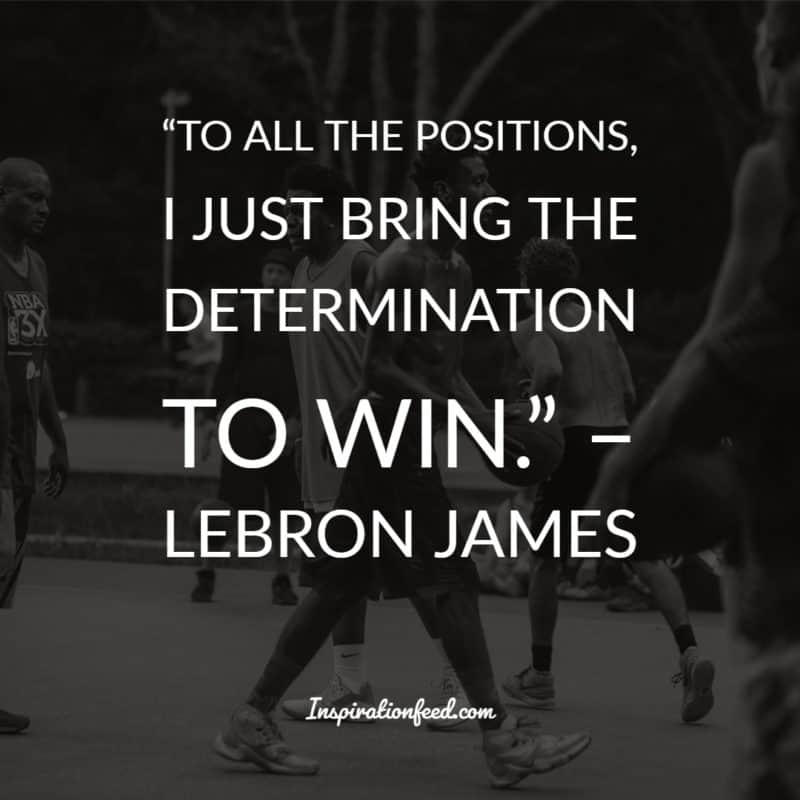 "To all the positions, I just bring the determination to win." – LeBron James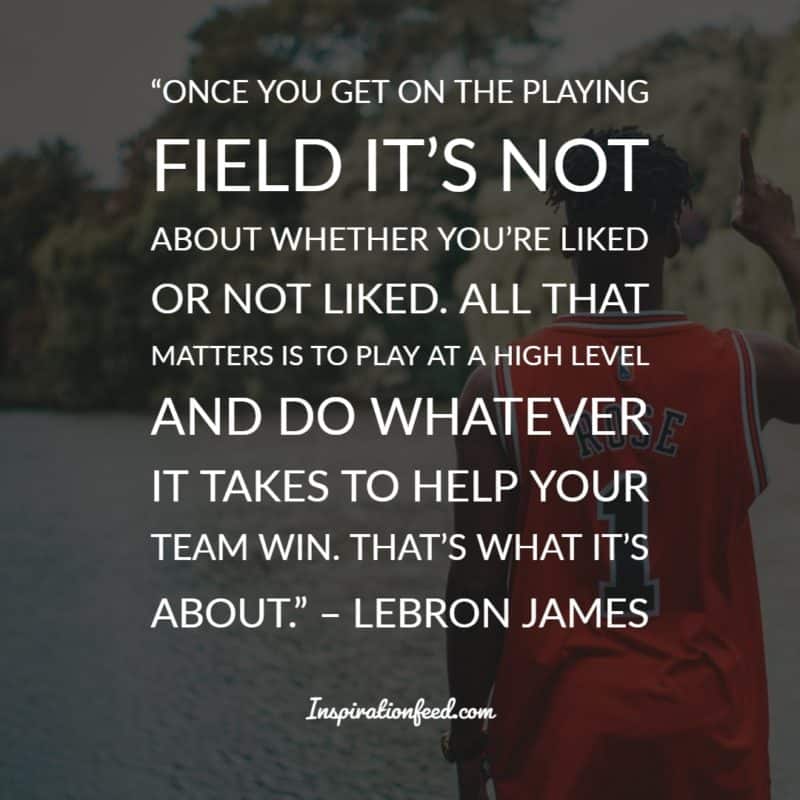 "Once you get on the playing field it's not about whether you're liked or not liked. All that matters is to play at a high level and do whatever it takes to help your team win. That's what it's about." – LeBron James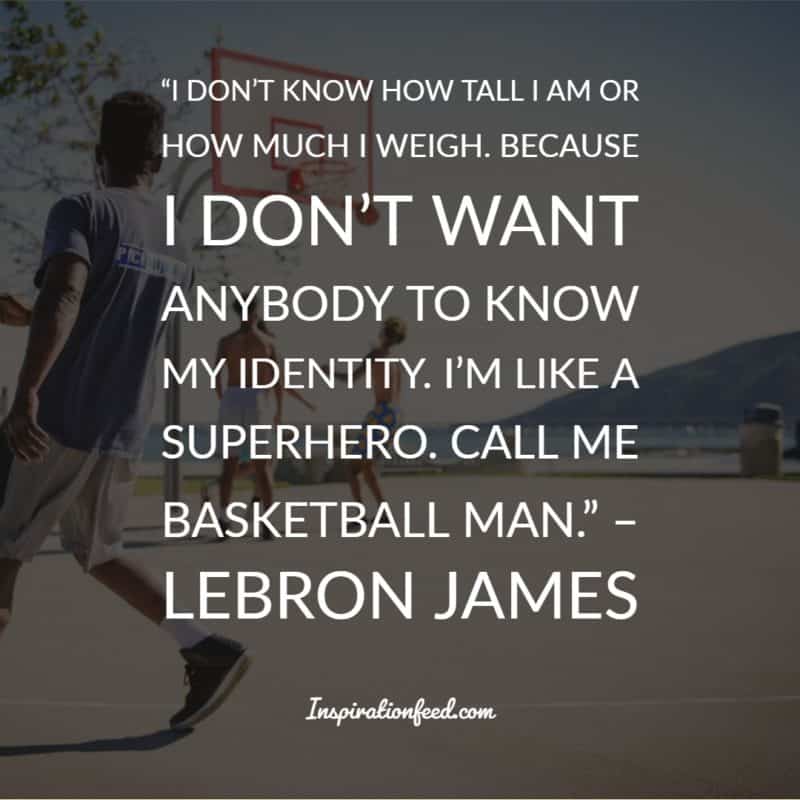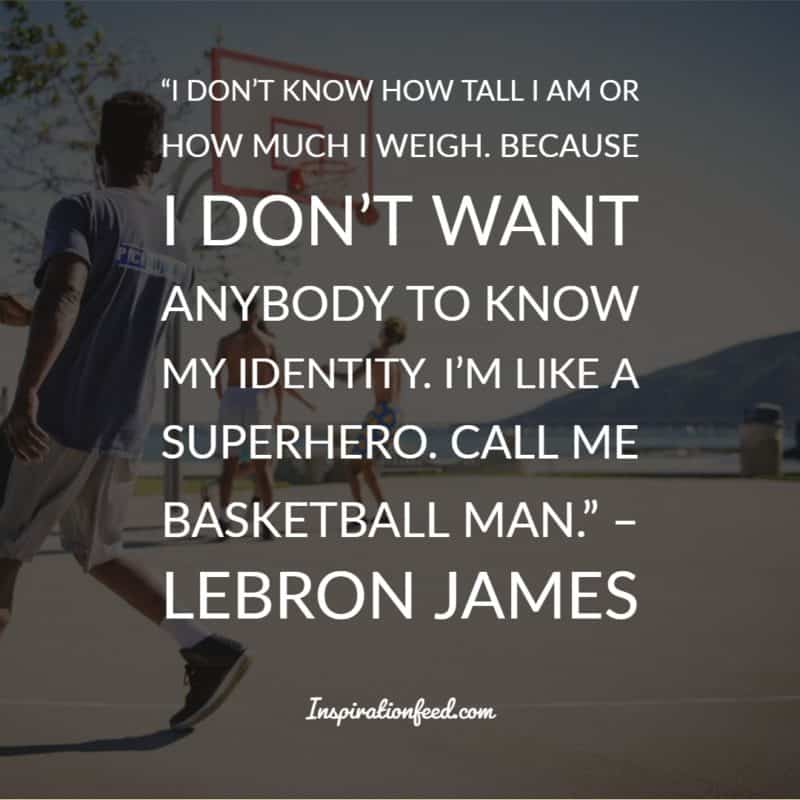 "I don't know how tall I am or how much I weigh. Because I don't want anybody to know my identity. I'm like a superhero. Call me Basketball Man." – LeBron James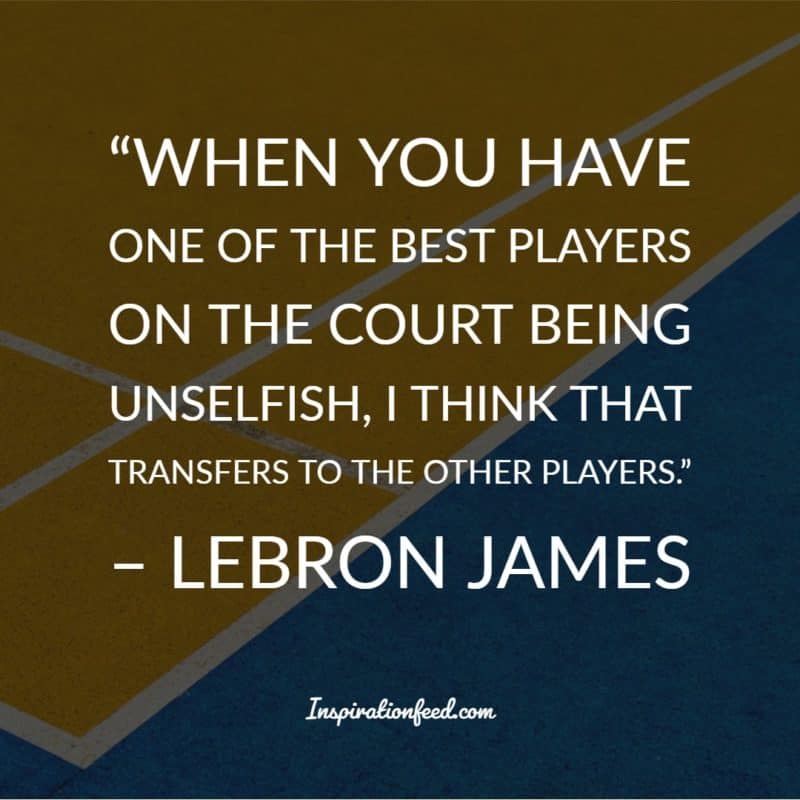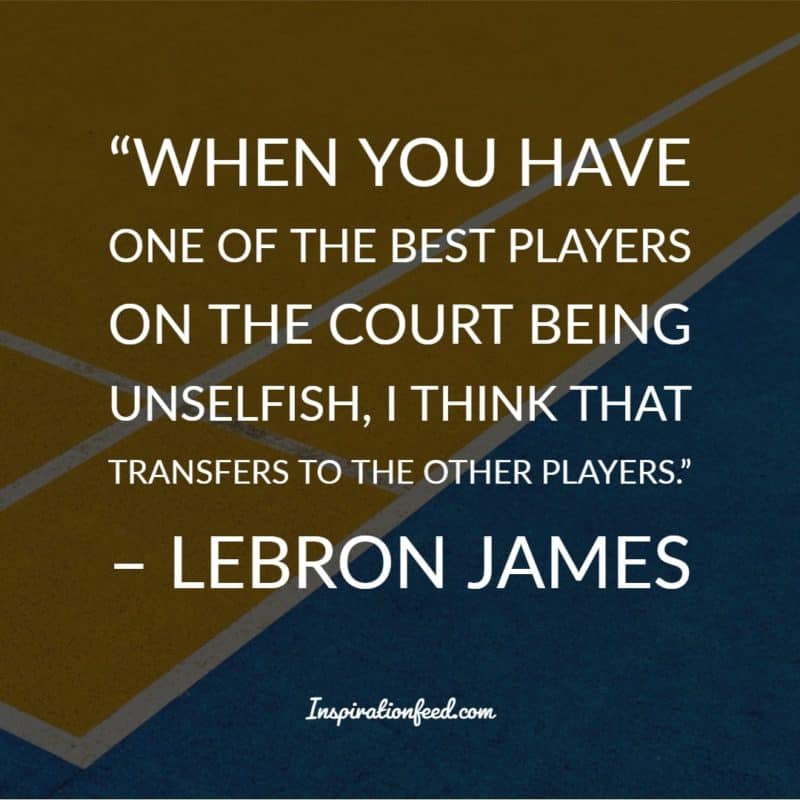 "When you have one of the best players on the court being unselfish, I think that transfers to the other players." – LeBron James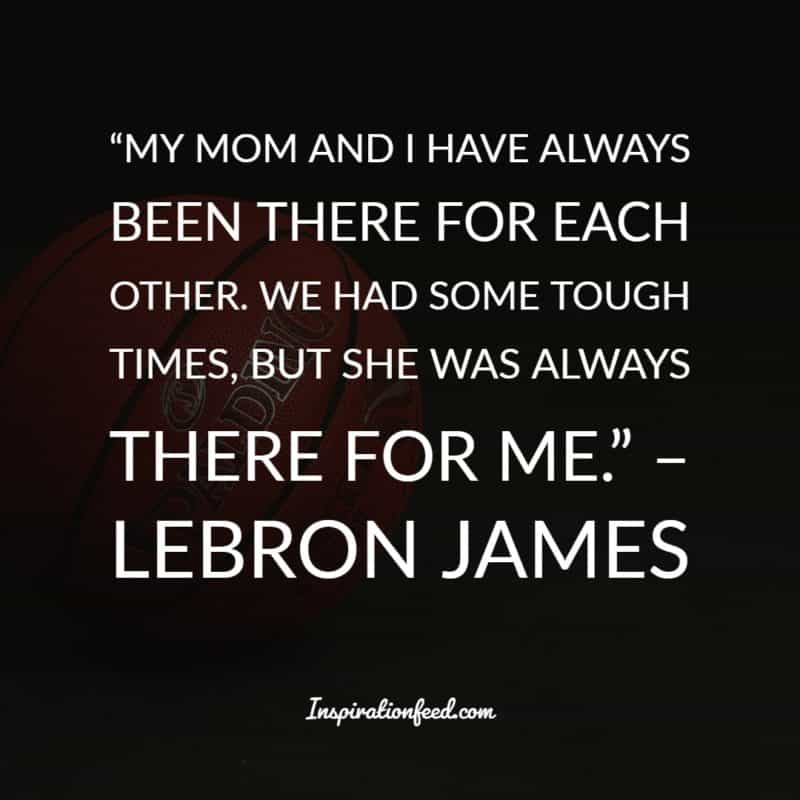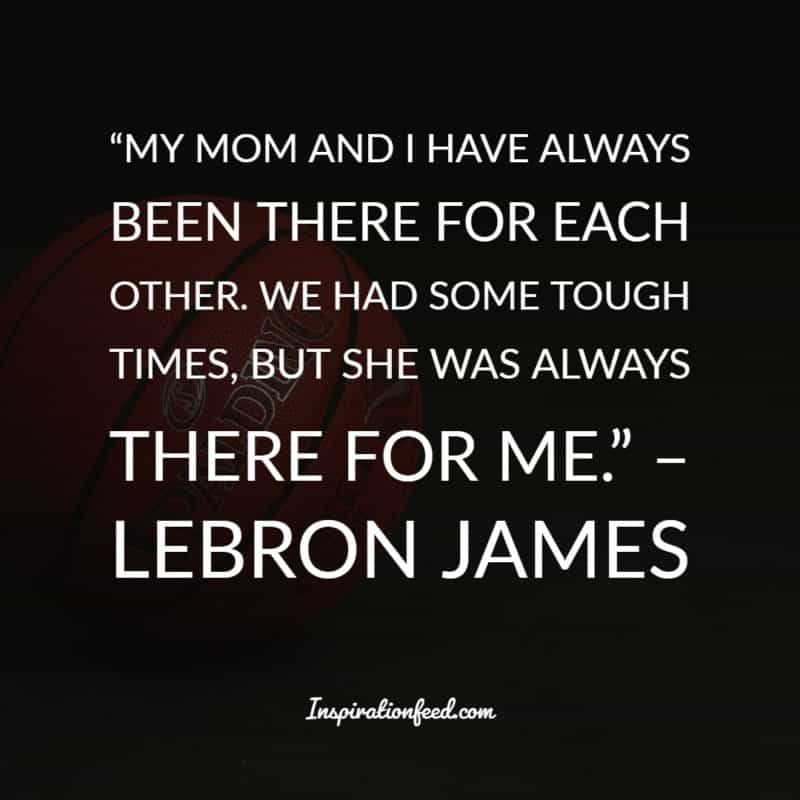 "My mom and I have always been there for each other. We had some tough times, but she was always there for me." – LeBron James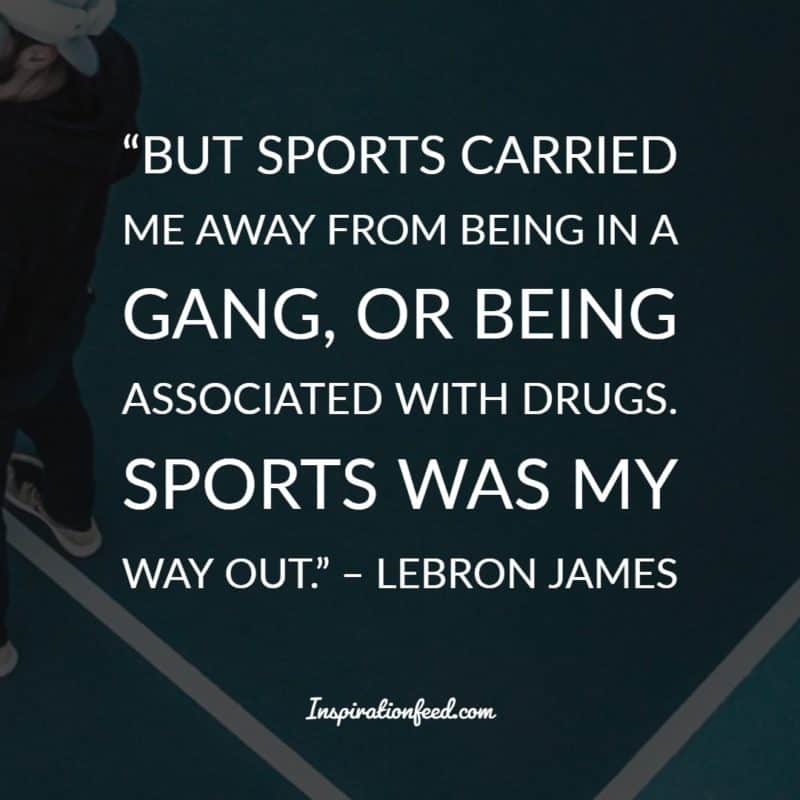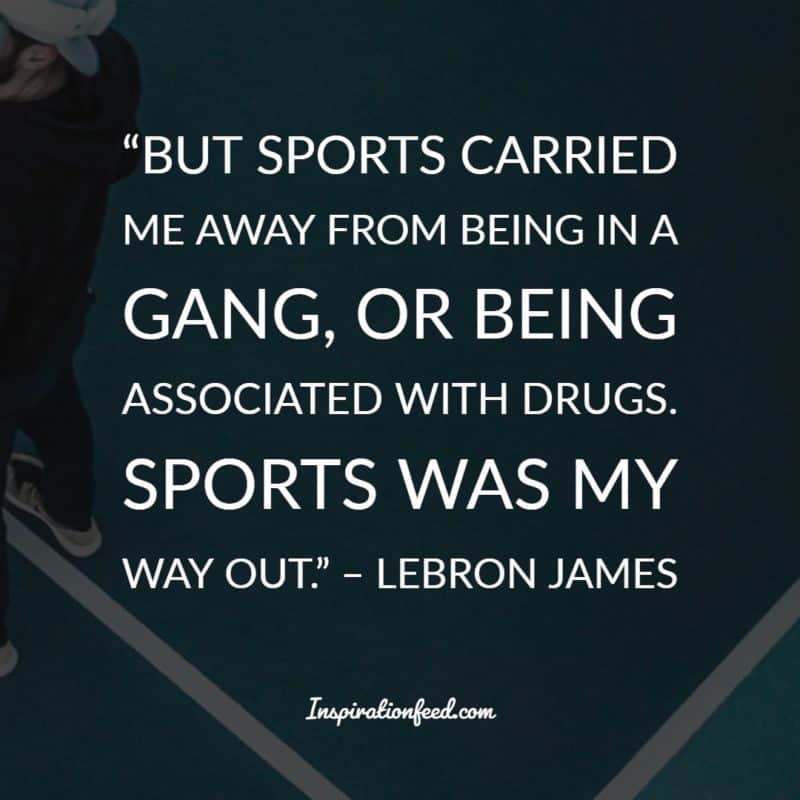 "But sports carried me away from being in a gang, or being associated with drugs. Sports was my way out." – LeBron James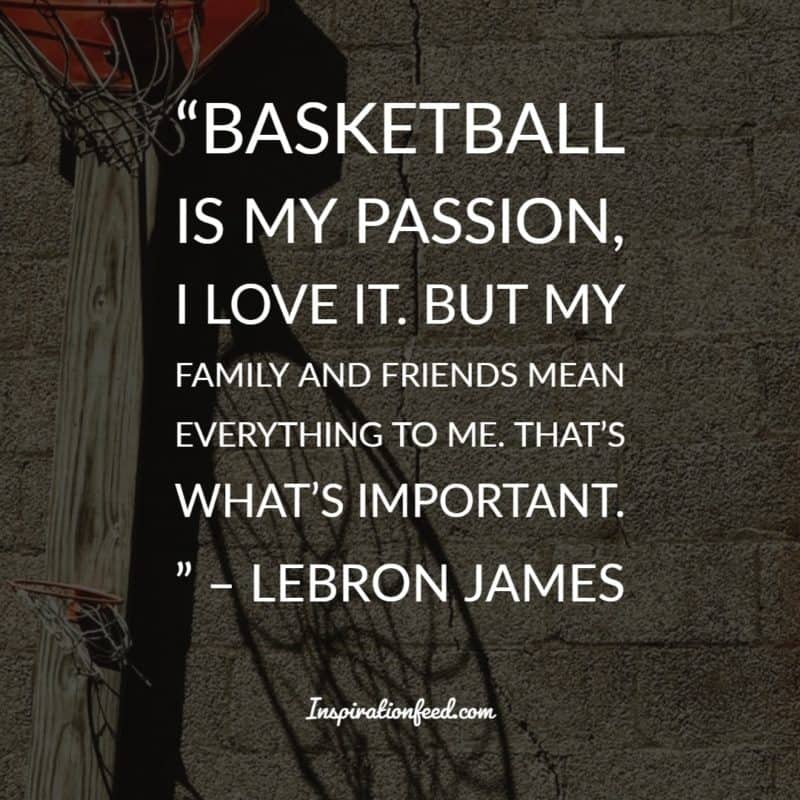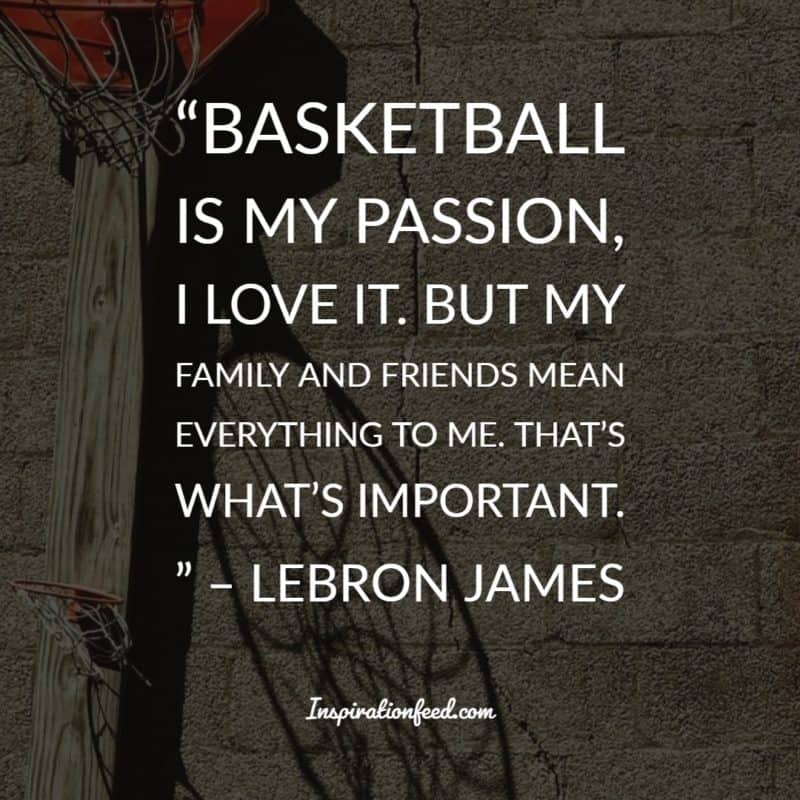 "Basketball is my passion, I love it. But my family and friends mean everything to me. That's what's important. " – LeBron James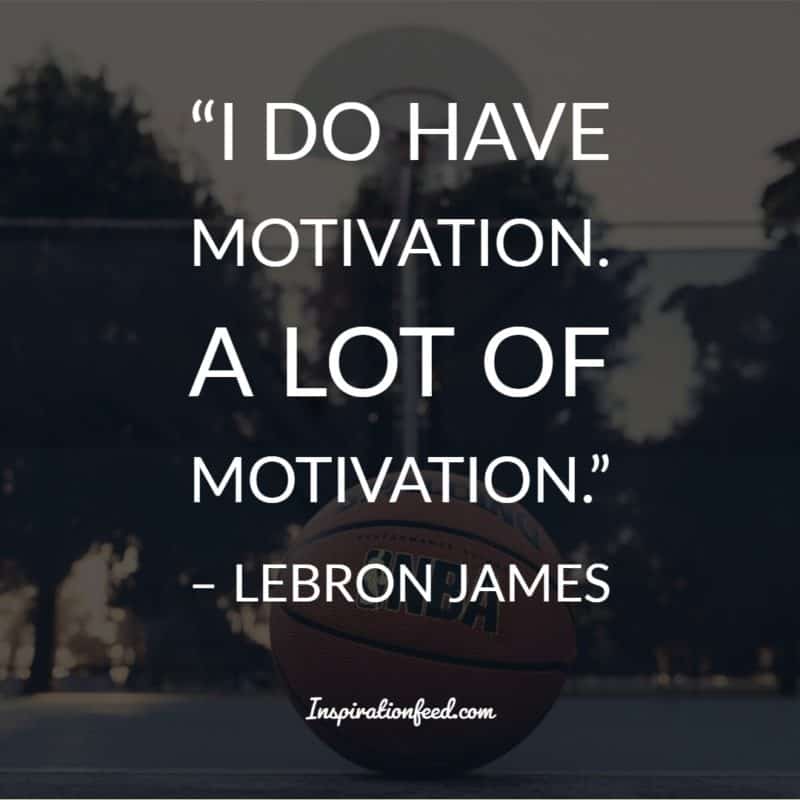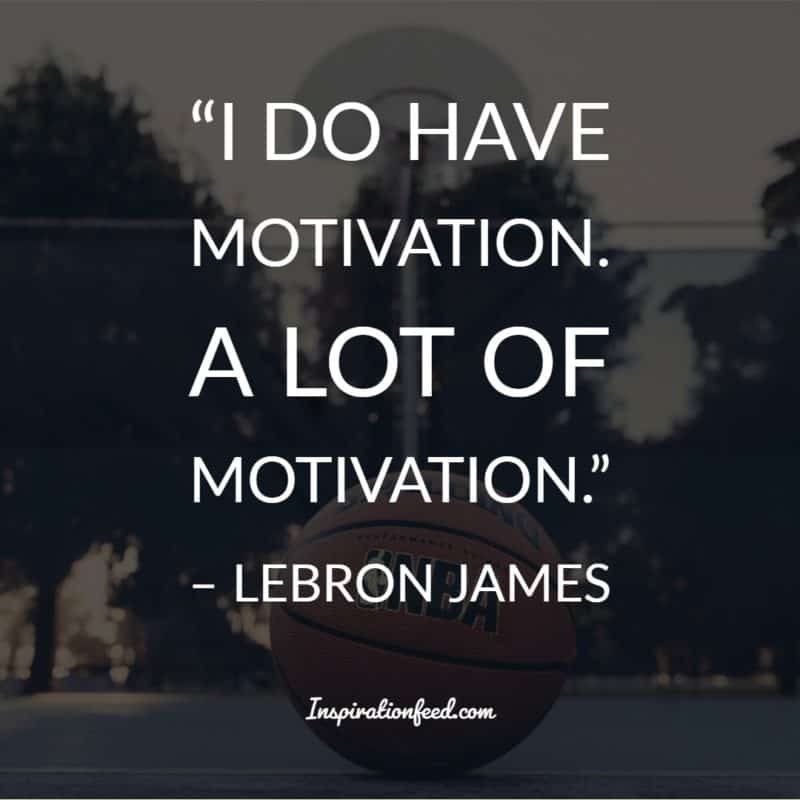 "I do have motivation. A lot of motivation." – LeBron James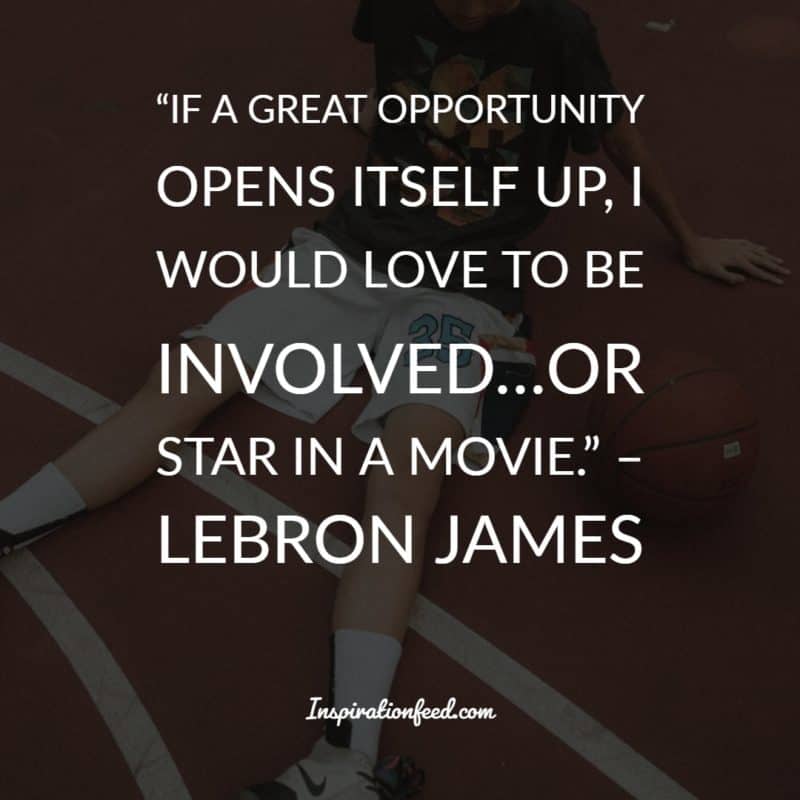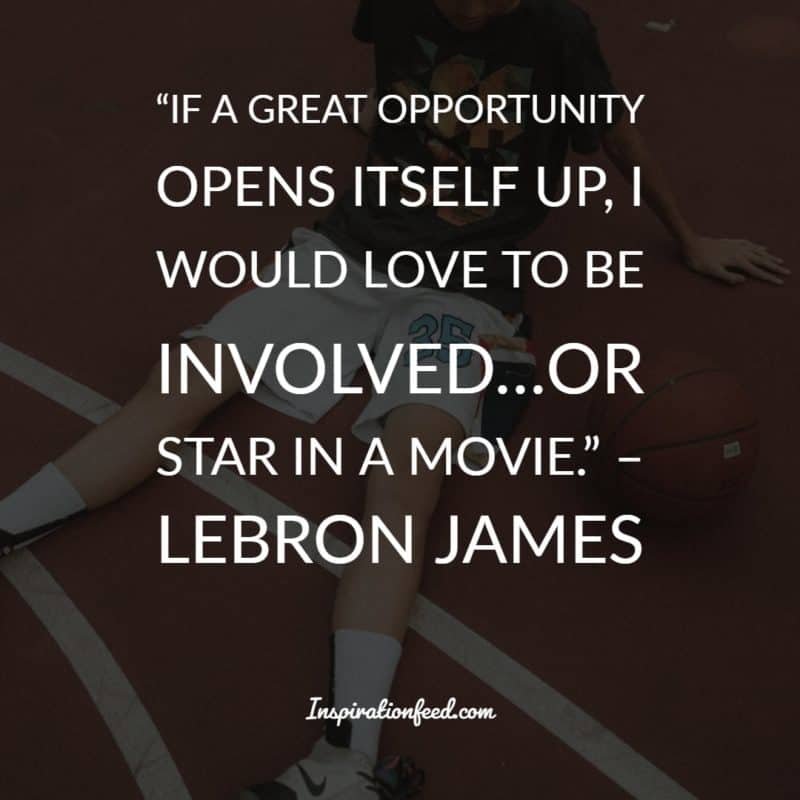 "If a great opportunity opens itself up, I would love to be involved…or star in a movie." – LeBron James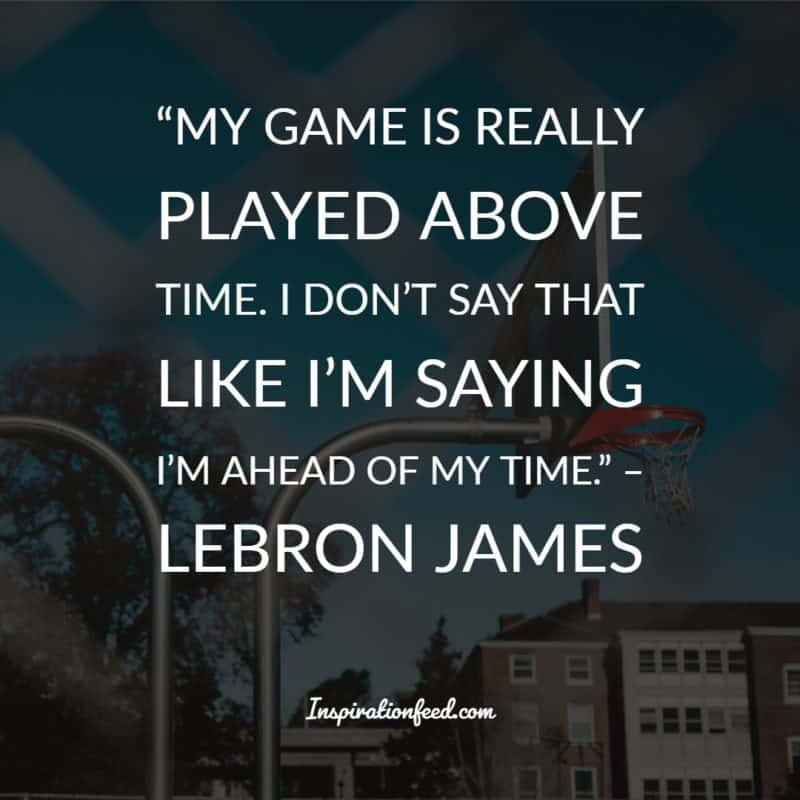 "My game is really played above time. I don't say that like I'm saying I'm ahead of my time." – LeBron James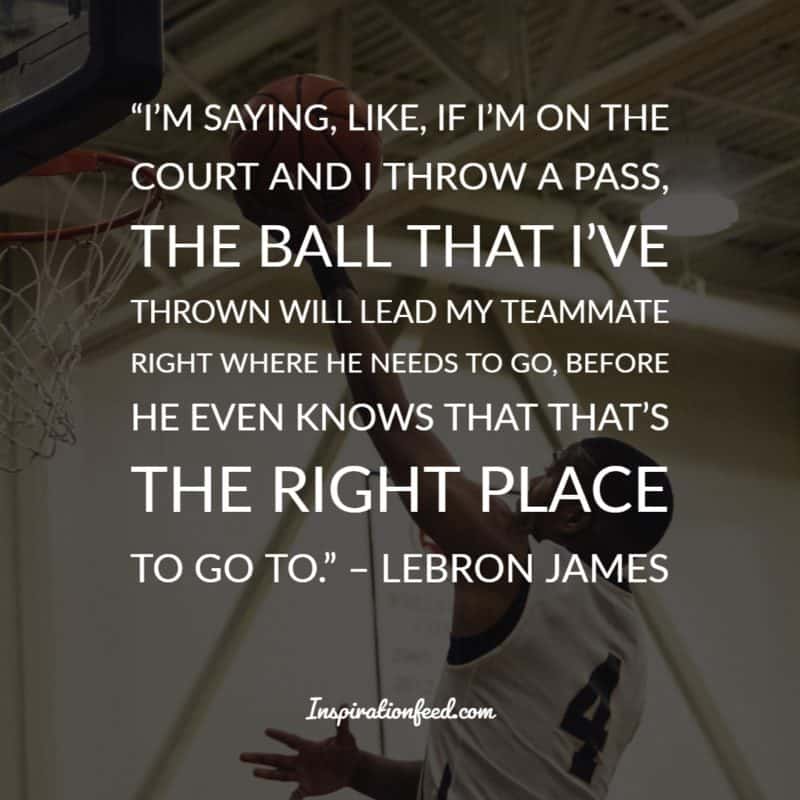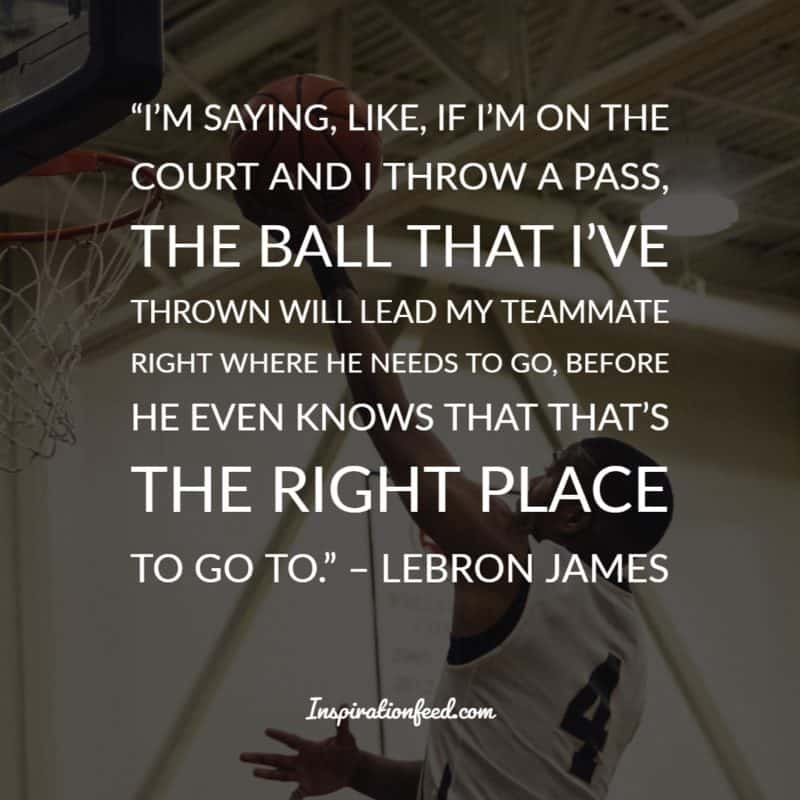 "I'm saying, like, if I'm on the court and I throw a pass, the ball that I've thrown will lead my teammate right where he needs to go, before he even knows that that's the right place to go to." – LeBron James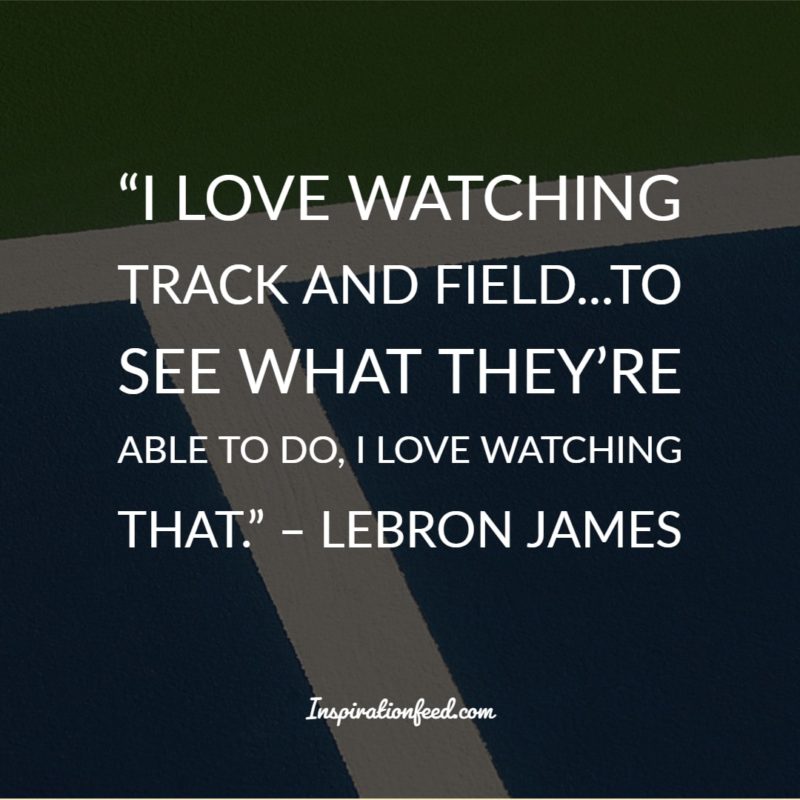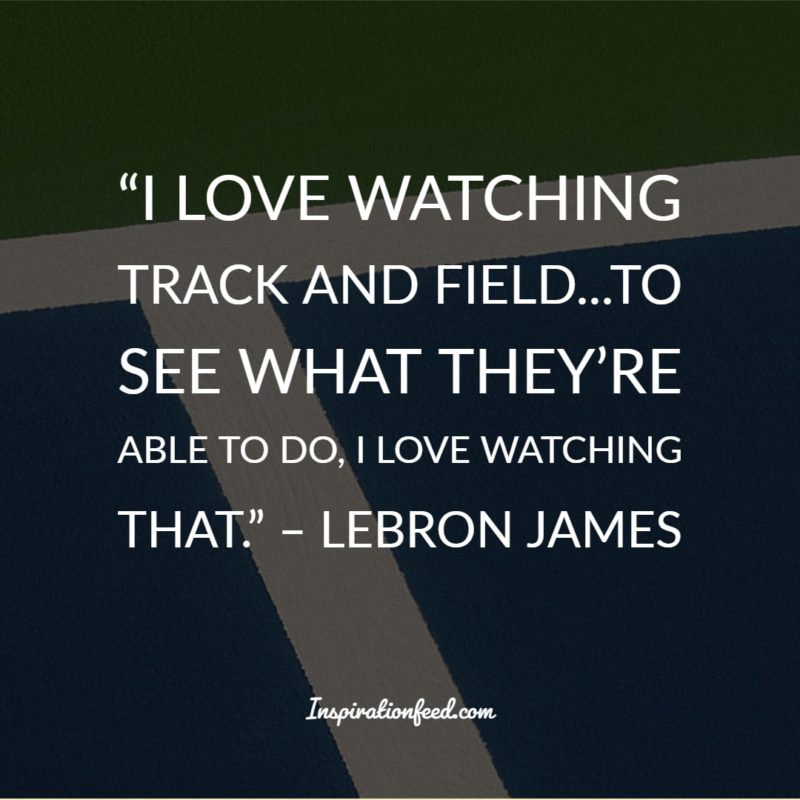 "I love watching track and field…To see what they're able to do, I love watching that." – LeBron James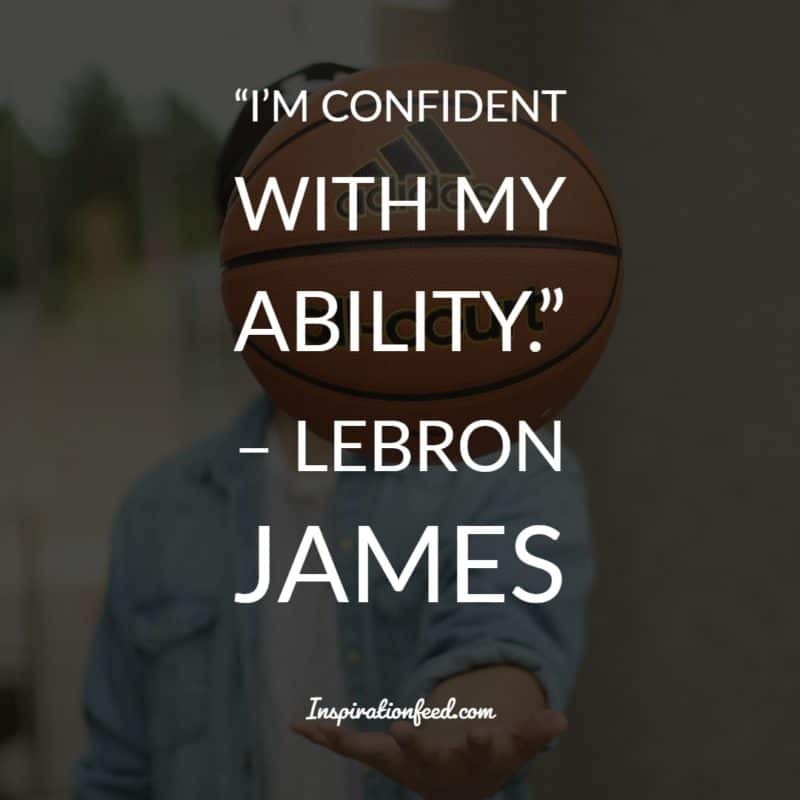 "I'm confident with my ability." – LeBron James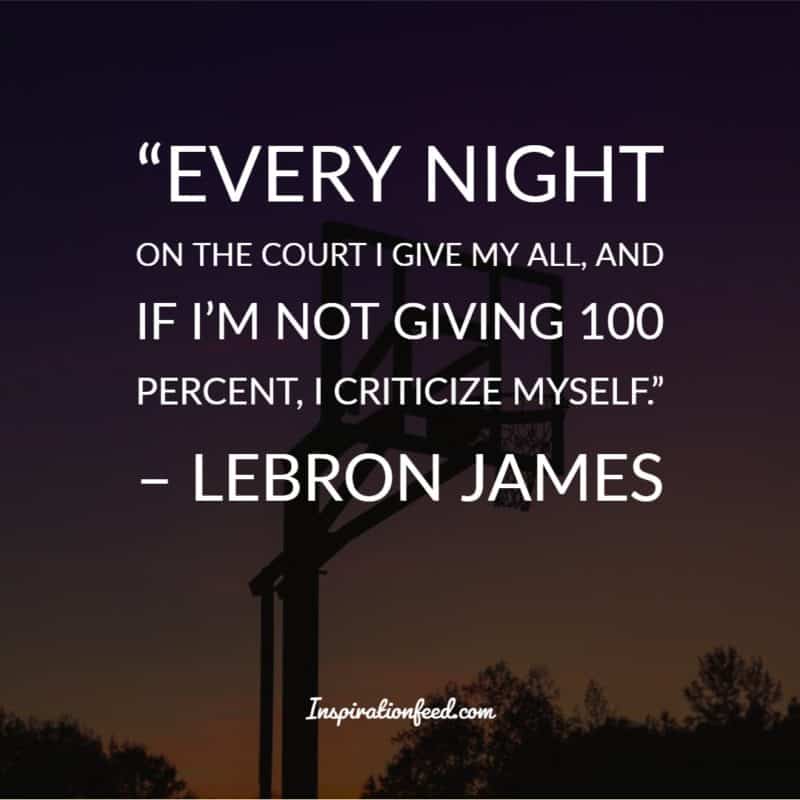 "Every night on the court I give my all, and if I'm not giving 100 percent, I criticize myself." – LeBron James