Large LED screens (also referred to as jumbotrons, video walls, and LED displays) can be an excellent solution for capturing the attention of big groups of people at outdoor events. Since these displays can be quite expensive to buy and difficult to store & operate, rental is oftentimes the best solution for event planners, businesses, and organizations looking to maximize their return on investment.
Advanced LED technology allows for the display of expansive content and vivid picture to meet the needs of a large variety of applications. If you are considering LED screen rental for your next gathering and looking for inspiration, here are some unique and engaging ideas that are sure to capture the crowd.
Zoom in on the action
Plug a video camera right into the screen for a live video feed. The term for magnifying an image with a video signal is IMAG, short for image magnification. Common applications for IMAG include concerts, festivals, sporting events, ceremonies, and presentations. You can mount a stationary camera, hire a video crew, or switch between multiple camera sources for a full-on production.
Cast a live poll
Display a polling question on the video wall and let users cast their votes. The software allows for the display of the results in real-time. Users may cast their votes via SMS or social media. Use live polling as a unique way to involve the crowd at movie nights, branded events, fundraisers, and more.
Play a social media slideshow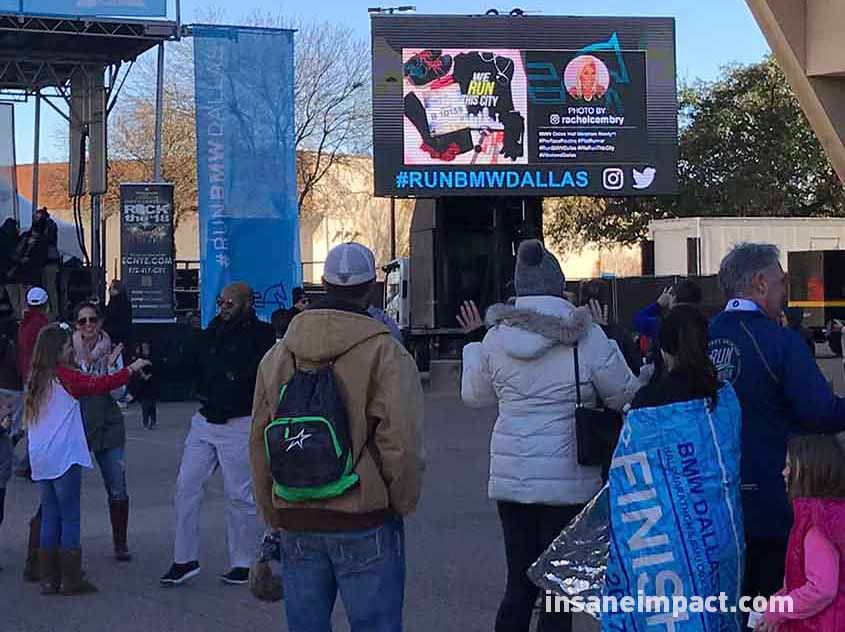 Give every eventgoer their 15 seconds of fame with a social media to screen tool. These software platforms work by scanning social media sites for posts with a specific hashtag and populating them onto the screen in real-time. Display a call-to-action slide encouraging users to post the hashtag of your choice. Moderation functionality allows you to approve or disapprove a post prior to it populating onto the screen. 
Rent a mobile screen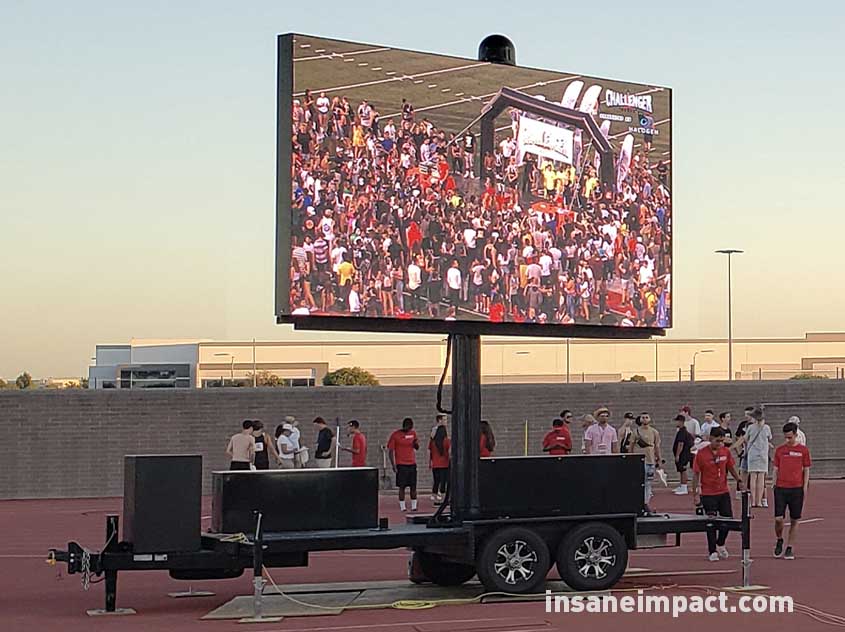 When you rent an LED display, you generally have two options, mobile and modular. Mobile screens are permanently constructed onto a set of wheels. A mobile LED screen trailer or truck has the benefit of simple setup, which equates to a lower rental price. Mobile screens can typically be set up in under 20 minutes and are adjustable in height and angle.
Create LED pillars
In contrast to mobile screens, modular screens are transported in individual video panels and linked together onsite. While mobile screens are more affordable to rent, modular screens have the benefit of customization opportunities. Link the panels together in a vertical fashion to create a unique pillar look. 
Craft a ribbon board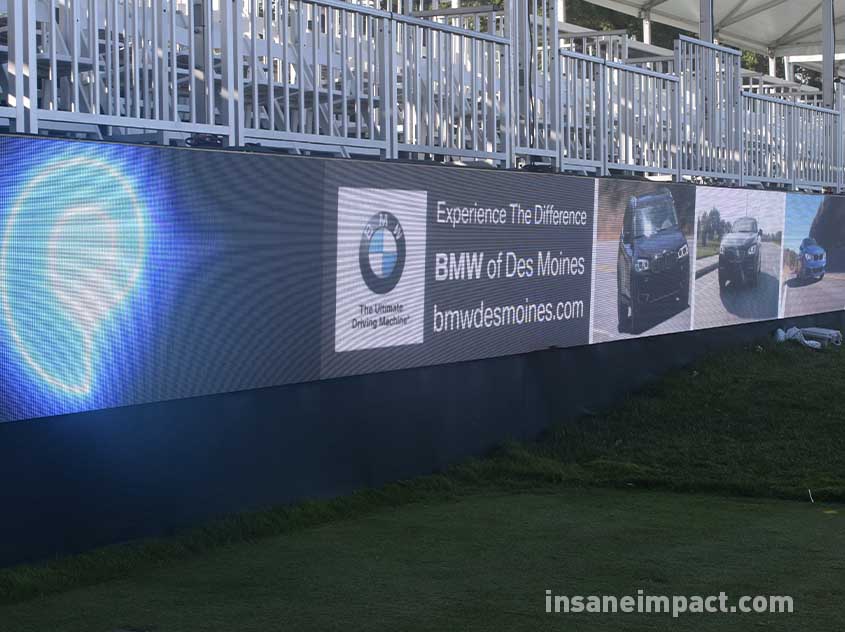 Like LED pillars, ribbon boards are modular screens with a custom aspect ratio. However, instead of being tall, they are ultra-wide. Ribbon boards are commonly found in sporting stadiums and arenas but can be temporarily fabricated for any rental application. 
Utilize custom rigging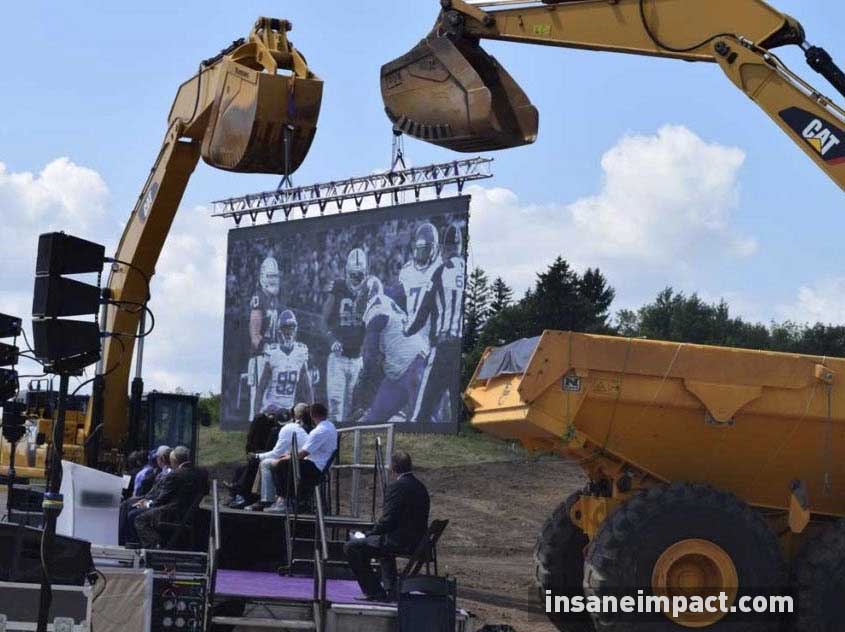 If you want to get really creative, you can even utilize custom support structures. The picture featured is an example of a modular screen hung from two excavators.
Decorate your screen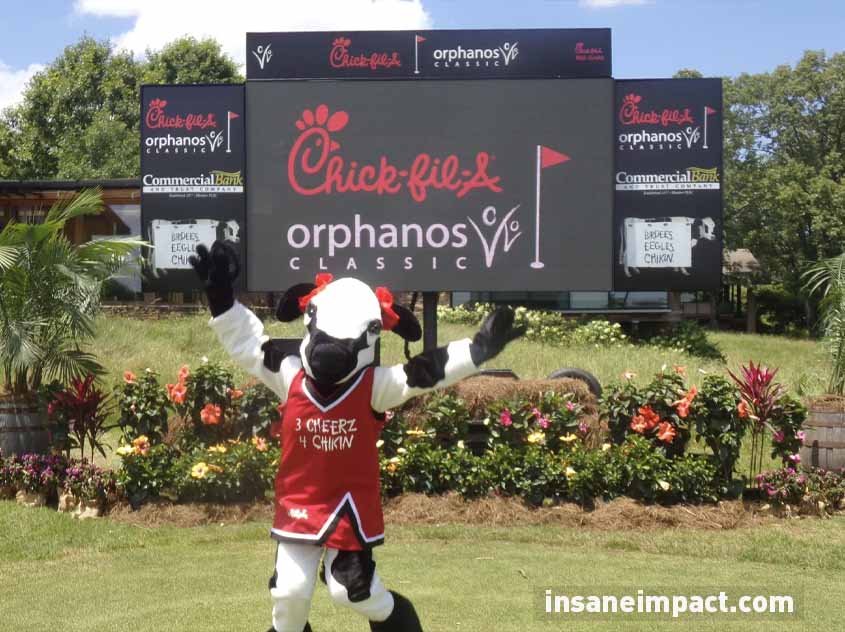 Dress your screen up with branded print signage, landscaping, or fencing to customize its look.
Broadcast a donation ticker
Encourage donations with a feed of the progress at your next fundraiser. Display instructions on how to donate, goals, and milestones. Watch it update in real-time until you meet and exceed your goal. 
Display live scoring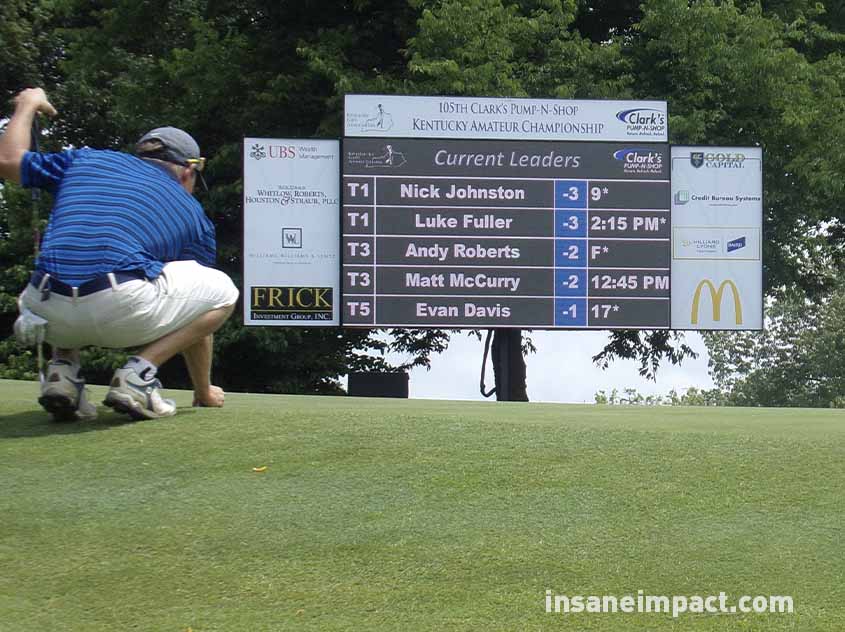 Turn your screen into a digital scoreboard at golf tournaments, high school athletics, and stadiums. Display runner times at marathons and 5k's. Create a custom scoring layout that includes your brand or sponsor logos and a live scoring data feed. 
Create a multimedia video wall
Take advantage of all the real estate of your large video wall by splitting the screen into multiple sources. Special software and hardware allow for multiple forms of dynamic content all at once. Great for displaying entertainment and revenue-generating advertisements simultaneously.
Get your message across in real-time
Display real-time alerts to keep eventgoers in the loop. Broadcast weather updates, safety alerts, winner announcements, and more. Ensure that your attendees are updated with your custom message.
Play the big game on the big screen
Live stream a TV source right to the screen for sporting watch parties. Utilize DISH, cable, or an internet streaming signal. Great for tailgates, bars/restaurants, and block parties. 
Stream internet videos
Live stream video clips right from your web browser. Play music videos, karaoke clips, and viral videos. For public events, we usually suggest downloading the files in advance to avoid network issues. However, video streaming is great for block parties and small get-togethers because it gives everyone a chance to be the video jockey.
Navigate the crowd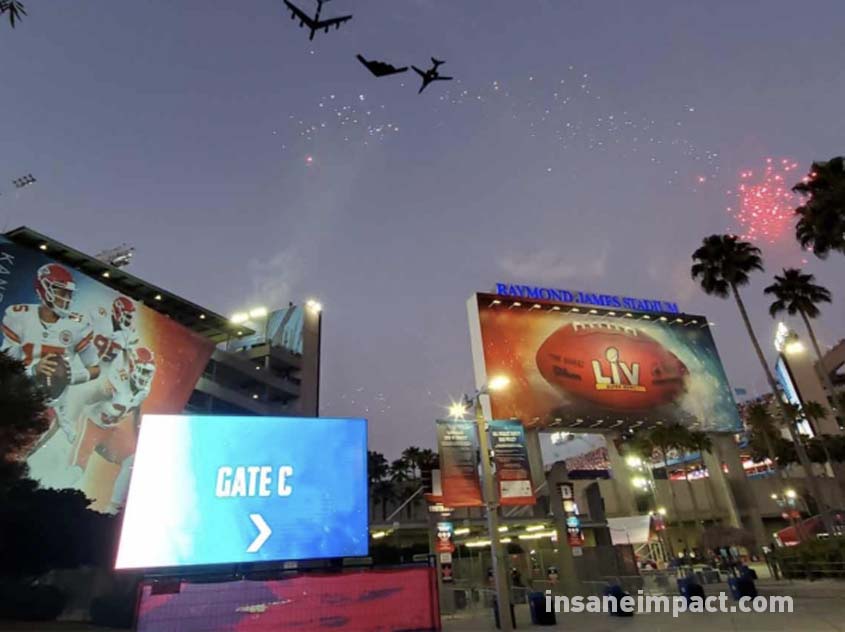 Direct foot traffic by turning your rental display into a digital sign. As opposed to static print signage, digital signage allows for dynamic messaging. Do the directions change mid-day? No problem. Have several slides or videos to display? That can be done too. 
Pay your sponsors back
Utilize all or part of the screen to display event sponsor logo loops and advertisements. Get your sponsors noticed, add an additional revenue stream, and entertain eventgoers all at the same time with your LED display rental. 
Involve the crowd with live trivia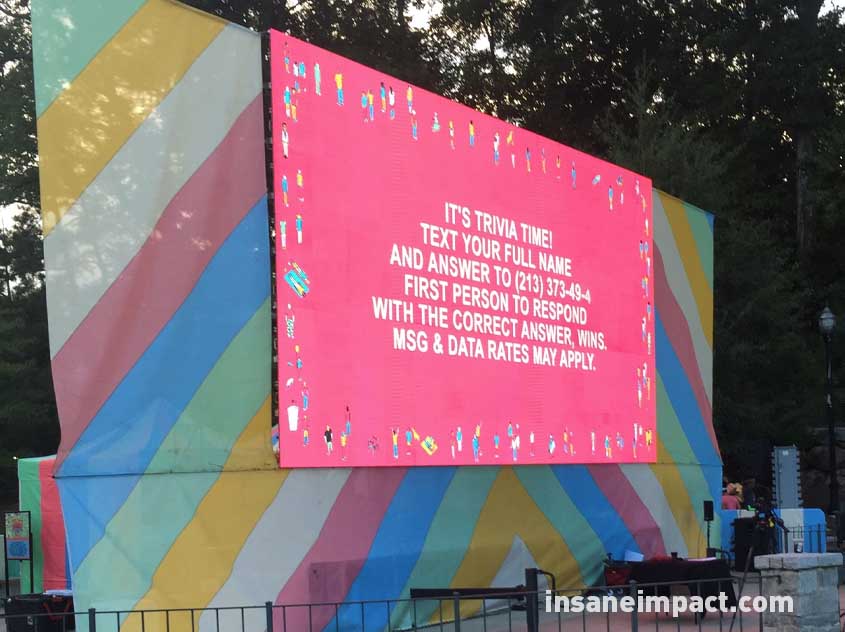 Develop an interactive trivia game to entertain your audience. Online software will allow you to custom craft and design your trivia game and let your eventgoers participate right from their mobile device.
The bottom line
Outdoor LED screens are an increasingly popular event solution for those looking to share their message to large crowds. Content and event applications span far and wide. If you can dream it, it can be done with today's advanced LED technology.  We have listed just a few engaging LED screen rental ideas. If you have an idea not listed, odds are that it can be done.