Leonardo DiCaprio, born Leonardo Wilhelm DiCaprio, is an American actor and film producer from Los Angeles, California. He is one of the most accomplished actors and film producers of our time.
During his hey days as an actor, DiCaprio was mostly cast as the protagonist in movies whose central themes were love and romance. And that's a role he aptly fit, thanks to his good looks and charismatic personality.
Quick Facts about Leonardo DiCaprio
| | |
| --- | --- |
| Full Name: | Leonardo Wilhelm DiCaprio |
| Popular Name: | Leonardo DiCaprio |
| Gender: | Male |
| Birth Date: | 11th November 1974 |
| Age: | 49 years |
| Birth Place: | Los Angeles, California, US |
| Nationality: | United States of America |
| Ethnicity: | Italian, German, Russian |
| Education: | Los Angeles Center for Enriched Studies, Seeds Elementary School, and John Marshall High School |
| Marital Status: | Unmarried |
| Sexual Orientation: | Straight |
| Wife/Spouse: | N/A |
| Children: | N/A |
| Dating: | Yes, Camila Morrone |
| Net Worth: | $300 million |
| Source of Wealth: | Professional Acting, Film Production, Product Endorsements, and Personal Investments |
| Average Salary Per Movie: | Table division |
| Height: | 6′ 0″ (1.83 m) |
| Weight: | 170 lbs (77 kg) |
Early Life
Leonardo DiCaprio was born on November 11, 1974, in Los Angeles, California. He doesn't have any siblings. His father, George, was a comic book writer while his mother, Irmelin, was a legal secretary.
Leonardo's name was inspired by the famous painter, Leonardo Da Vinci. It's said that Irmelin was looking at the portrait of Leonardo Da Vinci in the Uffizi museum based out of Florence, Italy, when the baby first kicked in her womb.
Leonardo is one of the many successful actors who never enjoyed the privilege of a united family. At the age of one, his parents separated. He lived with his mother in various Los Angeles neighborhoods.
Leonardo attended the Seeds Elementary School and then the John Marshall High School. That was after spending four years at the Los Angeles Center for Enriched Studies. At some point, his mother wasn't able to support his education, forcing Leonardo to drop out of school. However, he would later finish his General Equivalency Diploma.
Rise to Fame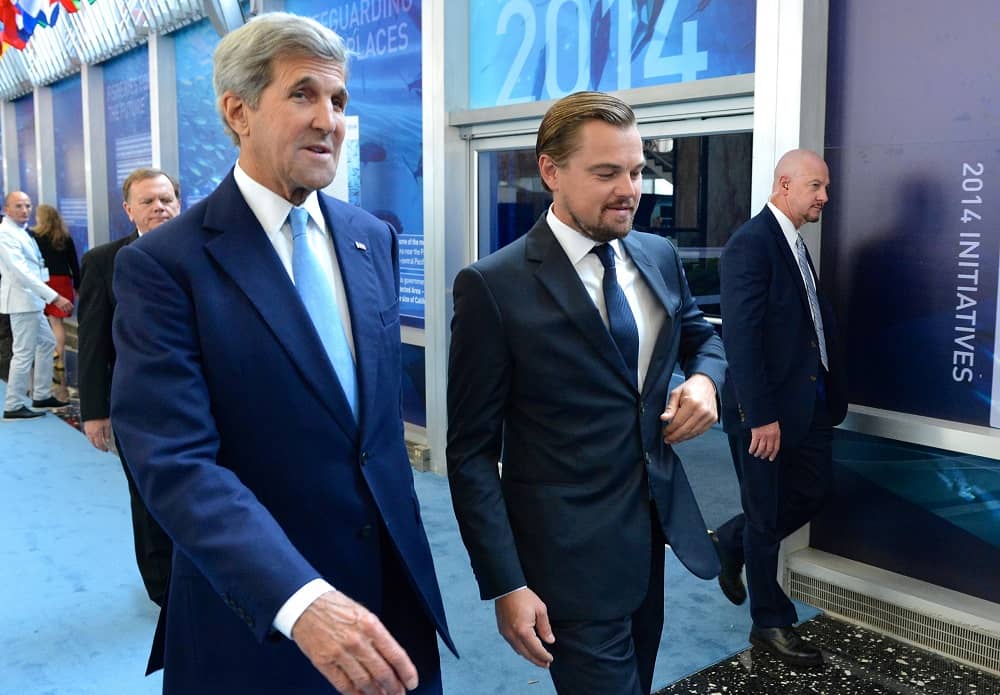 Leonardo DiCaprio began his acting career by appearing in various educational films and television commercials. In 1991, he made his film debut in Criters 3 and two years later, played the lead role in This Boy's Life. Leonardo's exceptional performance in This Boy's Life put him on the radar of major film producers at the time. In his next movie, What's Eating Gilbert Grape?, DiCaprio performed so well that he earned an Academy Award nomination for the best supporting actor.
However, the first major film that Leonardo featured in was the 1996 William Shakespeare's sensation – Romeo & Juliet. One year later, he landed a leading role in another blockbuster –Titanic, which was the most expensive movie ever made.
To date, only three movies have rivalled Titanic's $200 million production budget, namely Pirates of the Caribbean, Cleopatra, and Spider Man-3.
The following is a highlight of some of the films Leonardo DiCaprio has featured in:
• Romeo & Juliet (1996);
• Titanic (1997);
• The Beach (2000);
• Shutter Island (2010);
• Inception (2010);
• Django Unchained (2012);
• The Wolf of Wall Street (2013);
• The Great Gatsby (2013);
• The Revenant (2015); and
• Once Upon A Time In Hollywood (2019)
Related: Top 10 Brilliant Films for Leonardo Dicaprio Fans
Leonardo has equally been nominated for various awards, of which he has won three, namely:
• Golden Globe Awards: Best Actor – Motion Picture Drama for The Aviator and The Revenant;
• Golden Globe Awards: Best Actor – Motion Picture Musical or Comedy for The Wolf of Wall Street; and
• BAFTA Award for Best Actor in a Leading Role for The Revenant
Life Lessons and Quotes from Leonardo DiCaprio
One of the reasons behind Leonardo's success as an actor and film producer is his dedication to the job. In some of his films, DiCaprio has never minded going out of the props just to add a more realistic feel to the movie. In his recent film, The Revenant, it's reported that DiCaprio slept in real animal carcasses and ate real raw bison liver. Now, that's career dedication to a whole new level.
Another reason that propelled Leonardo DiCaprio to fame and kept him on the spotlight is the fact that he loved working with some of the industry's notable personalities. He has collaborated with Brad Pitt, Margot Robbie, Jonah Hill, Jamie Foxx, etc., either at the level of acting or film production.
Leonardo is proof that anyone can rise to fame and pursue their full measure of success, their family and education background notwithstanding.
Also, this blue-eyed actor has proven how easy it can be to handle fame and success if you really want to. Being the good-looking, average-build, and highly charismatic actor that he is, it would be natural to expect his career to be laced with scandalous love affairs. However, Leonardo has chosen the straight and narrow, a path that actors endowed with good looks as he is would rather die than travel.
The following are some of the famous quotes by Leonardo DiCaprio:
"Brothers don't necessarily have to say anything to each other – they can sit in a room and be together and just be completely comfortable with each other."
"I'm not the kind of person who tries to be cool or trendy, I'm definitely an individual."
"The good thing about acting is that it always keeps you on your toes… It's not like any other job where you can go in and do the same thing as yesterday."
"If you can do what you do best and be happy, you're further along in life than most people."
"Don't think for a moment that I'm really like any of the characters I've played. I'm not. That's why it's called 'acting'."
Related: Inspirationfeed.com/leonardo-dicaprio-quotes/
Net Worth
As of 2023, Leonardo DiCaprio had a net worth of $300 million. Acting is the primary source of his wealth. In addition to acting, he also owes a substantial portion of his net worth to film production, endorsements, and personal investments.
Leonardo owns homes and apartments all over the US. That include two apartments in New York City as well as three homes in Los Angeles. He also owns a 104-acres private island in Belize, valued at over $1.8 million, and has invested in the Beyond Meat Company which is valued at about $4 billion.
In terms of product endorsements, Leonardo is believed to have cashed in some $5 million with a Japanese credit card company. And besides earning salaries for every movie he has made, Leonardo is also entitled to bonuses and royalties from the same movies.