Last Updated on January 24, 2023
A what? A yurt. A Mongolian tent, originally used by nomads. A hundred people in The Netherlands live in a yurt.
It's all about living simply, sustainably and in direct contact with nature. In Holland, more and more places allow living in it. Formally it is illegal.
If you think it is only for hippies, derailed people or people who don't want to be integrated into society, you are wrong. Just ordinary people, all kinds of people, live in it. Also families with kids.
No fridge, no wine cooler, no television
A yurt is a tent. A round tent, made out of a wooden framework covered up with wool and felt. Most of the time standing somewhere near a farm or in the woods. But always in the country.
The floor is covered up with carpets, and there is a wood burner for heating up the tent inside. Mostly you also have to cook on it. There is (mostly) no electricity, no fridge, no wine cooler (translated to Dutch: klimaatkast wijn), no television. A hundred Dutch people are living in it.
It can get damp inside
A yurt or gert is famous for its warmth, even in cold winter. You can build it up or tear it down within an hour. But in Holland, that's not the case.
You can live in it permanently in a farmer's place or for half a year on camping. It can feel like glamping in Andalusië but it is different. Because of the Dutch climate, it can get damp inside, so you have to burn the stove and air the tent regularly.
A Yurt is big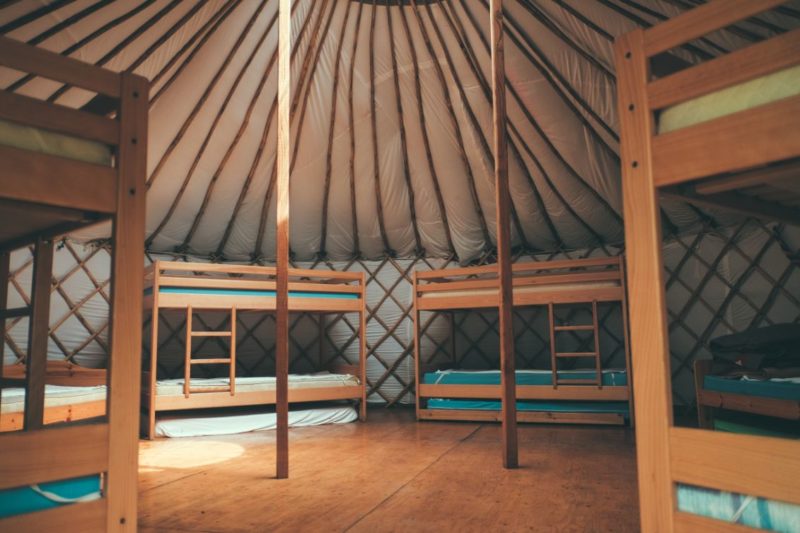 Living in a yurt has nothing to do with vacation. Experts mean it is all about slow living. You have to be ready for that kind of style.
It must be possible to live like that. It is not like living in a caravan and it is not a house. Not even a tiny house. It also is much more than a normal tent. A yurt is big.
Yurt lovers tell
All the more striking is that people do not need much stuff in a yurt. Yurt lovers tell: "We have warmth, water, a cozy house, a working place. We have all our clothes in two drawers, instead of in three big clothing cupboards we had before. We use the shower and toilet in a nearby course building. "
So if you want to get inspired by living in a yurt, ask people to let you in. They will be thrilled to tell you all about it and inspire you with this way of living. Pick up your shoulder bag (translated to Duch: schoudertas) and find one.