Last Updated on January 24, 2023
What if you knew that you can get a mystery box for less than $50 and possibly get a new iPhone X? Believe it or not, it's possible – with DrakeMall. This innovative e-Commerce gift cards and discount coupon store website is quickly becoming the latest craze for gamers and tech lovers around the world!
The concept of mystery boxes are nothing new. Popular games like FIFA 17 as well as mobile games such as Hearthstone all offer loot crates to help players receive cool rewards. But this time, you can extend the excitement of getting digital in-game items to real, practical stuff that you could have delivered to your doorstep!
So if you love gadgets, discounts, and winning prizes, keep reading to find out more on how DrakeMall works.
How Does Drakemall Work?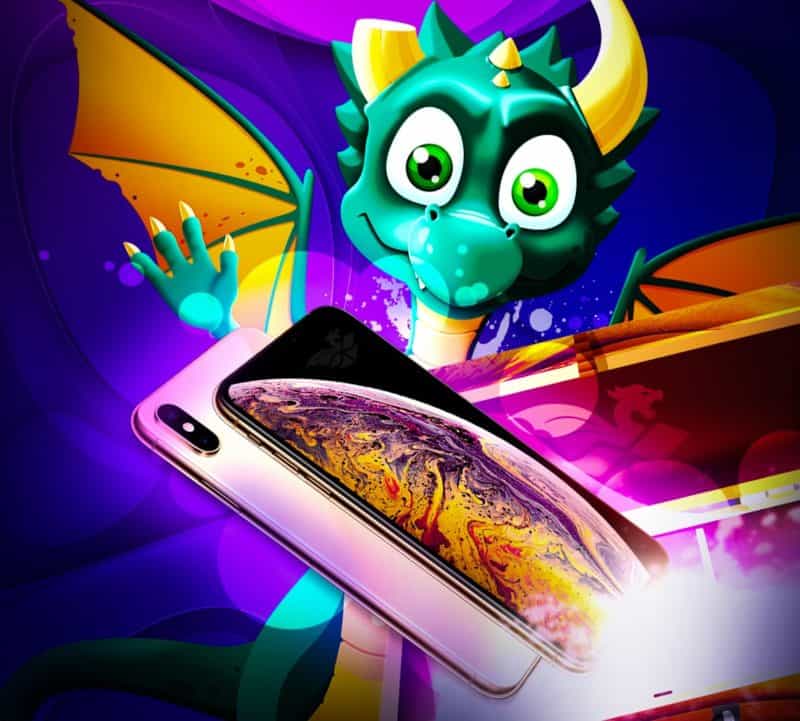 Getting your very own PS4 Pro or Apple watch for cheap couldn't be simpler. Simply sign up at Drakemall.com using your email or Facebook account. Fill in the necessary details (username, last name, phone number, email) and you're done! All you need now is to load your Drakemall wallet with funds (from your credit card, Paypal, or by buying a gift card from Kinguin) for a chance to win an iPhone Xs Max and other cool prizes.
From the homepage, you'll be presented with several random boxes you can open at your discretion. If you're lucky, you may even score a limited loot case at 10 to 25 percent off! Once you have your eye on a mystery box online, you get two choices:
OPEN the case and see what's inside; OR
Simply BUY the item inside for the indicated price.
You can also use a free spin to 'get a feel' of what the picking system is like before you open your case.
Items you've won will appear on your account dashboard. But wait, Drakemall has made things even more fun by giving customers the choice to SELL stuff they don't like. This way, you'll never feel like you just threw away your hard earned cash!
5 Reasons To Open Mystery Boxes On Drakemall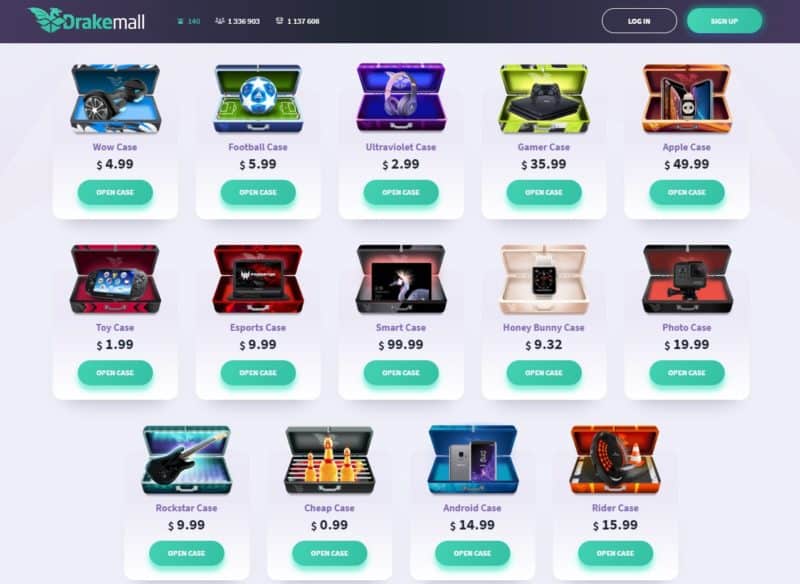 Still wondering if Drakemall is legit and safe? Be sure to read Drakemall reviews and opinions.
Here are five good reasons to help you make up your mind:
Option to BUY the product on the website
Unlike games or scam websites, Drakemall gives users the option to just BUY what they want. So if you're feeling out of luck, or you just don't want to play, simply purchase the gadget you like and have it delivered to you. It's quick, risk and stress-free.
Secure payment methods
Aside from credit cards and PayPal, you can add funds by buying Drakemall gift cards. They are the number one most trusted platform for purchasing digital products, so you can rest easy knowing your info is in good hands.
Updated mystery cases
Pick from among a wide array of mystery boxes that are constantly updated with cool, trendy gadgets!
Get started by getting a Cheap Case for as low as $0.99 and receive collectibles, such as Tamagotchi, cube puzzles, slime, or figurines. If you love games, you can go crazy with their Gamer Case featuring an Xbox One X, Oculus Rift, PlayStation 4 Pro, Nintendo Switch, to all kinds of gaming gift cards. Or why not try your luck with their Smart Case for only $99.99 and get a chance to score that iPhone Xs?
Whether you like toys, gadgets, or sports, there's a mystery box just for you.
Excellent Customer Support
Get in touch with them using your preferred platform. Drakemall is available on major social media sites such as Facebook, Twitter, and Instagram. Or talk to them directly by logging onto Discord.
Safe and Reliable
Drakemall is 100 percent legit and is run by a company called MBET SOLUTIONS N.V. based on Curacao. They meet all the requirements and have secured the Egaming Validation, so you know you'll only be dealing with the best in the business.
But don't just take our word for it; feel free to check out what other people have to say about their experience on the site. Don't forget to look for unboxing videos as well, from folks who got their prizes delivered to them.
Are there similar sites like DrakeMall?
In terms of reliability, security, and fun factor, no other website even comes close! They're always updating their collection, so there are constantly new gadgets up for grabs. Right now, there are more than a million items to discover: from an iPhone Xs Max, hoverboards, quadcopters, to Bluetooth headphones, as well as collectible figurines!
Plus, be on the lookout for limited offers for select loot crates. They are also on the process of creating promo codes for users, so getting what you want is easier than before. In addition, if you post pictures on social media or create unboxing YouTube videos of your prizes, you'll get a $5 to $10 credit on your DrakeMall wallet! How cool is that?
So what are you waiting for? Sign up for FREE at Drakemall.com and start opening those mystery boxes!