Last Updated on March 3, 2023
Who Is Magnus Carlsen?
Sven Magnus Øen Carlsen is a Norwegian chess grandmaster who's the current title holder of the World Chess Championship, World Rapid Chess Championship, and World Blitz Chess Championship.
Magnus Carlsen is widely considered one of the most talented chess players of his generation. Carlsen has also appeared among the world's highest-earning and richest chess players, with a current net worth of $10 million.
Besides chess, Magnus Carlsen also dabbles in modeling, writing, and acting.
Quick Facts
| | |
| --- | --- |
| Full Name: | Sven Magnus Øen Carlsen |
| Popular Name: | Magnus Carlsen |
| Gender: | Male |
| Birth Date: | 30 November 1990 |
| Age: | 32 years |
| Parents: | Henrik Albert Carlsen and Sigrun Øen |
| Siblings: | Ingrid Carlsen, Ellen Øen Carlsen, and Signe Carlsen |
| Birth Place: | Tønsberg, Norway |
| Nationality: | Norwegian |
| Ethnicity: | Norwegian |
| Education: | Completed primary school but dropped out of high school |
| Marital Status: | Unmarried but romantically linked to Elisabet Lorentzen Djønne |
| Sexual Orientation: | Straight |
| Wife/Spouse: | N/A |
| Children: | None |
| Dating: | Elisabet Lorentzen Djønne |
| Net Worth: | USD 10 million |
| Source of Wealth: | Professional Chess Playing, Modeling, Writing, Acting, Endorsement Deals, and Other Ventures |
| Height: | 5′ 10″ (1.78 m) |
| Weight: | 75 kg; In pounds: 165 lbs |
Early Life and Career Information
Sven Magnus Øen Carlsen was born on 30 November 1990, in Tønsberg, Norway, to Henrik Albert Carlsen and Sigrun Øen. His father was an IT consultant, whereas his mother was a chemical engineer.
Magnus Carlsen developed a passion for intellectual challenges at a fairly young age. When he was only two years, Carlsen could solve 50-piece jigsaw puzzles. And at the age of four, he spent the majority of his pastime assembling Lego sets that were designed for children as old as 10 – 14 years.
Magnus Carlsen was introduced to chess by his father when he was only five years. Around this time, the young Magnus showed little interest in the game. But that changed later on after he resolved to learn chess so he could beat his elder sister who was already adept at the game.
Carlsen began working on his chess-playing skills through his father's assistance. He also read a couple of chess publications, including "Find the Plan" by Bent Larsen and "The Complete Dragon" by Eduard Gufeld.
After months of relentless practice, Magnus Carlsen made his amateur chess debut in the 1999 Norwegian Chess Championships. Carlsen scored 6½/11, despite being only 8 years and 7 months then.
Motivated by his impressive performance at the Norwegian Chess Championships, Magnus Carlsen decided to take chess even more seriously. He joined the Norwegian College of Elite Sport, where he was coached by renowned chess player Grandmaster Simen Agdestein.
Carlsen shot to the international limelight at the age of 13 after finishing first in the C group during the Corus chess tournament. A few months later, he earned the prestigious title of grandmaster.
At the age of 15, Magnus Carlsen established himself as one of the most promising young chess players by winning the Norwegian Chess Championship. He eventually earned the World Chess Championship in 2013 after recording a resounding victory against Viswanathan Anand. He retained his title in 2014 in another scintillating game against Anand. The same year, Carlsen won the 2014 World Rapid Championship and the World Blitz Championships, and subsequently became the first player in the history of chess to hold the three titles simultaneously.
Magnus has successfully defended all three titles to date. He is also the current title holder for the longest unbeaten run in classical chess.
Outside of chess, Magnus Carlsen is also involved in modeling, writing, and acting.
Carlsen has authored several books and appeared in a couple of films, in addition to being the inspiration behind numerous movies and publications. Notable mentions include the books Magnus Wins With White (2020) and Magnus Wins With Black (2020), as well as the films The Prince of Chess (2005) and Magnus (2016).
In modeling, Carlsen is best known for his involvement with G-Star Raw.
Awards and Honors
Magnus Carlsen won the Chess Oscars consistently from 2009 to 2013.
Carlsen is also the recipient of the Name of the Year Award by Norwegian tabloid Verdens Gang (VG). He first received the award in 2009 and then again in 2013.
Another notable honor by Magnus Carlsen includes winning the Peer Gynt Prize Award.
Magnus Carlsen's Net Worth
As of 2023, Magnus Carlsen had a net worth of $10 million. Much of Carlsen's wealth comes from his successful chess career.
Magnus is one of the highest-paid chess players on the planet. According to findings by World Chess, Carlsen earned a whopping €745,000 worth of prize money in 2018. In 2012, he reportedly earned US$1.2 million, according to The New York Times.
A considerable portion of Carlsen's wealth also comes from product endorsements. The Justin Bieber of Chess, as he's fondly referred to by some of his fans, has partnered with several big brands during his chess career. Examples include Nordic Semiconductor and Unibet. Carlsen reportedly earns an estimated $2 million annually from product endorsements alone.
Modeling, writing, and acting also account for a significant percentage of Magnus' net worth.
Lessons from Magnus Carlsen
1. Education isn't the only key to success
Magnus Carlsen dropped out of high school in his senior year so he could pursue his chess ambitions. That he eventually became one of the world's best chess players only proves that success isn't all about education.
2. It's okay not to have a goal provided that you do what makes you happy
In a past interview, Carlsen remarked that he has no specific goal. His happiness comes from the game of chess and he seems to love it that way.
3. The sky is the limit
Magnus Carlsen began winning prestigious titles at the age of 13. 17 years later, the sensational chess player continues to fill his trophy cupboard.
Famous Quotes by Magnus Carlsen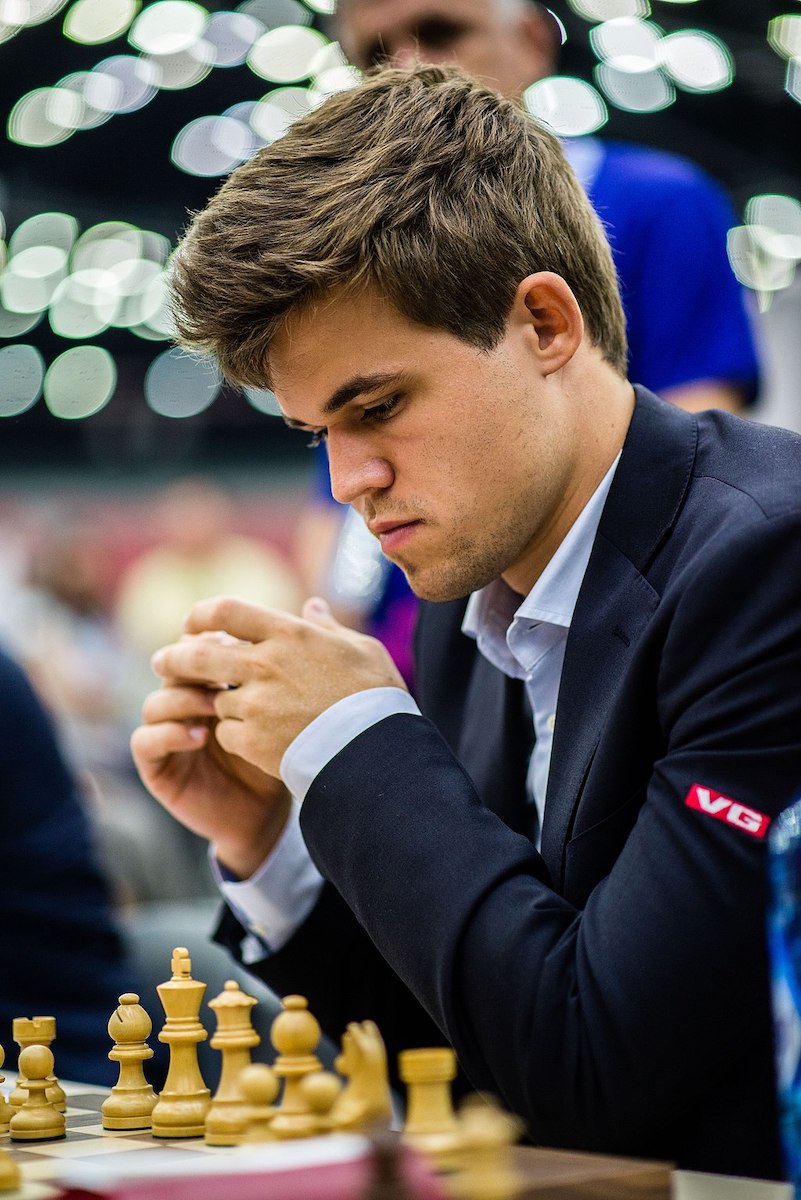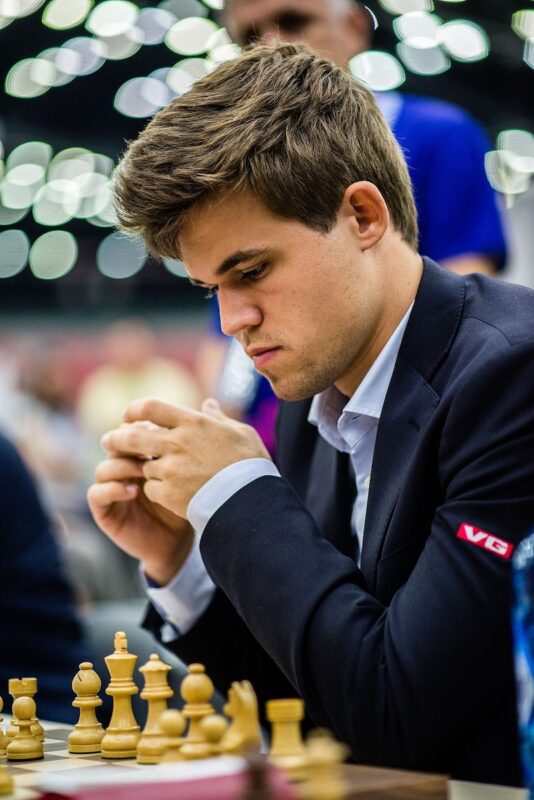 • Without the element of enjoyment, it is not worth trying to excel at anything.
• If you want to get to the top, there's always the risk that it will isolate you from other people.
• Some people think that if their opponent plays a beautiful game, it's okay to lose. I don't. You have to be merciless.
• Once you're a chess player, you spend a lot of time thinking about the game and you can't get it completely out of your head.
• Maybe if I didn't have the talent in chess I'd find the talent in something else. The only thing I know is that I have talent in chess, and I'm satisfied with that. Share this Quote Magnus Carlsen
Conclusion
Magnus Carlsen is a Norwegian chess player who currently holds three prestigious titles – World Chess Champion, World Rapid Chess Champion, and World Blitz Chess Champion.
Carlsen's impressive professional achievements reflect in his bank account, as is evidenced by his $10 million net worth.