Last Updated on March 6, 2021
There was huge discrimination against race, ethnicity, and gender in the 70s, marking this point in history as the time of the great divide between generations from the late 60s and 70s. Marianne Williamson was in her mid-twenties when this wave of the hippie movement, conservative backlash, and school drop outs was at an all-time high.
Like many young people from that generation, Marianne was in a depressive, confused, and desperate state in a tumultuous time. In her search for a calling and reorientation in her life, shestumbled upon a set of blue books with gold lettering on someone's coffee table in New York City.
The blue books were Helen Schucman's 'A Course in Miracles', a self-study of psycho-spiritual philosophy claiming to assist readers in achieving spiritual transformation in a systematic, step-by-step approach.  It is a three-volume set of books published in 1976 by the Foundation for Inner Peace.
Marianne embraced the ideology, resulting in the publication of her first book, A Return toLove. The book sold 750,000 copies in both hardback and paperback and spent 39 weeks on the New York Times bestseller list.
Early Years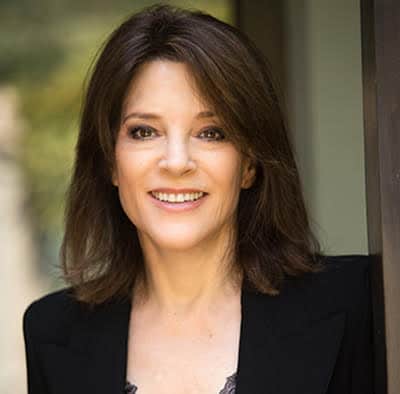 Marianne Williamson was born in July 8, 1952 in Houston, Texas. She was born to Sam Williamson, a Russian immigration lawyer who changed his name from Vishnevetsky and to Sophie Ann, a devoted homemaker. She grew up in a middle-class Jewish family who valued the ability to speak one's mind.
She went to Bellaire High School in Houston and moved to California to study theater and philosophy at Pomona College. She dropped out in herjunior year to become a cabaret singer. For a time, Marianne lived in New York as a cocktail waitressbut decided to go back to Houston to run a metaphysical bookstore.
The Start of a Calling
In 1978, Marianne started her first humanitarian program in Los Angeles calledProject Angel Food. This program organized free meal services for those too sick to shop and to cook meals by themselves, particularly those individuals who suffer from HIV or AIDS.
In 1992, the project got so much attention that actress Elizabeth Taylor granted $150,000 to the organization, creating more growth and resources. In two years' time, more than 100 AIDS patients were calling for meal services each month.
By the end of 2001, over 2.5 million meals had been served and the project expanded to add breakfast services, and to include other illnesses like cancer, diabetes, renal failure, and other life-threatening illnesses.
Marianne Williamson is best known as a spiritual leader and faith adviser after releasing her first book, Return to Love. The book discusses the idea that people who decide to love themselves and show great dependence on God start to see the miracles they want to happen.
Return to Love has been dubbed by many as a great spiritual self-help classic of great practical worth, focusing on love as the key to inner peace and fulfillment. Millions of people bought Williamson's books and recordings and thousands attended her monthly lecture on love and relationships.
Marianne has been presenting her weekly lectures live in Los Angeles   for the past 7 years. She focuses on sharing teachings from A Course in Miracles in a very relatable and convenient way for the listeners. These weekly lectures have been known to have yoga practice, group meditation, live music, and questions from the audience.
Marianne has written 10 books, with six making it to the New York Times bestseller list and four making it to number 1. She was able to draw hundreds of volunteers into nonprofit centers offering a variety of non-medical services.
In the success of Marianne's work, she co-founded another nonprofit organization called the Peace Alliance so she can work with local communities on peaceful resolutions for bullying in schools, conflict resolution, and gang violence.
Furthermore, she also served as part of the RESULTS organization's Advisory Board. RESULTS is a movement that influences policy makers to bring an end to poverty and to improve access to education, health, and economic opportunity.
Another notable piece of her work is Sister Giant, a group that holds series of seminars and teachings for women who need support and relevant information to be political candidates. In 2006, Marianne became a guest on numerous television programs like Oprah, Larry King Live, and Good Morning America. In December 2006, Newsweek magazine named her as one of the fifty most influential baby boomers.
Last October 2013, Marianne announced her candidacy for California's 33rd Congressional District in the race to fill Representative Henry Waxman's seat, but lost the race, placing only fourth.
Many people who have worked with her say that she always wants to be involved in every detail of every kind of work. She is known for her wit, irreverence, patience, diligence, austerity, and care for other people.She sums up her movement like this: "We are a prodigal-son generation. We've done the dark side. We're ready to move on."
Marianne has a daughter named India Emmanuelle, whose father she refuses to name.
Marianne Williamson Quotes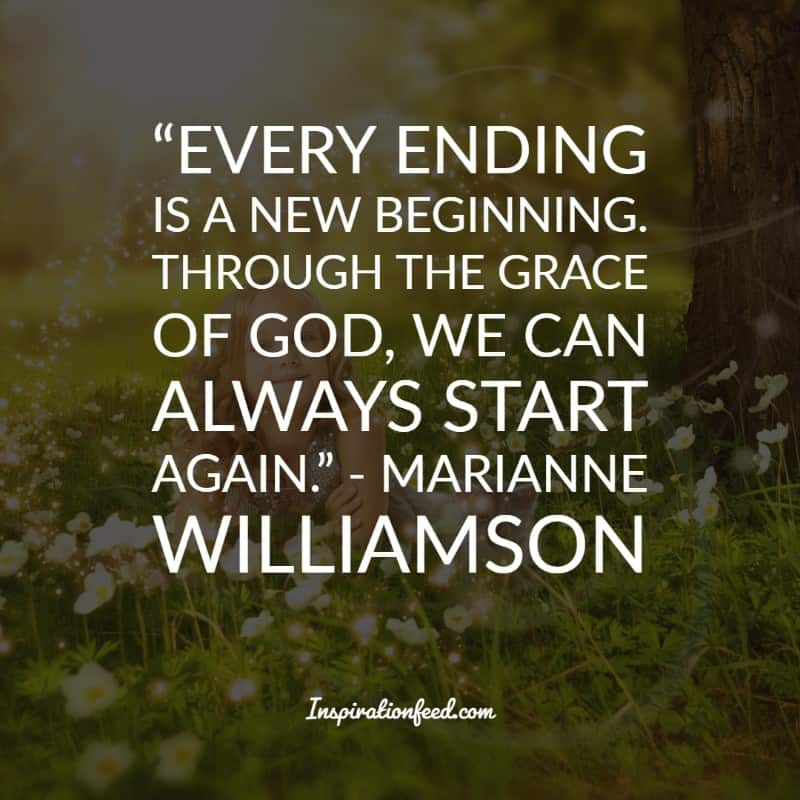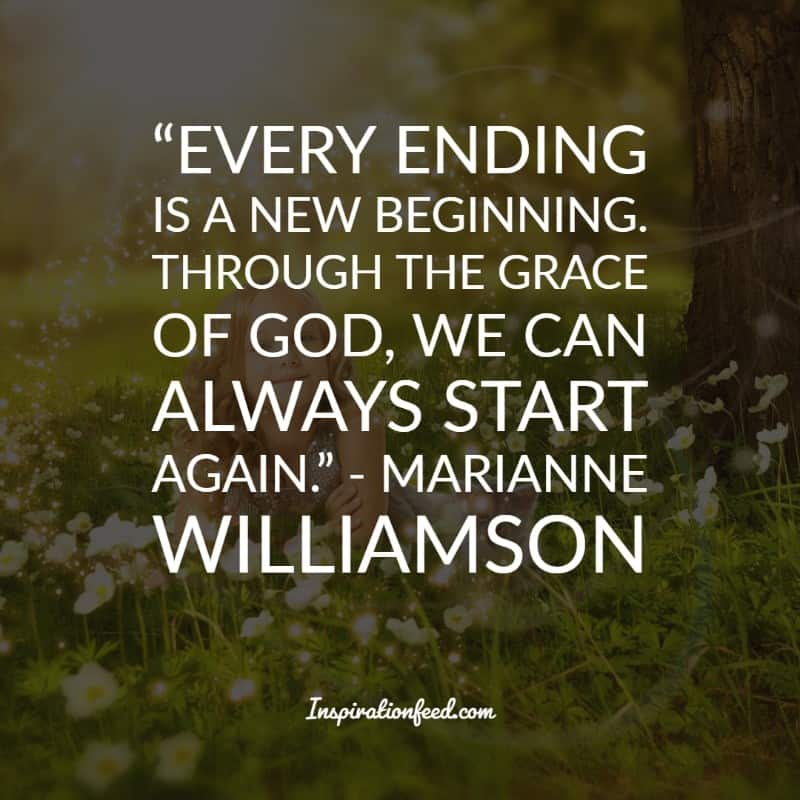 "Every ending is a new beginning. Through the grace of God, we can always start again." – Marianne Williamson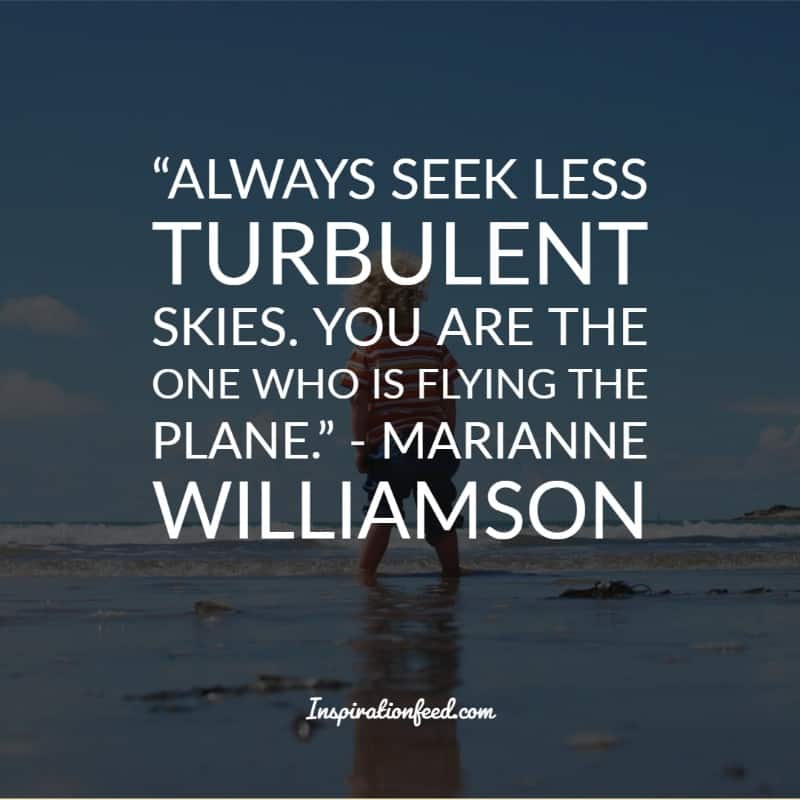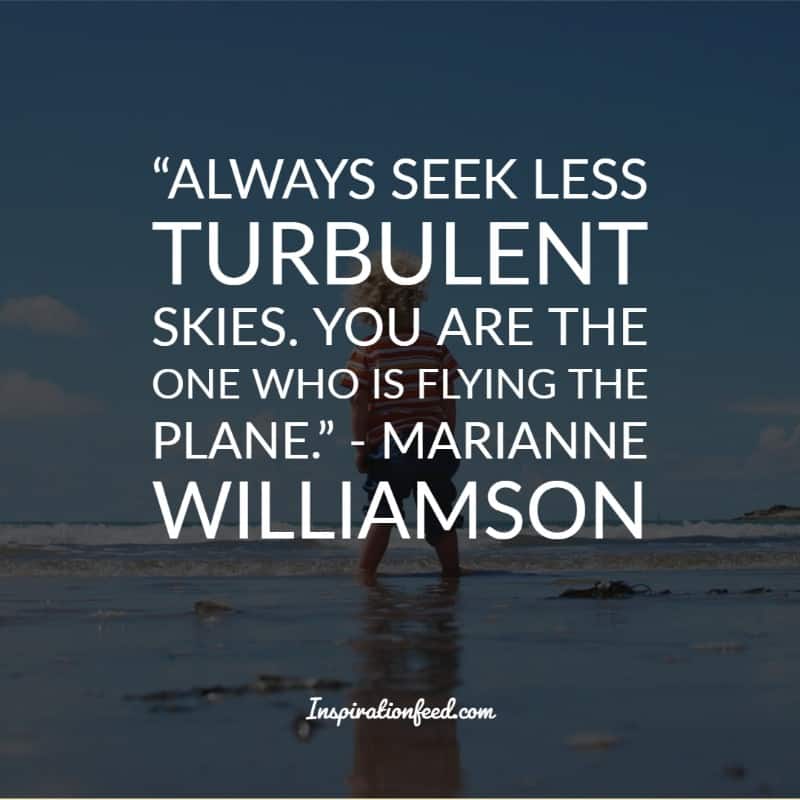 "Always seek less turbulent skies. You are the one who is flying the plane." – Marianne Williamson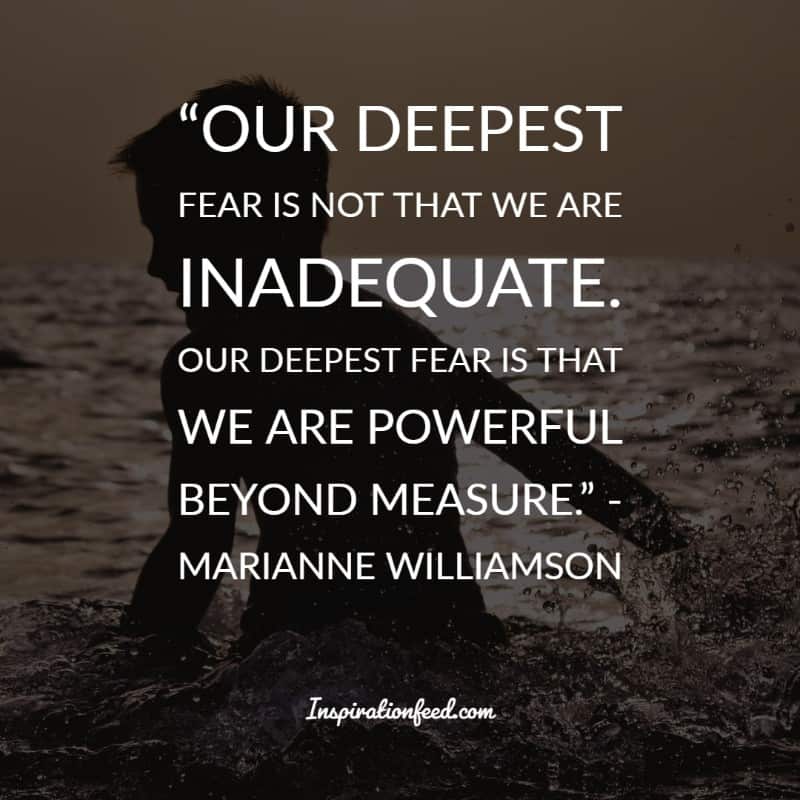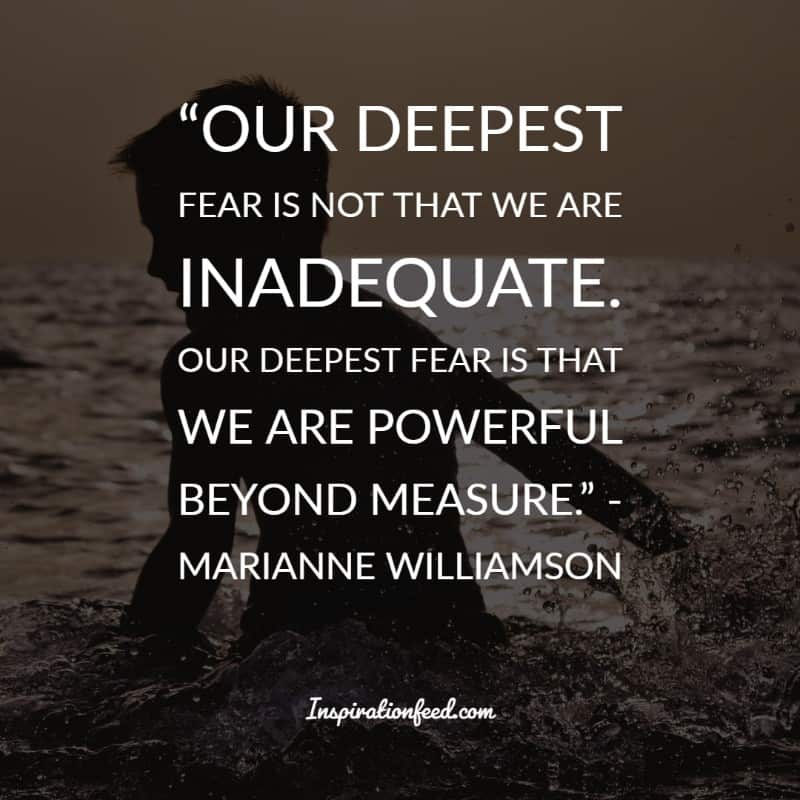 "Our deepest fear is not that we are inadequate. Our deepest fear is that we are powerful beyond measure." – Marianne Williamson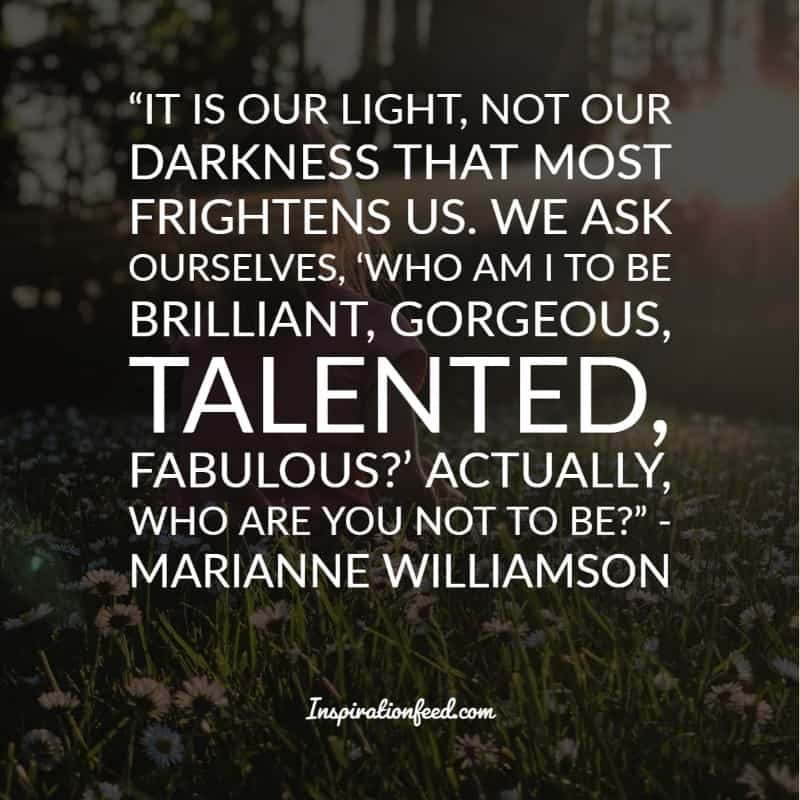 "It is our light, not our darkness that most frightens us. We ask ourselves, 'who am I to be brilliant, gorgeous, talented, fabulous?' Actually, who are you not to be?" – Marianne Williamson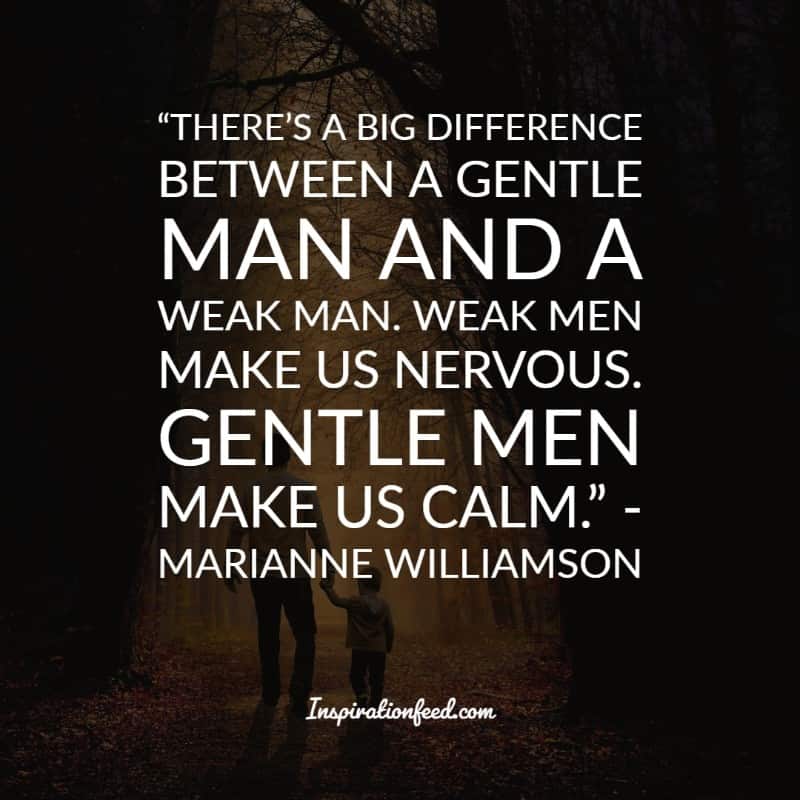 "There's a big difference between a gentle man and a weak man. Weak men make us nervous. Gentle men make us calm." – Marianne Williamson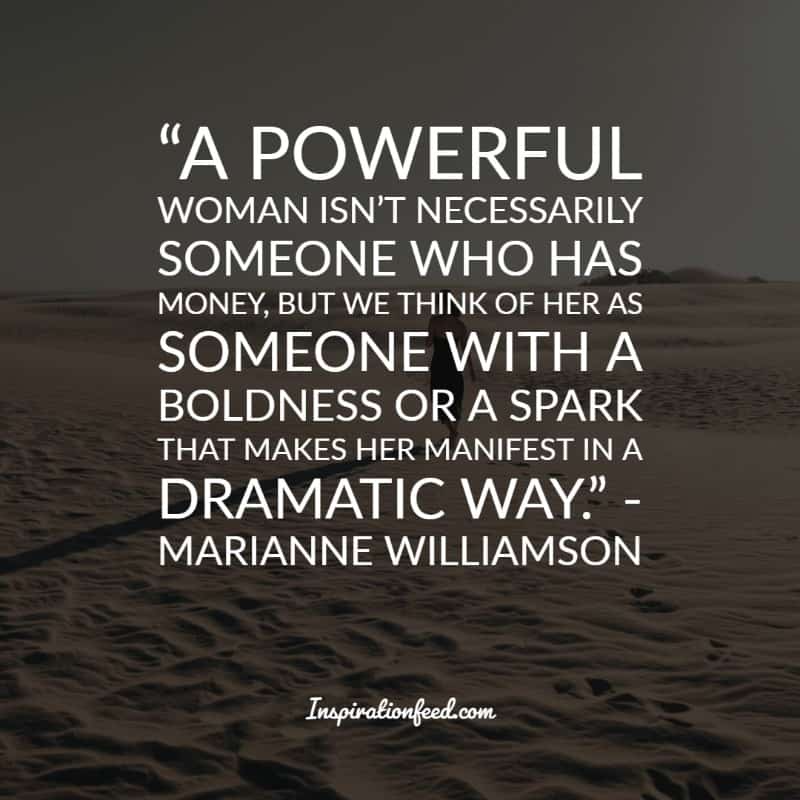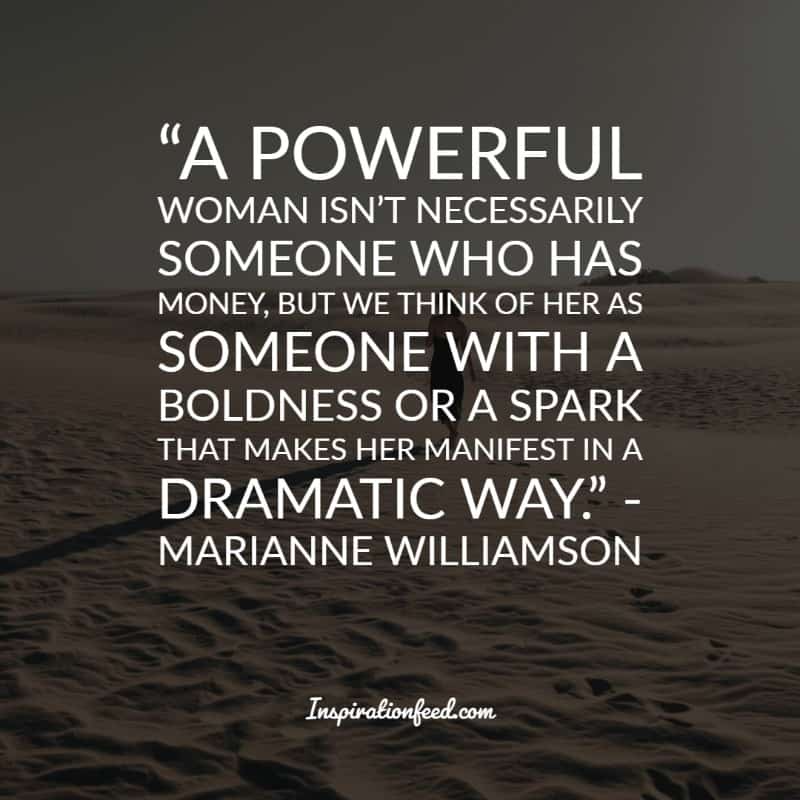 "A powerful woman isn't necessarily someone who has money, but we think of her as someone with a boldness or a spark that makes her manifest in a dramatic way." – Marianne Williamson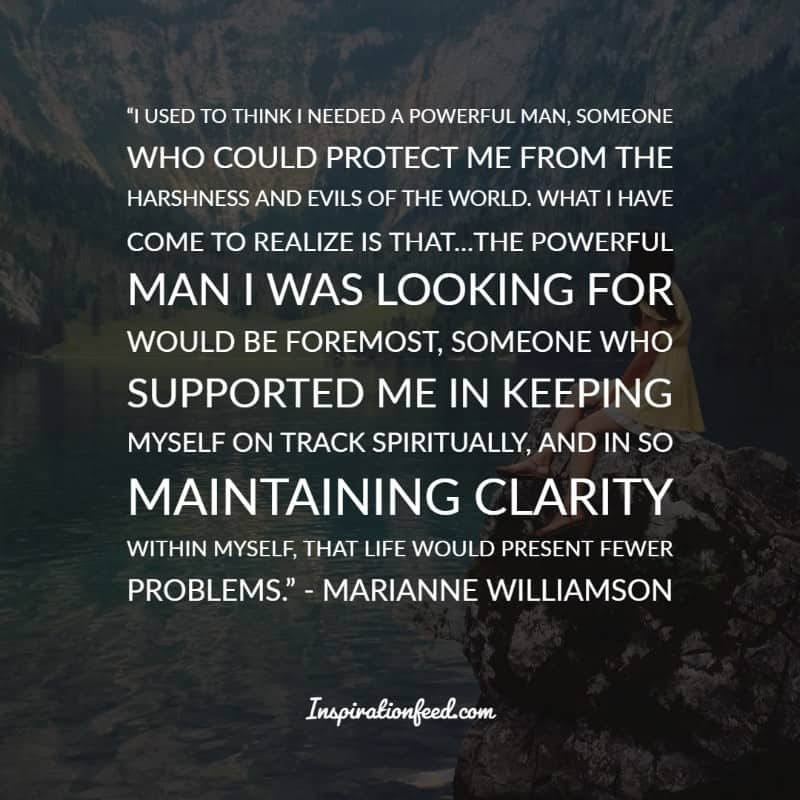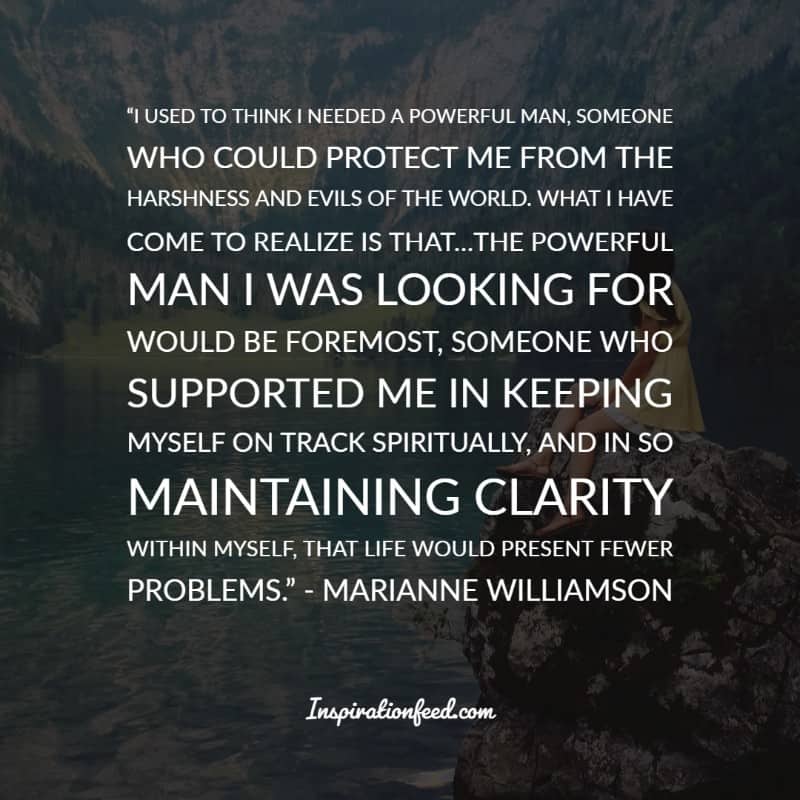 "I used to think I needed a powerful man, someone who could protect me from the harshness and evils of the world. What I have come to realize is that…the powerful man I was looking for would be foremost, someone who supported me in keeping myself on track spiritually, and in so maintaining clarity within myself, that life would present fewer problems." – Marianne Williamson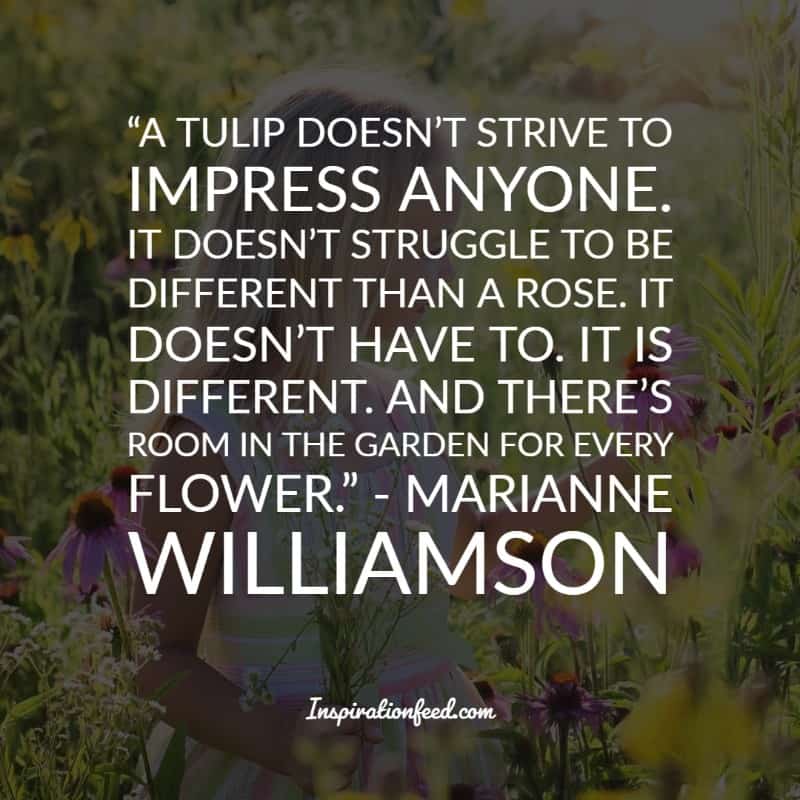 "A tulip doesn't strive to impress anyone. It doesn't struggle to be different than a rose. It doesn't have to. It is different. And there's room in the garden for every flower." – Marianne Williamson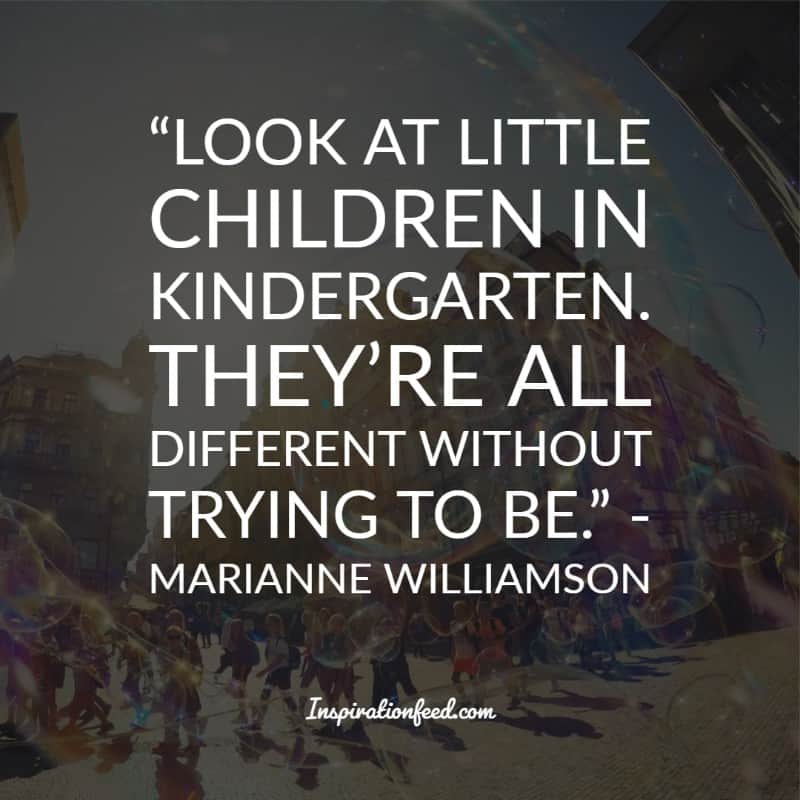 "Look at little children in kindergarten. They're all different without trying to be." – Marianne Williamson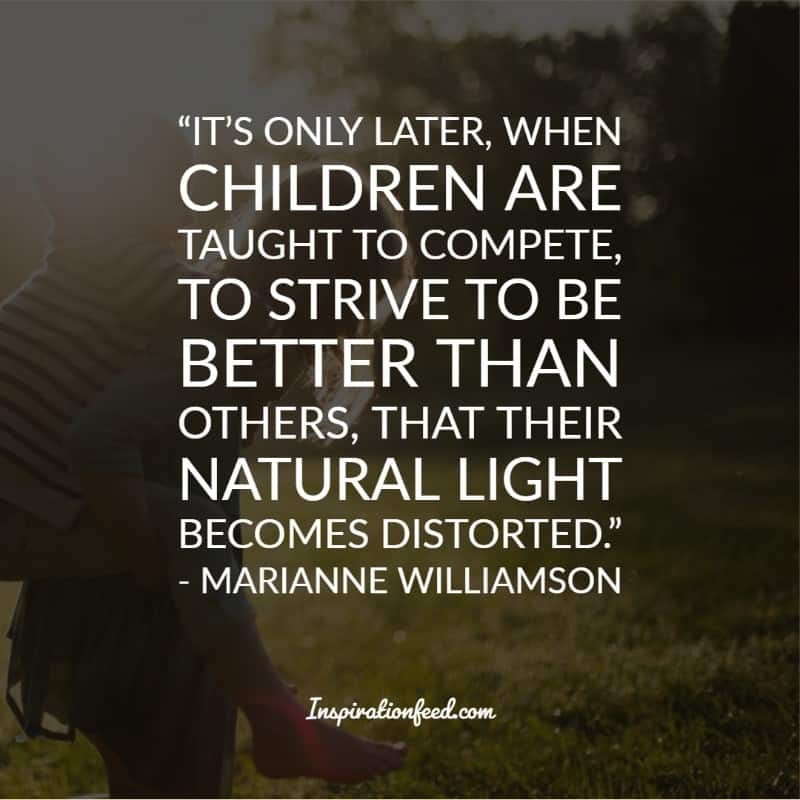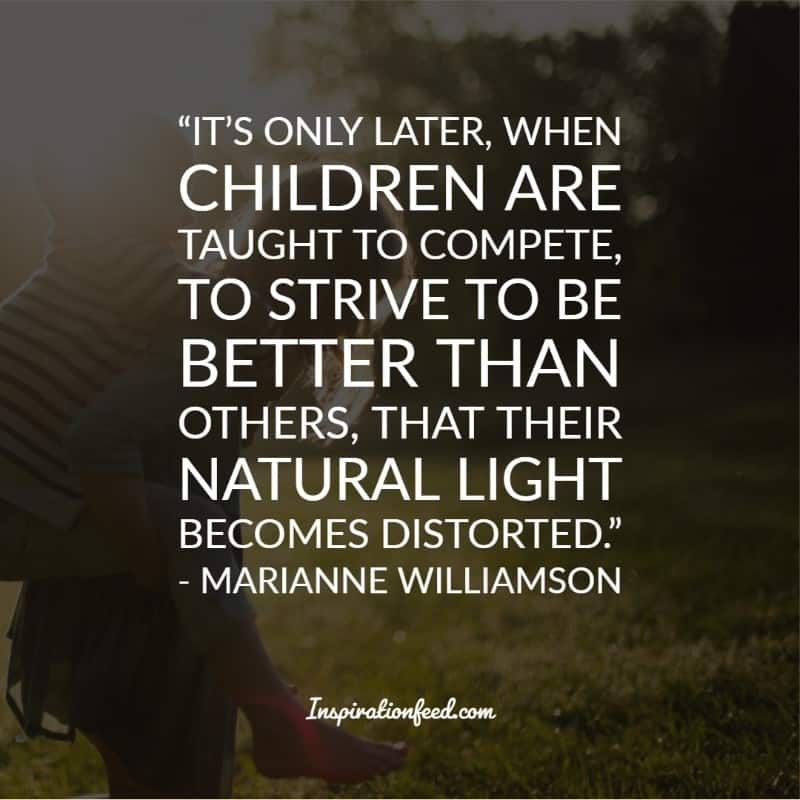 "It's only later, when children are taught to compete, to strive to be better than others, that their natural light becomes distorted." – Marianne Williamson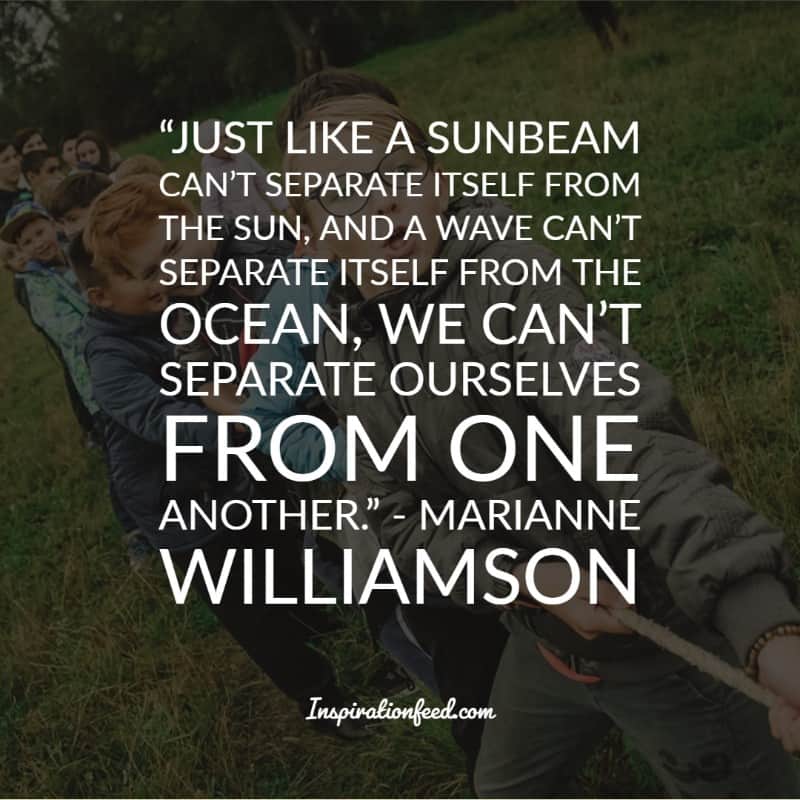 "Just like a sunbeam can't separate itself from the sun, and a wave can't separate itself from the ocean, we can't separate ourselves from one another." – Marianne Williamson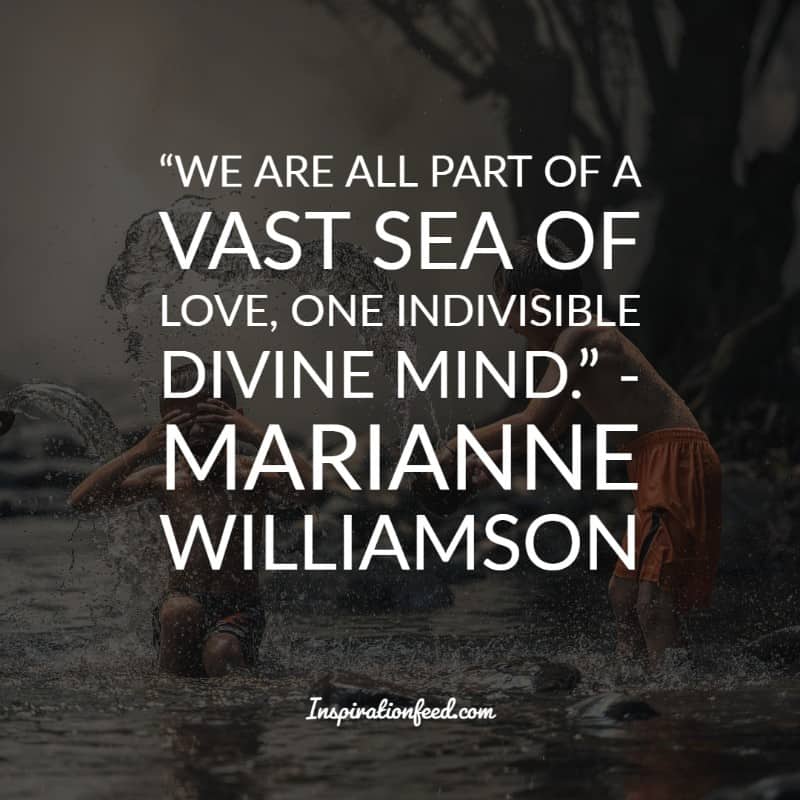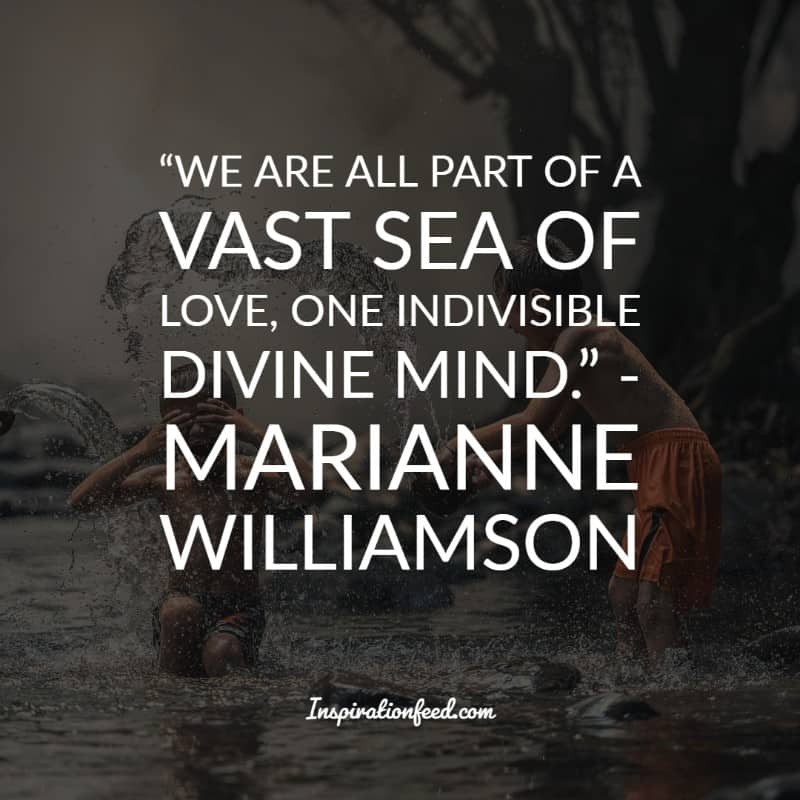 "We are all part of a vast sea of love, one indivisible divine mind." – Marianne Williamson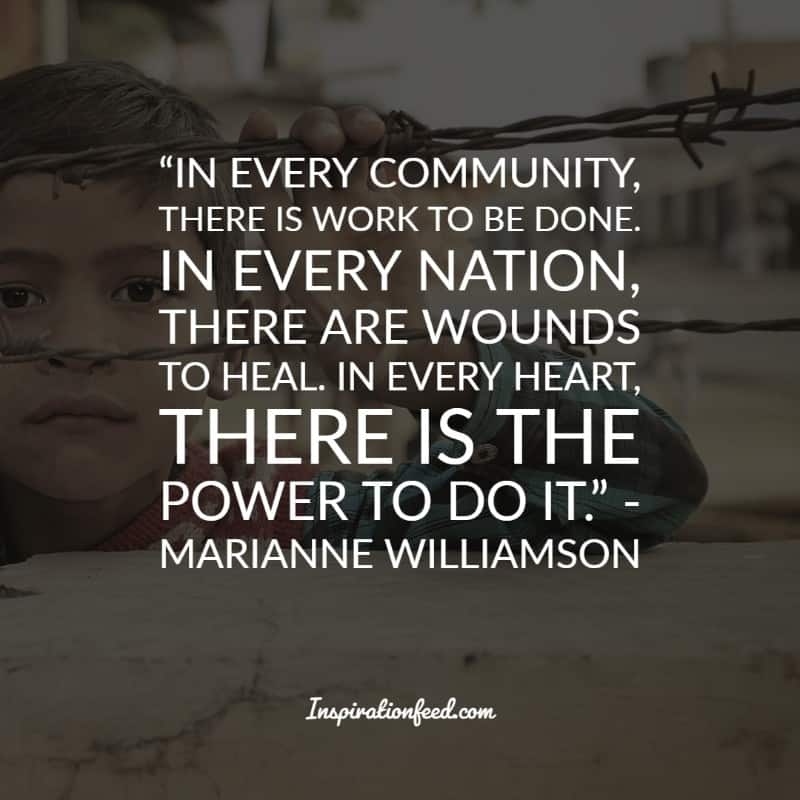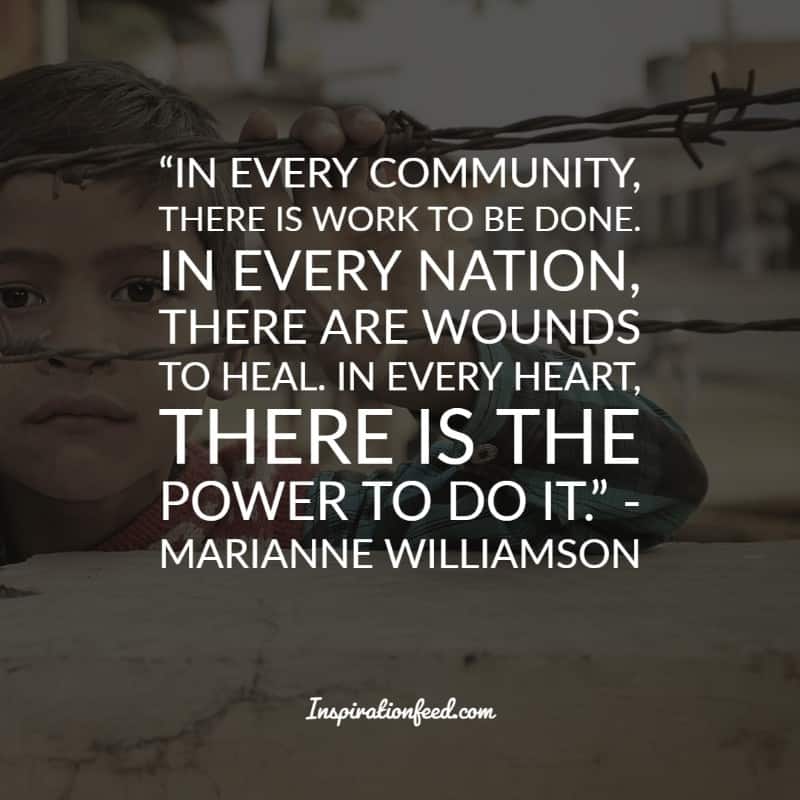 "In every community, there is work to be done. In every nation, there are wounds to heal. In every heart, there is the power to do it." – Marianne Williamson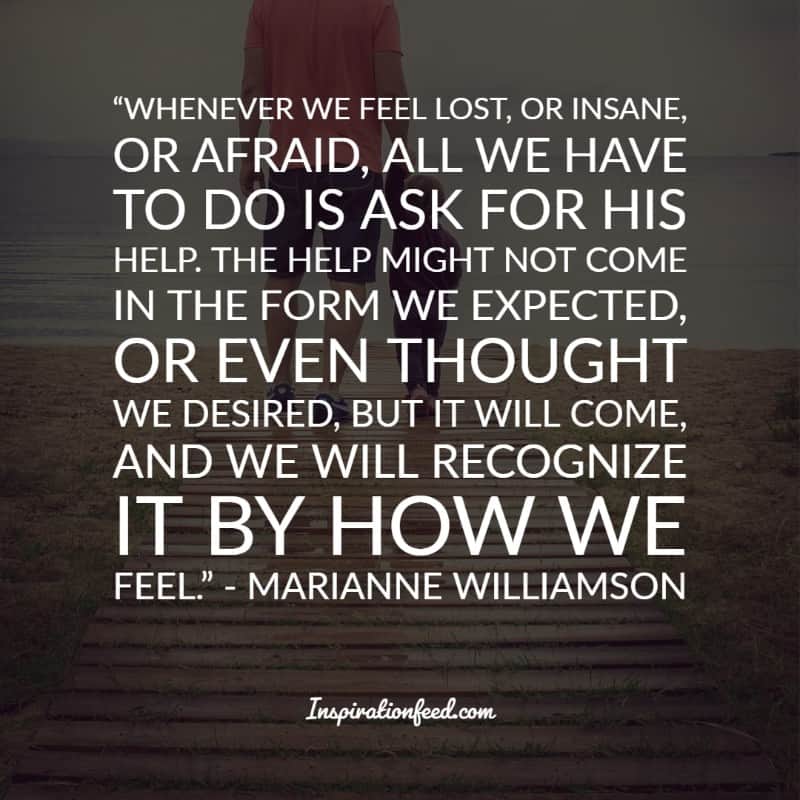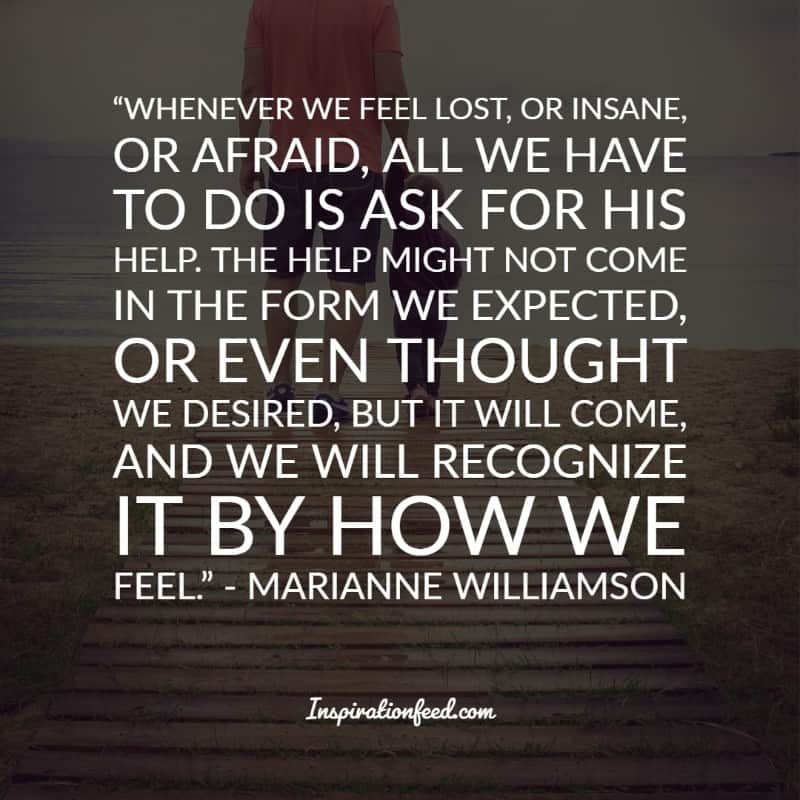 "Whenever we feel lost, or insane, or afraid, all we have to do is ask for His help. The help might not come in the form we expected, or even thought we desired, but it will come, and we will recognize it by how we feel." – Marianne Williamson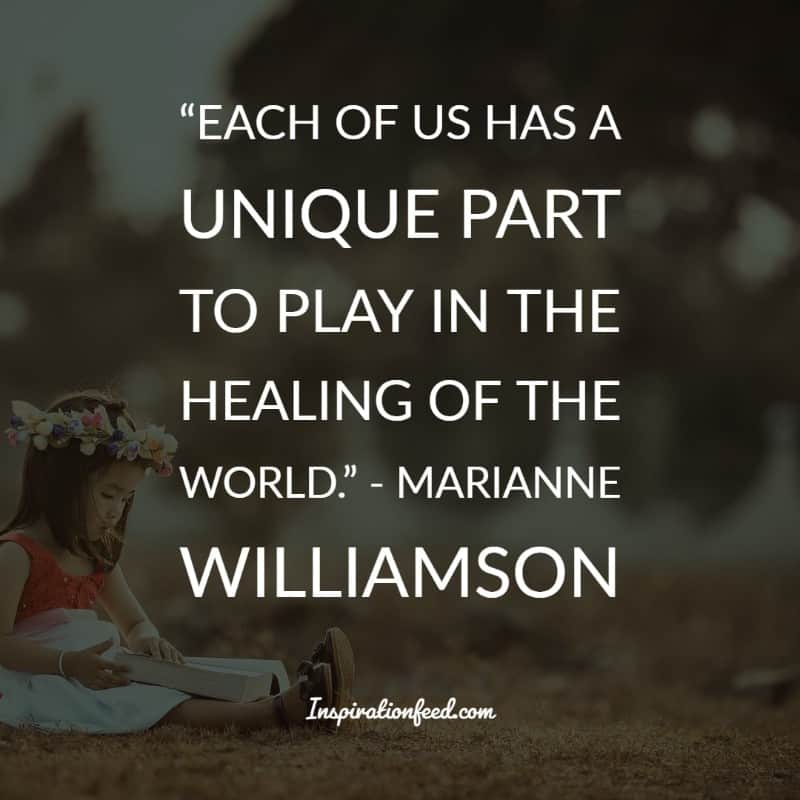 "Each of us has a unique part to play in the healing of the world." – Marianne Williamson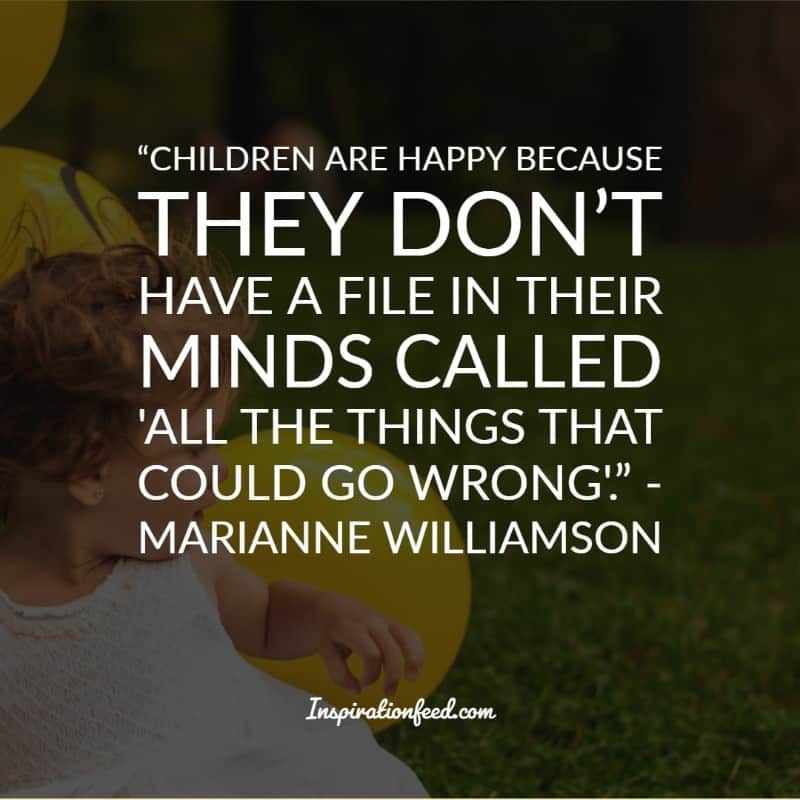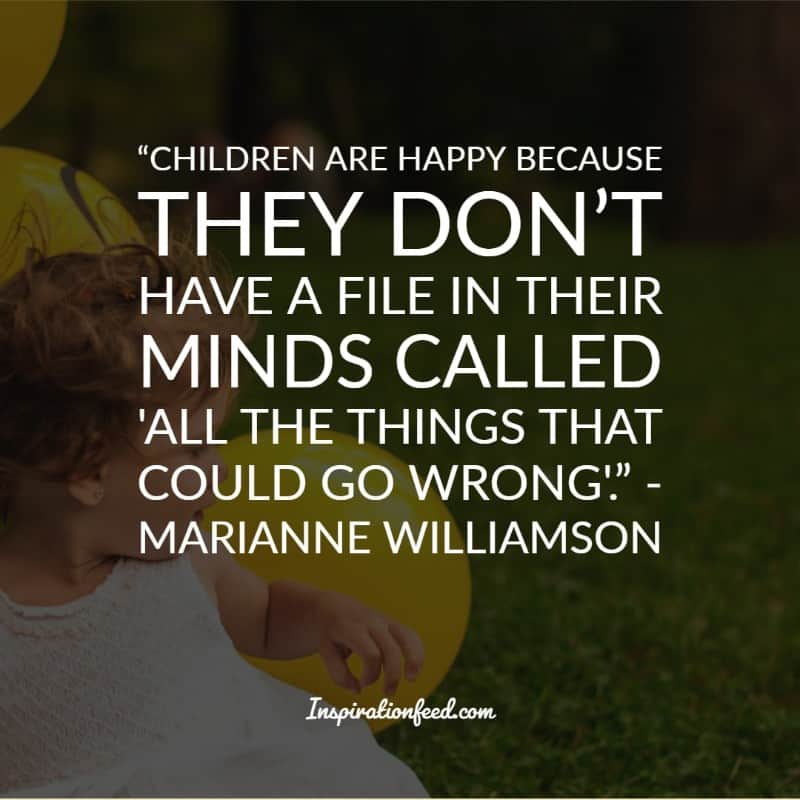 "Children are happy because they don't have a file in their minds called 'All the Things That Could Go Wrong'." – Marianne Williamson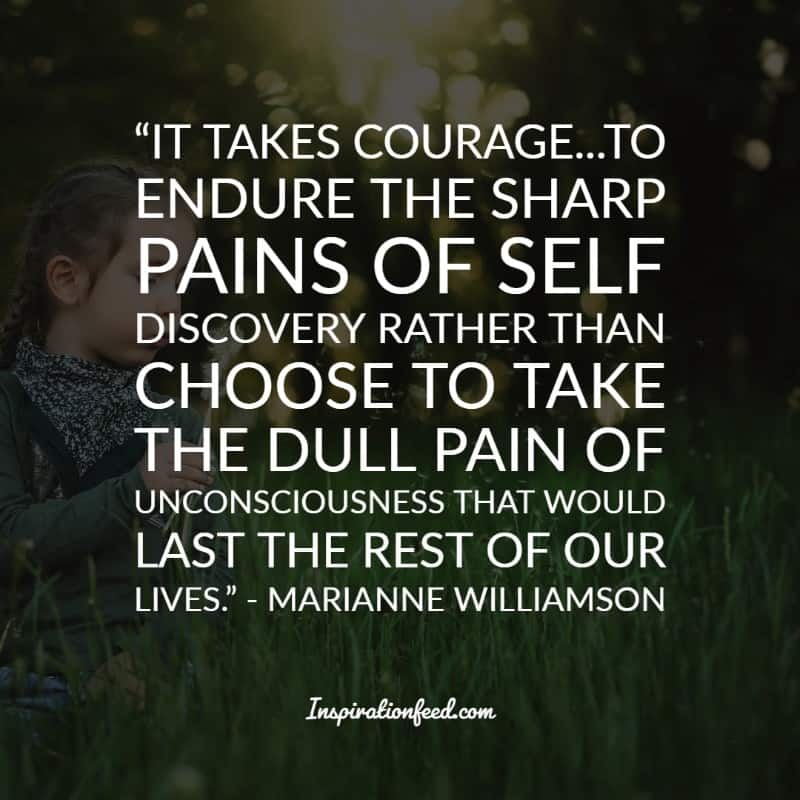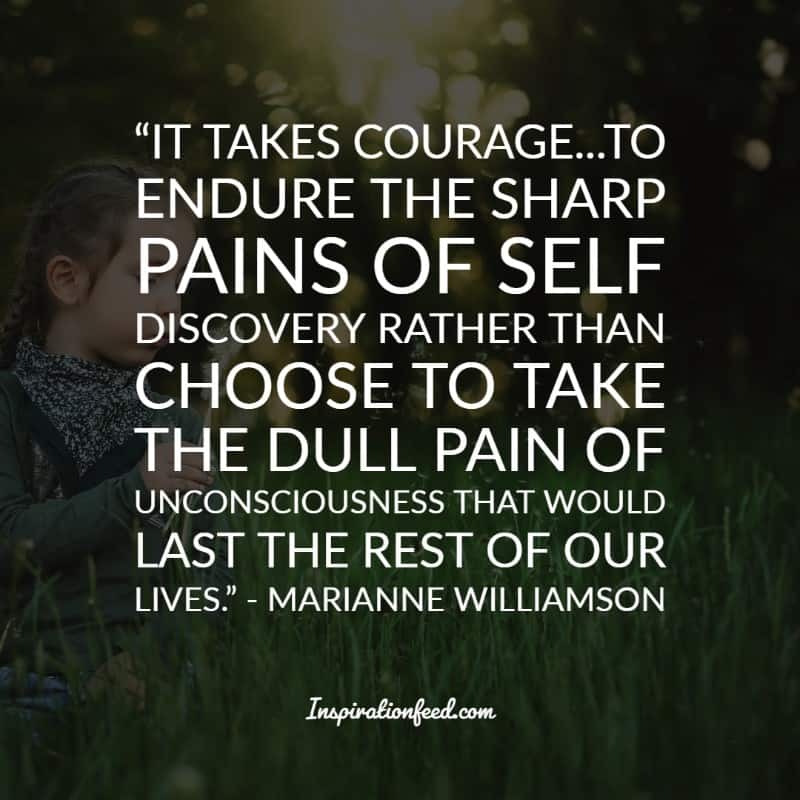 "It takes courage…to endure the sharp pains of self discovery rather than choose to take the dull pain of unconsciousness that would last the rest of our lives." – Marianne Williamson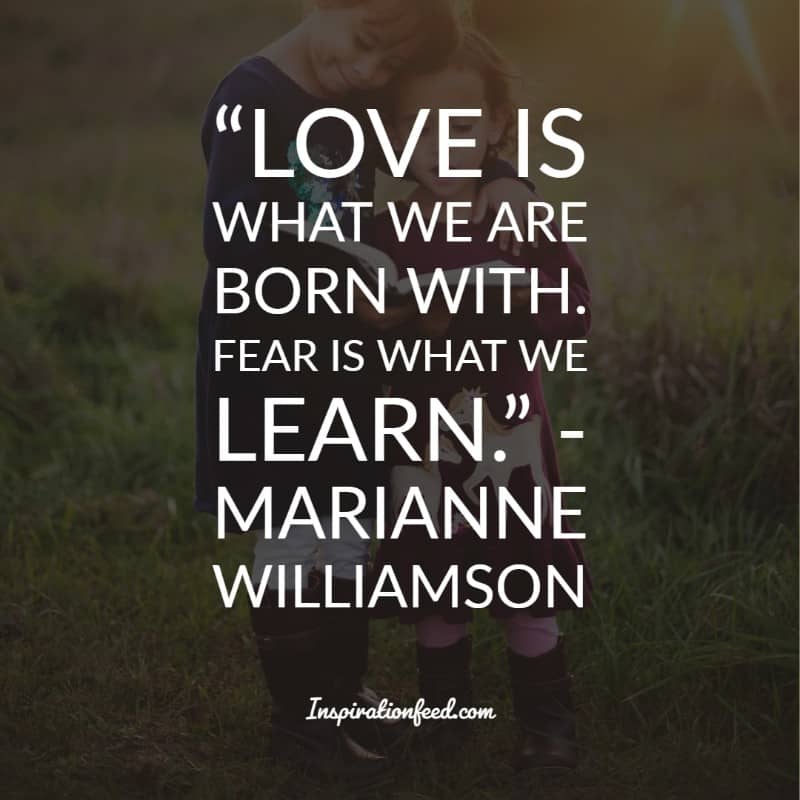 "Love is what we are born with. Fear is what we learn." – Marianne Williamson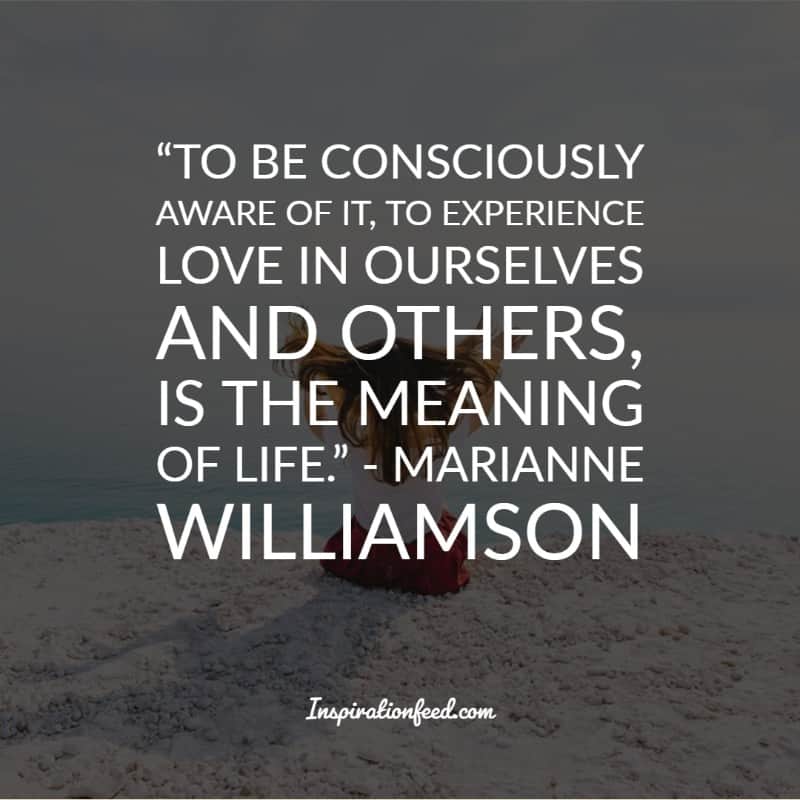 "To be consciously aware of it, to experience love in ourselves and others, is the meaning of life." – Marianne Williamson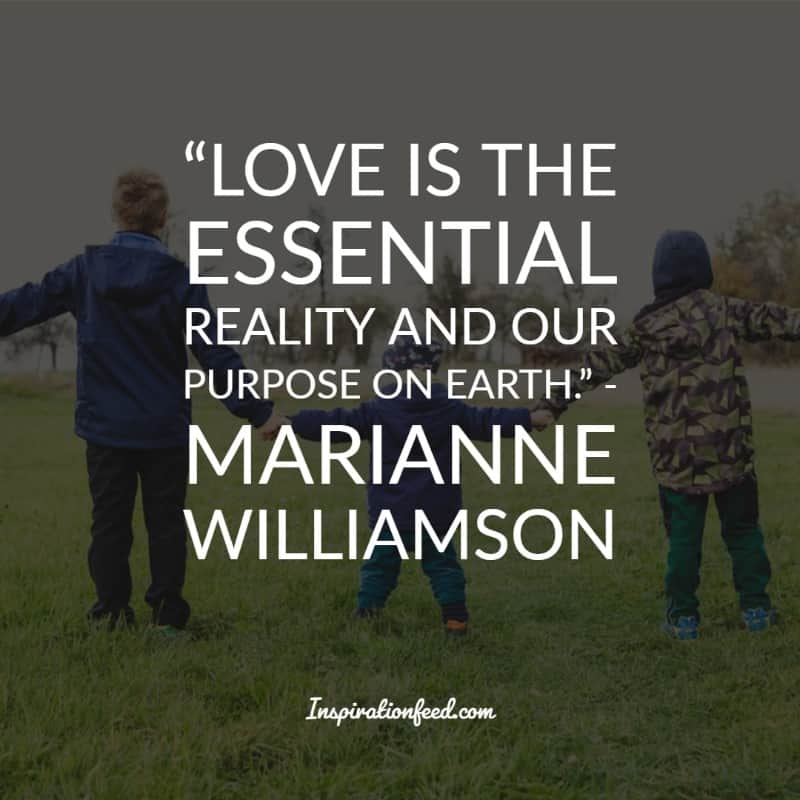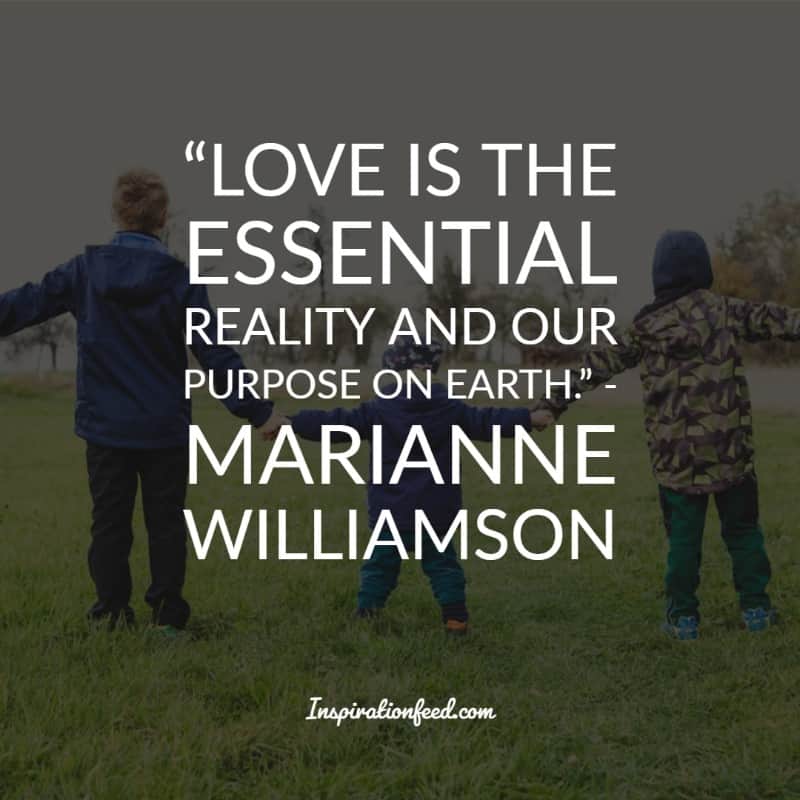 "Love is the essential reality and our purpose on earth." – Marianne Williamson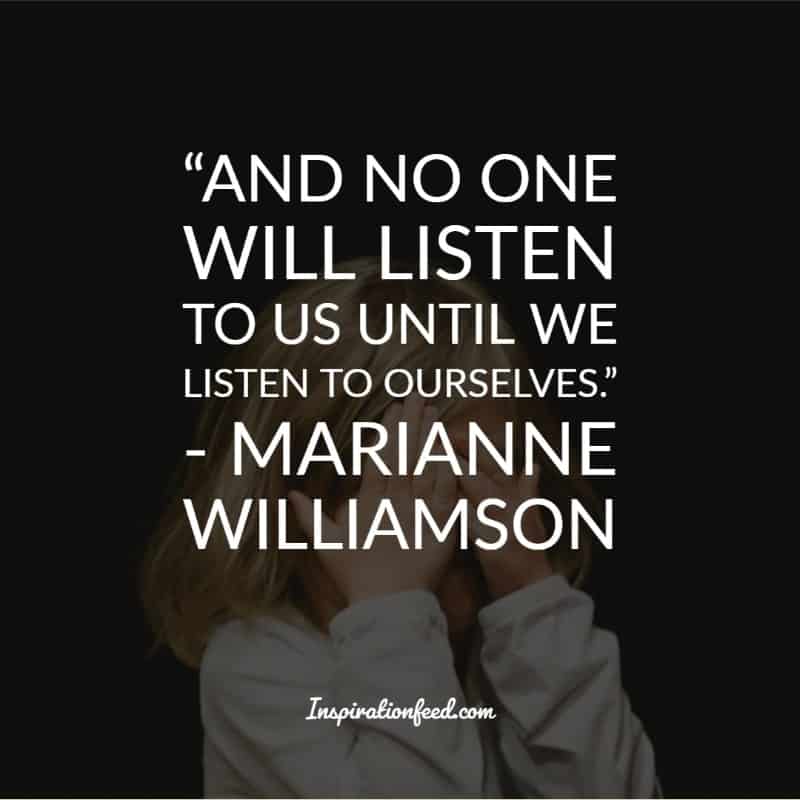 "And no one will listen to us until we listen to ourselves." – Marianne Williamson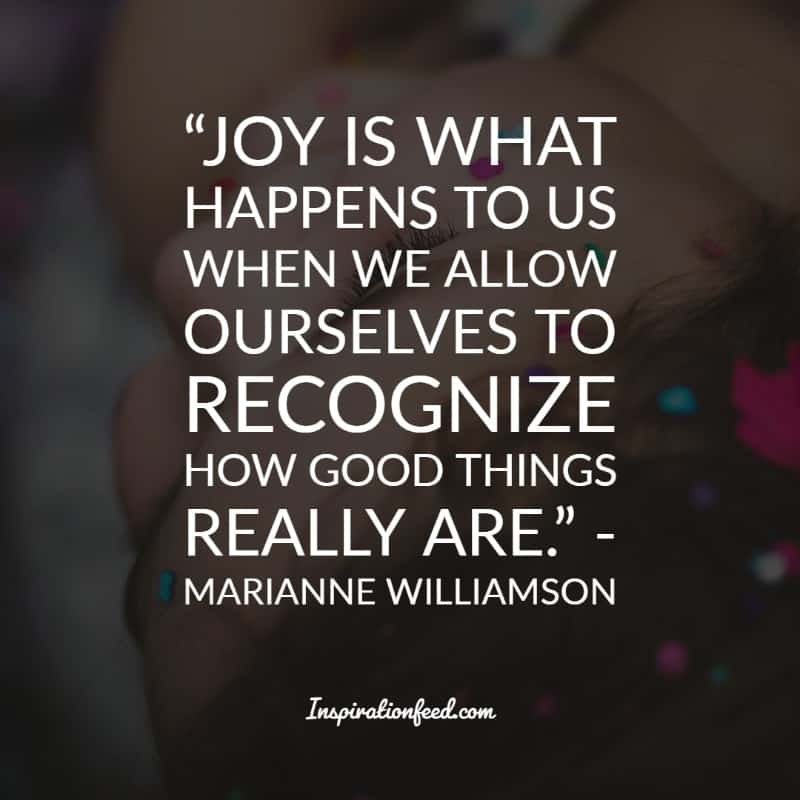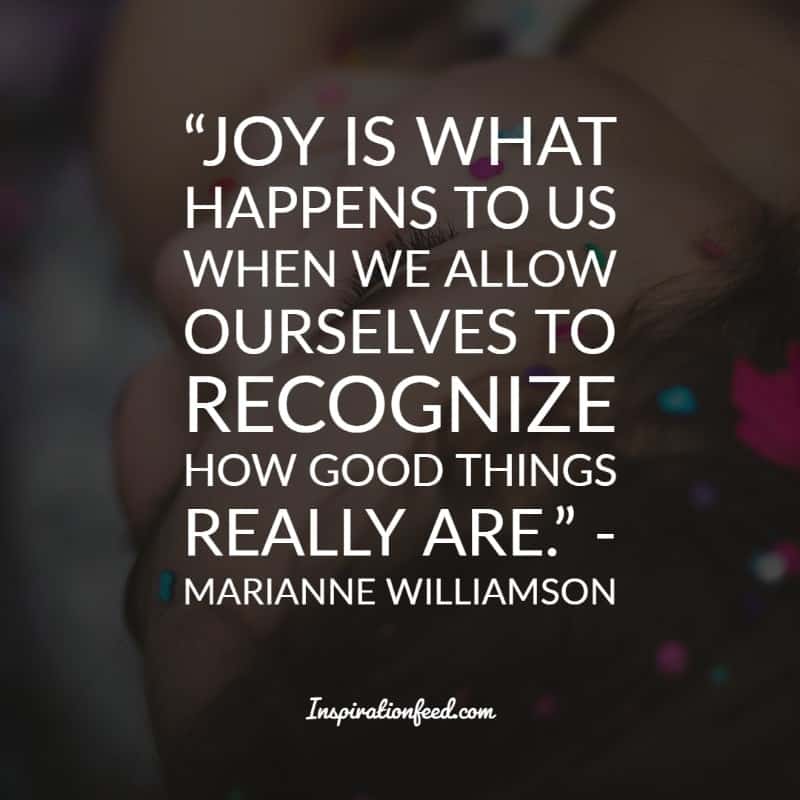 "Joy is what happens to us when we allow ourselves to recognize how good things really are." – Marianne Williamson
"We are not held back by the love we didn't receive in the past, but by the love we're not extending in the present." – Marianne Williamson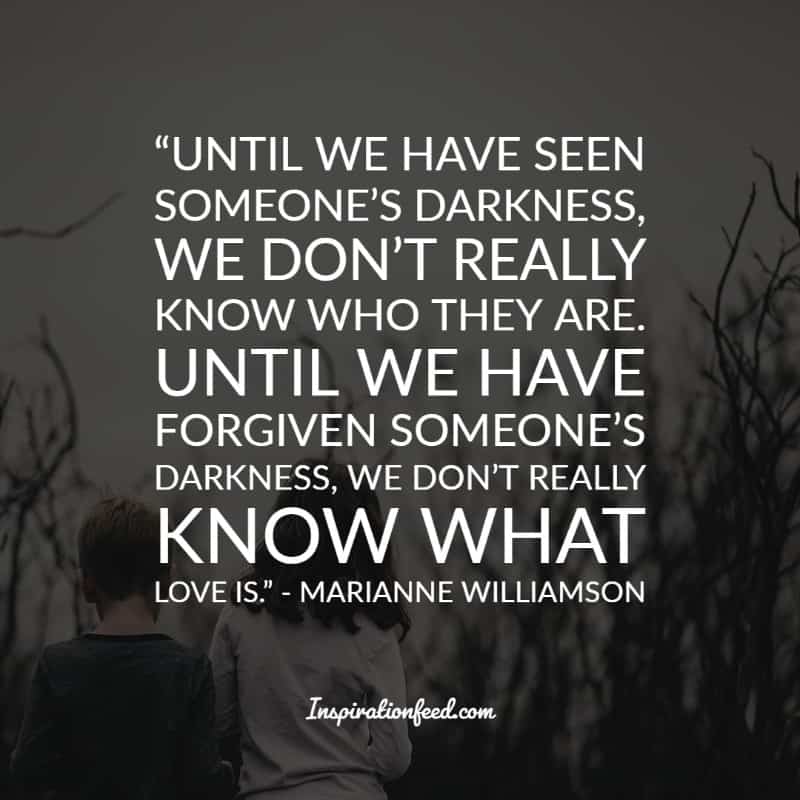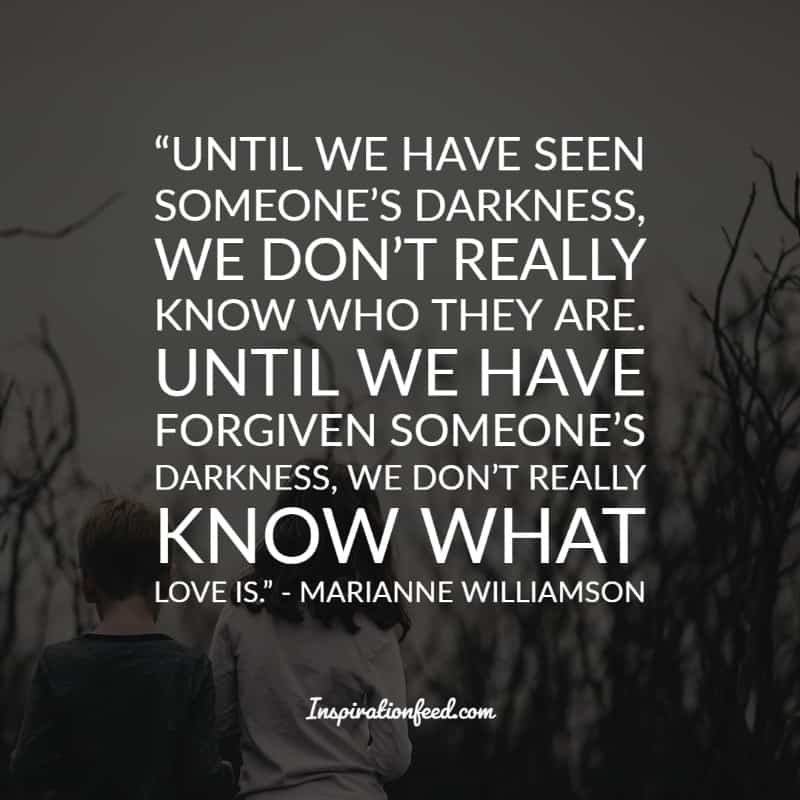 "Until we have seen someone's darkness, we don't really know who they are. Until we have forgiven someone's darkness, we don't really know what love is." – Marianne Williamson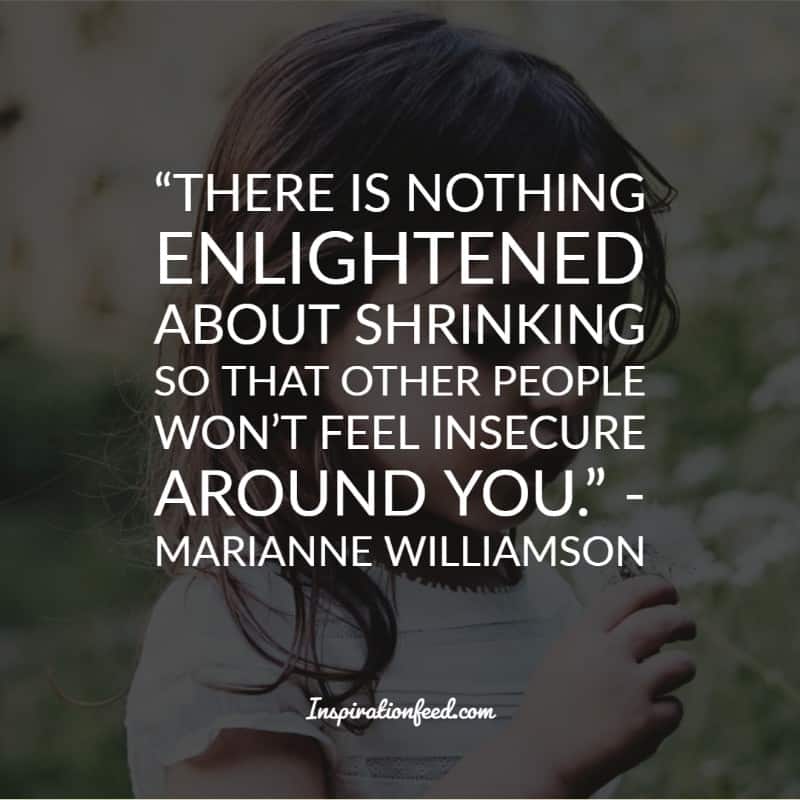 "There is nothing enlightened about shrinking so that other people won't feel insecure around you." – Marianne Williamson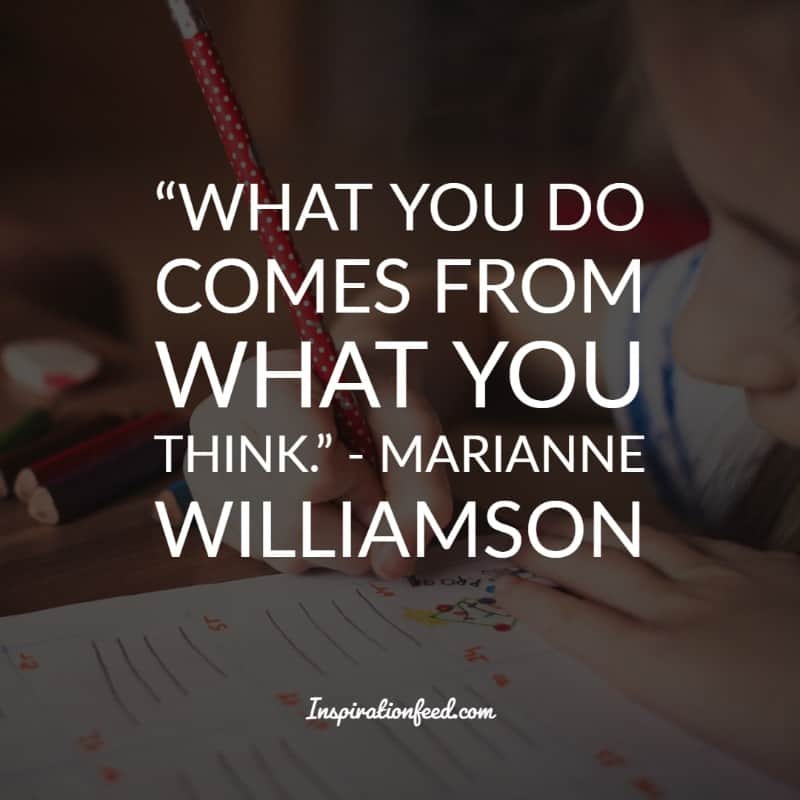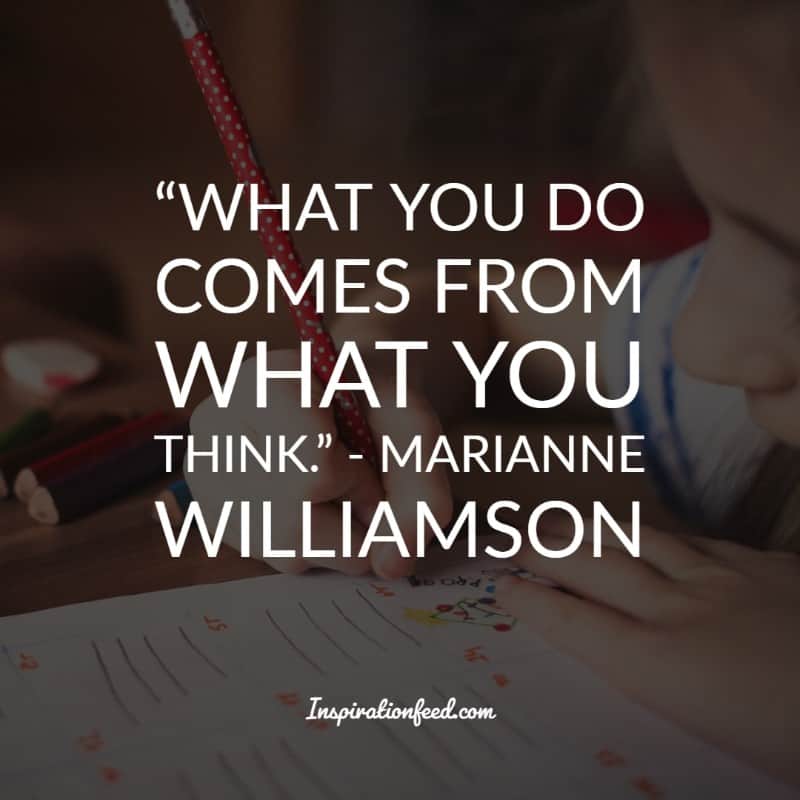 "What you do comes from what you think." – Marianne Williamson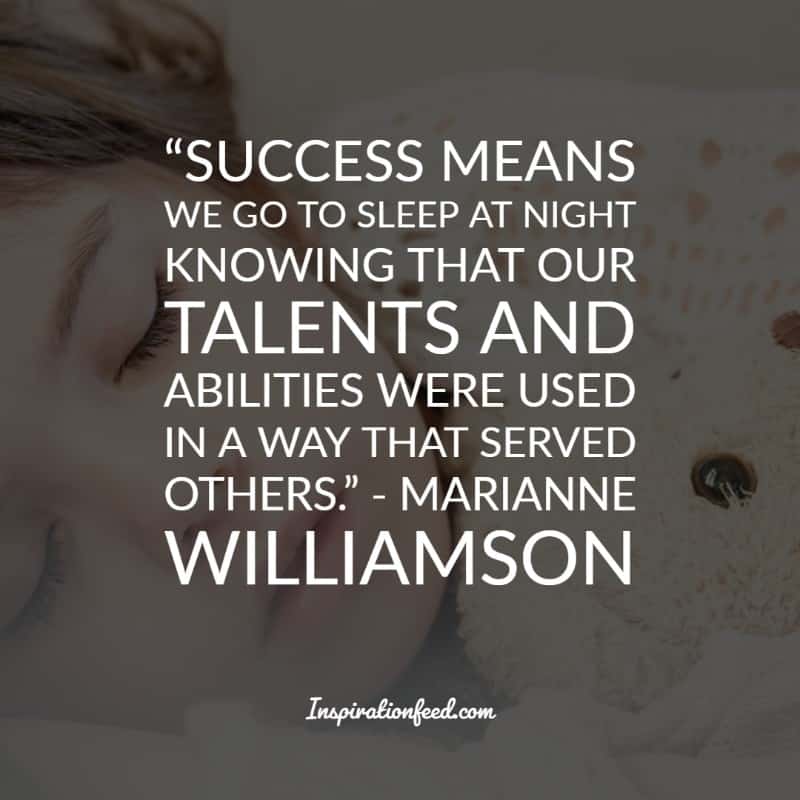 "Success means we go to sleep at night knowing that our talents and abilities were used in a way that served others." – Marianne Williamson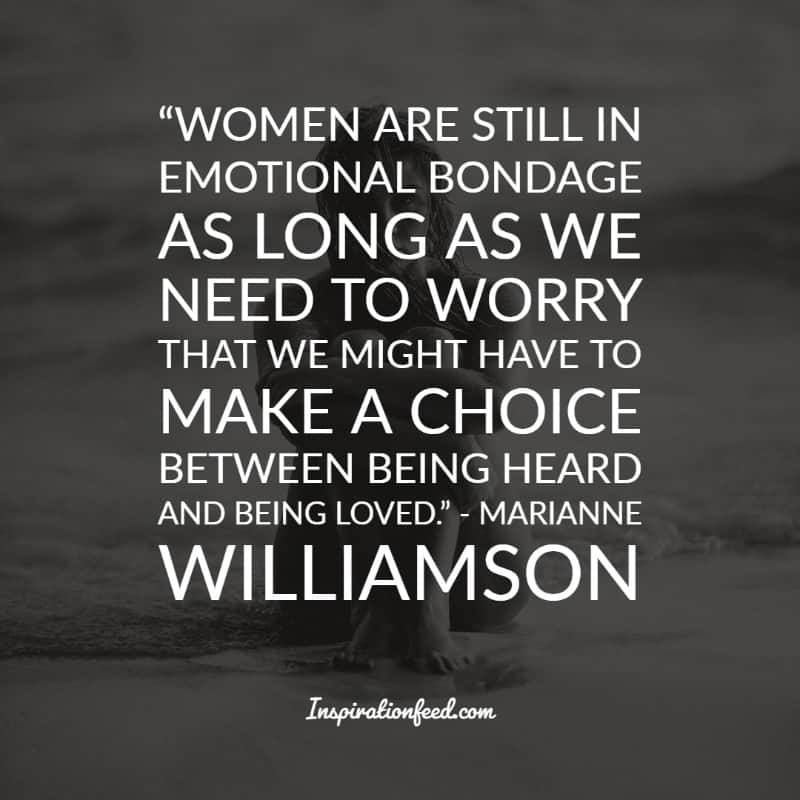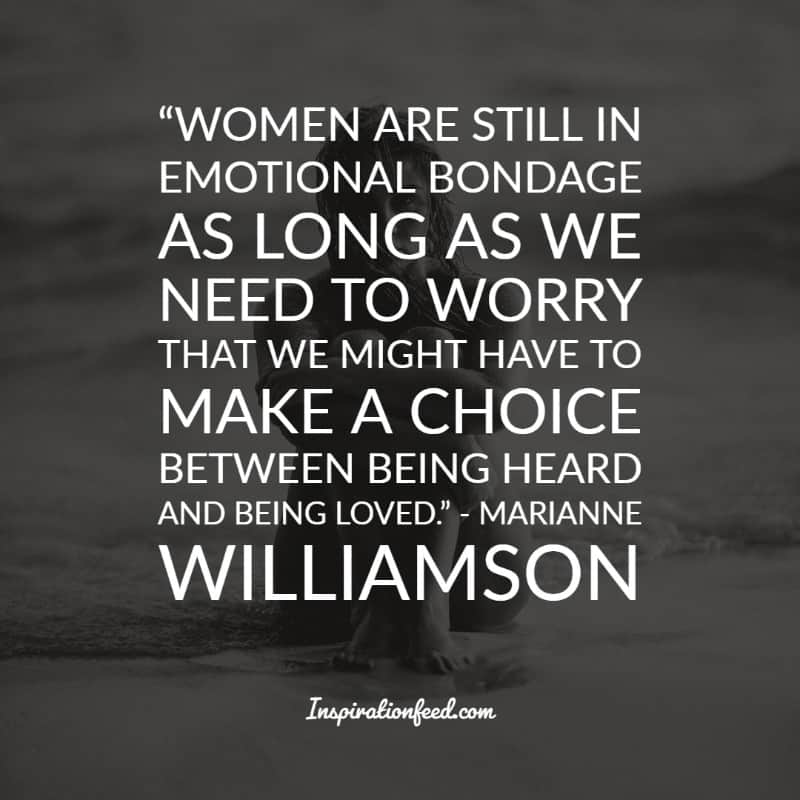 "Women are still in emotional bondage as long as we need to worry that we might have to make a choice between being heard and being loved." – Marianne Williamson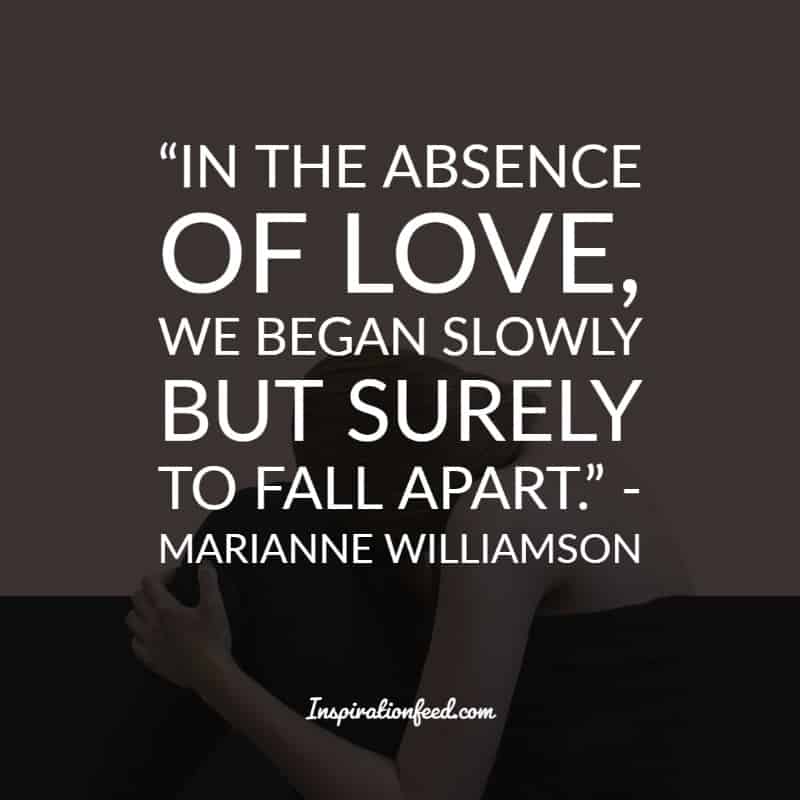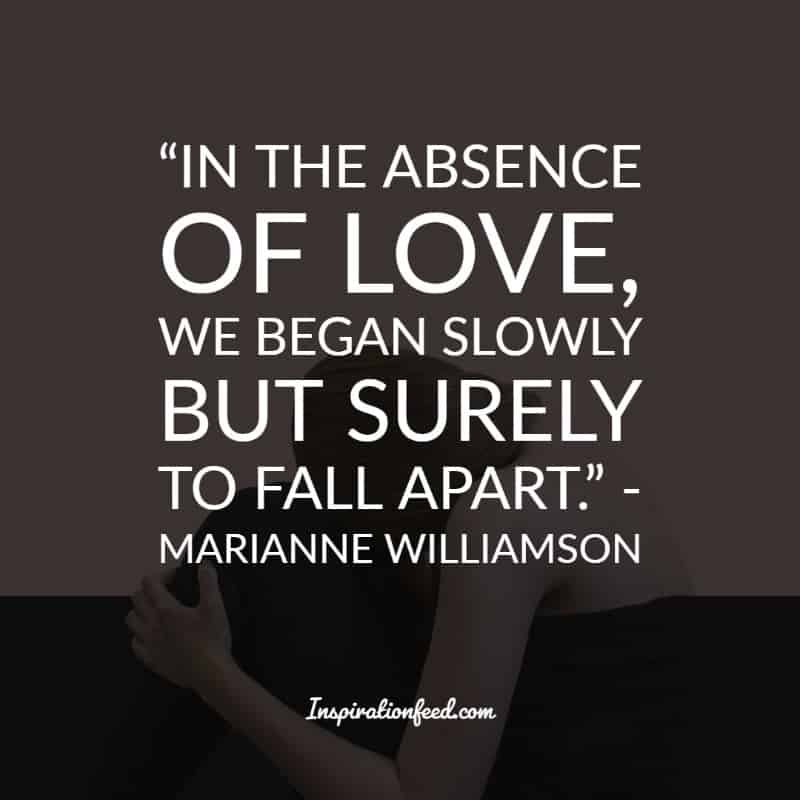 "In the absence of love, we began slowly but surely to fall apart." – Marianne Williamson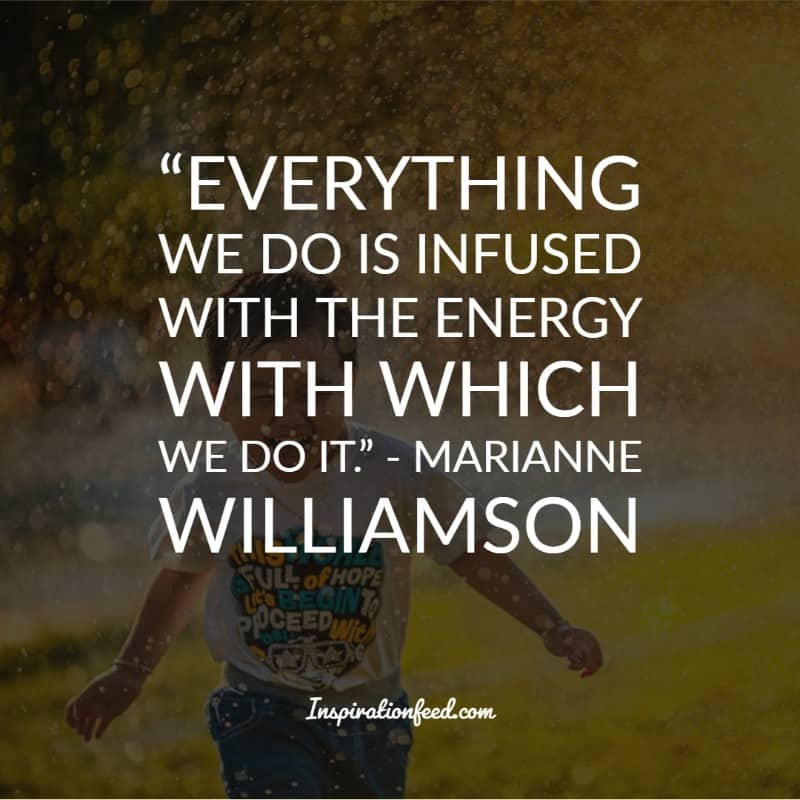 "Everything we do is infused with the energy with which we do it." – Marianne Williamson