Last Updated on March 6, 2021
Marilyn Manson rose to fame as an American singer-songwriter, painter, actor, author, and music composer. Best known for his unique style and appearance, he eventually became one of the most recognizable and controversial icons in the world of music.
Younger Years
Manson, whose real name is Brian Hugh Warner, was born January 5, 1969. A child of mixed descent, he is the only son of Hugh Warner and Barbara Wyer. Manson went through a lot during his younger years, as he was molested by a neighbor several times — causing him much trauma as he grew up. In order to cope with his pain, Manson started writing his own poems and songs.
His parents enrolled him at the Heritage Christian School in Canton, Ohio in 1974. He remained at the institution until 10th grade and was made to attend church on a regular basis. This gave him an aversion to everything related to religion, so he begged his parents to let him transfer to another school. He went on to Glen Oak High School where he finally graduated in 1987.
Rise to Popularity
Manson worked as a music journalist for a while until he decided to form his own band "Marilyn Manson" in 1989. They released their first album called "Portrait of an American Family" five years later. His claim to fame was his controversial yet massive hit album "Antichrist Superstar."
Over the years, Manson formed his own identity in the entertainment scene. His boldness and outrageous character have helped him earn fans as well as detractors. Despite having a lot of critics, Manson continues to be a relevant figure in the music industry due to his popularity among the masses. He even got more admirers because of his unconventional music matched with politically incorrect lyrics.
Style and Beliefs
Manson grew up using music as an outlet for his emotions. For many years, he had difficulties making a proper living. Success seemed hard to achieve for him in spite of his impressive talent. Manson eventually got noticed and managed to start his career in music.
At an early age, Manson was already quirky and eccentric. He was the complete opposite of his religious mother because he had strong antichrist feelings, which are very evident in his songs. He made a mark in his chosen industry by having a rebellious nature and gothic appearance.
In fact, his weird fashion sense made him more mysterious and charming to fans. His signature look is composed of garish makeup and contact lens in one eye. He often wears bright red lipstick to complete the strange look that his fans adore so much.
Manson, the Musician-Actor
During his live performances, Manson had strange antics that made him a hugely controversial personality in the United States. He himself even admitted before that he is aware of the negative influence he might have had on the youth.
"Mechanical Animals" and "Antichrist Superstar" are widely known as two of his most popular studio albums with his band — further cementing his place among the most influential musicians in the modern times. He was ranked 44thon Hit Parader's Top 100 Heavy Metal Vocalists, which further established his name in show business.
Manson is also no stranger to the acting industry. He appeared in a number of films throughout his career, with "The Lost Highway" being the most notable. Additionally, he joined a few TV series as a recurring star including "Sons of Anarchy," "Salem" and "Once Upon a Time."
Famous Works and Achievements
Manson's rock opera album "Antichrist Superstar" sold well in many countries, even going platinum in both Canada and the United States. In 1999, he won the MTV Video Music Award for Best Cinematography in a Video for his track "The Dope Show." A year later, he bagged the Metal Edge Readers' Choice Award for the Best Male Performer of the Year.
Manson used his popularity as a rock star to cross over to different industries. He has a brand of absinthe aptly dubbed "Mansinthe." It is produced in Switzerland and is currently for sale online. He had also been working on the film "Phantasmagoria: The Visions of Lewis Carroll," which is about the famed children's book author. He has been working on the project for several years now, with him directing while starring in the lead role at the same time.
Manson may not be qualified to give life advice, but he sure does have wise words that could inspire you in some way. There is almost always something new to learn from anyone, especially if you take a closer look at the particular craft they have mastered. Manson is one of the few musicians who have great ideologies about being true to yourself. He also encourages everyone to conquer their fears and find their inner confidence.
Here are 25 quotes from Marilyn Manson that will inspire you to find your own voice and become your genuine self.
Marilyn Manson Quotes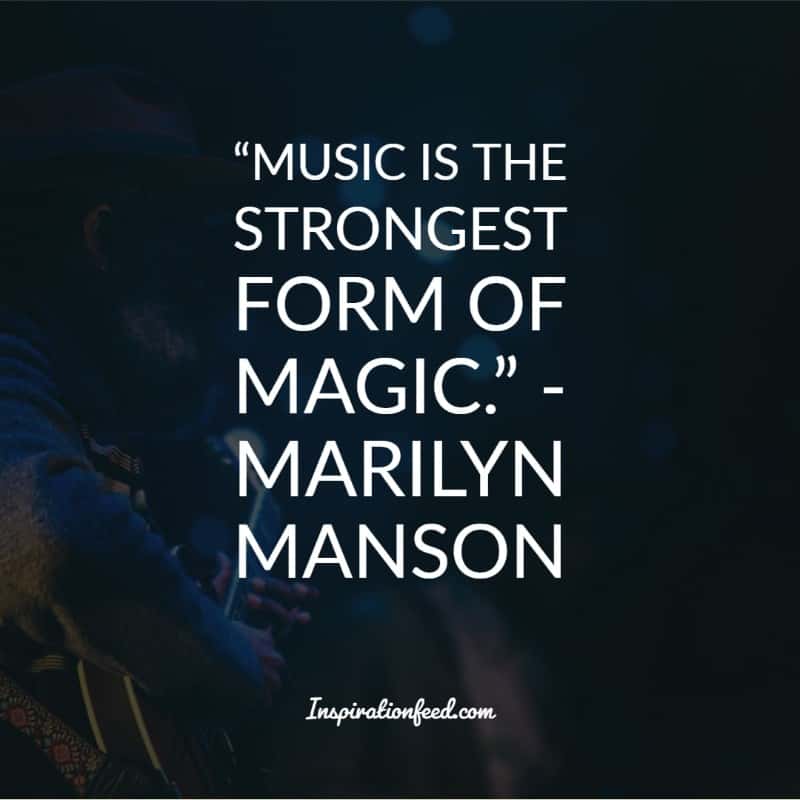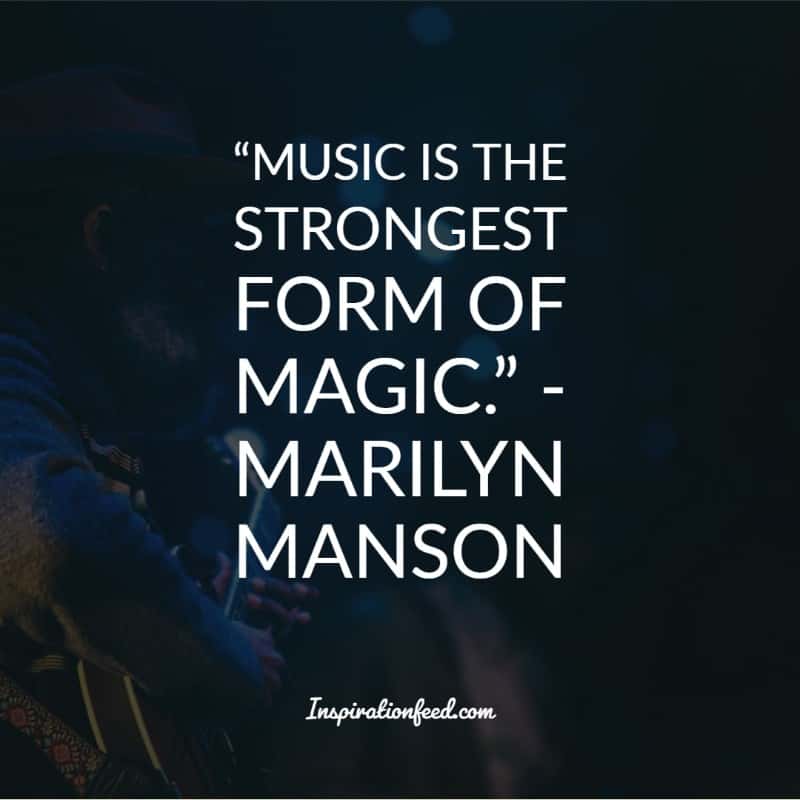 "Music is the strongest form of magic." – Marilyn Manson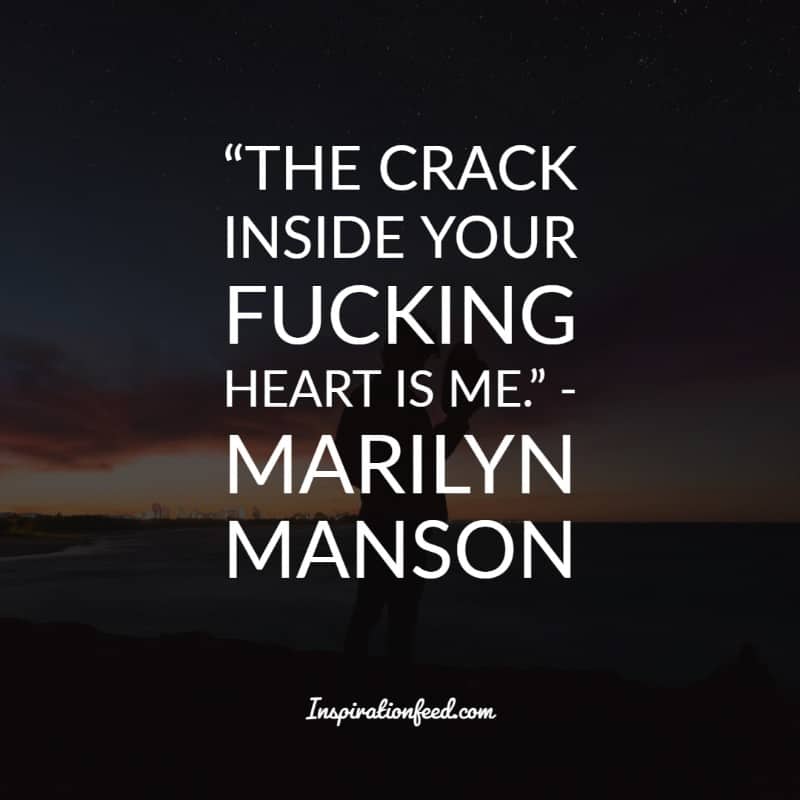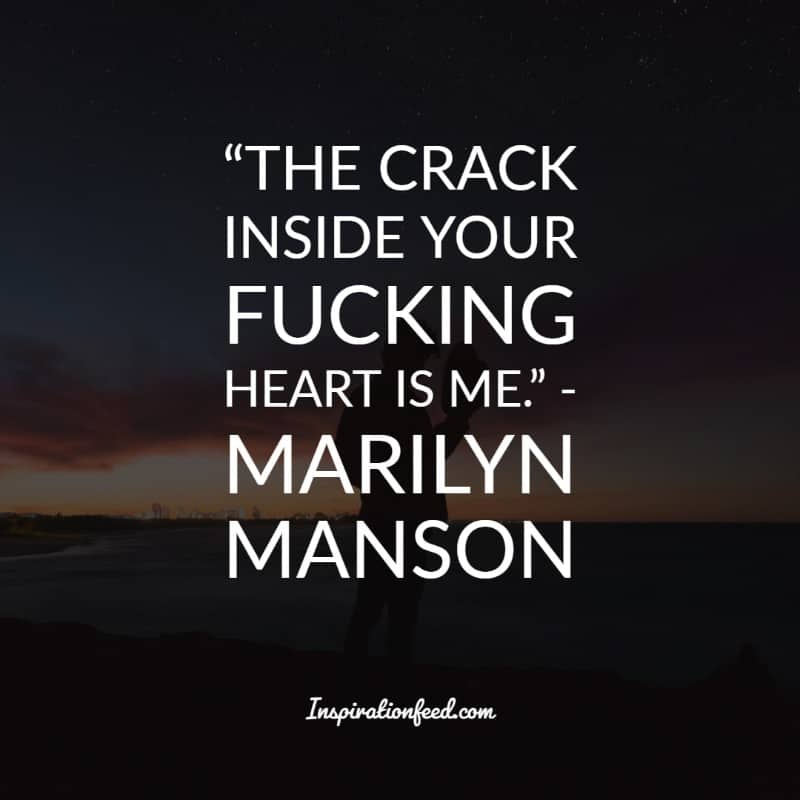 "The crack inside your fucking heart is me." – Marilyn Manson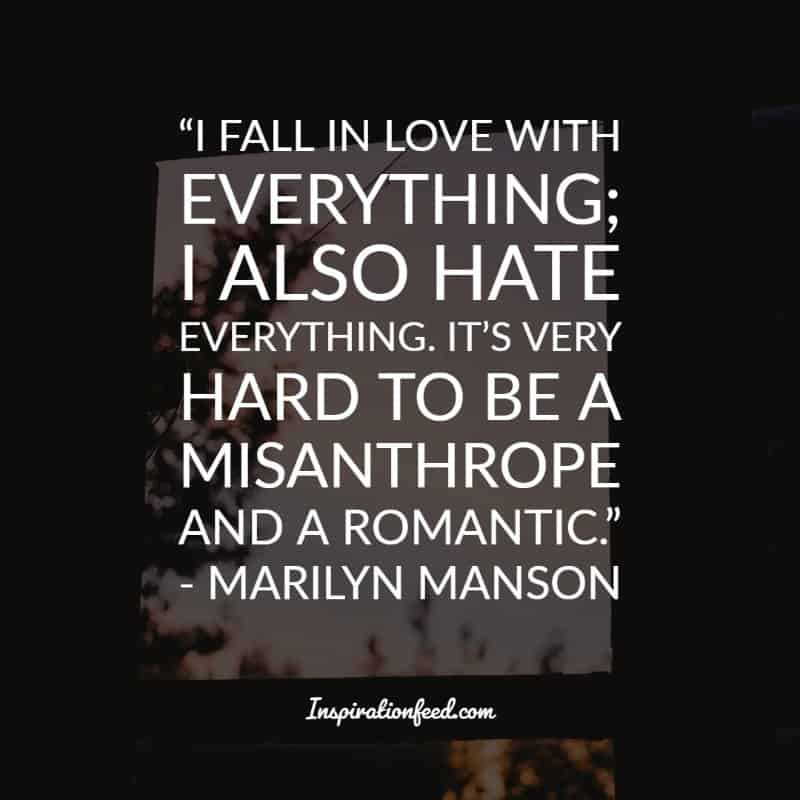 "I fall in love with everything; I also hate everything. It's very hard to be a misanthrope and a romantic." – Marilyn Manson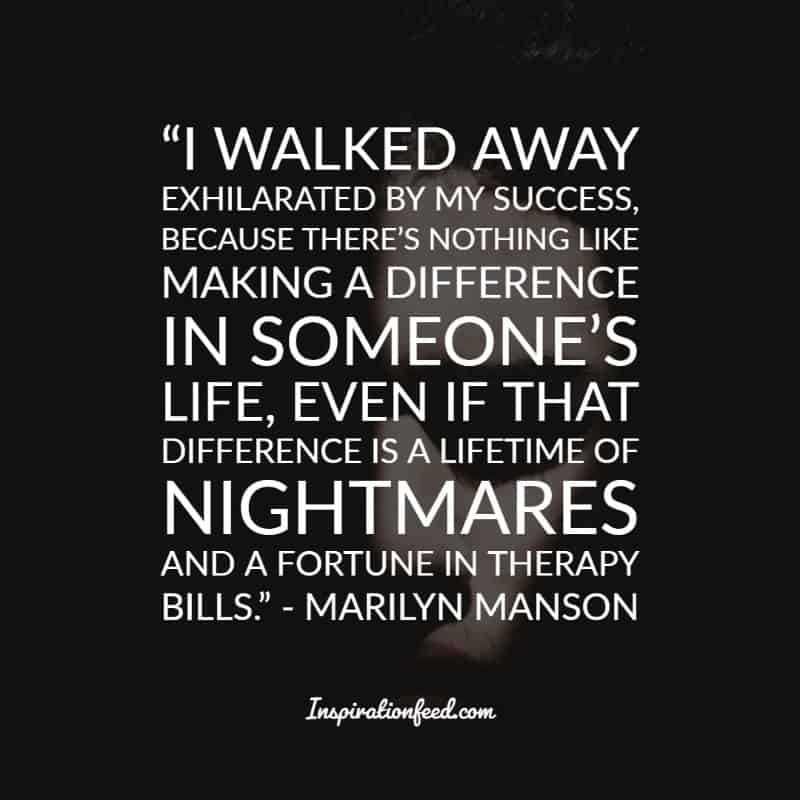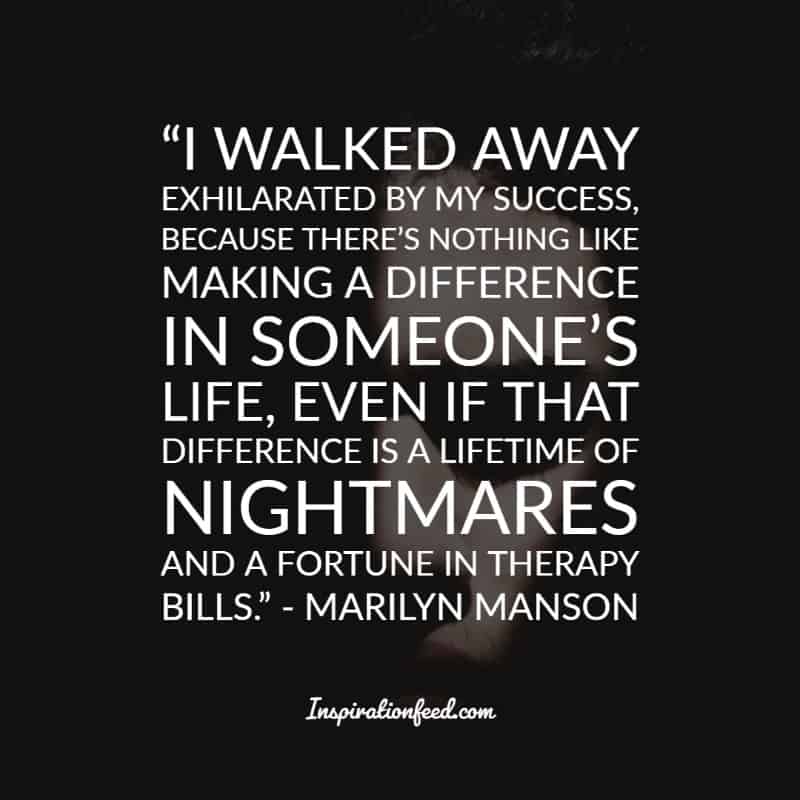 "I walked away exhilarated by my success, because there's nothing like making a difference in someone's life, even if that difference is a lifetime of nightmares and a fortune in therapy bills." – Marilyn Manson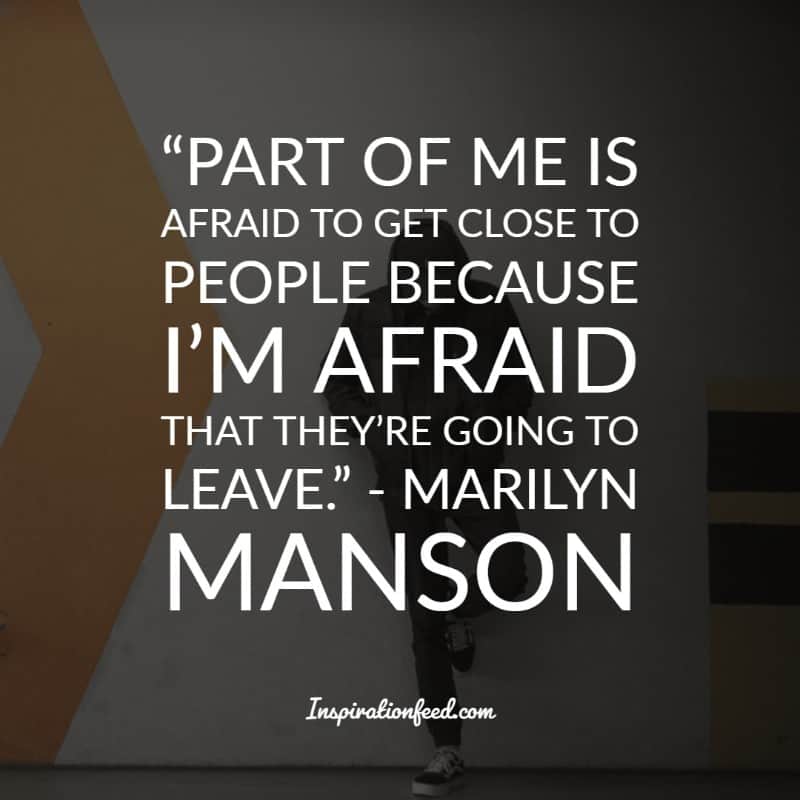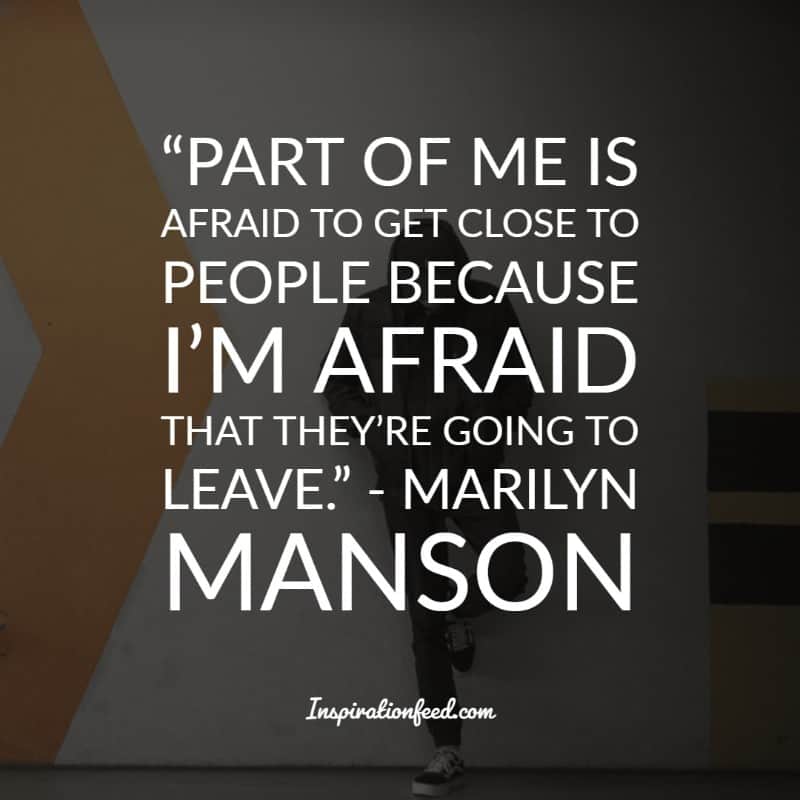 "Part of me is afraid to get close to people because I'm afraid that they're going to leave." – Marilyn Manson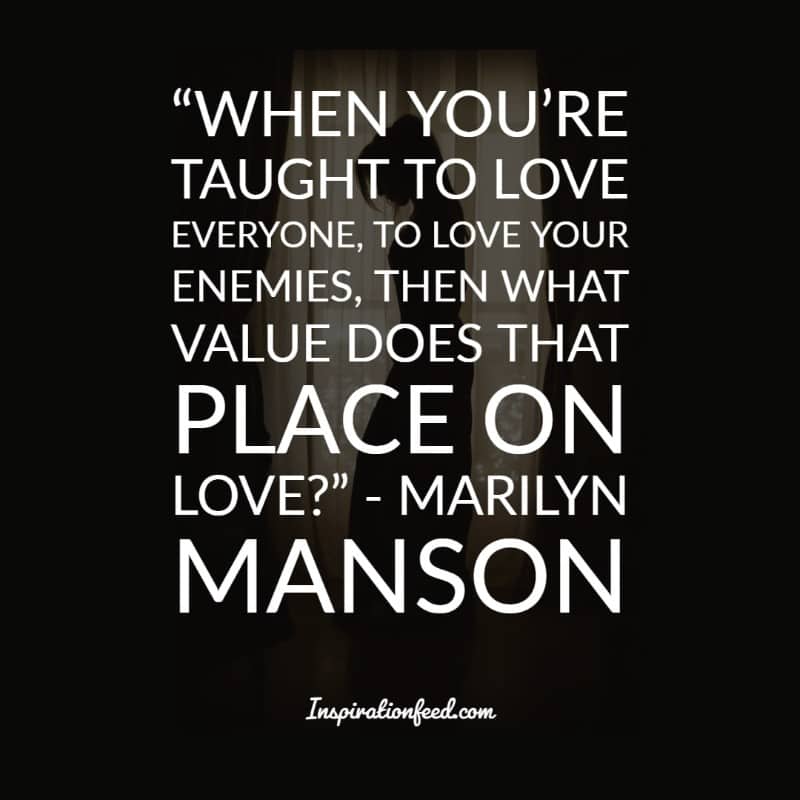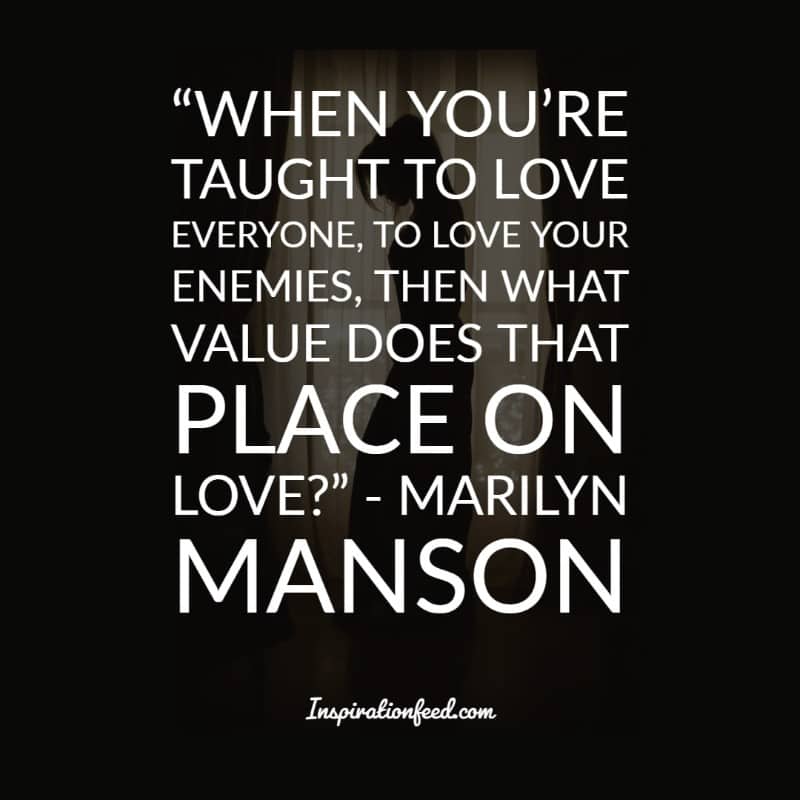 "When you're taught to love everyone, to love your enemies, then what value does that place on love?" – Marilyn Manson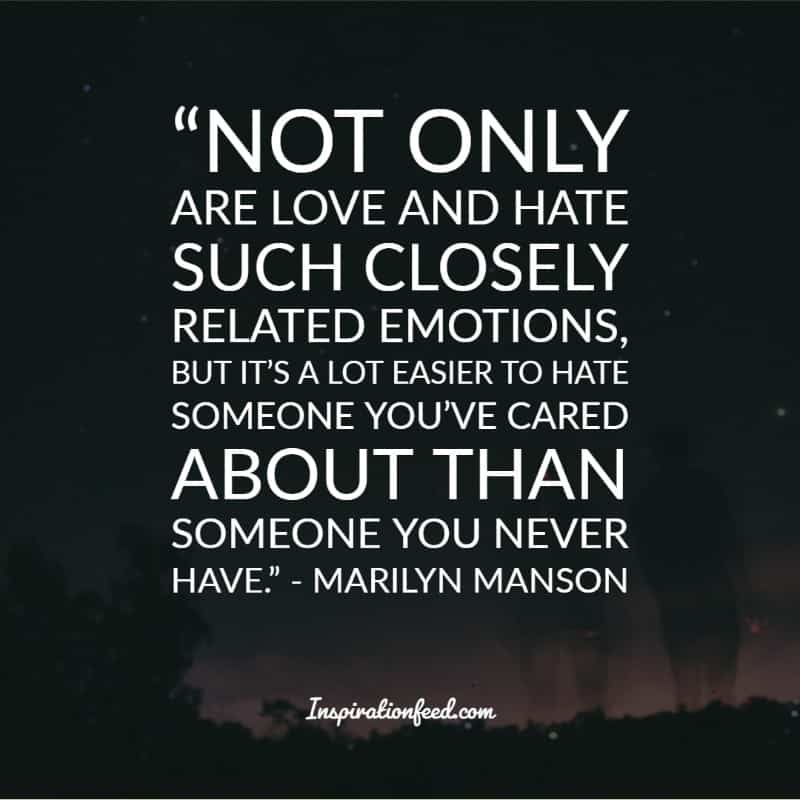 "Not only are love and hate such closely related emotions, but it's a lot easier to hate someone you've cared about than someone you never have." – Marilyn Manson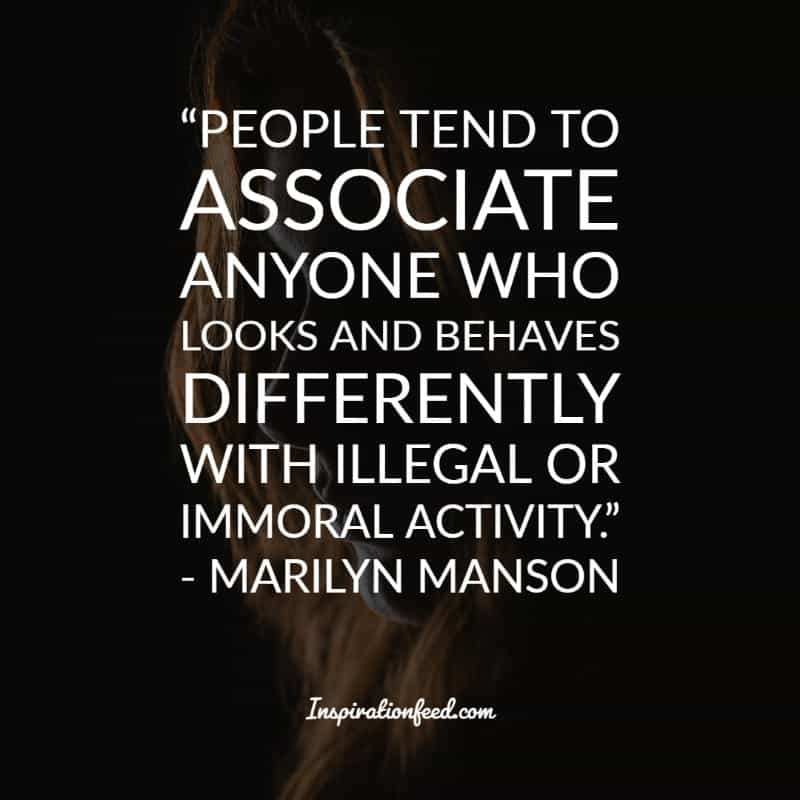 "People tend to associate anyone who looks and behaves differently with illegal or immoral activity." – Marilyn Manson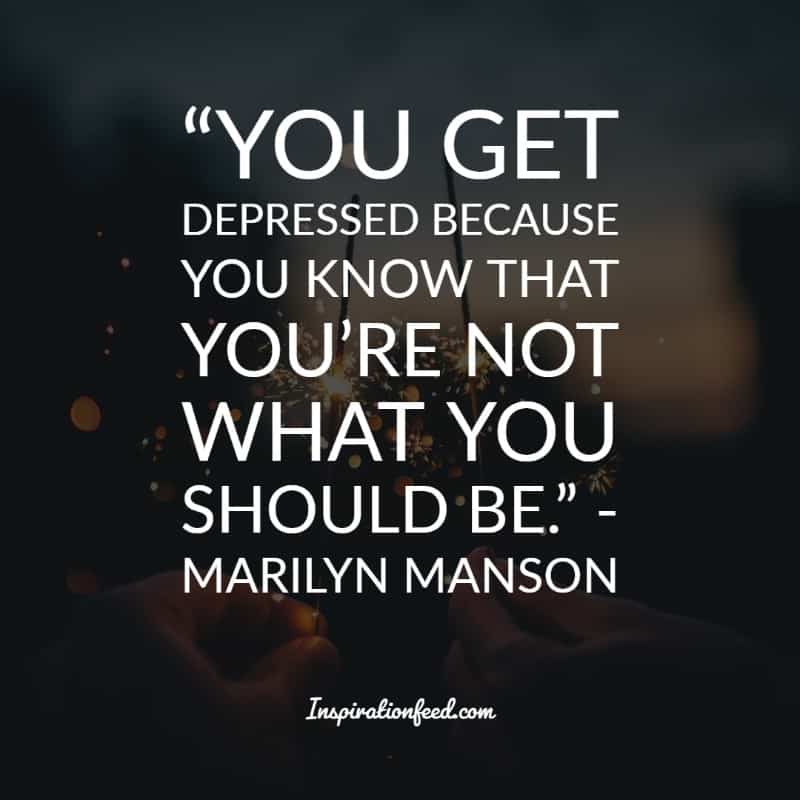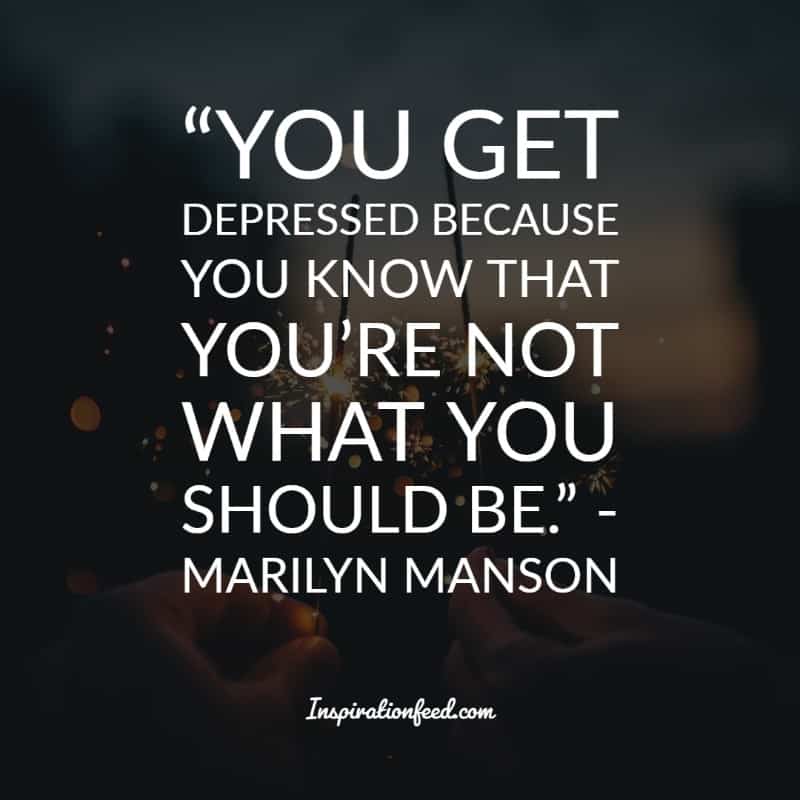 "You get depressed because you know that you're not what you should be." – Marilyn Manson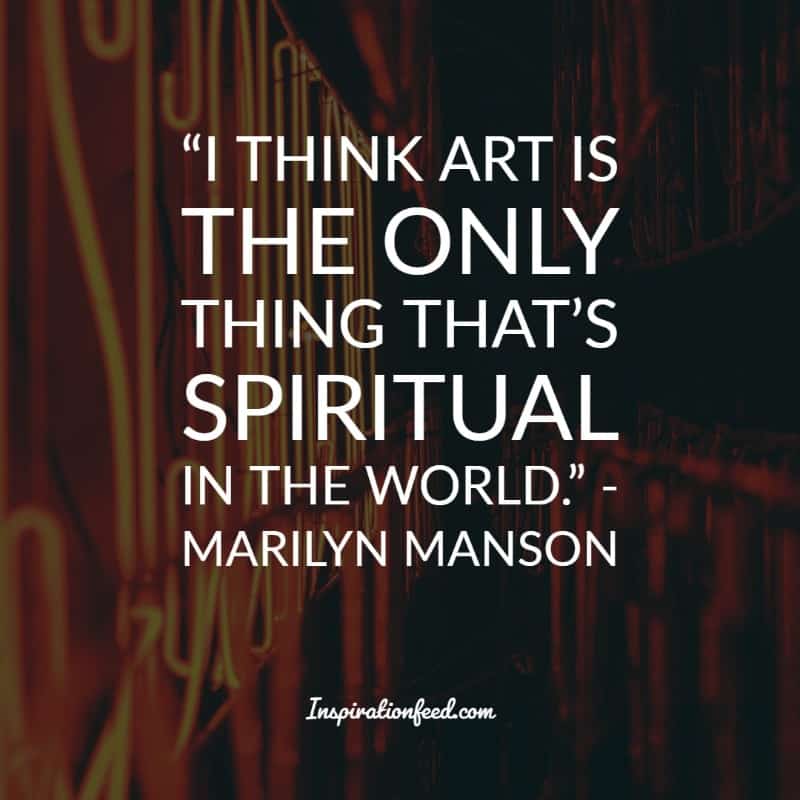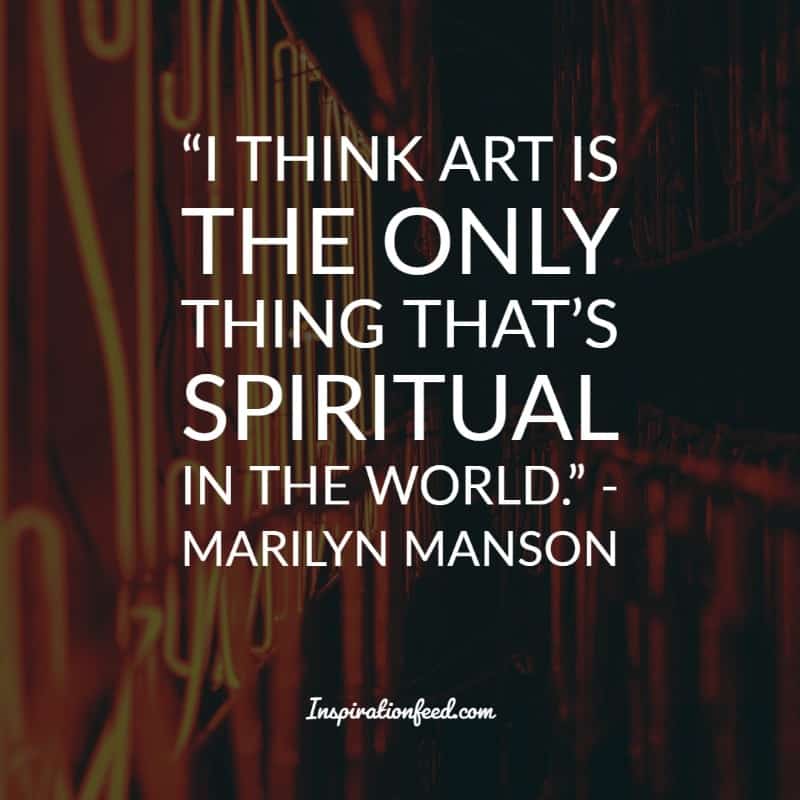 "I think art is the only thing that's spiritual in the world." – Marilyn Manson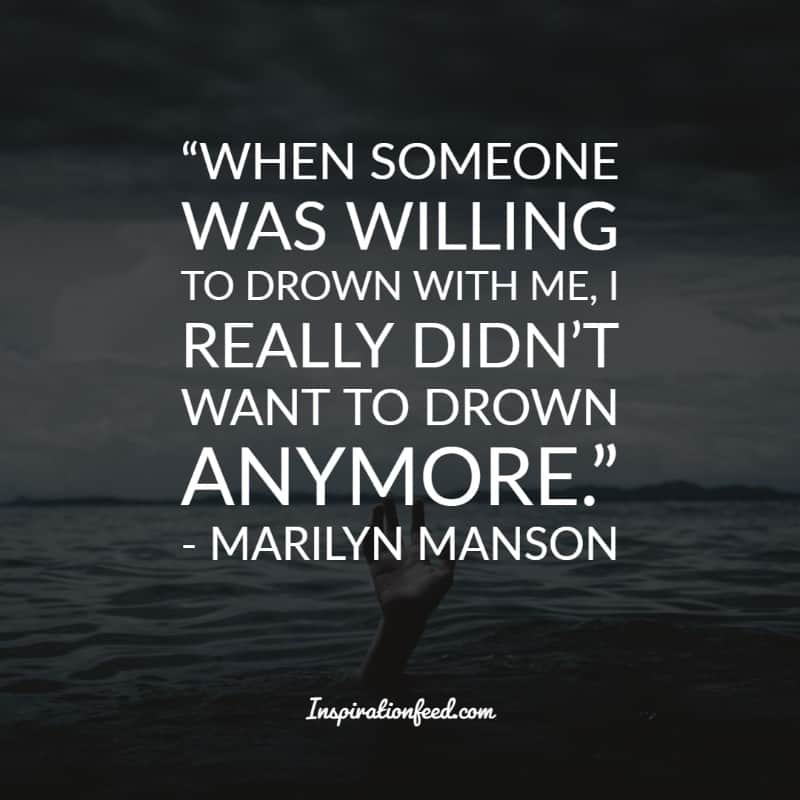 "When someone was willing to drown with me, I really didn't want to drown anymore." – Marilyn Manson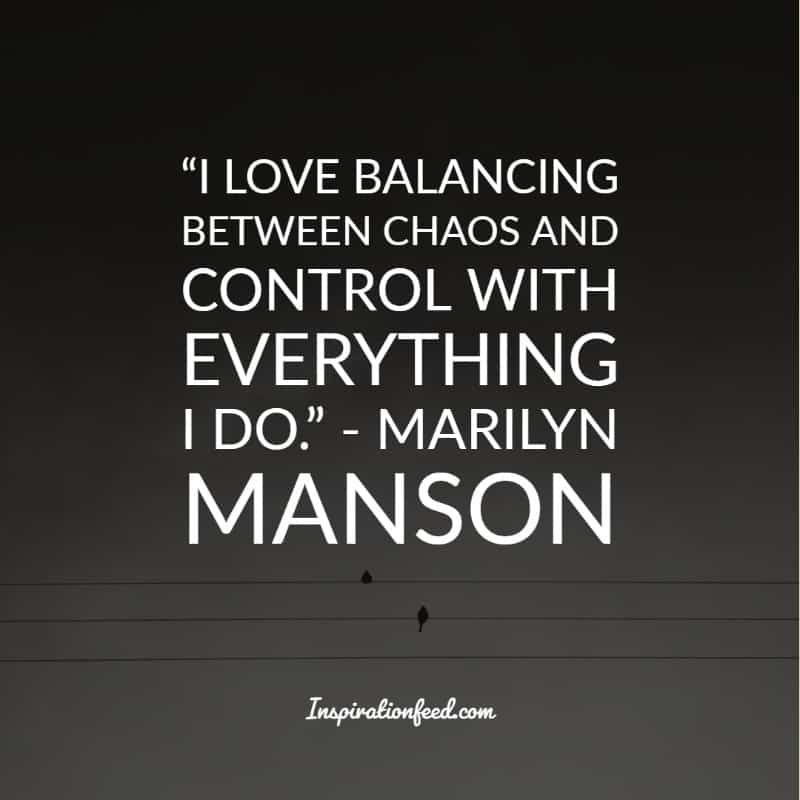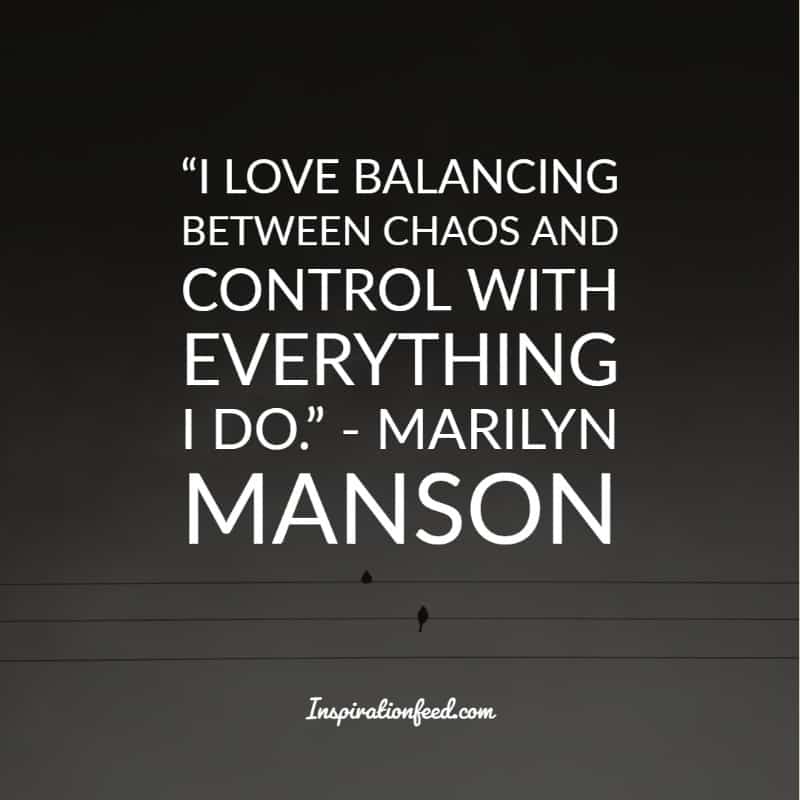 "I love balancing between chaos and control with everything I do." – Marilyn Manson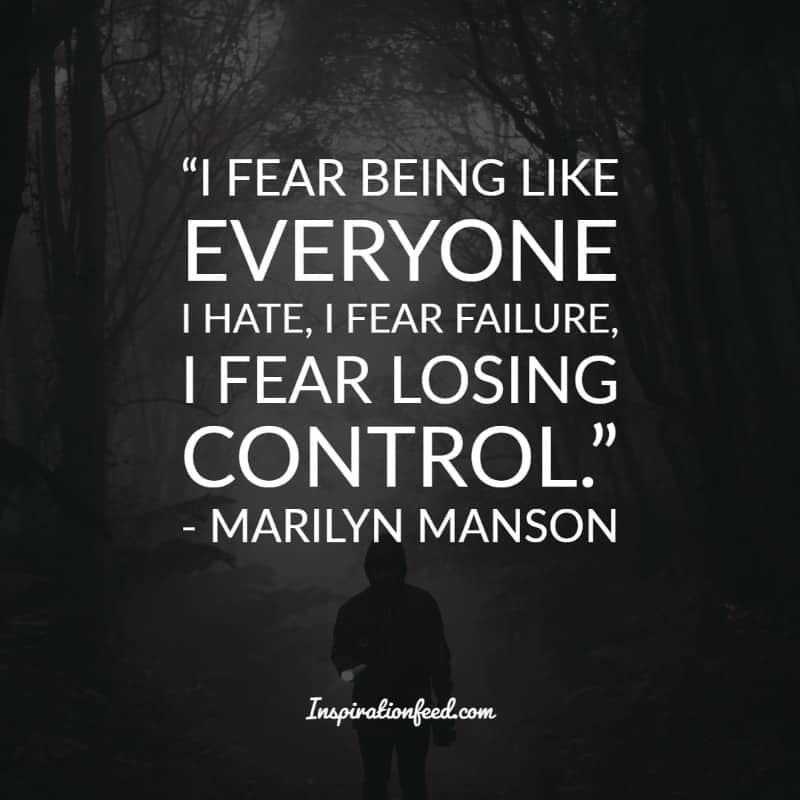 "I fear being like everyone I hate, I fear failure, I fear losing control." – Marilyn Manson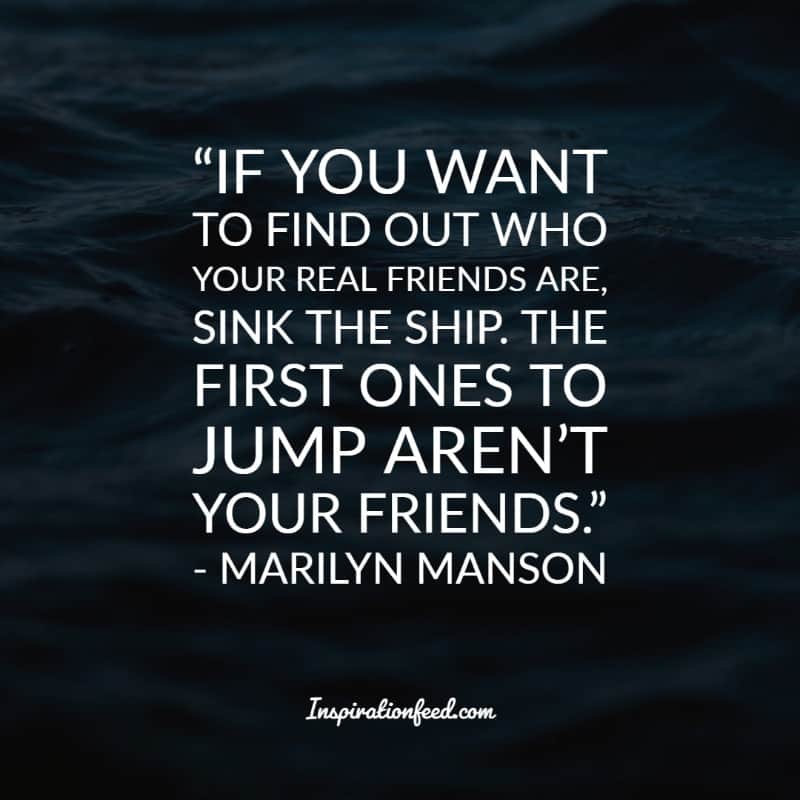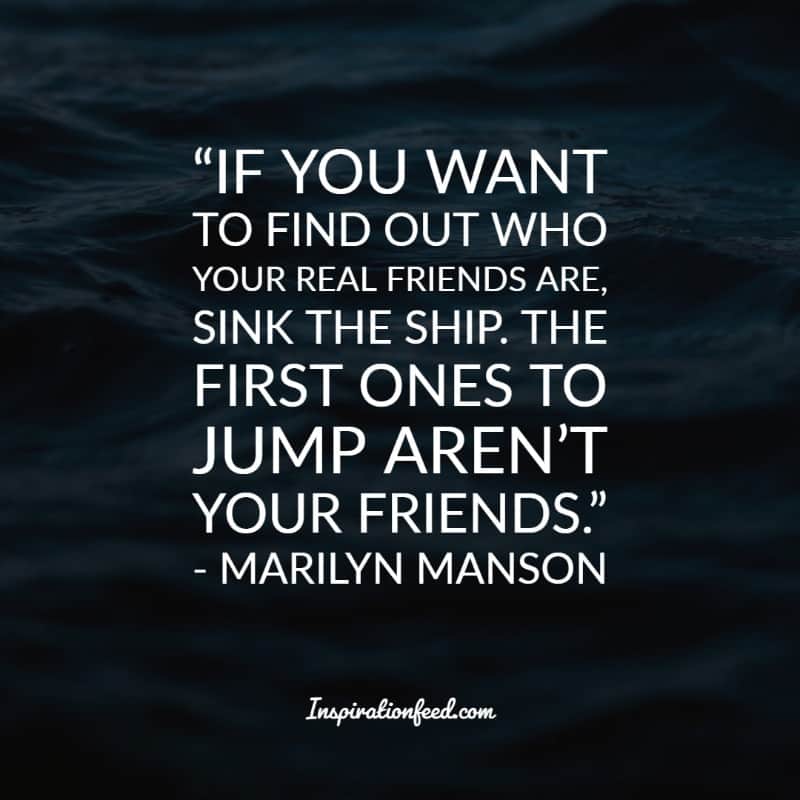 "If you want to find out who your real friends are, sink the ship. The first ones to jump aren't your friends." – Marilyn Manson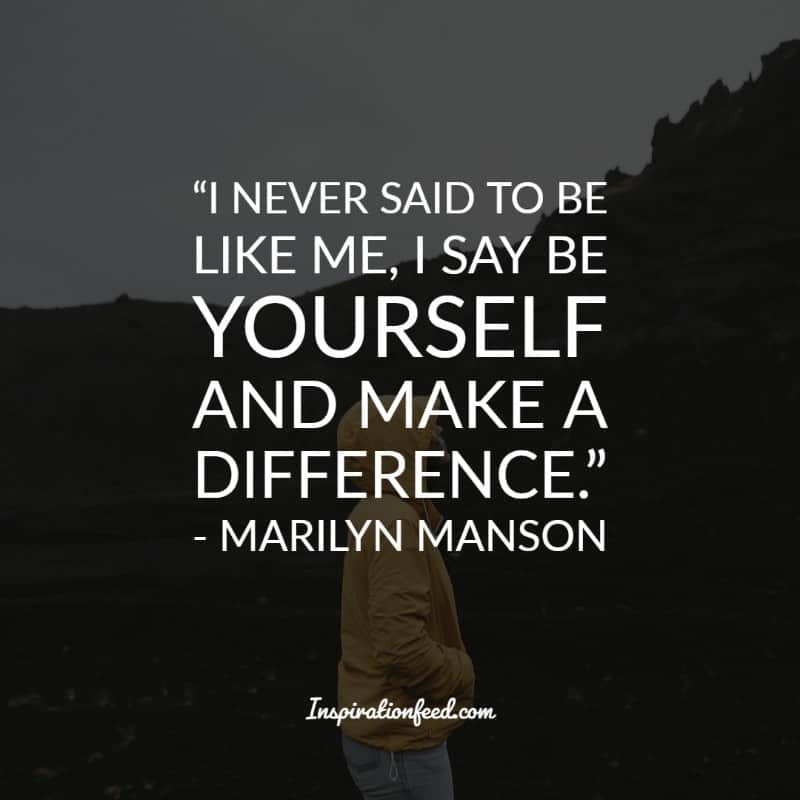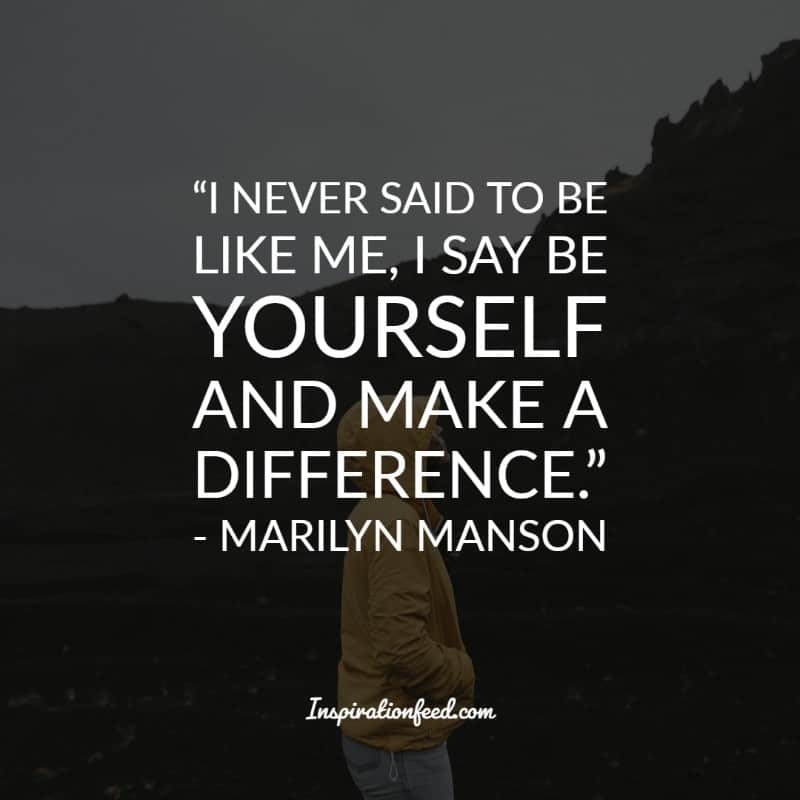 "I never said to be like me, I say be yourself and make a difference." – Marilyn Manson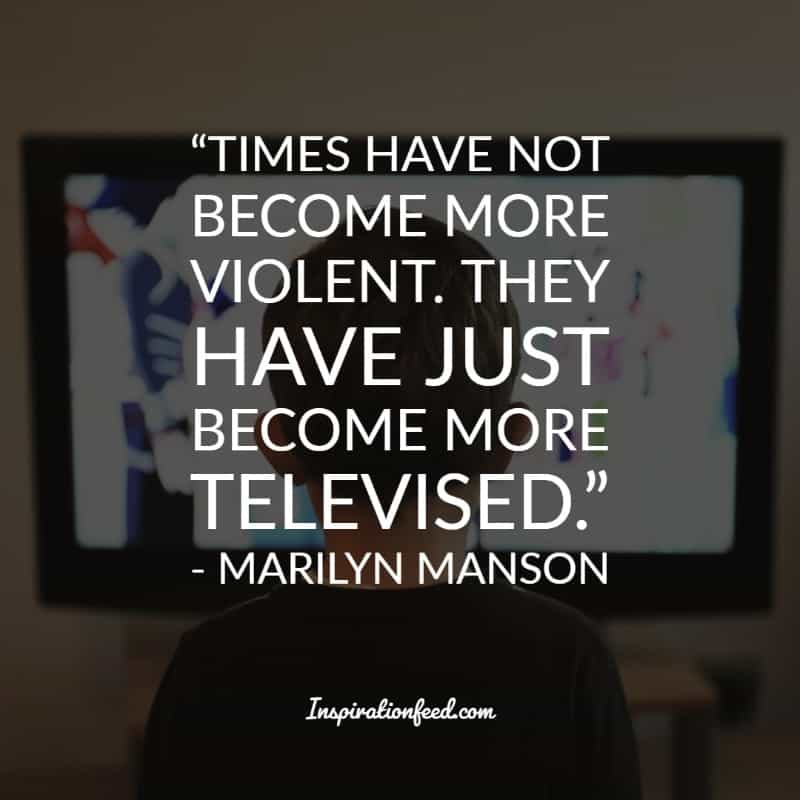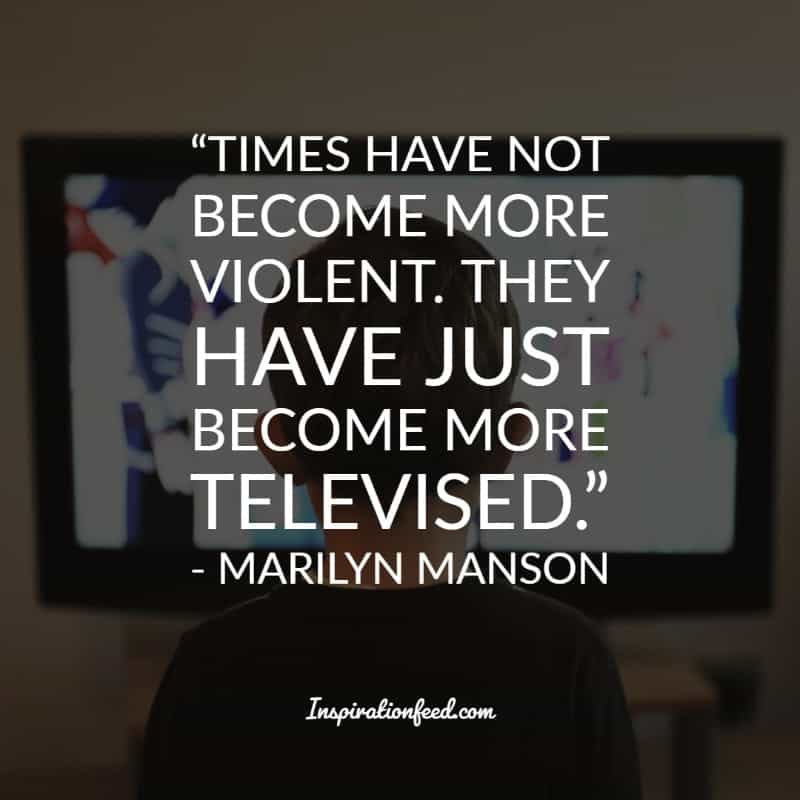 "Times have not become more violent. They have just become more televised." – Marilyn Manson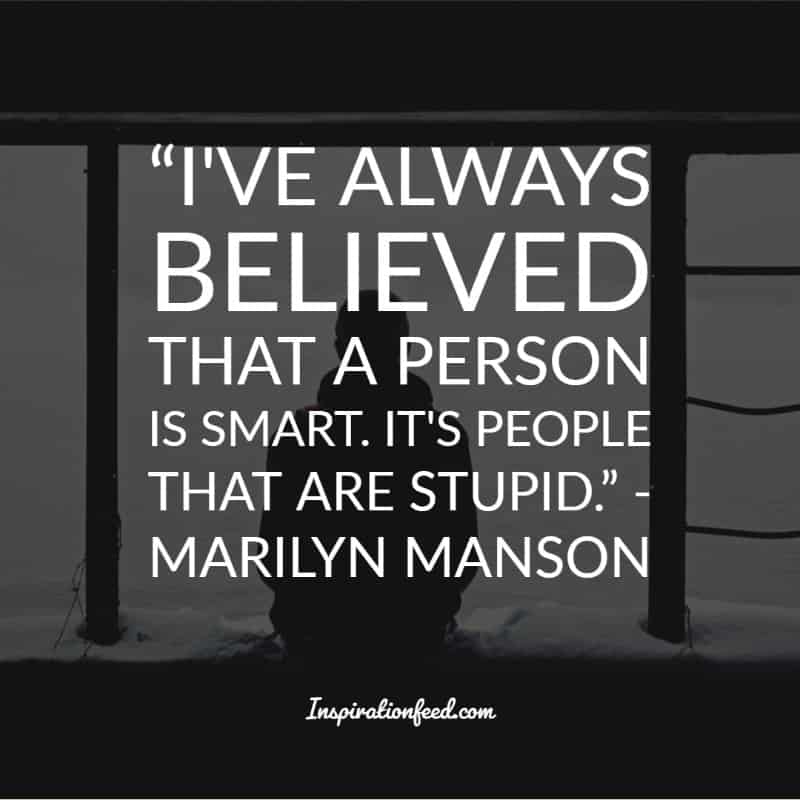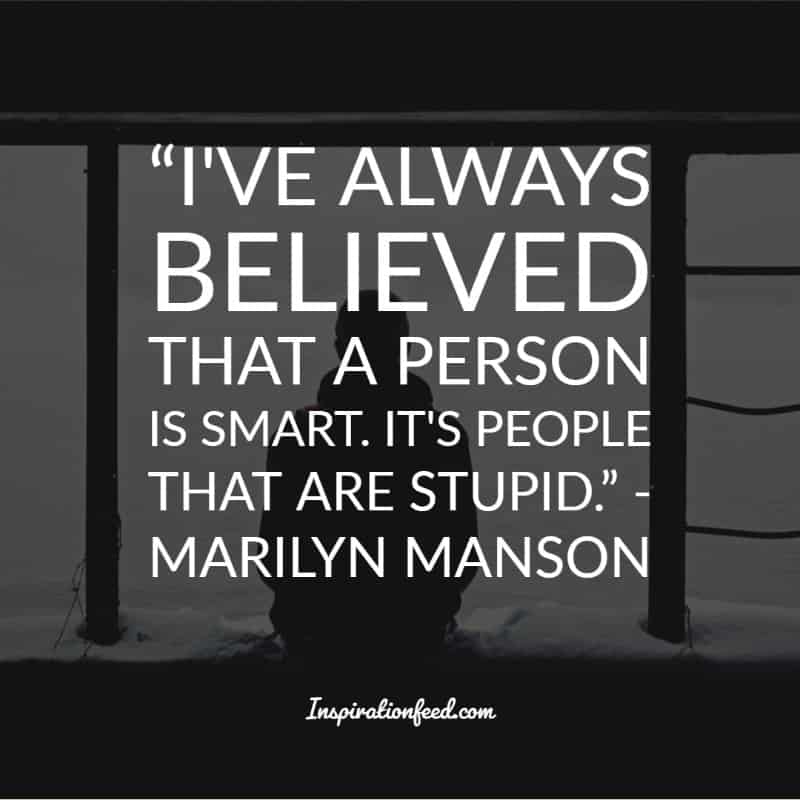 "I've always believed that a person is smart. It's people that are stupid." – Marilyn Manson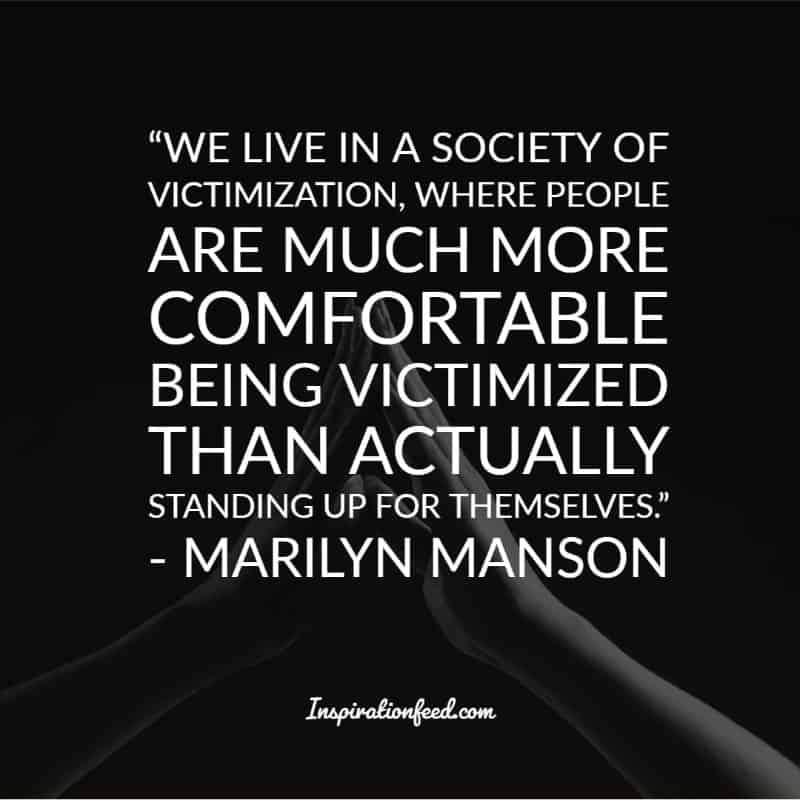 "We live in a society of victimization, where people are much more comfortable being victimized than actually standing up for themselves." – Marilyn Manson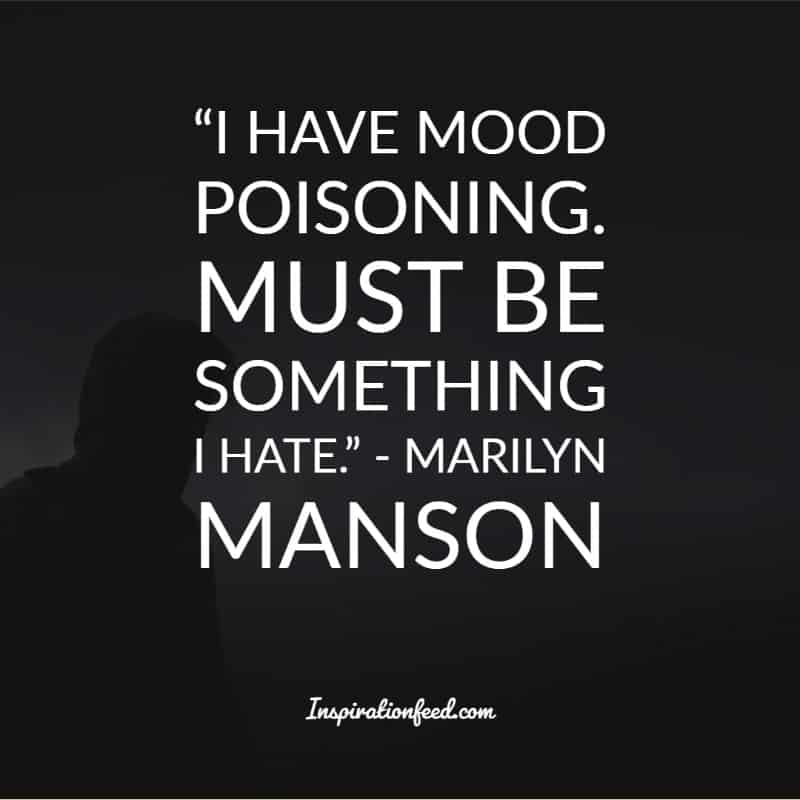 "I have mood poisoning. Must be something I hate." – Marilyn Manson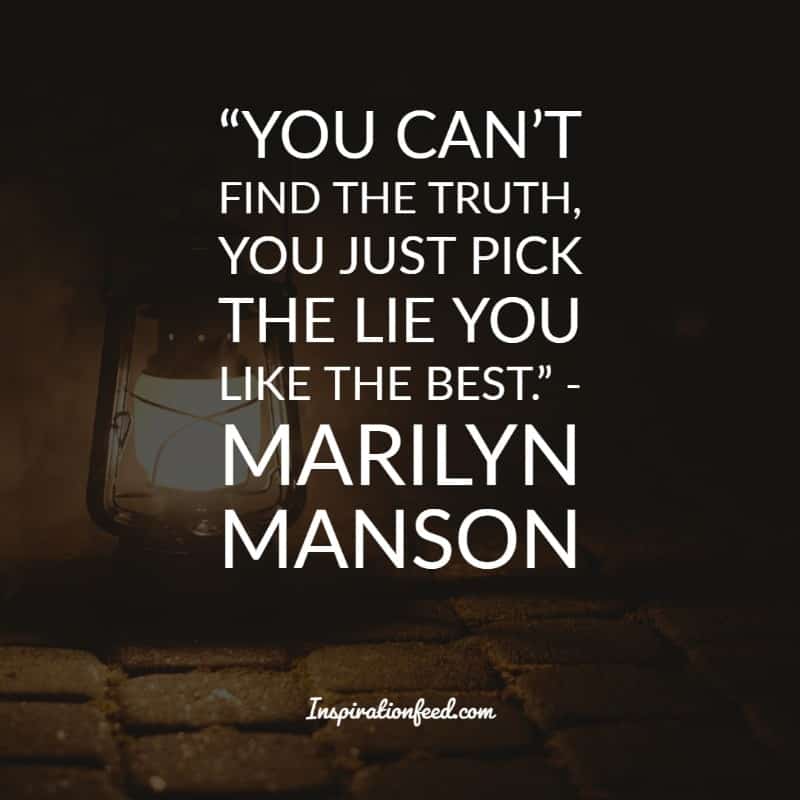 "You can't find the truth, you just pick the lie you like the best." – Marilyn Manson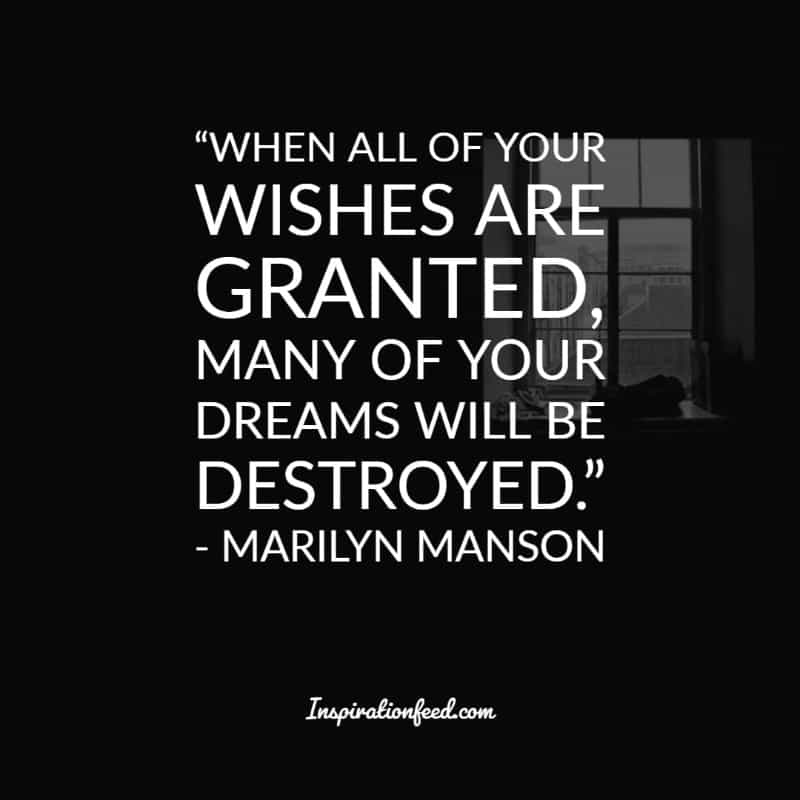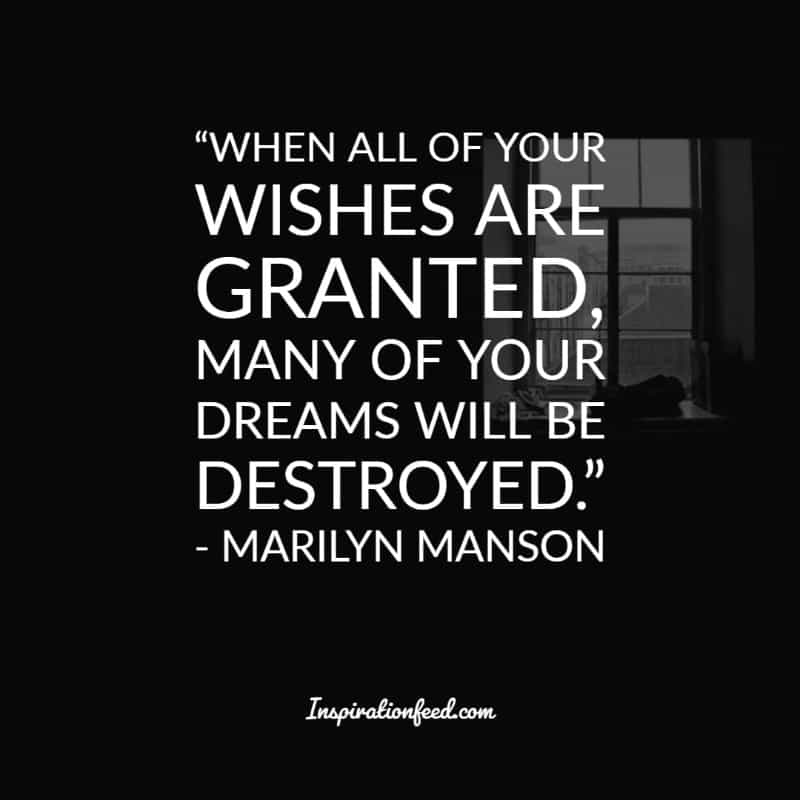 "When all of your wishes are granted, many of your dreams will be destroyed." – Marilyn Manson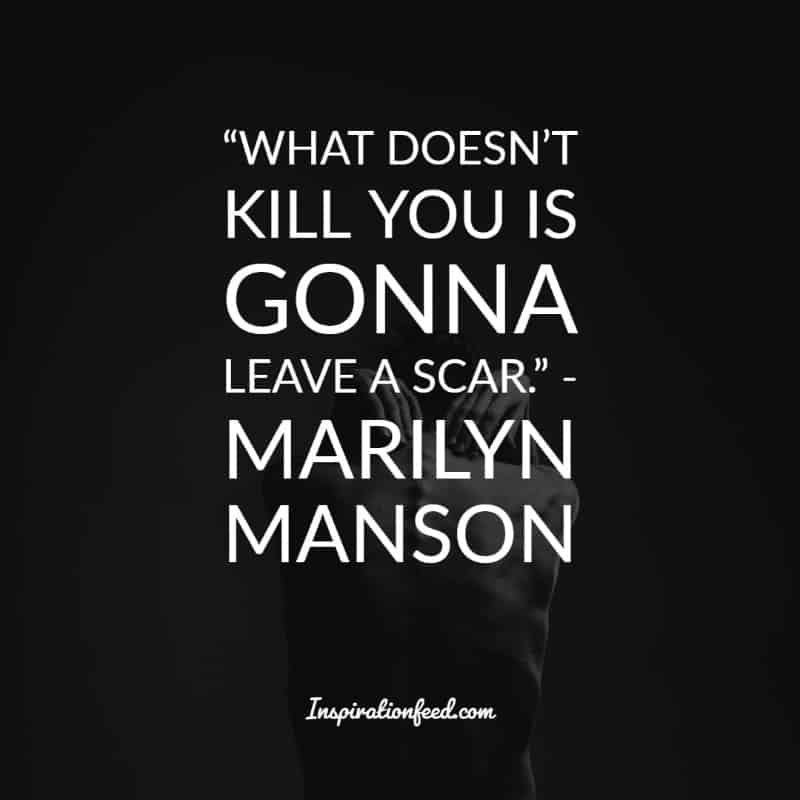 "What doesn't kill you is gonna leave a scar." – Marilyn Manson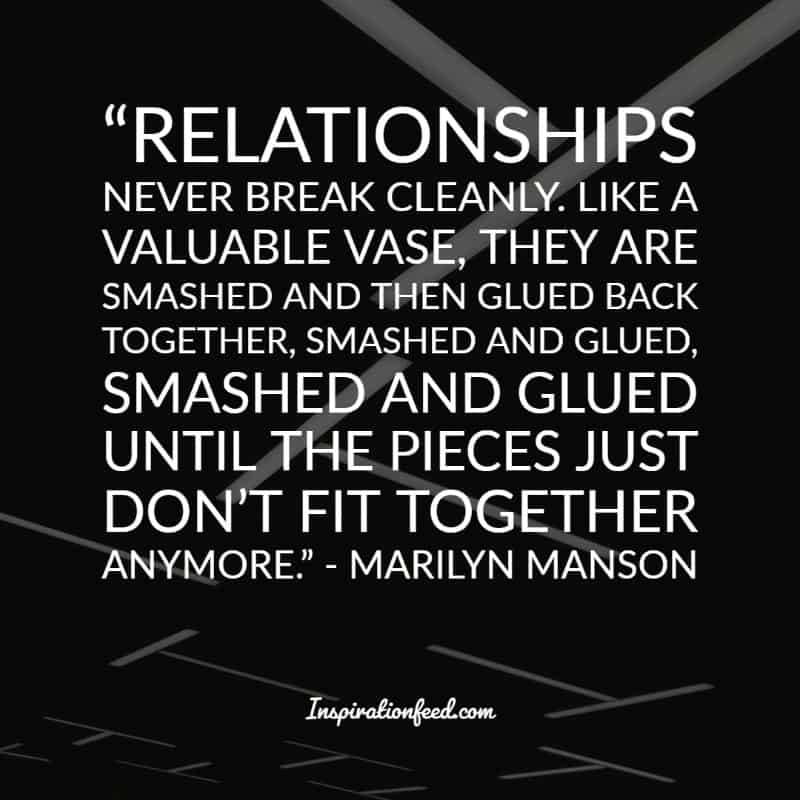 "Relationships never break cleanly. Like a valuable vase, they are smashed and then glued back together, smashed and glued, smashed and glued until the pieces just don't fit together anymore." – Marilyn Manson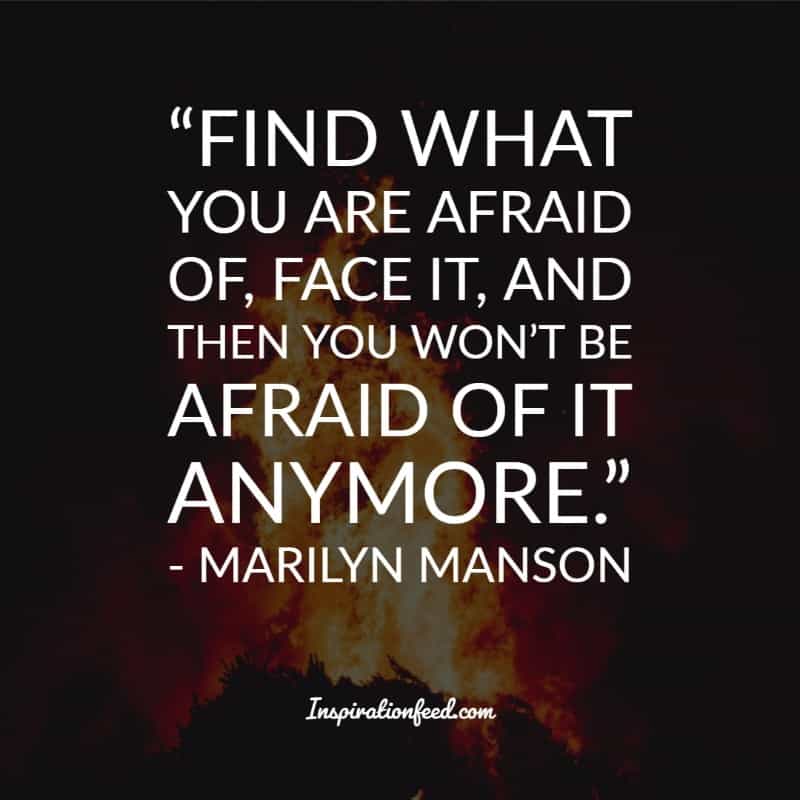 "Find what you are afraid of, face it, and then you won't be afraid of it anymore." – Marilyn Manson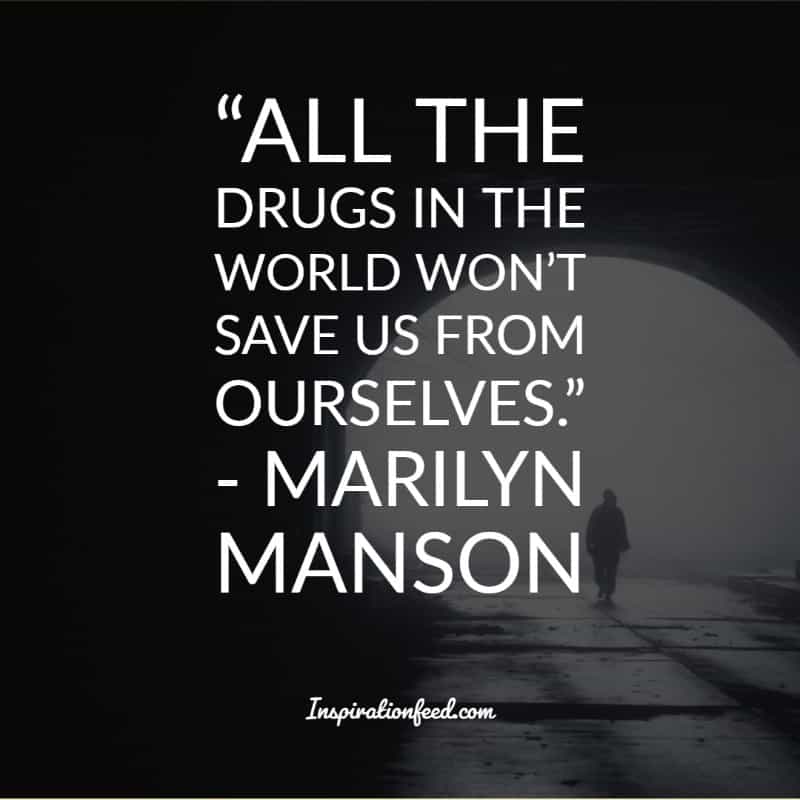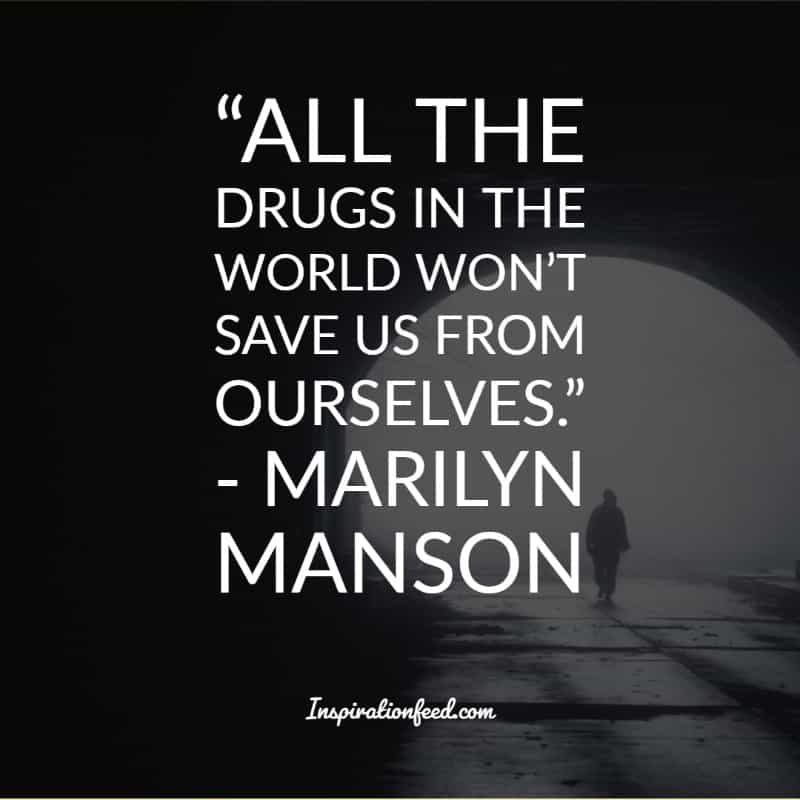 "All the drugs in the world won't save us from ourselves." – Marilyn Manson