Last Updated on March 8, 2022
Who Is Mark Cuban?
Mark Cuban is an American entrepreneur, investor, media proprietor, and television personality, who owns the National Basketball Association outfit, Dallas Mavericks. Mark Cuban also co-owns the 29292 Entertainment, chairs AXS TV, and is a common figure at the ABC's reality TV series, Shark Tank.
In addition to his current ventures, Mark Cuban is also associated with numerous successful startups, such as Broadcast.com and MicroSolutions.
Quick Facts
| | |
| --- | --- |
| Full Name: | Mark Cuban |
| Popular Name: | Mark Cuban |
| Gender: | Male |
| Birth Date: | July 31, 1958 |
| Age: | 63 years |
| Parents: | Norton Cuban and Shirley Cuban |
| Siblings: | Brian Cuban and Jeff Cuban |
| Birth Place: | Pittsburg, Pennsylvania |
| Nationality: | American |
| Ethnicity: | English and Jewish |
| Education: | Mt. Lebanon High School, University of Pittsburg, and Indiana University in Bloomington |
| Marital Status: | Married |
| Sexual Orientation: | Straight |
| Wife/Spouse: | Tiffany Stewart |
| Children: | Alexis Sofia Cuban, Jake Cuban, and Alyssa Cuban |
| Dating: | N/A |
| Net Worth: | 4.4 billion (as of July 1st, 2021) |
| Source of Wealth: | Entrepreneurship and Investment |
| Height: | 6′ 2″ (1.88 m) |
| Weight: | 82 kg; In pounds: 180.7 lbs. |
Early Life and Career Information
Mark Cuban was born on July 31, 1958 in Pittsburg, Pennsylvania, to Norton Cuban and Shirley Cuban. He attended Mt. Lebanon High School, where he convinced his teachers to allow him skip his senior year in high school. When his request was granted, he proceeded straight to the University of Pittsburgh.
Cuban studied at the University of Pittsburgh for one year, before transferring to Indiana University in Bloomington. He later graduated with a Bachelor of Science degree in Management from the Kelley School of Business in 1981.
Immediately after graduating, Cuban travelled back to Pennsylvania, where he kicked off his professional career by working with Mellon Bank. While working at the bank, Cuban dedicated his time to studying networking and machines.
His expertise in software and computer networking led to the formation of his first major business venture, MicroSolutions. He later sold the company to CompuServe in what's unarguably his first major transaction.
From then, Mark Cuban has been involved in the acquisition, sale, and ownership of reputable companies, including Broadcast.com, Dallas Mavericks, AXS TV, and 2929 Entertainment.
Mark Cuban Net Worth
As of July 1, 2021, Mark Cuban had a net worth of $4.4 billion. Cuban has earned his fortune through lucrative investments and business deals.
The billionaire started building his empire in the late 80s by founding the software reseller and IT solutions integration company, MicroSolutions. He sold the company to CompuServe in 1990 for $6 million, netting a whopping $2 million from the deal.
In 1995, Mark Cuban co-founded Audionet, along with his former college mates, Chris Jaeb and Todd Wagner. Audionet was rebranded to Broadcast.com in 1998 and a year later, the company was sold to Yahoo at a cost of $5.7 billion.
Mark Cuban continued to invest in diverse sectors to emerge as the corporate mogul we know of him today.
The following are some of the notable companies associated with the investor:
1. 2929 Entertainment
2929 Entertainment is a joint venture between Mark Cuban and his long-term friend and business associate, Todd Wagner. The company offers vertically-integrated production, as well as film and video distribution.
2. AXS TV
Previously known as HDNet, AXS TV was a partnership between Cuban and Philip Garvin. AXS TV holds the title for being the first HD satellite television network.
3. Dallas Mavericks
In 2000, Mark Cuban acquired a majority stake in the NBA's Dallas Mavericks, for $285 million. The deal saw him claim ownership of the basketball club.
Dallas Maverick's fortunes increased two-fold in the decade following its acquisition by Cuban. The club is currently valued at over $2 billion.
4. ABC Television
Mark Cuban entered into a partnership with ABC television in 2004, when he announced a deal with the company to produce the reality TV series, The Benefactor. Though the series was cancelled, Cuban maintained a cordial working relationship with ABC.
In 2011, he became one of the "sharks" in yet another sensational reality TV show by ABC, known as Shark Tank. Cuban has been a common figure at the show since then, and has invested in more than 100 deals. He's also the second-wealthiest investor to have graced the show, after Richard Branson.
Besides the above investments, Mark Cuban is also the owner of the search engine IceRocket. He was a partner in RedSwoosh before Akamai acquired the company, and was also an investor in Weblogs Inc. before the company was purchased by AOL. In 2015, Cuban invested in Brondell Inc, a San Francisco-startup that made a techy toilet seat known as Swash.
Mark Cuban has invested in numerous other companies, including:
• Landmark Theatres,
• Magnolia Pictures,
• Amazon,
• Netflix,
• Goowy Media Inc.,
• Sharesleuth.com,
• Motionloft, and
• Veldskoen
Cuban has not only amassed incredible wealth throughout his career as an entrepreneur, he is also known to be a lavish spender. The billionaire owns private jets and yachts, as well as luxurious homes. He purchased his 24,000 square-feet official residence in Dallas at a cost of $13 million.
Life Lessons from Mark Cuban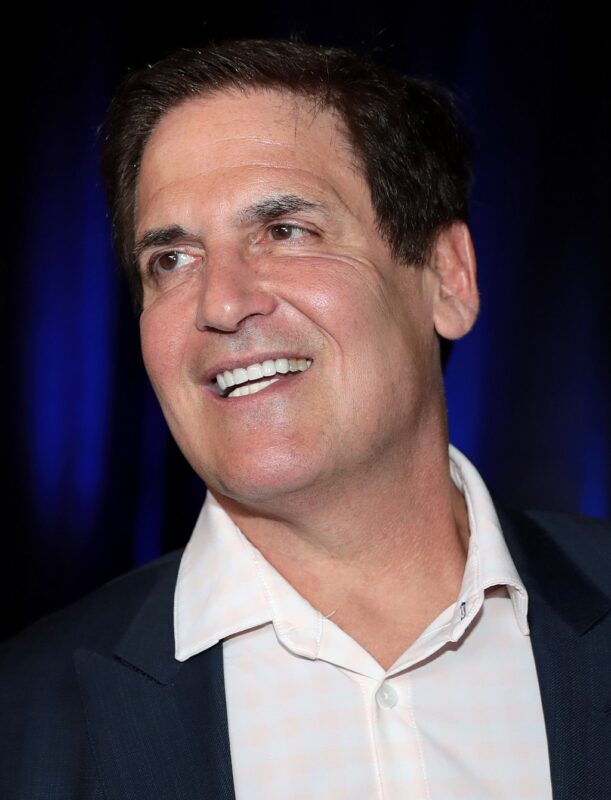 The one obvious lesson that we can learn from Mark Cuban is that anything worth having is worth working hard for. When he was 12 years, he had to sell garbage bags to he could raise money to buy a pair of basketball shoes.
Another crucial life lesson from Mark Cuban is that we should seize every opportunity that comes our way. At the age of 16, Cuban capitalized on a newspaper strike that hit the Pittsburgh Post-Gazette. He would travel 130 miles to Cleveland to obtain newspapers and then bring them home, making some profit out of it.
Lastly, Mark Cuban reminds us that being debt-free is one of the keys to financial freedom. The billionaire has repeatedly cited bank loans and recurrent debts as two primary factors that stifle financial progress.
Here are some of his best quotes:
"Creating opportunities means looking where others are not."
"It doesn't matter how many times you fail. You only have to be right once and then everyone can tell you that you are an overnight success."
"Sweat equity is the most valuable equity there is. Know your business and industry better than anyone else in the world. Love what you do or don't do it."
"The best way to predict the future is to invent it."
"You just got to stay focused and believe in yourself and trust your own ability and judgment."
Final Word
Mark Cuban is a self-made billionaire, and he has his strong worth ethic to thank for it. You can read more about his experience as an investor and entrepreneur in his 2011 e-book titled How to Win at the Sport of Business.