Last Updated on January 24, 2023
Who Is Mark Rober?
Mark Braxton Rober is an American engineer, inventor, and YouTube personality who is best known for his self-titled YouTube channel. Rober gained mainstream recognition posting a variety of videos on his YouTube channel, including videos on popular science, do-it-yourself (DIY) videos, creative videos, pranks, and experimental videos.

Prior to becoming a YouTuber, Mark Rober worked as a mechanical engineer for The National Aeronautics and Space Administration (NASA). Roger spent seven of his nine-year career at NASA working on Curiosity rover at the company's Jet Propulsion Laboratory (JPL). Curiosity rover is a car-sized rover designed to explore the Gale crater on Mars.

Rober also worked as a product designer for Apple Inc. in the company's Special Projects Group. He is credited for developing several patents involving virtual reality (VR) in self-driving cars.
Quick Facts
| | |
| --- | --- |
| Full Name: | Mark Braxton Rober |
| Popular Name: | Mark Rober |
| Gender: | Male |
| Birth Date: | March 11, 1980 |
| Age: | 42 years |
| Parents: | Unknown |
| Siblings: | Unknown |
| Birth Place: | Orange County, California |
| Nationality: | American |
| Ethnicity: | Caucasian |
| Education: | Brigham Young University and the University of Southern California |
| Marital Status: | Married  |
| Sexual Orientation: | Straight |
| Wife/Spouse: | Lisa Rober |
| Children: | Yes, 1 son |
| Dating: | N/A |
| Net Worth: | USD 6 million  |
| Source of Wealth: | Vlogging, Engineering, Inventing, Endorsement Deals, and Other Ventures |
| Height: | 6′ 0″ (1.83 m) |
| Weight: | 62 kg; In pounds: 136 lbs. |
Early Life
Mark Rober was born on March 11, 1980, in Orange County, California. Rober's interest in engineering began to show when he was a child. He designed a pair of goggles to help him avoid shedding tears while cutting onions.

Rober became increasingly interested in engineering with the passage of time. He graduated with a degree in mechanical engineering from the Brigham Young University and went on to earn a master's degree in the same program from the University of Southern California.
Career Information
Mark Rober started working at NASA's Jet Propulsion Laboratory in 2004. He spent a total of nine years at JPL, seven of which was dedicated to working on the Curiosity rover which has since been sent to Mars.

Rober began making viral videos while still working at NASA. His videos covered a variety of topics, ranging from creative videos and do-it-yourself videos to experimental videos and pranks.

In October 2011, Mark Rober uploaded his first YouTube video. The video is of a Halloween costume that uses two iPads to create an optical illusion of seeing through the body. It went viral in a matter of hours, receiving over 1.5 million views within a day.

In 2012, Rober launched an online Halloween costume company known as Digital Dudz. The company offers a range of Halloween costumes that use the same concept as Rober's first YouTube video – integrating mobile apps with clothing. Digital Dudz achieved commercial success almost instantly. The company generated a revenue of $250,000 after only three weeks in operation.

A few months after its launch, Digital Dudz costumes were available in reputable retail outlets like Party City. The costumes' popularity increased even further after they were widely featured on various news channels like CNN, CBS News, Fox, and Discovery Channel. Rober eventually sold Digital Dudz to Morphsuits in 2013.

Following the success of his first YouTube video, Mark Rober decided to become a full-time vlogger. He continued to upload more videos on the platform, racking up subscribers fast and furious. As of the time of writing, the Mark Rober YouTube channel has more than 17.9 million subscribers.

The following are the channel's top-ten most popular videos:

• SKIN A WATERMELON party trick – Posted 5 years ago; has garnered 113 million views
• Testing if Sharks Can Smell a Drop of Blood – Posted 1 year ago; has 86 million views
• World's Largest Jello Pool – Can you swim in Jello? – Posted 1 year ago; has 86 million views
• Glitter Bomb 1.0 vs. Porch Pirates – Posted 2 years ago; has 86 million views
• Liquid Sand Hot Tub-Fluidized air bed – Posted 3 years ago; has 82 million views
• How to Survive a Grenade Blast – Posted 5 years ago; has 74 million views
• CARNIVAL SCAM SCIENCE – and how to win – Posted 3 years ago; has 71 million views
• Building the Perfect Squirrel Proof Bird Feeder – Posted 10 months ago; has 68 million views
• World's Largest Elephant Toothpaste Experiment – Posted 1 year ago; has 68 million views
• Glitter Bomb 2.0 vs. Porch Pirates – Posted 1 year ago; has 57 million views

In 2018, reports emerged that Rober was working secretly on a series of virtual reality projects for Apple Inc.
Mark Rober's Net Worth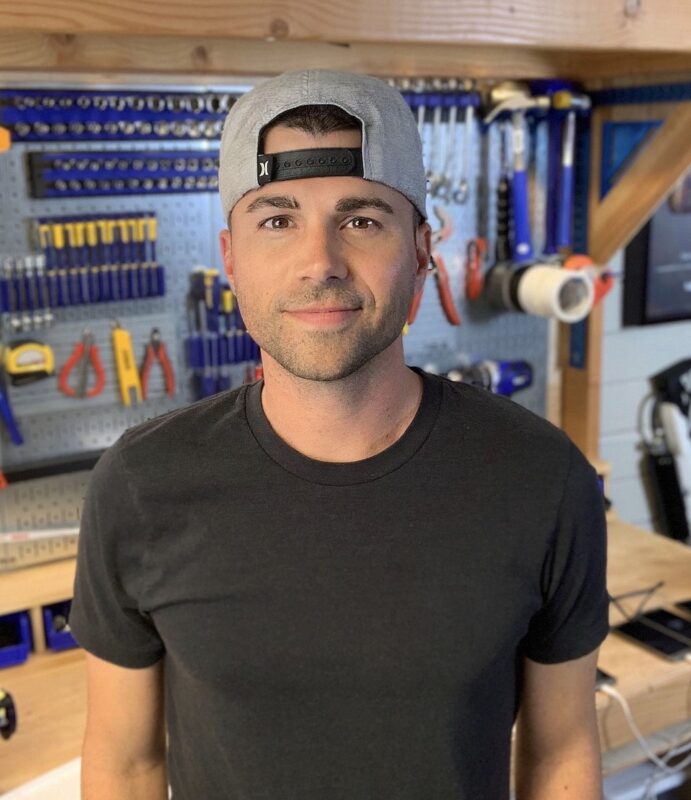 Switching careers from NASA to YouTube isn't a decision most people would gladly make. But that decision seems to have paid off for Mark Rober.

As of 2023, Mark Rober had a net worth of $6 million. Although Rober earned huge paychecks working as a mechanical engineer for NASA and from his Halloween costume startup Digital Dudz, a huge chunk of his wealth comes from monetized YouTube videos. Various estimates have pegged Rober's YouTube earnings between $5,000 and $22,000 per day, or about $1.8 million – $8 million annually.

Rober also makes money from sponsored ads. Some of the brands he has sponsored on and off social media include vpnMentor, Bose, and Flex Seal Products by Phil Swift.
Lessons from Mark Rober
1. Job satisfaction overrides paychecks and titles

Mark Rober would have remained at NASA if all he cared about were titles and paychecks. However, he found true satisfaction in pursuing a totally different job – vlogging.

2. Use your skills to impact positive change

Many of Rober's YouTube videos may seem plain at first glance. But a closer look reveals a scientist who's willing to go to any length to share his knowledge and experience with the word.

3. Get involved in noble causes

In October 2019, Mark Rober and fellow YouTuber MrBeast organized a project known as #TeamTrees, with a view to planting more trees globally. The project sought to raise $20,000,000 for the Arbor Day Foundation by 2020, with an agreement that the foundation would plant a tree for every dollar raised.
Famous Quotes by Mark Rober
"But by reframing the learning process and focusing on the cool end goal, the fear of failure is often taken off the table, and learning just comes more naturally."
"By shifting your focus to the princess and treating your life's challenges like video games, you can trick your brain and actually learn more and see more success."
"I feel like a lot of the successes in my life have come down to the Super Mario Effect, and while framing challenges like this has worked for me, of course, results may vary."
"We can all relate at some level to being fascinated by looking at ourselves. You see it every time little kids walk into a store with surveillance and start dancing and waving at themselves."
"Wearable tech is really exploding, and I feel like five years down the road tech is going to be totally in our clothing. It's the next frontier for tech to conquer in our lives."
Final Word
Mark Rober is a mechanical engineer, inventor, and YouTube personality who has a net worth of $6 million. Rober became a YouTuber after serving a successful nine-year career as a mechanical engineer for NASA. He now uses the YouTube platform to share a range of science-based videos as well as pranks.