Last Updated on March 8, 2022
Mary Oliver is best known for being America's best-selling poet because of her uplifting quotes that reflect a free-thinking perspective in life. Many aspects of her tumultuous life influenced her creative work, which continues to inspire poetry lovers to this day.
Mary Oliver's Early Years
Born in 1935 in Maple Heights, Ohio, Oliver is the daughter of Helen M. V.and Edward William. Her father worked as an educator of sociology and an athletics coach in different institutions in Cleveland. Growing up in a semi-rural suburb, Oliver spent a great deal of her younger years reading, writing and walking around the woods. Her interest in nature would later become a major part of her life as a great poet.
Oliver's interest in poetry began when she was a young 14-year-old student. Two years later, she had the chance to visit the late Pulitzer Prize-winning poetEdna St. Vincent Millay's house in Austerlitz, New York.
She later formed a friendship with the acclaimed poet's younger sister, Norma. Together, Oliver and Norma spent the next seven years at St. Vincent Millay's home to organize the papers that once belonged to the poet.
Oliver pursued higher studies at Vassar College and Ohio State University in the mid-1950s, but she never received a degree from either institution.
Career and Honors Received
Oliver is famous for her poems about the natural world. While most of her works are about having a carpe diem attitude, they also touch on deeper themes such as gratitude, love, and survival.
At 28, Oliver published her first collection of poems entitled "No Voyage and Other Poems." Although she became a teacher at Case Western Reserve University in the early 1980s, she did not let her profession keep her from doing creative work. She worked on more pieces until she was finally recognized by a major award-giving body.
1984 marked a defining moment in her career when her fifth poetry collection, "American Primitive,"emerged as the winner of the Pulitzer Prize for Poetry. She later became a Poet in Residence at Pennsylvania's Bucknell University in 1986. Five years later, Oliver worked as a Writer in Residence at Virginia's Sweet Briar College.
As the years went by, Oliver gained more recognition for her artistic work. She received the the L. L. Winship/PEN New England Award for her 1990 poem,"House of Light." Her 1992 piece "New and Selected Poems (1992) was also given the National Book Award.
"The Best American Poetry" featured parts of her work, "Leaf and Cloud," in both 1999 and 2000. Additionally, her essays made it to the 1996, 1998 and 2001 editions of "Best American Essays."
Private and Unconventional Life
In the late 1950s, Oliver was on her way back to Austerlitz when she met Molly Malone Cook. The accomplished photographer became her partner for over forty years, until Malone succumbed to cancer in 2005.
Like most great artists, Oliver is notorious for being secretive about her private life. When she moved in with Malone, they decided to settle down in Provincetown, Massachusetts. The Cape Cod landscape surrounding their home played a huge part in Oliver's later works, since it brought her much closer to nature.
Her poetry is known for its heart-tugging observations on the natural world, while still exploring larger themes about humanity.
Mary Oliver, the Reporter
Oliver is widely regarded as one of the best poets in history, but she does not consider herself as one. In a 2011 interview, she said she considers herself as a "reporter" who uses a string of words with a certain type of choreography.
She believes she is just an artist who gets up in the morning and writes ? treating words as if they were music that needs to have the right rhythm. Her style has led readers to compare her to Walt Whitman and Henry David Thoreau.
She also went through many struggles as a child because of her dysfunctional family. Oliver saw poetry as her refuge because she could build her own world out of her own words.
Mari Oliver: Later Years
Oliver served as a Catharine Osgood Foster Chair for Distinguished Teaching at Bennington College before leaving her job in 2001. Apart from the major awards she received over the years, she was also offered fellowships by highly-regarded institutions.
Other accolades she received in the latter part of her career include the Alice Fay di Castagnola Award and the American Academy of Arts & Letters Award. She called Provincetown, Massachusetts home for more than fifty years before finally moving to her current residence in Hobe Sound, Florida.
Without a doubt, many artists have been influenced or changed by Oliver's work. More individuals continue to be touched by her poignant pieces, making her one of the best literary icons in history.
Here are 30 inspiring quotes from Mary Oliver:
The Best Mary Oliver Quotes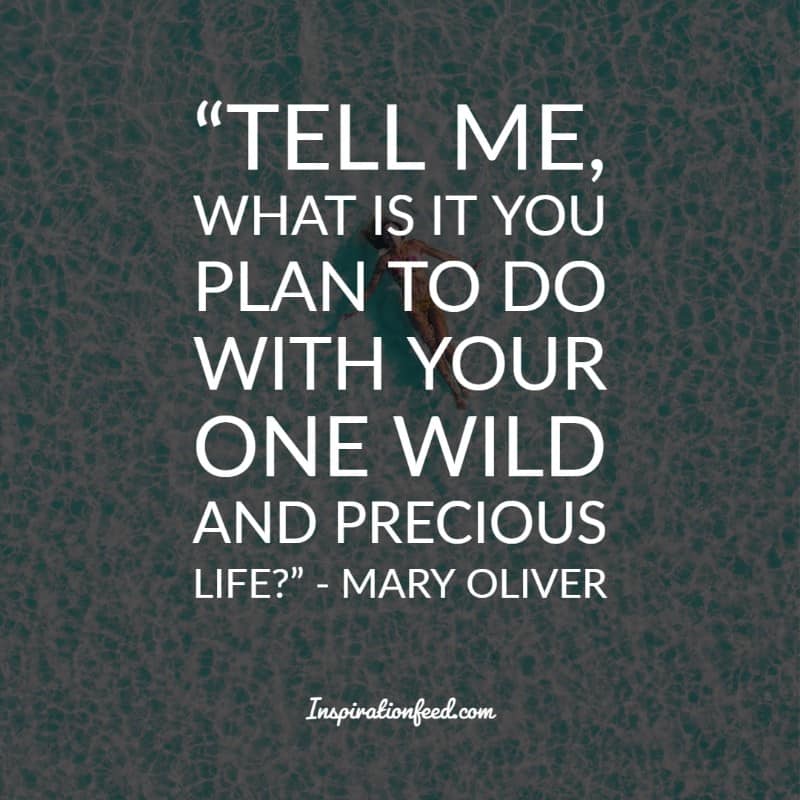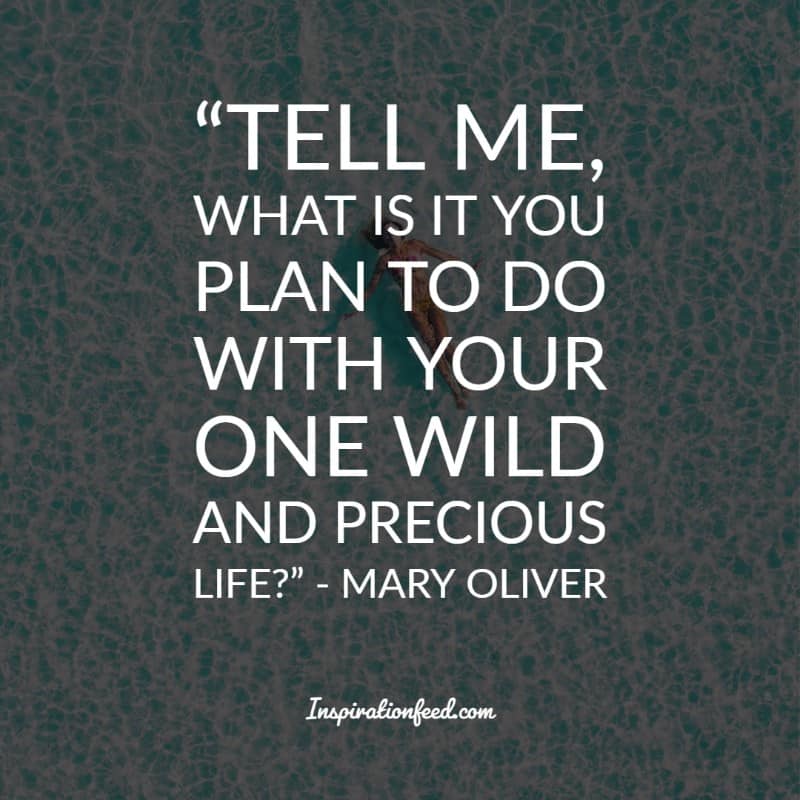 "Tell me, what is it you plan to do with your one wild and precious life?" – Mary Oliver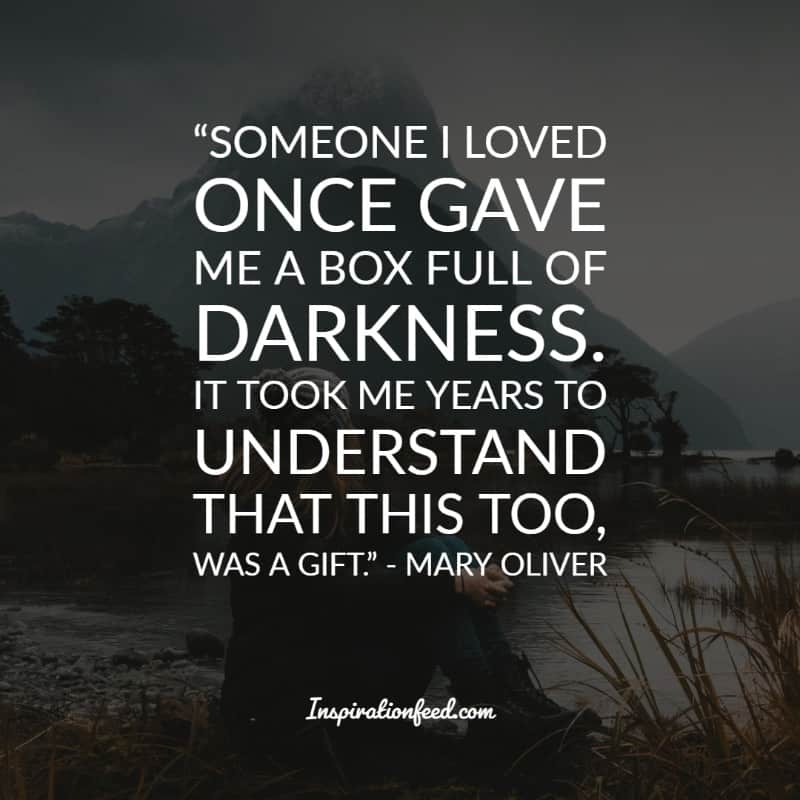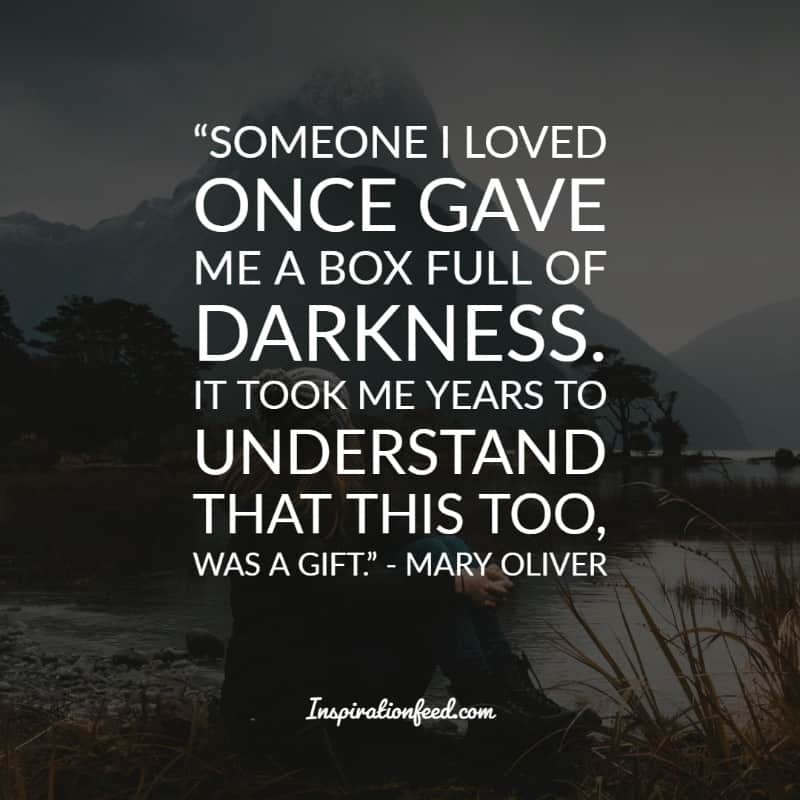 "Someone I loved once gave me a box full of darkness. It took me years to understand that this too, was a gift." – Mary Oliver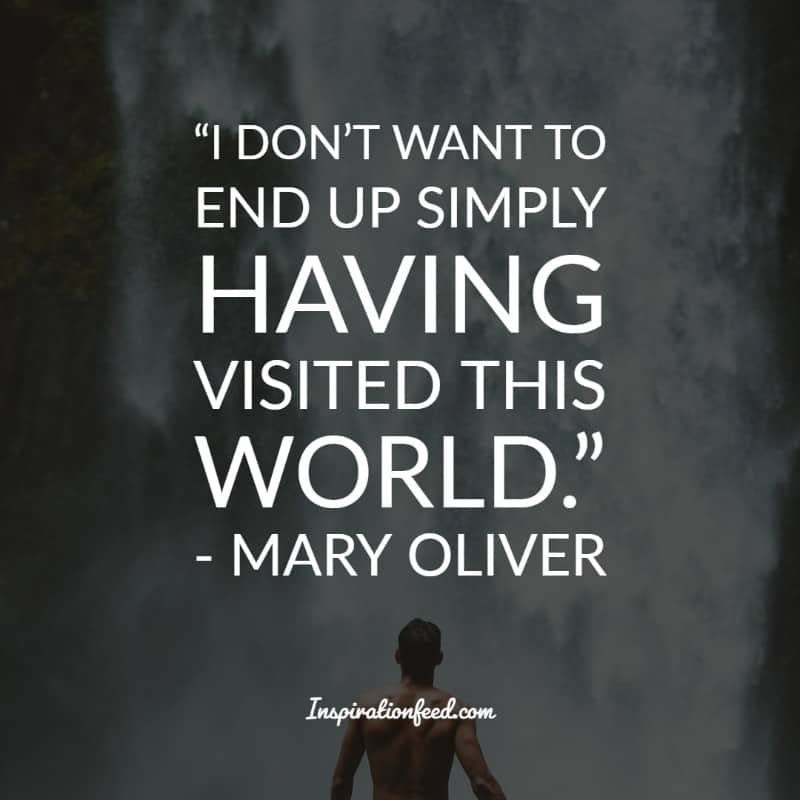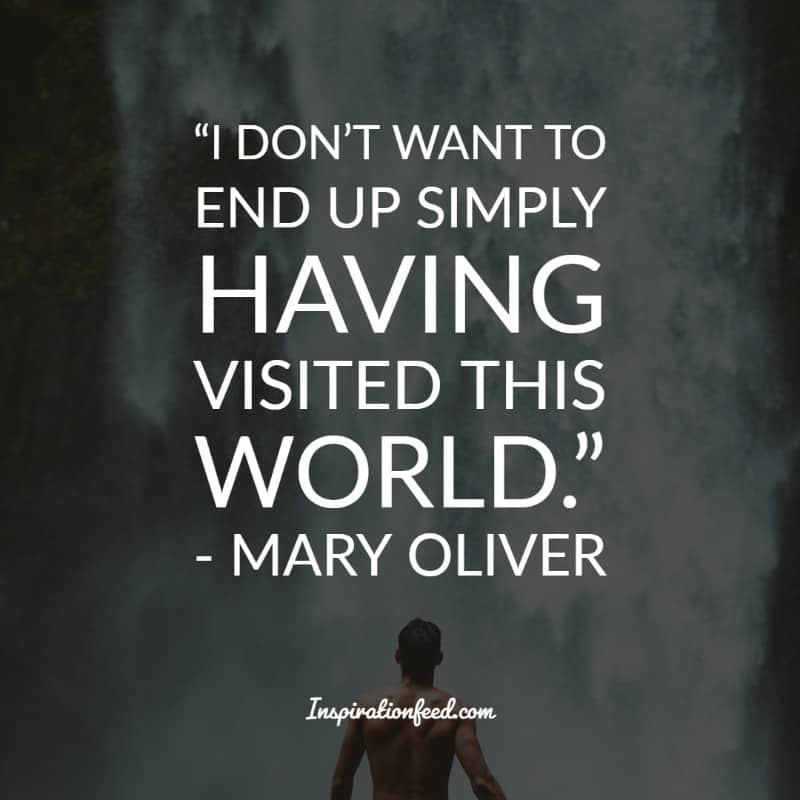 "I don't want to end up simply having visited this world." – Mary Oliver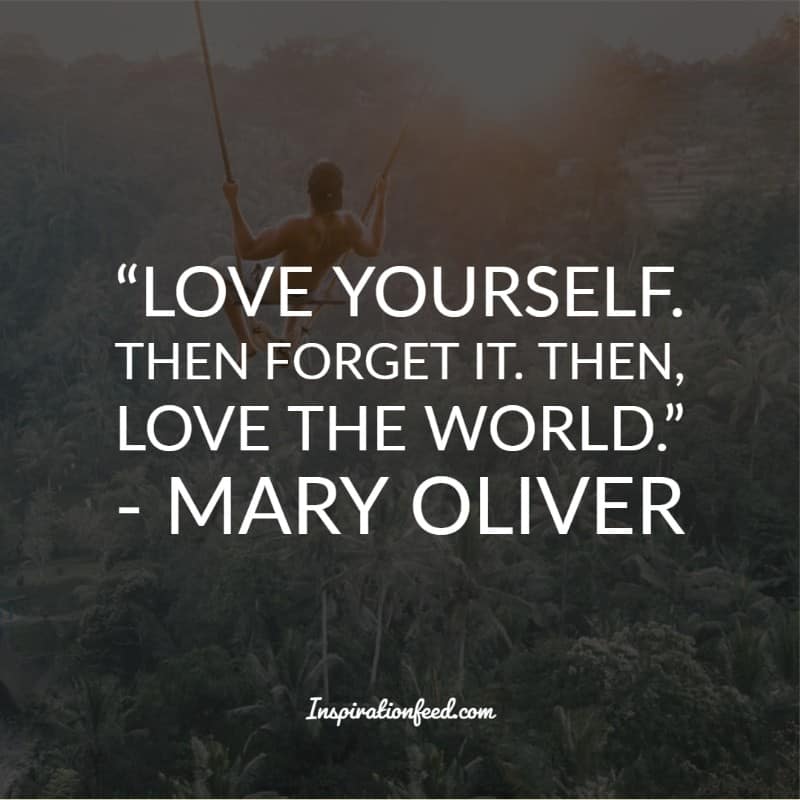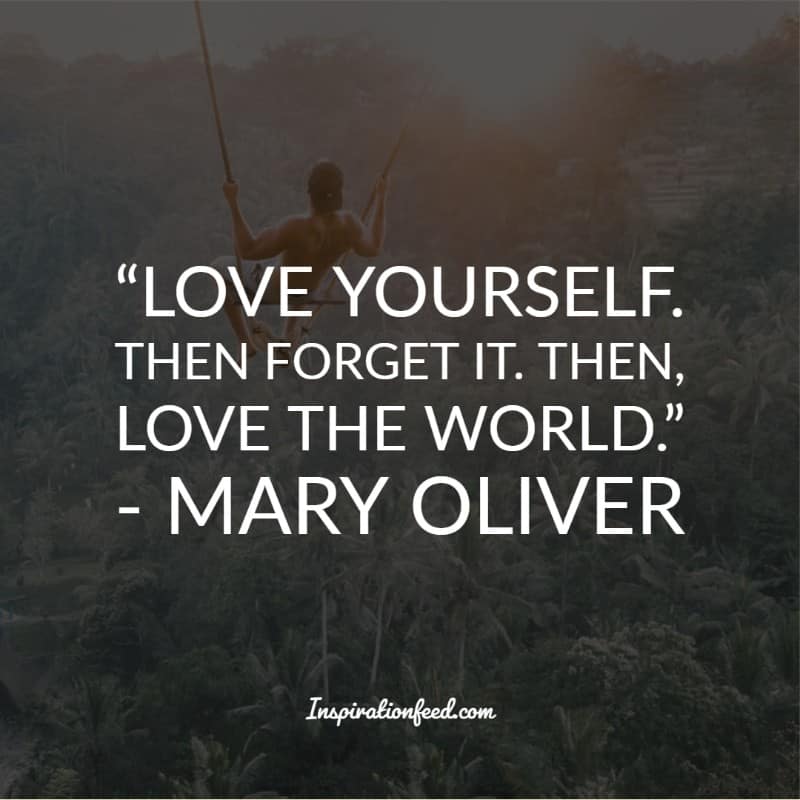 "Love yourself. Then forget it. Then, love the world." – Mary Oliver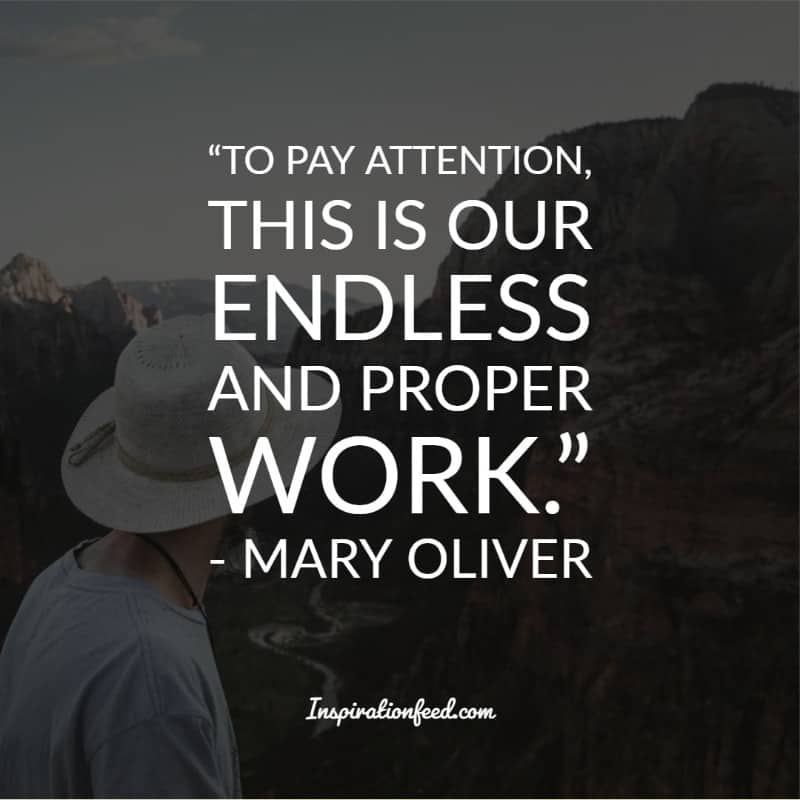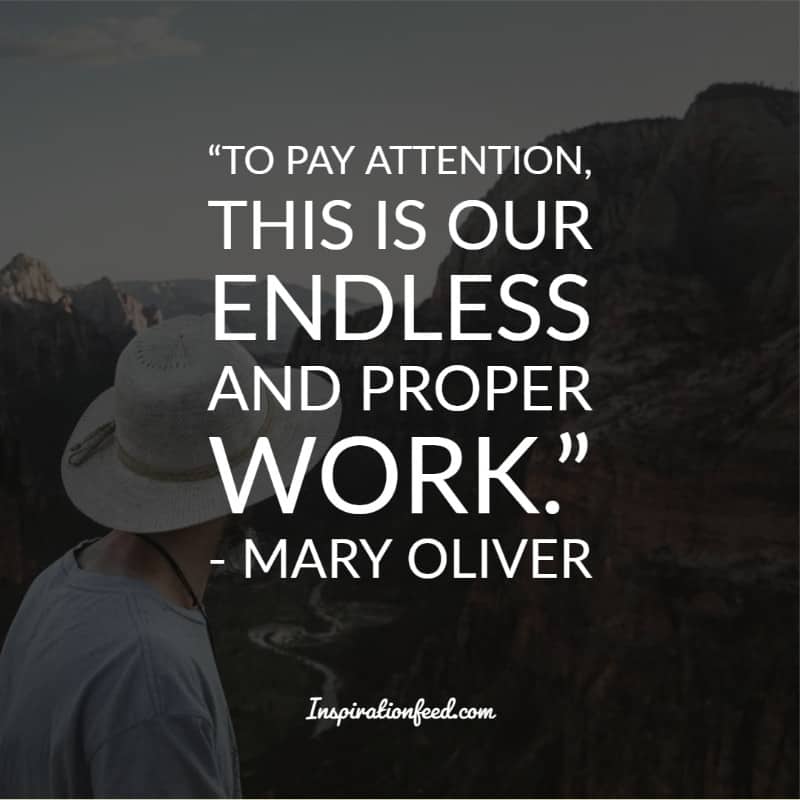 "To pay attention, this is our endless and proper work." – Mary Oliver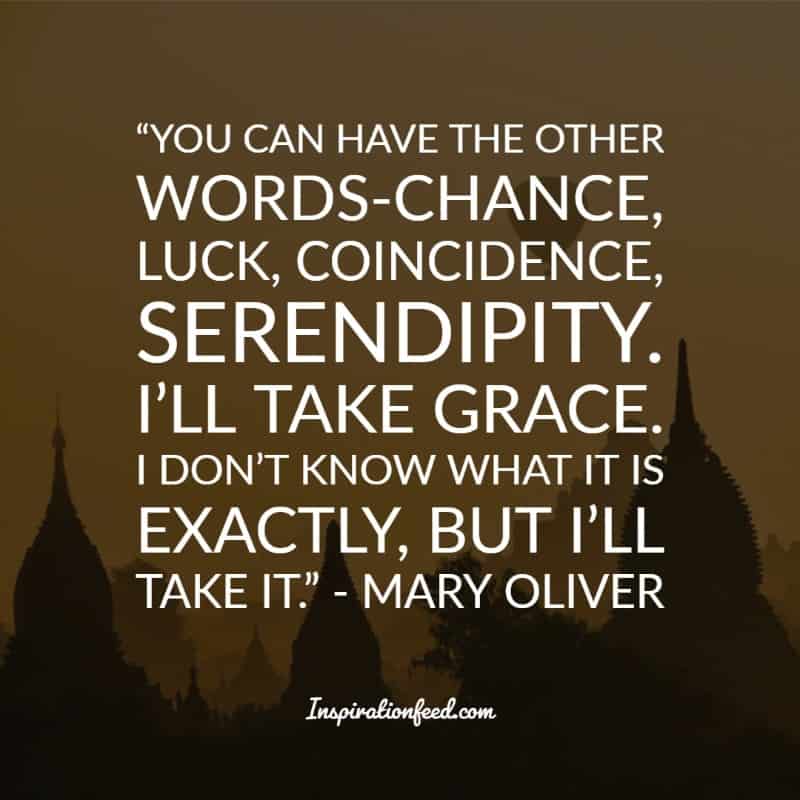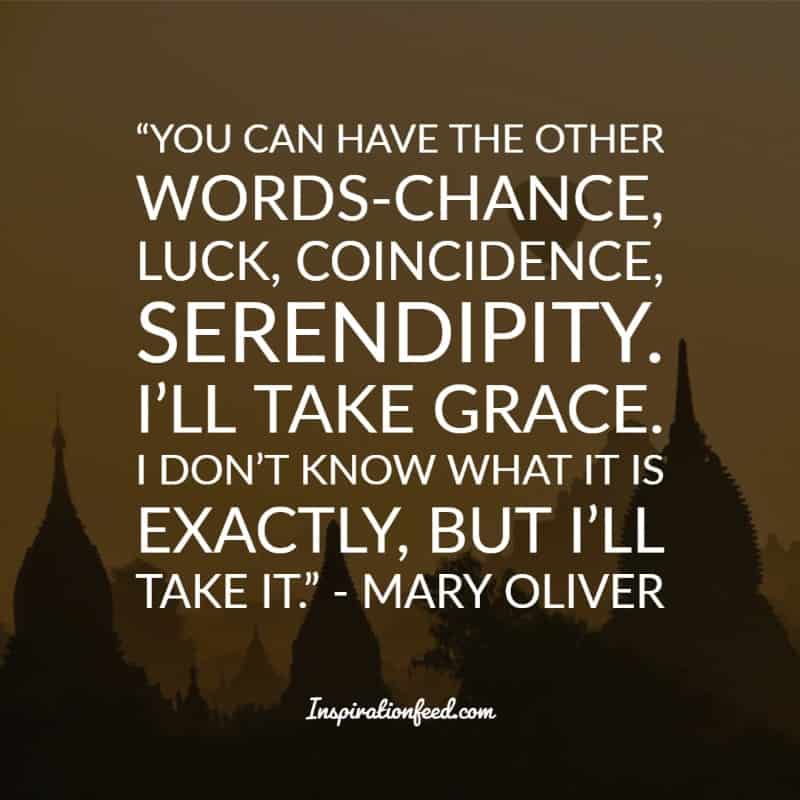 "You can have the other words-chance, luck, coincidence, serendipity. I'll take grace. I don't know what it is exactly, but I'll take it." – Mary Oliver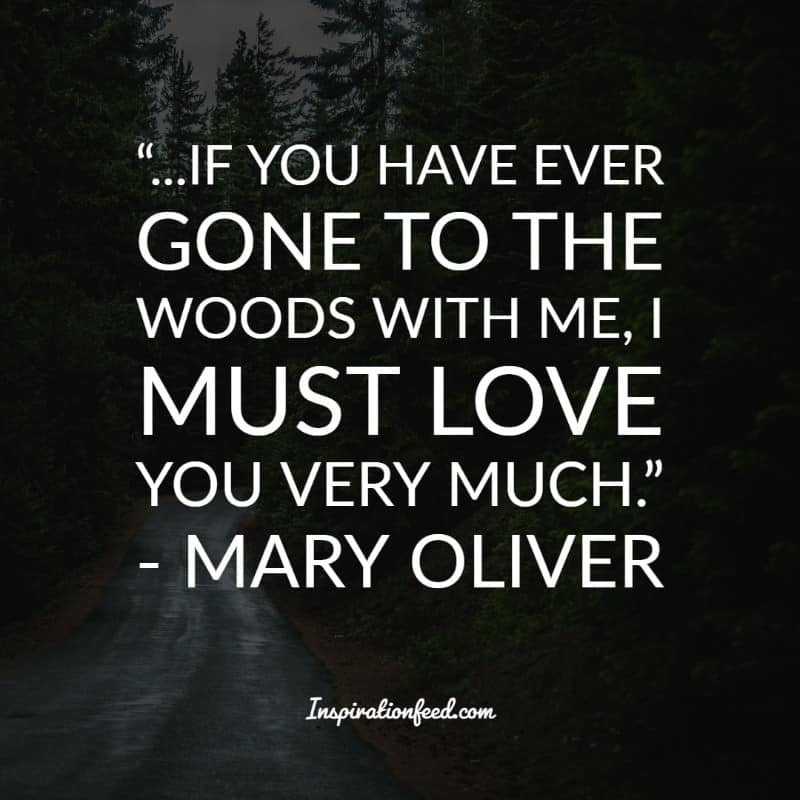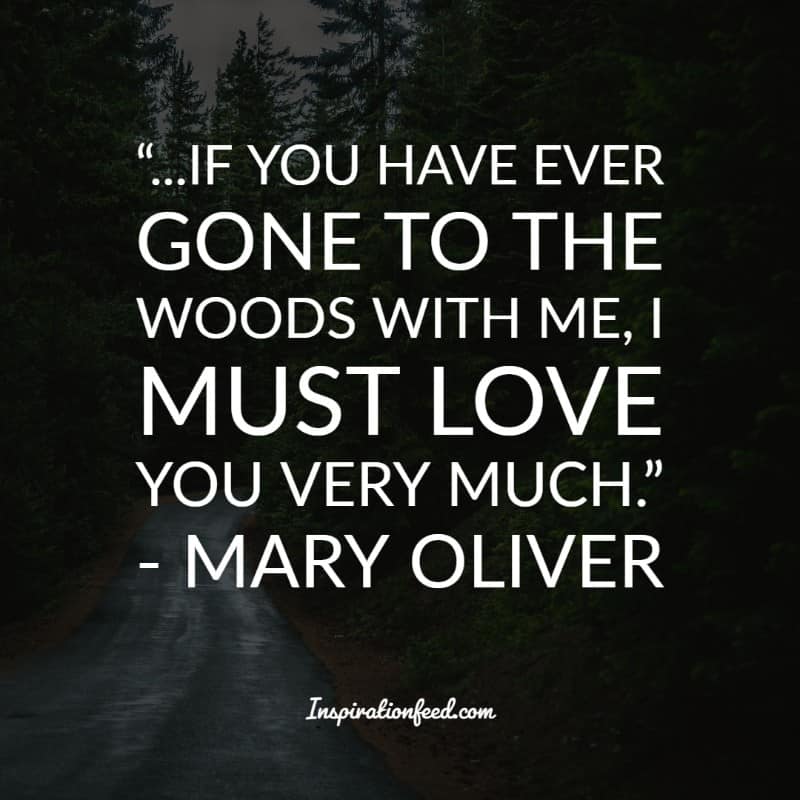 "…If you have ever gone to the woods with me, I must love you very much." – Mary Oliver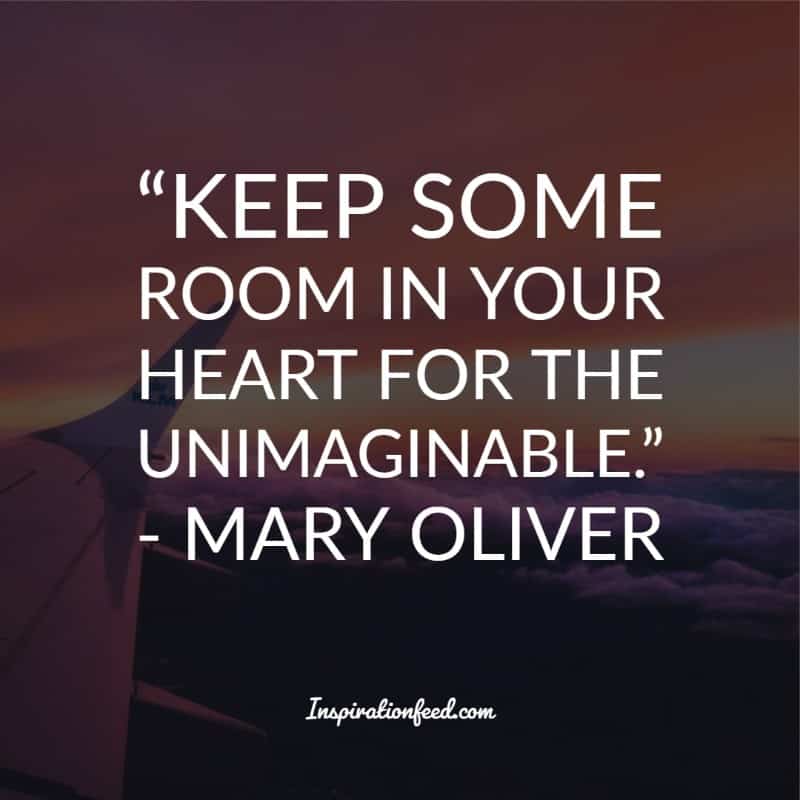 "Keep some room in your heart for the unimaginable." – Mary Oliver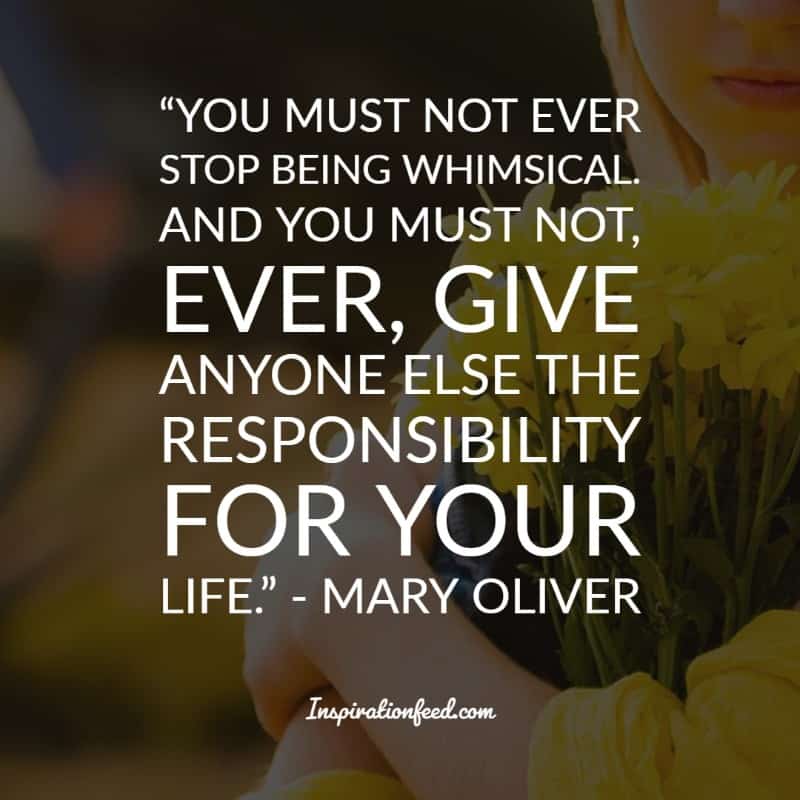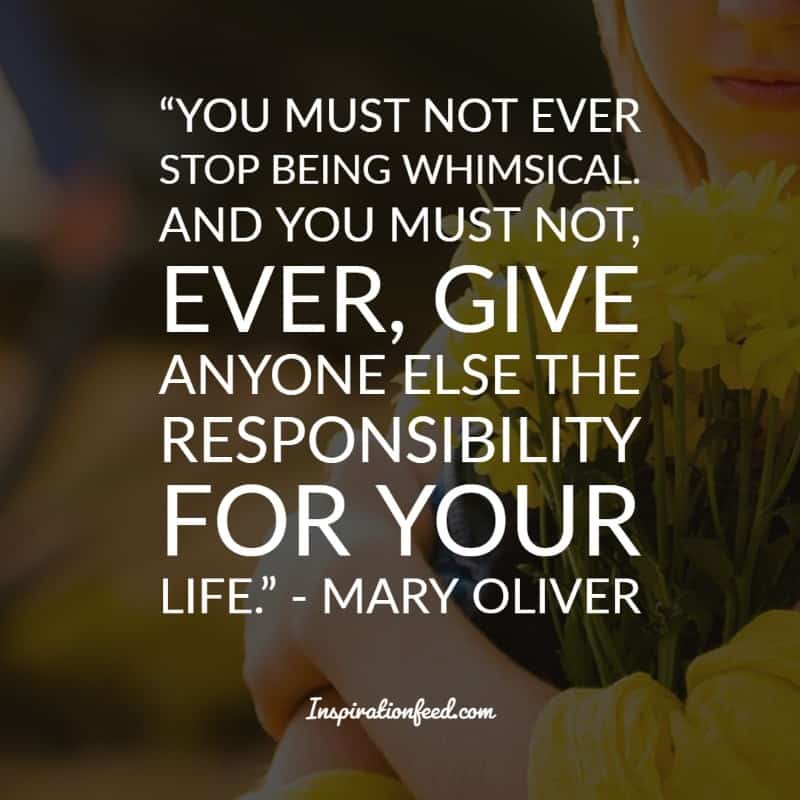 "You must not ever stop being whimsical. And you must not, ever, give anyone else the responsibility for your life." – Mary Oliver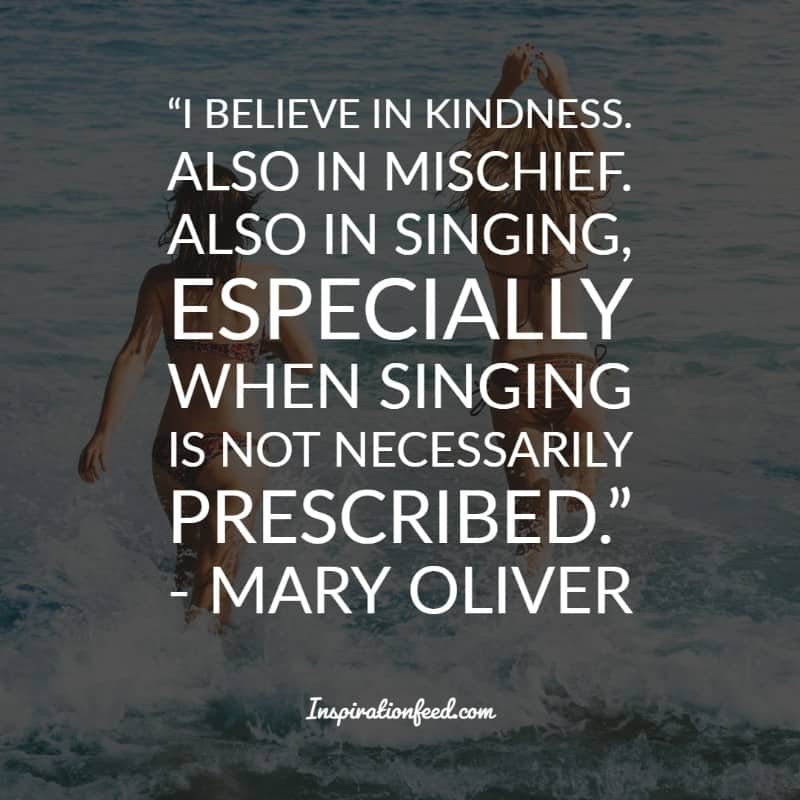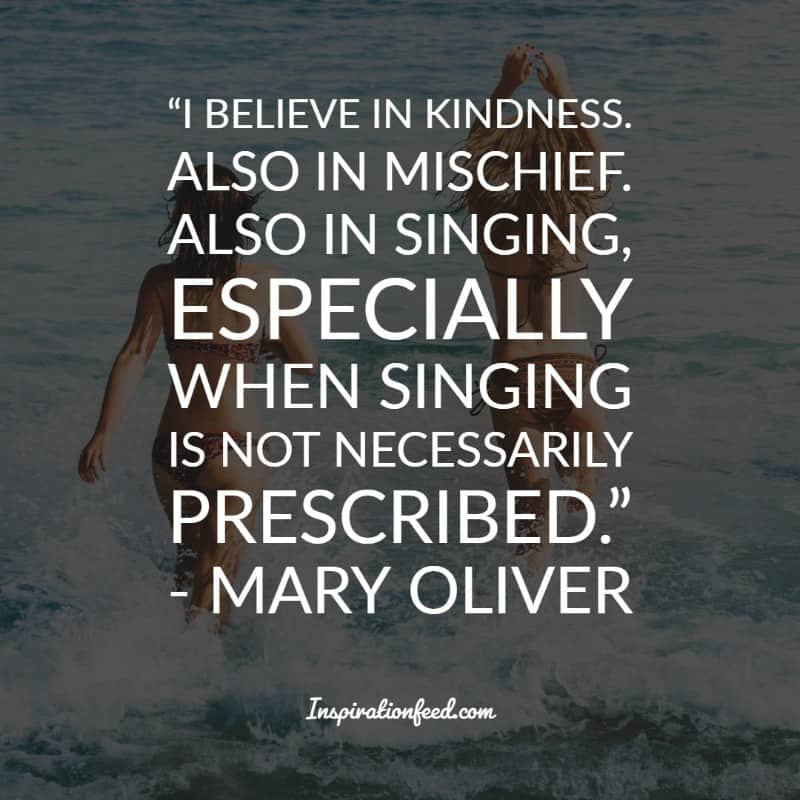 "I believe in kindness. Also in mischief. Also in singing, especially when singing is not necessarily prescribed." – Mary Oliver
"Listen-are you breathing just a little, and calling it a life?" – Mary Oliver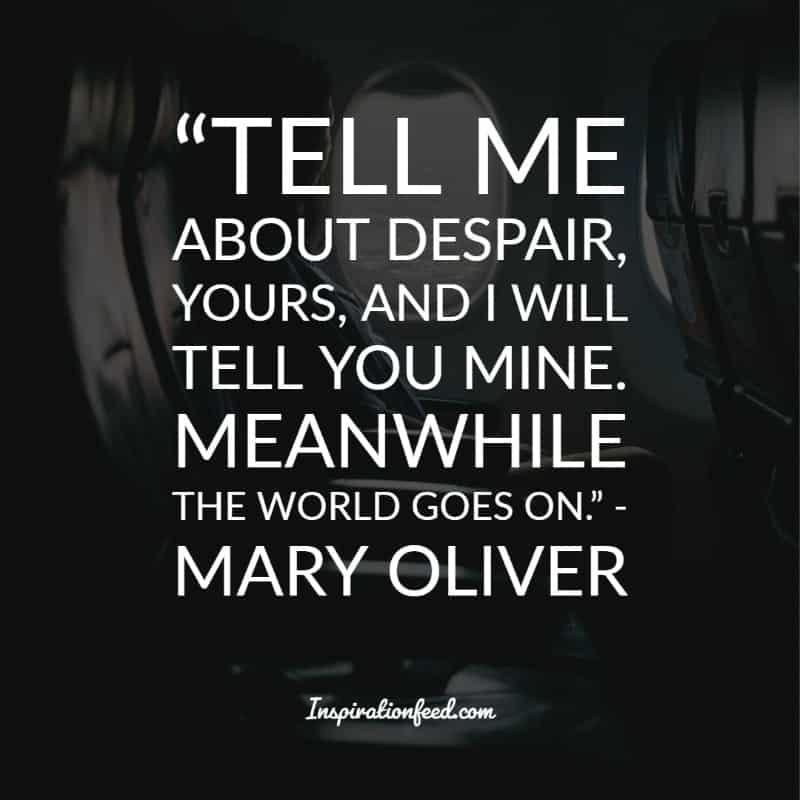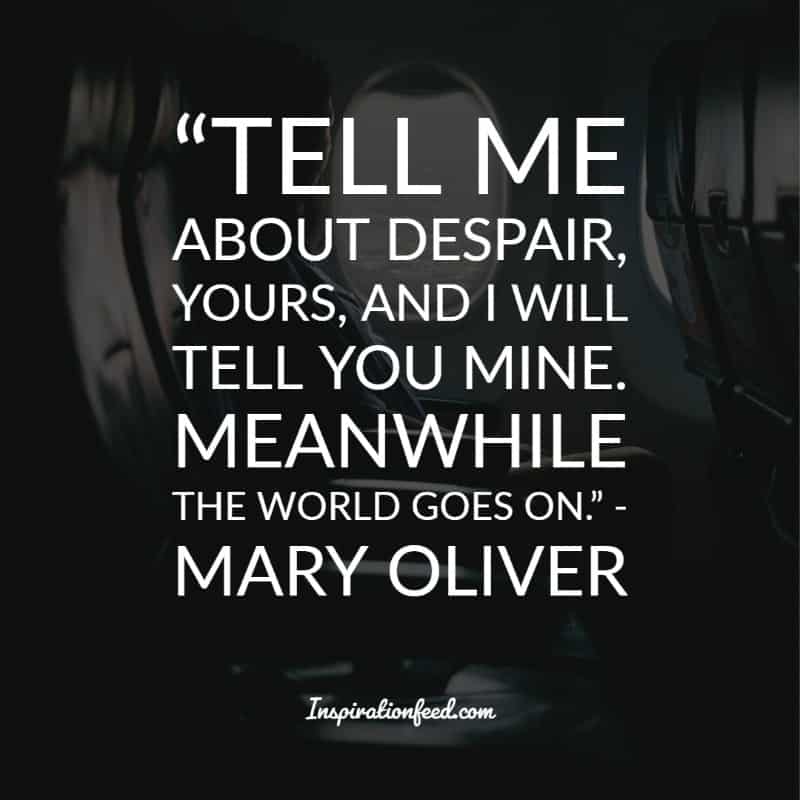 "Tell me about despair, yours, and I will tell you mine. Meanwhile the world goes on." – Mary Oliver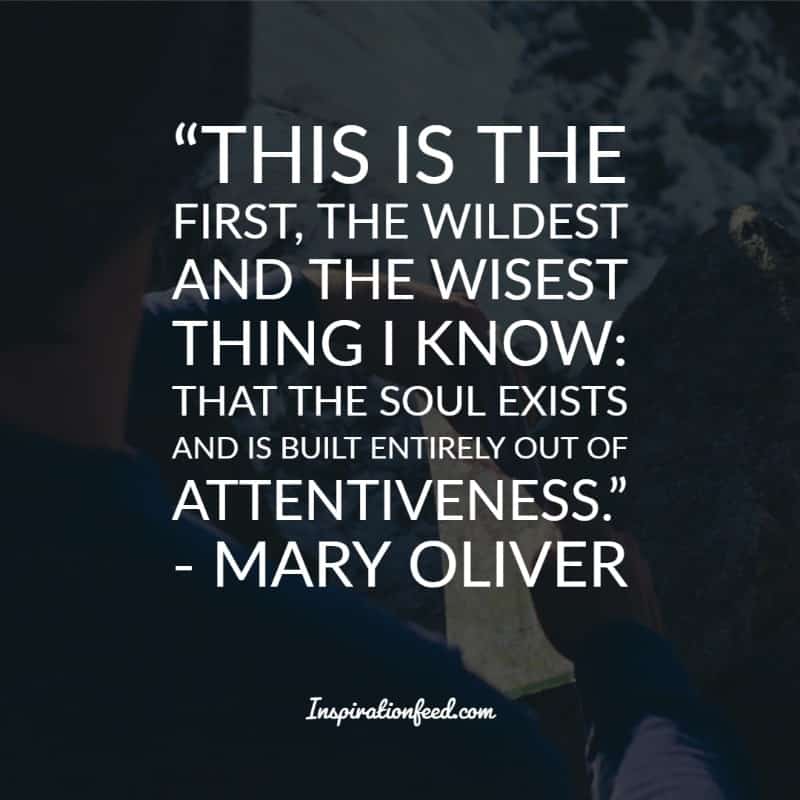 "This is the first, the wildest and the wisest thing I know: that the soul exists and is built entirely out of attentiveness." – Mary Oliver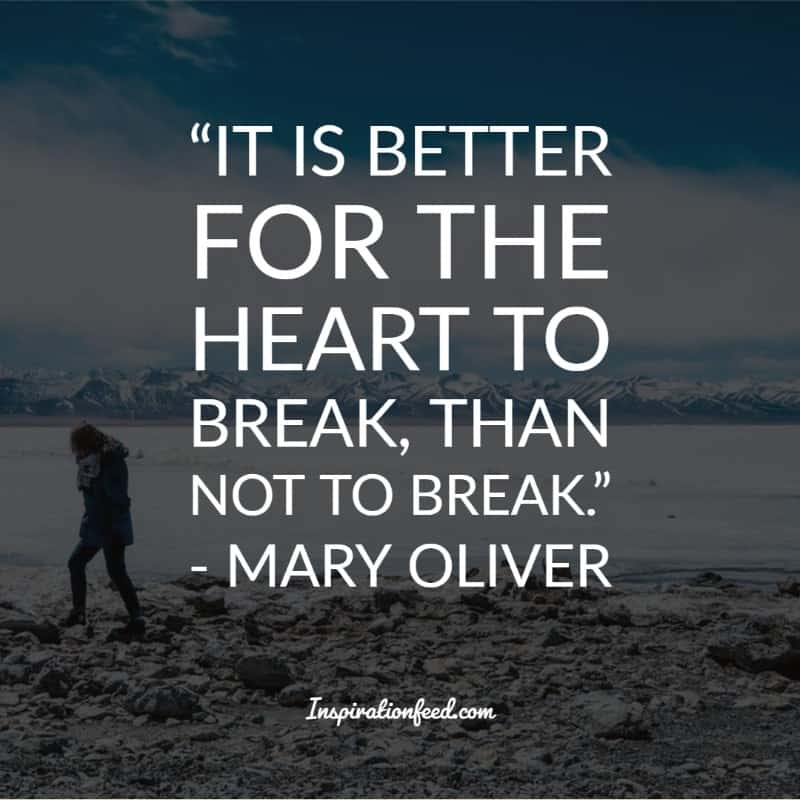 "It is better for the heart to break, than not to break." – Mary Oliver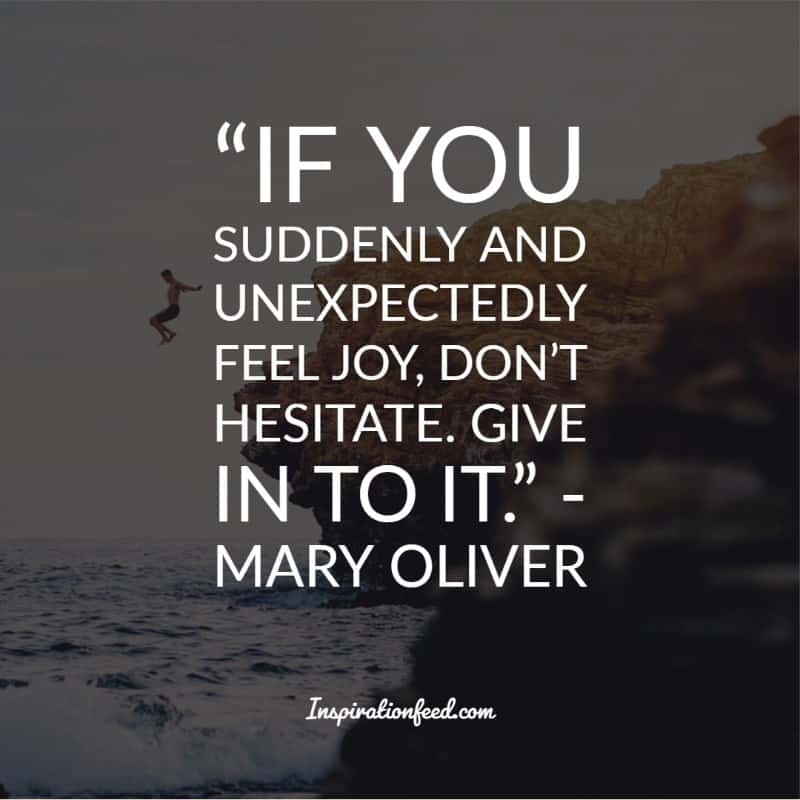 "If you suddenly and unexpectedly feel joy, don't hesitate. Give in to it." – Mary Oliver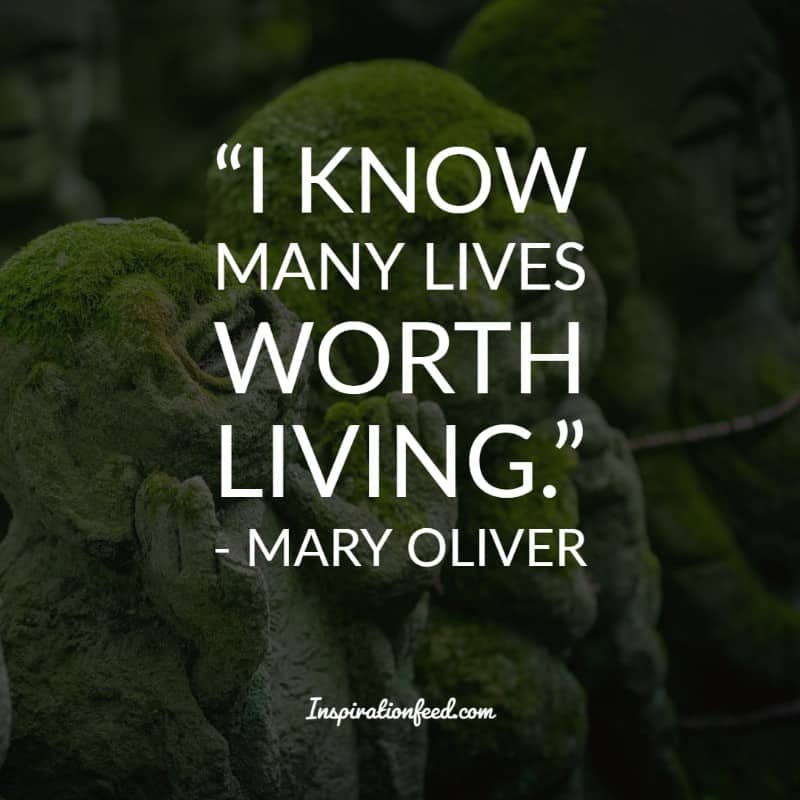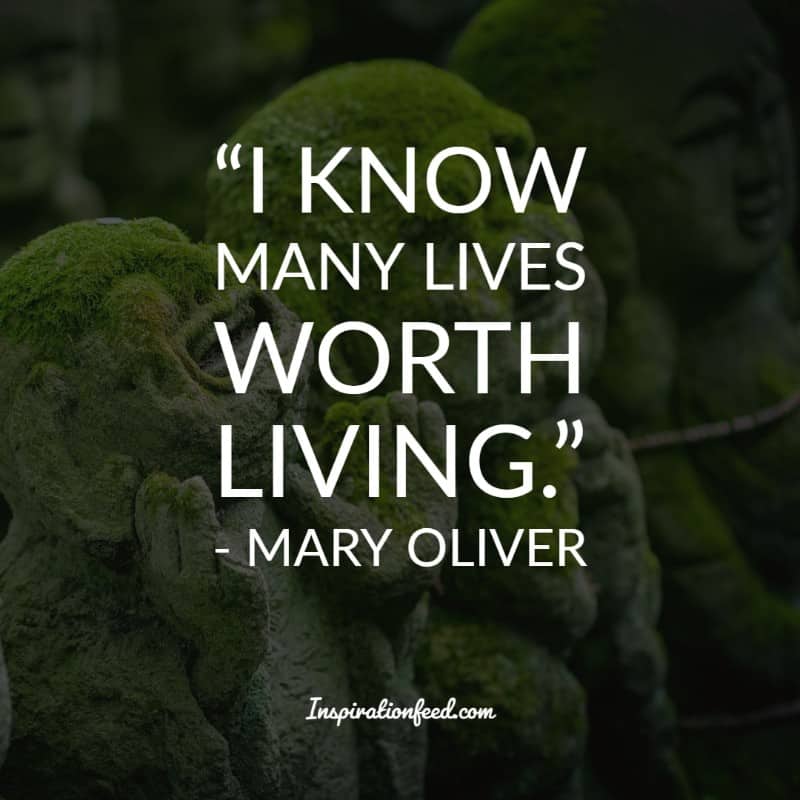 "I know many lives worth living." – Mary Oliver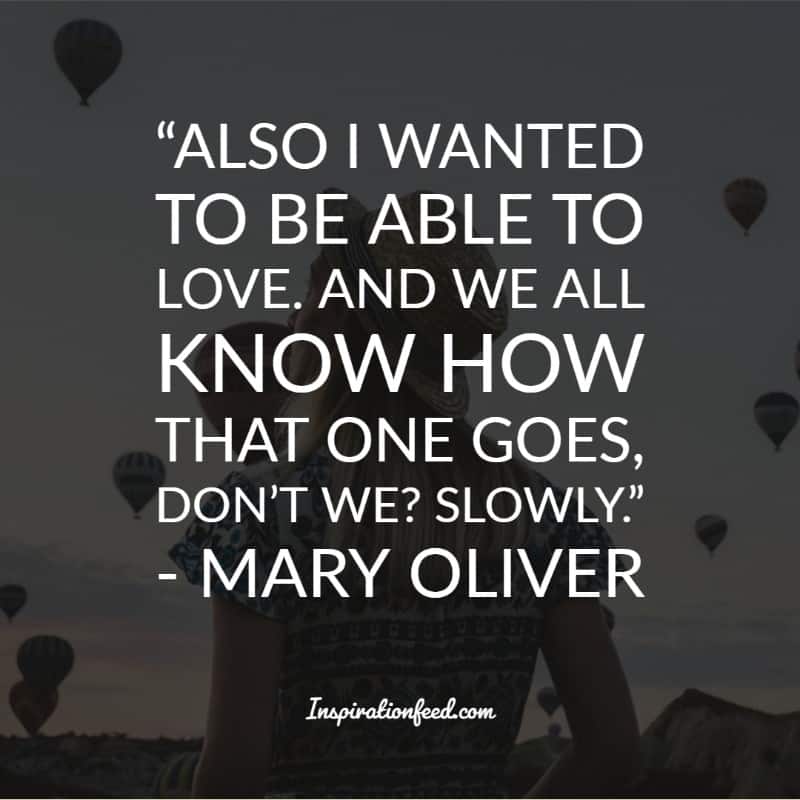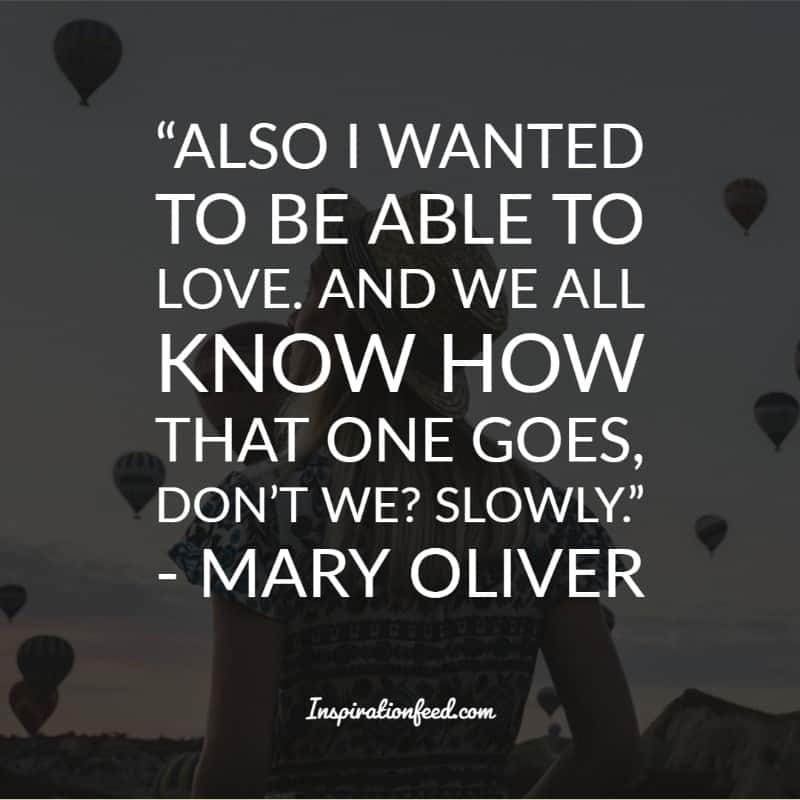 "Also I wanted to be able to love. And we all know how that one goes, don't we? Slowly." – Mary Oliver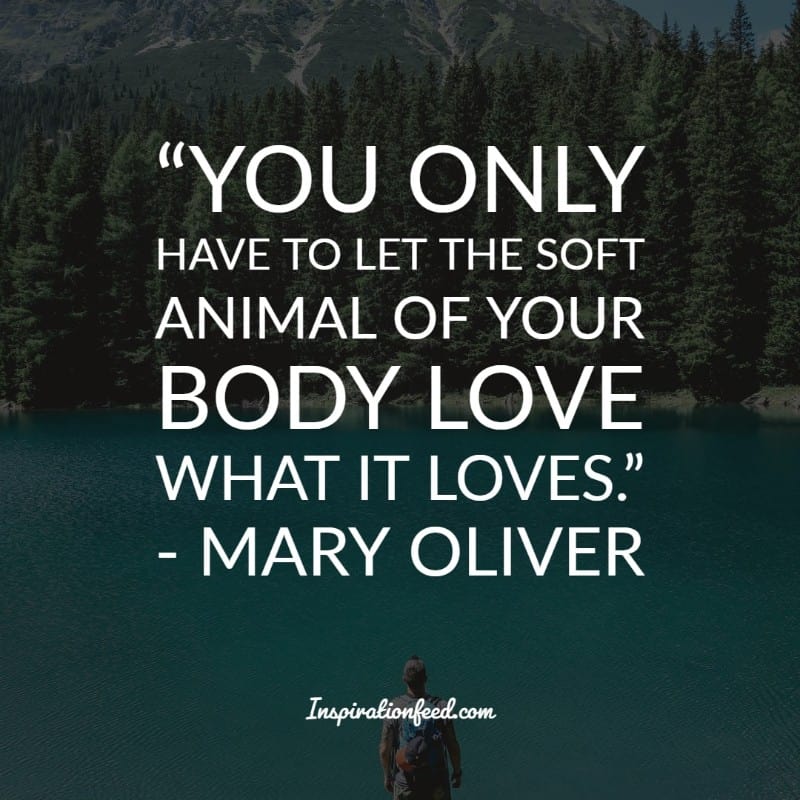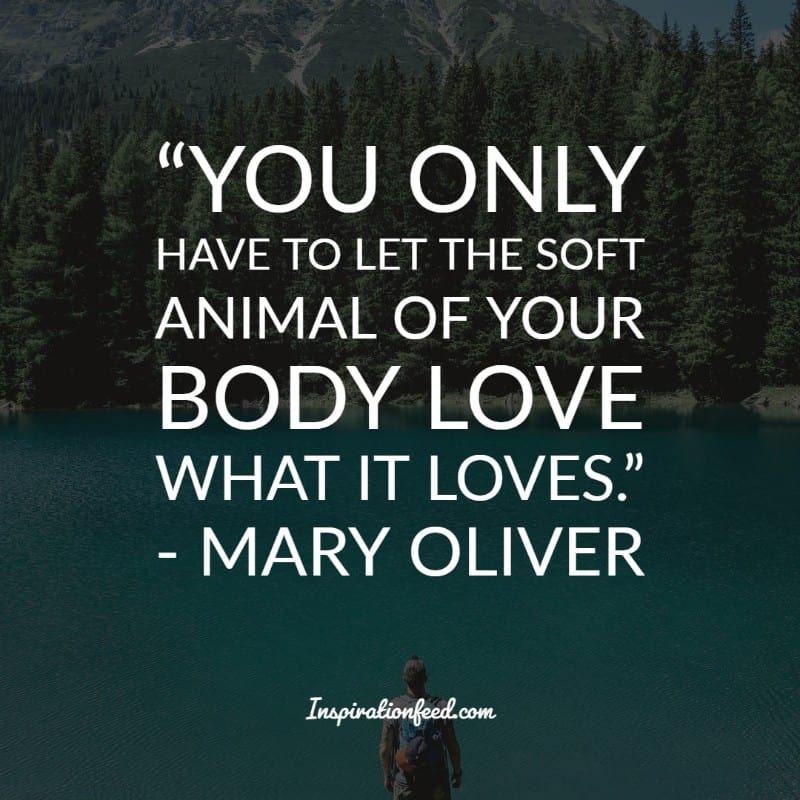 "You only have to let the soft animal of your body love what it loves." – Mary Oliver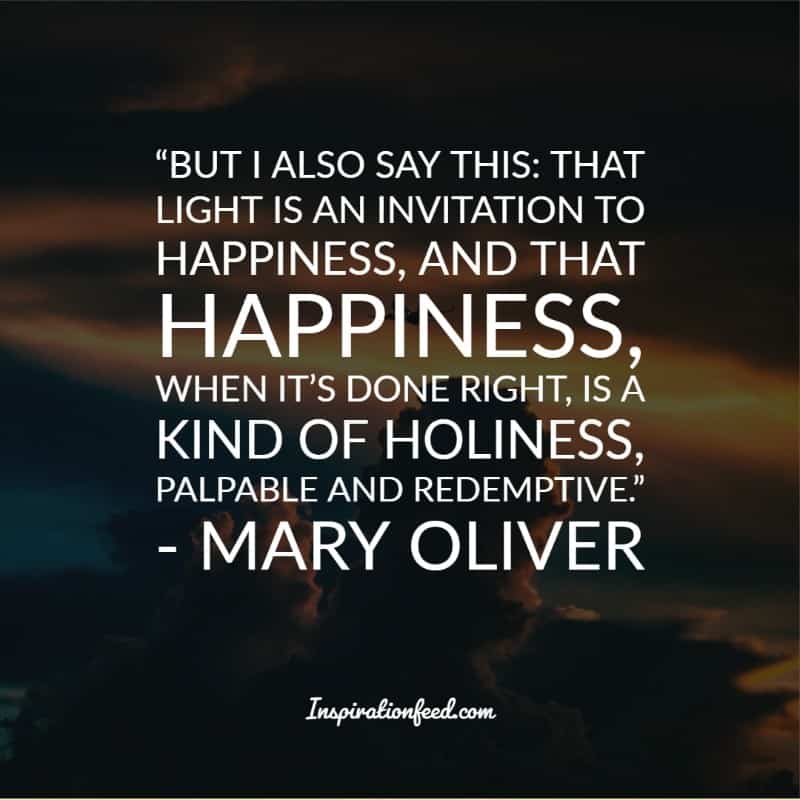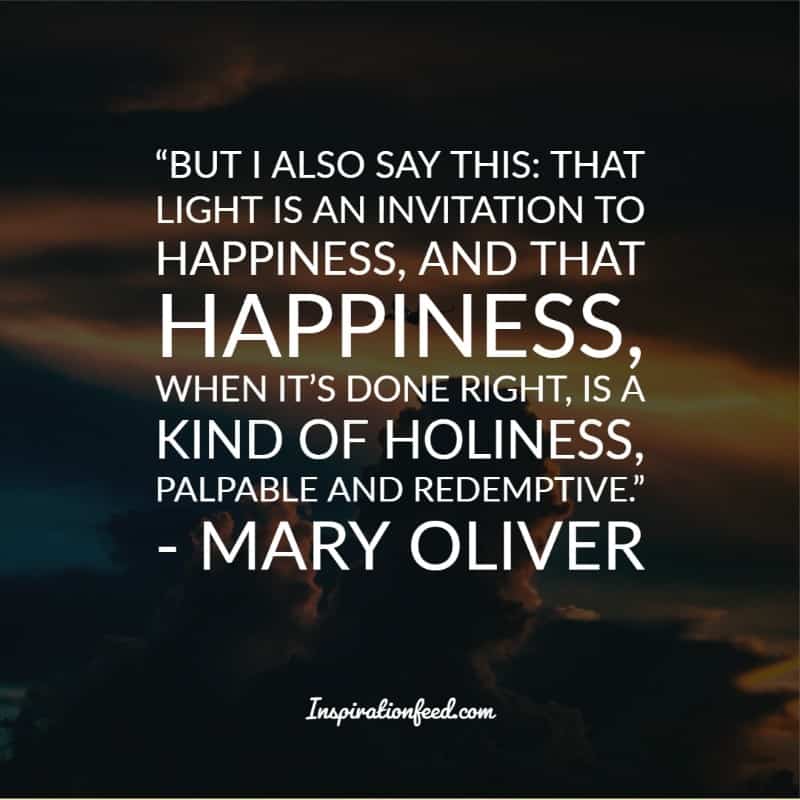 "But I also say this: that light is an invitation to happiness, and that happiness, when it's done right, is a kind of holiness, palpable and redemptive." – Mary Oliver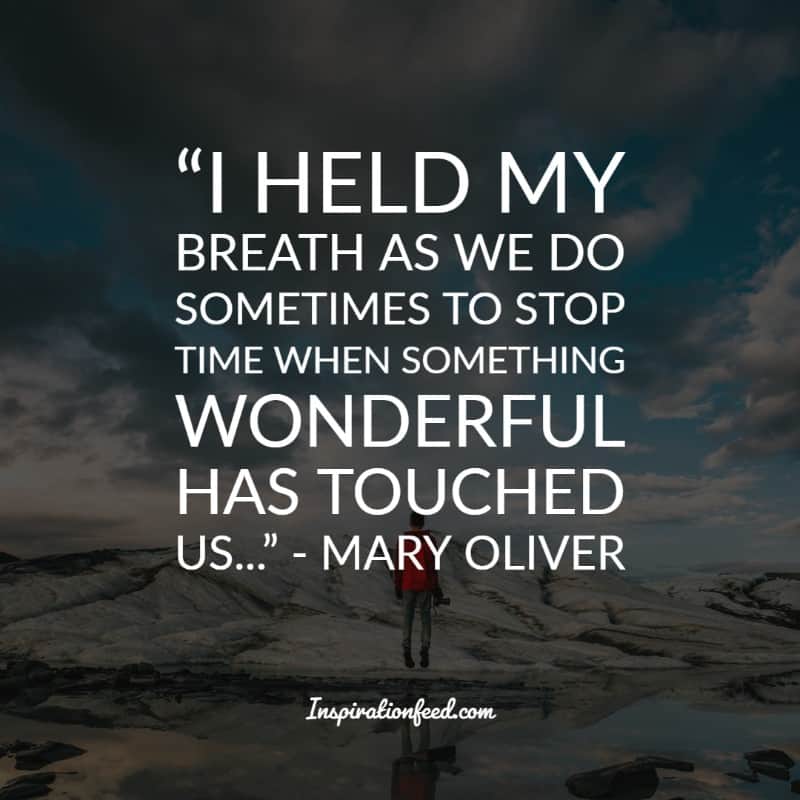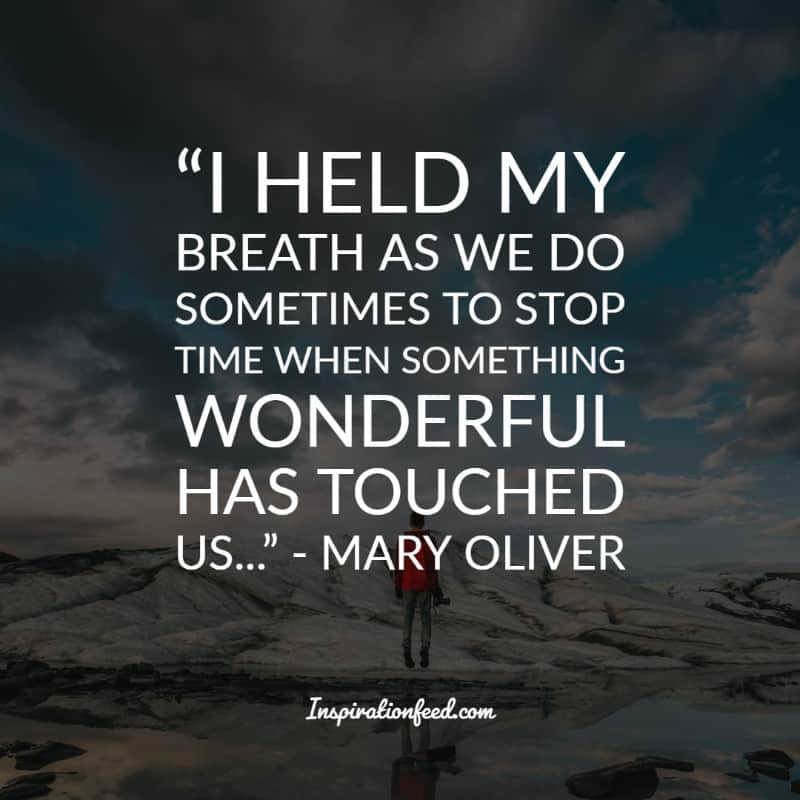 "I held my breath as we do sometimes to stop time when something wonderful has touched us…" – Mary Oliver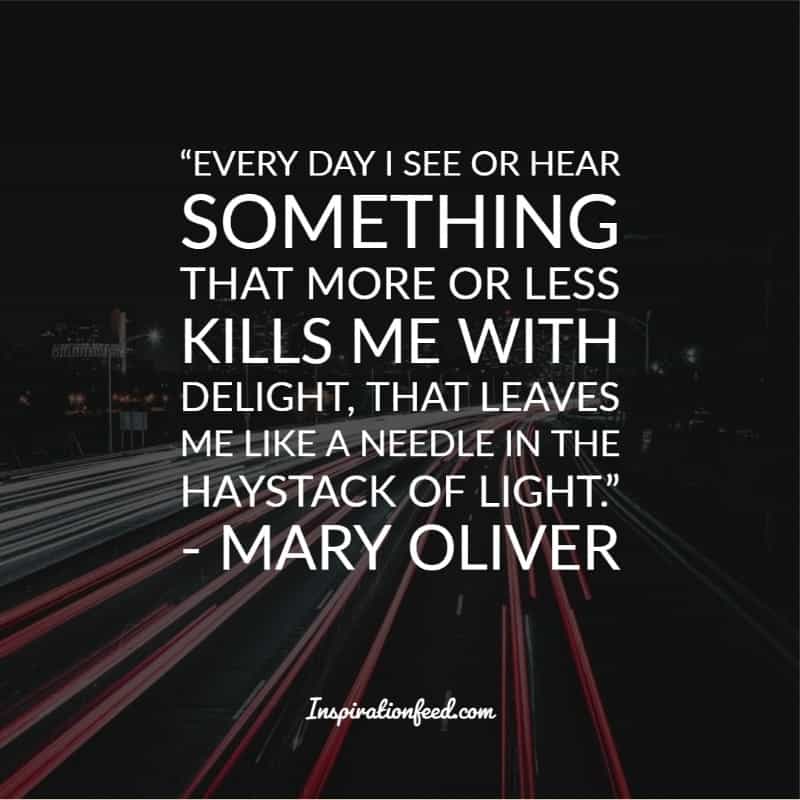 "Every day I see or hear something that more or less kills me with delight, that leaves me like a needle in the haystack of light." – Mary Oliver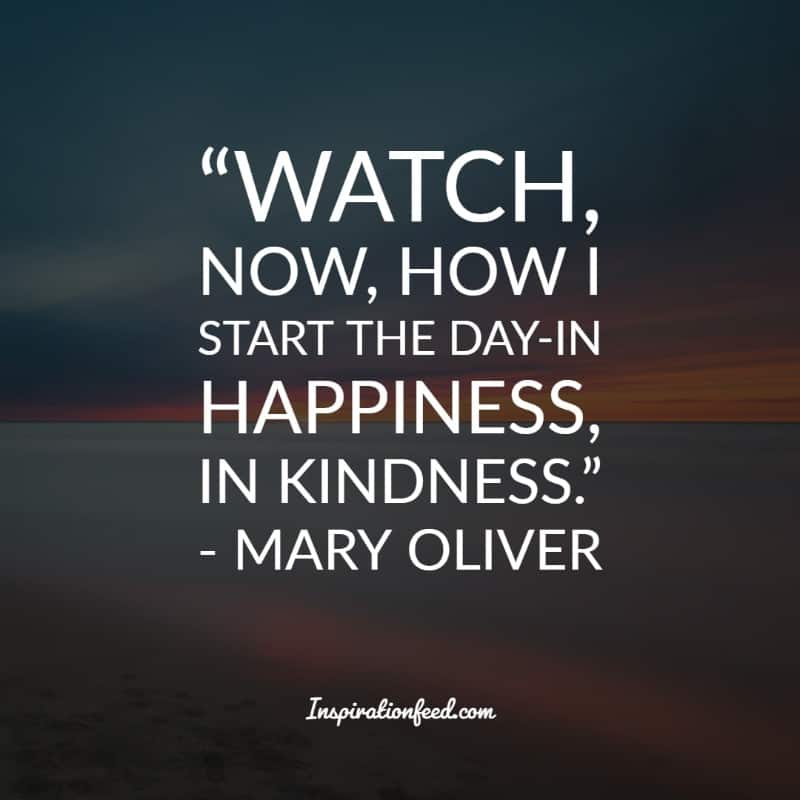 "Watch, now, how I start the day-in happiness, in kindness." – Mary Oliver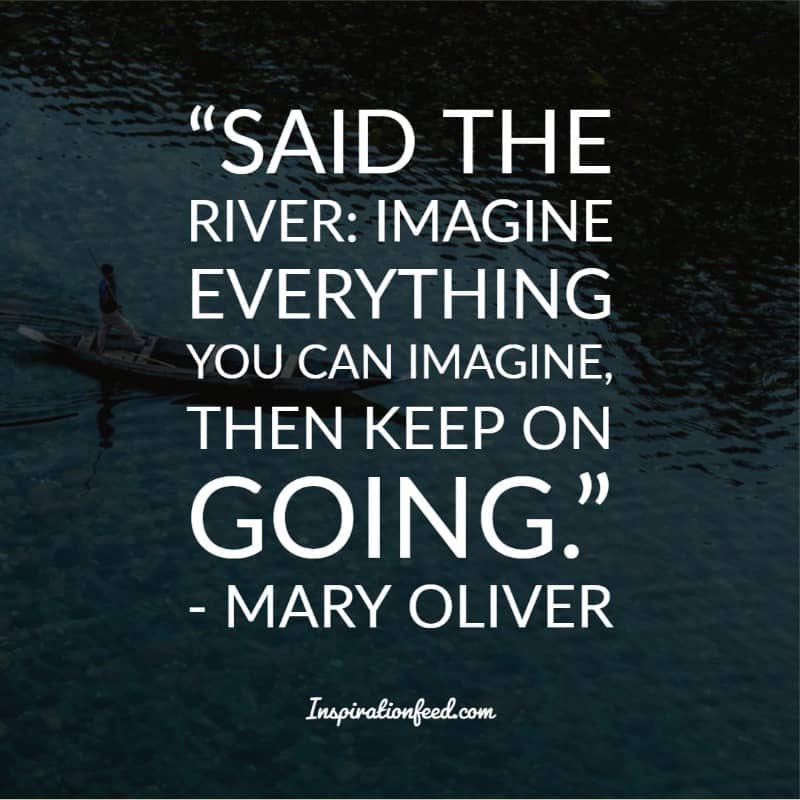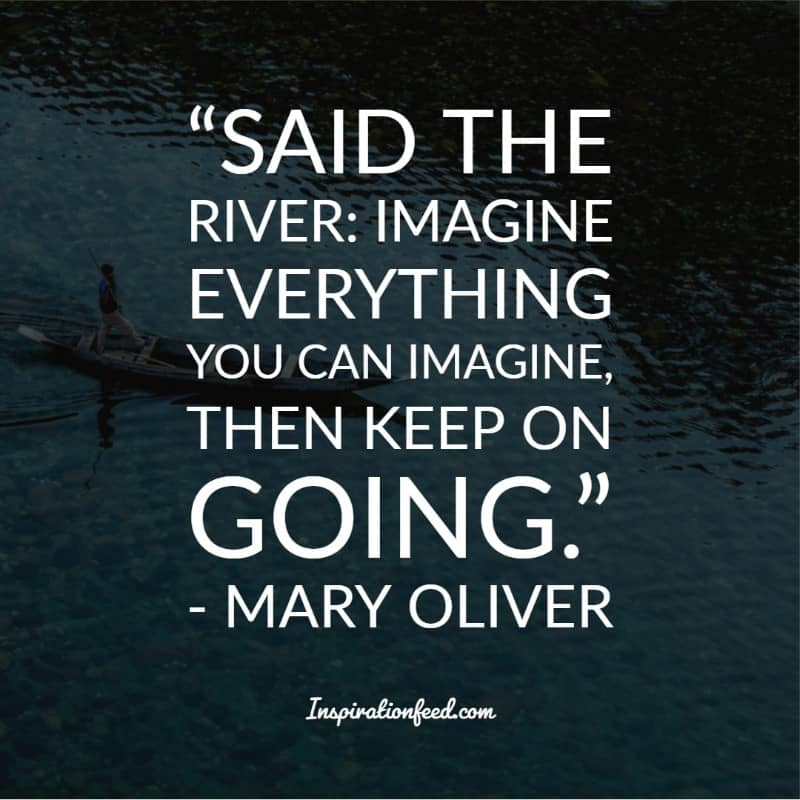 "Said the river: imagine everything you can imagine, then keep on going." – Mary Oliver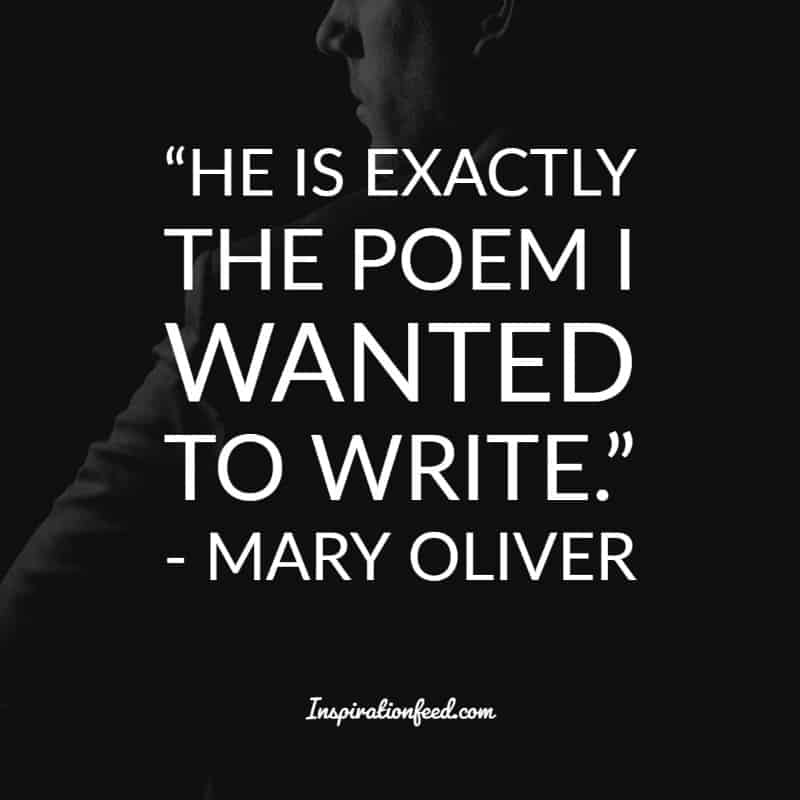 "He is exactly the poem I wanted to write." – Mary Oliver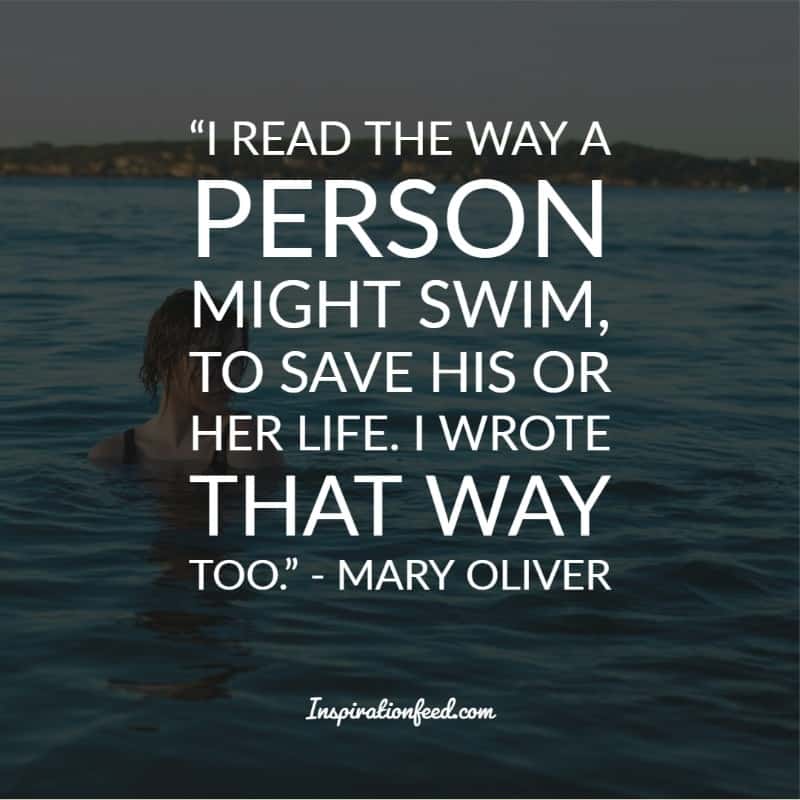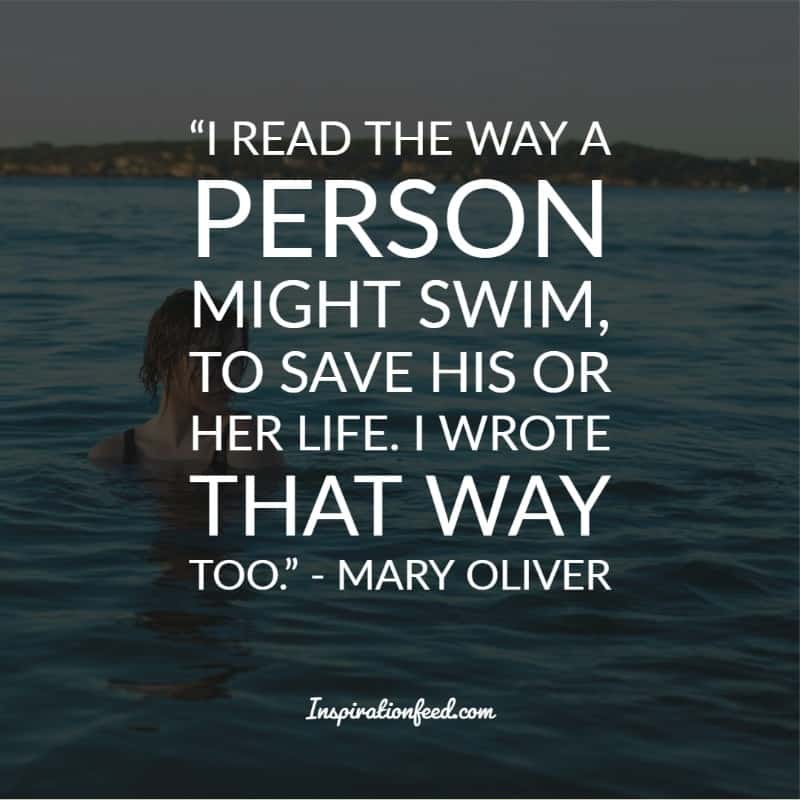 "I read the way a person might swim, to save his or her life. I wrote that way too." – Mary Oliver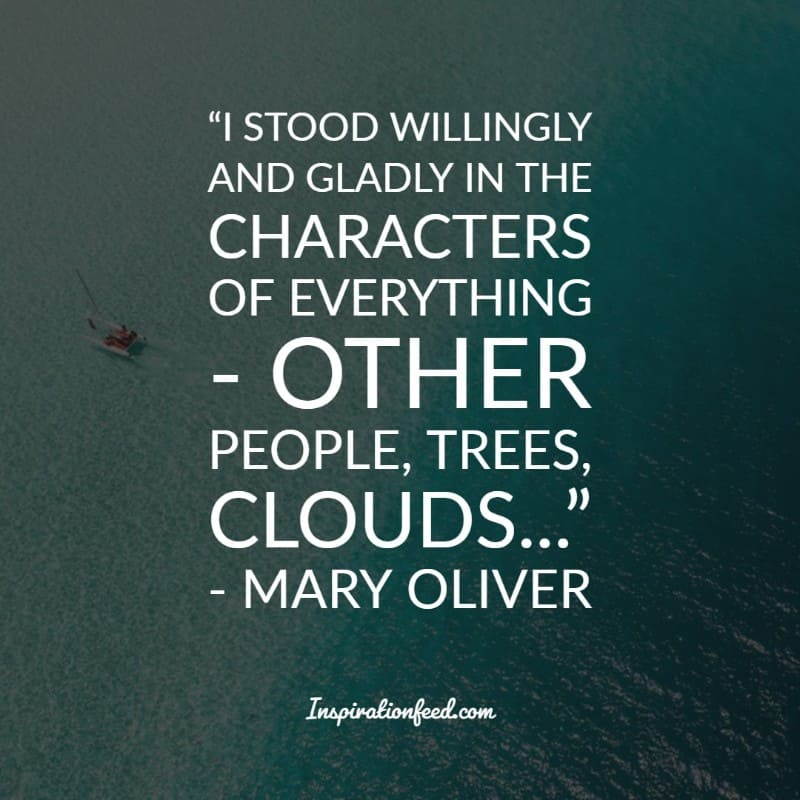 "I stood willingly and gladly in the characters of everything – other people, trees, clouds…" – Mary Oliver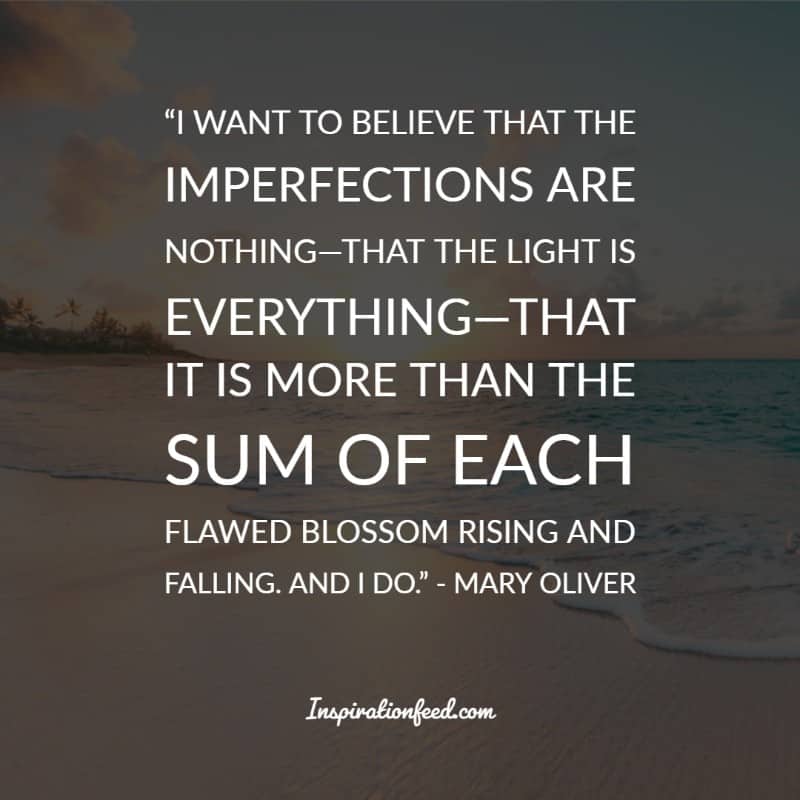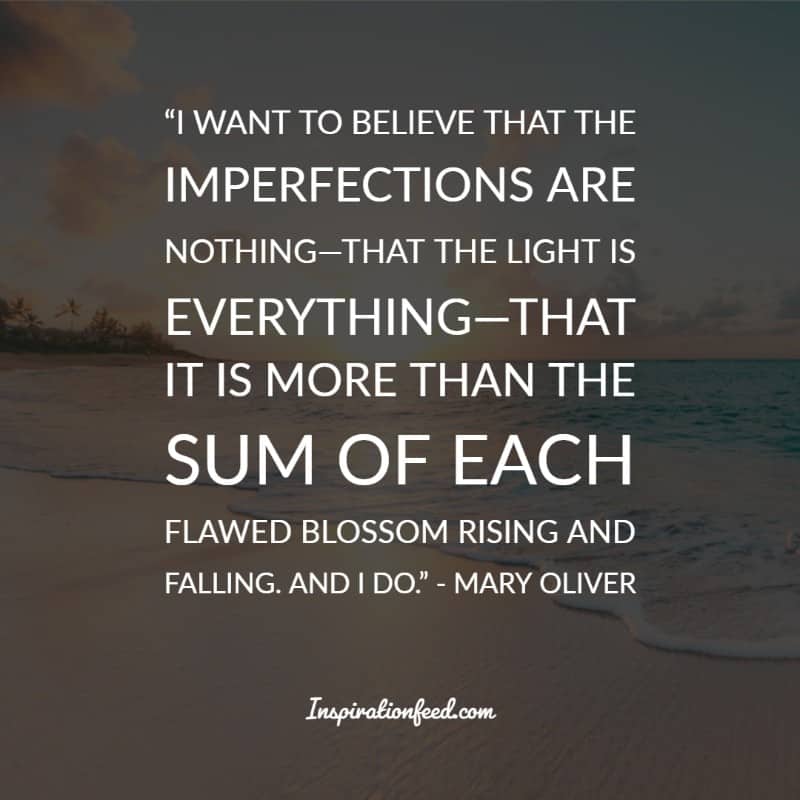 "I want to believe that the imperfections are nothing—that the light is everything—that it is more than the sum of each flawed blossom rising and falling. And I do." – Mary Oliver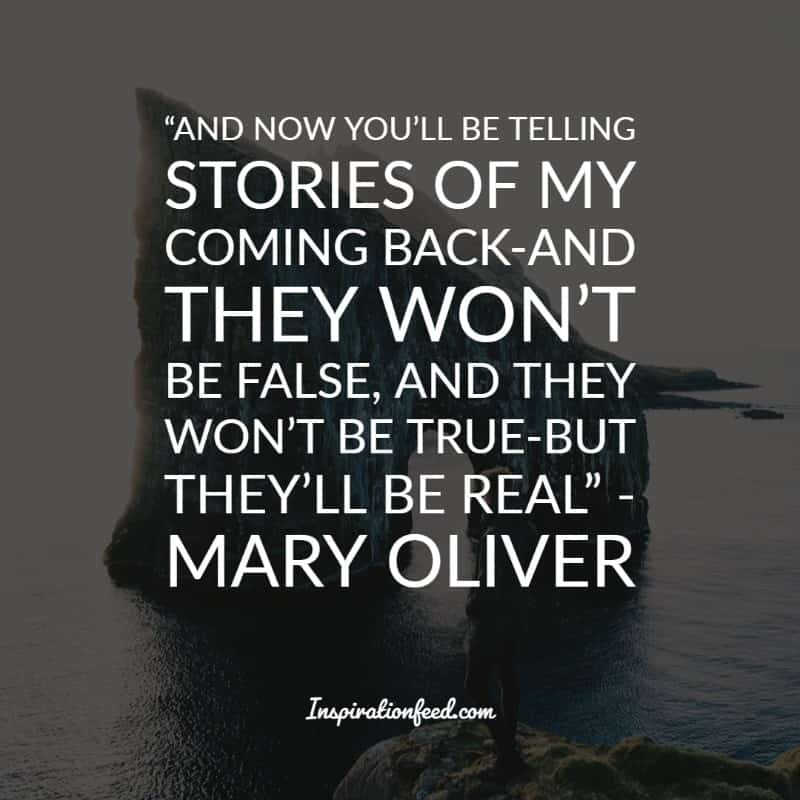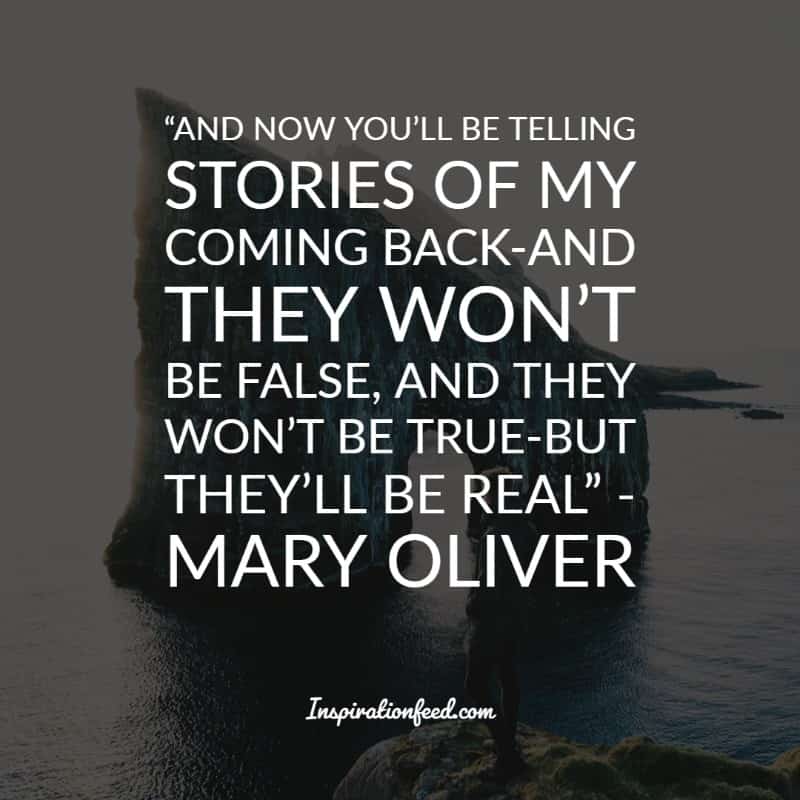 "And now you'll be telling stories of my coming back-and they won't be false, and they won't be true-but they'll be real" – Mary Oliver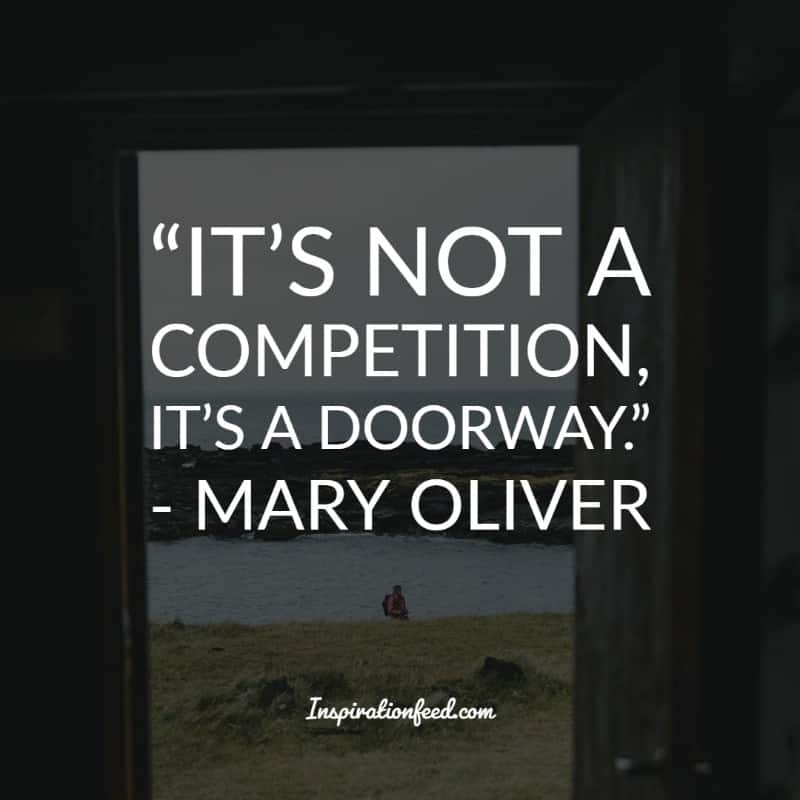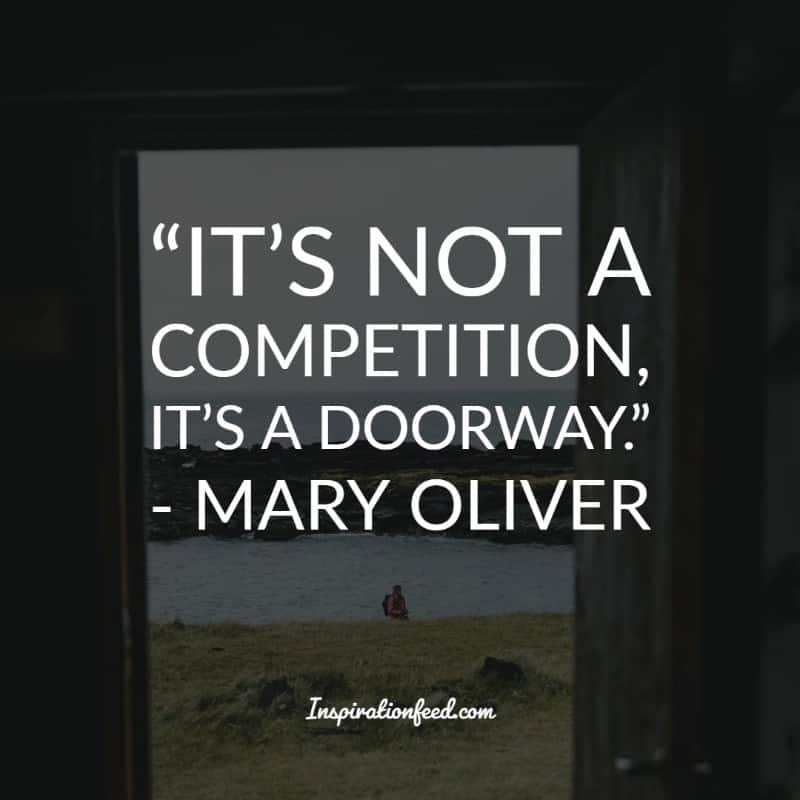 "It's not a competition, it's a doorway." – Mary Oliver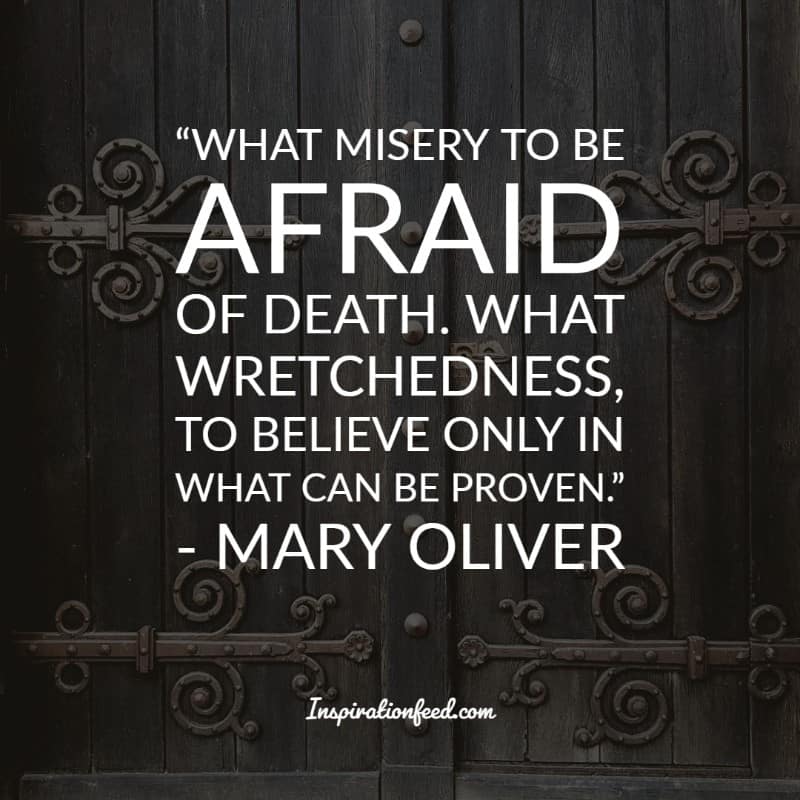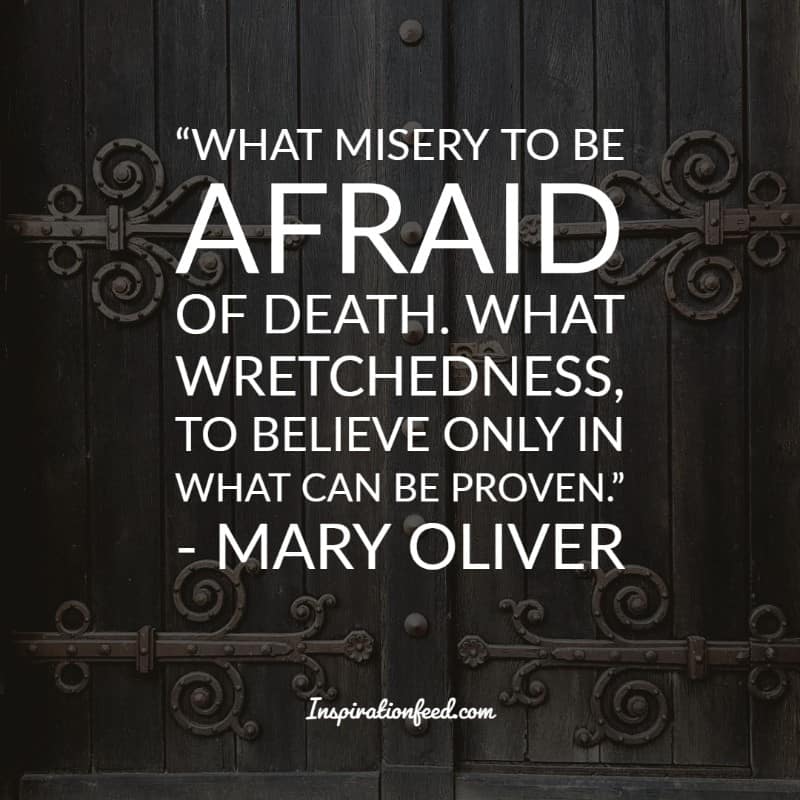 "What misery to be afraid of death. What wretchedness, to believe only in what can be proven." – Mary Oliver